I've never liked New Year's Eve anyway! A common statement made by many friends. What about bringing in the new year with a Hogmanay abroad? Craig and I will be counting down the bells in Vancouver, Canada which is quite symbolic since two days later we'll be leaving for Seattle after six months in British Columbia. This festive period I am joined by six travel bloggers who share their best, and worst, stories of Hogmanay abroad.
Best Hogmanay Abroad Party in the World?
That Adventurer (Hannah)
Edinburgh hosts the best New Year's Eve celebrations you'll ever go to. You know the feeling: it's reaching 31st December and everyone is talking about plans for the evening, it might be a house party, paying extortionate prices for club entry that you're not really up for, or staying in to watch the telly. Once the fireworks end it all feels hugely anticlimactic. But New Year's Eve in Edinburgh? It won't disappoint in the slightest. In Scotland, New Years's Eve is known as Hogmanay and the celebrations last for at least three days. Effectively, it's a winter festival complete with fireworks, street parties, live music and flaming torches. It's fantastic and the perfect way to say goodbye to the year. On Hogmanay Eve you can join the vikings as they march flaming torches through the city centre and all the way up to Calton Hill before an impressive fireworks display to warm you up for the main event. Then, on Hogmanay there's a huge street party complete with several stages playing everything from chart toppers to Ceilidh. Dance the night away while keeping warm on whisky. January 1st sees the crazy (like myself) head down to South Queensbury and the Forth bridges to cure their hangovers. Turns out the best cure for a New Year's Day hangover is to dress up and run into the freezing Scottish waters.
Want a great Hogmanay? Head to Edinburgh!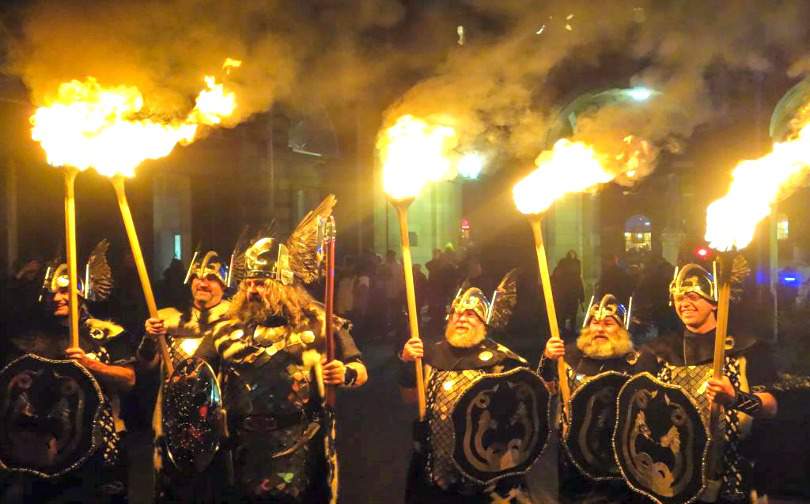 Facebook II Twitter II Instagram
Hogmanay Horror
Where's Sharon  (Sharon and family)
I love Scotland so when I had the chance to spend New Year's Eve anywhere in the world, I packed up my bags and headed all the way to Edinburgh from Australia to celebrate my first Hogmanay. It was a long journey but I was very excited when I arrived in Edinburgh on Hogmanay. It was freezing cold, but I expected that and I was happy to just be part of the celebration. That was until I came out of a pub, back to the street party and saw everyone was leaving! It was only about 10pm and we were being told we had to clear out the area. There was a notice on the big screens saying it was because of weather but it still felt very strange. It was cold and windy but I had assumed that was normal in Scotland in winter. The rumour through the crowd was that they were fearing a terrorist attack! I went back to the hostel very very disheartened. It was a very disappointing trip. The papers the next day said it was cancelled due to the fact that the wind meant the fireworks couldn't go ahead and some of the stage shows. I still don't understand why that meant the whole thing had to be cancelled. I am definitely sticking to warmer Hogmanay celebrations from now on!
Facebook II Twitter II Instagram
Sunny Sydney Harbour
Trusted Travellers (Jen and Mick)
I've always found the years biggest party has so much hype in the lead up, that sometimes the big night doesn't quite live up to my expectations. That was until last New Year's Eve! A good friend who has a friend in the navy invited us to join them at Garden Island, the Naval Base right in the edge of Sydney Harbour. I was reluctant at first but ended up say yes because the set up sounded pretty awesome. The tickets were the cheapest you can get for a position on Sydney Harbour and are sold in limited numbers so it never gets crowded. They allow you to bring your own food and drinks (alcohol included!) plus picnic table and chairs to make yourself really comfortable. And what you get in return is an uninterrupted view of the Harbour Bridge and Opera House with front row seats to one of the world's best fireworks displays. We had one of the best nights of our life, chatting, drinking and eating in the evening sun, watching the 9pm warm up fireworks and dancing to the onsite DJ to bring us to midnight. We were totally blown away by the earlier fireworks and didn't quite know how the midnight display could top it. But it did and we rang in 2015 standing on a dock in Sydney Harbour celebrating the year that had been and the adventures that were ahead.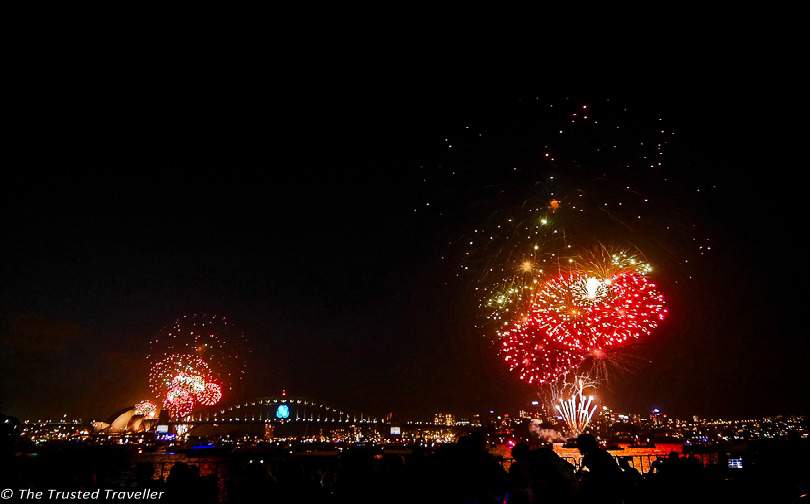 Facebook II Twitter II Instagram
A Joyride in Jordan
Life, Love, and Adventure (Dawn)
In Wadi Rum, Jordan, we all sat there with our blankets wrapped us as tightly as can be; surrounding the fire and sharing stories. I had always imagined the desert to be unbearably hot, although, at night it's the opposite… very, very cold! We were spending the night in the middle of the desert in Bedouin tents and had to be up early for our hot air balloon ride at sunrise. I ended up checking in well before midnight to prepare myself for our adventure the next day. I woke up at 5am, quickly scrambled out of bed and waited for our driver. We all hoped into the 4×4 and were flying across the sand, there's no true roads in the desert! We arrived just as they were filling the balloon, hopped inside and just like that, we were UP! Floating over the massive sandstone and granite mountains in absolute awe! It was an utterly breathtaking sight, an experience I'll never forget!
Facebook II Twitter II Instagram
Lucked Out in Vienna
1 Dad 1 Kid (Talon and son, Tigger)
After spending a few holiday seasons in Latin America, Asia, and Africa, we decided we really needed to be somewhere that embraced the magic of the Christmas season and that would really bring in the new year in a special way. We were living in Romania at the time, so we looked at nearby countries. When I discovered Vienna has numerous wonderful Christmas markets and a large public New Year's Eve celebration, we decided to go there. We couldn't have made a better choice! Vienna really knows how to welcome in the new year. We began by spending time with a friend and some of her friends. One of them is a chimney sweep, and if you shake their hand it's supposed to give you good luck. People exchange tiny little charms that are symbols of good luck as well. When you head into the downtown area on the metro, you will see crowds of people carrying pig paraphernalia (plush toys, signs, etc.), which is another symbol of good luck that you give to friends. The celebrations occur in the same spot as many of the Christmas markets, so it is quite lively. Once the clock strikes midnight, fireworks explode all around you. There was a 360-degree show going on while people did the Viennese waltz.
Vienna knows how to do New Year's Eve well.
Facebook II Twitter II Instagram
Chang-nesia Induced Thai New Year
Tiki Touring Kiwi (Jub)
2014 was a great year for myself and I found myself in one of my favourite cities Chaing Mai to bring in 2016. Chiang Mai is full of expats who are willing to organise events and there was no shortage of events to bring in 2015 – which didn't involve over the top entry fees for clubs. The first event of the evening was a get together at a friends place for drinks and food around a bonfire (December is Chiang Mai's 'cold season'). Collecting bonfire wood means driving around the back streets, finding big enough pieces of wood and getting them back on the scooter without crashing. This would be totally frowned upon back in New Zealand but in Chiang Mai it's no problem. The night went off without a hitch (a few burnt marshmallows aside) so a few of us decided to drive to Bus Bar, my favourite bar in Chiang Mai. Every Wednesday my flatmate organised a CouchSurfing event at Bus Bar with new and old faces turning up each week to banter and make new friends. This Wednesday was going to get a huge crowd thanks to it being New Year's Eve. We turned up and the event was well underway, it was great fun I spent time with people I knew already, had plenty of Chang's and assisted with letting off lanterns at midnight along the river as the alcohol started to take its effect. At around 2am the live music was still cranking but I was too drunk to ride home so I made the 5km pilgrimage home and passed out right away at 4am.
Reader Beware: There was some 'Chang-nesia' on this night of activities so this was my best recall.
Lanterns are popular at festivals in Asia. Imagie via Vera & Jean-Christophe (Flickr C2.0)
Out with the old in the hot or the cold! A well executed Hogmanay seems to have a few things in common, fireworks, friends, and decent weather!
Where was your best / worst New Year's Eve celebrated? Ever spent Hogmanay abroad? All the best for 2016!