This article has links to products and services we love, which we may make commission from.
They say Paris is always a good idea but is Paris in December really worth it? If you like crisp mornings, fewer crowds at attractions and a cup of warm vin chaud with your Christmas shopping then yes, Paris in winter is highly recommended. Locals, keep reading for festive advice, visitors here are the best things to do in Paris in December.
I've (Gemma) been to Paris three times, once in January, the second time during a glorious May weekend and most recently in December and I have to say, December gets my vote.
Speaking of democratic rights, I was in Paris during a strike! You can read more about my tips on how to navigate the city when it is protesting here.
Let's take a look at the reasons for visiting Paris during Noël and things to do there. I'm really excited about writing this guide. I have to be honest, it has taken me years to warm to Paris and ironically I melted the freeze during my coldest visit and I can't wait to go back!
---
» You may also like | How to spend 24 hours in Paris or 48 hours
---
Reasons to Visit Paris in December
1. Christmas Markets in Paris
While Paris is no Berlin when it comes to Christmas markets there is a handful located around the city worth spending a penny for a Chocolat chaud or crêpe with Nutella.
As to be expected as this is France, vin chaud (mulled spiced wine) is served at each market too. While the markets are open in the afternoon, they are at their best when night falls and lights fire up.
A cup of mulled wine ranges from 3 to 5 euros and simple crepes are around 3 euros.
2. Jardin Des Tuileries Christmas Market
The Tuileries Garden is one of Paris's most famous public gardens sandwiched between the Louvre and Place de la Concorde in the 1st arrondissement (area/district).
Note: If this is your first time visiting Paris, read the full guide for advice on how the city is laid out. During summer, these gardens are awash with locals sunbathing and the flowers, plants and trees in bloom.
Come winter, trees are leafless and lifeless and most of the park is quieter bar one section, the Christmas market.
Jardin Des Tuileries Christmas Market is Paris's biggest market and the one that most resembles the likes of Vienna Christmas World on Rathausplatz.
The sweet smell of friend sugar leads you to food trucks and chalets selling Nutella waffles (5 euros) while stalls with hanging meat and cheese entice you in.
If you want more than fairground-style snacks, there's a covered bar and restaurant for proper sit-down meals.
Here, vin chaud is boiled in batches served by the ladle to individual reusable cups. Locals gather around tables, chatting and laughing, while faces turn rosy with the cold and alcohol.
Prefer the finer things in life? Check out the festive Champagne bar.
For kids, there is a loud fairground with flashing lights and a large ice rink.
Chalet stalls sell crafts, jewellery and souvenirs under strings for fairy lights. I would guess there are around 100 huts at Jardin Des Tuileries.
3. Le Village de Noël at Les Halles Xmas
Le Village de Noël at Les Halles Xmas's huts are mostly tucked under the canopy of the shopping mall at the top of the escalator. Ideal if it is raining.
There are a handful outside too.
The shopping mall also has a tall tree with classy decor.
This is a quiet market with no social areas.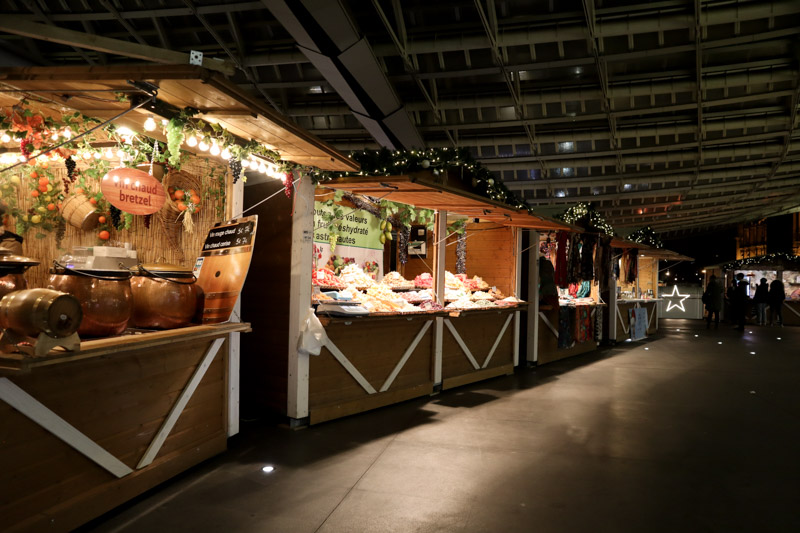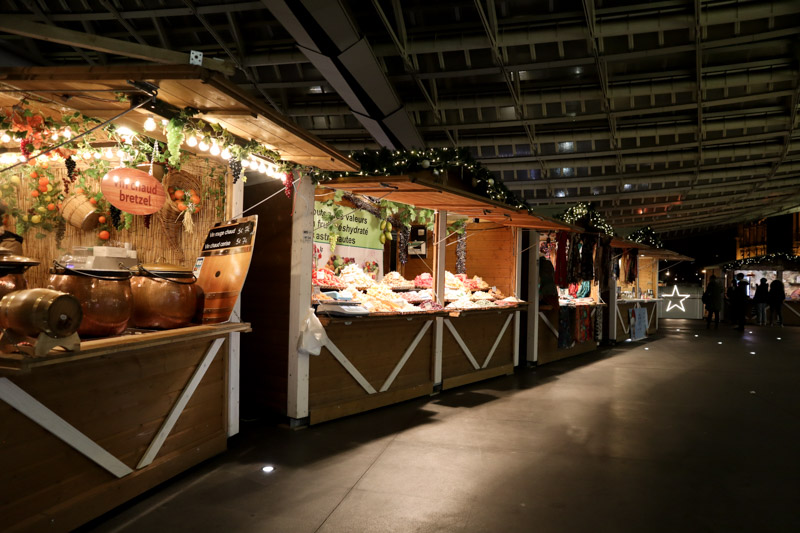 4. Square de la Tour Saint-Jacques Christmas Market
Rows of huts are erected under the watchful eye of St Jacque's statue.
This is a flyby festive market with no seating area. Ideal for those swinging by on the way to Sebastopol or Marais.
Chaud vin is obviously sold at one of the stalls.
Combine with a trip to Centre Pompidou for modern art, independent shop crawl or pick up a falafel in Marais.
5. Abbesses Christmas Market at Montmartre
The Montmartre Christmas Market is a neighbourhood affair set up in the square across from the Church of Eglise Saint-Jean I'Evangeliste (21 Rue, which means street, des Abbesses, 75018).
Chocolat chaud (hot chocolate) and a mushroom dish are popular here.
There is a small seating area and kids' ride in the square.
Check out the cute mural made of tiles with lots of languages at Square Jehan-Ritus behind the market then spend a few hours getting lost in Montmartre.
Arrive by Abbesses metro.
6. Marché de Noël at Saint Germain des Prés Xmas
A series of Christmas huts draped in fairy lights sell tree decorations, pastries and mulled wine along the busy Boulevard Sant Germain
If you make it to this market, take a detour to Aux Merveilleux meringue shop. Nothing festive about it, just sugar heaven. I dare you to try to walk past it without being sucked in by the smell.
Wander down to Shakespeare & Co and over the River Seine to the Louvre.
Metro: Sant Germain-des-Pres
You may also like | The best cities for Christmas markets in Europe
7. Catch the Christmas Decorations in Paris
Paris does decorations in a big way. You can even take a night tour on an open-top bus to see them.
Each neighbourhood has its own set of lights hanging in the air and a sign lit up to say where you are which is really handy for tourists like me.
Public Christmas trees wear cute metallic bows in different colours around the city and some of the street lights even get a festive makeover!
It's not just the public land that takes lights seriously, private shops compete for attention too.
Check out Louis Vuitton's eye-catching display on Rue Saint-Honore (1st) and Vrai Paris in Montramarte looks stylish with its baubles.
The talked about department store, Galeries Lafayette has been animating its storefront religiously every November since the 1920s.
But it's not just about the outside, you have to go in to see the star of the show…
8. Photograph the Galeries Lafayette Haussmann Christmas Tree
Galeries Lafayette is packed with shoppers and Christmas fans as this is where Paris's prettiest tree is on show.
Instagram users will be familiar with the remarkable tree draped in individually designed decor under the glorious art nouveau dome of Lafayette.
Every year a new designer is invited to decorate the tree with notable previous artists such as the designer Vivienne Westwood and the extravagant singer-songwriter, Beth Ditto.
This tree is a Christmas tradition in Paris and visitors from all over the world come to take a photo at the 16 metres high Glasswalk bridge on the third floor.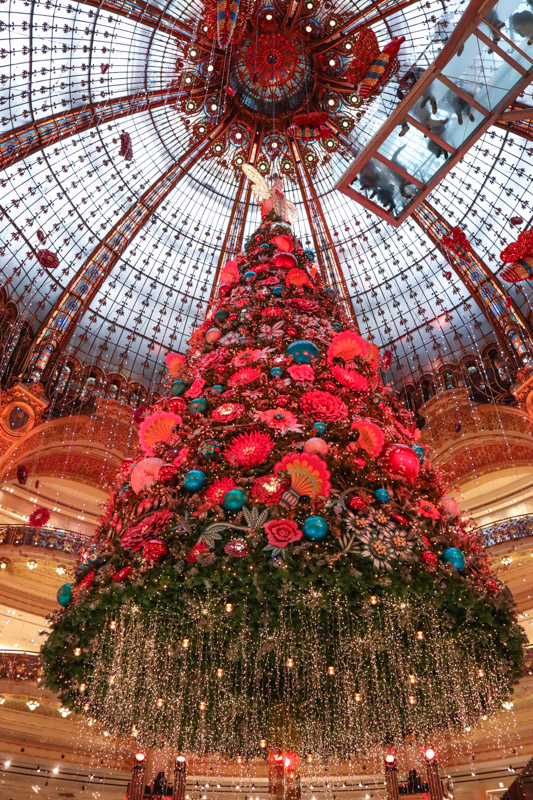 9. Head up to Galeries Lafayette Rooftop Terrace
The third floor isn't the only reason for visiting this department store.
The rooftop usually features on Paris itineraries for its free views of the city but at Christmas time there's a little sparkle added for the kids in the form of an outdoor ice rink.
Feeling peckish? There's a cafe selling hot food, coffee and cakes with nice views just below the rooftop.
Address: 40 Boulevard Haussmann, 75009
10. Shop at Printemps Department Store
Giving Lafayette a run for its money, Printemps also has a popular rooftop terrace with views of the Eiffel Tower.
Don't just go up, look around. Do the Christmas tree hunt around the store to see how many you can find.
As you leave, check out the Printemps window display which changes each November.
Address: 64, Boulevard Haussmann 75009 (not the Louvre store)
11. Place Vendôme
In summer this is simply a square with high-end fashion stores, come winter it becomes the backdrop of many selfies! The attraction? Its numerous very tall Christmas trees.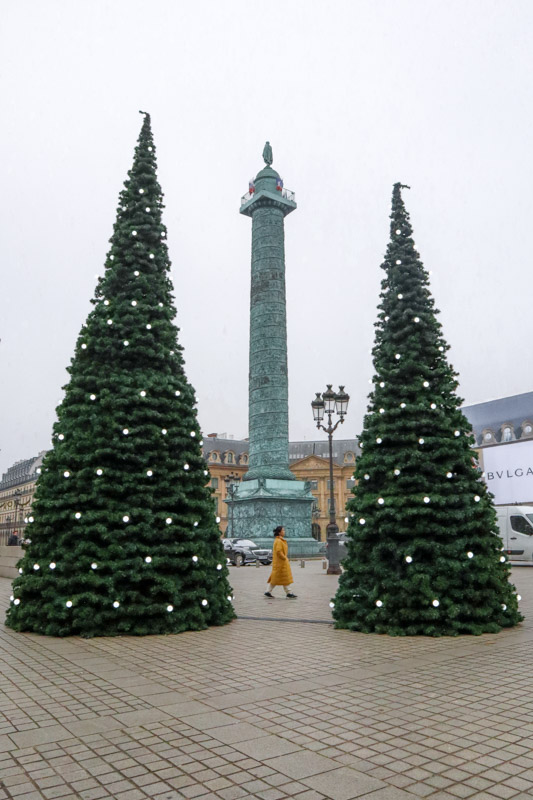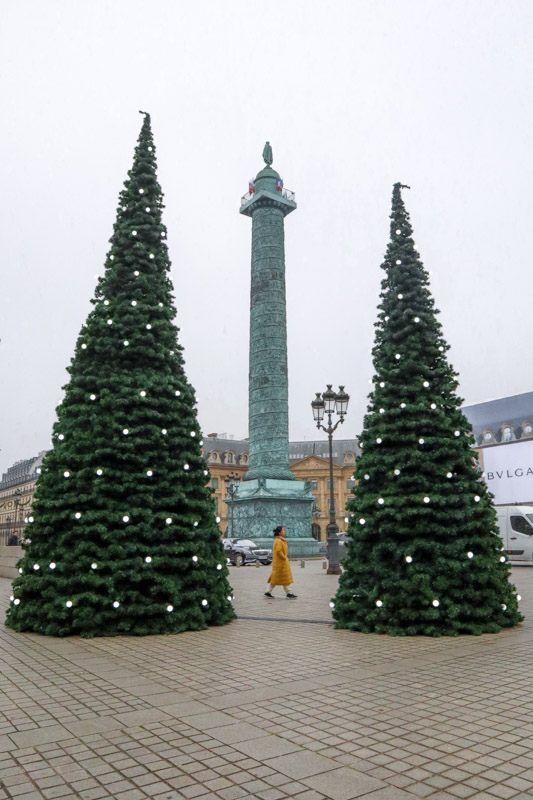 12. Hot Drinks in Traditional Tabacs
It's Paris and a huge part of the Parisian culture is the cafe scene.
Step into a traditional Tabac cafe and order a coffee with milk in the morning (café crème) and a coffee without milk (café/espresso) in the afternoon.
Asking for milky coffee after 12pm is a no-no apparently.
Stand at the bar like a local (cheaper) or grab an outside seat to watch the locals. What time of day can we order hot chocolate?
13. Chat, With Wine, Under Heaters
One of the best things to do in Paris at night is huddle under a heater at one of the many cafes and drink wine until the wee hours of the morning, stopping conversation only to people watch.
Rue Montorgueil is the perfect street to do this on.
14. Louvre Museum
If you are interested in architecture and seeing the Mona Lisa, visit the Louvre (Rue de Rivoli, 75001), twice.
Once during the day to see the small masterpiece with the big following by Leonardo da Vinci and again at night to see the pyramid lit up against the midnight blue sky.
Photography fans, a great frame can be found at the arch to the right of the museum if facing away from the Arc de Triomphe du Carrousel.
The water doesn't flow outside of the Louvre in winter so don't be surprised on arrival.
Skip the entrance line by buying a timed entry ticket.
You will still have to wait in line if you want a picture of the Mona Lisa though. She's one popular bird!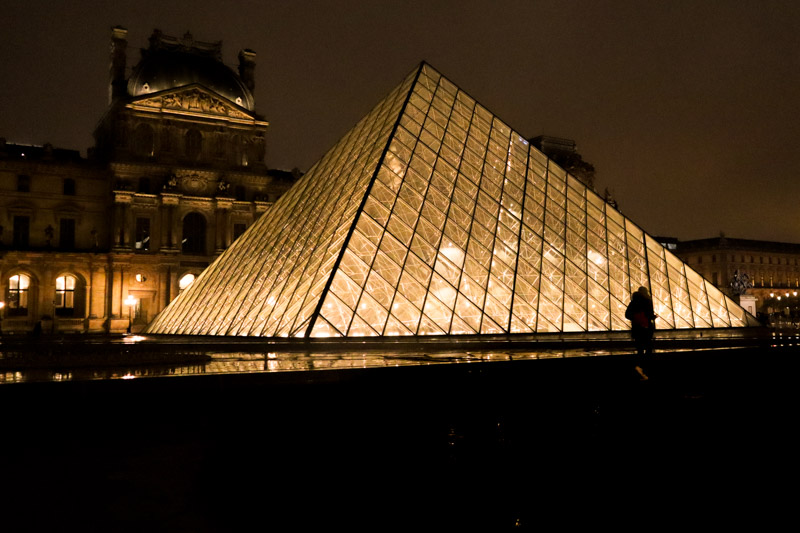 15. An Empty Les Deux Plateaux
Usually, a popular photography spot in summer, the black and white art installation was empty when I visited on a rainy day in December.
Does Les Deux Plateaux (2 Rue de Montpensier, 75001), also known as Colonnes de Bure, remind anyone else of sticks of rock or is it just me?
This modern art piece belongs to the 17th-century Palais Royal.
Metro: Palais Royal Musée du Louvre or within walking distance from Louvre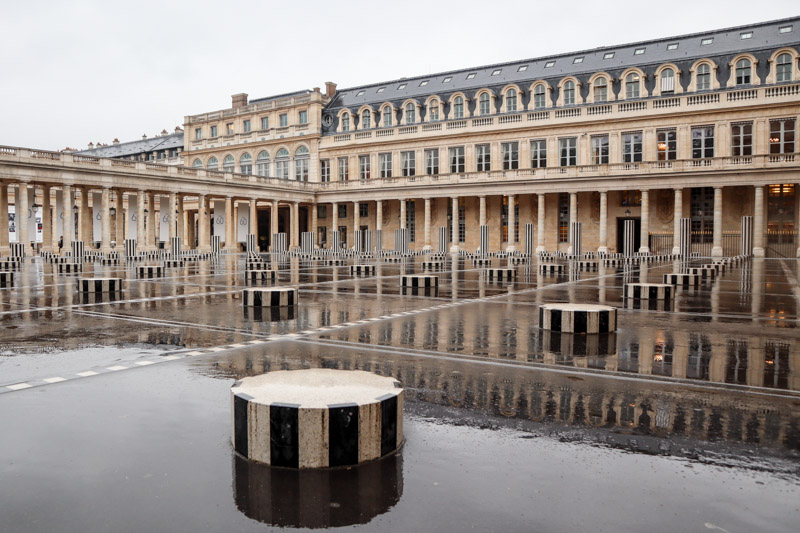 16. Dine Among The Pine Needles At Le Nemours
Try a plate of dense French quiche and an espresso at the cafe next to Palais-Royale (2 à 7 Galerie de Nemours, 2 Place Colette, 75001).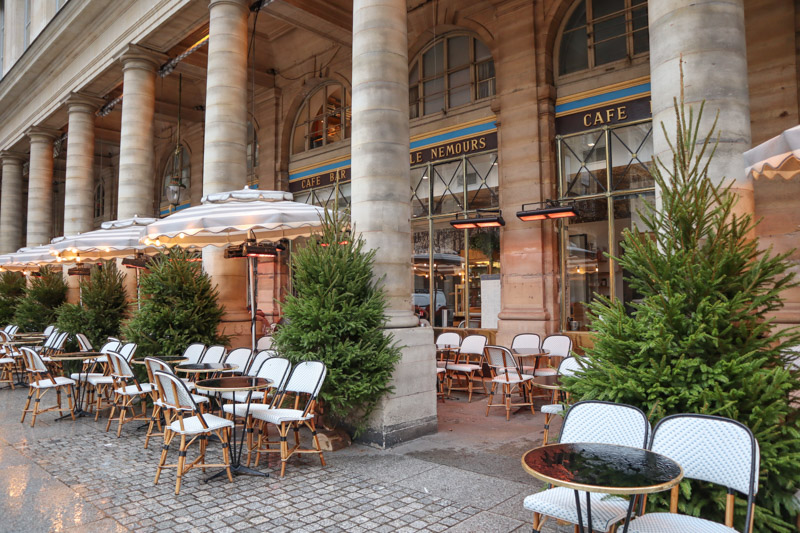 I always suspect that eateries next to touristy sites are just for visitors but I sat next to a local who was reading her newspaper and she conversed with another native in front of us. We had a pleasant lunch talking together. Every Parisian I met was truly friendly.
A female local even walked me to my hotel when I couldn't get a taxi late at night and I couldn't get my bearings.
I know what you are thinking, Parisians are not renowned for their softer side but honestly, this trip has changed my perception.
That's what travel is all about.
At Le Nemours, expect crammed tables and coats on stands.
A really charming cultural experience.
For a winter experience, dine outside next to the trees, under the heater.
Metro: The bejazzled, Palais-Royale metro
17. Enjoy Montmartre, To Yourself
Avoid elbowing the Instagram crew on the pretty streets of Montmartre, which you will inevitably have to do during high season.
Have the winding streets from the Sacré-Cœur Basilica to Le Refuge bar to yourself.
Remember to start at the small Christmas market to fuel up on hot chocolate before tackling the hills and I can personally recommend the crepe shop next to the Sacré-Cœur if you are looking for a sugar fix.
Wait, did you have a hot chocolate or rum-infused mulled wine at the market because this building looks drunk?!
It's just an illusion of course!
Unravel the trickery. Walk to the bottom of the Sacré-Cœur stairs, face back at the basilica and then look to your right.
See the peach house?
Now take the same image and trick your pals by moving your camera at an angle. Get the grass in line and leave out, or crop out using edit, any trees for the perfect photography lie.
Look at the walls for the subtle and not-so-subtle street art around Montmartre.
Expect to see murals, stickers and a man trying to escape a wall!
Stick around until it is dark so you can see the Montmartre Village decorations but more importantly, the Moulin Rogue flashing in all of her glory.
18. Visit Sacre-Coeur at Christmas
On Christmas Day, there are a number of masses at the Sacre-Coeur (35 Rue du Chevalier de la Barre, 75018) in Montmartre and Christmas Eve enjoys an organ show and midnight mass.
Not into mass? You can visit any other day for incredible views of the city, a glimpse of the inside, underneath in the crypt and for an additional fee, up on the roof.
A cable car, which looks more like a train, connects Montmartre with the Sacre-Coeur.
Metro: there are many. Jules Joffrin or Abbesses + cable car as an example
19. Church of Saint-Pierre de Montmartre
A simple nativity scene at 2 Rue du Mont-Cenis, protected from the elements, can be found at one of the longest standing churches in Paris.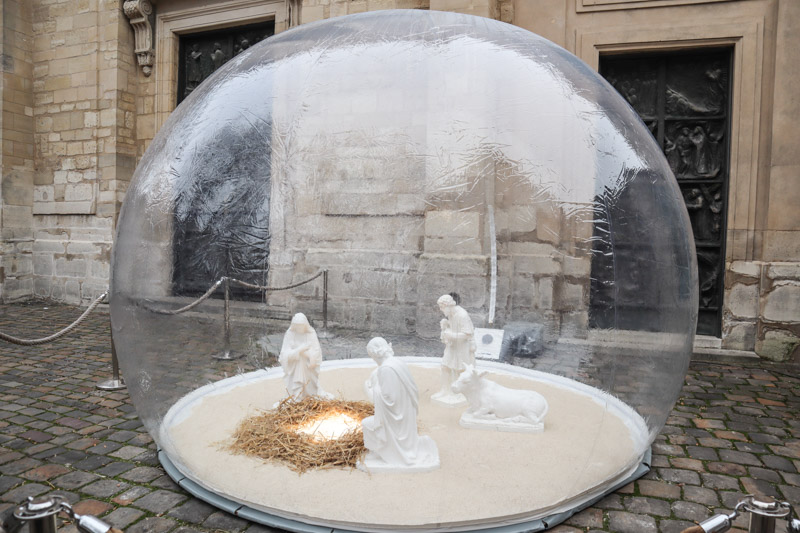 20. Warm Up With French Onion Soup
Pile into Le Pain Quotidien (31 Rue Lepic, 75018) for a hot bowl of traditional onion soup topped with thick garlic bread.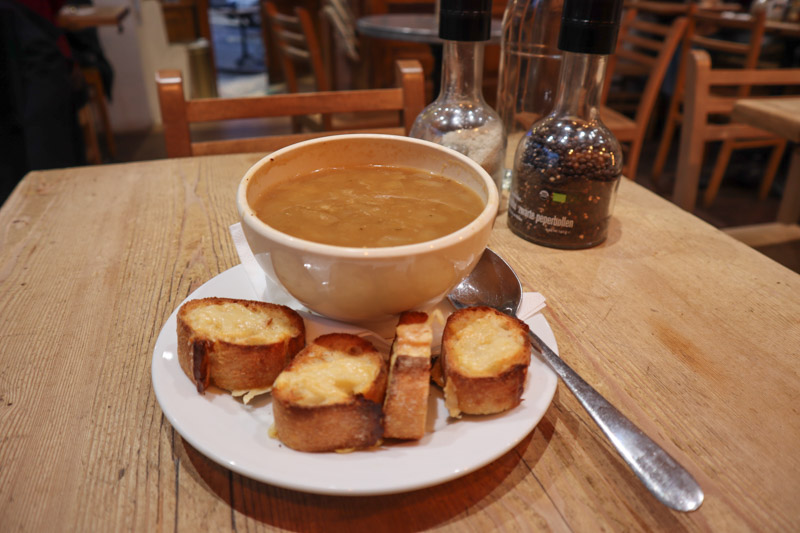 21. Attend a Moulin Rouge Show
Lights, feathers, action! The Moulin Rouge Christmas show (82 Boulevard de Clichy, 75018) serves up a course of seasonal meals, Christmas Yule log and lots of bubbles.
Reserve your seat for the show and dinner here.
22. See Sainte-Chapelle
Whether you celebrate the birth of Jesus or not at Christmas time, you can appreciate the beauty of the royal chapel, Sainte-Chapelle (8 Boulevard du Palais, 75001).
Don't be fooled by the first-floor entry. While the deep blue arches with gold stars are dazzling, the real deal is yet to be seen.
Walk up the tiny winding stairs to the stain-glassed Gothic wonder.
I struggled to find the entrance, walk past the Ordre des Avocats à la Cour de Paris gates to the long line of tourists. That's the Sainte-Chapelle line, even in winter.
I managed to sneakily buy a skip in the line ticket while waiting then smugly walked past the suckers!
This was the only attraction that wasn't sold out the day before on GetYourGuide.
While December is definitely quieter, the top sightseeing spots in Paris are still popular.
23. Attend Paris Concert in December
In the month of December, the Saint-Chapelle opens its doors for a night of classical music.
While I've not done this myself, reviews say it was the highlight of their trip to Paris in December!
The show lasts for 55 minutes and guests are asked to arrive 45 minutes before. A lovely festive thing to do a night in Paris for music fans, religious or not.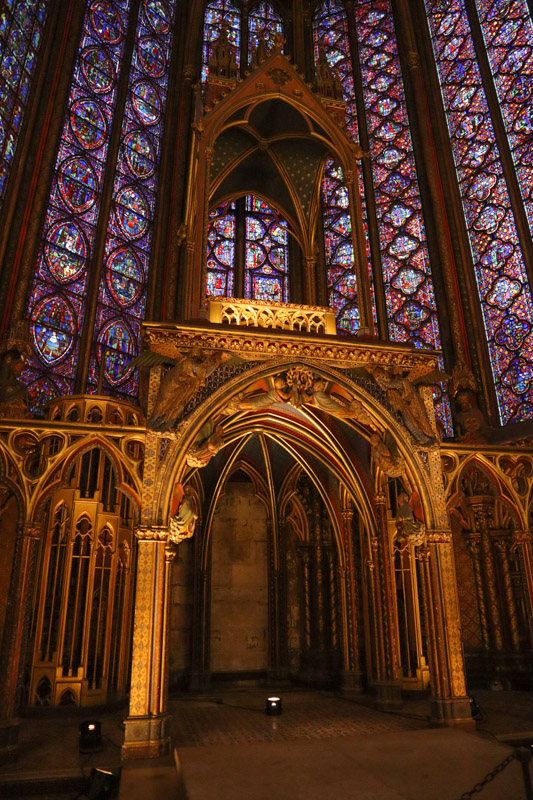 24. Shakespeare & Company
Buy local at Shakespeare & Company (37 Rue de la Bucherie), which is not only a bookshop, it is also a museum!
The bi-level shop and cafe next door is located in the 5th arrondissement near the Notre Dame.
Make your way up the steps to the second floor to read about its relationship with literary giants such as Hemingway and Fitzgerald who were close to the owner, Sylvia Beach.
These celebs moved in the same circles in Paris, drinking heavily and pushing boundaries in literature.
I was reading a book called The Paris Wife, which is a fictional account of Hemingway's first marriage, while I was roaming the streets of Paris.
I recommend doing the same as there is something special about seeing the buildings and streets described on the pages in real life.
The store has also featured in many movies set in Paris such as the classic Before Sunset.
A lovely movie I urge you to watch, along with Before Sunrise, during your Paris planning.
When visiting, watch you don't sit on the sleeping cat!
Metro: Saint-Michel, Cluny – La Sorbonne, close to the Notre Dame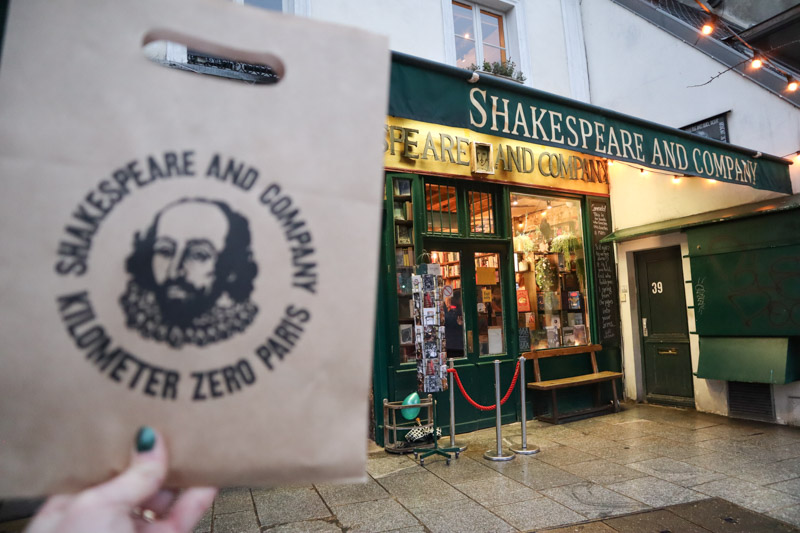 25. The Centre Pompidou
Another unusual place to pick up a gift is the home of modern art in Paris (Square de la Tour Saint-Jacques, 75004).
You can't miss the industrial-looking monstrosity which looks like it has swimming pool flumes/chutes dangling from it.
Don't be put off by the outside, this is my favourite museum in Pari.
Two floors of photography, sculptures, murals and paintings from renowned and new modern artists.
Bonus, first Sunday of the month is free and there are gorgeous views of the city from the terrace (with a restaurant and bar).
26. Eiffel Tower and Illuminations
Arrive at sunrise to have winter views of the Eiffel Tower from the popular terrace, Trocadéro, to yourself.
Return for dusk to see the sunset, the famous carousel spin and the tower sparkle on the hour, every hour.
Trocadéro is one of the stops on the Paris open-top bus. I used it to get back to the centre at night.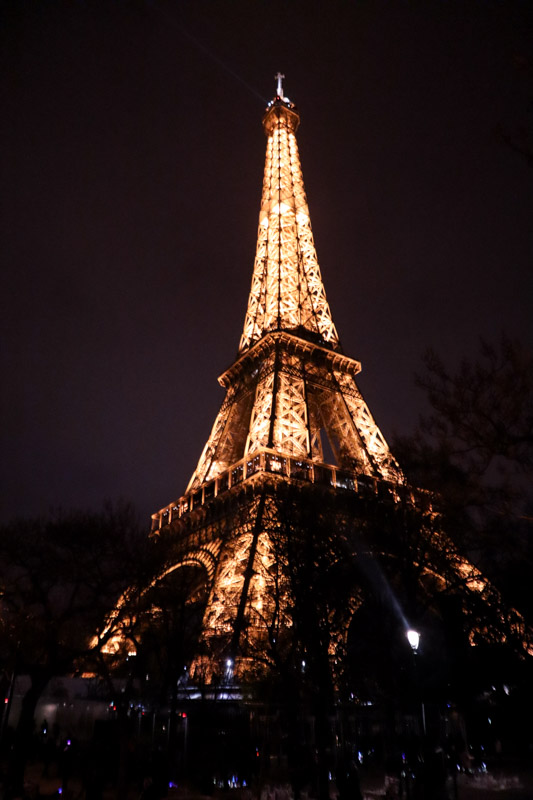 27. Escape the Cold on Paris Open-Top Bus
Paris is a perfect city to use the hop-on/off tour bus service as some of the things to see are quite far away from the likes of the Louvre.
For example, it would take 50 minutes to walk from the Louvre to the Arc de Triomphe.
Then you've got to climb those stairs I will warn you about in the Arc de Triomphe section (plus photograph).
The distance between some of the main tourist spots in Paris was the main factor I struggled with when the metro staff were on strike!
The solution? Purchase an open-top bus tour electronic ticket and hop on at any of the popular stops on the three lines/routes.
I did this from afternoon into the night. I was pretty much underneath the Eiffel Tower when it was sparkling, in the comfort of the top deck of the bus!
You also pass some of the Christmas tree decorations while on the bus, with panoramic views.
The buses are tours too so you can listen to audio guides as you pass Paris's points of interest. Nifty eh?
A good way to speed things up in winter to avoid the cold or save your sweat in summer.
Sure, you can normally use the metro but you'll miss on the sights and the audio guide along the way.
You can see the three routes and reserve either one, two or three-day bus tour here.
---
» You may also like | Gift guide for Paris lovers
---
28. Marche Montorgueil
Christmas is about spoiling yourself right?
Well, if you like cakes? You'll love Rue Montorgueil.
With patisseries on both sides of the street you are literally sandwiched by desserts.
Check out Stohrer, the oldest patisserie in Paris, open since 1730 for classic cakes, moose and macaroons. Cakes come in fancy boxes, naturally.
There's plenty of choice for dining and drinking under the festive lights in this pedestrianised area.
29. Champs-Élysées Christmas Lights
Visit the famous shopping street the Champs-Élysées to see its Christmas lights shine from November until January.
With shops such as Sephora and Zara on either side, the lights lead the way to the Arc de Triomphe, one of the most visited spots in Paris.
30. Arc de Triomphe
See one of Paris's top attractions with fewer people, the Arc de Triomphe (Place Charles de Gaulle, 75008) offers some of the best 360 views of the city for a small fee.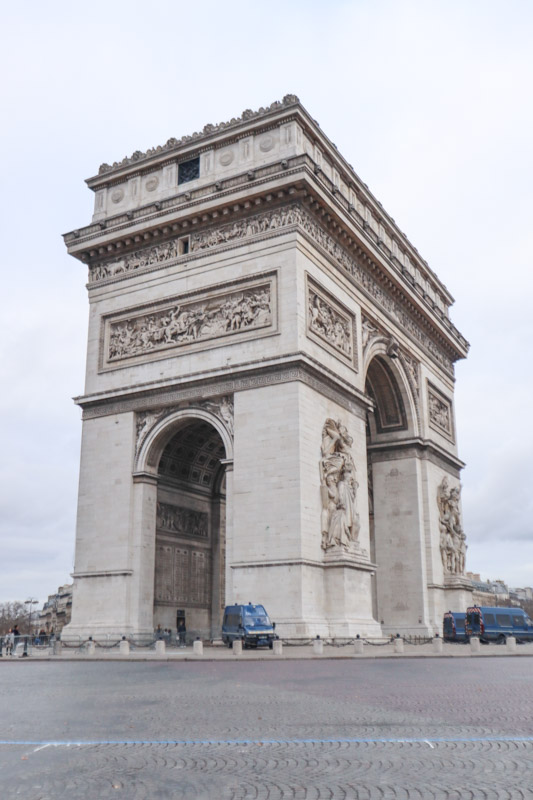 While the crowds are not as busy as those in June to September, I still bought a line skip ticket online before I arrived and I'm glad I did because there was a long line to buy on the spot before going through security.
You have to go through security at every popular attraction in Paris for safety reasons. Water bottles are accepted.
Don't eat cake before visiting, as I did, the spiral stairs are quite the challenge!
31. Disneyland Paris in December
Kick-off Christmas at the happiest place on earth.
Fake snow, Mickey's Christmas Big Band and mulled wine. Yes, Disneyland Paris in winter is a fun trip for adults as well as kids.
Ride Big Thunder Mountain, experience the 4D Ratatouille and lose your stomach at the Tower of Terror, without the need of the FastPass.
Fewer crowds mean more time for rides! You can get around two parks in one day at Disney in December.
No need to spend money on a FastPass if you don't mind doing single rider.
Good luck trying to get an Insta-shot at Sleeping Beauty Castle though!
Save money, pack your own lunch and buy your Minnie ears before you arrive.
Get there: RER A Paris train to Marne-la-Vallée/Chessy station (35 mins) or the Disney shuttle bus from Paris.
It's really easy!
32. Christmas Shopping in Paris
Paris is a shopper's delight.
Two of the main department stores are Galeries Lafayette Haussmann and Printemps which offer floors upon floors of shopping options from clothes to homeware.
Bon Marche is another popular store.
Westfield Forum des Halles is a modern mall with European high street names such as Aldo and Esprit. You will also find international brands like Calvin Klein and Gap.
This mall also has a cinema and restaurants. There are many fun streets around the centre too for drinking and dining.
Rue de Rivoli (4th), close to the Louvre, predominantly offers souvenir shops, cheaper than Champs-Élysées.
BHV Marais is an affordable department store selling French lines across from Hôtel de Ville.
If on Rue de Rivoli, look out for the unique 59 Rivoli street art.
Once an abandoned building, now an art space with an unusual storefront.
Marais is a great district with tasty falafel, crammed full of cool independent shops and European stores like Cos.
Look out for the phallic-shaped cookies at Legay Choc bakery for a humorous souvenir to take home.
Luxury brands such as Alexander McQueen and Louis Vuitton can be found around Rue Saint-Honore (1st) close to the impressive Christmas trees at Place Vendôme.
33. Vintage Photobooth
Visiting Paris in December with your partner? It is the city of love after all.
Or have you watched the movie, Amelie? If so, you'll know that photo booths are quite the thing in Paris.
Scattered over the city there are vintage-style booths that let you take four different photos.
A lovely souvenir of your festive break.
This booth is located at The Tuileries Garden Xmas market but there is a permanent Foto-Automat at Palais de Tokyo and 53 rue des Trois Frères, Paris 18e.
I want to see your pic! Tag me @twoscotsabroad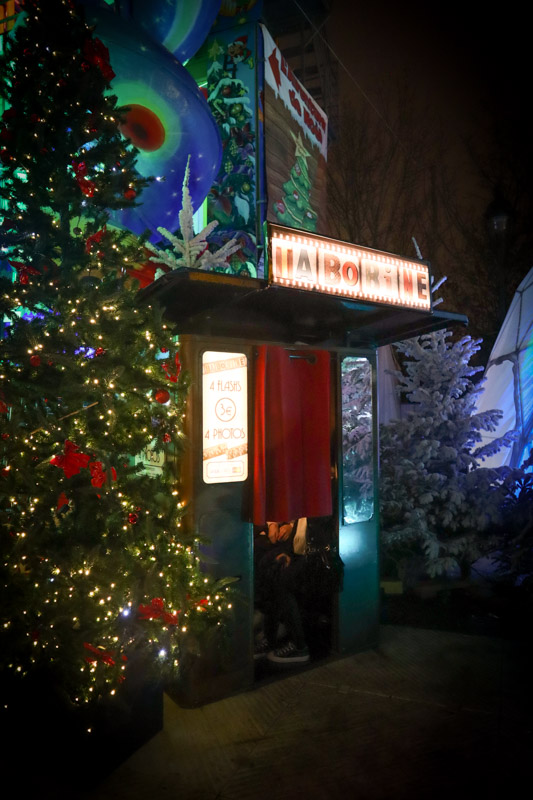 34. And if it Snows in Paris… Buttes Chaumont
Buttes Chaumont (1 Rue Botzaris, 75019) is a large park in the northeast of Paris and a popular spot when there is snow in the city.
As it has steep hills, locals go to sled and even ski!
---
What to do in Paris in December: 4 Day Itinerary
Day 1
Open-top bus to get your bearings

Louvre museum

Les Deux Plateaux

Rue de Rivoli for souvenirs

Shakespeare & Co

Sainte-Chapelle

Marché de Noel at Saint Germain des Prés Xmas Market
Day 2
Eiffel Tower from Trocadéro

Champs-Élysées

Arc de Triomphe

A museum such as d'Orsay on the River Seine

Or

Shopping at Galeries Lafayette Haussmann

Jardin Des Tuileries Christmas Market
Eiffel Tower from Trocadéro for illuminations
Day 3
Marais district

The Centre Pompidou

Abbesses Christmas Market at Montmartre

Step back in time at Montmartre (image below)

Sacré-Cœur

Moulin Rouge
Day 4
Shopping at Galeries Lafayette Haussmann or Printemps

Le Village de Noël at Les Halles shopping and Xmas market

Rue Montorgueil food, drinks, cakes and people watching

Or

Square de la Tour Saint-Jacques Christmas Market

Or
Open-top bus at night
Alternative Day 4
Day trip to Disneyland Paris
Book your ticket for the Disneyland Paris Express leaving from four meeting points here.
---
» Read next | Europe's most romantic cities
---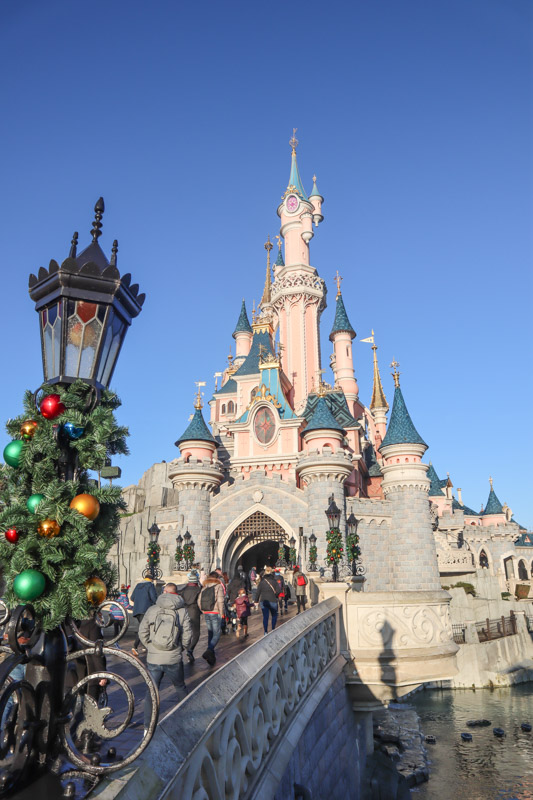 Paris Travel Planning Advice
Where to Stay in Paris
Paris Hotels
Le 123 Sébastopol: I stayed here. Excellent location close to Rue Montorgueil and Les Halles. Fast WiFi, free movies, outstanding hot and cold buffet breakfast. Highly recommend.
Hôtel Emile: In March, I plan to stay in the hip

Marais District, this is an affordable option.

Pratic Hotel: Budget option in an ideal location, clean rooms, great reviews.
Paris Hostels
What to Wear in Paris in December
Layers such as cardigans and pullover sweaters or jumpers as we call them in Scotland
Tights with skirts/dresses and under pants if out all day and temperatures are low
I also wore socks over tights
Avoid denim if you can as it's not pleasant when wet and takes an age to dry
Waterproof coat/jacket and a padded warm coat
Waterproof shoes or boots and trainers without air holes (wet weather)
Hats, gloves and scarf
Umbrellas are just a nuisance when hopping in and out of places/it gets windy
Refillable water bottle – you can drink the water here
Tote bags for shopping
Camera!
Don't forget your travel insurance – See True Traveller or World Nomads

Paris Weather in December
The weather in Paris in December can be unpredictable.
Prepare for a mix of rainy and dry days with lows of 3°C (37.4°F) and highs of 8°C (46.4°F). It can hit minus temperatures.
Sunset is around 17:00-17:30 making day shorter than summer. Consider this during your Paris planning, it's great for seeing the city of lights!
The temperature drops at night so wrap up for the Christmas markets.
You will need a warm coat, layers and a waterproof outer gear to stay snug and dry.
Does it Snow in Paris in December?
Paris can get a sprinkling of snow but mostly in January and February.
When it does, expect transport disruptions and join the locals at Buttes Chaumont for sledging!
However, my good friend Mhairi, and ex-pat in Paris, was stranded in Paris in December 2010.
As the public transport shut down, she was left dragging her suitcase along a snowy Champs Élysée all the way to Pont Neuf trying to get to her accommodation.
The saving grace? A Scottish bar called The Highlander which her brother worked at.
They say 'a bad day in Paris is still better than a good day anywhere else'…
Don't be put off! Snowfall is so infrequent it is normally celebrated. Just be prepared by watching the weather app and speaking to your accommodation.
Currency
France uses the Euro. You can check up to date rates here.
Most hotels, restaurants and shops accept all major debit and credit cards. You can tap the card machine or use chip and pin.
Some shops have strange cash tills which spit out coins like a vending machine. It means the server doesn't have to touch dirty money! Genius.
Tourist Information
There are a number of tourism offices in Paris. The main point is at 29, rue de Rivoli Paris 4e. For the full list, see here.
Best Tours + Line Skips For Paris in Winter
I was thankful to have GetYourGuide tickets while in Paris during Christmas. The 24-hour cancellation option meant I could postpone visits to attractions which were affected by the strike.
I also hate waiting in lines, regardless of the time of year, so the timed entrance and line skips are ideal for my kind of travel.
Expect to go through airport-style security at every attraction. To save time have your bag ready. You can take water bottles through so pack one to reduce waste.
Things to do in Paris at Christmas
Christmas Day in Paris
The 25th (Christmas) of December and 1st (New Year's Day) are official public holidays in Paris which means there will be reduced activity around the city.
On Christmas Day and New Year's Day, the metro, RER and public buses run on a reduced timetable.
On Christmas Day and New Year's Day the main things that are open will be:
Hotels that serve Christmas lunch/dinner – reserve while booking stay

Ethnic restaurants who do not celebrate Christmas

Local convenience stores who do not celebrate Christmas

Paris attractions such as Eiffel Tower, Moulin Rouge, Sacre-Coeur for mass, Seine cruises.
Closed on Christmas Day and New Year's Day
Louvre

Sainte-Chapelle

Arc de Triomphe
If staying in an apartment, get your grocery shopping done before Christmas Day and enjoy the city to yourself!
New Year's Eve
So now Paris at Christmas time is over, let's look at the next big celebration, 31st of December.
On the water, up the tower, at the church, in a bar, how will you spend New Year's Eve in Paris?
The official New Year's party explodes around the Arc de Triomphe, with a family-friendly animation and firework display.
Naturally, restaurants should be booked in advance and club nights will have an additional charge.
Getting to Paris
There are two airports in Paris, Charles-de-Gaulle (CDG) and Orly (ORY).
Both have public transport links connecting them to the city.
The frequent RER B train goes from CDG to central city stations in 30-40 minutes for under 11 euro.
There is no direct train from Orly to Paris. Visitors use the OrlyVal train to the RER station at Antony. This journey takes around 40 minutes.
It is likely you will then use the Metro to get to your accommodation.
Getting Around
Paris's areas are called arrondissements which just means neighbourhoods or districts.
1st arrondissement is in the middle then the next arrondissements wind round forming the shape of an animal the French like to eat. A snail!
1st arrondissement for the Louvre, Palais Royal, Tuileries Gardin.
2nd arrondissement is where you will find my favourite street, Rue Montorgueil and its bars.
4th arrondissement is home to jumping Marais with its falafel, shops and LBGT+ scene.
5th arrondissement aka the Latin Quarter is where you will find Shakespeare & Company.
6th arrondissement is home to Hemingway and Boulevard Saint-Germain.
7th arrondissement is where you will find the Eiffel Tower and Rue Cler (foodie street, on my list for next time).
8th arrondissement for Arc de Triomphe.
9th arrondissement awaits the shoppers at Galeries Lafayette and Printemps department stores.
14th arrondissement for Montparnasse and Paris Catacombs.
18th arrondissement for the gorgeous Montmartre and Sacré-Cœur.
Paris has a well connected public transport system utilising the metro, RER trains, trams, buses, taxis, Uber (more expensive), e-scooter and boat tour rides on the Seine!
Passlib is the official tourism pass which lets you access public transport, a Seine cruise and Paris museums. You can choose your preferred number of days here.
Metro tickets can be bought in packs of ten (un carnet).
Things to do in Paris in Winter Map
Here's a free map of Paris which includes pins to the activities and locations discussed in this guide.
---
Pin to your Paris planning board Any questions or comments? Leave them below.
Tag us @twoscotsabroad in your photos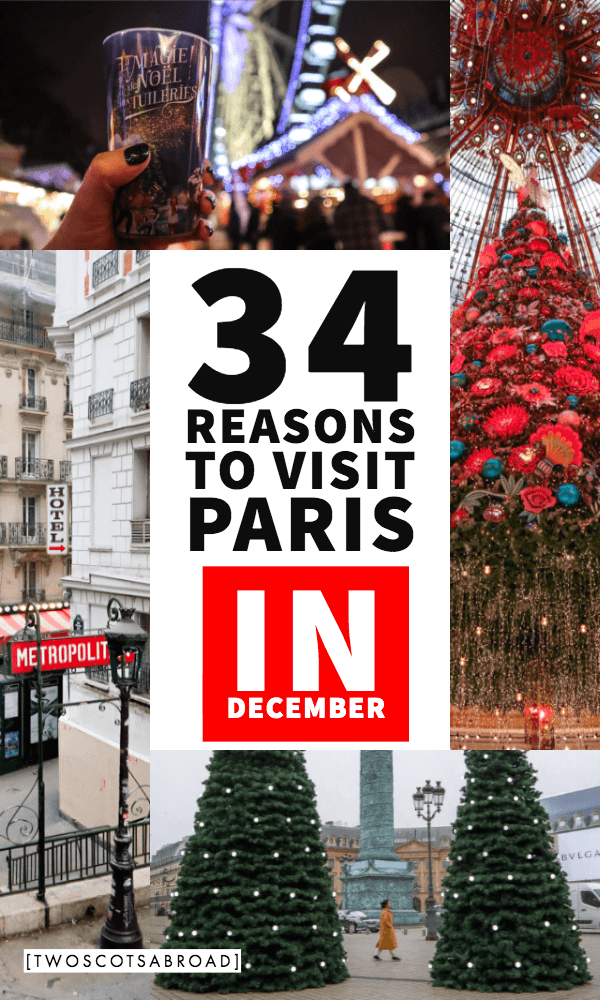 Final Words
A city so easy on the eye, like Paris, is a good idea any time of year. Whether you are visiting Paris for a vin chaud or choosing the city as your annual December trip, there are so many things to do during the Paris winter festival.
Tell us what you get up to in the comments below.
Still undecided if Paris is for you? Here's our guide to Europe's best winter breaks.