This article has links to products and services we love, which we may make commission from.
Looking to spend the spring break in California? Well, you're in for a treat!
From world-famous theme parks to stunning beaches, there's something for everyone in the Golden State.
To help plan your trip, this guide features destinations and activities you need to try so you can have the best spring break in California.
Whether you're looking to hike, swim at the sea, visit Disneyland, or eat great food, there's just a lot to do and enjoy.
And if you're wondering when is spring break in California, most universities and colleges have theirs around the month of March and early April, which lasts for about a week.
The weather around these months are generally sunny and mild, with average temperatures ranging from the 50s to low 70s Fahrenheit- making it perfect to explore many of the state's stunning destinations.
You'll find places and activities below arranged by regions or cities where they are found for easy navigation.
You may also like our California bucket list.
Northern California Spring Break
Listed below are northern California spring break destinations.
There are plenty of fun vacation activities available, from scenic train rides and sightseeing to hiking and skydiving.
Mendocino Coast
If you are looking for Bay Area spring break ideas for you and the kids, Mendocino is an ideal option because there's plenty to do, and it's just a few hour's drive North of San Francisco but far enough to feel like you are on vacation.
The kids will marvel at the sightings of cows, horses, and goats along your drive toward Bodega Bay.
If you are an oyster lover, the Bodega Bay Oyster Company (12830 Valley Ford Road) is a deserving stopping point for rest and beautiful views.
Russian Gulch State Park
Take a hike to the waterfall and visit the Devil's Punchbowl at Russian Gulch State Park (45051 Brest Rd, Mendocino), a 100-foot wide, 60-foot deep partially collapsed sea cave
There's a less-than-a-mile loop trail in the area that's easy to hike and takes around 8 minutes to complete.
This is also a popular spot for walking, running, and biking and can be accessed at any time of the year.
Skunk Train
Another one of the main attractions for your spring break in Northern California is riding the Skunk Train.
Take a 2-hour round trip train ride to Noyo River Canyon while enjoying the beautiful views of nature along the way.
The kids can also enjoy riding the rail bikes, two-seater recumbent bikes with power-assisted pedals that rest on the train tracks.
Drink Lots of Wine
California spring break ideas for couples or yourself must include a Napa Valley Wine train.
Leave the driving to someone else while you enjoy the fast winery experience.
Take a ride over Napa Valley in a hot-air balloon and learn about the vineyards that produce fantastic wines.
Take a guided kayaking tour down the Napa river and experience the valley from a different perspective.
Napa Valley also features in our San Francisco itinerary and bachelorette party ideas.
Go Skydiving in Monterey
Thrill seekers looking for spring break ideas in California will have fun skydiving in Monterey Bay.
While here, check out the glass boat tours that highlight underwater habitats.
Another fun activity is to go on a 17-mile bike drive to see scenic Monterey and the Peninsula Recreational Trail.
Plus, early spring is when you can also sight some dolphins in the area.
Put Monterey on your list for spring break ideas for couples, as it offers fantastic beaches, majestic natural parks, and many outdoor activities.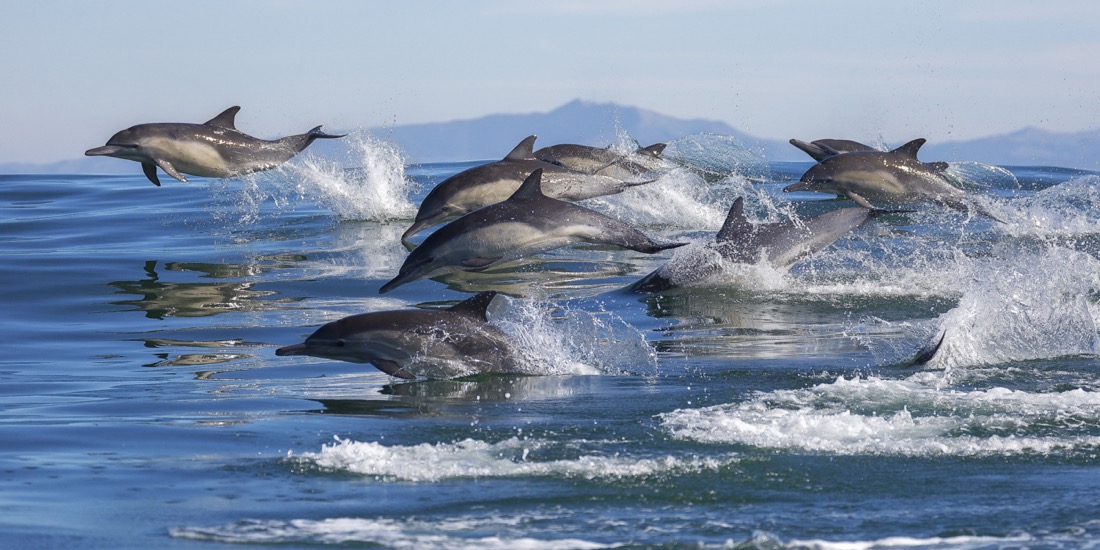 West Coast Spring Break
If you love nature and exploring the outdoors, the West Coast has plenty of destinations where you can enjoy such activities.
Listed below are one of the most popular places to visit in the region located in California.
And the spring season allows you to make the most out of your time here as the weather is generally mild, making it comfortable to go outside.
Ease Over to Yosemite
This spring break, take a hike in Yosemite National Park and reconnect with yourself and nature.
The breathtaking views, vast forest, and mountains to explore with picturesque landscapes and giant sequoias will help put it all back into perspective.
For camper outdoorsy types, Yosemite is paradise.
Layer up, as it is still quite chilly during the spring break season.
Yosemite National Park also features in our guide to California in December.
Mammoth Mountain
Spring break is the best time to get in some late-season time on the slopes in Mammoth Mountain.
At 11,000 feet of elevation, it is an ideal skiing opportunity.
Make it a family camping trip and stay at Mammoth Mountain RV Park & Campground (2667 Main St), which has good reviews.
Go hiking in Mammoth to see green pines, pristine lakes, and beautiful mountains.
Sequoia National Forest
Sequoia National Forest (1839 South Newcomb Street) is one of the best spring break spots if you want to do something other than go to the beach.
There is much to do here if you enjoy the outdoors and spectacular scenery.
Your senses will come alive with the scent of fir trees all around.
The Sequoia trees will have you questioning how you measure up as you walk inside the fallen trees.
Looking to visit more destinations like this? Check our guide to the best national parks to visit in March.
Central California Spring Break
Take advantage of the spring break in central California by visiting the places listed below.
Whether you're looking to see the beach, taste delicious food, or take a museum tour- you'll find plenty of activities to keep you busy.
Also, planning to visit California at a much later date? You may want to check our guide to California in fall.
Drive Down the Central Coast
If you are seeking ideas for spring break destinations for kids, take a drive down Highway 1 and bask on any of the epic California beaches during spring break (Pismo, Avila, and Cambria), as they are a short distance from each other.
Don't miss the opportunity to see the elephant seal pups sunbathing this time of year.
You can also spend an afternoon at Sea Chest Oyster Bar (6216 Moonstone Beach Dr, Cambria) to taste their oyster Rockefeller and fried calamari steak while enjoying the views of the sunset near the beach.
With farm adventures, beach days, and delicious food options, the Central Coast is a great destination for spring break in California for the entire family.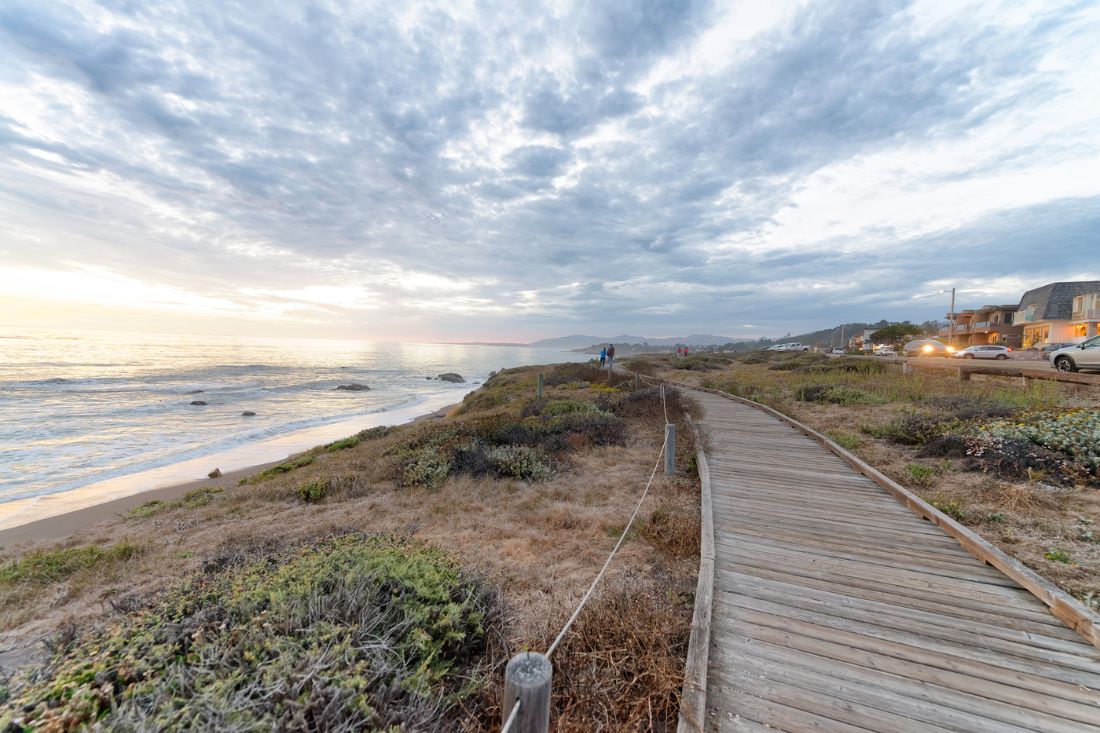 Take the Family to San Luis Obispo
San Luis Obispo is one of the finest spring break destinations for families in California.
The parents love the weekly farmer's markets, with live performances by local street artists, and the children's museum is a hit with the kids.
College students come for an abundance of nightlife activities.
The nice weather makes the free breaches a popular location, along with hiking and biking for everyone.
Santa Barbara
With so many activities to offer, Santa Barbara is one of the best April vacation spots for spring break.
For indoor activities, you can spend time at MOXI (125 State Street), a museum featuring not only art exhibits but also interactive programs for both children and adults.
If you want to enjoy the outdoors, go on a beach kayaking tour at Santa Barbara Channel to take in the sights of California's coastline or learn more about the marine ecology in the area.
You can also take a wine tour in Santa Barbara and taste some of the best wines.
Whale watch over a glass of wine on a catamaran cruise, as there is something special to see every season.
Spring Break in Southern California
Whether you're looking to relax or get your adrenaline pumping, southern California is one of the best places to be this spring break.
This region in California is home to world-class theme parks like Disneyland, Legoland, and Universal Studios- perfect for families going on a trip.
If you're the outdoorsy type, you'll also find plenty of beaches to swim, camp, or enjoy some water-based activities.
Go Beach Camping
Looking for a beach getaway in California during spring break?
Head to Silver Strand State Beach (5000 CA-75) for beach camping.
College students needing to get away from the crazy demands of classwork and exams can rent an RV, reserve a spot in the park, and have the waves outside their door.
Universal Studios
Spring break in Los Angeles makes sense with all there is to do and see, like Universal Studios Hollywood (100 Universal City Plaza).
Droves of people arrive here, college students and families alike, for the heart-pumping fun.
You might even see a celebrity or two as some frequent the park for the massive theme attraction.
At the entrance of the Park is Universal City Walk, where if you didn't know better, you could mistake it as the main attraction, with fun games, a cinema, and plenty of places to eat, and entry is free.
Santa Monica Beach
A popular destination is Santa Monica beach for spring break, as the beach lures you in, and the Pier keeps you here with lots of games, rides, and various food options so everyone will be happy.
You can take the family here often, as there are so many fun things to keep everyone entertained, not just for spring break in Los Angeles.
Santa Monica also features in our list of the best beach towns in California.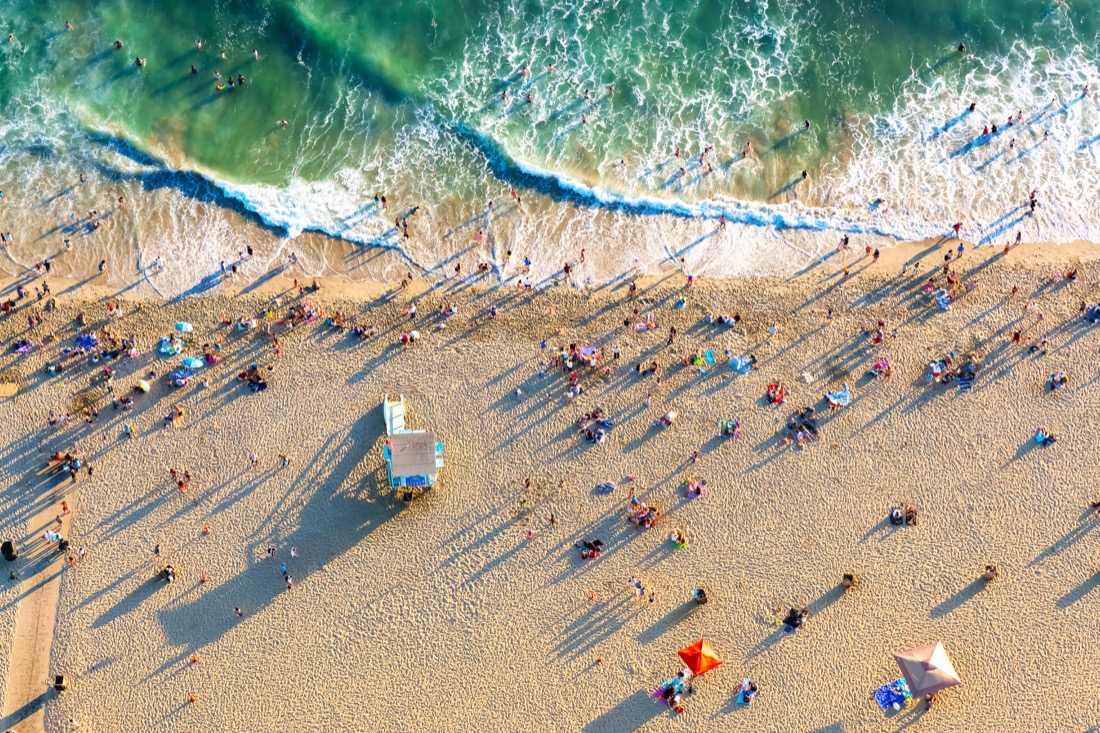 Venice Beach
Down the boardwalk from Santa Monica is the famous Venice Beach, where you can walk, skate or bike to get to.
The place is teeming with people who come to Santa Monica for spring break to relish the live music, local vendors, and street artists.
People come from around the world to be a part of the energy of Venice Beach, and spring break turns that energy up even more. 
Venice Beach also features in our guide to California beach cities.
Disneyland
It may be no surprise that Disneyland is at the top of the spring break destinations for families in California, as it has something for everyone.
Take advantage of the spring break Disneyland passes to plan easy maneuvering through the crowds.
Consider a private transfer to Anaheim to make your trip easier.
Corona del Mar State Beach Park
Corona del Mar State Beach Park has several access points and is a great destination to visit during spring in California for families, couples, and college students.
A two-minute walk will land you at Pirate's Cove Beach.
Volleyball, snorkeling, sunbathing, and bonfires make this an excellent place for college kids to let loose.
The beach can get crowded so arrive early to mark your territory.
Head to Catalina Island
Southwest of LA, Catalina Island is on the top ten list for spring break destinations for college students and families taking a trip to California in spring, as the boats and ships on the ice-blue waters are inviting.
Catalina Island delivers if you want parasailing, scuba diving, hiking, or fishing.
There are also casinos, museums, and restaurants to enjoy.
Laguna Beach
Laguna beach spring break is the best spot to lay on a beautiful beach and take advantage of the great restaurants and art galleries.
They also have a great club scene with good music and good vibes.
Laguna beach attracts a good crowd for spring break and is one to keep on the list if you are planning a trip.
Visit Palm Springs
Palm Springs is a go-to destination for any time of year but especially spring break for its great weather, beaches, and many things to do and see.
If you are thinking of going to Palm Springs for spring break, take a ride on the aerial tramway for unbelievable views.
This city is known for its architecture and public art.
Purchase a day pass to soak in the hot springs and relax during a Greater Palm Springs spring break, about 20 minutes away.
Palm Springs also features in our guide to warm places to visit in the USA in December.
Legoland, San Diego
San Diego is one of the best spring break destinations in California because it has the beach, great food, and several things to see and do.
One popular destination that attracts families here for spring break is Legoland (One Legoland Dr).
The place is filled with kid-friendly activities like rides, space-themed playgrounds, and a water park.
Visiting San Diego on a budget? Check out our guide to free things to do in San Diego.
Coronado Beach
When planning your family's California spring break trip, check out Coronado Beach (100 Ocean Blvd), as it checks all the boxes for one of the best beach vacations in California.
Families love coming here for one of the safest places to swim, clean sand, and pristine facilities.
While your teens are surfing or paddle boarding and your younger ones are making sandcastles, you can relax on the soft sand.
Baja California
College students, pack your bags and head to Baja California for spring break if you are looking for top-of-the-line resorts, stunning beaches, and fun night-time activities.
The closest thing to a tropical getaway and one of the best warm places for spring break, you will capture some of the most Instagram-deserving images here.
Final Thoughts
We hoped you enjoyed the activities and destinations we featured for spring break in California.
Let us know your favorite spots or activities in the comments below.