This article has links to products and services we love, which we may make commission from.
Ski, sun and Christmas markets! There are a variety of reasons to visit Europe during Winter. I've found myself (Gemma) drawn to the Skyscanner app… confession, I've set a few email alerts for flight price drops in the hope that we can squeeze in one of the following sensational Christmas Europe breaks recommended by fellow tinsel-loving travel bloggers. Whack the heating up, get your onesie on and get ready to be whisked into some serious winter wanderlust with the following tried and tested winter holiday ideas for Europe.
---
Note: A decision about Europe's Christmas markets and events will be made by each country individually. Please keep us updated if you hear of any decisions. Thank you.
---
Christmas Europe Breaks
1. Alsace, France
Wine, Wine, and More Wine!
France's Alsace region in the east is a dream when December comes around. The joint German-French influence creates an area that offers incredible food, stunning architecture, local beer and wine, and a true appreciation for Christmas.
Strasbourg's Christmas markets are bustling, the entire town is dressed up, and there is holiday cheer everywhere. Then, as you leave Strasbourg and head into the smaller villages along the wine route, the Christmas markets are smaller but absolutely packed with locals and tourists alike. Colmar is second to Strasbourg in terms of popularity, it looks like a fairytale Christmas village.
In all the towns, the stalls sell everything from pretzels and mulled wine to handmade ornaments and home-wares. Each one has its own cup that you have to purchase in order to get mulled wine or beer at the stands (our favourites were the glass mugs from Kayersberg) – you can return them at the end to get your money back.
Oh, and did we mention that this is all located along the wine route, meaning there are plenty of wineries to pop into along the way? Our recommendation is to fly into Basel and hire a car – driving through all of the villages is the best way to see the area and remember to visit the Christmas markets. Joyeux Noël! <—- White, red, rose, hot, chilled… I love wine!
By Kelly & Sean | A Pair of Passports
Does mulled wine make a city one of the best European winter breaks?
2. Andermatt
Snowy Swiss Alps
One of the more expensive winter destinations in Europe is the Swiss Alps but it is worth saving up for.
In 1864, a local hotelier in St Moritz, in the Swiss Alps, offered a money-back guarantee to a few British holidaymakers, offering a winter trip to his local hotel that would be just as rewarding as the summer trip they were enjoying.
The bet was placed, the visitors enjoyed their trip and the hotelier never had to make payment.
Like this, winter ski vacations in Switzerland and St Moritz as the capital of the wealthy and glamorous world of alpine skiing holidays became popular.
But rather than crowded and expensive St Moritz, consider Andermatt for your next Christmas vacation. One of the best places for Christmas in Europe if you are a ski fan.
A tiny village after the Oberlap Pass, Andermatt has remained the choice of adventurous and off-piste skiers instead of the après-ski fans.
The village is all walkable, reachable by train and now features a fabulous and sleek hotel The Chedi complete with ski school, in-room fireplaces and the most stylish spa with an outdoor pool.
The investment will soon change the face of this speck of alpine beauty so go now before that happens and enjoy Christmas markets, skiing and the postcard-perfect landscapes of a snow-capped mountain.
—-> Sounds like one of Europe's perfect winter snow breaks to me! Has anyone skied here? Share your experience in the comments below.
By Mar | Once in a Lifetime Journey
Andermatt: snug & snowy Xmas breaks in Europe!
3. Austria, Vienna
20 Christmas Markets
Austrians take their Christmas markets seriously making it one of the best European cities to visit in December.
During the festive season, every city and town has a Christmas market. As the capital, Vienna tops them all with a profusion of markets.
The city has 20 official Christmas markets and lots of other smaller neighbourhood markets. It's enjoyable to see the city – warming yourself with a cup of gluhwein and shopping for traditional handicrafts and ornaments. For non-drinkers and children, there is a non-alcoholic version of the gluhwein.
The biggest of the markets is held in front of Vienna's City Hall, the Christkindl Market.
The festive cheer spills out into the nearby park, Rathaus Park, where the trees are decorated with giant ornaments and there is entertainment for the children. <—- Nice to hear of a kid-friendly city. Sounds like an ideal place to take them for their Christmas holidays in Europe.
By Shobha | Just Go Places
---
→ Read more: our guide to three days in Vienna, you'll need more!
Also, check out our guide to Vienna in Winter.
---
4. Barcelona
& The Yuletide Poo
Barcelona is beautiful at Christmas time.
The entire city is decorated with Christmas lights. Some shops and hotels also go all out with lights and decorations – Corte Ingles on Plaza Catalunya usually looks amazing! I also love the unique and somewhat strange Catalan Christmas traditions.
At the city's biggest Christmas market, the Fira de Santa Llúicia, you'll find plenty of really cute looking little logs with faces and hats on the Caga Tió – literally: "the poo uncle". Kids cover him in a blanket and feed him in the time leading up to Christmas, and on Christmas Eve the poor log gets beaten until he, err… releases… the presents! Find out more in Two Scots Abroad's Barcelona winter guide.
It's a cute souvenir to take home, with quite a story to tell.
For fans of classical music, there's usually a concert of Händel's Messiah at the magnificent Basilica Santa Maria del Mar a few days before Christmas Eve.
Christmas time in Barcelona lasts until January 6th (King's Day), and there is a huge parade on the evening of the 5th.
Bonus points that make Barcelona a great destination for a Christmas break? The weather. It's much warmer than in most parts of Europe, and just cold enough to make ordering a hot chocolate with churros feel right. —-> Still laughing at the Christmas poo. Oooohhh, this must be where South Park Mr Hankey originated from?!
By Edwina | The Traveling German
5. Berlin in December
If you are looking to enjoy a short break in Europe just before Christmas and want the stereotypical experience, Berlin is the perfect place to visit. Strolling through Berlin's Christmas markets is the epitome of a Berlin visit in December.
Small, wooden booths decorated with idyllic ornaments including sparkling stars and snow-covered fir branches provide a memorable experience for all the family as you enjoy an evening stroll with the sound of your favourite traditional Christmas music echoing around the city.
Berlin is home to a number of traditional markets that occur annually across the city.
We stayed in the Alexanderplatz district of the city and were a short walk from the market, though it's safe to say that the majority of this neighbourhood turns into one large Christmas celebration throughout December.
The Berliner Weihnachtszeit is a short distance from the Alexanderplatz and offers a romantic and nostalgic experience with gorgeous, historic architecture providing the perfect backdrop to the skating rink.
Could you imagine any better way to spend a Christmas break than taking a romantic ride on the Ferris wheel while enjoying stunning panoramic views across Berlin with the Brandenburg Gate, Potsdamer Platz, and Reichstag just a few iconic landmarks that you will see?
A visit to Berlin wouldn't be the same without sampling a fine German brew and what better time of the year to keep you warm as you nibble on your favourite Wurst and wash it down with a local beer. —> I do not need much encouragement to visit Berlin again. Like Christmas markets? Check out this post on more Christmas markets in Germany.
By Chris | A Brit and a Southerner
6. Bled
A True Fairytale Town
Everyone says Bled in Slovenia is one of Europe's prettiest fairytale towns.
However, imagine that church on the lake and castle on the hill with snow on the mountains – that is the epitome of magic, making Bled one of the top, yet lesser-known, Christmas breaks in Europe.
Don't think that Bled is just for looking at in winter, there's lots of action in this normally sleepy town from skiing to skating and snowshoeing.
On December 25th you can watch a local tradition too. See here to read more about the sunken bell of Slovenia.
7. Budapest
Enjoy a hot bath as the snow falls around you in Budapest, Hungary, this winter.
Shop 'til you drop at the city's shopping street, Váci Street (utca) or buy souvenirs at the two biggest Christmas markets, Vörösmarty Square Christmas Market and Basilica Christmas Market.
Go skating under Buda Castle at Városliget (City Park) ice rink and take a ride in the festive streetcar. Wrap up though as the ride is cold.
Dine on traditional Hungarian stews and drink palinka at Hold Utcai Piac. This is the market the locals eat at.
---
» Read more: Festival things to do in Budapest, by a local
---

8. Bucharest
Bucharest, Romania, is known for its lively Old Town and the fun ramps up a notch or two during winter.
Keep warm, bar-hopping down the busy streets at night and shop at Victoriei Street (Calea Victoriei) or in Baneasa Shopping Mall by day.
Catch a Christmas show at the National Bucharest Theater and the lights on Magheru Boulevard (Bulevardul Magheru).
Enjoy a snowy walk through Tineretului Park (Parcul Tineretului) then warm up with mulled wine at Bucharest Christmas Market at Universitatii Square (Piata Universitatii).
---
» Find out more: What to do at Christmas in Bucharest
---

9. Edinburgh
I'm biased but one of the best European cities to visit in winter has to be Scotland's capital, Edinburgh.
Princes Street Gardens is home to the bustling Edinburgh's Christmas Market jam-packed with locals and visitors alike.
Eat bratwurst at the market and drink whisky cocktails at the Bothie before shopping your socks off at the high street stores on Princess Street.
Walk two streets back to George Street to see lights illuminating the dark skies.
Do as the locals do, and pop into The Dome for a Christmas cocktail under the massive tree. Avoid The Dome at the weekend or be prepared to wait in long lines.
Stick around after Christmas for the biggest NYE party in the world, Edinburgh Hogmanay.
---
» Find out more: Christmas itinerary for Edinburgh
---

10. Florence
Florence is the perfect city to spend Christmas time in. First off Italy is a predominately Christian country, meaning when November and December roll around you can bet that you will see lights everywhere.
During Christmas time Italian hospitality is at its finest and everyone is out on the streets with giant smiles on their faces. The air, the decor, the people, the churches – everything just screams "It's Christmastime!"
We were able to spend last Christmas there with family and it will always be a trip to remember. Check out Natasha and Cameron's post on things to know about Italy if you are heading to Florence!
By Natasha & Cameron | The World Pursuit
11. Glasgow
Scotland's biggest city is the best for live music, food and culture all year round but especially at Christmas.
Did you know that Glasgow is one of UNESCO's music cities? Check out what gigs are on this December at the vintage Barrowlands or intimate Kings Tuts.
Swing by the Glasgow Christmas Markets which are spread over two locations at George Square and St Enoch Centre.
At both markets, you can dine on hot market food, including vegan options, and people watch while you sip on a beer or something harder.
Glasgow's shops are the best in Scotland. Spread over three streets, Argyle, Buchanan and Sauchiehall, busloads of locals arrive every weekend on the run-up to Christmas to buy gifts.
Looking for something more local or vintage? Get off the tube in the West End and check out the craft shops on Byres Road, Ashton Lane and Great Western Road.
Feeling fit? Join the thousands who take part in the Santa Dash each year. Glasgow is one of the best places to visit in Europe in December for culture.
Here's how we'd spend 24 hours in Glasgow.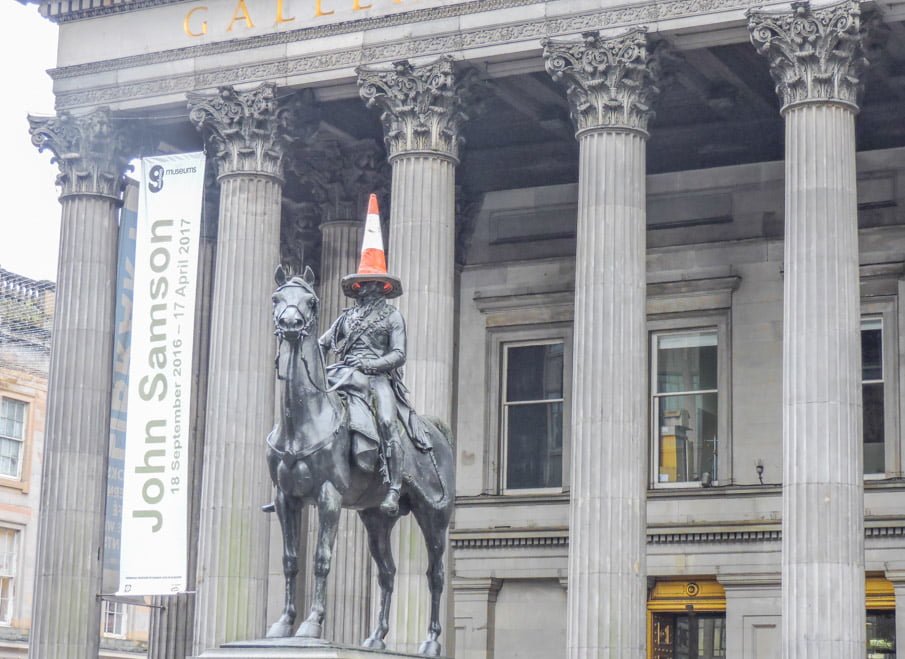 12. Grindelwald, Switzerland
Top of Europe!
Switzerland is one of the most amazing places I've visited in all my travels, it is a magical country with the endless beautiful scenery.
Being an Australian I have always dreamed of having a white Christmas and beautiful snowy winters and I think everything truly looks more beautiful covered in a layer of snow!
We visited Grindelwald, a majestic village located high in the Swiss Alps a few years ago for our anniversary.
Grindelwald literally looks like the front of a Christmas card and the whole time we were there I couldn't stop telling Dan how I felt like we were living in a real-life snow globe!
Grindelwald is perfect because it has everything; scenery, outdoor sports, adventure, accommodation for everyone whether you are seeking luxury or budget, fine restaurants and even a train that goes to the 'Top of Europe'!
We spent our days exploring the mountains, strolling the snow-covered streets, eating excessive amounts of Swiss cheese and chocolate and relaxing in our outdoor hot tub in the snow. It truly is one of the most beautiful destinations in the world and a short break we will never forget. <—– Grindelwald sounds likes one of the cutest Europe trips for couples! Snuggle up, guys.
By Simone | The Aussie Flashpacker

13. Krakow, Poland
Winter city breaks in Europe don't have to break the bank and Poland's cutest city is renowned for affordability.

Krakow is one of the most Christmassy destinations on Earth!
It is located in Poland, right between Eastern and Western Europe. It has an airport, so it is very easy to get there from anywhere in the world.
The city is beautifully decorated, with Christmas trees, lights and ornaments.
It is also one of the cheap winter breaks in Europe – you can find an apartment in the heart of Old Town for less than $60!
Krakow has a world-famous Christmas Market. It starts at the end of November and lasts until the end of Christmas.
If you go there, be sure to try Grzaniec Galicyjski. It is traditional Polish mulled wine with cinnamon, cloves and all the other warming spices. Yummy! Into festive booze? Check out this Christmas cocktails post.
By Karolina & Patryk | Karolina & Patryk – check out our 3-day itinerary here.
14. London at Christmas
Oxford Street and Regent Street, twinkling in the glow of a thousand of lights. Famous department stores, such as Harrods and Fortnum and Mason decked out in their Christmas finery, with stunning festive window displays (and each with their very own Father Christmas).
Children's pantomimes and the giant Christmas trees at Trafalgar Square and Covent Garden.
There's plenty to enjoy in London at Yuletide.
In 2016 the magical Winter Wonderland is celebrating its 10th year at Hyde Park.
I love wandering around the pretty wooden chalets, selling a myriad of Christmas gifts and decorations and tucking into tasty treats such as mulled cider, glühwein and bratwurst.
There's always a funfair with a giant Ferris wheel and the ever-popular ice-skating rink and so much more.
Two new attractions this year are The Imperial Ice Stars' production of the Nutcracker on Ice and The Magical Ice Kingdom, made from over 200 tonnes of snow and ice.
You'll find many more ice rinks dotted around the city, including the Natural History Museum and Somerset House, and further Christmas markets include the Tate Modern, Leicester Square and the Southbank Centre.
London at Christmas is simply overflowing with festive cheer throughout its bustling streets and beautiful parks, and even its museums and art galleries. I can't think of a more exciting city to spend a short break at Christmas.
By Kat | Travel With Kat
15. Malta
Winter in Europe doesn't have to mean freezing temperatures.
December is one of the best times to visit Malta. Why? Let me list the ways… fewer crowds, mostly warm weather, cheap prices, and friendly locals.
Valletta also gets dressed up for Christmas and NYE Celebrations creating picture-worthy reflections with lots of colours.
Here are more reasons for you to visit Malta in Winter. <— Christmas breaks in the sun! I'm game for a tan and some tinsel.
By Inma | A World to Travel

16. Munich
Germany at Christmas time is a truly magical place. The whole country smells of mulled wine and bratwurst, snow is dusting every roof and tree, and it feels like there is a Christmas market around every corner.
Cities like Dresden or Nuremberg and their world-famous confectioneries instantly come to my mind.
Yet I recommend you to visit Munich instead – and not just because I live there.
You see, the perfect city break in winter should be about more than just a lovely Christmas market. You'll want wonderful restaurants, excellent museums, a couple of good day-trip options and some shopping would be nice as well. Bavaria's capital has all that and more.
There certainly is a lovely Christmas market in Munich, but you also got roughly 100 museums to visit, while the Alps and their ski resorts are barely two hours' drive away. Not convinced yet?
Well then, Munich has one of the largest pedestrian areas in Europe, a world-class opera (or a stationary circus for the kids!) and a gigantic thermal bath.
You could also attend a Christmas mass in one of the beautiful churches or go skating on one of the ice rinks.
The many fairy tale castles around Munich will look especially beautiful with a little snow covering their golden splendour, and if everything fails you, there is always the Hofbräuhaus and ancient Bavarian beer culture to get familiar with! <—- Yup, I'm sold!
By Norman | Annees De Pelerinage
» » Our guide to 34 of Europe's best cities for Xmas markets « «
17. Nuremberg
Nuremberg, Bavaria is the perfect Christmas city break in Europe.
It is centrally located, has excellent air and rail transportation connections, and it has what is arguably the best Christmas market in Europe. It is clearly one of the best visited – boasting over two million visitors in the four short weeks the market is open every year.
Dating from the early 1600s, Nuremberg's Christmas market occupies the Main Square under the towering Frauenkirche (Chruch of Our Lady).
The stalls, with their candy-striped awnings, occupy in neat little rows. The stalls sell all manner of traditional handicrafts, including little "smoker" men (carved figures that hold smoking incense inside) and carved wooden toys.
A horse-drawn stagecoach takes visitors on a ride through the cobblestone streets of the medieval old city.
On weekends, the Nuremberg Christmas market is a throbbing mass of people huddling together to stay warm. During the week, you can explore the market in tranquillity, eat the local Nuremberg sausages (eaten three in a roll) and drink gluhwein (hot mulled wine).
We've visited many of Europe's markets, but Nuremberg is one of the best. Whereas other markets in other cities focus only on tourists, Nuremberg's Christkindlesmarkt still maintains its local flavour.
By Lance & Laura | Travel Addicts
Where to go for winter holidays in Europe- Bavaria?
18. Prague: Sip Svařák, See Snow
Prague is one of the most magical places you could spend a European Christmastime city break. Prague Castle sits on top of the hill and looks beautiful with a dusting of snow on it, and the Christmas markets in the Old Town have a festive, celebratory atmosphere.
My favourite thing to do there during the winter is to buy a cup of svařák (warm red mulled wine) from a booth for about a euro and take a wintry walk across Charles Bridge, marvelling at the old historical houses along the river's edge.
Or you can curl up in a café with a view of the Vltava river with a cup of coffee and a Kafka book and watch the snowfall.
Ah, winter! <—- Yet another Christmas market break, so many to choose from!
By Allison | Eternal Arrival
19. Sinaia, Romania
Sinaia is one of my favourite destinations when it comes to Christmas destinations in Europe and winter holidays in general.
The small beautiful mountain resort has plenty of wonderful things to offer in the cold season. Located in the heart of Romania, The Carpathian Pearl is ideal for winter sports enthusiasts.
Whether you choose to ride the gondola up to 2000 m, for breathtaking mountain views, or to practice skiing, the experience will certainly be an amazing and unforgettable one. Besides, you will surely wish to visit one of the most spectacular castles in Europe. Peles Castle is the main attraction in town, for good reasons. King Carol I of Romania fell in love with the surroundings of the place and decided to build a summer residence there.
Nowadays, his castle turned out into a museum, visited by more than half a million people annually.
The Neo-Renaissance architectural masterpiece is stunning! Add some snow to the image that you have already pictured in your mind and the fairytale landscape will be complete. The interiors of the castle will let you breathless, as well.
Each room has a different architectural style, such as Gothic, Venetian, German or Oriental.
Overall, Christmas atmosphere can be felt anywhere in town, no matter if you decide to go to ice skate in downtown, to admire the holiday decorations of the streets, or to simply enjoy a hot chocolate in a rustic restaurant with your loved one. <—– You all know how much I loved our summer European trip to Bucharest, maybe Sinaia will be next on our list!
By Bella | Whisper Wanderlust
Sinaia – one of the Christmas Europe breaks for architecture lovers
20. Tallinn
One of our favourite Christmas getaways in Europe is Tallinn, the picturesque capital city of Estonia. Tallinn's old town was made a UNESCO World Cultural Heritage in 1997 because unlike any other capital city in Europe, it has managed to completely preserve its medieval structure and therefore nicknamed "the medieval pearl of Europe".
The cobblestone streets are all originals, which along with the medieval churches, grandiose merchant houses, barns and warehouses, date back as far as the 11th century.
It's the perfect Christmas getaway in late December early January time because it's all covered in snow, making it like something from a fairy tale – the perfect ideal Christmas image you dream of <—- Have you been good this year?
Maybe Santa will send you to Estonia on your Christmas Europe break!
By Stef & Seb | Nomadic Boys
---
Have you enjoyed this post of the best winter destinations in Europe?
Why not share on Pinterest for others to see…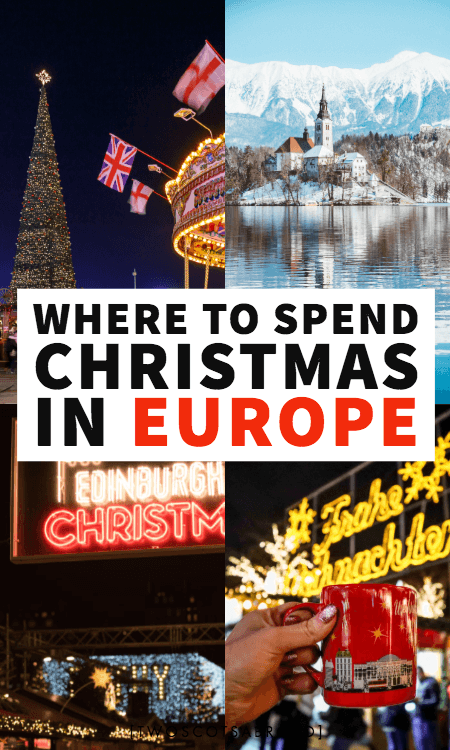 Final Words
I hope you've enjoyed our guide on the best European cities for Christmas.
Whether you are seeking snow, spas, sausages, and something to sip, there's a short winter break for every type of traveller and budget.
Don't forget to check out our tips on where to go for New Year's Eve abroad this year.
Thanks to my fellow well-travelled bloggers for sharing their top tinsel-clad tips. I hope you've enjoyed our guide to the best European cities for Christmas.
Where is the best place to spend Christmas in Europe?