This article has links to products and services we love, which we may make commission from.
California's coastline is nothing short of stunning- stretching for more than 800 miles, it features some of the most beautiful beaches in the world.
And thanks to a good number of gorgeous beach towns dotting the coast, it's easy to find the perfect spot to relax and soak up the California sun.
If you're planning to visit, this guide explores some of the best beach towns in California- whether you're looking for a fun-filled vacation or a peaceful getaway.
Aside from swimming and beach activities, many of these places are also full of exciting things to do including shopping, dining, and nightlife.
For more places to visit in The Golden State, check out our California bucket list.
Northern California Coastal Towns
While northern California is mostly known for its wine, redwoods, and vineyards, its breezy ocean coastline is also a must-visit.
Listed below are some of the best northern California coastal towns you should experience featuring sandy beaches and gorgeous seashores with lots of activities to enjoy.
You may also like our guide to California coastal cities.
Crescent City
Eight hours from San Francisco, Crescent City is nestled along a sandy crescent coastline, hence the name, with stunning coastal views and is one of the best small beach towns in California.
A seafood lover's haven and a vital port for vessels and commercial fishing.
Viewing the entire city from the top of Battery Point Lighthouse (235 Lighthouse Way) is one of the coolest things to do here.
The lighthouse is an offshore island that is also a museum open to the public when the tide is low (April through September) and one of the most visited sites.
Note that there are no restrooms on the island, only in the city parking area, so plan accordingly.
B Street Pier is another worthy stop to stroll out to the end to witness incredible ocean views.
On a good day, you can see hundreds of sea lions swimming.
You can't leave before visiting the beach that the city is named for, as it sits at the midway point of Crescent City.
A popular site for surfing makes it another one of California beach towns to visit if you are up this way.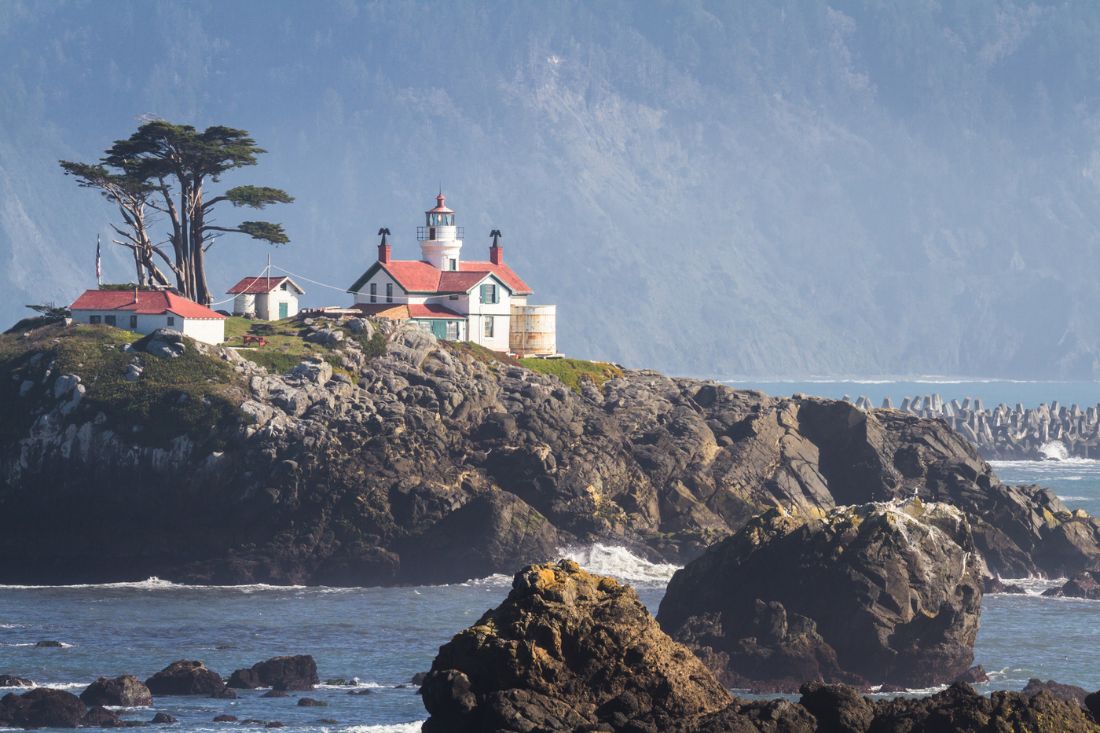 Trinidad, California
One of the best Northern California coastal towns is Trinidad if you love the outdoors without the crowds.
Located in Humboldt county, Trinidad, Ca, is one of the quiet beach towns in California.
It has redwoods and peaceful beaches and safeguards its Native American cultural and historical heritage.
If you prefer remote beaches, go swimming on Trinidad State beach and have a beach that feels like you have it all to yourself.
Hike to the nearby hilltop for a vantage point that delivers amazing ocean and harbor views.
Spend a weekend exploring one of the best coastal towns in California solo or as a couple.
Fort Braggs
Fort Braggs is one of the best beach towns near San Francisco and just 10 miles north, Seaside Beach is one of ten beaches near Fort Bragg and a big reason people come here.
Once reserved as a military base and lumber yard, Fort Bragg is the largest city on the Mendocino Coast and is known for the famous Glass Beach (W Elm St and Glass Beach Dr) and the Skunk Train (100 W Laurel St).
The steam locomotive Skunk Train is a popular tourist attraction where individuals can ride by rail bikes on the track or the traditional way inside the train.
Several parks, trails, and the Botanical Gardens (18220 CA-1) are other tourist interests worth visiting.
Make it a weekend girls' trip and drive Highway 101 from San Francisco, which is only 3.5 hours to get there.
Hike the trails in Russian Gulch State Park to visit the 36-foot waterfall.
Dress according to the time of year, as the far north temps can vary.
Shelter Cove
Shelter Cove features black sand beaches, tidal pools, and hiking trails.
Getting to this quaint and remote coastal town requires a detour from Highway 1 to a meandering road that spans 25 miles.
Well worth the treasure hunt to land in one of the best beach towns in California, which offers a variety of outdoor fun such as biking, hiking, wine tasting, and dining at beachfront restaurants.
The Lost Coast trail takes two-four days to complete and entices serious hikers from all around.
Non-hikers can also walk the coast trail and explore at their own pace.
Stargazing is easy to do as there are no lights at night, which makes for a lovely relaxing evening for stargazers.
Sacramento
Sacramento is the state capital and one of the safest and cheapest places to live (surrounding suburbs) and teeming with stuff to do.
Once wrapped in Gold Rush history, Sacramento has transformed into a cultural Mecca draped in the arts, music, breweries, and 5-starred restaurants.
Although there are several beaches near Sacramento, Paradise Beach (5211 Carlson Dr), although small, is peaceful and pleasant and a hidden gem.
Sand Cove Park (2005 Garden Hwy) is a public beach near Sacramento that is a treat as there is fishing, a place to barbecue, and the kids can play safely in the sand and water.
From the history buffs to the outdoorsy types, you are welcome here as there is something for everyone in Sacramento.
Stinson Beach
Stinson Beach is one of the beach towns near San Francisco, just 20 miles north of the city- and worth visiting if you are looking for a beautiful coastline and forested slopes.
A century ago, the location wasn't even in the running for best beach towns in California, but in 1906 refugees migrated to the area, and the foundation for the free-spirited location was laid.
With its secluded vibe, Stinson beach is one of a few hidden California beach towns worth visiting.
The beach is the main attraction and a surfer's playground.
Red Rock Beach is Stinson's little secret and within walking distance is frequented by locals sunbathing in the nude.
Planning to visit San Francisco? Read our San Francisco bucket list.
Central California Coastal Towns
Whether you're looking for a small-town feel or want to be in the heart of all the action, central California has coastal towns that will fit your needs!
Check out some of the places featured below, offering incredible views, stunning beaches, and plenty of opportunities for outdoor fun.
You may also like our guide to spring break in California featuring places and beaches from the central part of the state.
Pismo Beach
The Monarch butterflies, beautiful beaches, and wineries make Pismo Beach popular.
Pismo beach stretches 17 miles and is one of the best seaside towns in California for families.
Come here for surfing, fishing, camping, bird-watching, and Dinosaur Caves Park (2701 Price St).
Plan a family road trip from Los Angeles (3.5 hours) and Santa Barbra (1.5 hours) and include a picnic, as the park has multiple tables and benches.
The vast grassy area and playground with slides, ropes, and bars to climb and dinosaur eggs to hide in will keep the kids happy for hours.
Carpinteria
About 12 miles south of Santa Barbara and Northwest of LA, Carpinteria is considered one of the safest beach towns in California, in fact, in 1982, the slogan "World's Safest Beach" was embraced.
It may have a small locale but has a large celebrity presence, as it is said that Ellen, Aston Kutcher, and Kevin Costner own homes here.
There's a choice between Carpinteria City and Carpinteria State Beach to visit here.
Water sports are a popular pastime.
A great getaway in a very good part of California for picnics, barbecues, and dunes.
Amtrak service is available, making Carpinteria even more accessible.
Ventura
Ventura may not be the cheapest coastal town in California, but it is undoubtedly one of the most reasonable.
Most people are attracted to the beautiful beaches and great weather, but living costs stop some in their tracks- Ventura is one of California's most affordable beach towns worth exploring.
Adventure seekers will find Ventura's proximity to the harbor appealing, along with Surfer's point beach being a must-visit.
The place also delivers so many spots to visit, including Ventura Pier (750 E Harbor Blvd), Channels Island National Park, and Mother's Cove (1878-1998 Spinnaker Dr), to name a few.
Ventura Beach is also included in our list of USA beaches to visit in December.
Redondo Beach
If you are looking for LA beach towns to visit, consider Redondo Beach, as it has a unique vibe and is known for its Pier with cute shops, oceanfront restaurants, and great views.
This is one of the cutest beach towns in California where you can walk out to the end of the Pier and watch the boats set out to sail.
Take in the view of the sunset from this vantage point while you are here you won't be disappointed.
A few miles from the beach is Hopkins Wilderness Park (1102 Camino Real), a family favorite for tent camping.
Long Beach
Long Beach is underrated as it is one of the most affordable beach towns in California.
An affordable suburb in California compared to other beach towns, Its diverse economic class contributes to the rich cultural experience.
The hosts of the Pride Festival and Parade, the Grand Prix, weekend vendor fairs, and farmer markets make Long Beach a great place to live or visit.
Long Beach is a great place to build relationships and raise a family.
You may also like our guide to California in December which features Long Beach.
Southern California Beach Towns
The following list will explore some of the best beach towns in southern California featuring a beautiful coastline, opportunities to shop and dine, and other entertaining activities.
From the laid-back person looking to relax on the seashore, to the adventurer searching for waves to catch, southern California beaches have something for everyone.
You may also like our guide to California in fall featuring destinations and activities in southern California.
Santa Monica
As a tourist destination and an area with a thriving local culture, Santa Monica is one of the coastal towns in southern California you must visit.
Santa Monica beach features plenty of fun outdoor and water-based activities to enjoy including swimming, beach volleyball, watching the sunset, and surfing.
You can also head to Santa Monica Pier which will keep you entertained with games, rides, and food options- as well as see its famed solar-powered Ferris wheel.
If you're interested in arts, this coastal town has plenty of art galleries and museums for you to check out- like the Bergamot Station (2525 Michigan Ave) featuring contemporary art exhibits, workshops, and performance.
Santa Monica also features in our list of warm places to visit in the USA in December.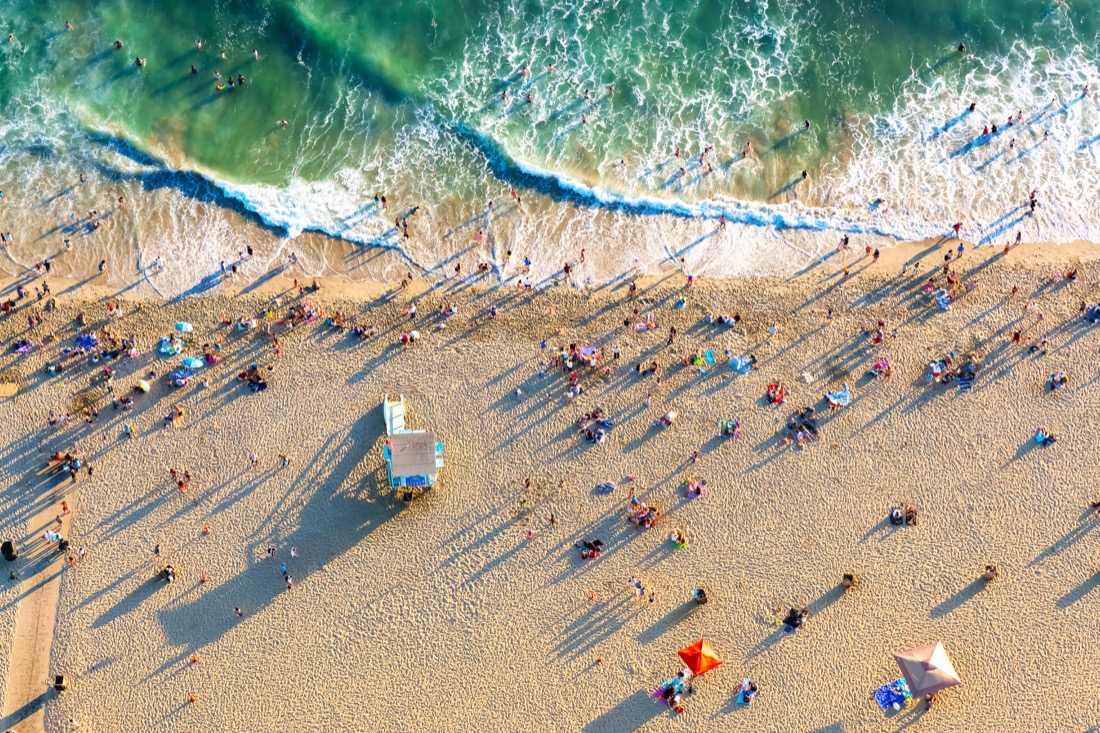 Laguna Beach
Laguna Beach is a well-known beach community featuring seven miles of sandy beaches.
The Laguna Beach town is best explored on foot; strolling Laguna's paved beaches or winding trails is the best way to take in the fresh ocean air and experience the town's natural beauty.
Downtown Laguna is an eclectic mix of hotels, restaurants, boutiques and art galleries.
The area comes alive in the summer with art festivals like Sawdust Art & Craft Festival and Festival of Arts as well as live music performances.
There are simply so many things to enjoy here, whether you are an art lover, an outdoor adventurer, a beachgoer, a family, or a romantic.
Encinitas
Encinitas is a beach town that revamped itself and is a sort-after destination for beautiful beaches and incredible surfing.
With celebrity chefs, luxury resorts, and incredible views, Encinitas is one of the best beach towns in California.
Stroll into town and visit the cafes and farmer's markets when you aren't relaxing on the beach.
Just nine minutes down the road in Solana Beach, take a hike on Annie's Canyon trail (498-450 Solana Hills Dr).
Wear shoes with good traction and finger gloves, as sections of the canyon can be slippery.
South Mission Beach
San Diego beach cities include South Mission, perfect for its central location near bike paths and other outdoor activities, shops, and an alluring beach.
A great couple's getaway spot with a laid-back vibe and one of the safest beach towns in California.
The beach has everything for a fun day, great waves, sand, volleyball, fire pits, picnic areas, and plenty of lifeguards.
You may also like our guide to free things to do in San Diego if you're looking to explore the city on a budget.
Ocean Beach
Ocean Beach is a less populated San Diego beach city with beautiful cliffs and tide pools.
A great place to relax, slow down and enjoy the magnificent view.
Besides the relaxing sands, Ocean Beach offers fishing and hiking trails along the cliffs.
There's also a fully playful beachfront nightlife.
Final Thoughts
Which beach town in California is your favorite? Let us know your thoughts in the comments.