This article has links to products and services we love, which we may make commission from.
There are two certainties in life, my friend tells me. Death and strikes in France! If, like me, you find yourself in Paris during a strike or are due to travel to France, take note of the following advice to help reduce the stress on your trip. This guide looks at tips on how to enjoy your city break during a Paris strike.
Strike in Paris Travel Tips
1. Outbound Travel
If you are due to travel during the dates of the strike, contact your airline or rail company to discuss the best option for your circumstances.
You cannot claim for compensation as strikes are deemed against an airline's control. It is up to the company to find another option, provide overnight accommodation (if applicable) and food.
It is up to you to check-in, arrive at the airport and keep evidence of any purchases. Offered an alternative type of travel? Get it in writing.
When you arrive, if there is a Paris metro strike like in December 2019, a taxi to your accommodation may be your only option.
Avoid rush hour if possible. This is the same for leaving.
Taxis from the city to Charles de Gaulle Airport (CDG) can take up to two hours on a normal day and cost around 55 euros.
Note: There is an extra security check before you get to the gate at CDG and security lines for the Eurostar are notoriously long getting out of France so leave with plenty of time.
2. Transport in Paris During a Strike
While metro staff members striking in France is not as common as other types of professions it did happen during the December strike.
When it reopened, some lines were operating but stations were closed so you couldn't actually access them.
Download the RAPT app for the most up to date advice and use Twitter for specifics.
Bus lines were huge. My best advice is to avoid travelling during rush hour as this is when everyone is trying to work with limited options.
Uber is more expensive than taxis in Paris but I ended up having to pay for a car share as I had a meeting arranged at 08:30 at Jardins du Trocadero.
I was 45 minutes late but luckily the person I was meeting struggled to find transport too.
E-scooters are available in Paris.
They will be harder to find during rush hour but not impossible. You need to download the app and add credit card details before unlocking the scooter. Companies include Lime and Bird by Uber.
Some of the roads in Paris are bumpy and traffic is always a nightmare so consider this before hopping on an e-scooter, especially if this is your first time.
While the public buses are busy, if you can wait until after rush hour an open top hop/off bus is a good idea for harder to reach areas such as The Avenue des Champs-Élysées and Arch de Triumph.
Walk. This is what I did for the majority of my trip during the strike and what I'd do anyway.
Naturally, this adds time to your journey so if you only have a few days, check out my time-saving tips in the Paris travel guides coming soon.
3. Building An Itinerary
Use My Maps and Google Maps to input the things you want to do in Paris and the restaurants you want to visit.
This will help you visualise what Paris attractions are close together and also work out timings on foot.
For example, you can easily visit Sacré-Cœur, streets of Montmartre and the Moulin Rouge together and save the Louvre, Les Deux Plateaux, Shakespeare and Company and Sainte-Chapelle for another day.
Accept that some things will have to be missed and saved for another trip and that you'll make new discoveries as you wander the streets.
---
» Here are the best things to do in Paris this winter
---
4. Tours and Tickets
If you book your tours and tickets through a third party like GetYourGuide it is possible to cancel your booking 24 hours before the start date.
I did this for the Palace of Versailles as there was no way to get there without the metro.
A cancellation confirmation was sent immediately via email and money was refunded the same day.
Expect some attractions to be busier than others so make use of skip the line tickets where available.
The following Paris activities offer them:
These sell out and you can rarely get them on the day, so purchase as soon as you've decided you want to visit.
I got lucky at Sainte-Chapelle and managed to book a line skip when I was in line. I really hate waiting.
5. Stay In The Loop
Keep up to date with progress by watching the news in your accommodation, reading news sites and following Twitter.
Most museums and attractions update their Twitter account with their plans for that day.
For example, the Pompidou Centre closed early on the first day of the strike and publicised this on Twitter. Some exhibitions were closed too. The next day was back to normal.
I walked all the way to D'Orsay to find a note on the door saying that the museum was closed due to the strike. That's when I decided to check the social media accounts before visiting anywhere.
Speak to locals.
Honestly, everyone was super friendly and helpful.
As soon as I arrived a local walked me halfway to my hotel and pointed the direction for the rest of the journey.
I booked a photo shoot and the photographer emailed to advise me of the strike as soon as it was announced.
Because of this information I made sure I was on a metro train from Disneyland to the city before 9pm as the metro strike was due to begin at 10pm.
Hotel staff helped me work out which metro station would be open for my trip to the airport and we also discussed the closest bus stops for the airport bus. I ended up paying €55 for a taxi just to be safe.
I was in a fortunate position to have my friend, Mhairi, who used to live in Paris on the other end of the phone. Her parents still live in Paris, their help was invaluable.
If you don't have a Mhairi I recommend joining travel Facebook groups and asking for support and/or reading updates there.
Contact your hotel and tour companies for advice, it is likely they are locally based.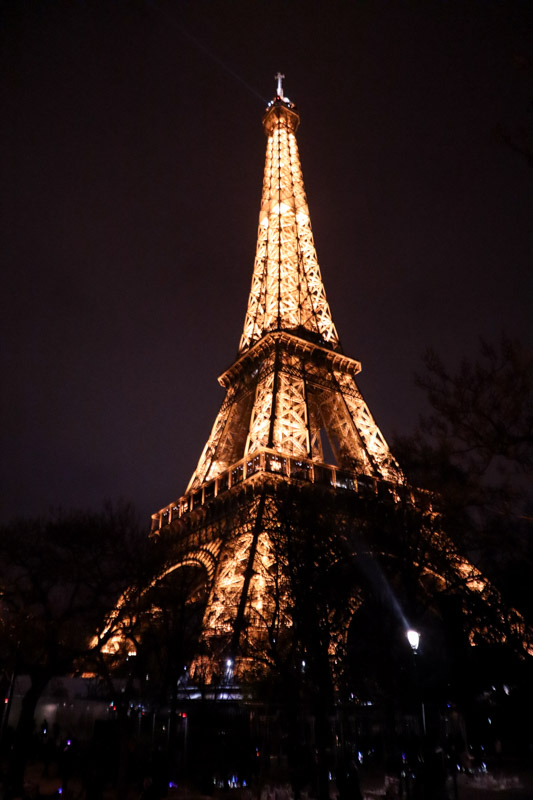 ---
» You may also like | Paris gift guide for Paris fans
---
6. Staying Safe
While I never saw any of the protests, I did see the police three times in Paris during the strike.
The first two times I was close to cité Berryer where there were barriers up at two roads shutting off the path so I decided it was wise to save a visit for another trip.
The third time was on Saturday night close to Rue Montorgueil. About 10 police vans with uniformed officers were parked up getting ready to move. I decided it was time to head back to the hotel and leave the evening to the locals who went about their normal lives.
I was advised by the photographer to avoid Champs-Elysées/Arc de Triomphe and République which I did during the official Black Tuesday strike.
Don't ignore advice and you'll have a great time unaware that a strike is happening in Paris!
---
Do you have any tips to share or questions?
Leave them below in the comments and I'll get back to you. Thank you.