Affectionately known for its tartan, Tunnock's teacakes and tots of whisky, gifts from Scotland are an obvious choice for friends and family who pine for Pitlochry or go gaga over Glencoe. Here is a jam-packed guide to gifts from Scotland as well as Alba themed gifts for homes, wardrobes, bellies and bodies.  
Best Gifts from Scotland – under £50

Tea for two
We all know how much us Brits love a good cup of tea so what about these ? The silicone strainers break apart at the bottom for tea to be inserted. Guess what? There hasn't just been one Nessy spotted in the Loch! This gift comes with two (for U.S readers)! Team up with this cute teapot cosy from Etsy (made in the Isle of Skye) for the true Scottish teaxperience.

Stop nessin' about
Kid you not there is a monster range of these Nessie kitchen items. The mysterious beast even comes in a , perfect for a cold day.
Shadey Scotland
This absolutely beautiful Balmoral purple heather light shade caught my eye on Etsy when I was browsing. It's under £30 and can be used for both the 'big light' as we call it here in Scotland or a lampshade and comes in a variety of shades (boom boom) if heather isn't your decor tone.
The gift that keeps on giving
I absolutely adore the versatility of ponchos. They can cover up in cold weather, be used as blankets for picnics or cars, and bags when cut short at the shop (avoid paying 5p!) Check out this striking red tartan poncho for under £20.
Classy Celtic cheese board
Using one of Scotland's oldest building materials, slate, this gift comes in the shape of Scotland and can be used as a cheese board, candle stand or table decoration. There is a protective felt backing to prevent it scratching your table.
Thistle do nicely
No Scotland themed gifts guide would be complete without some mention of the national flower! This wood metamorphosis art piece displays the thistle silhouette cut out of wood (obviously) and framed. This piece is 11 inches in height and 15.3 in width.
Gift Ideas Scotland – under £100
Donald where's yer…
Craig's favourite, tartan ties. I bought him one for his 30th birthday and his brothers followed suit (I'm on a roll!) for our wedding party at Leith Theatre in Edinburgh. A modern alternative to the stuffy old wide ties worn by mad tour guides on the West Coast is the skinny tartan tie. Craig has worn his to many weddings and festive events.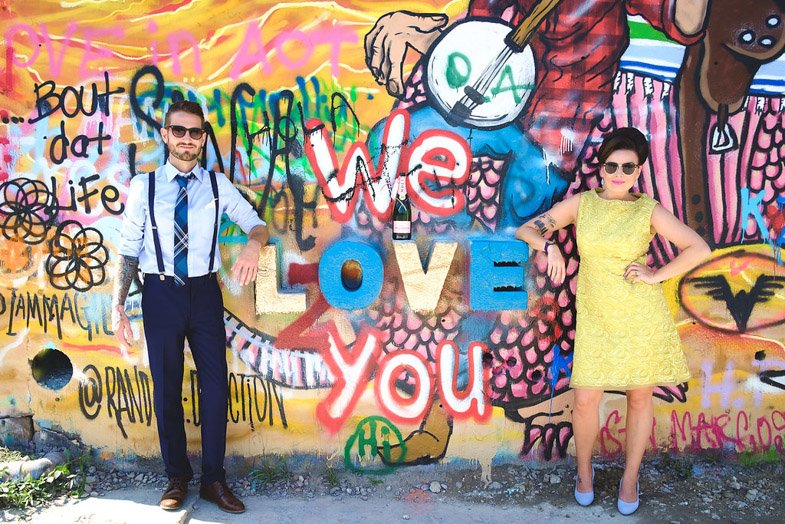 Bags without the pipes
Harris tweed bags
are an immensely popular gift idea from Scotland. The sturdy yet stylish Harris wool material is teamed up with leather straps, brass rivets, and a magnetic fastener to keep the contents of the handbag safe. We bought my Mum one a few years ago which came with gloves to match.
Scotland themed gifts over £100
A bar on a barrel
The whisky cask is sought after for home interior design and this barrel is nicely decorated with a map of the whisky regions so you can plot your next 'water of life' road trip (with designated driver) while you have a swally. The glasses sit on an Outer Hebrides sourced Harris Tweed mat to avoid harming the barrel and to add that splash of Scotland.
Handmade hipflask + bottle
Here's a present all wrapped up for you – a handmade hipflask which comes in material of your choosing and a bottle of Cragganmore or Lagavulin whisky to fill it up!
Pre-Christmas Gift
I don't promote 'buy for the sake of buying' but I am a sucker for buying Christmas baubles for friends who have just moved in together or who have a new addition to the household for the festive period.
Check out these cheeky Scottish tree decorations (Irn Bru, Buckfast, Tennents)
…and one for the Outlander fan!
You didn't think I'd get through this gift ideas Scotland guide without mentioning the show that is taking over Scotland did you? For under £10 you can purchase this Outlander inspired bookmark for your loved one to keep a place in their books. 
Have a very merry Christmas full of family and cheer, and I hope your Scotland loving friends enjoy their Caledonia themed gift whether it be a slug of whisky, strainer shaped Nessie or Scottish made souvenir.
Like it?
Pin to your Scotland board!
Any questions?
Ask in the comments below.