This article has links to products and services we love, which we may make commission from.
Affectionately known for its tartan, Tunnock's teacakes and tots of whisky, gifts from Scotland are an obvious choice for friends and family who pine for Pitlochry or go gaga over Glencoe.
Here is a jam-packed guide to gifts from Scotland as well as Alba-themed gifts for homes, wardrobes, bellies and bodies. Featuring gifts for women, men, new babies, weddings, and Outlander fans! Consider the following items when planning care packages for loved ones too. Stick around until gift item number 50, I think you'll like it…
New! I'm very excited to announce that I've created a six-round Scotland trivia quiz for you to play with friends and family over Zoom and other video call software.
The quiz includes six rounds, three bonuses, one free lookbook and a free Spotify playlist for you to get ready to! Find out more here.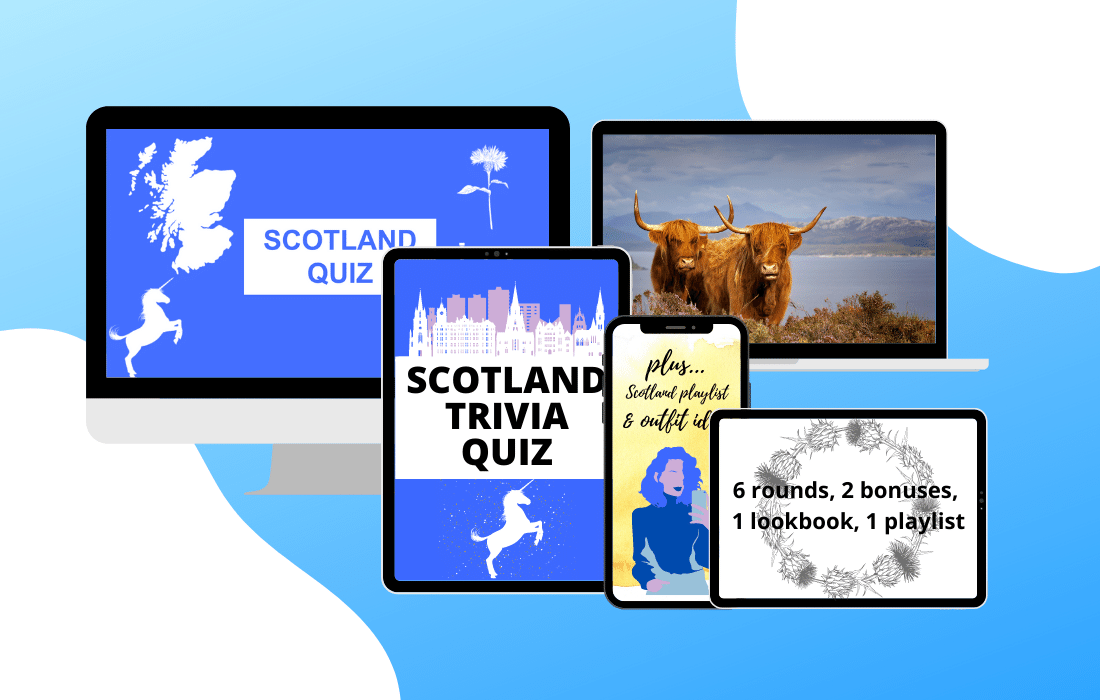 Scottish Gifts For Her
1. DNA Testing
So how Scottish are you?
This DNA testing kit (click here for US and here for UK) takes two minutes to conduct and you receive your results within 3-4 weeks!
The results reveal the paths of your ancestors from over 42 regions.
All you have to do is swab your cheek and send it away to the experts.
2. Plaid Poncho/Cape/Shawl
I absolutely adore the versatility of ponchos, capes and shawls. They can cover up in cold weather, be used as blankets for picnics or cars, and bags when cut short at the shop (avoid paying 5p!)
Check out this striking red tartan poncho. If you follow Two Scots Abroad you will know that we are mad for the plaid!

3. Harris Tweed Bags and Masks [No Pipes!]
Harris Tweed Bags US / UK are an immensely popular gift idea from Scotland.
The sturdy yet stylish Harris wool material is teamed up with leather straps, brass rivets, and a magnetic fastener to keep the contents of the handbag safe.
We bought my Mum one a few years ago with harris tweed gloves to match.
Tweed masks are super popular in Scotland. My friend and TSA writer, Ruth, has this one and highly recommends it.
---
» You may also like | 36 tweed items for her, him and the home
---

Tweed Face Covering
Tweed masks are super popular in Scotland. My friend Ruth personally recommends this one.
Made from authentic Harris Tweed, it is stylish and breathable.
It comes in 15 colors. Click here to let the maker know which you prefer.
4. Scottish Themed Soaps
Scottish Fine Soaps US / UK blend delicious ingredients with a contemporary Scottish style to create bath and beauty collections perfect of Scottish gifts.
Soaps are perfect for travel as there are no spills.
5. For Yer Whisky-lovin' Wimmin
These silly message socks gave me a giggle. The soles of the socks say – if you can read this bring my whisky.
My Gran thought these were hilarious! They came are 'whiskey' just so you know. Buy US / UK.
6. Scottish Slang T-shirts
Scottish clothing doesn't have to be boring.
Scottish slang t-shirts designed by yours truly! Put your guid vibes or your favourite Scottish city on an ethically produced t-shirt or tote bag.
Scottish or a Scotland lover and want to show your support abroad? Check out the One Scot and Two Scots Abroad tops here.

7. Become a Lady
Grant your loved one the title of lady, or laird, with this gift package.
The experience includes the title, an email address with the title for example yournam[email protected] and a tour of your new land at Castle Dunans.
Cool, eh? A very unique Scottish gift.
Bonus. Dreaming of Scotland Hats
Hello Dreamers!
Are you missing Scotland?
Pop on this Dreaming of Scotland hat and feel right at home.
Made in the UK and designed by Scotland Travel Blogger, The Chaotic Scot.
For 20% off, use the coupon DREAMERS20.
---
Scottish Gifts For Him
8. Donald Where's Yer…
Craig's favourite, tartan ties US / UK.
I bought him one for his 30th birthday and his brothers followed suit (I'm on a roll!) for our wedding party at the Leith Theatre in Edinburgh.
A modern alternative to the stuffy old wide ties worn by mad tour guides on the West Coast is the skinny tartan tie.
Craig has worn his tartan tie to many weddings and festive events.
Looking to meet men in kilts during your visit? Here are 5 ways to do so.
♥ You may also like our gift guides for London fans and Paris lovers.

9. Saltire Souvenirs
Sometimes the St Andrews Cross items make the best Scottish souvenirs. We travel with our Scotland flag all over the world and use it in our images.
Other alternatives include saltire cuff links US / UK and for the foodies – a coffee/tea mug.
What about a plaid shirt? Here's our guide to tartan shirts.
10. Cashmere Socks
Graham cashmere men's ribbed socks US / UK are breathable yet luxurious and hand-knitted in Hawick, Scotland.
11. Oor Wullie Colouring Book
Every year my uncle used to get the annual Oor Wullie book for Christmas, it brings back fond memories of festive times. Did you know the Oor Wullie was featured in Dundee's D.C. Thomson newspaper, The Sunday Post? You do now!
There are two different types of nostalgic colouring-in books available, Oor Wullie US / UK and The Broons.
12. Cute Nessie Clothing
Do you believe? Not just Father Christmas needs your faith, Nessie the Lock Ness Monster does too.
Check out this modern Nessie t-shirt or cool Nessie socks.
Scotland Presents For the Home
13. Tea for Two
We all know how much us Brits love a good cup of tea so what about these Nessie tea strainers UK / U.S)? The silicone strainers break apart at the bottom for tea to be inserted. Guess what?
There hasn't just been one Nessie spotted in the Loch! This gift comes in a family of three! Team up with tea and shortbread for the true Scottish teaxperience.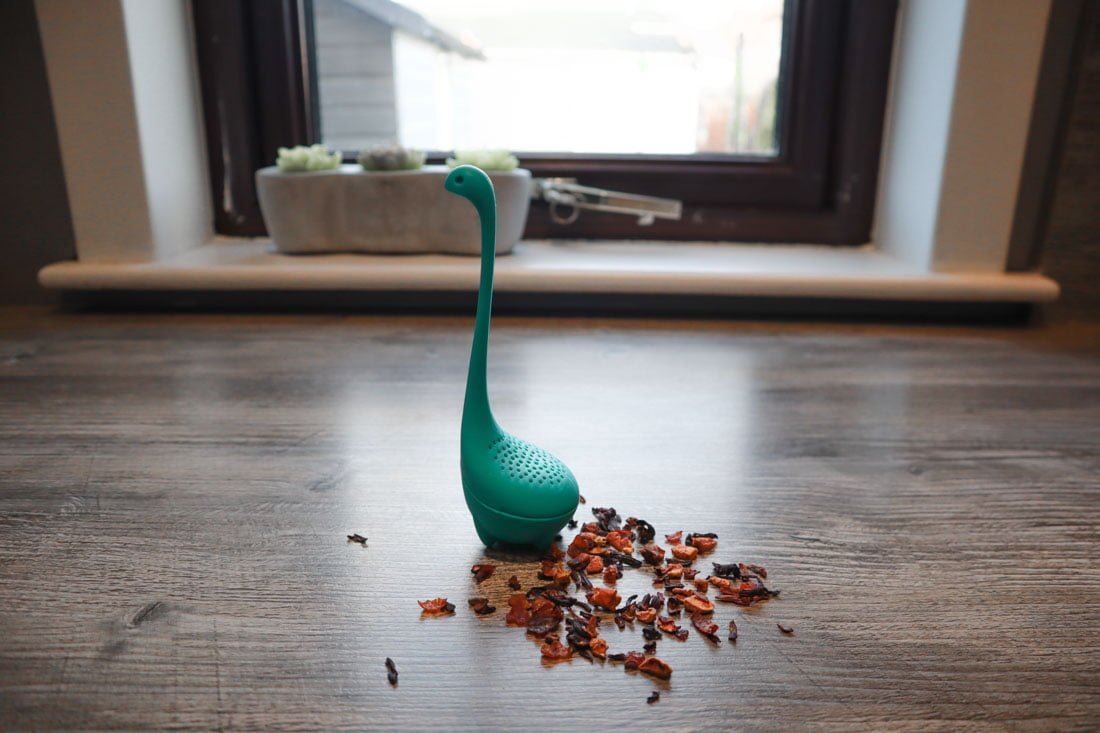 14. Line in the Sky
I connected with Becca on Instagram and instantly fell for the simplicity in her line drawings.
You can see the example of her North Coast 500 map here and explore other examples of Munros and hiking paths at her Etsy shop. UK and USA delivery.
15. Gin Bottle Light Shade
Gin is allll the rage in Scotland just now and what better way to recycle an empty bottle than to pop at Harris Tweed lampshade on top?
Since gin bottles from the likes of Edinburgh Gin and Isle of Harris gin are super attractive these days (sorry Gordon's), they really compliment the bold coloured light shades.
We got the green shade for my Mum's birthday (she has mustard decor). The kit comes with the shade and light fittings, all you need to add is the bottle – empty of course. Winning combo present for Scotland gin lovers! I've YouTubed how to do it yourself, not worth the effort.
16. Thistle do nicely
No Scotland themed gifts guide would be complete without some mention of the national flower! This wood metamorphosis art piece displays the thistle silhouette cut out of wood (obviously) and framed.
This piece is 11 inches in height and 15.3 in width. UK shipping only annoyingly, sorry.
17. Scotland Prints
My friend Kathi actually took these images. She's a very talented Glasgow-based creative. Check out the highland coo print and many others at her store on Etsy here.

18. Scotland Beer Map
I first saw the American States version of this a year or so ago and thought – genius. I'm really pleased to see a Scotland edition now since the country is craft beer daft! Pop your beer tops in the correct location slots and display the Scotland beer map with pride.

Whisky Gifts
19. Complete Guide to Malt Whisky
The Complete Guide to Malt Whisky by whisky authority, Michael Jackson, hosts a wealth of knowledge for whisky fans.
This go-to resource, covers a variety of whiskies from all over the world and includes ingredients and a score.
Will your loved one agree?!
20. Whisky Cocktails Recipe Downloads
My friend Nicola has created these cute whisky cocktail recipe cards which you can download instantly on Etsy.
Nicola is a Fife-based creative like me.
Glasgow Gifts
21. Glasgow T-shirts!
This is right up my Sauchiehall Street. Plain white T with black text on the chest.
Perfect Glasgow gift for your hipster pals. Click to check availability.
A topical t-shirt which is typical for Glasgow, we are LOVING the new 'Yer Da Guards Statues' t-shirt throwing shade at those who hate in our tolerant country.
#BlackLivesMatter in Scotland and around the world. Make a statement with a side of sass with this new design.
Agree that BLM matters in Scotland? Donate directly to the Black Scottish Business Fund.
22
. Glasgow Monopoly
Move over Mayfair! The mean streets of Glasgow have their own version of Monopoly UK.
Advance to Princes Square, Renfrew Street or George Square but avoid the clink!
23. Colouring Glasgow
Lose hours colouring in Glasgow's top attractions such as the Glasgow City Chambers. Colouring Glasgow US / UK.
---
Glasgow
Experiences
24. Glasgow Music Tours
Since Glasgow is the city of music why not test your knowledge of Scottish rock, pop and indie at the Glasgow Music Tour?
Jonathon and the team really put on a good show while sharing their stories of music journalism and their experience of the Glasgow music scene while taking you around the cool venues in the city. I learnt a lot during my tour which I was genuinely surprised at!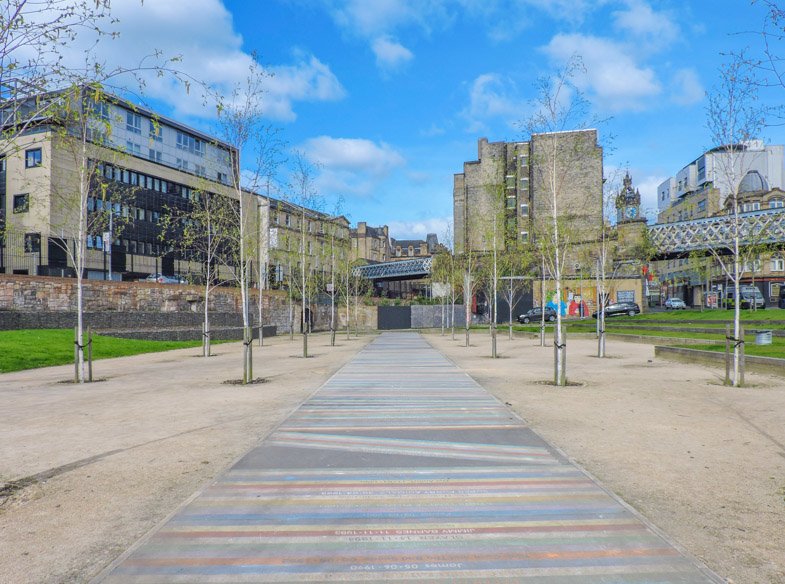 25. Glasgow West End Whisky Tour
Although Edinburgh may be better known for its tours, Glasgow really packs some punches with its uniqueness, and we wouldn't expect anything less of Scotland's coolest city.
Moving away from the city centre landmarks, this whisky tour takes you to bars with personality to taste a tott or two (four whisky bars to be exact).
Edinburgh Gifts
26. Edinburgh Map Art
I can't advertise Scotland gifts for the biggest city without discussing the capital, Edinburgh! Meet this high-quality art print of an Edinburgh map US / UK. It really is a neat and stylish present which would go with many decors.
27. Edinburgh Castle Rock(s)
Not to be confused for a box of chalk crayons, Ross's Edinburgh Castle Rock [UK/US] comes in pastel colours and a variety of fruity flavours (not like your traditional mint rock). This childhood throwback is guaranteed to crumble and also get stuck in your teeth!
28. Beer Soap – Tae Wash Yer Mooth Oot Wi
Edinburgh Beer Soap (U.S only) is made with Innis and Gunn Scottish Ale
.
Other ingredients include sandalwood and musk, balanced with lavender, jasmine, and oakmoss. Can be used to bathe, shave and wash to wash your hair.
U.K readers, check out this natural beer soap with goats milk, argan oil and whisky on Etsy.
Disclaimer, not actually for consumption.
29. Colouring Book of Edinburgh
23 of Edinburgh's iconic landmarks including Edinburgh Castle, the Grassmarket and Calton Hill are featured in this delightful paperback colouring-in book US / UK. Edinburgh souvenirs don't have to be tacky!
E
dinburgh Experiences
30. Harry Potter Walking Tour
Diagon Alley, Hogwarts, Quidditch! This 2-hour Harry Potter walking tour of Edinburgh brings the books to life and takes you to the original locations where J.K. Rowling started the story!
31. Ghost Tour and Whisky!
Edinburgh is not shy of a ghost tour or two but this two-hour walking tour is quite unique!
Expect tales of grave robbing, plague victims and spooky stories based around Edinburgh Castle, the Grassmarket, and the Royal Mile. Plus a celebratory drink to calm the nerves.
32. Old Town Brewing Heritage Tour (with Beer Tastings)
Edinburgh is craft beer daft now and luckily for you, there is an Old Town walking tour that tops you up with history and craft beer!
Learn just how much Scotland's capital has relied on the beer revenue and how it shaped the city we know today. Multiple beer stops included of course!

33. Edinburgh Castle
Give them access to one of the top things to do in Edinburgh, visit the Castle. Get the line skip here.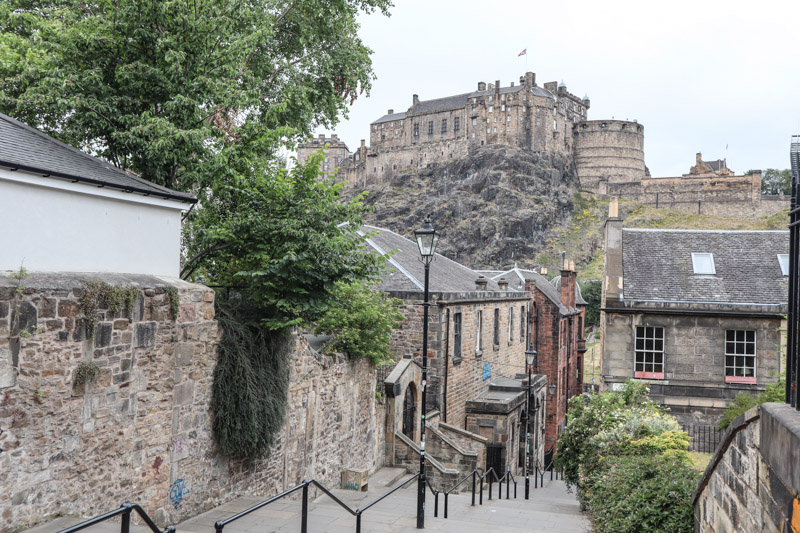 34. Edinburgh Secret Food Tour (Whisky Included)
Fancy more than just beer?
Don't be put off by the sound of haggis, Edinburgh has an eclectic dining scene and this 3-hour guided food tour will introduce you to the traditional Scottish food and something extra special.
Whisky fans will like this tour, malt tasty is included.
More Whisky Gifts
35. Scratch + Sniff
Please don't hang me for advertising a whiskey with an 'e' product but this book was too good not to share – Scratch & Sniff book US / UK.
The witty, illustrated book takes you on a path of discovery – not self-discovery quite yet (three tots in maybe) to educate you on Scotch, Rye, Irish and Scottish. A fun way to become a connoisseur.
36. A Bar on a Barrel
The whisky cask is sought after for home interior design and this barrel is nicely decorated with a map of the whisky regions so you can plot your next 'water of life' road trip (with a designated driver) while you have a swally.
The glasses sit on the Outer Hebrides sourced Harris Tweed mat to avoid harming the barrel and to add that splash of Scotland.
Funny Scottish Gifts
37. Cheeky Claire Draws
One of my favourite artists is a Scottish lass called Claire Draws. She creates a whole catalogue of funny Scottish gifts such as tote bags with 'top ginger' on them and 'Aye' necklaces in bold colours. Very cheeky and full of Scottish banter.
38. Pants!
These fetching Bawbags US / UK brought about a laugh in Japan! Meet my husband Craig…
39. Whisky Flavoured Condoms
McCondom US only fun products of a serious nature' – enough said! I threw a packet in with my friend's new baby gift 😉
40. Gie It Laldy
These West End of Glasgow 'Patter Merchants' have a lot to say through:
U.K delivery only – sorry folks.
41. Scotland Bauble
These striking Scotland Christmas baubles are lovely minders for a tree. Click here to see the alternative tree decoration.
Scottish Wedding Gifts
42. Quirky Wedding Portrait
If you are looking for an unusual yet unique wedding gift consider a custom drawn couple portrait. This quirky gift was my new sister in law's favourite (winning!) wedding present.
All you have to do is send Claire Barclay Draws some images of the happy couple and a list of things that mean something to them.
I requested that their dog, Lacy, was also featured as well as the wedding proposal location, wedding venue, date and first dance.
You can choose how 'Scottish' you want it so if tartan isn't their scene (you should disown them now), you can go for pastel instead.
Portraits aren't just for weddings, Claire covers a variety of life milestones. Just give her a message.

43. Congratulations Tae A Right Couple O' Belters…
This is the card we bought for my brother in law's wedding. I think it sums up Kyle and Ashley very well! Created by the Gie It Laldy fae Glasgow.
Outlander Gifts
44. Outlander Colouring Book
Feel the curves of Jamie and Claire as you render the blank scenes from Outlander.
Made from good quality paper which can withstand water pens (but not Sharpies).
I got my Mum this with a self-made certificate for an Outlander Tour.
Click to check availability US / UK.
45. Outlander Cookbook
If the colouring booking didn't whet your appetite consider the cookbook! Forget the lonely bowl of porridge Claire consumed and turn the pages for pancakes, beer-battered cord fritters and Black Jack Randall's Dark Chocolate Lavender Fudge.
Outlander Kitchen US / UK is created by professional chef Theresa Carle-Sanders.

46. Outlander Calendar
What are the odds of getting an Outlander fan in secret Santa at work this Christmas? Be ahead of the game and order your Outlander Calendar.
47. Outlander Note and Card Set
Swept off your feet with the romance in Outlander? Now you can create your own love story with this Outlander deluxe note card set US / UK.
The set includes 192-page ruled journal, 20 elegant notecards and envelopes, and 20 stickers – all inspired by the show.
---
» You may also like | 15 dreamy weekend trips in Scotland
---
Scotland Books
Can you go wrong with a coffee table book about their beloved Scotland?
48. Pockets of Pretty (Edinburgh) by Shawna Law. She's really lovely
49. Clanlands: Whisky, Warfare, and a Scottish Adventure Like No Other by Sam Heughan & Graham McTavish
50. Scotland Shower Curtain
Well done on making it to the end of our Scotland gift guide! I told you it would be worth it.
Shower with nature, in the shape of a Highland cow shower curtain!
Look forward to your guests asking where you got it from!
---
Don't forget to check out our
Scotland Trivia Quiz!

---
Final Thoughts
I could honestly go on and on researching and recommending Scotland inspired gifts, especially the ones from the young creatives like me!
I hope you have enjoyed reading this guide to Scottish gift ideas and have managed to purchase something for your loved ones. Apologies that most of the Scottish gifts made in Scotland don't deliver outside of the U.K but now you have (yet another) excuse to come and visit Caledonia.
Save for Later!
Pin to your Scotland board.