This article has links to products and services we love, which we may make commission from.
Shopping for tartan shirts for men? This guide details trendy and traditional Scottish tartan inspired tops for guys. Team up with slacks or denims in the colder months and shorts in summer. Craig, from Two Scots Abroad can be spotted in men's plaid shirts on social media and throughout our travel guides on this very site. We're mad for plaid!
So whether you are looking for yourself of buying as a gift, let's dive into the nicest plaid shirts for men. Bookmark for later using the pin at the bottom of the post.

To everyone can have access to these plaid shirts, we've listed shirts in the US and the UK.
Best Men's Tartan Shirts
1. Red and Blue Checkered Shirt
This red, black and blue plaid shirt comes in short sleeves and a high neck button which can be fastened or undone, depending on your style and comfort.
It is also available in the UK. See the shirt here.
2. Green Men's Tartan Plaid Shirt
This green and white long sleeved plaid shirt buttons all the way up to the neck and has a neat collar which is best worn down.
This green plaid shirt shops to the UK.
3. Short Sleeve Plaid Shirt
I adore the palette on this short sleeve tartan shirt US/UK.
Perfect for dressing up with slacks date night or wearing with shorts for beach dining.
4. Black and White Plaid Shirt
This black and white plaid shirt US/UK looks neat with a clean white t under and left unbuttoned.
Pair up with black denims or slacks.
Straight leg for some readers, wide leg if you follow fashion.
5. Orange Plaid Shirt
This burnt orange shirt gives warm autumnal tones.
Team up with dark or light denims to complete the look.
Here's a UK version by ASOS.
Plaid shirts go awesomely with padded travel vests.
Check out our guide.
6. Black Watch Tartan Shirt
Looking for something discreet? The Black Watch tartan's dark green and black could be the right choice for you.
Here's the shirt for UK readers.
A smart and stylish number, this subtle number is associated with the British infantry regiment, The Black Watch.
Other names for this tartan include Grant Hunting or Government tartan.
Wear open with a clean white t-shirt underneath for another look.
7. MacBeth-Style Tartan Flannel
Slightly different from other tartan options, this Macbeth-inspired flannel shirt for men is softer than others.
It has long sleeves and can be worn as a more casual look.
8. Iconic Burberry Tartan Shirt
Not to everyone's taste, the standout Burberry tartan shirt had to be included in this guide!
With its tan tones and loud black and red stripes, the man who wears it likes his labels and wants everyone to know it!
Shopping in then UK? Here's the shop with UK shipping.
Alternatively, here is the thicker wool top for UK readers and a more subtle blue Burberry shirt.
9. Blue Flannel Shirt
For a casual yet tidy look, team up this blue flannel shirt with a pair of denims or beige bottoms.
The open shirt with t-shirt makes for a relaxed look.
The UK version is lovely too,
10. Yellow Tartan Shirt
Sunshine in a shirt, brighten up dark pants and shoes with a yellow shirt (US / UK).
Save for later! Pin to your outfits board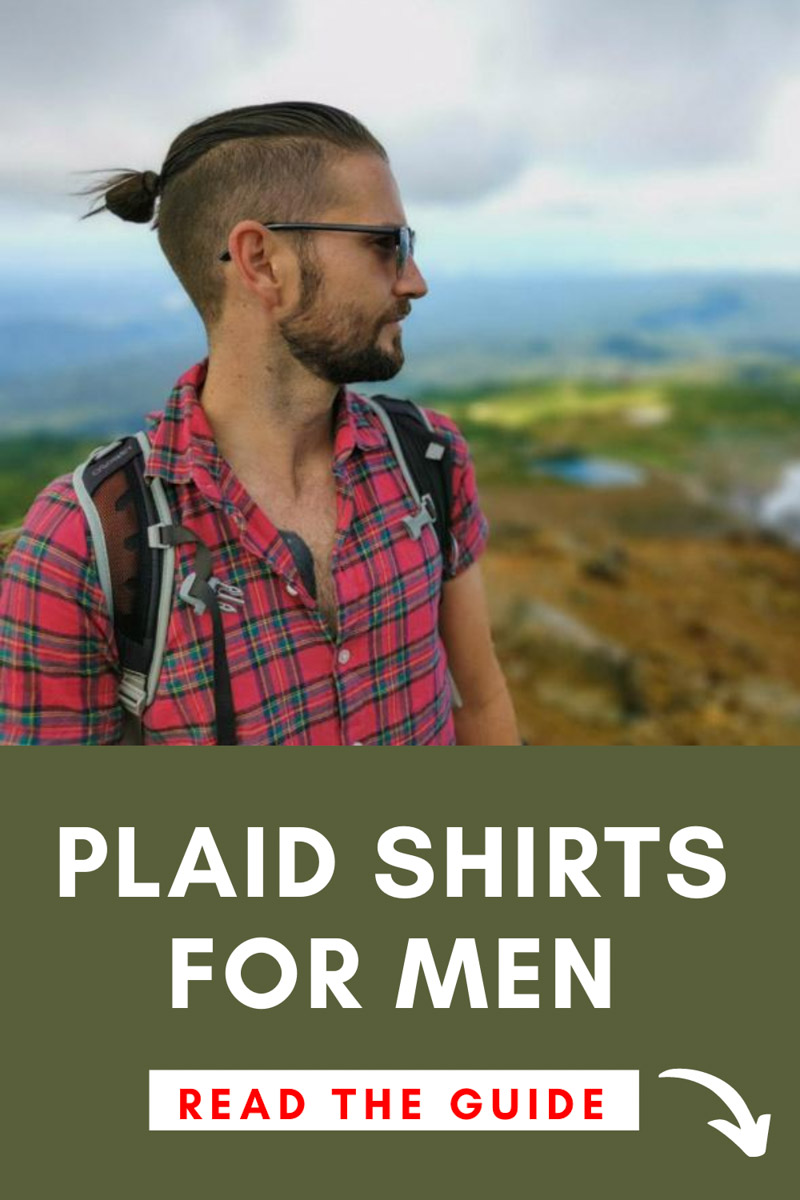 Final Words
As with all our shopping and packing lists we encourage you to wear often and buy less. A tartan shirt is a really nice addition to any man's wardrobe which can be worn in any season and for a number of occasions.
You may also like | Best travel pants for men