This article has links to products and services we love, which we may make commission from.
Glasgow is the Scottish city with sass. Every visitor's itinerary features the capital, Edinburgh, and rightfully so as it is beautiful and steeped in history but Glasgow is real and Glasgow is raw.
It's the big city with contrasting neighbourhoods, deadly music and art scene and most importantly, people with banter.
Edinburgh is Paris, Glasgow is Berlin and here is your one day in Glasgow itinerary curated with love by me, Gemma, the Fifer who 'grew up' in Glasgow
Don't Skip This City
I (Gemma) moved to Scotland's Dear Green Place at the age of 17 to attend the University of Glasgow and didn't leave until my late 20s when I moved to the dark side, Edinburgh. I now reside in Fife.
Glasgow is where I met my life-long friends, formed my political views, danced around my handbag, gained weight by eating chips n' cheese, lost the weight running around Kelvingrove Park – when I drive into Charing Cross the same feeling consumes me, that feeling that I'm home.
Personally, I don't think one day in Glasgow is enough to really understand why it is special but I understand itinerary time constraints, I've been there.
This itinerary will recommend a variety of options for your day trip to Glasgow so you can pick and choose what suits your travel needs.
Covering Glasgow's top attractions, the appeal of the five main neighbourhoods, food recommendations, which Glasgow pubs to party at and where to get the perfect shots.
This guide will also cover Glasgow's past which some would like to hide, its involvement in the slave trade.
Glasgow's Neighbourhoods
In Scotland, we don't really use the term neighbourhoods but from my extensive travel in North America, I understand categorising areas of a city is the easiest way to help visitors find their bearings.
Glasgow does have distinct areas that can be zoned off making it an easy task.
Beginning with the City Centre you will find both train stations, Glasgow Central and Queen Street at George Square, and the Buchanan Bus Station.
There are three main streets starting with Argyle Street, which runs from the West End to the East, Buchanan Street and Sauchiehall Street.
You will find Glasgow's main shops on these three streets along with bars and restaurants.
One of the main drags of pubs and clubs for younger revellers is located at the top of Sauchiehall Street, after the shops.
Like with all cities, you want to veer off the big streets to discover the unique pubs like the Butterfly and the Pig which features mismatched furniture from your Gran's house.
Behind Buchanan Street is the upmarket Merchant City bars, clubs and restaurants as well as Strathclyde University.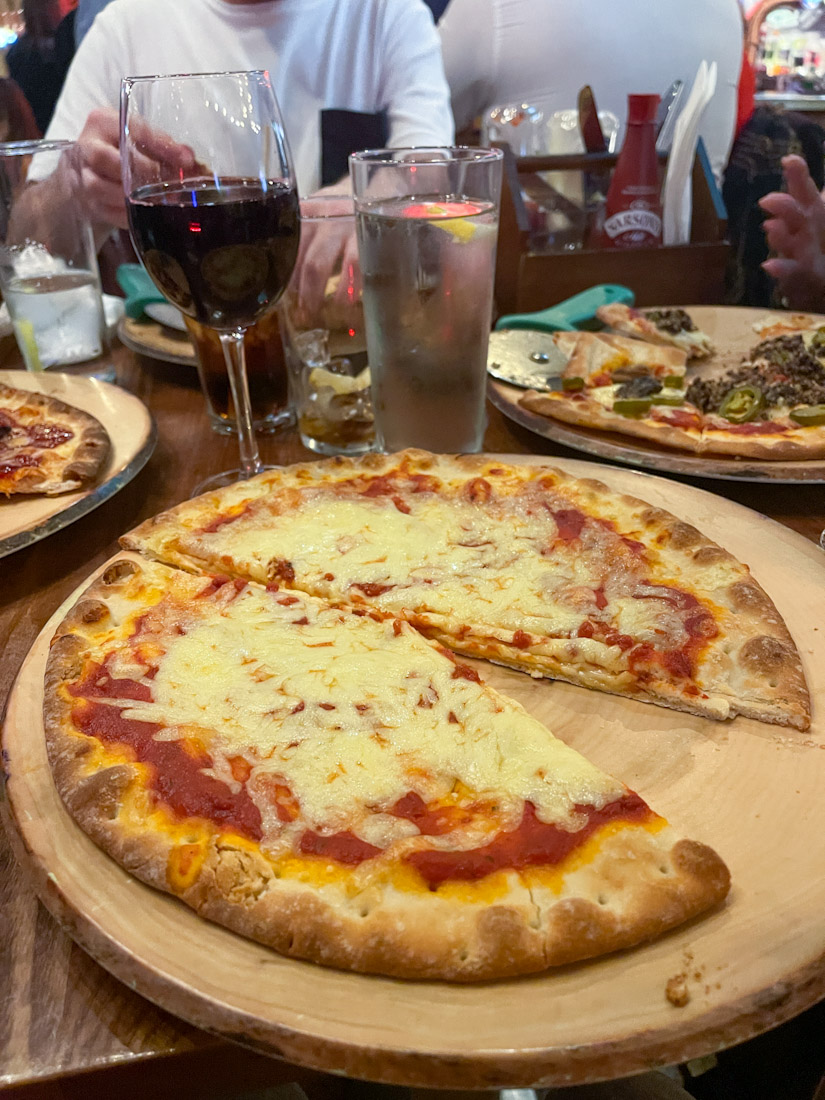 This is the area of Glasgow most associated with its slave trade involvement.
At the end of Argyle Street to the east is the Trongate, check out the 13th Note for vegetarian food, Clutha for a welcoming local bar and the Tron Theatre for shows, which takes you along the infamous Barras weekend market, a real Glasgow tradition and passed the Barrowlands, a true Glasgow establishment which houses music gigs, and into the East End.
Don't miss Barras Art and Design (BaAd) internal courtyard for drinks and shopping, support the local shop owners by purchasing here.
The East End is also home to Glasgow Cathedral, Provand's Lordship (oldest house in Glasgow), Glasgow's necropolis, Glasgow Green (park), the People's Palace and two breweries.
Running parallel to Argyle Street is Glasgow's Canal.
Bridges take you over to our third neighbourhood, the Southside.
The Southside has its own parks, Queens and Pollok.
Most of the bars and restaurants are found around Pollokshaws Road, check out the Glad cafe for vegan cakes and intimate gigs.
The West End of Glasgow is where you will find most of the students in the city as well as a stylish crowd.
The main street is Byres Road, which is always busy with brunchers and shoppers.
Visit Oran Mor for gigs and don't miss the cute cobbled street, Ashton Lane, for drinks under the fairy lights.
In summer, you can find a beer garden on Ashton Lane and there is also a small cinema.
Running along the back of Byres Road is Great Western Road, which is packed with vintage shops, furniture stores and food stops.
The University of the Glasgow is found behind Ashton Lane on University Avenue.
From there you can reach Kelvingrove Park, and museum or Woodlands Road, for comedy see The Stand, down to Charing Cross and back into town.
However, we are not quite finished with the West End yet because at the bottom of Byres Road you will find Argyle Street, which runs into the Finnieston neighbourhood.
Finnieston used to be known purely for the Teuchter or Highlander Triangle because of the three pubs, the Park Bar, The Islay Inn and Snaffle Bit.
Head here to listen to trad music, especially around Celtic Connections time but this area has exploded in the past years.
If you are in town for ethically sourced food, hop into the food trucks at Dockyard Social, and drinks or for dirty burgers and cocktails, try Strip Joint.
Finnieston Road leads to the Clyde, the Ovo Hydro, Glasgow SECC, Clydeside Distillery and the Transport Museum.
Getting Around Glasgow
Glasgow has an extensive network of bus routes, trains and also our beloved underground aka the metro or subway.
Our underground is not difficult to navigate.
It only goes around in one loop then back around the other way.
It is affectionally known as the Clockwork Orange and if you just want to spend your one day in Glasgow boozing you should play the Clockwork Orange drinking game.
The game involves getting off at each stop and having a tipple!
If you want to learn more about the city, save time and your feet, check out the Glasgow hop on/off tour bus with audio guide.
One Day in Glasgow – City Centre and the East End
Morning in Glasgow
Kick-off with a full Scottish breakfast or stacked French toast at Café Gandolfi (Albion Street) or eggs at the trendy Wilson Street Pantry in the Merchant City.
You're going to need the energy.
Next, it's a visit to one of Glasgow's points of interest, the Gallery of Modern Art on Royal Exchange Square.
This museum is located in the former Cunninghame Mansion, home of the tobacco and sugar merchant and one of the prolific merchants of the transatlantic tobacco trade, William Cunninghame of Lainshaw.
In front of the GOMA is the iconic Duke of Wellington who often has a street cone on his head.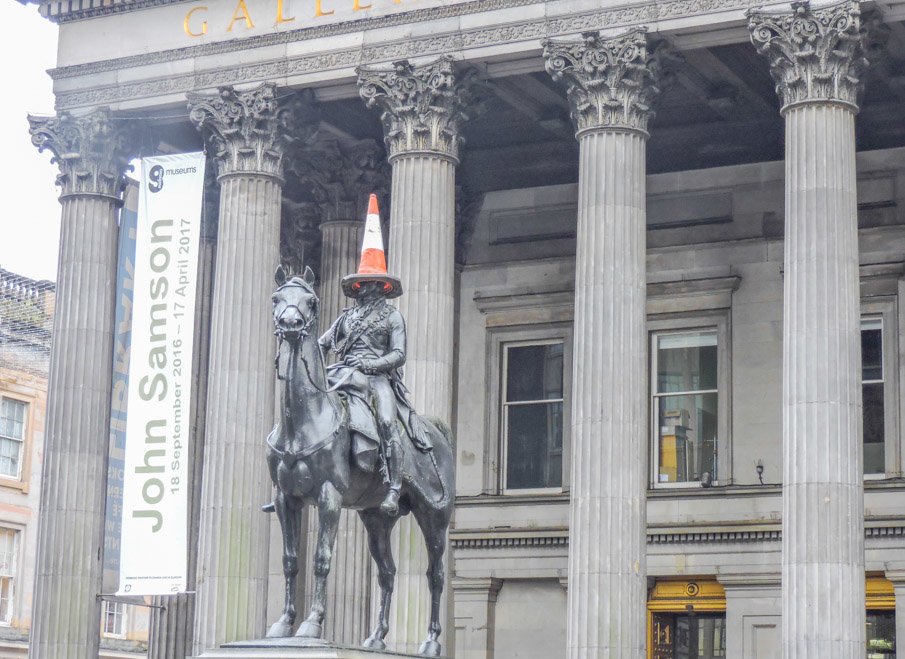 Next mooch through the Merchant City keeping your eyes peeled for the street art murals and more links to Glasgow's slave trade involvement such as (Tobacco Lord, James) Wilson Street and (John) Glassford Street (tobacco plantation owner in Virginia and Maryland).
Glasgow is yet to recognise that these street names celebrate Scots who enslaved people for profit.
Other cities with similar involvement, such as Bristol, England, have created museums and made some changes.
Afternoon in Glasgow Itinerary
Go slightly off-piste to grab a sandwich at the chic takeaway, Piece (100 Miller St), jamming to the tunes while you wait on your 'Jerk Off' or grab a vegan lunch at The Glasvegan at St Enoch Square.
Head back east via Argyle Street towards the Trongate and onto Barrowlands Park.
Count the bands you've seen, then promise to come back to watch one live at the Barrowlands.
Walk towards the Barrowlands; if visiting on a weekend, swing by the Barras Market to experience this Glasgow institution set up by Maggie McIver, who died a multi-millionaire in 1958.
If you love music, you will want to join the Glasgow City Music Tours run by music journalists complimenting Glasgow's UNESCO City of Music status. Grab a bite to eat at BaAd or continue on to the next stop on your Glasgow itinerary.
From here you have two options – park, palace and a pint or God's house, the graveyard and gin.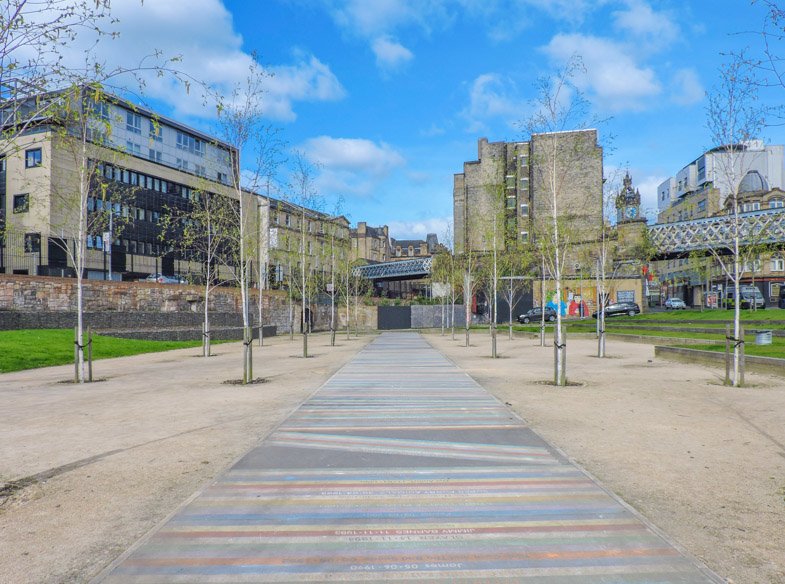 Option 1: Glasgow Green, Breweries and Lunch
Glasgow Green is where you will find the People's Palace, which houses a really interesting exhibition on life in Glasgow throughout the ages.
Look out for the washing line poles in the Green too; these were used by locals to dry their clothes!
Take a well-deserved pit stop at West Brewery or Drygate Brewery. Both serve food, beer and other drinks.
The Palais on Duke Street (Denniston) is another hip lunch option.
Option 2: Cathedral, Necropolis and Provand's Lordship
Walk towards Castle Street to see Glasgow's Cathedral; tours are available (one hour long), and donations are welcomed.
Behind the Cathedral, you will find Glasgow's Necropolis, the giant graveyard that overlooks the city.
From up on the hill, you will get some of the best views of Glasgow, so have your camera ready.
End this history tour at the oldest house in Glasgow, Provand's Lordship, across from the Cathedral and since you are here, it would be rude not to pop into St Mungo's Museum to see the Egyptian mummy.
This 2-hour walking tour features the above Glasgow landmarks.
It is run by a real Glaswegian who is happy for you to ask them any question about life in the city!
Take that extra 5-minute walk to see St Mungo himself sprayed on the end gable (not the official name of this street art mural).
Head back to the Merchant City to enjoy whisky cocktails at Buck's Bar or classic drinks and bar food at Bar Home.
For a real culture shock, head to the charming Alpen Lodge (25A Hope St) for its banging jukebox and live music at the weekends, if you can squeeze in.
Sticking around for the evening? Is it Saturday?
Then get yer dancin' shoes on because Saturday night is ceilidh night at Sloans.
Add a meal on to make a full night of it.
One Day in Glasgow – City Centre and the West End
Morning Itinerary Options
Follow the above morning itinerary, but after street art spotting at the Merchant City, which continues throughout the city, there are over 22 murals to discover; make your way to Argyle or Buchanan Street underground tube station (subway/metro) to Hillhead Station arriving at Byres Road in the West End.
Alternatively, choose one of the afternoon options if you prioritise those Glasgow tourist attractions.
A few lunch suggestions here, depending on when you are visiting.
At the weekend, head to the Platform food market at the Arches on Argyle Street.
The ex-dance music venue is now home to food trucks selling locally sourced food from Indian food to haggis (Friday-Sunday). Image below.
I recommend the surf and turf slider burger!
Drinks are also available, and the venue is kid and dog-friendly.
During the week you can eat any type of food you want in Glasgow.
For mac and cheese, head to Sloans.
I love Japanese and can recommend Nippon Kitchen (91 W George Stree) for traditional meals/bento boxes and Mikaku (25 Queen Street), which is a modern, neon lights with smoking sake test tubes kinda place.
Fancy tapas? Cafe Andaluz is a consistently good Spanish small restaurant chain in Scotland.
Suga Pasta is a pasta specialist in the centre of town.
If you prefer some pizza, Nonna Said (26 Candleriggs) does Napoli-style pizza and frozen cocktails if starting early…
Or hold off for lunch until you hit the West End.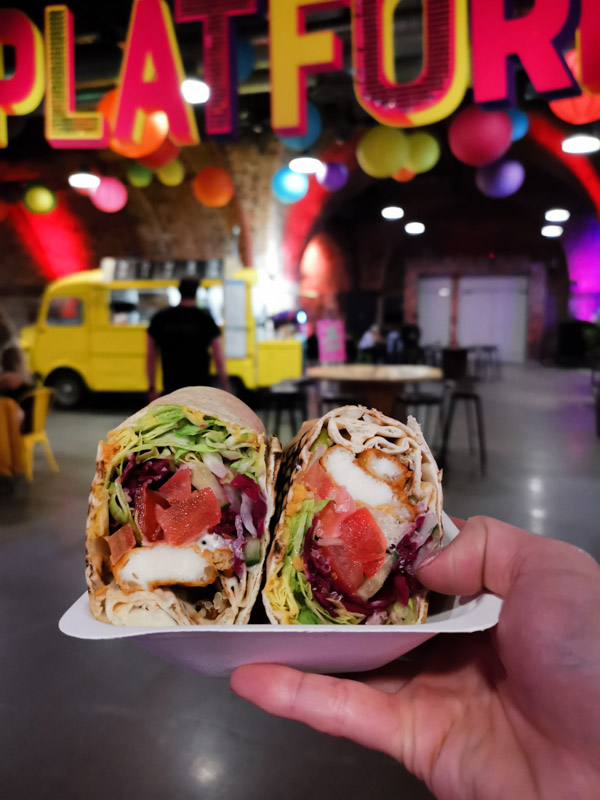 Afternoon Itinerary
Enjoy lunch at one of the many cafes/pubs such as Hillhead Bookclub or Hanoi Bike Shop.
Walk through Ashton Lane to University Avenue, aiming for the University of Glasgow's cloisters for Hogwarts vibes.
Head down the hill and take a right to Kelvin Way, where you will find the Kelvingrove Museum.
Browse the 22 galleries, including work by Charles Rennie Mackintosh, Salvador Dali and my favourite, the Floating Heads by Sophie Caves.
It's free to enter, by the way.
Love tea? Don't miss Tchai Ovna (42 Otago Lane).
A tea hut going strong since the year 2000.
I used to spend a lot of time here when I studied at Glasgow Uni.
---
» Read next | 15 weekend trips in Scotland you have to do
---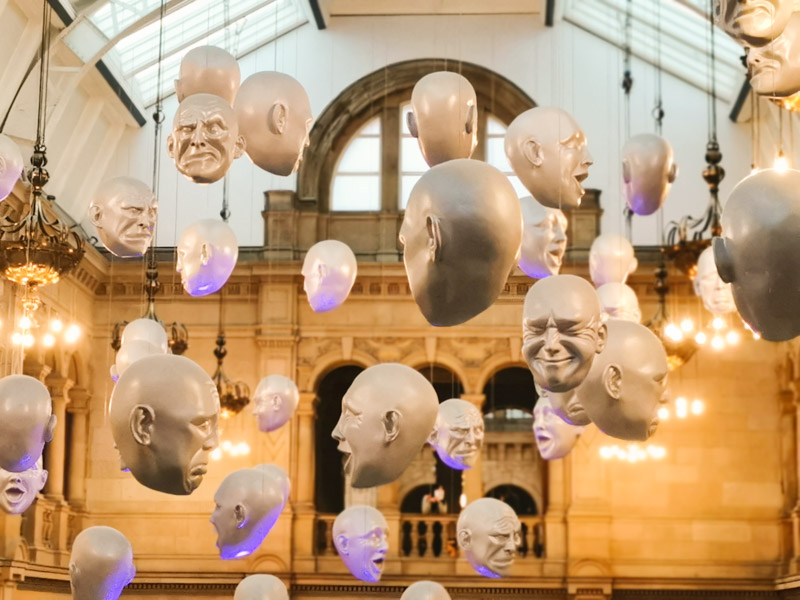 Take a stroll through Kelvingrove Park, then if hungry/thirsty, dine/drink at Lebowski's; White Russians are a must!
If visiting over the weekend, reserve a spot at Dockyard Social for truck food and booze.
Locker 1012 is a pink cafe that sells crazily good cakes.
Alternatively, if finished before 15:30, head back into town for tea and cakes at the Willow Tearooms, which closes at 16:00.
Staying around to go to 'the dancing'?
Glasgow Clubs
SWG3: Specialist nights such as Bongo's Bingo, disco, techno, and live bands
Sub Club: Longest-running underground dance club in the world
Arta: live music in the Merchant City, mixed age groups
The Berkeley Suite: Thursday-Monday dance and alternative music
Pretty Ugly: Indie-pop since 2005
Speakeasy: LGBT+ nights Thursday-Sunday
Boteco Do Brasil at the Merchant City
Things to do at Night in Glasgow That Don't Involve Dancing
Bowling, but cool kid strikes at VEGA Glasgow
Vintage movie house, Grosvenor Cinema
Drinks and films at Everyman Glasgow
Theatre at the King's Theatre, The Pavilion, Citizens Theatre or The Tron
Bar hopping in town, check out Shilling Brewing Company for craft beer and Stereo for vegan options
Ceilidh at Sloans
Ice skating at Braehead
Bingo, not for the fainthearted
Final Words
So as you can see, Glasgow in a day really is a challenge, but it is a nice taste of what the city has to offer.
As we say in Scotland, haste ye back – and I'm confident you will return for more because of Glasgow's miles better, a reference to the 80s Glasgow tourism campaign.