Do you know your haggis from your Highland Fling? Your kilt from your ceilidh?
Test your Scottish knowledge in our ultimate Scotland six-round quiz plus two secret BONUS rounds created by a real Scot from The Kingdom of Fife!
We've also thrown in a FREE guide to Scotland outfit ideas for your virtual Scotland party.
PLUS a Spotify playlist with over an hour of Scotland tunes to get ready to.
Gather your clan, pour a dram and go head to head on all things Scotland. Fancy dress is optional.
See below for full details.
Cost: £10 + VAT/$14
---
What's In The Quiz Packs?
There are two documents, the quiz and the outfit ideas lookbook.
Both are available as PowerPoint and PDF which can be used via screen share on Zoom and other conference call software.
PowerPoint/Slides is best as the quiz includes lots of GIFs for giggles but the PDF will also work if that's your preference. GIFs show as image stills instead of moving images.
We aim to please all you party people so we've provided both options.
Quiz Rounds
Trivia Round – 10 general knowledge questions about the decade including politics, fashion and culture
Movie Round – Guess the movie from the GIFs
Emojis Round– Solve the emoji puzzles to work out the Scottish places
Bonus – TV round or music round if TV too difficult
Music Round – Two options, speed it up or intros
Bonus – Music round
Album Cover Round – Guess the album covers
Landmarks Round – Name the landmarks from all around Scotland
If you are using PDF, please note that the music clips which link to YouTube need to be opened in a new window to avoid losing the PDF.
Outfit Ideas
3 ideas for Scotland fancy dress quiz
List of potential items
Spotify playlist link
Spotify Playlist
Over an hour of indie, pop, folk and dance
Starts off with a simmer and ends in a party
Playlist link can be found in the Outfit Ideas Lookbook
What Do I Need?
Access to your download which is delivered by Gumroad, please check your email spam folder plenty of time before your quiz
Sign up for a Gumroad account so you can access the library of stored quizzes,

we don't keep a copy for you

A device to use conference calling software such a Zoom
The video call software must have a share screen option, we don't offer tech support
Ability to open links to YouTube
A group of fun pals
Fancy dress (optional)
Reviews
Having participated many, MANY online quizzes in the last 12 months I can say with confidence that Gemma's 90s quiz surpassed them all.
The rounds were varied, original and most important – fun! The bonus rounds kept us all on our toes and there were plenty of blasts from the past which added to the nostalgia.
The visuals were spot on – the graphics definitely hit the 90s spot. I particularly enjoyed the music round which included an interesting twist on the usual 'name the song'.
It was clear that the quiz was created with love and with a real eye for detail. With clear instructions along the way, there was no room for error.
I would recommend these quizzes to anyone looking to escape the tedium of lockdown. Grab your friends (figuratively speaking!) your best fancy dress, a glass of whatever you fancy and enjoy!
Helen C, Scotland
---
We had a great night using the 00s quiz pack instead of our usual do it yourself night.
It made it so much more relaxing knowing that someone else had done all the hard work, and the questions were much more varied and thought out than the ones we normally write ourselves.
The Emoji round was an absolute highlight, as that would have taken ages to make myself and it was so infuriating/funny to play.
Gordon, UK
---
Calling all of you who remember the decade of bonkers reality tv and bad fashion.
This noughties quiz will test your memory of a decade that feels a lifetime ago. Just like Nsync's frosted tips there are many highlights. My favourite?
Trying to master the cryptic emoji 'guess the TV show' round.
Gemma has made the quiz fun, fresh and totally fetch.
Jen, UK
Thank you for purchasing &
have a belter of a night!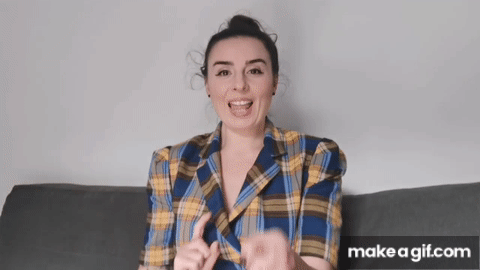 Gemma saying thank you