This article has links to products and services we love, which we may make commission from.
Looking for things to do in Edinburgh? Whether you are visiting Scotland's capital, Edinburgh on a long weekend, as part of a multi-day trip, or on staycation, there is a plethora of things to do for every type of traveller. History, shopping, food, culture, hikes and of course, festivals – are all on offer in this European city. So grab your brolly and get your bellies ready, it's time to discover things to do, see, and eat in Edinburgh through this mammoth list of 101 tips from fellow travellers, locals, bloggers, and businesses.
Things to Do, See and Eat in Edinburgh 
Edinburgh Attractions
1. Calton Hill
One of the most popular places to visit in Edinburgh is Calton Hill.
Calton Hill is a hill (funnily enough) reached by a very short hike (five minutes) starting close to Princes Street; the main shopping street.
From the top of Calton Hill, you get access to panoramic views of Edinburgh, which include some of the main attractions such as Arthur's Seat, Princes Street, Holyrood Park, and Edinburgh Castle.
On top of the Hill sits a food van (typical Scots), the National Monument of Scotland, and Nelson Monument.
You can also dine or enjoy a drink at the top while enjoying the views over the Old and New Town.
Free access: Regent Road on the Southside and Royal Terrace on the Northside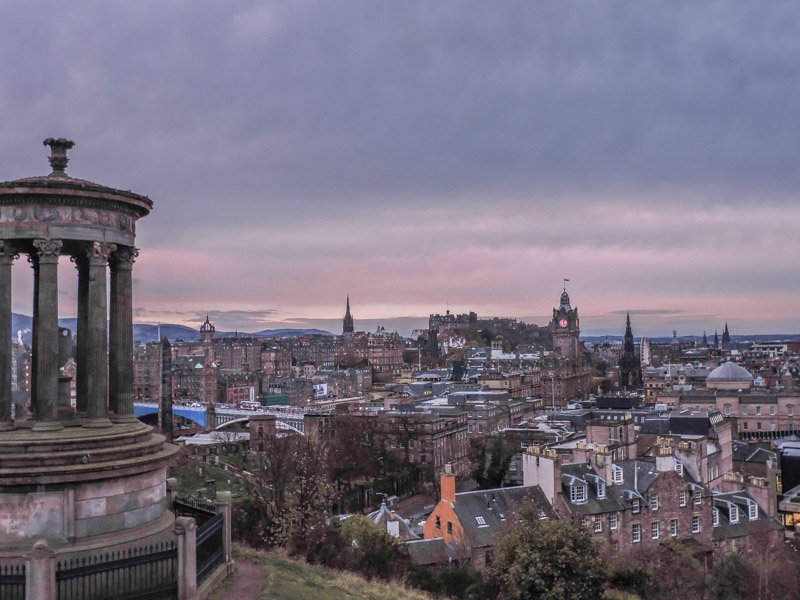 2. National Monument of Scotland
The National Monument is often referred to as The National Disgrace.
Why?
Because it was never finished!
The Parthenon is a 12 pillar stone monument that visitors like to climb on for photographs.
3. Nelson Monument
The Nelson Monument is the tower that looks like a turned upside down telescope on top of Calton Hill.
It was designed by architect Robert Burn and built to commemorate Vice-Admiral Horatio Nelson.
There are many monuments around the UK that were erected in Nelson's honour, celebrating his victory at the battle of Trafalgar on 21 October 1805, where he died.
Nelson Monument in Edinburgh doesn't share the darker side of his profile.
He was against the abolition of slavery and used his words and power to ensure that William Wilberforce's campaign to save the lives of enslaved people forced to work in plantations was discredited.
4. Dugald Stewart Monument
Dugald Stewart Monument is a memorial to the Scottish philosopher Dugald Stewart.
It appears in many landscape photos of the city.
5. Princes Street Gardens
A popular gathering spot all year round, the lungs of the New Town run adjacent to Edinburgh's shopping street, Princes Street so once you're all shopped out you can grab lunch and enjoy it among the cherry blossom trees.
Inside the gardens, you will find the Floral Clock in bloom (summer), Ross Fountain, a couple of cafes and Scott Monumnet.
6. Scott Monument
Are the 287 steps of the Scot Monument worth it for the view?
I'm yet to find out, come back and tell me!
Built in memory of the author and poet Sir Walter Scott.
E. Princes St Gardens, EH2 2EJ | Open all year but seasonal times | Website
7. Ross Fountain and Gardener's Cottage
A gift to the city, Ross Fountain is a popular prop used in Edinburgh Castle photography.
The cute house located in West Princes Street Gardens is named the Gardener's Cottage and was designed by architect Robert Morham in 1886
8. St Andrew Square
In the New Town of Edinburgh, you will find St Andrew Square gardens and Henry Dundas on top of the 150 ft Melville Monument.
Dundas is part of Edinburgh's lesser-known history.
The 18th-century Tory Home Secretary delayed the abolition of the slave trade in Scotland by 15 years causing the unnecessary death of African enslaved people before and during that period.
One of the many beneficiaries of the transatlantic slave trade, Dundas had streets of Edinburgh named after his powerful family.
---
Things to do on The Royal Mile
9. The Royal Mile
Edinburgh's Royal Mile is, as you would expect, a mile (although an Old Scots Mile and not English) long path leading from Edinburgh Castle down to the Scottish Parliament.
At the heart of the Old Town, The Royal Mile is always buzzing. Rows of tartan shops, pubs, and restaurants line the cobbled street and during all seasons Edinburgh tours meet here to go underground or around the city, day and night.
The Royal Mile's Museum of Childhood was always a firm favourite in our household; this is where I first terrified by the story of Sweeney Todd (before Johnny Depp sang about it).
This is where you can catch lots of free acts during the Edinburgh Fringe, you just have to push through the crowds to see them!
Bearings: Royal Mile is close to Princes Street (Waverley Station), Cockburn Street (where you'll get your baked potato, see food), George IV Bridge (Greyfriars Bobby) + the colourful Victoria Street leading to Edinburgh's Grassmarket
10. Edinburgh Castle
One of the top things to do in Edinburgh is to visit that castle on top of the volcano.
If you are visiting Edinburgh Castle with kids, be sure to pick up an "Explorer Quiz" from the audio tour counter to help keep the kids engaged.
This scavenger hunt activity sheet includes challenges and activities such as "How many stained-glass windows does St Margaret's Chapel have?"
Edinburgh Castle is Scotland's number one paid-for tourist attraction, and with reason.
It is amazing to explore the rugged ramparts of the castle and enjoy some of the best views over Edinburgh from the gun-holes.
Did you know that you can sleep in a castle in the Highlands of Scotland?
Check out our North Coast accommodation guide to see how surprisingly inexpensive the experience is.
11. The Chocolatarium – Edinburgh's Chocolate Experience
I have to apologise now because if you are anything like me you are about to salivate!
Sweet fiends and chocolate fans, this Edinburgh attraction just off The Royal Mile is for you.
The informative and entertaining hands-on chocolate tour not only teaches how chocolate is made, you also get to take home eat the Scottish-themed candy you create.
During the 90-minute session, you will learn where chocolate comes from and how the bitter seed is transformed to the sweet, smooth liquid and you get to try it at every stage!
The tour kicks off by discussing chocolate we see in shops and the process of making it. It also discusses the relationship that the business owner has with chocolate.

Next, it's off to the kitchen to mould your own chocolate bar and with over 25 toppings there is something for everyone.
It's not just about making the chocolate though, The Chocolatarium has a popular Tasting Room where you can try weird and wonderful options from such as haggis chocolate! Are you game?
This tour is not just for visitors, but for locals too.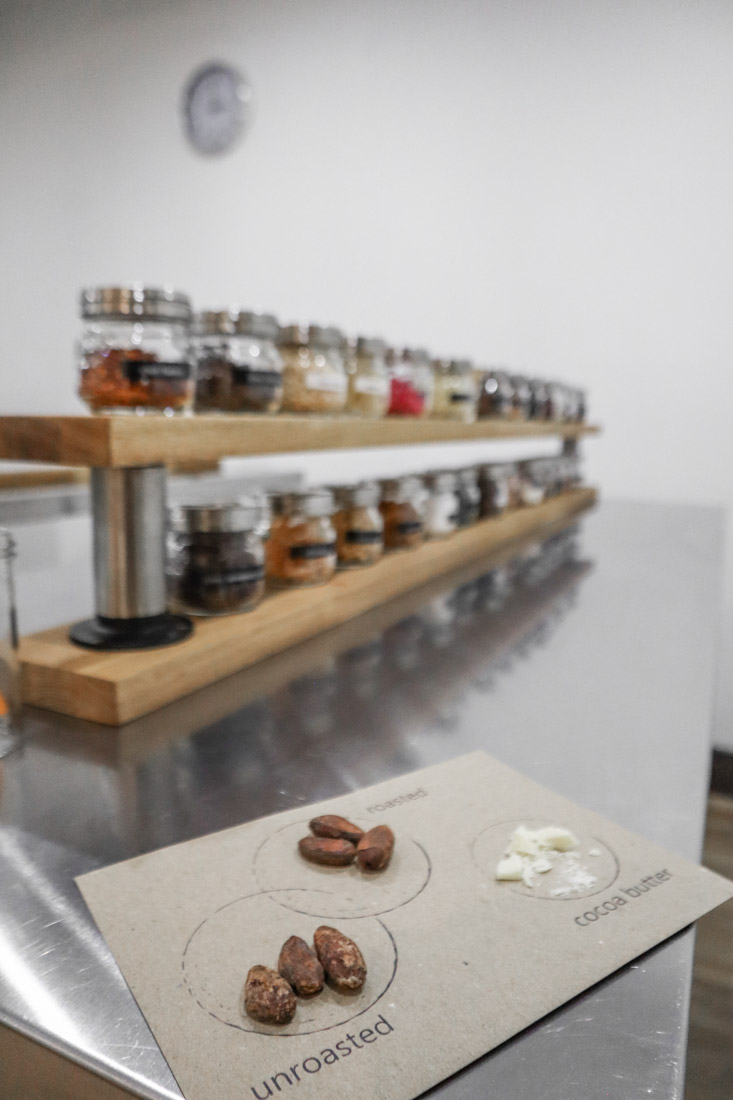 Address: The Chocolatarium 3-5 Cranston Street Edinburgh EH8 8BE
Notes: Aged 6 and above, lots of vegan/dairy-free options, pre-booking required
12. St Giles' Cathedral and Heart of Midlothian
St Giles' Cathedral is a beautiful building, which stands in the middle of the Royal Mile between the Castle and the Parliament.
The Cathedral is also known as High Kirk of Edinburgh and offers Sunday services, all welcome.
In summer, the cobbled area outside of the Cathedral is awash with stalls and Fringe performers.
Outside of St Giles' Cathedral is the bricked Heart of Midlothian. Don't be disgusted if you see people walking past and spitting on the heart!
Here used to stand the tollbooth where locals would pay their taxes.
Like much of Brits today, I assume that our predecessors weren't too happy about paying that toll hence the need to grog on that spot! Albeit, they did get a lot less for their buck than we do today.
God bless our nationalised public services.

13. David Hume Statue
Visit Hume's statue outside the High Court on the Lawnmarket part of the Royal Mile and rub his toe for good fortune!
14. Camera Obscura
Located on Castlehill, Camera Obscura is a popular thing to do with kids in Edinburgh as the museum is a world of illusions.
There are over 100 exhibits spread over five floors including a trippy vortex tunnel and tense mirror maze!
Parents like the rooftop views of the city too.
15. Royal Mile Closes
One of the most fascinating things about Edinburgh's Old Town is its closes which connects different streets to each other.
Advocate Close is a favourite of mine for a view of the New Town.
16. Ramsay Lane
Another great photo spot of Edinburgh's New Town cityscape is Ramsay Lane.
For the full list of the best Instagram spots in Edinburgh, check out this guide.
17. Monkey Barrel Comedy
This pop up stand up comedy Festival Fringe venue is now here to stay! A variety of acts take a stand every day of the week.
9 – 11 Blair St, EH1 1QR

Tip by Shelley O'Donnell (the Third Scot who isn't Abroad aka the all-around help)
18. John Knox House
Take a peek into the historic house of Protestant reformer John Knox.
19. Scottish Storytelling Centre
The house is located in Scottish Storytelling Centre where you can pick up popular books written in Scots.
20. Holyrood House
The Palace of Holyrood House is where the British monarch officially lives in Scotland.
The Queen comes to stay during Holyrood week in June but not without a grand arrival of course!
During this week, Queen Elizabeth and the Duke of Edinburgh entertain around 8000 guests.
My invite must have got lost in the post.
Canongate, EH8 8DX | Seasonal opening times | Website
21. Scottish Parliament
129 democratically elected representatives have worked in this funny shaped modern building (love it or hate it?) since its conception in 2004.
Our MSPs met at the General Assembly Hall of the Church of Scotland located on The Mound from 1999 – 2004.
The Scottish Parliament offers tours and if you can book a ticket for a chamber debate on a Thursday you will see our First Minister, Nicola Sturgeon, in action at First Ministers' Questions.
Arthur's Seat and Salisbury Crags can also be found in this area. Please read our Edinburgh walks section for details.
---
Things to do at The Grassmarket
22. Grassmarket Pub Crawl
The Grassmarket is a popular spot for food and drink for locals and tourists alike.
The Castle overlooks the bottom half of the Grassmarket when the sky is blue this is a great photo spot.
In the past, the area was a medieval marketplace and also the site where public executions took place.
Craig and I had our first date in the pub the Last Drop, which always plays a decent soundtrack.
23. Armstrongs
Vintage clothes lovers and those looking to grab an old (cheapish) tartan kilt should check out Armstrongs.
24. The Vennel
Here is an insider's tip from someone who clearly knows every nook and cranny of the city – The Vennel, an alley off the Grassmarket.
Take your camera to capture a cool angle of the Castle.
The Vennel leading to Brown's Place, Grassmarket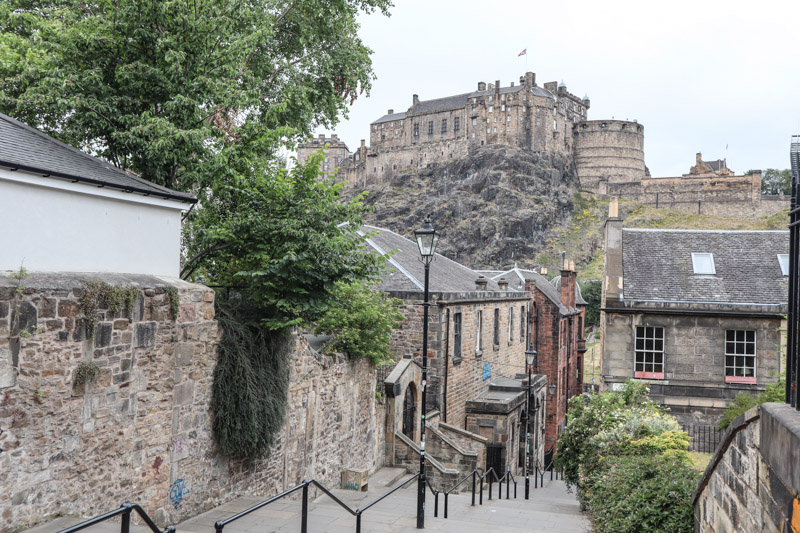 ---
Things to do in Leith
25.  Walk Pub Crawl
There are buses that run from the city centre to Leith but if you want to make a day of it, bar hop down Leith Walk until you get to the Foot of the Walk then bar hop to The Shore.
26. Royal Yacht Britannia
If you want to feel like a Royal for the day, the Royal Yacht Britannia is the place to visit!
Unlike many castles and palaces, the yacht is modern enough that you can actually imagine yourself travelling in style aboard the ship with the Queen herself.
Plus, there's a lovely tearoom if you fancy a bite to eat on board! Skip the line – click here for availability.
Bearings: Royal Yacht Britannia is docked in Leith (bus 11, 22 or 35 + free parking)
Ocean Terminal, Ocean Dr, EH6 6JJ | Seasonal opening time | £15 adults
Tip by our friend Kelly from A Pair of Passports
All aboard! Photo credit to Helen Pugh/Royal Yacht Britannia
27. The Pitt Street Food Market
A weekend gathering of food trucks, bars and friendly people. Dogs welcome.
28. Ocean Terminal
Do a spot of shopping, support local creatives, see a movie or get your skates on at Ocean Terminal.
29. Laurieston Castle
A little out from Leith is Laurieston Castle, the 16th-century Edwardian house with Japanese Gardens!
---
Things to do in Stockbridge and Deans Village
30. Stockbridge Market
Stockbridge Market is a weekly farmer's market offering fresh food and snacks.
31. Stockbridge Second Hand Shops
The area is pretty affluent making its second-hand shop offerings very appealing!
32. Potted Garden
33 NW Circus Lane is a popular location for photographers.
This well-maintained house appears in many holiday snaps.
33. Circus Lane
Circus Lane is a popular Instagram spot all year round.
Photographs love the Georgian houses with St Stephens as the backdrop.
34.  Village
Well Court is a popular photography spot, its yellow building popping out against the water.
Less than 10 mins walk from the city, a haven from the hustle.
---
Things to do in Little France
35. Craigmillar Castle
The castle of Craigmillar plays an important role in Scottish history, as it is where Mary Queen of Scots hatched a plan to kill her husband. Incidentally, couples can tie the knot, inviting up to 60 guests to the Grand Hall. Our informers think a visit is worth it for the views of the city.
Sun-Wed+ Sat – 10 am – 4 pm (check Twitter @welovehistory for closures)
Craigmillar Castle Rd, EH16 4SY
Tip by Caroline Hill, Boston, MA – Girls LOVE Travel
---
Edinburgh Festivals
Yes, Edinburgh does play host to the biggest arts festival in the world.
Our Festival Fringe consists of three manic weeks full of flyers, jokes, and 6 am closing times.
However, did you know the festivities do not stop with the Festival Fireworks?
Here's the lowdown on the Fringe plus other Edinburgh festivals throughout the year.
36. Jazz and Blues Festival
Fellow blogging Brit, Emily Luxton recommends Edinburgh's Jazz and Blues Festival, which takes place in July.
It's such a fantastic and varied music festival and there's absolutely loads going on – something for all music fans.
She loves that there are so many unique venues involved, not just bars but really cool spaces like the atmospheric 17th century Tron Kirk.
37. Edinburgh Festival Fringe
Edinburgh Festival Fringe takes place over three weeks in August.
Comedy, theatre, musicals – you name it, it performs in every nook and cranny of the city!
Does the world's biggest art festival appeal? Check out our Fringe guide
3 weeks in August | Show prices vary from free to… | Website
38. Edinburgh Tattoo
What moved fellow female traveller to tears?
The Royal Military Edinburgh Tattoo! She says the setting in Edinburgh castle is 'too awesome'!
This sell-out show has over 48 nations performing. Tickets sell out fast so get in quick.
August | £35 – £440 (!) | Website
Tip by Aly Petchal Burriss, Ohio, US – Girls LOVE Travel
Royal Military Edinburgh Tattoo sell-out show | Credit: Edinburgh Tattoo
39. Scottish International Storytelling Festival
Do you struggle to find the time to read a book unless you are swinging from a hammock with a piña colada in your hand? Me too!
Here's the solution to reader's block – listen to a storyteller.
Not an activity I thought I'd buy into but after reviewing a Peruvian storyteller called Wayqui (Brother) César Villegas Astete at this year's Scottish International Storytelling Festival I was transported back to our month with Pachamama and pisco.
43-45 High St, EH1 1SR | October | Website
Disclaimer – Edinburgh Festivals covered my ticket, honest review as always
40. Edinburgh's Christmas Market
Beautiful lights of Edinburgh's Christmas market, homemade food, and unique gifts. Get in the Christmas spirit with Edinburgh in December.
The Christmas Market is bigger than ever and has settled for Princes Gardens as its main location.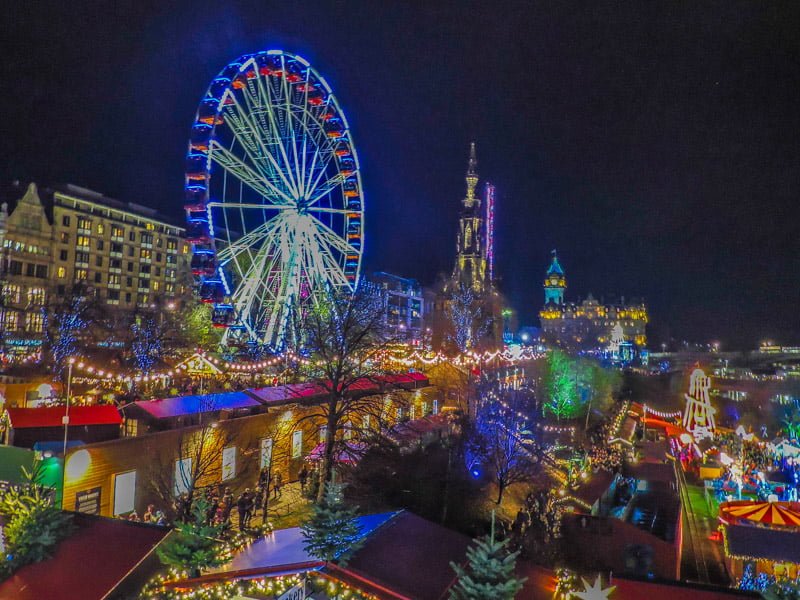 Mulled wine + cheer at Edinburgh's Christmas Market
41. Hogmanay Street Party
Have you joined 150,000 from over 80 different countries at the best New Year's Eve party in the world? Edinburgh's Hogmanay party is renowned worldwide for being the best way to 'bring in the bells'.
Live acts such as Paolo Nutini and Biffy Clyro play live at Princes Street Gardens (there are also four other stages around the city).
There is a ceilidh (traditional Scottish dance) in the Old Town and fireworks at 12 am.
The party doesn't actually start on the 31st! Thousands of people march through Edinburgh as part of a torchlight procession on the 30th. On the 1st you can join the Loony Dookers at South Queensferry by diving into the River Forth, fresh (pre-booking required)!
30th December – 1st January | Variety of venues | Prices vary | Website
Tip by pretty much everyone who has been!
Trams will be running after midnight, free of charge
Best Things to do in Edinburgh When it Rains
Edinburgh Museums
42. MOMA Edinburgh
Everything is going to be alright. That's the message in bright lights, which greets you as you enter The Scottish National Gallery of Modern Art in Edinburgh. If modern and contemporary art is your thing, this is the museum in Edinburgh you want to visit.
75 Belford Road, EH4 3DR | 10am – 5pm | Free | Website
43. Portrait Gallery
Scottish National Portrait Gallery, portraits old and new. Collections include famous Scottish faces such as Sir Walter Scott and Flora MacDonald.
1 Queen Street, EH2 1JD | 10am – 5pm Thursdays until 7pm | Free | Website
44. Scottish National Gallery
The Scottish National Gallery offers a surprisingly wide range of European art from Renaissance through Impressionism. The free admission will give you your money's worth and after seeing the art, you can stroll the lovely gardens.
The Skating Minister by Henry Raeburn influenced the design of the Scottish Parliament apparently. See image below. What do you think? Tell us in the comments. 
45. National Museum of Scotland's Rooftop
The National Museum of Scotland is a great day out for the kids (for free!) but the tip, which has been recommended, is to head to the top and check out the view of Edinburgh from the National Museum of Scotland's roof deck!
Chambers St, EH1 1JF | 10am – 5pm | Website
---
Edinburgh Tours
47.  Hop On/Off Bus Tour
The Edinburgh hop on/off is really popular all year round as you get to see the best Edinburgh sights from the comfort of a double-decker bus.
When it rains, take a seat downstairs to avoid the elements! The tour provides information about the landmarks you pass and you can hop off at them if you want to visit.
Tickets valid for 24 hours. Book here and simply show your mobile voucher.
48. Ghost Tours
Every night is fright night in Edinburgh's Old Town and there is no shortage of tour companies who want to share their knowledge of torture, hangings, and local legends. Tours last around 80 minutes and require the ability to move around the cobbled streets of Old Edinburgh.
Check out the info points on the Royal Mile
49. Mary King's Close Tour
Ring-a-ring o' roses,
A pocket full of posies,
A-tishoo! A-tishoo!
We all fall down.
Did you know that this song refers to the plague? I learnt that during this Mary King's Close tour in Edinburgh when I was very young. Like the Vaults Tour, this one takes you underground the Old Town at Mary King's Close while listening to stories of death and misery.
2 Warriston's Cl, High St, EH1 1PG | 10 am – 9pm
50. South Bridge Vault Tours
Standing at street level, you would never know that Edinburgh's Vaults exist but underneath your feet is a labyrinth of 120 caverns.
You can't actually visit the vaults yourself, you must go on a guided tour to learn about the underground world which was once used by traders then infiltrated by brothels and slums dwellers.
The South Bridge Vaults were only rediscovered in the '90s so this is a relatively new tour in Edinburgh!
51. Craft Beer Tours
Scotland is now craft beer daft (to Craig's delight). Visitors can take a tour of the city's craft beer scene while sampling Scotland's top of the hops beverages along the way. This tour takes you back 800 years and shares the importance of beer money in Edinburgh.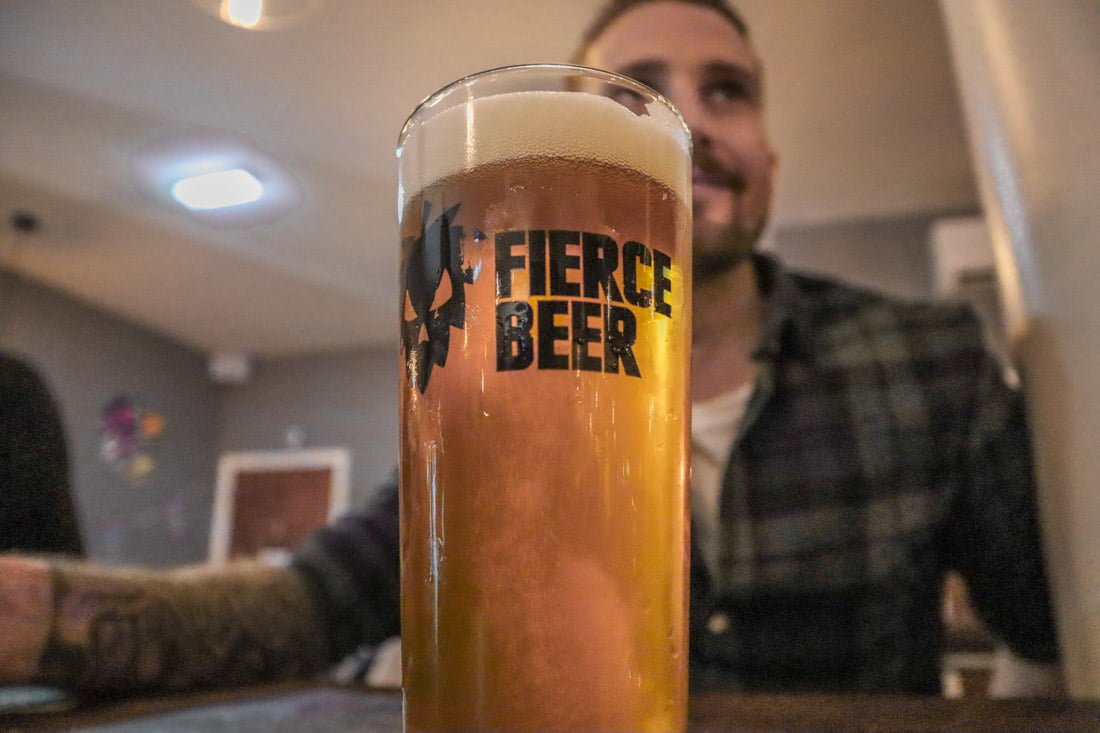 More Free Things to do in Edinburgh
Although the city is known for being pretty expensive, there are free things to do in Edinburgh for those on a budget.
52. Edinburgh Free Tour
2.5-hour free tour of Edinburgh must-see attractions including the Edinburgh Castle, Grassmarket, and Greyfriars Bobby.
 Greyfriars Bobby + Greyfriars Kirkyard
The most famous buried member of Greyfriars Kirkyard is a small Skye Terrier dog called Greyfriars Bobby. They say a man's best friend is his dog, and that certainly was true for Bobby's master.
After he passed, Bobby sat at his grave pining for him to return. There is a bronze monument of Bobby close to the graveyard. Oh and check out the pub, Greyfriars Bobby's Bar!
While in the graveyard check out the headstones for J.K Rowling's Harry Potter character names!
Candlemaker Row, EH1 2QQ | Website
Tip by Emma Hayes, Leeds – Girls LOVE Travel
More Harry Potter Things to do
53. George Heriot's School
This impressive building was constructed in 1628 and is said to be the inspiration for Hogwarts! Did you see a likeness? There are now Harry Potter tours in Scotland! Fans shouldn't miss this 2-hour magical tour of wizardry madness.
Lauriston Pl, Edinburgh EH3 9EQ
Tip by Caroline Hill, Boston, MA – Girls LOVE Travel  – Girls LOVE Travel
54. The Loo at The Elephant House Café
Who knew that Edinburgh would be such a hotbed for Harry Potterness?! There is always a massive queue to get into The Elephant House Café because this is where J.K Rowling wrote the earlier Harry Potter books and diehard fans have made the café toilets into a shrine. The loos are covered in graffiti, my personal favourite "I'd get sleazy for Ron Weasley." Have you penned the walls of the Elephant House Café?
21 George IV Bridge, EH1 1EN
Tip by Elin Bergner, from Sweden – Girls LOVE Travel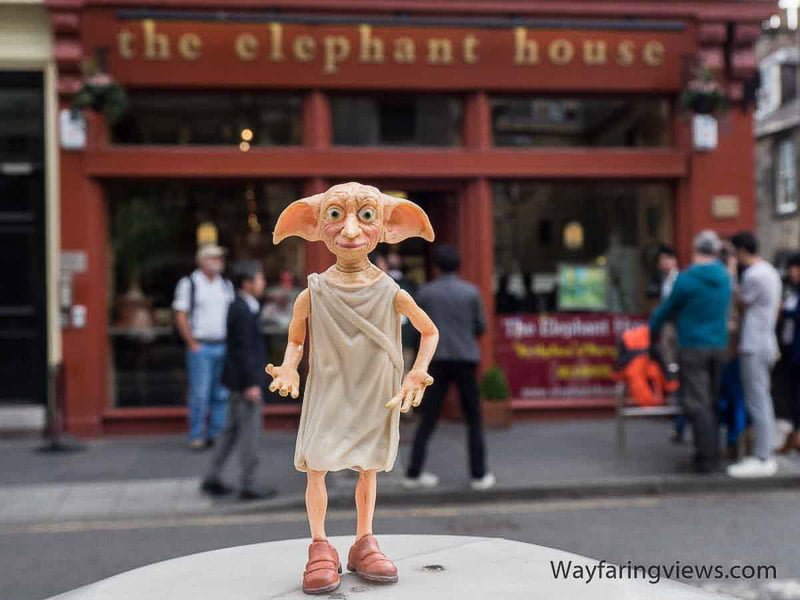 Elephant House jam-packed as always | Image by Wayfaring Views
55. Victoria Street
Never confirmed but thought to be the inspiration for Diagon Alley.
A pleasant colourful street in Edinburgh's Old Town nonetheless.
---
Edinburgh Walks
56. Arthur's Seat
Nothing quite blows away the cobwebs (maybe the morning after a few too many nips or jägerbombs) like a hike up Arthur's Seat. This extinct volcano is located in the 640 acres of Royal Park, across from Holyrood Palace (close to the Scottish Parliament and Dynamic Earth).
Bearings: bottom of the Royal Mile | #6 bus from Old Town (not worth it!)
Tip by Angel Banner + Rachel Whiskeyman, Iowa, USA  – Girls LOVE Travel
57. Royal Botanic
The Royal Botanic Garden Edinburgh, a lovely green space with glasshouses and palm houses.
58. Water of Leith Walkway
Leith is like a village in the city. I lived there for over a year while teaching in an Edinburgh school and have fond memories of two things. Firstly, dancing on the bar at the Port o' Leith (see food and drink section) and Sunday cycles and strolls along the water of Leith Walkway. This easy walk or cycle in Edinburgh can take as long as you like.
The Balerno to Slateford part of the Walkway is 5 miles and takes around two hours. Slateford to Leith is longer, 7.5 miles (3 hours). Roseburn to the upmarket Stockbridge (great charity shops) is 2 miles (45 mins) and Stockbridge to Leith around 3.5 miles (1 hour 20 mins).
Timings obviously based on how fast you walk. The Walkway is signposted but you can also buy or download this map. Walk then have some whisky in town, one of the best things to do in Edinburgh.
The walk also takes you through the World Heritage Dean Village, a step back into history to Edinburgh's mills.
Visitors Centre 24 Lanark Road, EH14 1TQ | 10am – 4pm daily
Tip by Hannah West, North Carolina – Girls LOVE Travel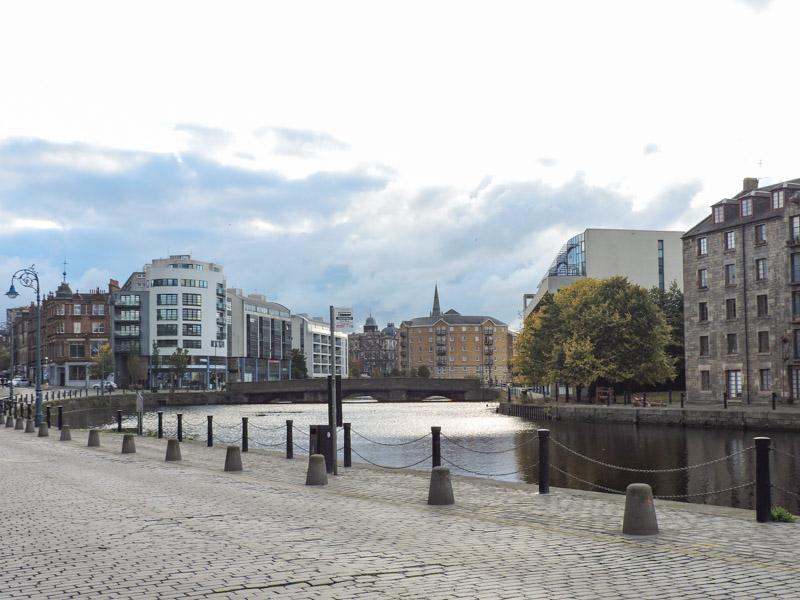 59.  Portobello Beach
On a sunny day, locals and visitors may enjoy walking along Portobello Beach, dipping into the many cute pubs along the way. The Espy (bar), which comes recommended, is rumoured to be based on The Espy in St Kilda (popular pub in Melbourne).
EH15 2BP | Turn right at the bottom of Constitution Street (Leith)
60. Union Canal
Running from Falkirk to Edinburgh, Union Canal is a popular leisurely walking route
61. The Pentlands
There are a variety of walking routes for The Pentland Hills Regional Park to suit all levels of walkers.
There are short four circular routes (1.5 – 2.7 miles), which are great for families.
Not only is hiking in Edinburgh excellent for your fitness levels (after all that haggis!) but also The Pentlands are very scenic.
You can also camp at The Pentlands (like we did).
Love hiking? Check out the 996-mile walk through the west of Scotland – the West Highland Way. A spectacular way to experience Scotland's beauty.
---
Food and Drink in Edinburgh
62. Do (or don't) Try Haggis!
Haggis is Scotland's national food (alongside the drink Irn Bru, yes that luminous orange sugary juice!)
It is definitely a 'marmite' type of food – some love it and others hate it.
Haggis is not a small animal, which runs wild like some tour guides would lead you to believe.
It is made up of the meats lamb and beef, which is cooked with oats, onions, and spices in an animal's stomach. I prefer the veggie stuff but Craig loves the meat version.
eat it mostly in winter with tatties (potatoes) and neeps (turnip). Scots and visitors tend to eat it on St Andrew's Day (November) and Burns Night (January) but you'll find it all year round in Edinburgh restaurants.
63. Haggis Bonbons
Haggis does not have to come with neeps and tatties. Scottish restaurants have become creative with the national dish and haggis bonbons from The Caley Sample Room has been highlighted as an exceptional variation of the main meal.
42-58 Angle Park Terrace EH11 2JR | 10am – 12am | ££ – £££ | Website
Tip by my friend Amy from Two Drifters
64. Best Baked Potatoes
This food recommendation made me laugh because it came from two different Edinburgh fans!
The Baked Potato Shop at the top of Cockburn Street (just before the Royal Mile) has been voted for twice as a quality cheap eat, close to the action, in Edinburgh.
The veggie chilli and cheese baked potato gets a special shout out. 
56 Cockburn St, EH1 1PB | 11am – 8pm | £ | Facebook


Tip by Sarah Gunn – TSA reader + Hannah Edington – Girls LOVE Travel
65. Mary's Milk Bar
Here you will discover homemade ice cream in unusual flavours, which can be consumed in the shadows of Edinburgh's Castle.
19 Grassmarket, EH1 2HS | £ | Closed Mondays | Website
66. Coro The Chocolate Cafe
Just off Princes Street, this cafe is full of sweet treats.
Really friendly staff, teasing smell of melted chocolate and delicious crepes.
67. Mosque Kitchen – Curry
Seriously cheap eats in the studenty area of Edinburgh.
68. Maison de Moggy
Move over Japan, Edinburgh has its own cat cafe! Fur lovers can sip on tea (thirteen varieties) and eat cake while stroking the purring cuties. If you really enjoyed your experience you can become a 'casual cat nanny' too.
69. The Witchery by the Castle
When you book your table at the Witchery, you can choose between the original oak panelled Baroque dining room, or the elegant and romantic candlelit Secret Garden.
The Witchery is Edinburgh's most famous and romantic restaurant, dishing up fine dining cuisine in spectacularly atmospheric surroundings.
There are also nine opulent and theatrical suites if you are looking for an indulgent overnight stay.
70. Cocktails at Devil's Advocate
The Devil's Advocate serves food and drink from an old Victorian pub house in the Old Town.
The menu also has lots of whisky, gin, rum, and vodka cocktails on the menu to choose from. There's even a pisco cocktail (Peru fans?!)
9 Advocates Close, EH1 1ND | Website
Tip by Alexandra Haddon, Melbourne
71. Globe Bar
Edinburgh's busiest backpacker bar.
Free live comedy acts every day of the Fringe Festival.
Amazing discounts for students and backpackers.
Niddry St, EH1 1LG | 12pm – 1am 

Info by Marc Walker from Scotland – manager + Two Scots Abroad reader
72. Scotch Whisky Experience
The Scotch Whisky Experience is a great activity for someone who's fascinated by whisky and is visiting Scotland for the first time.
If they can't make it to the beautiful distilleries this activity is a great fun way to get acquainted with the process, especially if it's pouring outside.
The whisky collection here is neat!
Address: 354 Castlehill, Edinburgh EH1 2NE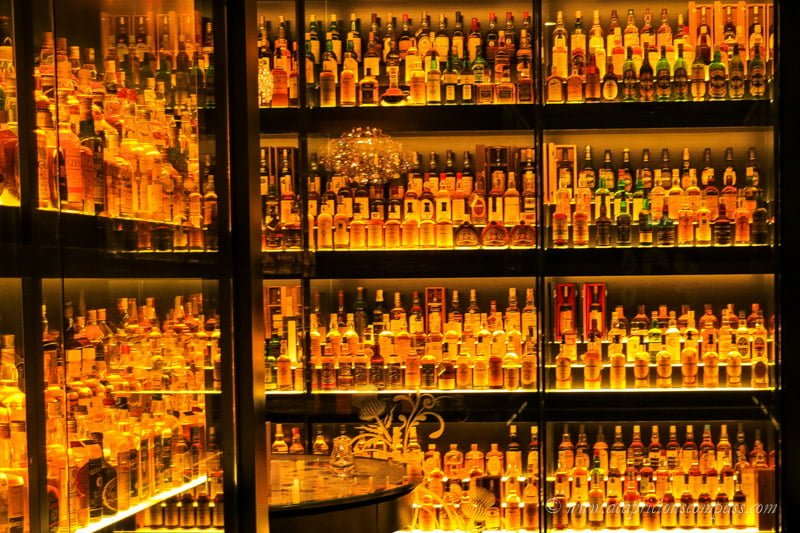 73. Let the Games Be Gin
Not a fan of whisky? Edinburgh's got something to put a gin on your face at Edinburgh Gin Distillery.
1a Rutland Square, EH1 2AS | Website
Tip by Visit Scotland, Scotland's tourist board
74. The Outsider Restaurant
Ask for a castle view when you book your table (there aren't many). And don't miss the garlicky fries!
75. Miro's Cantina Mexicana
I fully intend to eat my way through this travel guide to Edinburgh too so when my fellow blogging friend, Amy from Two Drifters, announced she was visiting the city we set our first date at Miro's Cantina Mexicana on Rose Street for fajitas in a cute setting.
184 Rose St, EH2 4BA | ££ – £££ | Website
76. Starbucks Views | Princes Street
Not normally one to advertise multi-billion companies who avoid paying taxes but one of our Two Scots Abroad Facebook followers suggested that the next time we grab a hot chocolate to do so at the Starbucks near the Premier Inn hotel for great views of the city!
Tip by Eric Bo – Two Scots Abroad reader
77. The Dome
Recommended by lots of fellow travellers including us, The Dome is extravagant! Fellow blogger, Anisa suggests checking out the lunch menu and I recommend visiting in December.
A little more expensive but grabbing a cocktail and people-watching is a recommended thing to do in Edinburgh at night.
In winter, The Dome is as close to Hollywood's portrayal of Christmas as it gets.
Those towering pillars are snaked with lights and the annual festive scents are released.
A Christmas dream come true if you can get to the front of the queue! One of the recommended things to see in Edinburgh during Christmas.
78. Pudding at Bar Italia Ristorante
As soon as I saw photos of Bar Italia's desserts, I had to go.
I have a major sweet tooth and this family feel Italian restaurant did not disappoint the taste buds.
100 Lothian Rd, EH3 9BE | ££ | Website
Tip by Angel Banner, Tennessee – Girls LOVE Travel
79. Bros Bagels
Get your hole at this popular bagel joint.
Various locations around the city.
80. Kanpai
My favourite place for sushi in Edinburgh
81. Chaophraya Thai Restaurant
Thai with a view of Edinburgh Castle
82. Ting Thai Caravan
Relaxed Thai, food comes when ready
83. City Cafe
Burgers, boozy milkshakes and the occasional gig downstairs
84. The Good Store
Zero waste food store in Edinburgh selling food, home stuff and health products.
Friendly owners, well worth supporting
85. Razzo Pizzeria
Oven-baked pizzas with a variety of toppings.
86. Tasty Buns
What a name!
Super friendly owner selling bread, pastries, soups, hummus and pesto.
87. Lovecrumbs
'The' place to a have a cake and coffee.
88. Smith & Gertrude
Wine bar with cheese in Stockbridge.
89. Hamilton's Bar and Kitchen
The area of Stockbridge has so many nice cafes, pubs, and restaurants to dine in but Hamilton's Bar and Kitchen comes recommended by an Aussie who has spent time in the city.
Hamilton's Kitchen serves breakfast from 9am, lunch from 12pm, and dinner (or tea as us Scots call it) from 6pm.
You could swing by while strolling along the Water of Leith Walkway
16-18 Hamilton Place, EH3 5AU | ££ – £££ | Website
Tip by Alexandra Haddon, Melbourne – Girls LOVE Travel
90. Pet – Friendly Pub – Woodland Creatures
Woodland Creatures is a child and dog – friendly pub on Leith Walk (the long road from Princes Street to Leith).
Not only puppy proud but also a place for live music. Scotland's own Kyle Falconer (The View) being amongst the artists to take the (small) stage. Intimacy at its best.
91. Pub Crawl Down Leith
Looking for Edinburgh things to do at night? Head down to Leith, the village in the city, and take a relaxed pub – crawl through the many bars in this condensed area!
My favourite pubs in Leith are Roseleaf for cocktails, beer and live music at The Carriers Quarters, then finish a Friday or Saturday night dancing on the bar at Port o' Leith, where the last song is always a Scottish classic by The Proclaimers (this may have changed now it has been done up, boo!)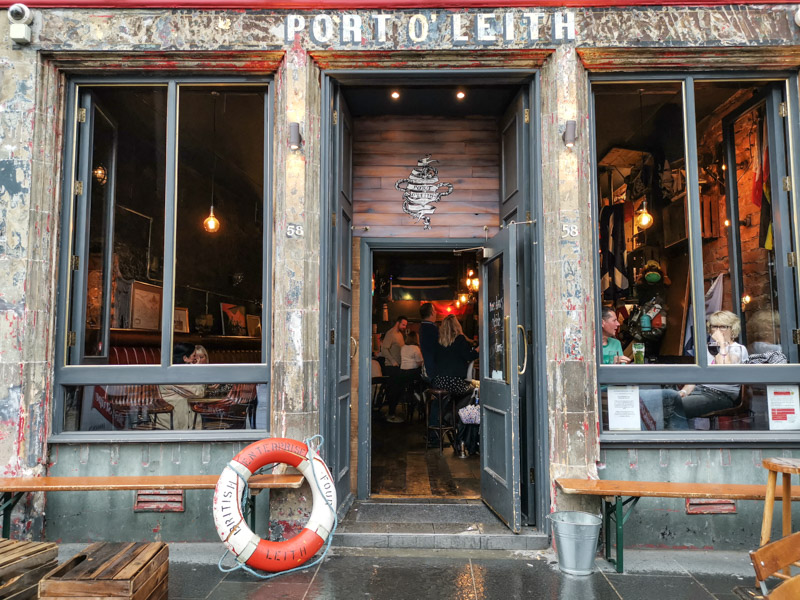 92. Ceilidh at Ghillie Dhu
The Burly Ceilidh Club takes place every Friday upstairs in the Auditorium.
A live band and instructor will tell you when to spin and when to yell!
Visiting to meet a man in a kilt? Read our tips.
93. Edinburgh's Live Music Scene
Edinburgh is no Glasgow when it comes to music yet it still gets its fair share of artists passing through its venues.
Newer acts can be seen for cheap at the likes of Sneaky Pete's (Young Fathers – at the time) and the Voodoo Rooms (Rituals). Slightly larger capacity is served by Cabaret Voltaire (Metronomy) and the Liquid Rooms (Bombay Bicycle Club). Bigger artists fill Queen's Hall, Usher Hall (our second date to see the XX), Edinburgh Corn Exchange, Murrayfield Stadium, Princes Gardens (Paolo Nutini), and even Edinburgh Castle (dry gigs only/Elton John).
However, Edinburgh is not just about named artists. The likes of Whistle Binkies, Bannermans, and World's End in the bowels of the Old Town offer free live music most nights.
Day Trips from Edinburgh
After a couple of days in the city you may be itching to get out and see a bit more of Scotland and with these easy day tours from Edinburgh, getting out couldn't be easier.
---
» Read our guide to Edinburgh day trips recommended by Scotland's top bloggers
---
94. Most Popular Day Trip – Loch Ness, Glencoe & the Highlands Tour from Edinburgh
Want to see the Scottish highlights but don't have time? This Loch Ness, Glencoe & the Highlands Tour from Edinburgh is the most popular way to do so.
Spot nessie swimming in the loch, visit to Urquhart Castle and drive through the magical mountain landscape of Glencoe.
This is a full-day tour of 12-13 hours so be prepared to pack a lot of miles starting from 8am in Edinburgh.
Read reviews and reserve your spot here.
95. South Queensferry
One of my favourite places in Scotland is South Queensferry. Come see our iconic bridges; Forth Bridge (the red one), Forth Road Bridge (the car bridge), and Queensferry Crossing (the new bridge) and take a boat tour on the Firth of the Forth.
Frequent trains from Waverley Train Station to Dalmeny
Tip by me, Gemma from Two Scots Abroad (that's me with no voice in the video)
96. The Kingdom of Fife
Come across the Firth of Forth on one of its iconic bridges, including the UNESCO World Heritage Site rail bridge, to the Kingdom of Fife.
Voted Scotland's number one outdoor destination, Fife is a Kingdom steeped in royal history, with some of the world's finest golf courses including the most famous of all the Old Course (St Andrews), 117 miles of stunning coastal path, thriving arts and festivals, and a vibrant food and drink scene – the perfect destination!
Info + tip by Fife Tourism
Disclaimer: Craig and I are Fifers! Give us a wave from the train
Frequent trains from Edinburgh Waverley + Haymarket
Check out our guide
Dunfermline Abbey, Fife
97. Midlothian Snowsports Centre
Tucked underneath the Pentlands, Midlothian's Snowsports Centre flirts with the border of Edinburgh.
I've recently (successfully) taken a month block of ski lessons on the dry slopes in preparation for hitting the Scottish slopes (we have five resorts), Glenshee and the Cairngorms.
Stunning views of Edinburgh and beyond from the top of the run on a clear day.
98. North Berwick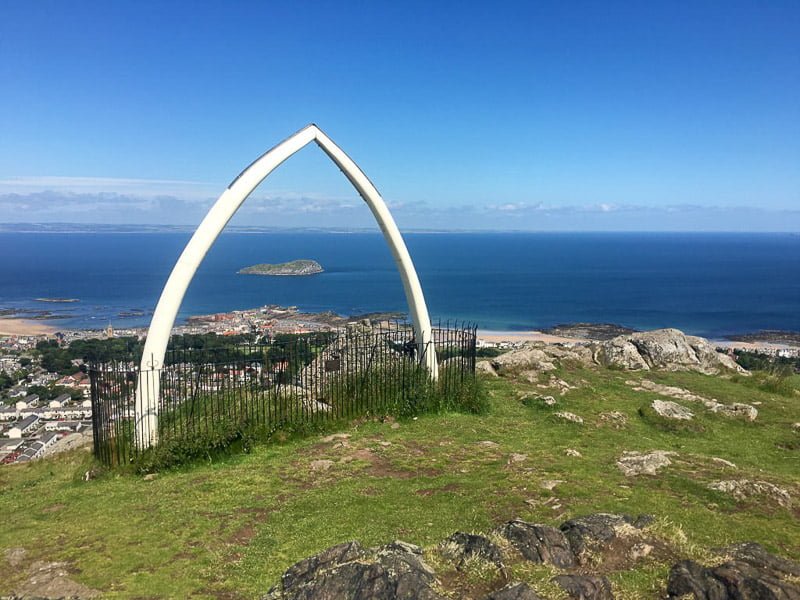 99. Linlithgow Palace
Check out the pad where Mary Queen of Scots was born! Linlithgow Palace also has special events throughout the year such as jostling challenges. This palace also features in Outlander!
Frequent trains from Waverley Train Station to Linlithgow | Seasonal opening times | Website
Visiting more than one Historic Scotland site? Check out their Explorer Pass to save cash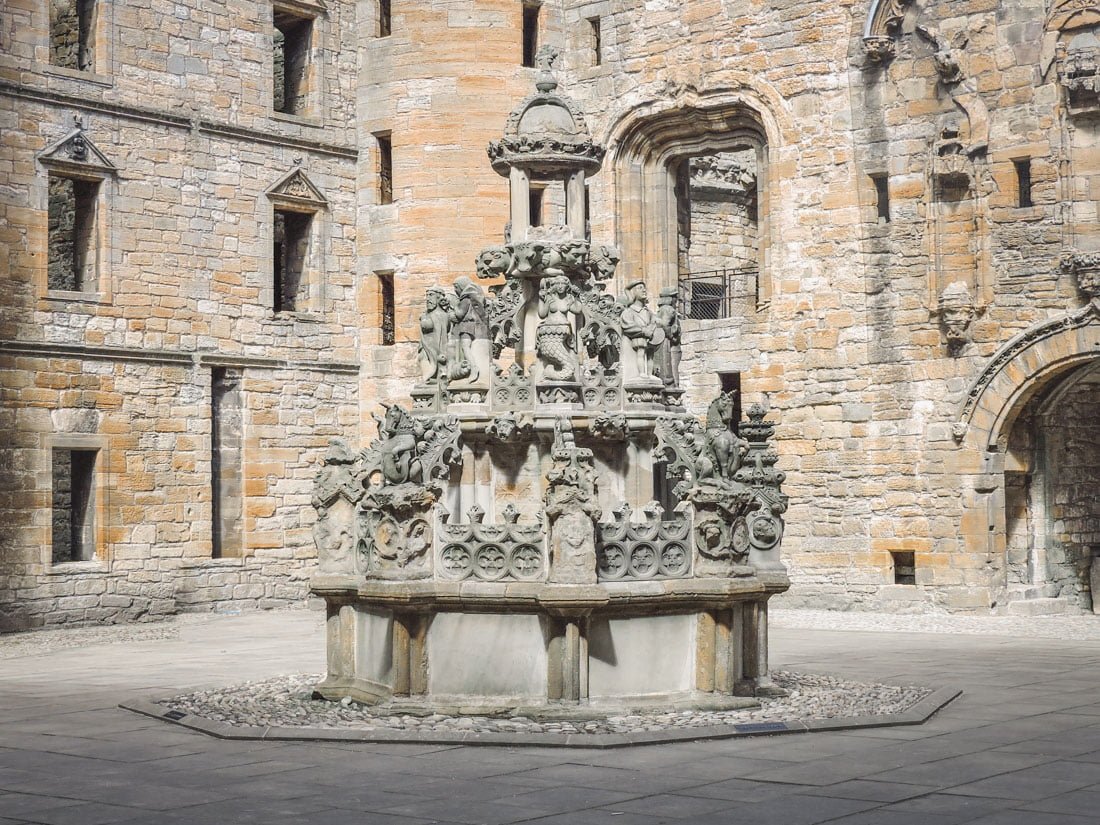 100. Gilmerton Cove
Visit the underground passages of Gilmerton Cove, an ex-mining town near Edinburgh.
Monday – Sunday | 10am – 4pm | Tours on request | £7.50
Tip by Caroline Hill, Boston, MA – Girls LOVE Travel
101. Kelpies
One of my favourite things about Scottish history is our stories of myths are legends. Have you met our shape-shifting aquatic beasts with the power of 100 horses yet? Our Kelpies…
The Helix, Grangemouth, Falkirk FK2 7ZT | Website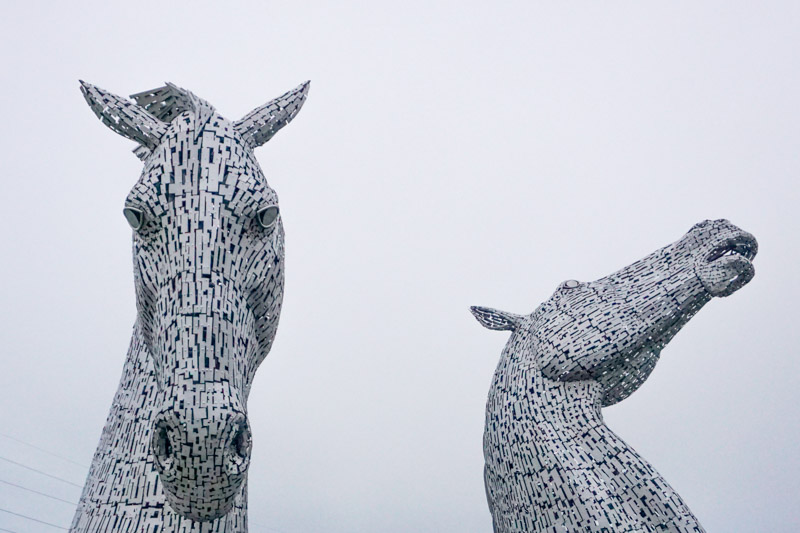 BONUS TIP
Have you heard of the new Scottish craze? Everyone is hiring standard cars, sports cars, electric cars, campervans and some are even cycling the 500 miles of the north coast! Starting off in Inverness then either heading east or west along the coast, past beaches with white sand, castles and distilleries all the way to John o' Groats and back down the other side! Sound appealing?
We did it! Check it out –
---
Edinburgh Tourist Information
Edinburgh's iCentres, on Princes Street and at the airport, can help you plan tours, book day trips, reserve accommodation and purchase transport passes for touring Scotland.
Discover the latest information on events and festivals taking place in Edinburgh all year round.
Edinburgh Public Transport
Edinburgh is well connected by bus, train, and now tram. Lothian Buses have a useful trip planner on their site.
Buses run throughout the day and on a reduced timetable at night.
Stops are placed throughout the city with maps and electronic information signs.
The Airlink bus connects the city and the airport.
Edinburgh has three stations, Waverley is the most central (Princes Street 2 mins walk away/Royal Mile 10 mins walk away), Haymarket is in the west (closest to the zoo and Murrayfield Stadium), and the Edinburgh Gateway connects users to the Gyle Shopping Centre and Edinburgh Airport.
Edinburgh Waverley has toilets (30p), showers, food places, and a bar). Haymarket has a coffee shop.
Trainline is a great app/website for train journeys in the UK.
Edinburgh trams run from York Place to Edinburgh Airport.
Purchase your ticket at the machine and validate at the machine before you board the tram.
Users without a ticket will be charged.
Day tickets available. The trams will be running for free after midnight on Hogmanay to get party-goers home safe.
We have Ûber in Edinburgh (order through the app) as well as private taxi firms (order by calling) and black taxis which you can hail down on the street or hire from a taxi rank.
Getting to Edinburgh from the Airport
You can now pre-book your airport transfer for under £5.
Book your spot here. Alternatively, you can use the trams but it is expensive.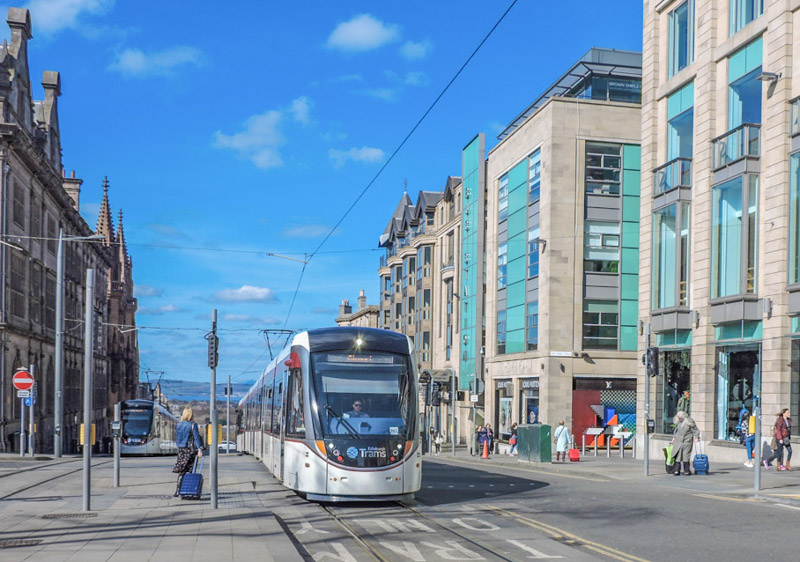 Currency and Money
Scottish money is legal tender but our southern counterparts down in London don't always accept this.
Our shops, restaurants, hotels accept both English and Scottish money but not Euros.
We are currently still part of the European Union (although the UK voted to leave in 2016), however, we are not part of the Eurozone.
Credit cards are widely accepted (American Express is sometimes not) and there are lots of ATMs throughout the city.
There have been scams reported where ATMs have been tampered with, avoid machines that look targeted or have additional plastic casing where the card inserts. Plastic bags in shops cost 5p so bring your own!
Edinburgh Accommodation
Accommodation in Edinburgh is expensive. Edinburgh hotel rooms in the Old Town start at £70 – £520. Hostels in Edinburgh are much cheaper starting at £14 for a dorm bed.
Private rooms average at £50 and full houses £114, however, do go for as low a £25 and £60.
Where to Stay in Edinburgh
Want more choice? Here's our guide on where to stay in Edinburgh.
Warning – prices rocket for busy times such as Festival Fringe time in August and Hogmanay in December, beds also book up quick.
---
Going to Edinburgh?
Hover over and pin to your Scotland board
---
Need to Know Before You Go
Scottish people are known to be friendly (I'd say they are friendlier through in the West though!) and the city is pretty safe.
If you do run into any trouble call 112 for non – emergency police matters and 999 for any of the emergency services.
There is a high police presence around the city, especially during big events.
Tap water is safe to drink, free and delicious! Smoking is banned in public places and in cars with minors.
Our accents can be quite strong!
Here's a funny post on Scottish sayings by Buzzfeed which will prepare you.
Only 1.1% of the country speaks Gaelic, you will see our signs with both languages as you head north.
We love deep fat fried food and are partial to a pint or two!
If someone asks you 'are ye dancin'?' The appropriate response is 'are ye askin'?'
Our MSPs passed the equal marriage bill in 2014 and Edinburgh has quite a large LBGT+ community (and bars/clubs).
Final Words
So that's all folks – the most extensive things to do, see, and eat in Edinburgh guide on the internet.
Written by me, you, locals, Scotland lovers, bloggers, and businesses. Big shout out to the Girls LOVE Travel community on Facebook for these tips, together we're making travel happen!
Has this rocked your world? Why not sign up for our newsletter and never miss a post!
Now over to you.
What have we missed? Tell me in the comments below
Haste ye back!
---
Note: Many thanks to The Chocolatarium for working for us.  We love local companies who support Scotland-based creatives and are delighted to help nurture the return to tourism in Scotland's capital in a safe manner.