This article has links to products and services we love, which we may make commission from.
Looking for the best Scotland road trips so you can escape while taking in the scenery? Why wouldn't you be when fresh air, sea breeze, outdoor hikes, friendly people and local food is on the menu? This guide shares Scotland's most stunning driving routes and road trips for short holidays and big adventures. Please check with individual facilities if they are open and what their rules are. It is advised to book ahead.
Scotland Road Trips 3+ Days
Most Top Popular Road Trip – NC500
Quick Paced North Coast 500 In 3 Days
As self-drive Scotland routes go, Scotland's answer to route 66 is the one that everyone wants to do. While we feel the Scottish Highlands needs more than just a long weekend, the NC500 can be done in three days with minimal stops.
Starting off in Inverness, the preferred way to continue the route is clockwise. This route takes you along the northwest coast up to the top of Scotland.
On the way, you will discover beaches that give the Caribbean a run for its money. Along the top of Scotland, you find a surfers' paradise, and then down the east coast where you can discover some of the best whisky trails.
As one of the best road trips around Scotland, it takes you through some of the most beautiful, rugged and vast landscapes which Scotland has to offer, you can spend anything from 3 to 14 days exploring and discovering the secrets of Scotland.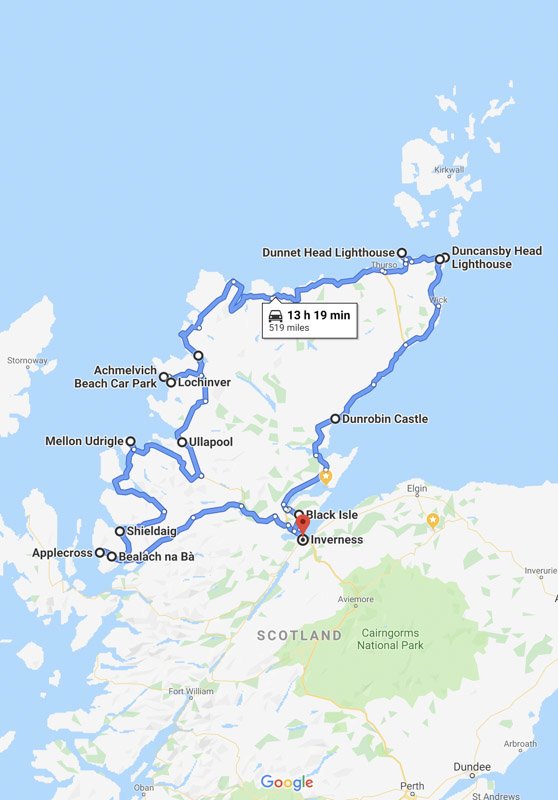 Day One If you only have 3 days to complete the North Coast 500, then you need to plan carefully. Your drive begins in Inverness.
To get the most out of the route, you should start off early in the morning. for accommodation in Inverness, The Drumdevan Country House Hotel is an excellent choice.
From around £149 per night. For those who are using a campervan, then Ardtower Caravan park offers a great pitch with amenities. From £33 per night.
From Inverness, you head west, towards Achnasheen and then onto Strathcarron (69 miles).
From Strathcarron, take the road to Applecross (21 miles). As you wind your way up towards Applecross, you will come to the bottom of the Bealach na Bà, Pass of the Cattle. (Pronounced Bell ach naa Baa).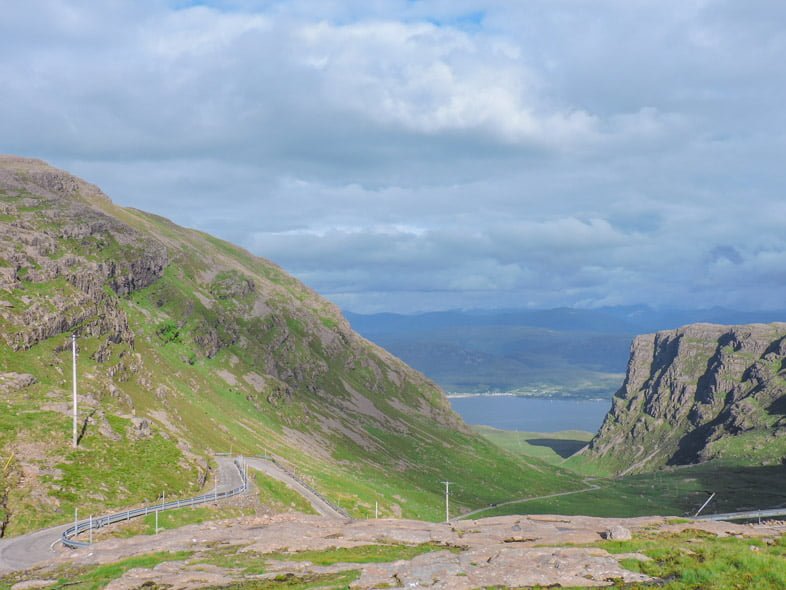 This road is the third highest in Scotland. Winding its way up with hairpin bends that make your heart stop, you come to the viewpoint, 626 meters up (2054ft) from sea level where you can see the beautiful mountains of Torridon and over towards the Cullins of Skye.
As it is so high, you will often find the mountain shrouded in mist, which adds to the atmosphere. If you are considering traveling between January to March, you will find that this road is impassable due to snow.
As you follow the road down towards the village of Applecross, the views will take your breath away. In Applecross, there is only one place to have your lunch, the Applecross Inn.
Here you will be able to sip your cold drink while looking over to the Isle of Skye and the Isle of Raasay. Inside you can feast on the freshest of seafood.
The coastal road for Applecross towards Shieldaig (19 miles) is where you head next. From Shieldaig you follow the road and your driving tour of Scotland takes you to Ullapool (72 miles).
The road that you take to this destination, will take you by some of the most beautiful beaches in Scotland. Lade beach is worth a stop and a wander on for you to breathe in the fresh sea air.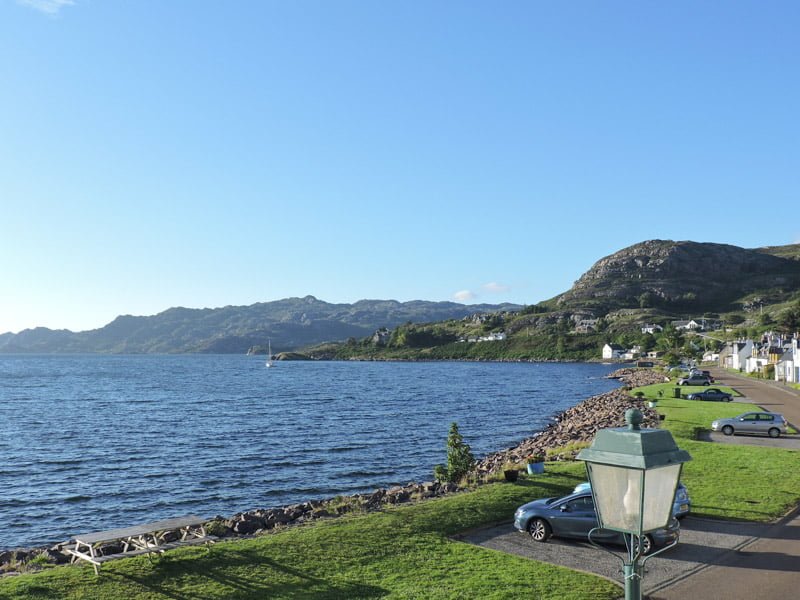 Ullapool is a small fishing village on the west coast of Scotland; however, it is also a port as you are able to get the ferry from here to Stornoway, Isle of Lewis.
For accommodation, The Arch Inn offers you a room with breakfast in one of the most popular establishments in Ullapool.
You will find live music being played in the bar and it boasts the likes of Mumford and Sons as one of the acts who have played here. From £95 per night. For campervans, the Broomfield Holiday Park.
Just a few minute's walk into Ullapool, it offers all the amenities including a launderette. From £20 per night.
Day Two
Again, an early start will allow you to explore the coast road more fully. The drive towards the next destination, Cape Wrath (66 miles), takes you through the wildest of landscapes.
The Cape Wrath ferry is a small boat that carries passengers over to the minibus which will then drive you to Scotland's most North Westerly point.
This 11-mile journey is a bumpy ride which because of the road takes an hour. This area is also used by the MOD as a training ground due to its harsh conditions.
Once there you are able to explore the lighthouse and the cafe offers refreshments. After your adventure to Cape Wrath, your next stop is Durness (10 miles).
Here you can explore Smoo Cave, Durness' glorious beach and the famous Cocoa Mountain chocolate factory.
From Durness, you then go along the top north coast of Scotland towards John O'Groats (90 miles). This area is full of beaches which attract surfers.
You will be lost in the beauty of the sea and landscape as you take in this drive. In John O'Groats, you can take your photograph by the famous landmark signage, wander around the whole area and grab something to eat in one of the cafes there.
Accommodation is scarce here. The Seaview Hotel offers you rest for the night before the last leg of your journey. For campervans, the John O'Groats caravan and camping site, offer you a pitch for £24 per night, again this campsite has full amenities.
Day Three
For your last day of this three-day whirlwind tour of the NC500, from John O'Groats you wander down the East coast of Scotland towards Dornoch (78 miles).
Dornoch is a beautiful little village that sits on a vast stretch of beach.
Filled with history, you can visit Dornoch Cathedral, where Madonna was married, and take a wander to the famous golf course. After exploring, your next stop is back where we started, in Inverness (44 miles).
North Coast 500 5 Day Itinerary
Day one to day three, follow the three-day route, then take it from here. Five days is a good number of days for the NC500 as you will be able to make stops at the top attractions and enjoy a slower pace.
Day Four
Today is about enjoying the drive and exploring the Caithness peninsula.
As you drive along, you will notice some of the names of the villages are derived from the Norse language. One particular part of Caithness that you should visit is Dunnet Head (43 miles). As the most northerly point of Scotland, this place gives you views out towards the Orkney Isles, views of the coastline you have just driven and views of the coastline you are about to drive around.
It is also a haven for all sorts of different species of birds. After you have explored Dunnet Head, the next stop is John O'Groats (14 miles).
A famous start or finish to walking the length of Britain, this colourful visitor's area is where you can get your photo taken at the famous road sign and you can wander around the shops and enjoy lunch in one of the cafes. On to the next overnight stop, Dornoch (78 miles).
As you wind your way down the East coast of Scotland, you will see some of the most dramatic coastline yet. The North Sea gives a different feel to this side. Dornoch is a beautiful little village that sits on a vast stretch of beach. Filled with history, you can visit Dornoch Cathedral, where Madonna was married, and take a wander to the famous golf course. There are various castles you can visit such as Dunrobin.
This castle also has lovely gardens you can wander around. For accommodation, Dornoch Castle Hotel gives you a chance to stay in a castle! For campervans, Dornoch caravan and camping park offers you the best view of those golden beaches. Prices from £20 per night.
Day Five
The last leg of this journey takes you from Dornoch back to Inverness (44 miles).
This part of the East coast of Scotland is flatter than what you will have seen on the other coast, yet it is just as beautiful. As you cross the Dornoch Firth you can see out over the North Sea and often there are dolphins to be found here.
The North Coast 500 offers you a way to see the Scotland you want to and plan it your way. These two itineraries are guides on what to do and how long to spend in various places. You could spend a full 14 days exploring and uncovering different hidden gems.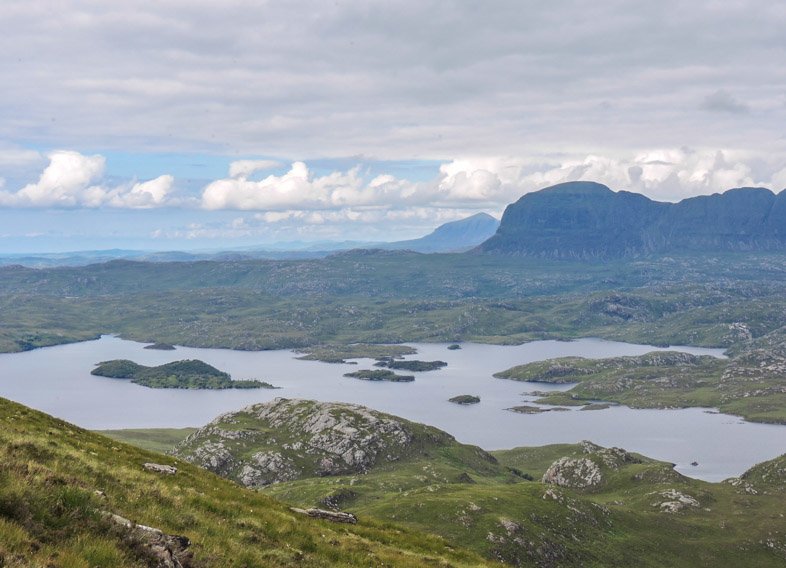 North Coast 500 7-day Itinerary
You could easily stretch out your route to take in another two days.
Consider a trip to Handa Island to see the puffins with your additional day. Have even longer? Why not take the ferry from Ullapool to the Isle of Lewis or travel to Orkney from John o' Groats?
NC500 Guides
Two Scots Abroad have created a number of free guides to help you with your NC500 planning:
Classic 3-Day Scotland Itinerary Road Trip
Edinburgh to Skye via Loch Lomond
This is another one of Scotland's driving tour routes which you will want to plan for your travel around Scotland. From the capital city, you wind your way up through the Trossachs National Park.
Here you can explore the history of Scotland.
As you follow one of the best roads in Scotland, you will be completely enthralled by the scenery.
The ride through Glen Coe up through the Great Glen then on to Skye is what photographers' dreams are made of.
The mountains will take your breath away. This is why Scotland is so popular.
This is one route that should be on your what to see in Scotland in a 3-day itinerary.
The downside is that this route is the equivalent of Disney in Scotland.
One of the most popular, overdone routes in the summer.
You cannot move in the scenic parking areas; the roads are packed, and the Isle of Skye is full to bursting.
You need to schedule this trip for the spring or autumn, when you can really explore the area without bumping into everyone.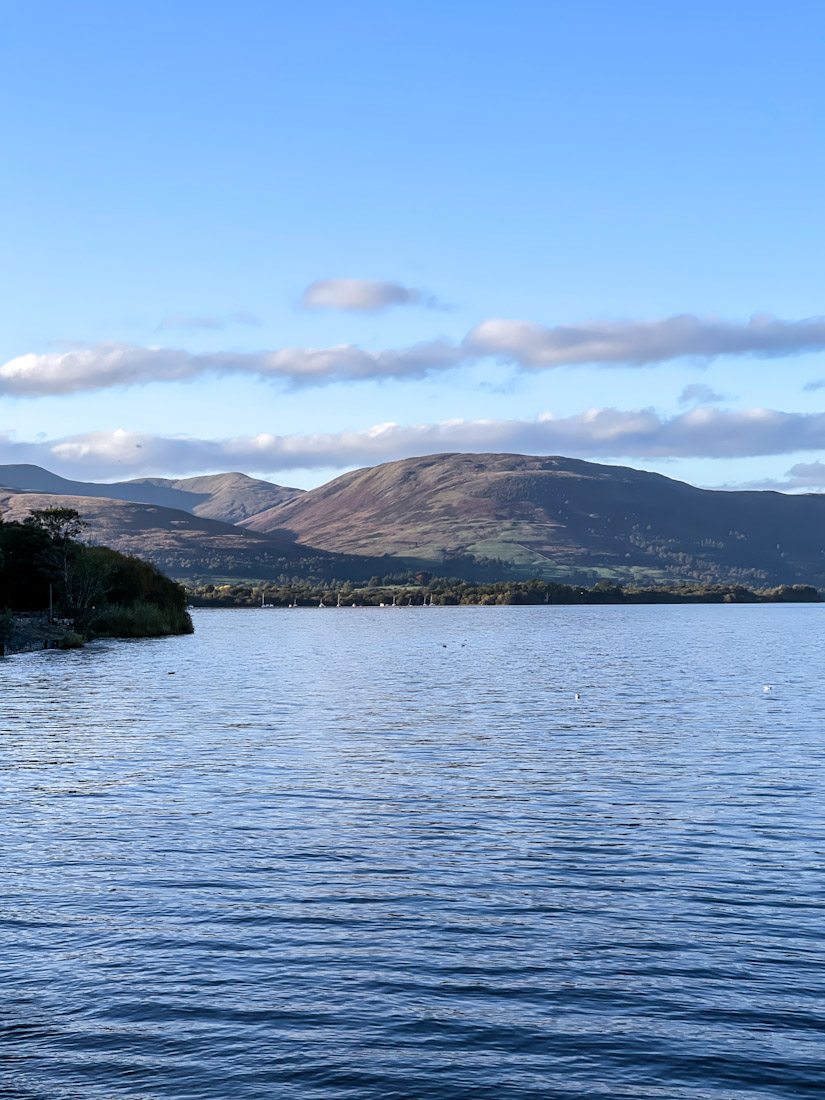 Day One: Stirling, Loch Lomond and Fort William
Using Edinburgh as the starting point, I suggest that you take to the road early to allow you the maximum amount of time to enjoy this. For your accommodation in Edinburgh have a look at our guide.
The road from Edinburgh to Loch Lomond takes you to Stirling (36 miles).
One place that should be on your 'must visit' list is Stirling Castle.
Steeped in history, this castle dates from the 1500s and walks you through some of Scotland's royalty.
From this viewpoint, you can understand why castles seem impenetrable. As you leave Stirling you move from fairly flat land and the hills begin to form.
The next village on your itinerary is Luss (32 miles).
This picturesque town is a conservation area.
Set on the banks of Loch Lomond, you can take a wander along the shores using the pebble beach and there are some great photo opportunities.
As you look across to the other side of the Loch, you can see Ben Lomond and other parts of the West Highland Way, a famous walk in Scotland that begins in Milngavie and ends in Fort William.
If you have more time, check out our guide to things to do in Loch Lomond and The Trossachs.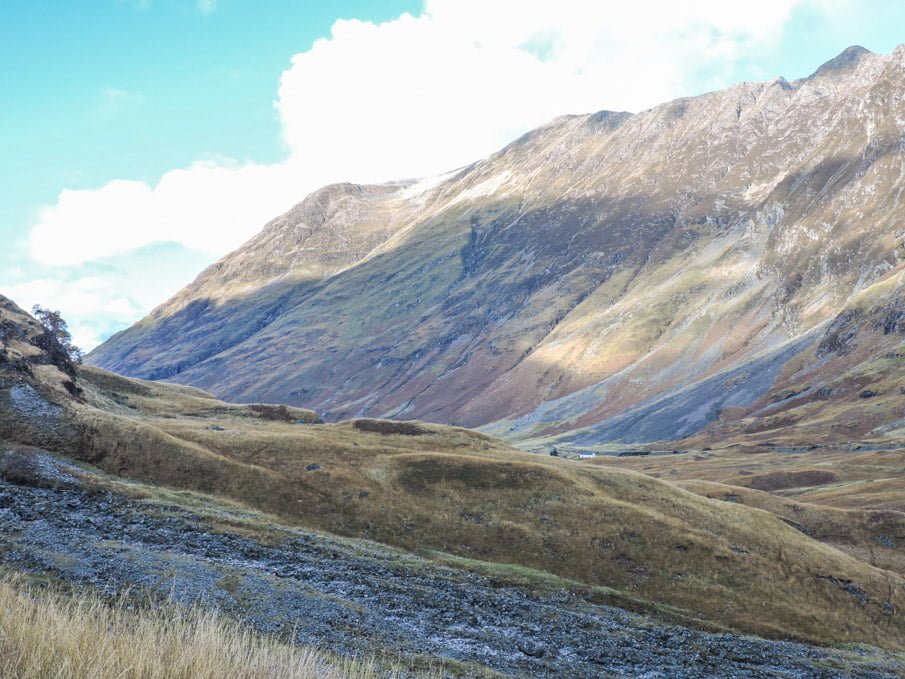 The drive along the banks is a winding road that takes you through many different little quaint villages.
Your next stop should be The Falls of Falloch (20 miles).
This is a short walk that will give you time to stretch your legs and take in just how beautiful the Trossachs National Park is.
It is a great picnic spot, so make sure you've packed one!
Now it's time to head towards your next overnight stop, Fort William.
The road that you will take is one of the best drives in Scotland. From the Falls of Falloch, you go through the small town of Crianlarich.
From there you follow the A82 and begin your ascent into the mountains.
As you enter Rannoch Moor, you will be entranced by the bleak landscape which surrounds the mountains.
There are many places to stop for photographs, however, a word of warning, try and stick to the laybys as the traffic can be very fast. From Rannoch Moor, you enter Glen Coe.
Guarded by the famous Buachaille Etive Mòr (pronounced booch-ill eh-tiv more), this majestic Munro is probably the most photographed mountain in Scotland.
You will recognise the small white cottage at the bottom.
If you travel here very early in the morning, you will see many long lense cameras trying to get the best shot of the sun rising over the mountain.
Scotland scenic drives don't get much better than the road you are traveling on now.
Flanked by towering mountains on either side, your next stop is the Clachaig Inn (39 miles).
This is one of the best pub restaurants you can find in the area. If you are visiting in the winter, you will find a roaring fire to warm you up. Favoured by skiers and hillwalkers, you will want to return!
After something to eat, head to Glencoe Lochan.
This is a beautiful walk that will take you around a hidden small loch situated just outside the village of Glencoe. (The glen is Glen Coe and the village is Glencoe.)
It only takes 30 minutes to leisurely walk around or there are more strenuous walks if you prefer a challenge.
Alternatively, head to Kingshouse to see the deer and dine in the snug, restaurant or outdoors surrounded by mountains.
If it's midge season you might want to stick to indoors and if it's warm, avoid a window seat as it gets really hot!
After a busy day, your accommodation in Fort William awaits.
For campervans, Glen Nevis Caravan and Camping Site is nestled at the foot of Ben Nevis.
As campsites go, you won't get one with a better view! Prices from £22 per night.
For food, The Garrison West, set back from the middle of the High street is a great wee restaurant to eat in or try the hanging skewers at Tavern.
If you're after some live music then head over to the Volunteer Arms. The Crofter is also a great spot used by locals and visitors.
A note of warning, drinks are priced very well in Fort William, so you may end up with a bit of a sore head the next day!
Pick up some pastries at Rain for breakfast. They do a muffin/croissant fusion called a Cruffin.
Fort William is also home to the Caledonian Canal, Inverlochy Castle and Highland Soap Co where you can refill or purchase new products.
If you plan to ride the Jacobite train aka the Harry Potter Train, Fort William is where you alight the historic Hollywood famous train!
It departs at Mallaig for the day then you hop back on to Fort William.
You don't have to ride the train to experience it though!
30 minutes drive from Fort William is the Glenfinnan Viaduct where visitors can pay to park and walk to the many viewing points.
Please don't give away your ticket to another visitor, the money goes directly back into the Glenfinnan community who found the funding for this car park and cafe area.
Aim to be at the Glenfinnan Viaduct viewpoint poised with your camera at around 10:45am for the best views of the Harry Potter train steaming over the bridge.
Bring midge nets during summer!
Across the road from the Glenfinnan Viaduct is Glenfinnan Monument and Loch Shiel.
Day Two:
Well done on surviving a night at the Volly Arms!
If you need a pick me up, then make sure you are using these rehydration tablets US / UK.
Next on your Scotland trip itinerary, is the road to Skye. One of the most scenic routes is to make your way up through the Great Glen.
This Glen was made by a tectonic shift in the earth's plates and runs the full way up to Inverness.
As you enter, from Spean Bridge, you will see the famous Commando Memorial (10 miles).
This is at the bottom of the Glen and well worth a stop to allow for photographs and for you to see the views back towards Ben Nevis and up to where the road will take you next.
The Loch on your left, as you continue with your journey, is Loch Lochy.
Again, there are places for you to take advantage of this amazing scenery.
At the top of the Loch, you will find Laggan Locks (11 miles).
This is part of the famous Caledonian Canal which begins in Inverness and runs all the way down to Banavie on the outskirts of Fort William.
With more scenery than you can imagine on your drive, the next picture-postcard stop is Eilean Donan Castle (39 miles).
This castle is famous the world over and you need to take some time to stop and soak up just how glorious this castle is.
Set on the head of Loch Duich, you get wonderful views over towards the Isle of Skye.
Now onwards to your destination for the night.
Traveling over the Skye Bridge, this wonderful piece of engineering curves over Loch Alsh and brings you onto Scotland's most visited island.
Known for its seafood, dramatic landscapes and of course Bonnie Prince Charlie, Skye's reputation as the place to visit is well earned.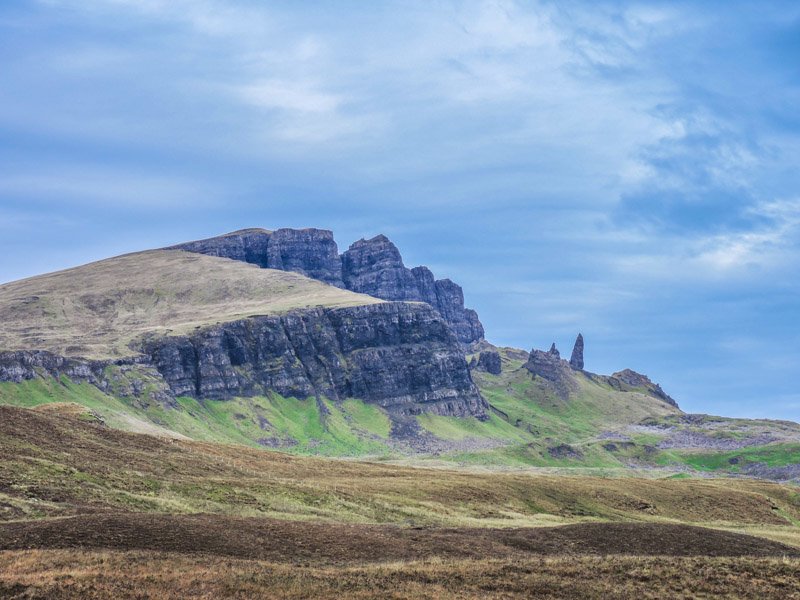 The drive towards Portree, the island's capital, is stunning.
The towering Cuillin Mountains give you a sense of why so many people want to come to Skye.
Once you arrive in Portree, there are many shops, restaurants and pubs to discover.
For your overnight stay, Marmalade is an excellent choice. Prices from £170 per night.
For campervans, head to Torvaig Caravan and Campsite. Prices are around £21 per night.
Day Three: Skye Attractions
Today is all about exploring Skye before you begin your drive back towards Edinburgh.
One walk which you should make the effort to do, is the Fairy Pools.
The 23-mile drive from Portree, takes you to Glenbrittle. Parking here, you will enjoy a 40-minute walk at the bottom of the Black Cullins.
The water is clear, and the scenery will take your breath away.
If you want to spend more time on the Isle of Skye, then this 5-day Scotland itinerary will suit you.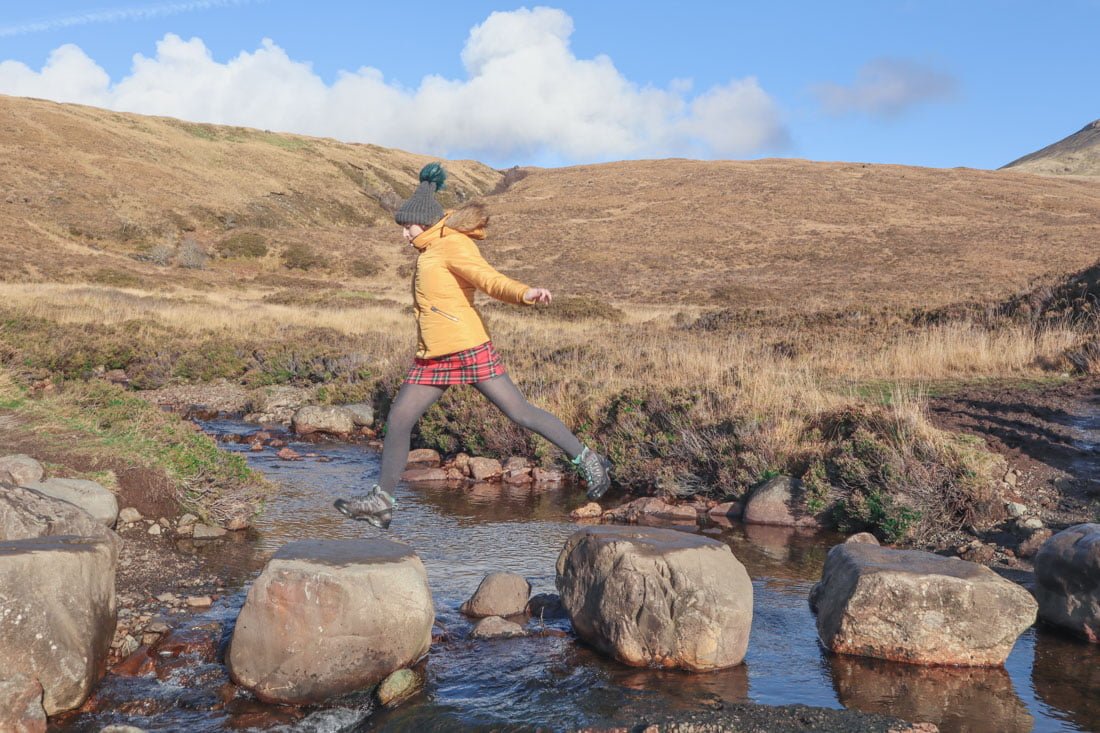 5-Days Edinburgh to Skye via Loch Lomond
Use the three-day itinerary to begin your journey.
Day Four
Exploring the north of Skye brings some of the most well-known landmarks.
As you head towards Trotternish, you see The Old Man of Storr (6 miles from Portree).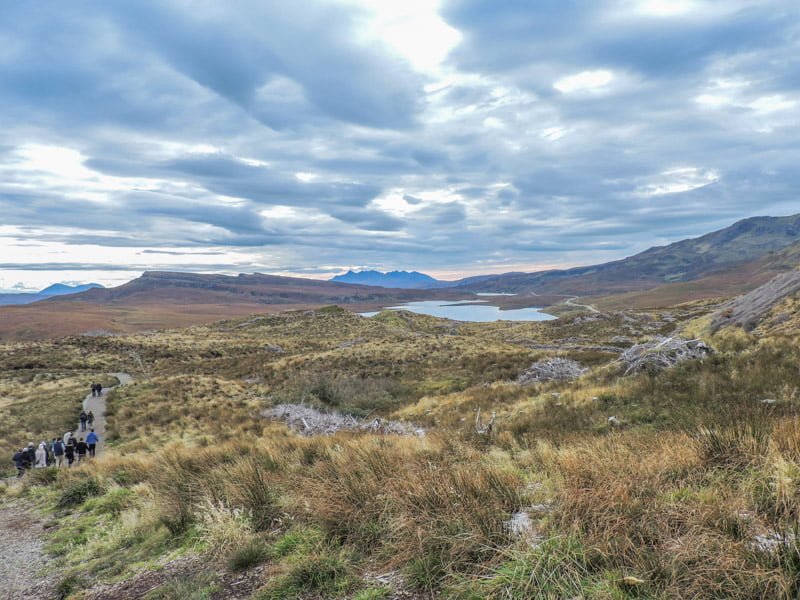 This is a popular walk and is often very busy.
Make sure you get there early to park and then enjoy the walk – which can be tough in places, so wear appropriate footwear and clothes.
After your walk, the next adventure is The Quiraing Pass (13 miles from The Old Man of Storr).
Quiraing Pass is a mountain pass at an elevation of 261m (856ft) above the sea level. It is steep and full of hairpin bends.
From the top, you can see over towards Lewis and Harris.
The road winds its way down towards Uig (14 miles from Portree), where you can catch the ferry over to the Isles.
Day Five
Skye is rich in wildlife and the best way to see this is often by boat.
There are many boat trips you could consider so that you can make the most of your time here and most leave from Portree.
They offer you the chance to see dolphins and whales as well as some of the small Inner Hebridean islands.
This itinerary gives you 5 days in Scotland with lots to see and consider.
However, this is the most popular route and you really need to consider the time of year you wish to visit or you will be queuing in more than just your car to be able to see all the sights it has to offer.
South West Coastal 300 – 4 Days
200 miles less than the NC500 and a very different coastline to follow, this is a great route to take for something different and is perfect for campervans.
Scotland has 6,160 miles of coast! This would take you far more than two weeks to explore.
Thankfully, you can break this down into smaller, more manageable routes.
There are several different Scottish coastal drives. The South West Coastal trail takes you around the counties of Dumfries and Galloway and South Ayrshire.
Following the rugged coastline, along quiet country roads, you are able to explore the UNESCO Biosphere and one of Scotland's huge forest parks.
A less well-known area but certainly should feature on your Scotland self-drive itinerary.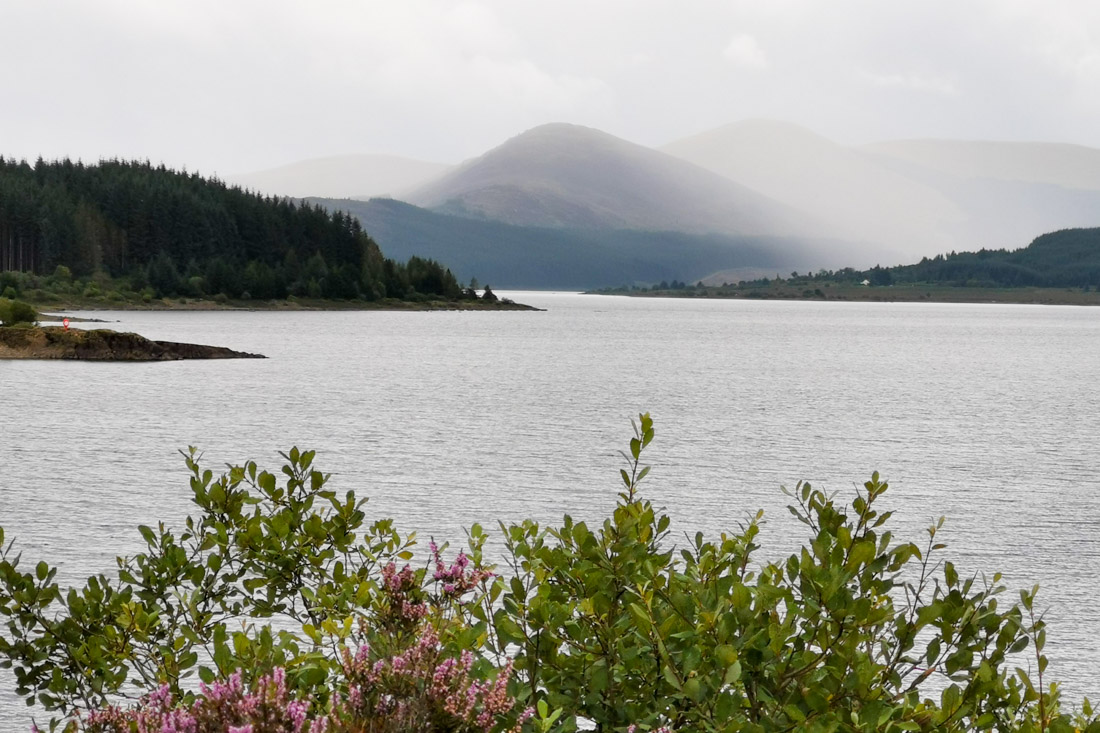 Day One
Beginning in Dumfries, you are able to explore this small historic town mainly on foot.
As this is the Bard's country, (Robbie Burns, Scotland's famous poet), you can wander along the banks of the River Nith and follow in his footsteps.
You can also visit his house where he wrote some of his most well-known poems. From here you head towards New Abbey which is home to Sweetheart Abbey (7 miles).
Built in the late 13th century, this abbey was built for John Balliol by his wife, Lady Dervolgilla.
If you have time, you should also visit Caerlaverock Castle. Surrounded by a moat, this medieval building is open for the public to wander around and enjoy.
Alternatively, head inland to Galloway Forest Park and get the comedy picture with the Loch Doon sign.
A firm fave during lockdown.
Midges are a nightmare, pack accordingly.
Back on the west coast, as you drive on, you cover part of the Solway Coast, which looks out to the Solway Firth.
This body of water separates Scotland from England and on a good day, you can see as far as the Lake District.
From here, you can pop into Castle Douglas and grab lunch at a cafe or takeout at Wrap n Roll and a treat at The Toffee Shop or drive straight to Kirkcudbright (pronounced Kir coo bree).
This is a colourful town with a working harbour. It's not far from this small town that you will find your first overnight stop. Silvercraigs Caravan park offers touring guests the use of a heated swimming pool, a great way to relax those muscles. Prices from £22 per night.
Day Two
Heading around this SW300 route, your next stop should be Gatehouse of Fleet (8 miles).
Cardoness Castle flanks the entranceway into Gatehouse of Fleet and is worth stopping to have a wander around. There's a smokehouse attached serving award-winning smoked salmon.
Gatehouse is a recognised UNESCO Biosphere community.
This sleepy little village is set on the edge of the national forest park and is a great place to stock up on any essentials.
If it's a good breakfast you are after, then head to Laggan outdoor activity center (4 miles).
Here you will find an excellent cafe at the top of the hill and you can feast your eyes on the views over the Solway Firth as well as enjoying some good food.
There is a beach opposite the turning to Laggan outdoor activity center, which allows you to have a good walk along the coast.
Mossyard public beach is one of the hidden gems you need to make the most of, particularly if it is a sunny day.
Once you have explored this part, then the road takes you towards Galloway Forest Park, near Newton Stewart (13 miles).
If you are wanting to do something energetic, then you can hire bikes and cycle through the forest, or you can just stop and have a walk around the many pathways.
There is also an observatory where you can explore the dark sky park if you are visiting in the evening.
As you follow the road from Newton Stewart, it becomes much more rural. The fields are rolling green carpets that flow out towards the edge of the sea. There are many picturesque villages that you pass through on your way to Wigtown (7 miles).
Wigtown is known as Scotland's book town, boasting the biggest bookshop in Scotland. It is filled with literary history and is a great place to stop and have lunch with plenty of eateries here.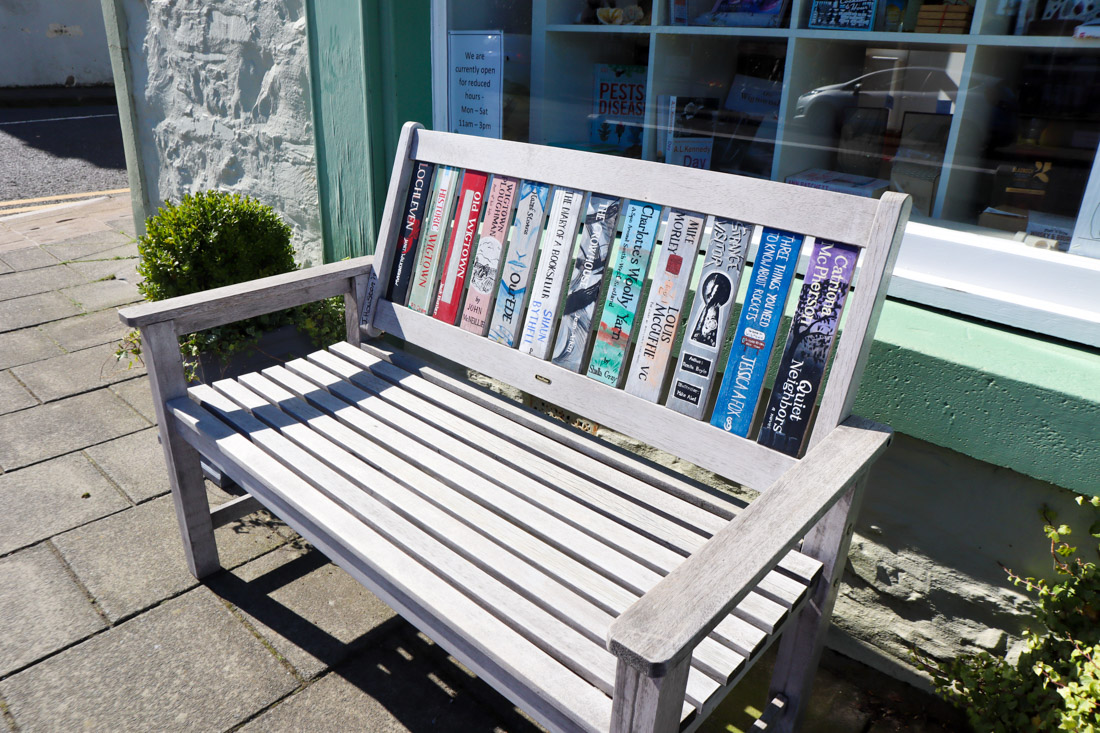 Grab lunch at Reading Lassies for a sandwich, nourish bowl or cake. You can dine among the books or at its lovely, small, dog-friendly outdoors area. Alternatively, check out Beltie Bookshop & Cafe.
There's a well-manicured garden in the centre of town if you want to catch a beat.
From Wigtown, you travel through Whithorn (10 miles).
This quaint little village looks out towards what used to be the Isle of Whithorn, however with the building of a causeway in the 18th century, it was no longer classed as an isle. Here you can take a walk to where St Ninian built his chapel thus giving the place the accolade of the birthplace of Christianity in Scotland.
The road from here becomes more rugged and eventually narrows into a single-track road. It is worth sticking to this route as you are heading towards the most southerly point in Scotland, Mull of Galloway (44 miles).
You will see waves crashing against the coastline on one side and on the other there are vast areas of green fields and white sandy beaches. Mull of Galloway is known as Scotland's Lands End.
There is a strong feeling of being at the edge of the world here. The lighthouse tower is open to the public and is another example of the building of Robert Louis Stevenson.
It takes a brave traveler to get out and walk around this area when it is windy, and the rain is lashing against you. Yet, when you are inside the cafe, looking out at the weather, there is nothing quite as beautiful.
North Rhinns campsite is the pitch for your overnight stay. Two Scots Abroad stayed here in their camper. It's a little out of the way but a nice, quiet spot with a warm shower.
Close to the campsite is Tor of Craigoch and Agnew Monument. It is well worth parking up at the small car park and doing the short hike up to the monument for panoramic views.
27 miles from Mull of Galloway, this campsite offers all the amenities you need. Prices from £10 per person.
This site does not do pitch fees, but rather charges by the person.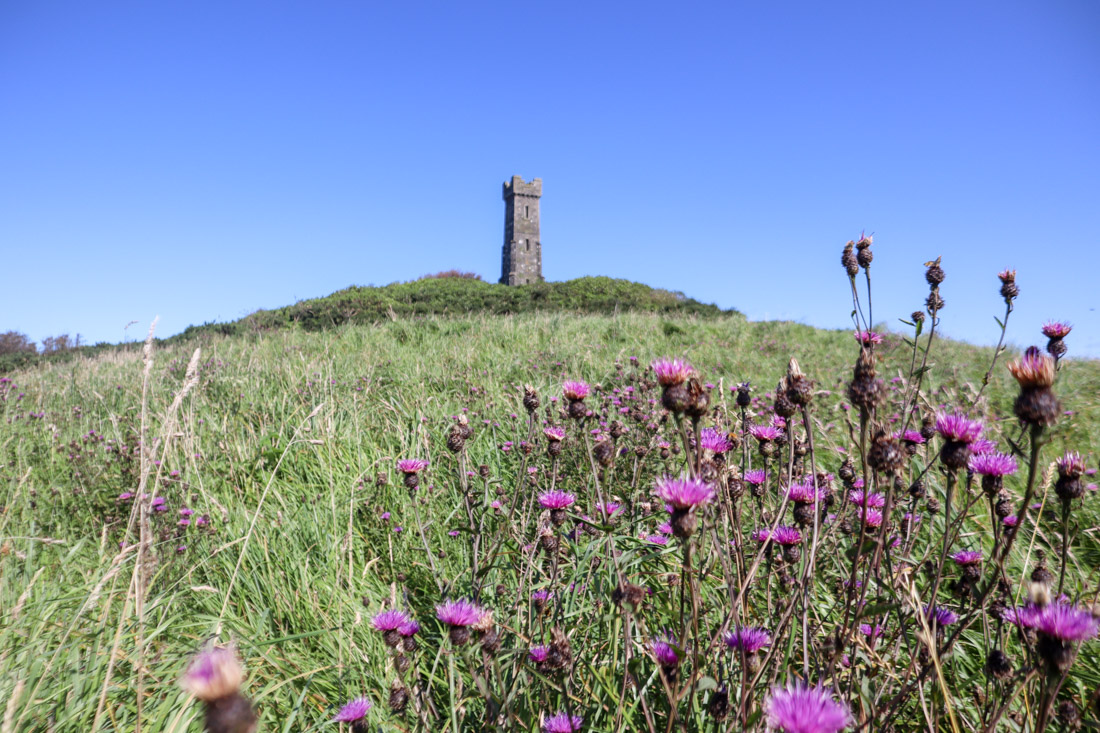 Day Three
Portpatrick (8 miles), is one of the pretty pastel villages you drive through as you weave your way towards Stranraer (7 miles). There are plenty of food options between the handful of pubs facing the Portpatrick Habour. There is outdoor dining and lots of cute dogs to look at.
It is a busy wee place on a sunny day so consider that if you are looking to avoid crowds. One of the walks you shouldn't miss, is up to Dunskey Castle built in the 16th century. The walk up is steep and will try the fittest of you, however, the views across the water are what you make the effort for.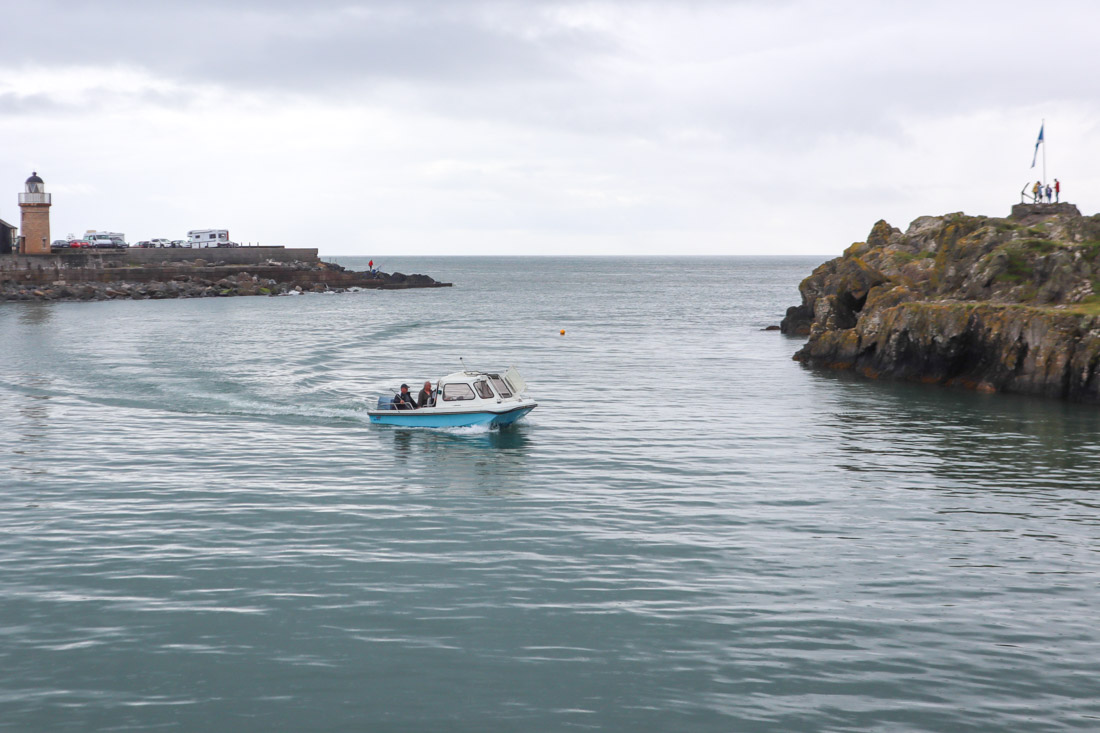 After your walk, head back to the car and take the road towards Stranraer. Stranraer is a bustling port where you can take the ferry over to Ireland.
You can also visit Castle Kennedy gardens and wander around the ruins of this 16th-century castle. As you leave Stranraer, the road becomes busier and it is worth just taking your time as the views out over the sea towards Ailsa Craig are tremendous.
To stretch your legs and see another one of the coastal route's attractions, Culzean Castle is the next stop (39 miles).
Culzean Castle (pronounced cull-een), perched on the top of Ayrshire cliffs, offers you views over the Firth of Clyde. Spending at least half a day here, you are able to wander around the castle, soaking up the history.
Walk through the beautiful gardens and generally relax in these historic surroundings. Bringing yet more Scottish culture to you, now it's time to visit Alloway (9 miles), the birthplace of Rabbie Burns.
There are plenty of walks, museums and monuments to explore in the town which will give you an idea of who Robert Burns was and the life he led.
After a very busy day exploring some of Scotland's historic and cultural areas, it's time to drive towards your overnight stay. Newark Farm offers a pitch from £15 per night (32 miles).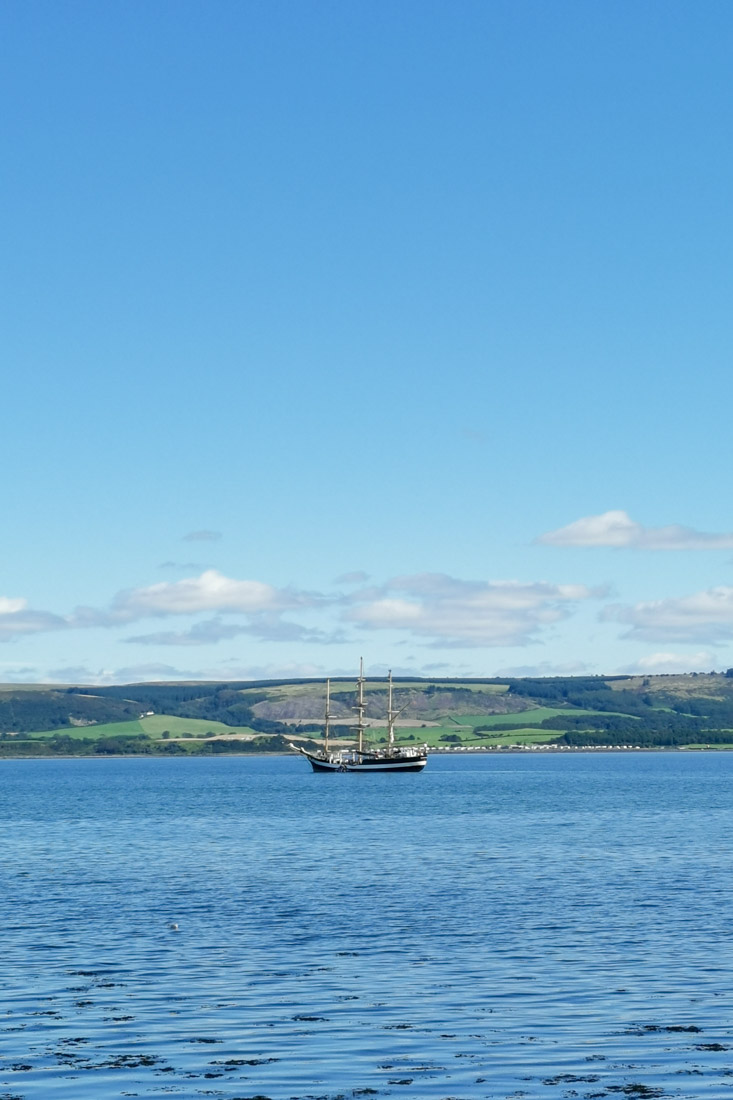 Day Four
Your final day on this coastal route. Beginning at Sanquhar, one place you should explore is Crawick Multiverse.
Opened in 2015, this land art represents discoveries and theories from the universe. Heading back on the road, Wanlockhead (9 miles) which is Scotland's highest village, offers you an insight into mining and how the village worked and survived through the 18th and 19th centuries.
There is also a railway which runs during the summer months.
Carrying on towards the end of this amazing road tour of Scotland, you wind your way down towards the spa town of Moffat (22 miles). Here you can stretch your legs and explore the town, finding the Devil's Beef Tub, walking along the river Annan and a stop at one of the many coffee shops.
The last leg of the drive takes you through Lockerbie, famous for their cheese and then back round to Dumfries, where this adventure started (21 miles).
This is a different Scotland tour itinerary. It is one of the perfect campervan routes in Scotland. While everyone is clogging up the roads in the highlands, this is a relaxing route to consider.
Two Scots Abroad have a slightly different itinerary which you can follow here.
Perthshire Road Trip – 2 Days
The best time to do the Perthshire road trip is in the autumn.
See the trees and landscape with colours which look like they have set the countryside on fire, you can spend two days exploring what Perthshire has to offer.
From the Enchanted Forest in Pitlochry to the forests of Aberfeldy, you will find cosy country pubs to warm yourself in as you explore this area.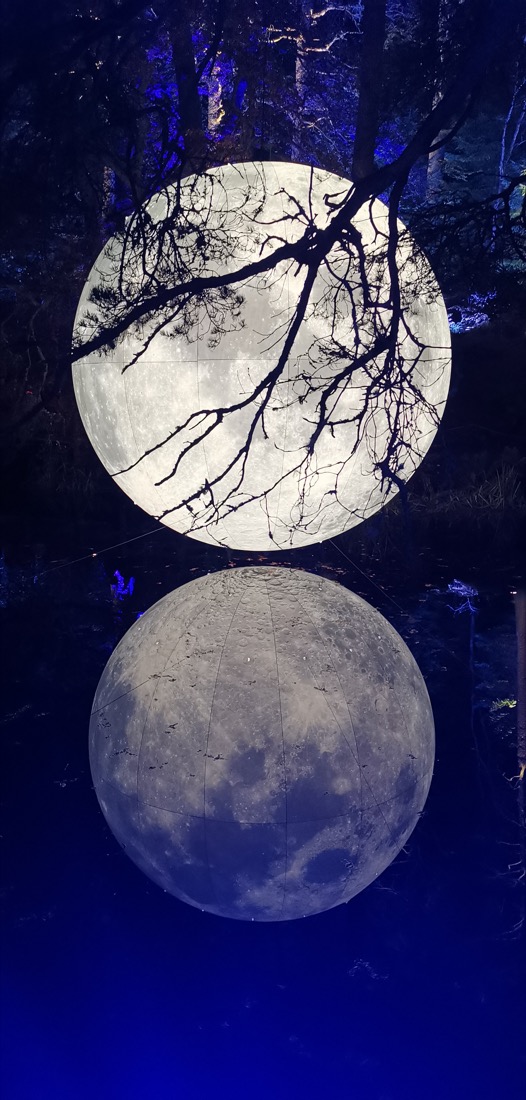 Day One
With the city of Perth as your beginning, 43 miles from Edinburgh and 59 miles from Glasgow, you start your drive along the A9.
This road is undergoing some work at the moment to make it into a dual carriageway, so you will need to abide by the speed restrictions, and as a major tourist road, you may find the pace slower than normal.
Don't get annoyed, enjoy the drive.
The scenery will be a welcome distraction. Your first stop along this road is Dunkeld (14 miles).
With links to Beatrix Potter, this historic village offers you walks in the surrounding woods and a chance to see the Dunkeld Cathedral. Near Dunkeld is The Hermitage (5 miles).
The Hermitage is an accessible walk for all. Boasting some of the tallest fir trees in Britain, they form a sheltered canopy which gives you a chance to walk through this area in the rain as well as the sunny days.
The Black Linn Falls are able to be viewed through Ossian's Hall.
These thundering falls are spectacular to watch. Around Ossian's Hall you are able to read the myth of the area. You can either walk back to your car from here or continue to follow the well-marked paths.
The walk takes you through the forest where there are hidden totem poles and you can spot red squirrels running amongst the treetops.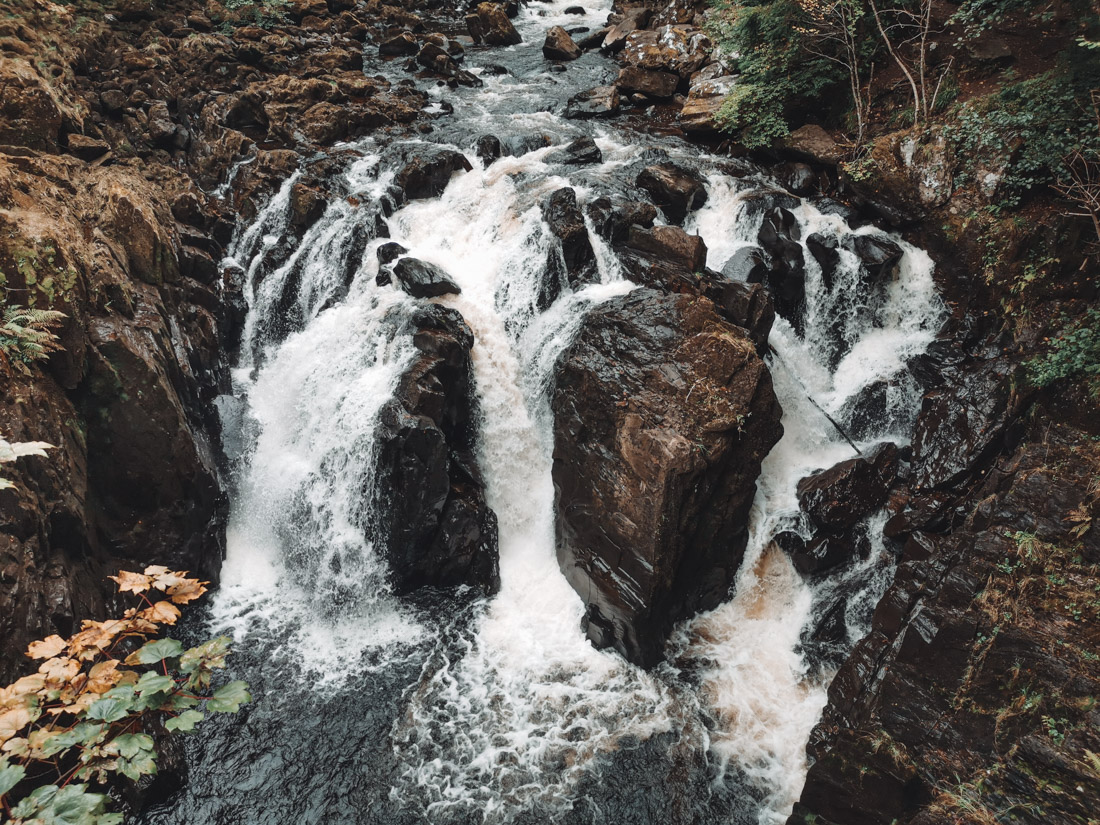 From here, your next stop is Pitlochry. It is a good idea to make this town your overnight base.
There are many different hotels and guest houses to choose from.
Scotland's first vegan hotel, Saorsa 1875 Pitlochry, is a stylish option with prices from £160 per night.
Find out more, read our Perthshire travel guide.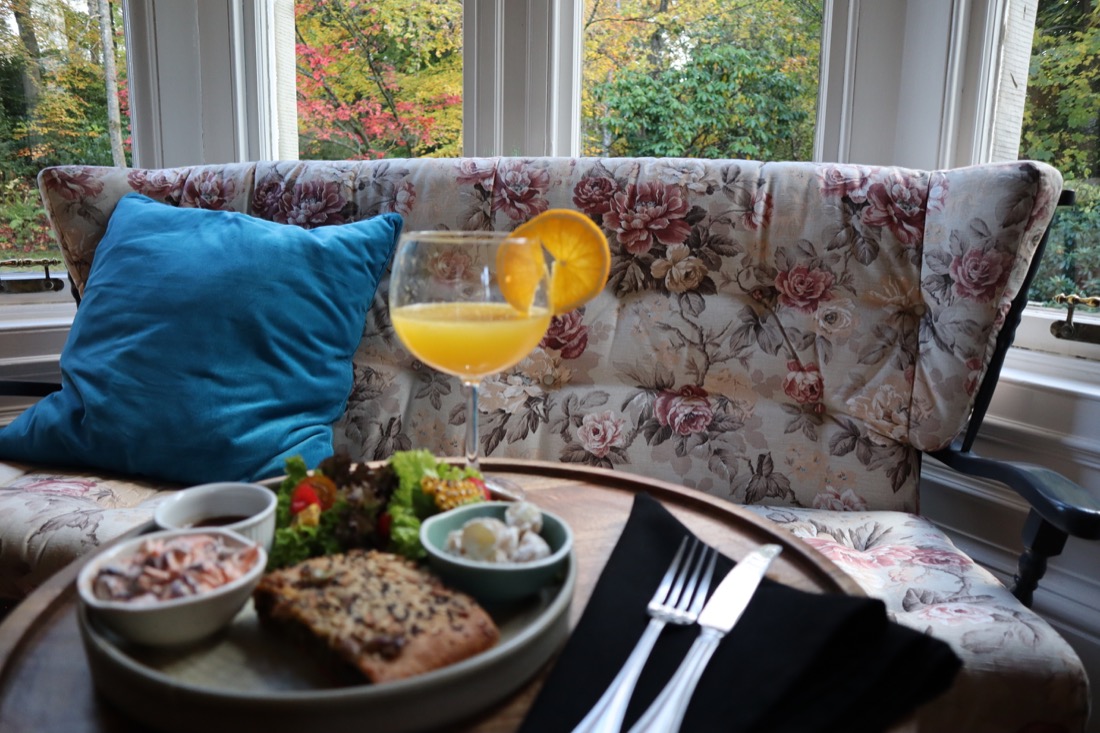 For campervans, Faskally Caravan and Campsite is perfect, offering you all the amenities. Situated near Faskally Woods, you can take advantage of the walks available.
Pitlochry itself is a great town to explore. A main tourist attraction, Pitlochry Dam, showcases the rich history of hydroelectricity in the North of Scotland.
There is a visitor center to wander through, many different photo vantage points that look down the river Tay and also over Loch Faskally. One part of the dam is a unique salmon ladder.
Here you can watch the salmon leap up this purpose-built ladder and carry on their journey to their spawning ground. On the outskirts of this picturesque town is Faskally Forest.
This forest offers you many different walks to take you around the Loch or wander un and into the forest itself. One particular event which is hosted here, is The Enchanted Forest.
Held in the month of October, this magical light display takes on different themes every year and is just as enthralling for adults as it is for the children.
Day Two
Your second day in Perthshire takes you to Queens Viewpoint near Loch Tummel (6 miles).
Surrounded by the Tay Forest Park, this viewpoint allows you to see all the way towards Glen Coe and is one of the most photographed places in Scotland.
After you have explored this viewpoint, it's time to get back into the car and drive towards your next stop.
The road climbs it way up into the Perthshire mountains, which in autumn are ablaze with the colours of the trees and fauna as they turn from summer green to russets, oranges and reds.
The Falls of Bruar is your next stop before you make your way back home (11 miles). Parking in the carpark of the House of Bruar, you follow the path around the shopping area and begin to walk up towards these falls.
The walk is surrounded by a forest that is magical and gives you some shelter from rain and wind. The sound of the water tumbling over the rocks entices you to continue walking.
Robert Burns visited here and found it to be so beautiful that he wrote a poem about the falls, 'The Humble Petition of the Water Bruar'.
The mile and a half walk is steep in places and there are areas to rest in and take advantage of the photographic moments.
A hike in here in the autumn will truly take your breath away, with the colours and the sheer power of the waterfalls. There is so much to explore in Perthshire and this is just a snapshot of what you can do in two days.
Snow Roads Road Trip 1-2 Days
The route is called Snow Roads as it takes you up some of the highest roads in Scotland.
These roads can be closed over the winter months, due to the level of snowfall. In summer, the 90 miles of Snow Roads are a joy drive due to the scenery and wildlife.
As one of the most scenic routes in Scotland, the road trip starts in Perthshire and goes through the cutest towns of Braemar and Ballater in the Cairngorms National Park.
If you are a fan of castles, stop at Balmoral Castle on the Royal Deeside in Aberdeenshire to see the gardens.
Next, head to Grantown-on-Spey. If you drive when the first snow starts to hit peaks, you'll see snow-capped mountains and gorgeous glens. There's plenty of Munros to tackle as well as outdoor pursuits such as cycling and hill walking.
Whether you are enjoying this in the winter for skiing or the summer months for other outdoor adventures, this route should be on your Scotland travel itinerary.
---
Save for later! Pin to your Scotland board
---
Final Words
This guide to the best road trip around Scotland ideas has considered popular tours and lesser-known with each having their own highlights and attractions. Which are you planning to do? Tell us in the comments below.
---
About the Author
Ruth is a school teacher and a travel fanatic with a bucket list that's getting smaller.