This article has links to products and services we love, which we may make commission from.
While many visitors to Scotland still gravitate towards the classic tourist route of Edinburgh, Loch Ness and the Isle of Skye, Scotland's top travel bloggers have been working hard to showcase that their beloved home is more than just Nessie and the Fairy Pools! In our guide to lesser-known places to visit in Scotland we've included lochs, islands and ferry rides as well as towns and cities. So let's dive into the best places to visit in Scotland with a focus on the lesser-known destinations.
Tourism in Scotland 
Trends indicate that while landscape, heritage, culture and people remain key motivators for putting Scotland on bucket lists, visitors are also seeking more than just a selfie with a Highland coo. Main drivers in VisitScotland's most recent trends report on sustainability show that 27% of domestic overnight holiday trips were to rural Scottish destinations. Now, we're not saying don't visit the capital and its castle, we're just suggesting that there is so much more to see, feel, hear, taste and do in our 32 regional areas.
So let's take a look at the best places to visit in Scotland, as recommended by this trusted team of bloggers, digital marketers and itinerary creators driving tourism to and supporting travel in Scotland through inspiration, education and advice.
Don't forget the use the hashtag #ScotlandTheFave to interact with the content creators below too.
Top Places to See in Scotland 
Dunfermline, Fife

Recommended by me, Gemma Armit, Two Scots Abroad 
History, food, live music and culture, Dunfermline in West Fife will leave you thinking 'Dunfermline, who knew?'
Dunfermline is the ancient capital of Scotland and home to Robert the Bruce's final resting place. 
Visitors, history fans or not, must check out Dunfermline Abbey Church to see the tomb of King Bruce as well as Dunfermline Abbey's burial ground to seven kings, Dunfermline Palace Ruins, Abbot House, the 16th-century pink building, and Dunfermline Carnegie Library & Galleries.
While heritage plays a big part in the Auld Grey Toon's tourism, it's not the only reason for visiting.
Nature fans can enjoy a stroll alongside the squirrels at Pittencrieff Park or The Glen as locals call it. 
This 76 acres of green space was gifted to the people of Dunfermline by the industrialist and philanthropist, Andrew Carnegie, who was born in Dunfermline. 
You can learn more about Carnegie, who was once the richest man in the world until he gave his money away, at the Andrew Carnegie Birthplace Museum.
Dunfermline is also where a number of influential bands were born. Big Country, Nazareth, Skids and Barbara Dickson are internationally respected bands and artists who have played local stages and worldwide venues.
Today, the town is also home to a number of venues and theatres such as PJ Molloys, Fire Station Creative, Alhambra, Carnegie Hall and the Glen Pavilion. Art and music fans should visit during Outwith Festival to see local and Scottish artists take to every nook and cranny of the town. 
Recommended restaurants and cafes include 1703, Cafe Wynd, Fire Station Creative, Dhoom, Fresh and The Pantry & Kitchen at the Hideaway (Kingseat). 
Other things to do in West Fife:
Culross Palace

Townhill Country Park

Rosyth Community Market 

North Queensferry views of Forth Bridges 

Fife Coastal Path from Kincardine to Dalgety Bay 
For accommodation in Dunfermline, check out Rooms at 29 Bruce Street or Garvock House Hotel.
---
Read more | 43 Things to do in Fife
---

---
Dundee

→ Recommended by Nicola, FunkyElla's Travel
The city of Dundee is on Scotland's east coast, a quick jaunt over the Tay Bridge from the Kingdom of Fife. 
It's one of Scotland's lesser-known cities but that is changing. Thanks to a multi-million pound investment to transform the waterfront, the opening of the world-class V&A and the arrival of some luxurious accommodation in the form of several new hotels, Dundee is booming. 
With direct trains from Edinburgh taking just over an hour and the main bus terminal which is connected to most other main towns and villages in the central belt, it's a very easy city to reach. The city can be explored by foot. 
To find out more about Dundee's rich history you can visit the Verdant Works and the wonderful V&A which is Scotland's first design museum.
Dundee is one of the best cities for art in Scotland as it also has The McManus Art Gallery and Museum, Dundee Contemporary Arts, Open/Close Dundee trail and Duncan of Jordanstone College of Art & Design.
The kids will love this city too! They can hunt down the statues of Oor Wullie and Desperate Dan and look for some of the city's bronze penguins, visit the Science Centre or climb aboard the RRS Discovery or the HMS Unicorn. 
Dundee has a thriving food scene with an eclectic mix of top-class restaurants, street food and cute independent cafes. 
I can highly recommend The Flame Tree Cafe for a bite to eat for lunch and for a proper sit-down meal in the evening you won't regret a visit to Gidi Grill. For a sophisticated Scottish menu check out Castlehill Restaurant on the waterfront. 
Enjoy a cheese and meat platter and wine at Gallery 48.
For accommodation in Dundee check out Shaftesbury Hotel Dundee for a great Scottish breakfast.
Dundee is the perfect city to visit at any time of year. It is bustling with a great mixture of super friendly locals and ambitious and creative students who attend the gaming and art colleges in the city. This gives the city an exciting and optimistic vibe which I love. A city that's going places. 
---
East Lothian 

→ Recommended by Patricia, Mad About Travel 
It's quite unbelievable how much of a hidden gem East Lothian is despite being so close to Edinburgh. 
This quaint region has everything you'd want on a Scottish holiday with the advantage that you won't have to drive more than an hour to get there.
You can even take the train to lovely seaside towns such as North Berwick or even the bus to places as dreamy and historic as Haddington. 
Among the many highlights, you shouldn't miss are Tantallon Castle and its unique clifftop location, a boat trip to the Bass Rock to see the biggest gannet colony in the world and the gorgeous beaches Tyninghame, Yellowcraigs and Seacliff.
If you still want more, make sure you check out the National Museum of Flight and its Concorde plane and climb up the Berwick Law and take in the views. 
If you're hungry, reward yourself with a sweet treat from Bostok Bakery in East Linton and a portion of locally caught lobster from the popular Lobster Shack in North Berwick. 
---
Aberdeen
→ Recommended by Janice, Scots2Travel
 Aberdeen and its silvery-grey granite is a hidden gem.
We're talking lush parks and gardens, historic Old Aberdeen, a free refurbished Art Gallery, a lively nightlife and excellent larder. The daring Lord Byron grew up here. 
And did I mention the beach? Miles of white sand, a traditional fishing village to explore (called Footdee), and loads of activities, from ice skating and BMXing, to climbing and flumes, all metres from the shore.
Aberdeen is also very foodie.  
Vegans visit Bonobo, vegetarians can make a beeline for FoodStory, meat lovers will adore Vovem or Miller & Carter, families can consider Amarone, Ashvale Fish Restaurant or The Pier. 
For all-round great food, book a table at Café 52, Moonfish or the Braided Fig. Glug wine and gin in Grape & Grape, sample craft beers at Brewdog, six°north or Fierce, sip cocktails at the Spiritualist or the Tippling House or have a dram at The Grill.  
Rest your head at the stylish and very central Sandman Signature Aberdeen, families may appreciate a duplex at Skene House Rosemount, and Jury's Inn is ridiculously close to the bus and railway station. 
To get to Aberdeen, hop on a bus, catch a train, snooze aboard the Caledonian Sleeper or set sail on a Northlink ferry. Aberdeen Airport is roughly a 25-minute drive from the town centre.
Aberdeen is also the gateway to Royal Deeside, you can nip to Stonehaven's sublime Dunnottar Castle, or catch the ferry to Orkney and Shetland.  
And a wee secret, Aberdeen can often be cheaper to visit during the weekend than midweek — ideal for short breaks, girls/lads weekends or romantic getaways. 
---
» You may also like | Aberdeen guide + Nuart Mural Trail
---

---
The Moray Firth 

→ Recommended by Kate, Love From Scotland
The Moray Firth coastline stretches all the way from John O'Groats on the very north coast of Scotland to Peterhead in the east. Whilst much of the Moray Firth coast has long been part of the famous North Coast 500, the southern edge has long been untouched by tourism – it's time to change that!  
With cute fishing villages, huge beaches, dolphin spotting, and not forgetting the famous Cullen Skink soup, the Moray Firth is a hidden gem and great to visit all year round – even in summer, for the east coast of Scotland is mostly safe from the dreaded midge! 
Outdoor enthusiasts will want to hike the 50 mile Moray Firth Coastal Trail connecting the huge beautiful beaches at Findhorn, Hopeman and Burghead to Lossiemouth. Make sure you stop for lunch at the Bothy in Burghead for lunch and look out for the colourful beach huts. 
Drive the North East 250, one of Scotland's epic road trips to visit the Banffshire villages of Gardenstown and Crovie, two of the prettiest villages in Scotland, before heading south to Speyside to sample some of Scotland's best whisky. 
Go dolphin spotting where it is estimated that around 130 Bottlenose dolphins live off the Moray Firth coast. The best place to see the dolphins is at the Scottish Dolphin Centre at Spey Bay. 
Photography fans should capture Bow Fiddle Rock which is a huge dramatic arch rock formation near Portknockie. Does it look like an elephant or a whale? 
Visit the most famous red telephone box in the world, the red box at Pennan was made famous by the movie Local Hero. 
Finally, try Cullen Skink! Scotland's famous soup made with potato, smoky fish and cream. 
To visit the Moray Firth, stay at Lochanshelloch Cottage, 30 mins from Findhorn, perfect for exploring the western part of the Moray Coast or Saplinbrae Hotel and Lodges, 30 mins south of Gardenstown and Crovie.
---
Shetland 
→ Recommended by Sonja, Migrating Miss
Shetland is a group of around 100 islands, located far off the north of the mainland, between the Faroe Islands and Norway.
In recent years the main town of Lerwick has become popular as a cruise ship stop, but the exploring the archipelago independently is by far the best option.
This allows you to see much more of the islands and make the most of a trip to this unique place. 
The journey to Shetland can be undertaken in several different ways.
Northlink ferries will take you there on an overnight ferry from Aberdeen, with stops to pick up/drop off passengers in Orkney on some routes. Alternatively, you can fly direct on Loganair from major cities in Scotland, or even from Orkney and Manchester. 
The most popular times to visit are the spring and summer months, especially from mid-April when you're able to see puffins, or January when towns across Shetland come alive with Viking-inspired fire festivals.  
Shetland has a culture all of its own, often described as a mix between Scandinavian and Celtic. 
This is still apparent in the unique Shetland dialect and the historical places you can visit like Jarlshof, where people have built their homes across the ages, leaving traces of Pict wheelhouses, Viking longhouses, Bronze age cottages and 17th-century castles. 
This rich history and heritage are enhanced by the beautiful landscape of the islands themselves. Of the over 100 islands only around 20 are inhabited, and some by very few people. 
There are ferry services connecting the islands and it's possible to visit many of them, something you can't do if you're only coming on a fleeting cruise visit. The best way to see the islands is to hire a car, although it is possible to see some of the main places by public transport or consider hiring a local guide.  
The extreme weather has led to little trees growing, leaving wide open landscapes, surrounded by an expanse of ocean as far as the eye can see. There are many rugged cliffs that are home to seabirds, and beautiful sandy beaches that you can have all to yourself.  
Some of the top things to do in Shetland include Jarlshof, Sumburgh Lighthouse, the Broch of Mousa, St Ninians Isle, Hermaness National Nature Reserve, Shetland Museum, and the Unst Boat Haven. If you have a chance, you can also visit Shetland Reel, the northernmost gin distillery in the UK on the northernmost island, Unst!
---
The Galloway and Southern Ayrshire Unesco Biosphere
→ Recommended by Kathi from Watch Me See
The south-western regions of Galloway and Ayrshire might not be the most famous of places to visit in Scotland, but they are among my absolute highlights when it comes to scenery, outdoor activities and genuinely local experiences. 
The Galloway and Southern Ayrshire Unesco Biosphere covers a huge area that stretches from the coast to the heart of the Galloway Hills. There is a lot to do and see from the stunning castles like Culzean or Drumlanrig and Scotland's National Book Town, Wigtown, to quirky harbour villages and stunning mountain scenery. 
In the middle of the Biosphere lies the Galloway Forest Park – a great destination for outdoor lovers. The diverse nature reserves in the centre of the park are the reason why the area is designated as a Biosphere. 
The mountains, lochs and forest around them offer the perfect ground for all sorts of outdoor activities which are delivered in a sustainable way. 
You can go kayaking on Loch Trool, hike the peaks in the Range of the Awful Hand (what a name!) go stargazing with a knowledgeable Dark Sky Ranger and much more. 
Along the way, you will meet so many friendly locals who pass on their passion for eco-tourism in Scotland.
While the south-west of Scotland is a great location year-round, there are many midges in the park from June to August. Thus, the off-season is perfect for an adventure trip to the area.
The village Glentrool is the perfect home base for an adventurous trip in the area. I recommend staying at House O Hill Hotel or Creeside Escape Shepherd's Hut a few miles down the road. 
The village is easy to get to by car (approx. 3 hours from Edinburgh) or public transport via Glasgow. To get around, hire a bike from Biosphere Bikes to travel with low impact!
---
West Lothian + The Pentlands
→ Recommended by Yvette, Wayfaring Kiwi
Do you want to get off the beaten track and experience Scotland like a local? Are you interested in Scottish historical sites, hiking and nature, and cosy wee pubs filled with local characters? 
Then you need to visit West Lothian!
West Lothian is a hugely underrated area to explore if you're planning a visit to Scotland. You can visit any time of the year, but I recommend visiting in spring, summer and autumn when the weather is warmer because you'll want to explore the outdoors.
This area is made up of several towns and villages, with the large new town of Livingston at its centre. Some of the villages date back to the 11th century, including the one I now live in, the area is steeped in history.
West Lothian is a stones' throw from Edinburgh. You can catch the train to Linlithgow or Livingston from Edinburgh, however, I recommend hiring a car and exploring the area this way as some of the best Scotland attractions fall outside the town walls.
History lovers, visit Linlithgow Palace, where Mary Queen of Scots was born and Netflix Outlaw King was filmed. Also, Cairnpapple Hill which is an ancient ritual site that has been used for the past 4000 years. 
Bathgate was also the birthplace of Sir James Young Simpson, a pioneer in the medical profession. You can learn more about Bathgate's rich heritage at the Bennie Museum which is free to enter.
If you like to stretch your legs in places that tell an interesting story, Dechmont Law is the spot where a forester claims to have spotted an extraterrestrial spacecraft in 1979.
Bangour Village Hospital, which is now closed for redevelopment, was an abandoned unit used in the filming of The Jacket starring Adrian Brody. It also features in many abandoned Scotland videos.
Beecraigs Country Park is an easy walk close to Linlithgow.
Looking for something more challenging? Just next to West Lothian is Scotland's Pentland Hills Regional Park which stretches for 20 miles in length. 
If you want to do some shopping, Livingston Designer Outlet and The Centre in Livingston have over 150 stores and in my opinion, offer far more than Edinburgh or Glasgow!
Some of my favourite pubs in the area include The Black Bull and Fork & Field in Mid Calder, The Livingston Inn in Livingston Village and Four Marys in Linlithgow. You're guaranteed great banter at any one of these pubs!
For accommodation in Livingston check out Bankton House Hotel for a casual experience in a Georgian Manor House.
Nestled next to the Pentlands Hill is JustB, a beautiful bed and breakfast located on the fringes of Edinburgh and next to West Lothian. 
You can catch bus 44 from here that takes you directly into Edinburgh's centre, and you can explore West Lothian with your hire car!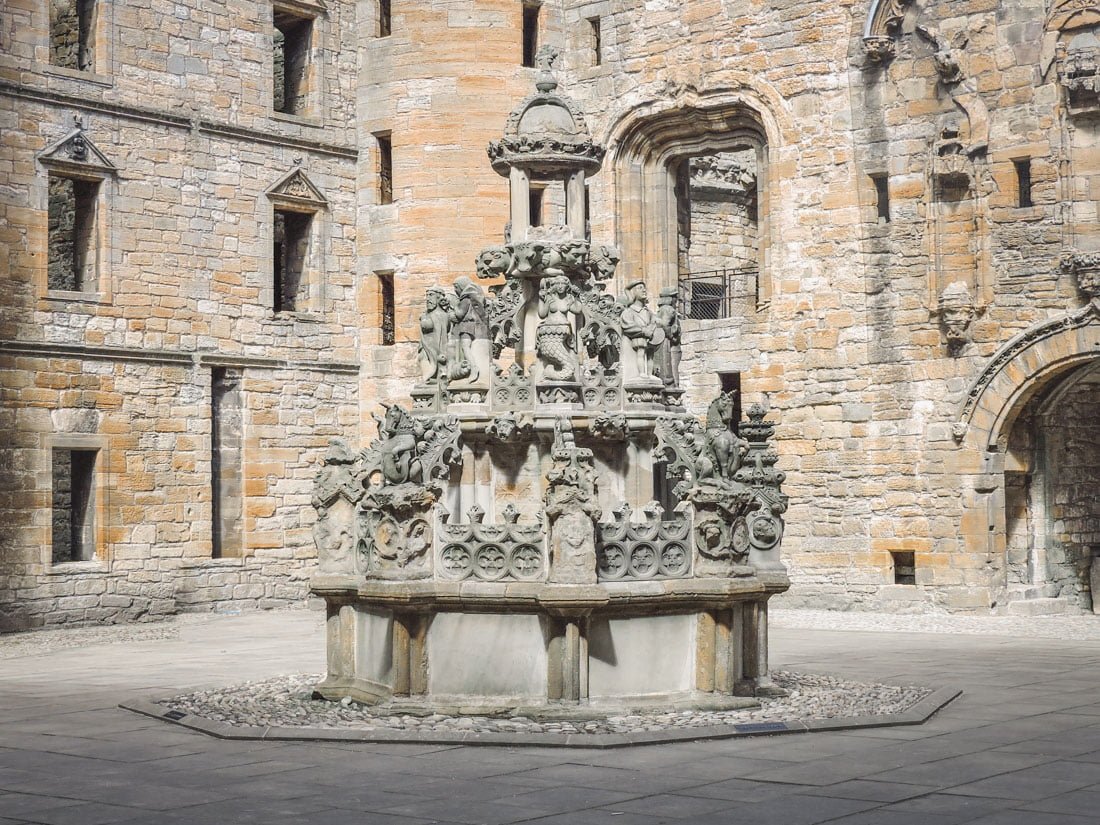 ---
Isle of Jura

→ Recommended by Kay, The Chaotic Scot
Jura is a wild and rugged island in the Inner Hebrides. George Orwell wrote 1984 on this very island, from his residence in a remote farmhouse.
Jura is 30 miles by 7 miles of glorious wilderness and is really the perfect place to get away from it all. 
While there are only around 200 inhabitants on Jura, you will find a much larger population of deer, estimated to be between 5000 and 6000. Venison, anyone?
Jura is known as the island with one road, one shop, one hotel, one pub and one whisky distillery but this limited choice is what makes it. You can simply relax and take it all in, or set off on a day of hiking.
While there are some holiday rentals and apartment options on Jura, my advice is to stay in the cosy and traditional Jura Hotel in the main settlement of Craighouse, which serves excellent food on-site and happens to be home to the aforementioned one pub. 
It is also a mere hop, skip and jump from Jura Whisky Distillery. There are tours from Monday – Friday year-round, and on Saturdays during the summer months. I recommend trying the island's amazing Lussa gin too! 
Jura feels like a blissfully untouched, faraway land, but there are multiple ways to reach the island. There are car ferries from Port Askaig on Islay or from Oban, and in the summer, there is a passenger ferry from Tayvallich right into Craighouse. 
If you don't have a car, there is a local bus which covers the one road from the Feolin Ferry port to Craighouse, and there is a local man called Alex who runs Jura Island Tours. Jura is well worth the journey! 
---
Kintyre Peninsula

→ Recommended by Susanne from Adventures Around Scotland
The Kintyre Peninsula is situated in Argyll on the west coast of Scotland and can be reached in just over 3 hours by car or bus from Glasgow.  
With so many travellers focused on heading north, this pretty peninsula often gets overlooked as a tourist destination. 
Yet it has a lot to offer all year round including picturesque towns and villages, castles, distilleries (whisky and gin), historic sites, pretty beaches and walking trails. You can even go surfing at Pete's Surf School.
If you are familiar with the famous Paul McCartney song inspired by the area, you can explore the Mull of Kintyre for yourself and take a walk down to the lighthouse.  
You can also take a stroll along Saddell Bay where the music video was filmed – look out for the Antony Gormley sculpture standing on the rocks while you're there.
Kintyre's position nestled between the islands of Arran, Gigha and Islay makes it an excellent base for island hopping.  
Ferries connect the peninsula with all three islands and Gigha, in particular, is ideal for a day trip. In the summer a passenger ferry also makes the short journey to Northern Ireland which is only about 12 miles across the North Channel.
It is also possible to visit Davaar Island on foot. It is connected to the coast at Campbeltown by a tidal causeway which can be crossed at low tide.  
One of the sea caves on the island is famous for its painting of the crucifixion.
There are plenty of accommodation options in Kintyre from luxury to basic. For those on a budget, I can recommend Machrihanish Holiday Park which has camping, glamping and touring facilities.
While you are staying be sure to try some of the local produce including Kintyre Gin, whisky from Campbeltown and fresh seafood which is caught and landed locally.
---
Save for later.
Pin to your Scotland board
---
Final Words
Whether you are a first time visitor to Scotland or a repeat offender the above towns, villages, cities and islands will offer the opportunity to experience the most beautiful places in Scotland with fewer crowds and you can enjoy your visit, even more, knowing that you've contributed to the 'regional spread' in Scottish tourism.