This article has links to products and services we love, which we may make commission from.
There's no shortage of things to do in Loch Lomond, the bonnie banks on every Scotland bucket list. Attractions by the sea, activities on the water, nature, hikes, shopping, food and drink, you're in for a busy trip to this national park.
Loch Lomond is an easy day trip from Glasgow. Just hop on the train to Balloch and from there, it's all aboard the Loch Lomond boat tours!
Things to do in Loch Lomond
Balloch – Boat Tours, Beers and Karaoke
Enjoy a Boat Ride on Loch Lomond
Set sail from Balloch on a 1-hour hour Loch Lomond boat trip.
This a large, comfortable boat with indoor and outside seating.
The seats inside are located next to big windows for unspoilt views of the loch side.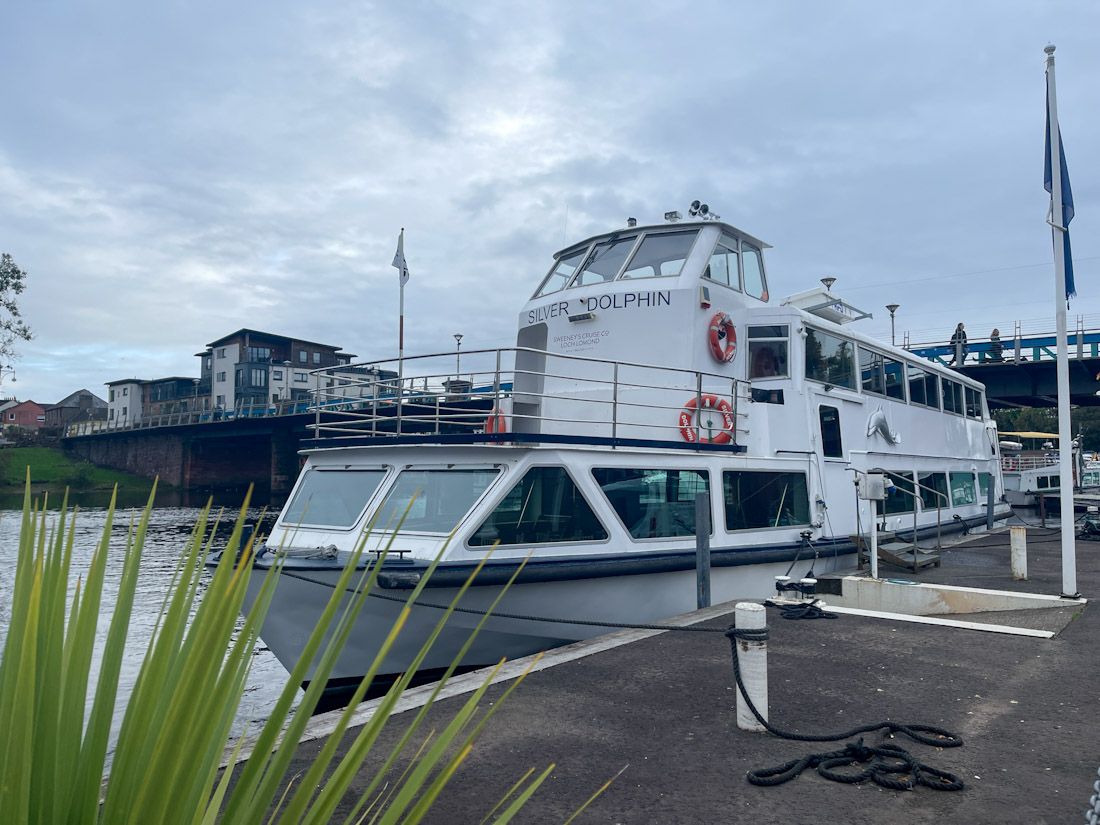 Loch Lomond stretches for 24 miles and has 22 islands and 27 islets.
Learn about the history of the national park from the tour guide's stories told over the speakers.
Have a Pint by the Fire at The Balloch House
The Balloch House is located in an 18th century building and has a beer garden for dining and drinking.
The menu includes staters and mains including fish, grilled food like steak and stonebaked pizzas.
Brunch is served Monday to Saturday and Sunday roast is available on Sundays.
Watch a Game at Tullie Inn
The Tullie Inn is a modern restaurant and pub with screens showing football games.
There's also outdoor seating with umbrellas.
Karaoke with Locals Friday, Saturday and Sunday
If you like a cheap drink and a bit of sing song, pop into the 'The Lodge' Glenroy Bar at Lomond Park Hotel.
It gets rowdy at the weekends so be prepared for spilt drinks, sweat and singing!
Cocktails at The Pier
Prefer live music and a cocktail menu?
Reserve a table at The Pier Kitchen for a contemporary setting and friendly staff.
Food also available from brunch through to dinner.
Things to do at Loch Lomond Shores
Fly Among Nature at TreeZone
Loch Lomond has an aerial adventure course strung between the trees for wee and big kids!
The 1-1.5 hour Loch Lomond attraction for daredevils includes zip wires, balance beams, hanging platforms, tight-ropes, scramble nets and all works up to a white knuckle bridge with rewarding views over the loch.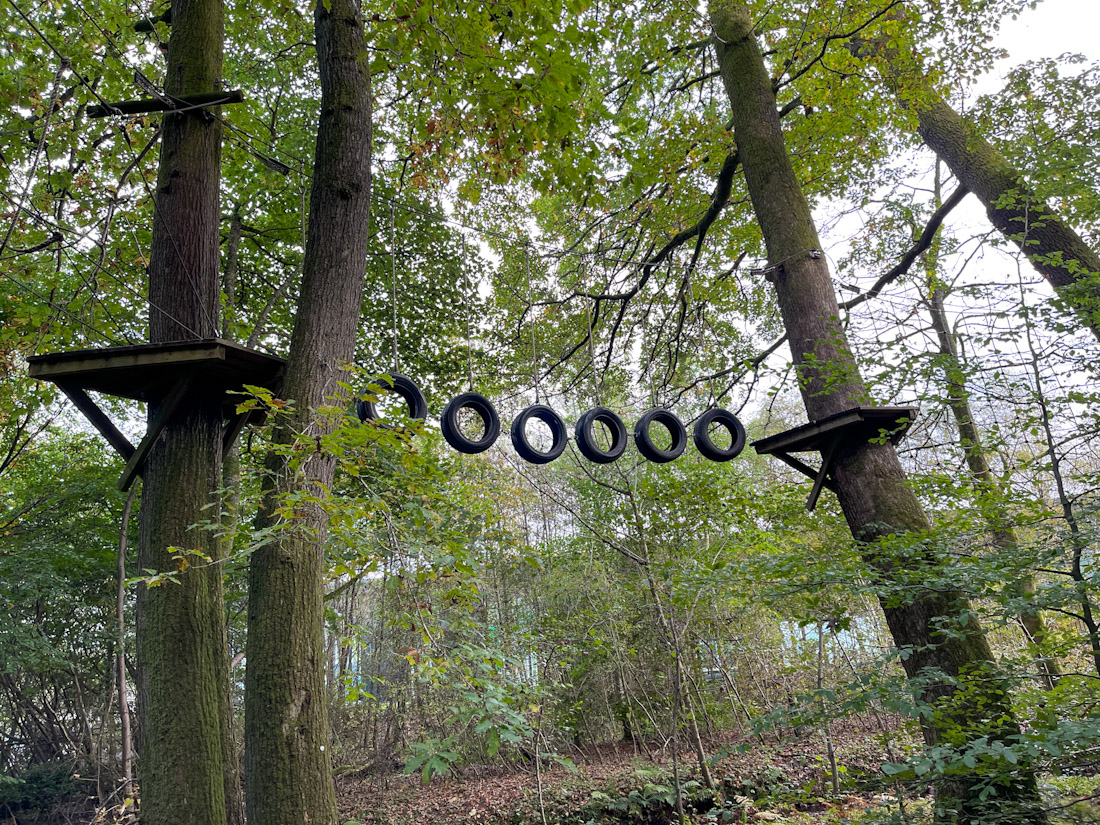 The finale is a long zip line crashing back down to the woodlands.
Spectators can watch their family from the ground.
Harnesses are provided so all you need to bring is a waterproof coat and gloves for protection.
Everyone taking part tries the beginners course first so you can test if you are comfortable with the second higher and more intense aerial route.
Instructors explain how the set up works at the start and follow the group around as they navigate the ropes.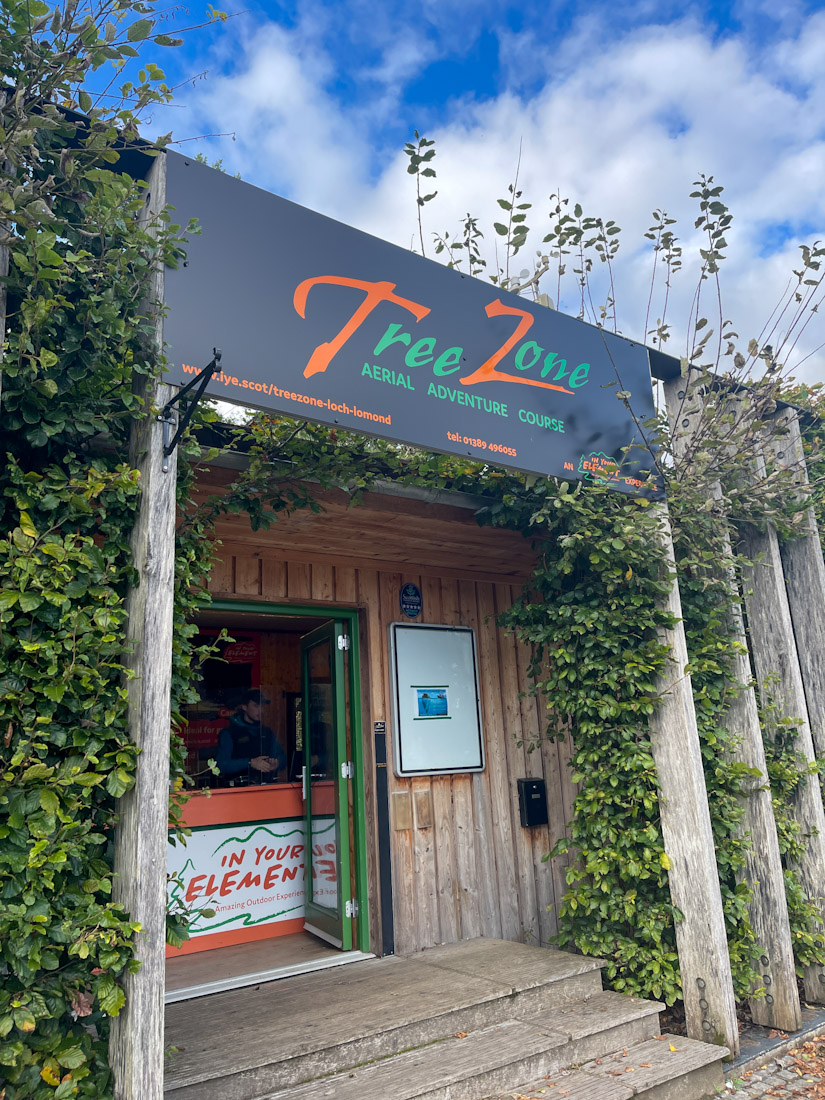 Shop at Loch Lomond Shores
Grab a snack at a loch side stall or shop 'til you drop at Loch Lomond Shores.
Popular brands and family-owned businesses are located at this scenic shopping centre.
Enjoy a Drink with Views at Duck Bay
Duck Bay is a popular restaurant and hotel by the loch.
The outdoor seating has views of Ben Lomond and the Arden Hills.
Inside there's a relaxed cafe selling light meals and impressive cakes as well as an upmarket restaurant with varied menu.
You can also stay at Duck Bay which means you can make your way through the wine and whisky menu then fall into bed!
Check out rooms and rates here.
Things to do at Balmaha
Hike Conic Hill
See the line of the Highland Boundary Fault from the summit of Conic Hill at Balmaha.
From the car park at Balmaha, follow the trail through the woodlands up to the hill, past the Highland cows to the summit.

Remember to look back at the views as you ascend.
The route is a little bit stony near the summit so it's recommended to wear hiking boots or shoes.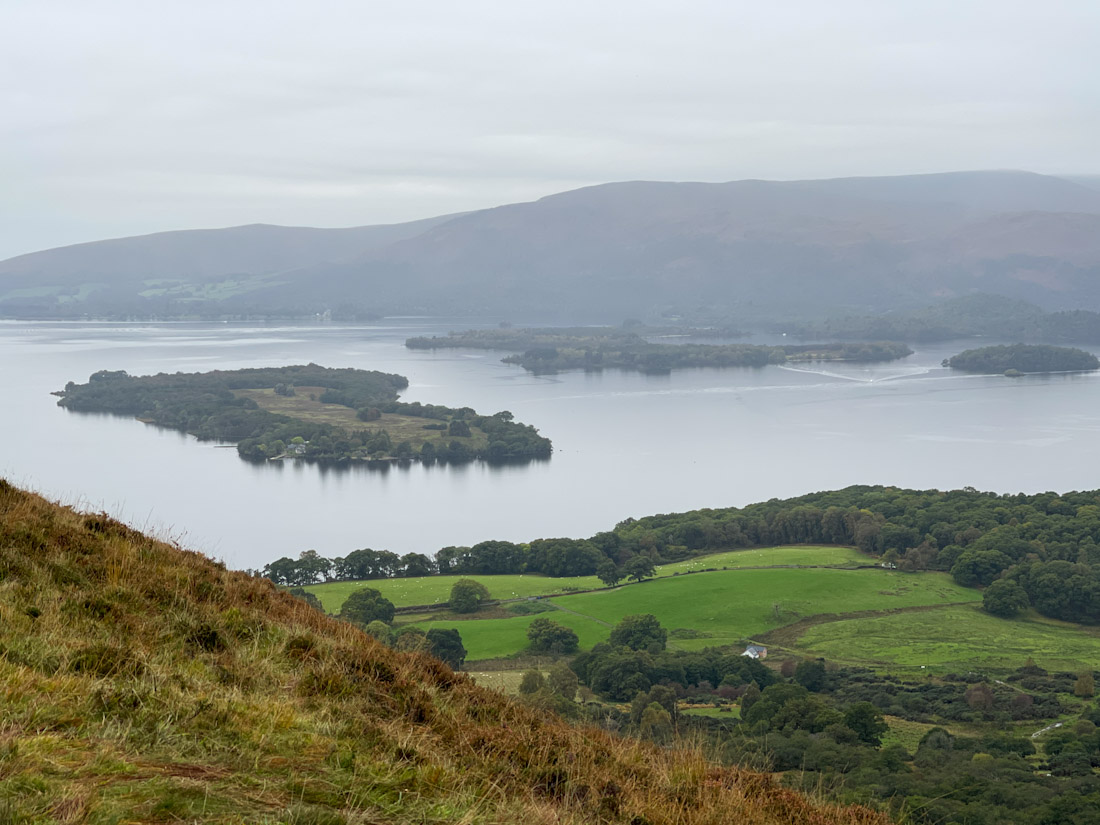 Follow the same path on the way down.
The hike takes around 1.5-2 hours.
Conic Hill is part of the West Highland Way multi-day hike.
Dine at the Oak Tree Inn
You really won't be disappointed with the food and service at the Oak Tree Inn.
The menu consists of soup, sandwiches, main meals and desserts made by hand using local produce.
The decor on the walls of this cosy pub will keep you intrigued for the duration of your meal.
There's also tables outside for al fresco dining which is ideal for those with dogs.
The Oak Tree Inn is across the road from the car park.
Ice Cream at St Mocha
St Mocha is a takeout ice cream and coffee shop next door to the Oak Inn.
Flavours include traditional ones such as vanilla and Scottish flavours like tablet. Cone or tub?
The cafe roasts its own coffee too.
Things to do at Luss and Beyond
Enjoy a Wander Around Luss
One of the most popular activities in Loch Lomond is a slow walk through the cute village of Luss.
It has a pier, Parish Church and 18th and 19th century houses.
Pick up a souvenir at Luss General Stores and food at Coach House or Village Rest.
Things to do Near Loch Lomond
Hike Ben A'an
Ben A'an is a busy hill in the Trossachs and it's popular for good reason – the relatively short hike (3.7km / 2.25 miles) provides stunning views over Loch Katrine.
Aim to get to the car park on the A821 very early to avoid disappointment, especially on dry days.
Set aside 2-3 hours for hiking The Mountain In Miniature.
The Green Welly Stop
Did you even visit the West Coast if you didn't go to the Green Welly Stop at Tyndrum?
Use the loo, grab a coffee to go or a diner style meal at this landmark.
Stirling For History
Stirling is a small yet historically significant city in central Scotland.
Visit Stirling Castle at the top of Castle Hill for exhibitions in this 12th-century royal building.
See The National Wallace Monument which celebrates Sir William Wallace is a prominent feature in the Stirling landscape.
Alternatively spend the afternoon at the spa in the old Victorian school building, Stirling Highland Hotel.
Stirling also features in our guide to staycations in Scotland.
How to Get to Loch Lomond
Loch Lomond is easy to get to from Edinburgh and Glasgow and appears on many Scotland road trip itineraries.

Edinburgh to Loch Lomond Shores is a 1.5 hour drive and Glasgow to Loch Lomond Shores is just 40 minutes by car.
Organised day trips to Loch Lomond leave both cities daily.
Alternatively, the train from Glasgow to Balloch takes 50 minutes however you are restricted to just the Balloch.
Citylink Buses have a service from Glasgow which stops at at Balloch, Duck Bay, Luss, Inverbeg, Tarbet, Inveruglas, Ardlui, Inverarnan, Crianlarich and Tyndrum.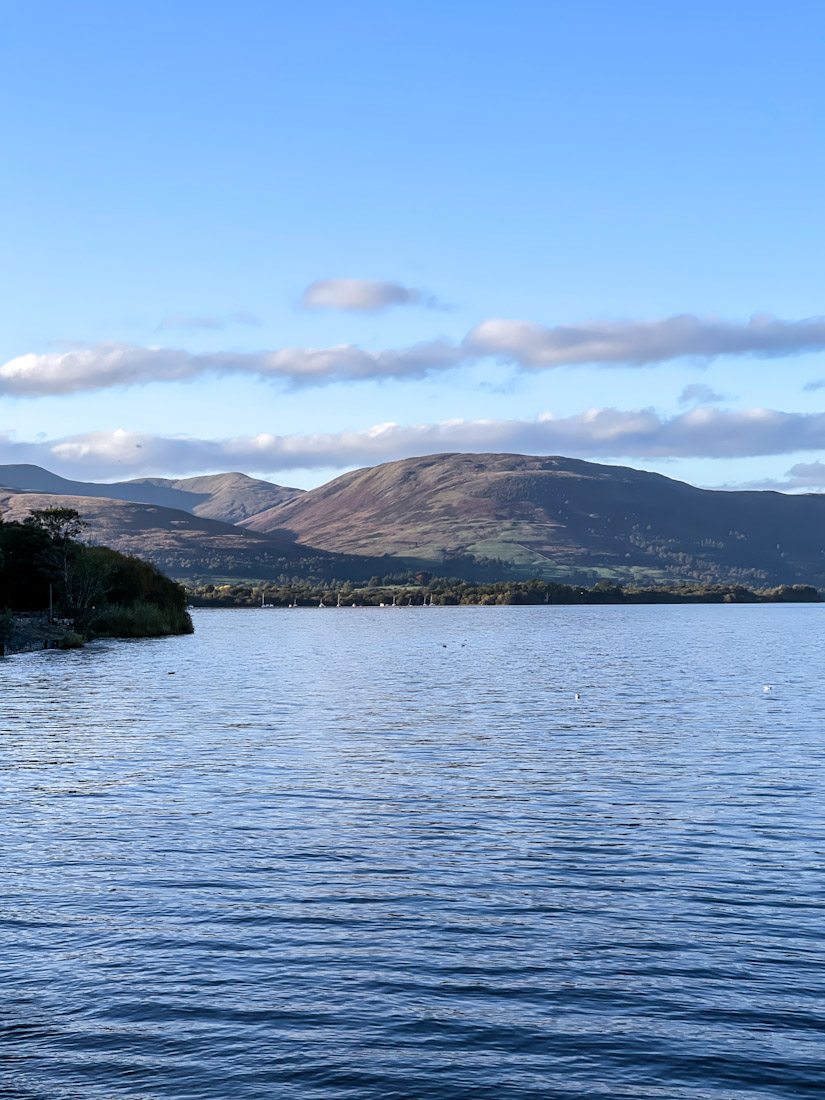 Visiting Loch Lomond Responsibly
Loch Lomond and The Trossachs is only one of two national parks in Scotland and its ease of access makes it a very popular place to visit.
Along with the Isle of Skye, it is often cited as a destination which suffers from overtourism.
Ways to travel to Loch Lomond responsibly include:
Visit during quieter seasons and outside of school holidays
Leave no trace – pick up all your litter from days out and camping
Apply for a permit to camp, you cannot 'wild camp' at Loch Lomond
Book local accommodation and dine out
Be respect of locals, don't park outside of car parks and parking spaces
Use public toilets, if you have to do a number two while hiking, dig deep and cover the hole up
People have died swimming, only get into the water where it is safe to do so. Seven people died in 2021, don't take this warning lightly
Why not consider a lesser-known area in Scotland?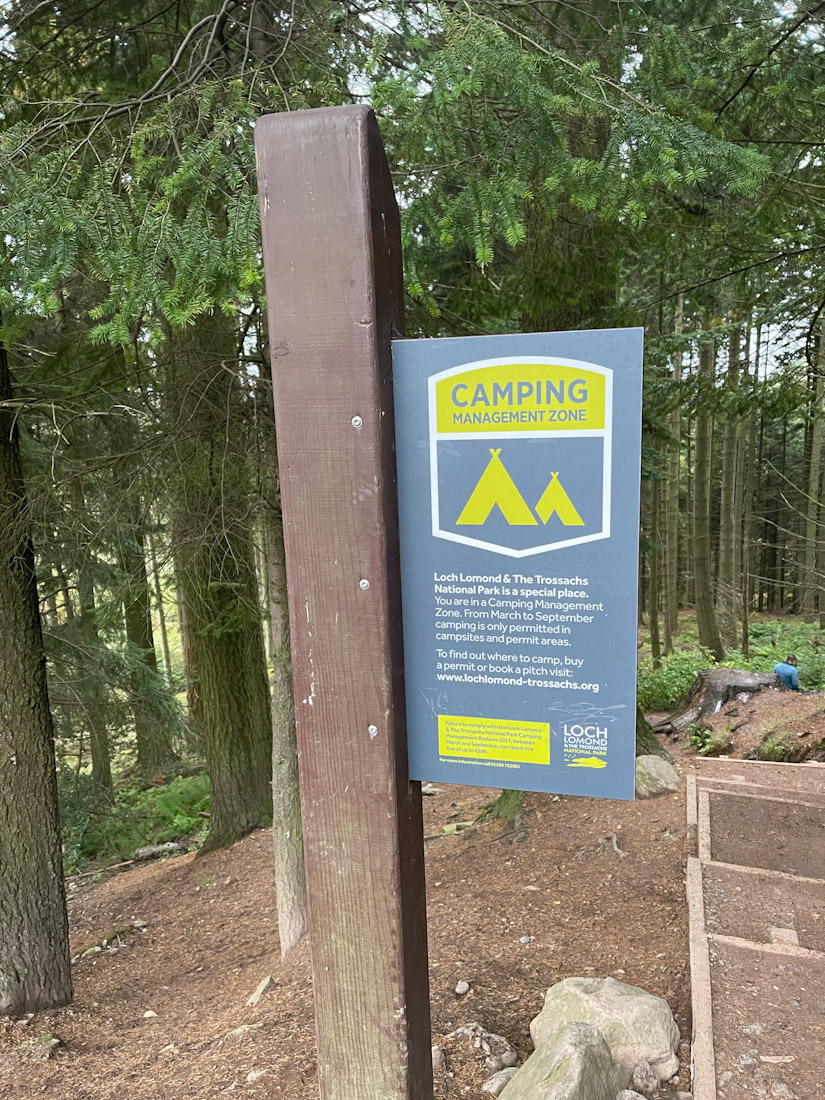 Final Words
So as you can see there are many things to do around Loch Lomond which warrant a night or two on your Scotland itinerary!
Which attractions are your favourite? Tell us in the comments below.
Scotland Travel Guides