This article has links to products and services we love, which we may make commission from.
BAM! Bucharest blew me over. Little research had been done on things to do in Bucharest and the blogs I had read on Romania's capital hadn't whipped me into a frenzy. I'm here to tell you differently. Coined the 'new Berlin' – Bucharest is buzzing; the party scene is powerful, yet the scars from the Soviet hold lie just under the surface.
Lots of time in Bucharest? Don't miss our day trips guide.
Bucharest Things to do Today
1. Old Town, Bucharest/Centru Vechi
Probably the youngest Old Town in the world, Bucharest Old Town is that a decade old!
The aim of the redevelopment of Centru Vechi (the Old Centre, as the locals call it) was to entice locals and tourists alike to enjoy some social drinking while spending a bit of coin.
The plan has been successful, this area is jumping.
Streets and streets of bars, restaurants, kebab shops, and pumping music, all housed in grand buildings.
Warning – local beer, Csíki Sör, is pretty cheap in Bucharest but vodka comes in at £2.50.
A glass of wine is not that far off it leaving a bit of a bad taste in my mouth after a month of 75p wines in Hungary and £1.20 swifters in Slovenia! Invest in some hydration tablets US / UK, we never travel without them if visiting a city with a solid drinking culture.
Be sure to check out 'Umbrella Alley' on Pasajul Victoriaget.
This is probably the most photographed spot in Bucharest.
How to Get to Bucharest's Old Town
The borders of the Old Town are Dambovita river to the south, Calea Victoriei to the west, Bulevardul Brătianu to the east and Regina Elisabeta to the north.
While in the Old Town, you might want to swing by the Insta-famous Bucharest library, Carturesti Carusel.
2. A Room With A View
The popular hostel, Little Bucharest Old Town Hostel, sits at the top of the Old Town like the queen of the party scene. Inside is tranquillity; cosy cafe, speedy WiFi, equipped kitchen, friendly staff, social dorms, and private rooms with this view…
Open the front door, welcome to the bustle of Bucharest Romania! Solo traveller?
No fear, Little Bucharest also has planned daily events, it's a social hub, not just a hostel. You won't miss any Bucharest things to do with this social calendar.
Hostel: Booking, Hostelworld
Address: 

Strada Smârdan, București, Romania

Bucharest travel blog tip: best shots of the Old Town are from the hostel cafe window
---
» Read our full guide on where to stay here
---
3. Free Walking Tour Bucharest
One of my favourite things to do in the first couple of days of visiting a city is to take a walking tour.
Why? Because it helps me get my bearing (which are shocking for a travel blogger!) and I can annoy the local guides for insider tips on food, bars and top activities.
Bucharest now has a walking tour and it is free.
I should note here that free tours in Europe and beyond aren't actually free, you pay by tip at the end of the tour.
The walking tour takes you through the city and  500 years of history from Vlad the Impaler, you may know him as Dracula, to the 1989 Revolution.
Time: 10:30
Where: Piata Unirii Park, in front of the Clock
Duration: 2 hours – don't forget water and wear sunscreen in summer
The jury is out on whether to drink the tap water in Romania.
Some ex-pat sites suggest the water smells a bit foul.
The eco-warriors amongst us may want to consider this purifying water bottle.
Check out our unbiased review of DrinkSafe Travel Tap or get 15% off Water To Go [quote TSA15 at checkout].
Bottled water is available in shops, of course, it's just terrible for the environment.
4. Food Hood Bucuresti
Move over Portland, Bucharest's food carts are in town. Seems like Romania's capital is stealing the solid North American idea of food trucks with a couple of bars, bands, and bunting thrown into the mix.
There are a variety of events held at Food Hood too such as yoga, badminton and record fairs. We dined and drank here at night, really casual vibes and live music.
5. Bucharest Markets Tour
If you really like food or if you prefer a more relaxed cultural experience check out the Bohemian Maret Tour.
In this tour, you will try the beloved 'mici' street snack in Bucharest and local beers from the country craft breweries.
The tour isn't just about the belly though, expect to wander the streets around prominent sociopolitical spots such as University Square and Strada Batistei.
What makes this tour a little different from others is that it leaves the centre boundaries for lesser-known neighbourhoods such as the Armenian quarter and the old Jewish quarter.
Here is where your local English-speaking guide will introduce you to the most famous street-food, covrigi.
The next stop takes you back to Communist Bucharest (Mosilor Stree) to visit Obor Market. Food includes
A 'peasant platter' (local cheese and meats, plus seasonal vegetables and homemade bread)
Street snack
2 mici (includes bread and mustard)
1 platter of local cheeses
1 Wallachian doughnut
3 beers
1 shot of palinca (yikes!)
Tour Info:
Time: 10 am
Meeting point: National Theatre
Duration: 5.5 hours
You must book ahead, click here to do so
6. Bucharest Bike Tour
Bucharest is not only an extremely interesting historical city but is actually pretty big.
An accessible way to get around all the important places to visit in Bucharest is by bike. Slow Tours Half Day Bike tour meets every day and guides you around Romania's Bucharest filling your head with facts about the 'City of Contrasts'.
Our tour guide (and business owner), Mihai, was friendly, funny, and very knowledgeable.
We kicked off our tour at Charles de Gaulle Square, cycling through the impressive Herăstrău Park (see below), then many other green areas (Bucharest has lots!), past the Palace of the Parliament (see below) to Revolution Square where Mihai shared his researched knowledge (and a degree in anthropology) of the 1989 Revolution which resulted in the execution of the then-dictator, Nicolae Ceauşescu, who lost his life, along with his wife, Elena on Christmas Day.
I know four hours sounds long but time flies when you are working your buns!
Mihai not only treated us to stories but also local tips and a scone-like bread snack for lunch, which we ate in the sun. Bliss!
Meeting Point: Charles de Gaulle Sq
Price: €30 per person
Duration: Approx. 4 hours

Pedal while you learn, Bucharest things to do and see
Obviously never travel without insurance regardless of what type of trip you are making.
We use True Traveller for insurance, which I claimed during our time in Vancouver, Canada and I was happy with the service.
See if they are right for you here. You may also like our insurance comparison guide.
7. Bespoke Walking Tour + Support Ex-Homeless
If you are looking for a unique thing to do in Bucharest that sheds a different, realistic light on the city join this tour with a formerly homeless guide.
Not only will you learn about the attractions in the Old Town but also the struggles of life on the street.
An alternative way to explore while supporting a local NGO and a formerly homeless person with employment. Tours are available in English and Spanish and a street snack is included.
Time: 10am
Meeting point: National Theatre main entrance
Duration: 2.5 hours
8. Arcul de Triumf
Seriously, guys, I am not that fit. I did not cycle to France. Bucharest has its very own Arch of Triumph!
This monument was made, speedily, to celebrate the end of World War I.
The original design did not last long but was replaced with stone. Unfortunately, there was (and is often) ugly construction around the beautiful Arc.
If you are lucky, and you time your trip right, you might just get up it.
Did you know that Bucharest's nickname is 'Little Paris'? Like architecture? Check out Timisoara, Romania.
---
» Heading to Dracula's Castle? Here are five ways to get to Bran
---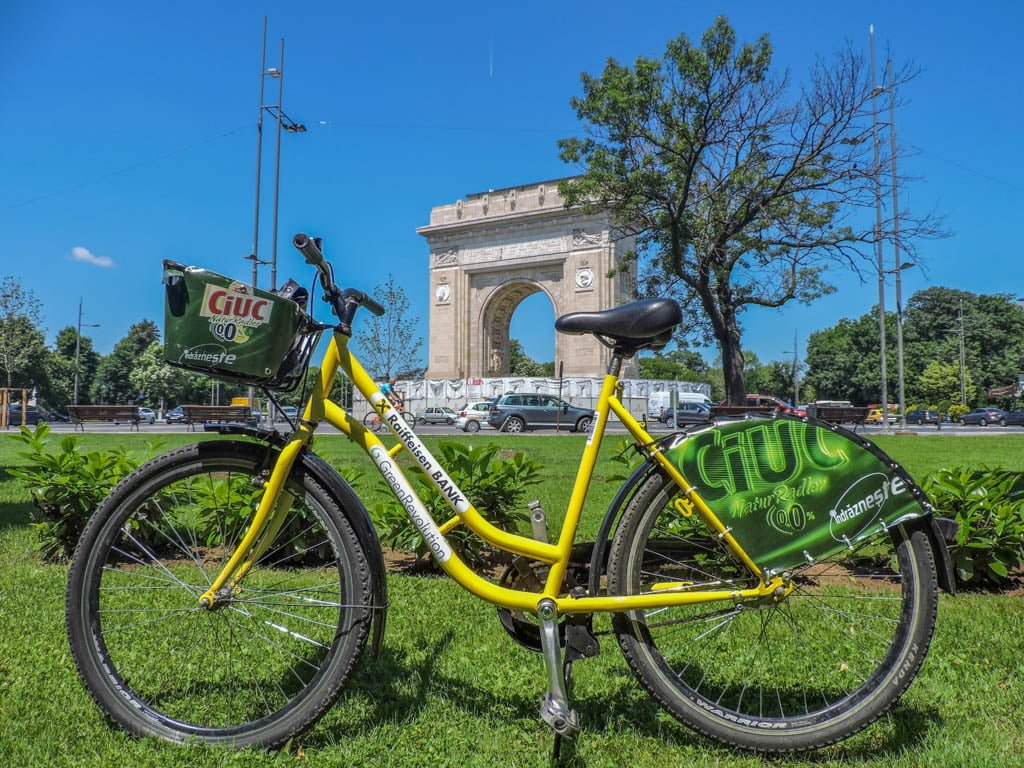 Arch of Triumph: Bucharest, Romania points of interest
9. Bucharest's Prettiest Parks
If you are wondering where all the locals are at the weekend you'll find them at the beach or be lazing in the parks of Bucharest.
The biggest park is Herăstrău Park (Sector 1) which is 187 hectares built around Herăstrău lake.
Visitors can hire a boat, visit the Village Museum, or check out the many sculptures (look out for King of Pop!)
Other green spaces include Bucharest's Botanical Gardens (Șoseaua Cotroceni 32), Cismigiu Gardens / Grădina Cismigiu  (Bulevardul Schitu Măgureanu) and the concrete Carol Park, home to the Monument to the Heroes of the Struggle for Freedom and Socialism (Filaret Hill) – a couple of things to do for free in Bucharest.
10. Palace of the Parliament
Seriously, this is Bucharest Parliament!
I know, this 'House of the People' resembles a battleship but this home to politicians is not just any parliament, it is the second-largest administrative building in the world, after The Pentagon of course!
This monstrosity of a building was created by Romania's dictator, Nicolae Ceauşescu's, in 1984, five years later the Romanian revolution would kick off.
Visitors can take a tour of the Parliament, (book in advance and take your passport for ID).
When you hear that it eventually took 700 architects (initially headed by a young woman, Anca Petrescu) and 20,000 building workers to erect this thing, it's easy to see why it is one of the top things to do in Bucharest Lonely Planet.
Address: Calea 13 Septembrie 1
Opening Hours: 9am – 5pm / off-peak 10am – 4pm
Price: Standard 45 LEI additions
Pre-book 1.5-hour tour: reserve your spot here (cheaper if you purchase on site)
Remember your passport
Hard to miss Bucharest attractions
11. Sighet Memorial Exhibition
Take a look at the bullets on the buildings and you will see proof that Romania has suffered.
For a long time (according to locals), Bucharest has not displayed its history unlike Sarajevo does extensively.
This has changed with the introduction of the Communism Exhibition which takes you through a timeline of events from the stronghold of the Soviets on Romania in 1945 to the withdrawal of the Soviets then the Romanian Revolution / Uprising of 1984. This museum was one of the (many) highlights for me.
The Romanians did not have a Tito to keep Moscow at arm's length like former Yugoslavia did and this resulted in the Red Army 'protecting' the country for 14 years. Romania was made a Soviet satellite state, which meant its industries were nationalised and placed under the SovRom title, everything from petrol to media to hospitals to the movies were 'looked after' by Joseph Stalin.
He even renamed the city of Brasov, 'Stalin City' to show who was boss.
However, the big industry was not the only aspect of life that communism controlled. Landowners were evicted, many did not go down without fighting, burning their own farms down before the Red Army could get to them.
Education was heavily controlled, books were audited, bibles were made into toilet paper – so Romanians were literally wiping their asses with religion (which wasn't banned, just heavily restricted).
Ok, so maybe you could handle losing your house, job, bank account, all for the 'greater good' of the Soviet nation but Stalin's techniques did not tickle. Students, bishops, priests, dissidents (men and women) were arrested and placed in 're-education through torture' programmes. Prisoners were beaten physically and mentally.
Boiling gruel was served, prisoners were forced to lie on their stomachs with their hands behind their backs and eat with their mouths like pigs.
Once tortured to the point of no return, prisoners were made into the torturer – maiming their old friends, no longer a human being themselves- 'the brutality was boundless'.
By 1958, the Soviet tanks were leaving, and by 1965 the liked and then loathed, dictator Nicolae Ceauşescu was in power. This gallery displays, texts, images, and a clever computerised device, to convey what life was like in Romania.
Permanent Exhibition Area of the Sighet Memorial in Bucharest:

Website

Contact: +40 21 313 7628
Address: 66 Jean Luis Calderon St., Bucharest
Opening Hours: 10am – 6pm
Price: Free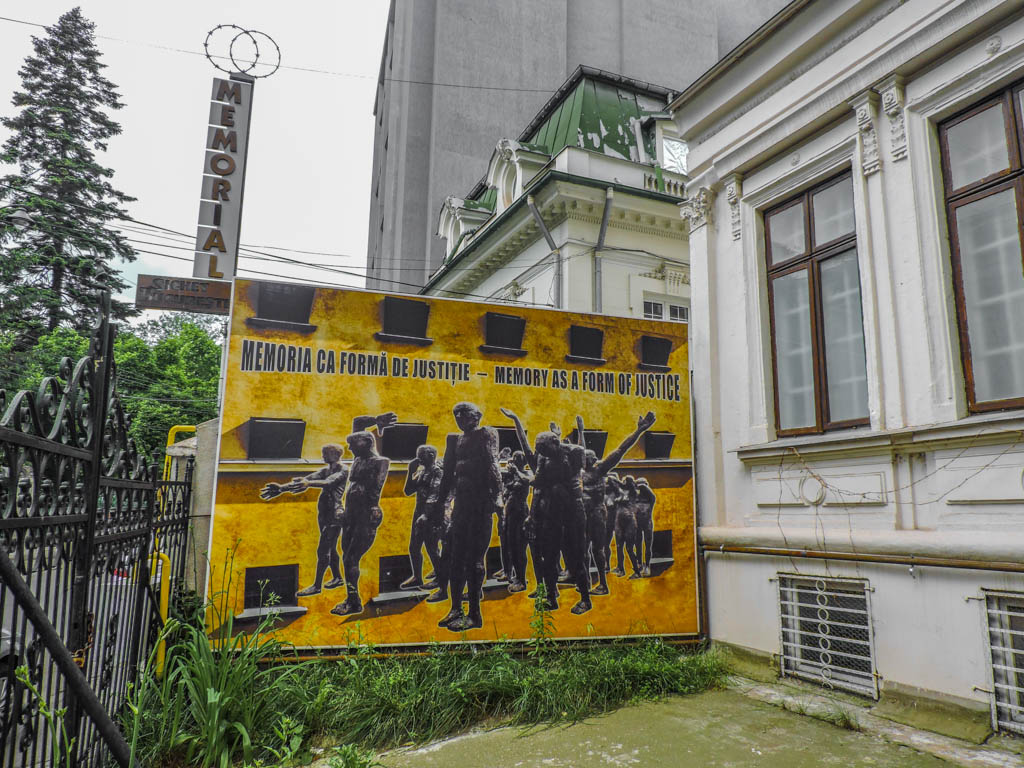 Permanent Exhibition Area of the Sighet Memorial in Bucharest
12. Communist Tour in Bucharest
Red tourism is very popular in European cities and Bucharest is slowly taking on the demands of its visitors.
This Bucharest Communist Tour teaches you about the rise and fall of Ceausescu while you walk past communist-era landmarks and political memorials. It covers life under the communist regime and life in Bucharest today including a visit to lesser-known communist-style neighbourhoods, definitely one of the cultural travellers.
Meeting Point: Near the red-brick bell tower of the Patriarchy, walking distance from Piata Unirii

Duration: 3 hours

13. Michael Jackson Spotting in Bucharest
Michael Jackson is an unlikely hero but he is to the Romanians! MJ was one of the first celebrities to visit Bucharest after the uprising.
It was official Budapest, I mean Bucharest, was on the map!
Yes, poor Michael made that mistake live on stage – whose bad?!
So the next time someone asks 'where is Bucharest?' think of the King of Pop!
14. W
hat to do in Bucharest at Night

–

Unirii Square Fountain Show

During spring and summer, there is a grand performance involving music, light and water from 44 fountains at Unirii Square. 
15. Bucharest's Bar Hopping
What comes after the Old Town bars? Hipster pubs.
Checking out the local talent in Bucharest put my backpacking attire to shame.
There are a lot of cool cats roaming the city streets and hanging out in Bucharest's hipster bars.
Partying is one of the more obvious things to do at night in Bucharest!
Gradina EDEN, Bucharest
Close your eyes, think of the garden of Eden, open your eyes…
Yes, you are there.
Eden offers beer in bottles and on tap, wine, spirits and a calm environment to enjoy them in.
Eden receives 5 stars for things to do in Bucharest TripAdvisor.
Facebook: Gradina EDEN
Address: Calea Victoriei 107, București, Romania

Top tip for things to do in Bucharest – nightlife is jumping here, seriously!

Check Control Club
Overpriced hipster alarm.
We paid £5 cover fee to get into Check Control Club expecting some kind of action in exchange, a DJ, band, dance floor?
Nope, just two bars for you to spend your hard-earned cash on. We promptly left with our cover fee refunded.
Check out what's on before planning your night out.
Pura Vida Sky Bar
Watch the sun set over the copper rooftops with soothing summer tunes and a drink in hand at Pura Vida Sky Bar.
As the Costa Rican saying goes this is a 'pure life'!
Facebook: Pura Vida Sky Bar
Address: 7 Smârdan Street, București, Romania
This bar is actually a hostel. Check out reviews and prices here

Climb the stairs to heaven – Bucharest to do list for this year, tick it off
SkyBar Dorobanti
Beautiful people in a striking setting, SkyBar Dorobanti is a modern, chic rooftop bar and restaurant.
Lounge in your best dress-up gear on the outdoor sofas or take a snap against the flower backdrop.
Indoor seating is available too.
Address: Floor 5, Terasa, Calea Dorobanți 155, București 010564
NOMAD SkyBar
Another popular rooftop hangout is NOMAD.
House goal decors, crafty cocktails and music.
Receives mixed reviews.
Address: Etaj 2, Strada Smârdan 30, București 030167
16. Bucharest Pub Crawl
If you are travelling alone or are a social group why not hop aboard the booze train with this pub night crawl in Bucharest?
Bar hop between four-five different themed pubs which also means four-five alcoholic shots in each.
The tour takes place in the Old Town so if you managed to lose the crowd it won't be hard to find them again!
The first couple of bars are more relaxed, getting you in the mood for the remaining party places – dancing is not mandatory!
Expect to be mixing with locals and holiday-makers alike during the four-hour bar crawl.
Flip-flops and sleeveless shirts are not permitted so dress up for the occasion.
Duration: 4.5-5 hours

Meeting Place: Varies
17. Leave Bucharest For Dracula!
One of the most popular things to do in Bucharest is actually leave in the city. Many visitors want to glimpse of the famous Bran Castle which inspired Bram Stoker's Dracula.
You don't have to attempt to get to the town of Bran yourself as this tour offers transportation to Transylvania and back to Bucharest.  It is a long day at 12 hours but the trip includes stories about  Vlad the Impaler, time at Peles Castle (Sinaia) and a stop at Brasov, located in the heart of Transylvania.
Reserve your ticket here

Duration: 12 hours

Instant confirmation, skip the line ticket included
18. Things to Eat in Bucharest
One of Romania's national dishes is sarmale (pictured) which consists of ground meat and rice wrapped in cabbage.
Locals state that the best sarmale is slowly cooked in an iron cauldron over a small fire.
I tried some at La Mama (Strada Episcopiei 9) and was impressed.
Very tasty.
For a quick snack try plăcinte cu brânză dulce which is a fried bread and sweet cheese found in bakeries (and there are lots of them, always busy).
Restaurants in Bucharest
There are hundreds of restaurants in Bucharest which serve local and international dishes.
The streets of the Old Town are jam-packed with eateries.
The area around Strada Episcopiei also has a few more options.
If you are looking to grab a quick bite don't miss the Food Hood (see above) or look for the shop window with the busiest queue – that is the bakery!
Here's a guide to vegan restaurants in Bucharest.
For trendy options, brunch at Fior di Latte or Pio Bistro, cake at Mara Mura, lunch at Papila or Cafe Lier and dinner at GRAM Bistro.
---
Hotels in Bucharest
Accommodation in Bucharest is not expensive.
Hotels range from 30 euros per night so suits every budget. Check the best rates at TripAdvisor and Booking
Hostel dorms start at 7 euros. Check out more hostel options and availability at Hostelworld
Bucharest Public Transport
Bucharest has a metro system which has been running since 1979. Trains start at 5am – 11pm every day of the week.
A map of the metro system can be found here.
Bucharest also has a number of bus, trams, and light rail routes. Über operates here as well as a taxi app called Speed Taxi Bucuresti or Speed Taxi Bucharest (reviews online not so hot).
A reader recommends Bolt, Yango and Clever. Let me know how you get on with them in the comments below please. We used the Bucharest airport bus (783) during rush hour which was a nightmare – two hours to get to the city. It should take 45 minutes outside of rush hour.
My understanding is that the ticket was £2 per person however a reader has advised us that it is £2 for two people or £2 return.
We used Über to get back to the airport which took 25 mins,  not in rush hour.
Bucharest Weather
Similar to surrounding countries, Romania, sees hot summers but cold winters.
Summer runs from June to August and winter from December to February.
Summers average at a nice 27 – 29 degrees, whereas winter temperatures can fall to below 0.
Rain falls mostly from March to May (spring) then again from September to November (autumn/fall) however summer often experiences violent storms.
---
» Visiting during winter? Here's our guide to Bucharest at Christmas, written by a local
---
Bucharest what to do today? Bike tour!
Things to do in Bucharest, Romania on a Rainy Day
In addition to the two museums mentioned above, Bucharest is also home to
There are lots of high street shops for every budget in Bucharest.
Shop like a local!
There is a flea market at Strada Mihai Bravu and a fresh foods market at Amzei Market. When considering things to buy in Bucharest, especially souvenirs check out the gift shops of the museums for authenticity.
There is often a market at the back of the Museum of the Romanian Peasant which came recommended for trinkets and traditional food.
Currency in Romania
Although Romania is part of the European Union it does not use the Euro.
The currency used in Romania is the Romanian leu. For the most up to date exchange rates click here.
Bucharest Map
Romanian Tourism has a very helpful page of maps for not only Bucharest but also other towns and cities.
WiFi in Bucharest
WiFi in Bucharest is rapid! If there are any digital nomads out there looking for somewhere in Europe to touch base then I highly recommend working here.
Little Bucharest also offers a co-working space, the first one in the city!
Why not stay longer, tell the world about Romania's capital and create a Bucharest blog?
Things to Watch Out for in Bucharest
As a travelling couple, we felt safe in Bucharest.
If you are a non-drinker then the Old Town at night may be one of the things you want to avoid in Bucharest.
However, the Food Hood still has nice vibes and less bustle than the bars on the streets next to it. One of the main things to be careful with is stereotypes.
Romanians are not Roma (or Romani/Romany) people (often referred to 'gypsies', but this term can be deemed as negative).
The Roma people are traditionally a group who travel but are also found in Romania just to confuse matters. Romanian people are natives of the country Romania (although many Romani people were born in Romania too).
Romanians speak the Romanian language, the Roma communities have their own language. Roma people are often discriminated against and EU states that it is each EU country's responsibility to prevent this exclusion.
Like many big cities, there are many people (mostly women, with children) begging for money, some of which are Romani.
Smoking in Bucharest
Hooray! Bucharest has joined the rest of civilised Europe and enforced the smoking ban in public places.
Day Trips from Bucharest
Wondering where the castles are? Fancy a dip in the Black Sea?
In need of a hike in the mountains?
If you have more than 2-3 days in Bucharest you might want to get out of the city.
Here's our guide to the best Bucharest day trips.
Did you know that Romania has excellent treks?
Check out this post on hiking in the Carpathian Mountains from our British blogging friends over at Roaming Renegades.
Heading to Bucharest? Why not pin to your Romania Pinterest board?
Have you been to Bucharest? Would you like to go?
Bucharest Destination Guides
Thanks to Little Bucharest and Slow Tours for a lovely long weekend in Bucharest, our own opinions as always.