This article has links to products and services we love, which we may make commission from.
Bucharest Christmas Market is just one of the reasons why it's worth visiting the capital city of Romania in winter. Bucharest at Christmas time is amazing, a real fairy tale, even locals say! The little wooden cottages selling food, souvenirs and mulled wine set all over the city, as well as the festive songs you can hear everywhere and the lights that decorate the city make Bucharest Christmas spectacular. Bucharest weather in December is also pretty good, the temperature is not as extreme as it can get in other European countries. Here are the best things to do in Bucharest in winter.
---
» Don't miss our guide what to do in Bucharest all year round
---
1. Bucharest Christmas Market
There are plenty of fairs and more than one Christmas market in Bucharest in December.
You will find one in every part of the city and a few in the city center.
But the most popular one is the Bucharest Christmas Market at Universitatii Square (Piata Universitatii) which opens around mid-November.
The Christmas Market is impossible to miss if you are downtown as it has millions of lights, decorated Christmas trees, nativity scenes, elves, Santas, wooden houses like in the fairy tales and lots of traditional food and sweets, as well as carolers.
Unlike other European Christmas markets, Bucharest has managed to retain its tradition and sells genuine Romanian products.
Go in the morning for a delicious hot chocolate or even better, in the afternoon for a taste of that mulled one that is too good for words.
The mulled wine is usually made from Romanian wine enriched with spices that make it a delicious experience with a touch of Romanian locality. It is sweet and it is tasty but it is not to be taken lightly!
2. Old City Center Bar Hopping
The Old City Center attracts tourists like a magnet, whatever the season might be.
From United Nations Square (Piata Natiunilor Unite) to the Central Military Circle (Cercul Militar Central), you can walk down Victoriei Street (Calea Victoriei) and use any of the cobbled streets to enter the Old City Center.
The Christmas atmosphere is fun so much so you will find it difficult to settle in just one bar.
Check out Bordello Bar for excellent cocktails, The Drunken Lords for the cool vibe and Oktoberfest Pub for beer lovers.
3. Go to a Christmas Concert
While Romanian singers are giving performances in different venues in Bucharest in December, for a remarkable experience you should see The Extraordinary Christmas Concert called Viennese Regal (Regal Vienez) – 16th of December, 20.00, National Bucharest Theater, Studio Venue.
4. Christmas Shopping in Bucharest
If you like Christmas, you will love shopping for Christmas in Bucharest!
Special wooden houses with souvenirs, traditional sweets and drinks, and other delicacies pop up all over the city.
You can take home some wool mittens for your loved ones, or a gingerbread house styled to perfection. If you want a different shopping experience, more on the luxurious/ fashion side, pay a visit to the shops on Victoriei Street (Calea Victoriei) or in Baneasa Shopping Mall.
You will find Christmas shopping in Bucharest more affordable, compared to other European capitals, so don't worry about putting a dent in your wallet.
5. Bread and Butter, Craft Bakery (23rd, Calea Victoriei)
Start the day of festivities right with a breakfast fit for a king at Bread and Butter, Craft Bakery.
You will discover that overindulgence has never tasted better, or healthier, for that matter.
The eggs with avocado and smoked salmon on toast are a thing of the divine. Ah, yes, and they serve breakfast all day long. Be aware that you might end up spending hours here without even noticing, so plan this for when you have a bit of time on your hands. And try the deserts, it's a must!
6. Christmas Lights on Magheru Boulevard (Bulevardul Magheru)
It is not December in Bucharest if the lights are not on.
The Christmas lights turn Bucharest main boulevards into a feast for the eyes.
Many people walk the streets just to enjoy the enchanting atmosphere with fairy-like illumination.
7. Build a Snowman
When was the last time you built a snowman? If you don't remember, it's a clear sign you need to repeat the experience.
The parks in Bucharest are amazing and it often snows in Bucharest in November or early December.
So, you can enjoy a real Narnia adventure here.
Tineretului Park (Parcul Tineretului) is amazing in winter and closer to the city center compared to another famous park, Herastrau. You can also visit Cismigiu Park to see its monuments and fountains sprinkled with snow.
Snowball fighting is an acceptable pastime in Bucharest in winter, whatever the age of the participants might be.
8. Warm Up With Tea
Bohemia Tea House or Infinitea are just two of the lovely tea houses you can find in Bucharest.
The festive atmosphere is lovely and the decors impressive.
Have you ever tried cotton floss flavored tea? Or precious teas such as White Monkey or Sencha Fukujyu?
The menus are elaborate and cater for tea connoisseurs, as well as enthusiasts. And the sweets, of, the sweets!
Try Matcha muffins or homemade cookies for a taste of happiness.
https://www.instagram.com/p/BxCjixInQvy/
9. Traditional Romanian Restaurant Dinner
There is no place like home to spend Christmas unless it's a traditional Romanian restaurant, which is the next best thing.
Caru' cu Bere (5 Stavropoleos street) is a famous beerhouse opened in 1879. The neogothic style building is impressive on the outside and decorated with paintings, stained glass, mosaics and carved panels on the inside.
It could easily be a museum, but it's something even better – a unique place in Europe all foodies should check out.
The menu alone is a work of art. A novel that you can spend a few hours reading and learn much about the Romanian traditions, lifestyle and history.
The jokes in the menu alone make the trip to Caru' cu Bere all worth it.
And the food, well, the food is another story. In a few words, this is traditional Romanian food at its finest.
The specialities to try for Christmas are homemade boeuf salad and smoky eggplant Zakusca dip for starters. Then you can have a bean soup with smoked pork served in a bread bowl or the classic Romanian skinless sausages called "mici."
My personal favorite is the roasted pork knuckle with braised sour cabbage, polenta, horseradish and chili pepper. It weighs 1.6 kg, so don't try this on your own.
Ordering this dish is a courageous act, and you might end up not being able to walk after dinner. But they can call you a taxi, so don't worry about this.
---
Practical Bucharest Travel Information
While Romania is in the European Union, you won't be able to use euros here.
The currency is the Romanian leu (ron). You can get the currency straight out of the ATM if you want to use a credit card.
There are also plenty of exchange shops around the city, as well as bank offices, where you can get the Romanian currency.
Paying by credit card is possible in most venues (restaurants, hotels, malls), but rarely (if ever) possible with street vendors or taxis.
---
Getting Around Bucharest in December
To get around Bucharest in December, you can choose in between metro, bus, tram and taxi.
The taxi prices are affordable compared to the rest of Europe, so you might be tempted to give it a try. For example, a trip from the airport to the city center should be no more than 10-15 euros.
Always get a company cab and check the cost per km (it is written on the door, usually 1.5- 2 lei/km during the day and a bit more for night time from 10 pm to 6 am).
However, Bucharest tends to have nightmarish traffic during the holidays, so the metro might be a better option if you need to travel long distances. Also, give walking a chance if the weather is good. There is always something to admire while walking the streets of the Romanian capital city.
---
Bucharest Weather in Winter
The weather in Bucharest in December is usually sunny with a chance (or more) of snow.
The temperatures are often with a minus (-) in front of them, so bring warm clothes. You'll need boots, a hat and mittens for your trip to Bucharest starting with November, especially if you want to spend some time outdoors.
---
Where to Stay in Bucharest
When it comes to accommodation, there is something for all budgets in Bucharest.
Prices tend to rise over the winter holidays, so make sure to book well in advance.
---
» You may also like: The best places to stay in Bucharest
---

---
Festive Opening Hours
Christmas Day and the 26th are quiet days in the city. Most museums, shops and tourist attractions will be closed.
Trains do operate so if you are around over Christmas you may want to travel to Bravos or Prahova Valley. Read this guide on Bucharest day trips for more ideas.
Book this portion of your trip in advance as accommodation books up fast and can be pricey.
---
People in Bucharest
Don't be shy when it comes to engaging with locals. People here are very friendly and you will notice that most of them speak a certain level of English and are willing to help, if you need assistance with anything.
Don't be surprised if you bond with the locals over a cup of mulled wine in the Christmas market so much that you end up getting an invitation for a home visit.
Thank them politely and keep in mind that if you go, you will be required to eat tremendous amounts of food and drink at least four different types of drinks (alcoholic).
Christmas food in Romania is not for the fainted hearted, so tread with care. The Romanians are very welcoming and you will be having a meal during each house visit, whatever the time of the day might be, or the duration of the visit. Copious amounts of food are served.
If you don't finish everything on your plate, the hosts can easily assume that you hate them, and Romania too.
---
Bucharest City Tours
If you want to discover more about Bucharest in wintertime, you can choose a guided tour.
Bohemian Bucharest: Markets & Mahallas Small Group Tour takes you from the heart of the city towards the outskirts and gives you a glimpse into the life of the capital. A unique historical, architectural and culinary experience.
Bucharest City Tour with Village Museum takes you sightseeing and then for an exclusive visit to the Village Museum, in the northern part of the city. This tour is a great starting point for first-time visitors.
The most popular day trip from Bucharest is, of course, Brasov. Hunt for Count Dracula at Bran Castle. Want to do it independently? Here's how to get to Brasov from Bucharest.
If you want to see where people go to relax over the weekend and learn more about Bucharest and its surroundings, the Snagov Monastery and Mogosoaia Palace Half-Day Tour might be the right tour for you. You probably want to know that Snagov Monastery is the final resting place of Dracula (Vlad Tepes).
---
Bucharest in December is a real wonderland. There are many things to do in Bucharest in December, and Bucharest Christmas Market is certainly a popular choice.
The prices for everything from accommodation to the mulled wine you buy on the streets are affordable, so Bucharest in winter could be a good option if you want a Christmas market, but you are on a budget.
The traditional Christmas food is too good for words, with options for vegetarians. Expect your calories intake to be on the rise the moment you set foot on Romanian soil.
Also, look forward to making friends for life and to have an amazing experience in this Eastern European capital.
---
Planning a trip to Bucharest in winter? Pin to your board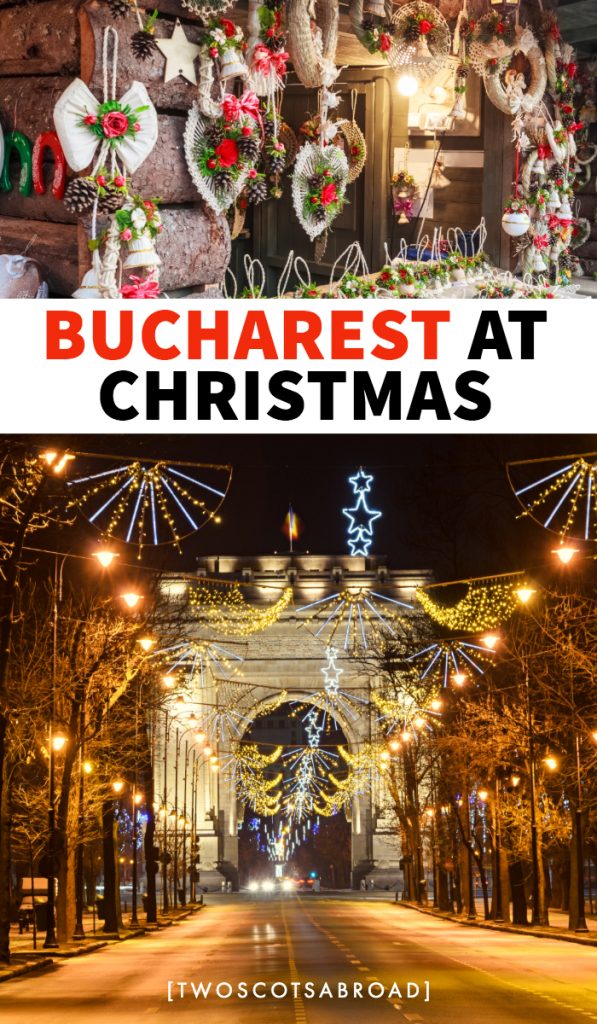 ---
About the author: Anne has lived most of her adult life in Bucharest. The parks, the food and the narrow, cobbled streets of the city center are her favorite things in the city and the main reasons for being here.