Get transported to your favourite Outlander locations! Outlander tours (Scotland) will whisk you away to walk in the footsteps of Jamie and Claire at the grand entrance of Castle Leoch, maybe pick herbs in Claire's herb garden and stroll the cobbled streets of Cranesmuir.
Outlander, originally a series of books by author Diana Gabaldon, has taken the world by storm, since being made into a hit TV show. Outlander, huge in America and now being shown in the UK and gaining a whole new fan base, visitors are flocking to Scotland to tour the sites used during filming. Starting in 1945 Scotland Claire, played by Catriona Balfe, is a wartime nurse who returns to her husband Frank (Tobias Menzies) who whisks her away to 'Inverness' for a second honeymoon. Here, after finding a collection of standing stones Claire is hurtled back in time to Jacobite Scotland where she meets Highlander Jamie Fraser (Sam Heughan). Now showing Season 3, with season 4 being filmed as we speak, the show is massively popular. The Outlander filming locations, mainly in Scotland, have seen their visitor numbers double, even triple and you too can see the sights of this hit show with Outlander tours from Edinburgh and Glasgow.
Outlander tours Scotland
Outlander tour Edinburgh
Tours from Scotland's capital leave daily which means visitors do not need to attempt to tackle our infamous A roads or drive on the left.
There are a few options for Outlander day tours from Edinburgh so you can prioritise what you want to see.
Private tour guided by former Scottish BAFTA member
Enjoy the 5 star rated full tour of Scotland's Outlander literary locations. The tour includes readings from the book on location (!) and you can test the 'expert' guide on their Outlander knowledge.
Highlights include:
Castle Leoch, home to Colum MacKenzie
Captain Jack Randall's Stronghold
Lallybroch, Jamie Fraser's childhood home
Meeting point: 17 Waverley Bridge, Edinburgh EH1 1BQ + Glasgow pre-arranged collection point
Return point: Hotel/pick up point in Glasgow or Edinburgh (early evening)
Price: £595 for 4 member group
Cheaper alternative Edinburgh Outlander tour
This full day tour is not private but kinder on the purse strings and touches base at:
Visit Doune Castle aka Castle Leoch
Culross starring as Cranesmuir
Falkland
Aberdour Castle, monastery in Season 1
Meeting point: 60 High Street, Edinburgh, Scotland, EH1 1TB
Price £47 per person
Outlander tours Glasgow

This Outlander day tour leaves from Scotland's biggest (and best?!) city, Glasgow and not only focusses on the show locations but also the Jacobite story.
Highlights include:
Doune Castle, home of the Clan MacKenzie
Linlithgow Palace, Outlander's Wentworth Prison (stunning without the Outlander tag)
Blackness Castle headquarters of Black Jack Randall
Meeting point: 266 George Street, Glasgow (08:30)
Notes: refreshment stops along the way including a stop at Deanston Distillery
Price £39 per person
10 Outlander locations
1. Clava Cairns/Culloden
Although Culloden wasn't officially used for filming, the event is such a major part of the series so visiting the battlefield is an emotional and saddening experience. The new award winning visitor centre has brilliant exhibitions and a 360-degree immersion theatre puts you right in the centre of the battle. There is an audio guide to listen to while you walk the battleground so you can listen to Gaelic, songs and tales and immerse yourself in the story of this momentous battle.
Nearby are the amazing Clava Cairns standing stones, including a majestic cairn with an atmospheric split. However, it must have lost its magical power as there have been no reports of transportation, only visitors staying firmly in this century, disappointingly.
Clava Cairns Outlander
2. Highland Folk Museum
The Highland Folk Museum in Newtonmore is a favourite location used by the Outlander production team. With the mighty Cairngorm mountains set as a backdrop, the 17th century township really makes you feel like you are in the heart of the gritty Jacobite Highlands and lucky for us, it is live all year around. You can witness how people used to live.
The township was used in the rent episode where Claire helped Dougal to collect the rent. Every year the museum hold an Outlander day where you can "waulk the wool", sing traditional songs and meet traditional crafters, Highland cows and fellow fans.
New to Outlander? Buy the books
3. Doune Castle
Another of the most popular locations, Doune Castle in Perthshire was the setting for Outlander Castle Leoch, home to Colum MacKenzie and his Clan.
Doune Castle, Outlander
4. Falkland Outlander
Falkland, in the Kingdom of Fife, stood in for 1945 and 1960's Inverness. The original thatched roof houses, cobbled streets and the pretty square made it the ideal location. Here you'll find Mrs Baird's B+B, the shop with the blue vase and the water fountain where Jamie watches Claire in the window.
5. The Reaper tall ship
Sailing off into the distance on the Cristabel might not be possible but you can see the ship itself in the harbour of the fishing village of Anstruther in Fife.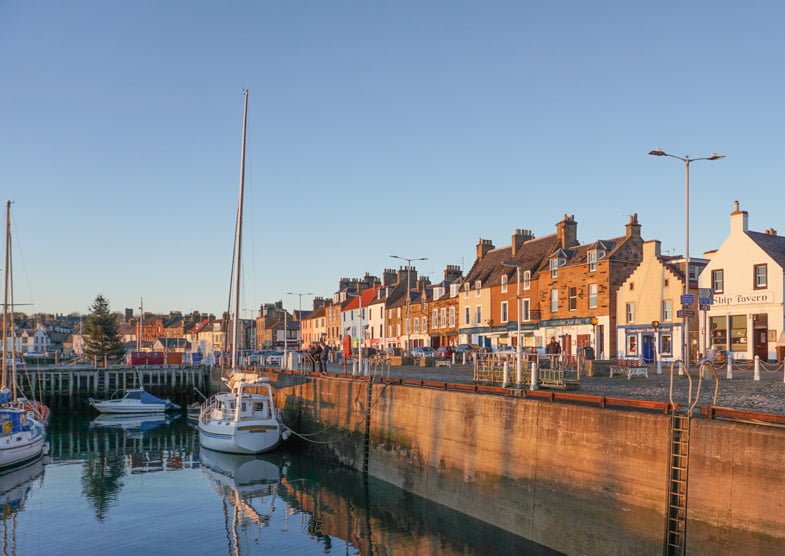 6. Culross
If you want to see first hand what Scottish villages were like in the 17th century visit Culross in the Kingdom of Fife. This time warp is often said to be one of the most picturesque villages in the UK. Culross was used a lot during filming as Cranesmuir. The mustard coloured Palace was used in filming and Claire's herb garden is in fact the palace's gardens, which you can explore. The Mercat Cross was where the little boy had his ear nailed to the post and Geillis Duncan's House is behind it. A lot of Outlander action for such a small (but cute) village.
7. Bo'ness Railway               
If you fancy a trip on a steam train while you are in Scotland why not visit Bo'ness Railway Station and take a journey on the same train Claire waved from off from? You can even have afternoon tea on board!

8. Blackness Castle
The formidable Outlander Blackness Castle, overlooking the Firth of Forth was the perfect choice as the show's version of Fort William. The castle was once used as a prison and a military fort and was built purely for defence. The courtyard was the setting for the horrific scene of Jamie's whipping and where Claire and Jamie ran along the walls to escape.
9. Outlander's Standing Stones 
So where is Craig na Dun? Unfortunately it doesn't exist, but you can see where it was filmed, if you look hard enough. On the long, winding road between Queens View, near Pitlochry, to the village of Kinloch Rannoch you may spot the hill, with the trees. The producers added the stones. I have travelled this road at least ten times since I knew of the filming and I've yet to find it but I know others have. I know it's on the left hand side, that's about it, so if you happen to spot it let me know.
10. Glencoe
Glencoe is shown off beautifully in the very start of the first episode and it's the perfect place to truly see what makes Scotland so special. If you ask any Scottish travel lover what their favourite place is in Scotland most will say Glencoe. The huge, majestic mountains tower above you as you travel through and the scenery around you is truly stunning.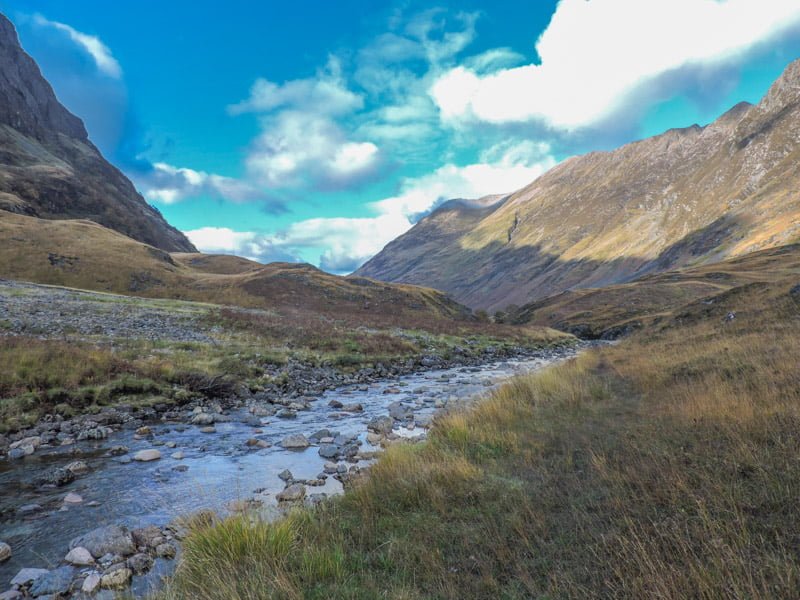 Quick Q+A
Where is Outlander filming now?
Season 4 filming has been spotted around Polmont and just outside of Crieff
Craigh na Dun – is it real?
Unfortunately not, you would have to use your imagination near Kinloch Rannoch to find the location
Where are the standing stones in used in Outlander?
Like many good things in life, the standing stones are fiction but you can see similar standing stones around the UK
Final thoughts
These locations are just the start. With more Outlander locations being added every year and Outlander Season 4 in production there will always be more. You can download an Outlander locations map from Visit Scotland and why not consider an Outlander style wedding?!
Save for later + share with others
Pin to your Scotland board
 Nicola (FunkyEllas Travel) is a Scottish Travel blogger from, you guessed it, Scotland. She likes to inspire people to visit with epic tales from around country. Nicola explores with daughter and pup and loves nothing better than a forest walk, a castle ruin or a beautiful beach. She loves the outdoors, colourful villages, quirky places to stay and good food to eat. A little Outlander obsessed and thrilled that it's being filmed in Scotland so she can visit the filming locations. She's also over the moon that it's promoting Scotland's stunning scenery. Read more + connect with Nicola…
Are you an Outlander fan?
Tell us more in the comments below