This article has links to products and services we love, which we may make commission from.
Machu Picchu in Peru features high on many traveller's bucket lists and rightfully so. One of the new seven wonders of the world, Machu Picchu is hailed as an archaeologist's dream.
Believed to be built in the 15th century by Peru's Inca civilisation (by hand!) this South American icon is hard to miss although often mistakenly referred to as the 'Lost City of the Incas' (which is really Vilcabamba).
The gateway to this mesmerising abandoned city in the south-eastern city of Cusco/Cuzco and there are many ways to get to Machu Picchu from there.
So whether you are looking to go independently or via Machu Picchu tours, have ample time or are restricted, have holiday cash to burn or are on a tight budget; this guide will advise you how to get to Machu Picchu in 14 different ways.
Planning a trip to Machu Picchu just got easier! We'll also discuss the new rules and Machu Picchu prices for 2023.
---
» You may also like: 2 weeks in Peru itinerary – transport, tips + tours
---
Machu Picchu Rules 2023
Due to the bizarre desire for tourists to get their chebs out and the mass demand to see this wonder, visiting Machu Picchu is now restricted by the Peruvian government. Changes will be implemented from 2017 and they are pretty strict.
Firstly, rules state you can not visit the Inca Citadel without an official guide but the goods news is that you can hire a guide at the gates.
Our friends did bypass having a guide so it is not impossible.
Please tell us what the situation is for you in the comments below.
Secondly, there will be increased set routes for you to follow.
Finally, time limits may be set at certain points to help with the flow of traffic which is probably a benefit to all.
There are also changes to the opening times which I will explain below. Your ticket will have your time on it.
From 2020, the number of entrants per day has been further cut to ensure the safety of visitors. You will also be asked to wear a mask and keep a safe distance from others.
2022 tickets are available through GetYourGuide, see table, for most options in 2023. Let's take a look at the Machu Picchu prices.
Machu Picchu Entrance Fees 2023
The following Machu Picchu price list is the official fees for 2022. There are several options, some of which you can choose a time slot.
Machu Picchu (only) 6am-12pm: 152 soles/$45 USD – ADVANCE – BOOK NOW $65
Machu Picchu (only) 12-5:30 pm: 152 soles/$45 USD – ADVANCE – BOOK NOW $65
Machu Picchu + Huayna Picchu hike 7-8 am (1G/G1): 200 soles/$59 USD – ADVANCE $85
Machu Picchu + Huayna Picchu hike 10-11 am (2G/G2): 200 soles/$59 USD – ADVANCE $85
Machu Picchu + Montana 7-8 a.m (2G/G2): 200 soles/$59 USD – INSTANT BOOK NOW $85
Machu Picchu + Montana 10-11 a.m: 200 soles/$59 USD – INSTANT BOOK NOW $85
Machupicchu + Horario Vespertino: 1-5pm for those with mountain hike ticket (doesn't appear to be available on site)
*Warning: some online services advertise the advanced online ticket for cheaper but when you click through the ticket is for the Andean community nations, not foreigners.
How to get to Machu Picchu
Inca Trail
The highlight of any backpacking trip across South America is the hike to Machu Picchu.
There are many ways to get to the site – rightly accounted as one of the most amazing archaeological sites in the world.
Most people opt for the classic way to Machu Picchu: train ride until Aguas Calientes (Machu Picchu Pueblo) and then an early morning bus all the way to the entrance.
Others, though, dream of actually walking along the sacred way of the Incas and thus seeing the sunrise over Machu Picchu.
The only way that guarantees this – regardless of the season and the sunrise time – is via the official Inca Trail.
All other hikes finish in Aguas Calientes, and then require to either walk or take the bus to the entrance of the site, which opens at 6:00, and – provided the sun hasn't risen already – rush all the way to the Inti Punku sun gate. This is not necessary with the traditional Inca Trail trek.
However, the Inca Trail has to be booked well in advance so your visit to Machu Picchu has to be planned well.
The Peruvian government issues the passes/permits (only 180-200 persons per day are allowed on the trail) at the beginning of January and they are usually sold out for the year within a couple of weeks.
Hiking the Inca Trail is an incredible, exhilarating and exhausting experience.
During the hike, it is possible to visit some otherwise inaccessible sites. The trek's landscape is breath-taking – and not just caused by the altitude (make sure you are properly insured, see below for what we mean by 'properly'!)
The trekking consists of long hikes, cold temperatures during the night, rain during the day, and meals in the kitchen tent.
The companionship with the rest of the group, the disgusting toilets in the base camps, the fact that it is virtually impossible to shower for the 4 days of the hike all add to this unforgettable experience.
And then, the cherry on the cake: a 3:00 wake up call to start walking in the dark and reach the Inti Punku in time for sunrise.
At that stage of the night, there is still the uncertainty that the day's weather will have mercy on you and that the sun shows up, but then it happens, it's there; Machu Picchu in all its glory.
Walking Distance: 43km/26 miles
Duration: 4 days/3 nights
Highlights: Machu Picchu Inca Trail is the most famous Peruvian trail
Downside: : Pre-book 6 months in advance / restricted numbers / expense
Tip: The Inca Trail closes for the month of February
Recommendation: by Claudia from

My Adventures Across the World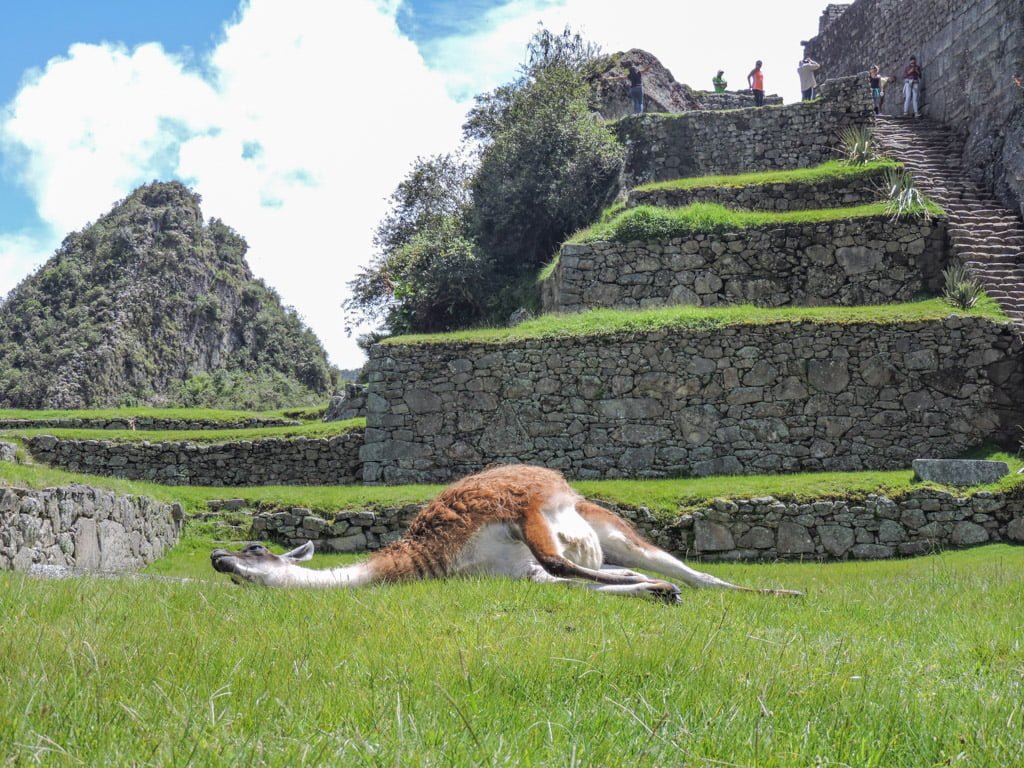 One-Day Inca Trail / KM 104 Trail / Short Inca
Getting to Machu Picchu via the one-day Inca Trail consists for a beautiful train journey. To access the one-day Inca Trail hike, you take the Peru Rail Vistadome train (see below) from Cusco heading towards Aguas Calientes, the town that Machu Picchu is located in.
However, you will disembark the train around 30 minutes before Aguas Calientes at what will appear to be the middle of nowhere, the stop KM 104.
The Vistadome train has windows that scale to the roof of the train, allowing you to fully absorb the beauty of it curving through the crevices of the Andes Mountains. Don't get too lost in the beauty of the landscape as you'll have to hop off of the train at this no man's land, KM 104.
From KM 104, the hike will take you into the Andes Mountains and scale you up, down, and around this mind-blowing mountain range. It is an intermediate hike that can take anywhere from 5-8 hours. There are plenty of steep climbs and tight curves, but they are all worth the stunning views from the top of the world in Peru.
Make sure to take at least 2 litres of water per person for this hike and plenty of snacks. There will be a few overhangs and places to stop and enjoy a rest and refuel. Also, make sure to pack a poncho in case you encounter rain on the trail.
Once you've finished the hike and explored the magnificent Machu Picchu, you can take the bus down to Aguas Calientes town where you can spend the night or take the Peru Rail train back to Cusco.
Walking Distance: 15km / 9 miles
Duration: 1 or 2 days (2 days more realistic)
Train from Sacred Valley: 1.5 hours/Train from Cusco: 3 hours
Trek: 5-8 hours
Tip: 1-day hike – take the earliest train (before 9am) as the gates close at stages
Tip: The Inca Trail closes for the month of February
Highlights: Train views, quick
Downside: Inca Trail requires a pre-booked permit (6 months in advance)
Recommendation: by Scott & Collette from

Roamaroo
Although the most sought after, do not stress if you cannot plan as far ahead as the Inca Trail dictates. There are other options.
Here's How to Reach Machu Picchu Without the Inca Trail
Machu Picchu by Train
The easiest and quickest way to get from Cusco to Aguas Calientes, the town at the foot of the Machu Picchu is by taking the Machu Picchu train.
There are three types of train services which reach Aguas Calientes; Expedition, Vistadom, and Belmond Hiram Bingham.
The journey takes about 3.5 hours and the price varies throughout the year for each option.
The Expedition train is for budget travellers.
As this is the most affordable option, you have to book way in advance. It sells out.
The Vistadom train, which is a more expensive panoramic train, offers magnificent views of the surrounding mountains. You can see birds flying above the train through the large windows on the ceiling.
This experience allows visitors to connect with nature.
It is an air-conditioned train with comfortable chairs. It costs only a bit more than the cheaper Expedition train ($105+ one way) and it is worth the money.
The Belmond Hiram Bingham is the most luxurious option (images below).
These trains are painted blue and inside they are decorated in the style of the 1920's Pullman trains.
If you want to feel like you are on the Orient Express, try this transport option to the Machu Picchu.
This price includes dinner and a tour of Machu Picchu.
If you want to continue with luxury check out this review of Belmond Sanctuary Review.
Booking Information: Book via

Perurail

Duration: 3.5-4 hours
Highlights: Budget-friendly option, quick, no hike, good views
Downside: No hike, lower-class train envy
Recommendation: by Barbara from

Jet Settera

Images via Belmond Hiram Bingham
Lares Trek
The Inca Trail is closed but I want to hike to Machu Picchu!
Don't panic!
The Lares Trek to Machu Picchu is a 4 day/3 night trek which involves camping for 2 nights and a hotel stay on the night before Machu Picchu. The Lares Trek starts with a bus journey then breakfast at Lares Hot Springs where you can take a dip in the warm waters.
The day 1 hike ends at Cuncani where hikers meet with local children before dining then an early bedtime.
Day 2 kicks off with a 5:00 wake up call, breakfast then a day of hiking.
This is the hardest day as the trek involves a climb to 4650m (15255ft) above sea level at Condor's Pass.
Day 3 is relatively easy, hiking to Pumahuacuanca for lunch, a bus ride to Ollantaytambo then the train to Machu Picchu Pueblo (also called Aguas Calientes).
Dinner is in a restaurant tonight and hikers have the chance to shower and sleep in a hotel bed.
Day 4 is another early rise for Machu Picchu day, remember your passport or you will not gain entry.
Buses leave from Aguas Calientes all day (see below for more details), the earlier you can take the bus the better to avoid the crowds at Machu Picchu.
Be warned, there are hidden costs of trekking to Machu Picchu – the tips.
This will differ depending on who is in the trek team but averages out at around 65 soles (£14) per person.
We trekked to Machu Picchu with Alpaca Expeditions which is regarded as the best Machu Picchu company online and by word of mouth, hence the expense of the trip.
They promote ethical working conditions for their staff which is an important factor of sustainable travel (many companies say they do this but do not). Choose your company wisely.
Walking Distance: 33 km/20.5miles
Duration: 4 days/3 nights
Highlights: Hike, meet locals, camp + hotel, no 6-month pre-booking required
Downside: Early rises, camping, very high altitude
Recommendation: by us, Gemma and Craig from Two Scots Abroad
More details:

Lares Trek to

Machu

Picchu

Inca Jungle Trek
From all of the possible ways to get to Machu Picchu in Peru, the most adventurous option is the Inca Jungle Trek, which includes a big variety of different adrenaline-filled activities.
The most usual form of the Inca Jungle Trek has a 4 day/3 night itinerary, but it is also possible to do so in this shorter version, which takes only 3 days/2 nights.
During these 4 days, travellers have the chance to test themselves in downhill mountain biking, river rafting, and even zip-lining.
Hostels are the main form of accommodation used during the Inca Jungle Trek but like the Lares Trek, the last night before the visit to Machu Picchu you stay in a hotel in Aguas Calientes.
On day 1 the trek starts with a 3-hour drive to Abra Malaga Pass at 4,316 m altitude from where you will descend by bicycle to 1,196m in less than 60 km.
The downhill is very steep at certain points, so you have to be careful. In the afternoon there is optional rafting in Santa Maria (grade 3 and 4). On day 2 it is time for hiking in the jungle from Santa Maria to Santa Teresa.
The trek takes around 7 hours and you will have the chance to enjoy the beauties of the jungle in the Cusco region.
On day 3, those who are not tired of adventure can try the tallest zip-lining in South America, and the day is finished with a 3-hour trek from "Hidroelectrica" to Aguas Calientes. Day 4 is fully dedicated to visiting Machu Picchu.
Duration: 3 days/2 nights or 4 days/3 nights
Highlights: Adrenaline rush/hostels, no 6-month pre-booking required
Downside: Not for the faint-hearted or unfit
Recommendation: by Rachele and Gábor from

Surfing the Planet
Salkantay Trek
Trek for 3, 4, or 5 days through remote mountain passes and verdant tropical Andean forest.
Optional activities along the Salkantay Trek include hot springs (pack mosquito repellent), zip-lining, a train ride, and horseback riding up to the steepest point of the trek. On the final day, you visit Machu Picchu. The amazing Salkantay Trek is a lifetime experience.
Walking Distance: 60km/37 miles
Duration: 5 days
Highlights: No six-month pre-booking required, excellent scenery
Downside: Altitude, long hike
Recommendation: by Jessica from

Longest Bus Ride
Choquequirao Trek
The Choquequirao Trek to Machu Picchu is an adventure in the truest sense. While the end goal of this 8-9 day trek may be Machu Picchu, the true highlight is hiking in solitude and passing through the expansive-yet-vacant Choquequirao ruins along the way.
The Incan complex of Choquequirao may very well be the next Machu Picchu sprawling more than 18km. Now is really the chance to go before they build a teleferico lift.
The Choquequirao Trek begins from just outside of Cachora. Days 1-2 are tough, as hikers make a steep descent into the Apurimac Canyon and an even sharper ascent up the other side.
The difficult dip is worth all the effort as the Choquequirao ruins soon come into view! Days 3-5 are spent passing over high altitude ridges, retired Inca Trails, and challenging switchbacks in near isolation.
Finally, on day 6-8, hikers will join up with the better travelled Salkantay Trail and finish on their way to Hydroelectrica.
From there, it's just a train ride to Aguas Calientes and a bus up to the ruins of Machu Picchu.
The Choquequirao trek is rugged and tough at times, but truly worth the experience.
Distance: 64 km / 40 miles
Duration: 8-9 days
Highlights: Choquequirao ruins, satisfaction
Downside: Intense hike, high altitude
Recommendation: by Taylor and Daniel from

Travel Outlandish

Lesser-Known Treks to Machu Picchu
Vilcabamba Trail/Trek
Vilcabamba Trail/Trek is very much one of the lesser-known hikes to Machu Picchu. It is common for hikers not to see any other tourists until they reach Santa Theresa. The route takes you along the royal roads that the Incas used and past snow-capped mountains. It is very remote.
Distance: 48 km/30 miles
Duration: 5 days/4 nights (8-hour bus journey to start)
Highlights: Remote
Downside: Physically hard / not available December to March
The Lodge Trek
Hey, flashpackers! The Lodge Trek to Machu Picchu is for you. Like some high-class monkey swinging from tree to tree, you bounce from hotel to hotel each night taking in the highlights of the journey to Machu Picchu, including a trip to the Sacred Valley (below), without having to touch a sleeping bag. The Lodge Trek does include short hikes (3-4 hours) but often ends the day at the Jacuzzi!
Duration: 9 days/8 nights (Cusco included)
Highlights: Luxury
Downside: Expensive / Length
The Chaski (or Cachicata) Trail
One of the newest treks to hit the Peru scene is the Chaski Trail which is also known as the Cachicata Trail. It is less demanding than other treks so an ideal trail for less experienced trekkers.
The bus from Cusco takes you through the Sacred Valley to the town of Socma (near Ollantaytambo, below) where you hike past waterfalls and meet with the local community to learn about traditional Andean life. The second day is the longest hike which lasts around four hours and ends at Cachicata.
Day 3 the group makes their way to Ollantaytambo to take the Machu Picchu train to Aguas Calientes. Like the Lares Trek, day four is spent at Machu Picchu.
Walking Distance: 25 km / 15.5 miles
Duration: 4 days/3 nights
Highlights: Perfect for new hikers
Downside: Fewer companies offer this new trek
Huchuy Qosqo (Small/Little Cusco) Trek
The shortest of all the treks, Huchuy Qosqo Trek is a mere 3 day/2 night trip which involves camping for one night and a stay at a hotel in Aguas Calientes (below) the night before visiting Machu Picchu.
The hike, which can be completed without a tour of Machu Picchu too, starts just 15 minutes outside of Cusco which keeps costs down.
Walking Distance: 18km/11 miles
Duration: 2 days/1 night or 3 days/2 night (with Machu Picchu extension)
Highlights: Budget-friendly / starts close to Cusco
Downside: Fewer companies offer this trek
How to see Machu Picchu on the Cheap
Warning, these two options are not for everyone and may involve skill to avoid walking into the train guards around Ollantaytambo (at the start follow the tracks but not on the tracks) and/or lying (say you have lost your hiking group) to execute. Intrigued? You should be…
DIY Machu Picchu Trek
If you want to spend less but get the same experience, you don't have to sign up with a tour agency to get to Machu Picchu.
Here's how you can do-it-yourself.
From Cusco, take a shared Colectivo found at Plaza de Armas to Ollantaytambo.
You will also have the opportunity to stay in this town for a while, take some pictures and enjoy the view.
From Ollantaytambo, hop in another shared taxi/van ride to KM 82.
Nope, you are not going to take the $80 train ride but you will be walking its tracks to go up.
Depending on your speed, the 28km walk duration is 7-8 hours.
I was with a group of Argentines who walked really fast so we did it for 5 hours but I was dead by the time we reached Aguas Calientes!
It was so hard to keep up with a fast group so make sure you are physically fit if you are to do this.
You will probably have to spend the night in Aguas Calientes to prepare for the hike the following day.
There are numerous hostels in this town but please do not expect for a super good one as this is a 'come and go' area where people only sleep and carry on the hike.
The next day, start the hike up around 3:30 to see the sunrise.
If you do not want to wake up early or are too tired to hike up, you can buy a bus ticket for $9.50/£7.65 that will take you all the way up to Machu Picchu.
Walking Distance: 28km + 390 metres/1280 feet
Duration: 2 days
Highlights: Budget-friendly, cheapest way to Machu Picchu
Downside: Level of fitness required / safety / have to avoid train guards
Recommendation: by Trisha at P.S I'm On My Way
Warning, this following option is not for everyone and may involve skill to avoid walking into the train guards around Ollantaytambo (at the start follow the tracks but not on the tracks) and/or lying (say you have lost your hiking group) to execute. Intrigued? You should be…
Walking from Ollantaytambo
To travel to Machu Picchu on a tight budget, take a local bus (from Plaza de Armas) hitchhike from Cusco then take a minivan taxi to Ollantaytambo.
This should be a two-hour trip.
At Ollantaytambo, you can visit ruins and then the market which is a good place to buy some snacks for the trip.
From Ollantaytambo walk to Aguas Calientes by the railway path area (being mindful of the train guards).
The walk is 32km and well signposted.
It is very easy to navigate!
Locals and other tourists can be seen walking the railway path too.
This walk can be a little hardcore, 7 hours in total.
Part of the route is an amazing walk next to the river where you can hear the sounds of the river flowing, with a picturesque view.
Be aware of your surroundings; sometimes there is a need to move away from the noisy yet slow oncoming trains.
This walk is one of the cheapest ways to go to Machu Picchu and one of the best, especially for those who love trekking and hiking.
It is highly recommended to take food and water, a flashlight for when it starts to get dark and to wear decent trekking shoes. From here, hike to Machu Picchu (see above) or take the bus (see below).
This route can be hiked to Aguas Calientes and back to Ollantaytambo.
Walking Distance: 32km
Duration: 9-10 hours one-way
Highlights: Hike, meet locals, budget-friendly, cheapest way to Machu Picchu
Downside: Hitchhiking, intense hike, safety / have to avoid train guards
Recommendation: by Ruben from Gamin Travel
Machu Picchu Escorted Tours
There are many companies who will create tailor-made tours to Machu Picchu and of course that comes with a heftier price tag than organising a trip independently.
However, you have the satisfaction that all aspects of the trip to Machu Picchu will be covered from transports to entrance fees with the added bonus of knowledgeable tour guides who can discuss Machu Picchu history with you.
Hikes at Machu Picchu
Huayna Picchu/Wayna Picchu
Due to popularity, only 250 climbers per day allocated slot are allowed to climb Wayna Picchu 'Young Mountain' (Huayna Picchu).
The ascent takes around one hour and involves some scrambling using hands and feet.
The path may be wet to hike, carefully creating a good distance from the climbers in front is recommended.
The first gate opens at 7-8am but the morning fog usually lies until 10-11am.
The descent should take around 45 minutes. The second entrance time is 10-11am. Climbers should exit by 1pm.
Duration: 1 hour 45 mins (although some sites claim 3-4 hours)/ final ascent 2 hours before closing time
Highlights: Views of the Citadel
Downside: Steep but no technical ability required
---
Machu Picchu Mountain
Machu Picchu Mountain (Cerro Machu Picchu) Peru's 'Old Mountain' is less touched by tourists so easier to buy tickets for.
The mountain trek is open from 7-8am and then 9-10am but an early start is advisable to avoid the midday heat.
This may mean that you are tackling the thousands of steps through the morning mist but appears to be worth it to watch the Machu Picchu ruins appear through the clouds.
Climbers must exit by 3pm.
Duration: 1.5-2.5 hours (although some sites say the average is 4 hours)
Maximum 400 climbers per day
Highlights: Seeing Machu Picchu ruins from another angle
Downside: Often misty first thing
Overall Tips – Machu Picchu Information
Machu Picchu Tickets 2023
You must pre-pay for your tickets to Machu Picchu before you arrive and you must take your passport with you to Machu Picchu do not do as Craig did and leave it in the hotel!
Remember to collect your cool Machu Picchu stamp at the entrance.
Booking Machu Picchu tickets (and above hikes) can be done online at the official government website (price quoted in Peruvian Sol). It is not the most straightforward though so please read the next paragraph.
Machu Picchu Entrance Fees 2023
The following Machu Picchu price list is the official fees for 2022. There are several options, some of which you can choose a time slot.
Machu Picchu (only) 6am-12pm: 152 soles/$45 USD – ADVANCE – BOOK NOW $65
Machu Picchu (only) 12-5:30 pm: 152 soles/$45 USD – ADVANCE – BOOK NOW $65
Machu Picchu + Huayna Picchu hike 7-8 am (1G/G1): 200 soles/$59 USD – ADVANCE $85
Machu Picchu + Huayna Picchu hike 10-11 am (2G/G2): 200 soles/$59 USD – ADVANCE $85
Machu Picchu + Montana 7-8 a.m (2G/G2): 200 soles/$59 USD – INSTANT BOOK NOW $85
Machu Picchu + Montana 10-11 a.m: 200 soles/$59 USD – INSTANT BOOK NOW $85
Machupicchu + Horario Vespertino: 1-5pm for those with mountain hike ticket (doesn't appear to be available on-site)
*Warning: some online services advertise the advanced online ticket for cheaper but when you click through the ticket is for the Andean community nations, not foreigners.
Machu Picchu Opening Times
The new opening times for Machu Picchu come in two entrance slots.
The morning opening times are 6am-12pm then for an afternoon visit you have from 12-5:30pm
Aguas Caliente to Machu Picchu
Buses from Aguas Caliente start from 5am and run every 10-20 minutes until 15:30 (last entry for Machu Picchu is 16:00).
The bus takes around 30 minutes and can be purchased on the day or pre-booked in Aguas Caliente or in Cusco at the Consettur Machupicchu SAC office (Avenida Pardo) the day before.
We took the bus from Aguas Caliente then walked back after the morning at Machu Picchu. The well-signposted walk took around 1 hour and was relatively easy.
There are frequent buses from Machu Picchu to Aguas Caliente directly outside of the entrance.
Aguas Calientes Accommodation
Aguas Calientes Hotels
There are over 100 hotels in Aguas Calientes so you are not stumped for choice! All cater to visitors getting up early and/or arriving late. Hotels start at around $30-$2000.
The Belmond Luxury Lodge is the most sought-after luxury accommodation in Machu Picchu.
The lodge has stunning views of Huayna Picchu Mountain and located in a serene setting. Rooms are fully equipped and some have private patios. The Tampu Restaurant boasts panoramic views of the jungle. Rooms start at £900 but sell out very fast.

Altitude Sickness
Altitude sickness is a thing and it can hit anyone hard.
You must acclimatise before setting off on your desired Machu Picchu hike or trip. Spend a couple of days in Cusco, especially if you are arriving straight from the capital, Lima.
Craig and I were both OK after spending 1.5 weeks travelling from Lima via the hop-on/off bus, Peru Hop experiencing many of Peru's tourist attractions such as sandboarding at Huachachina and a boat ride at Isla Ballestas.
However, two members of our trek were hit badly by the altitude.
One rode by donkey for most the trek and the other required gas. It is also worth purchasing coca leaves before your trek.
This local energy boost remedy is placed inside the cheeks and sucked. Make sure you have acceptable travel insurance coverage. What do you mean by acceptable?
Check if your insurer covers you at high altitudes like ours, True Traveller, does.
I shopped around extensively and many do not cover you at this height.
Two members of our party were very sick, take your health seriously before you fly. Check out if True Traveller is right for you by clicking here.
North American readers should look into the most popular travel insurer, World Nomads.
Best Time to visit Machu Picchu
May through to September, Peruvian winter (dry season) is the best time to visit Machu Picchu with May being held as the optimum month.
However, we hiked in April and were told that our weather (drizzle) was not 'normal' for that time of year with El Niño being blamed by locals in Cusco.
October to April is the wet season. February is the rainiest month and also when the Inca trail is closed so consider one of the other Machu Picchu tours (or Machu Picchu tour packages) during this month.
How to Get to Machu Picchu from Lima
So now that you have all of the Machu Picchu information that you need and you are buzzing about your trip to one of South America's most popular tourist attractions you probably should work out how to get from Peru's capital to Lima to the Cusco/Cuzco.
The most efficient yet expensive way is by internal flight.
There are several airlines such as Star Peru and Aviana, which make this trip and prices start around $157/£127 (return) for the 1.5-hour journey.
Lima to Machu Picchu is a common journey but please read or guidance on altitude sickness before you book the trip.
Many backpackers who are travelling around Peru use the safe and fun hop on/off bus service, Peru Hop.
This was how we backpacked around Peru, you can read our honest review of the tour.
We loved it so much we used the sister company, Bolivia Hop to get us out of Peru and over to La Paz.
The alternative is to use public buses from Lima to Cusco which is the cheapest option but is also a long at 20+ hour journey.
I'd recommend splitting up the journey by stopping at Arequipa or one of the other smaller towns mentioned above on the way.
Inca Trail Packing List (+ Other hikes)
Trekking to Machu Picchu can mean hiking in all four seasons. We experienced rain, shine, and even snow!
The number one priority for your Machu Picchu packing list must by footwear.
It is recommended that you have well-worn in trekking boots or shoes as well as a good raincoat or strong poncho (the latter often provided by the trekking company).
Your Machu Picchu trek company will most likely provide a small bag for you to store clothes and toiletries in which is carried by the porters and donkeys who trek with you (leaving your rucksack stored in your Cusco hostel, this is common).
---
Your Machu Picchu day pack should include a poncho or raincoat, suntan lotion, money, water, a camera and of course your passport <— do not forget this!
Whether you decide to train, hike or bike there is an option for every type of traveller who wants to visit the UNESCO World Heritage Site, Machu Picchu.
Nearly one million people see this Inca wonder, the big question so is how will you get there?!
Heading to Peru? Don't miss our itinerary packed full of tips on where to go, what to see, and how to stay alive.
Oh and don't forget that travel insurance for a tranquilo trip.
Going to Peru?
Pin to your Peru Pinterest board!

Over to you, how will you get to Machu Picchu?