This article has links to products and services we love, which we may make commission from.
Peru is the ideal South American country for backpackers of all ages to travel around. The varying landscape from mountains to jungle, to sea, and sand (dunes!) ensures that there is something of interest for everyone. However, the public transport system is notoriously not excellent, and like many other backpacking countries, tourists are often the target of crime. The solution? Peru hop – the safe hop on/off bus for travellers in Peru. Here's our (Gemma and Craig) Peru Hop review taking your from Lima to Cusco with scenic stops along the way.
---
» Plan your trip to Peru with our popular Peru itinerary
---
Peru Hop – safe and fun travel in Peru
Why Choose Peru Hop?
Craig and I (Gemma) can't believe how quickly we have progressed through Peru without feeling rushed.
After our fast-paced five-week trip through South East Asia in 2013 (Singapore, Vietnam, Cambodia, and Thailand) we were adamant we would take our time.
We do have 18 months worth of career break after all (annoying, I know!) The reason?
Peru Hop's well-organised itinerary which offers enough flexibility to avoid the feeling confined. Maybe the coca tea is partly to blame too.
Peru Hop is a hop-on/off bus company is similar to those in Australia and New Zealand.
Their buses travel to/from six to ten stops along the Western coast of Peru from the capital, Lima then inland towards Cusco, where you acclimatise before your trek to Machu Picchu which is one of the Seven Wonders of the World.
Thinking of hiking to Machu Picchu? Here our guide on the 14 ways to get there.
We did the Lares Trek, a less saturated alternative to the Inca Trail.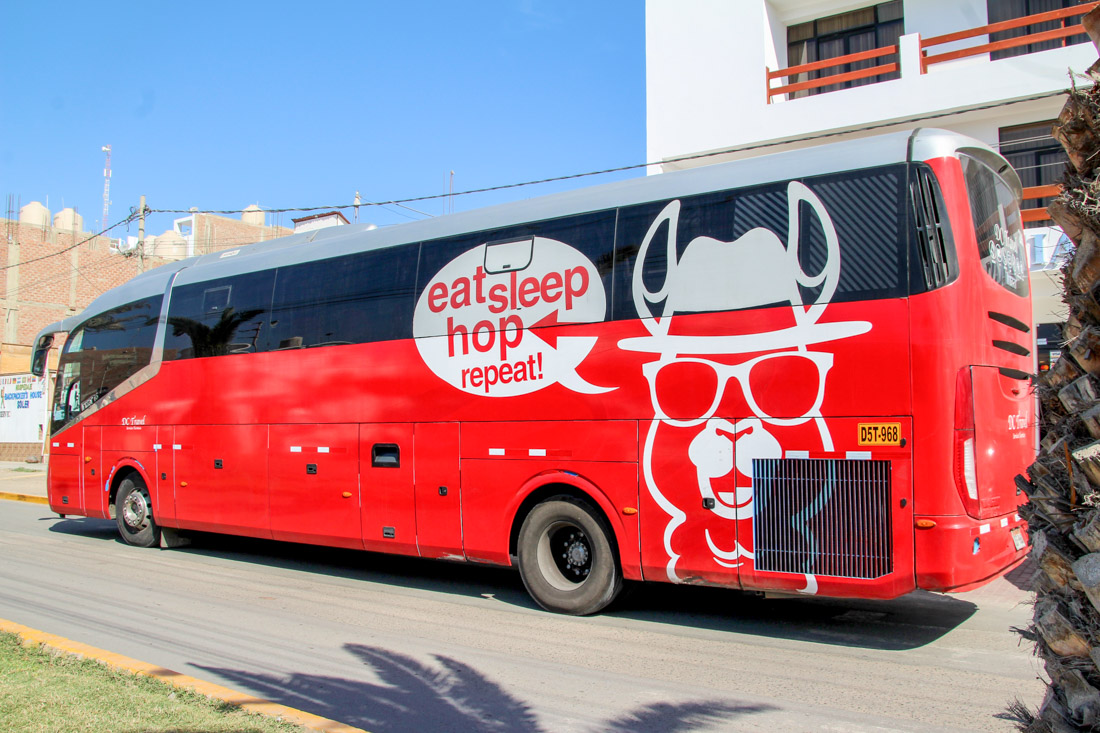 Peru Hop Guides
Peru Hop is more than transportation.
Each bus ride has a guide (a local who can speak Spanish and English) and depending on where you are going, the guide may be getting off with you (the bus that is).
Big shout out to Carlos who we partied with in Huacachina! Is Peru Hop worth it? We think so for the local knowledge.
Salud from me (Gemma) & Craig – try the Peruvian pisco!
Peru Hop and Hostels
Peru Hop is a hostel booking service. Not booked your hostel?
No bother.
Most guides will call ahead and book you into their partner hostels at a discounted price.
For example, Kokopelli Backpackers in Paracas is 35 Peruvian soles 8-bed dorm normally but 30 Peruvian soles exclusively for Peru Hop customers. The company offers 20% off all dorms and 10% of private rooms.
Peru Hop attempts to suit everyone's needs too by offering a 'party' hostel option for the Pisco-loving Hopsters and a 'quiet' option for… us (although we loved Kokopelli in Cusco).
Have your hostel booked already?
No problem!
We wanted to stay at Bananas in Huacachina but still met up with everyone that night and you can use the facilities at the Peru Hop partner hostels anyway. No pressure to book through Peru Hop.
---
Peru Hop organises tours. We weren't going to bother going to Paracas but Will (co-founder of Peru Hop) suggested we researched it online.
I'm glad we did because we would have missed out on the cute penguins on Islas Ballestas!
These tours are discounted, for example, this trip with Paracas Explorers is not even available on their website but $15 USD with Peru Hop.
The tours are not mandatory. The company has attempted to make your life easier on the road but they are not forceful.
We skipped the sandboarding tour and opted for a more professional experience with Sandboarding Peru because we wanted to sand-ski too. Some stops have free Peru tours to break up the journey.
We enjoyed the Pisco vineyard tour on the way to Arequipa.
If you've seen Peru on Instagram then you'll know Rainbow Mountain. Peru Hop offers an additional tour there too.

Isla Ballestas, can't believe we nearly missed this!
Peru Tour Routes
Peru Hop has developed a variety of tours to suit all time frames and budgets starting from $70 USD (Canyon to Lake to La Paz) to $199 USD 'The Full South' Lima to Cusco which includes Paracas, Huacachina, Nazca, Arequipa and Puno (minimum 6 days).
The backpacker's bus can start at Lima in Peru, La Paz in Bolivia or Copacabana on the border. Here's an example of four Peru Hop itineraries.
Peru Hop Bus Facilities
Peru Hop is equipped for long-distance journeys.
The bus has a toilet which is only for 'number ones' though (the guides are very clear about this).
The guide will democratically let Hopsters choose a film from their collection. Meet The Millers is genuinely funny, who would have thought it?
The overnight bus from Huacachina to Arequipa was as comfortable as sleeping on a bus gets.
The guide gives you a blanket and the seats are semi-reclining.
For long-distance journeys, such as Arequipa to Cusco) the guide takes your food order and calls ahead to the stop point (such as a truck stop or restaurant) and puts in your order. You are paying for that convenience and communication.
This meal was around ten Peruvian soles each (food options – chicken, rice and veg, chifa, vegetarian omelette etc).
Friends For Life
The bus is safe but most importantly you make friends!
Hello to Jess, Liam and Ryan who we met on our first Peru Hop journey and partied with on our last in Cusco!
Hester, gutted we missed you! I bought your sweatshirt by the way…
Hola to B, Ben and Simon who we trailed from Huacachina to Arequipa then on to Cusco with.
Us Two Scots (Gemma and Craig) are social creatures; we need a break from each other for our own sanity!
Can Peru Hop Save You Money?
Peru Hop is actually cost-effective, for what's included.
I was pricing the individual journeys we wanted to do with Cruz del Sur, the bus company mostly used by tourists in Peru, and Peru Hop popped up in the search engine. I was pleasantly surprised to see the comparison between the two services.
For example, 'regular class' seat prices with Cruz del Sur:
Lima to Paracas ($18 USD)
Paracas to Ica ($6)
Ica to Arequipa ($32)
Arequipa to Cusco ($42)
Total: $98
If you want VIP seating (160-degree reclining seats), add approximately $3-5 per trip, $110-118.
Peru Hop's price for this above itinerary is $179, which is the 'To Cusco Without the Lake' option as the Cruz del Sur route does not include a Lake Titicaca crossing. That was some experience!
Cruz del Sur rides don't include:
English and Spanish speaking guides
Convenience calls like booking food ahead on long-distance trips
Local tours
Discounted accommodation
Naturally, not everyone wants that. If this is your style of travel, go for the public buses. Tranquillo!
We measure how cost-effective something is by not just taking money into an account and also the time saved.
Peru Hop has saved a massive amount of time, and arguments, the main reason we fought in Asia was through planning.
Check out this post on South America bus travel for another comparison.
---
» We saved £20K to travel! Click to discover the 5 S's of saving
---
A Soft Warning – An Honest Peru Hop Review
The only warning – Peru Hop does not leave from every destination every day so you need to do a bit of forwarding thinking to ensure your itinerary is met.
However, this is probably the case with other forms of transport too.
Peru Hop has factored in how long they would recommend staying in each place so if you are taking a fast route through Peru you can do with missing the hot spots.
Oh and don't forget to check out our Peru guide which details what not to miss, and all the other vital information required for your trip to Peru.
If you fancy heading to Chile from Arequipa it can be done independently, check out this article on how to take the bus from Arequipa to San Pedro Atacama.
Peru Hop Testimonial
Don't believe our glorious review (they are partnering with Peru Hop so obviously they are raving about it…)?
Here is a testimonial from Simon, our Hopster amigo, explaining why this service is one of the best Peru tours –
The pickup service makes travelling in Peru very easy.
The guides made bus rides interesting with their explanations about local culture and Peruvian history. Every effort was made to ensure that arriving at your hostel was simple, no more stressing about finding a taxi and attempting to communicate an obscure address.
Included tours removed the hassle of trying to plan events ahead while remaining competitive in price.
Hopsters at the Red Beach
Frequently Asked Questions
I am a more 'mature' person, is Peru Hop for me?
Thanks to Marty for leaving a comment about his experience 'I am a 61-year-old man and did the Peru Hop with my nephew and had a great time. There were other middle-aged people on the bus but most were the younger traveller types. Everyone got along fine and had a great time'.
Is Peru Hop really worth the money?
It really depends on what you are in Peru for. Do you want a safe, efficient trip where destinations are planned out for you with support in finding accommodation and the chance to make friends? Yes!
Are you on a very tight budget and willing to spend longer than necessary on public transport? Go for the alternative local route.
Is Peru Hop suitable for solo travel?
Peru Hop was made for solo travel. You have a ready-made family waiting for you four wheels.
Final Thoughts
A serious round of applause to Will and Connor (travellers themselves) aka Peru Hop.
The company is now well established in South America, working effectively in a 'foreign' country (the boys are Irish) they're doing a great job keeping the rest of us safe and connected.
This is an honest review (as always) in exchange for two Hop passes. Well done lads and thanks for all of the advice. We look forward to our next trip with… Bolivia Hop!
Peru Hop Lima office address: Centro Comercial "Torre Larco" Office 206, Avenida Jose Larco 812, Miraflores, Peru
Contact: [email protected]
Going to Peru? Pin to your Peru board
Are you going to hop on/off in Peru? Do let us know in the comments below. Gracias!
---
» Read next: everything you need to know about travelling in Peru
---
Thanks to Peru Hop for partnering with us. An honest review as always.