This article has links to products and services we love, which we may make commission from.
Arequipa (Are-eh-keepah), she's a keeper. Peru's second biggest city is part of the Southern Peru Tourist Corridor but unlike Lima (Peru's largest city) it does not feel over populated. The population is only 1 million in comparison to Lima's 10.5 million. The city is in good company, overlooked by three dormant volcanoes (El Misti, Chachani and Pichu Pichu). The most famous, El Misti, is named after 'mister' in Spanish, according to our walking tour guide. However it was not always called this, it was nameless for 300 years after locals took the hump with it after an eruption. The White City is the gateway to trekking; one of the many things to do in Arequipa is hike.
Things to do in Arequipa
1. Free walking tour Arequipa
It is disputed why Arequipa is known as the La Ciudad Blanca/The White City and one of the hot topics discussed in detail during the city's walking tour. One argument is that the name comes from the buildings being made of sillar, although our tour guide said that they used to be painted so he doesn't believe that version of events. The second is down to the European white immigrants moving to Arequipa. Answers on a smiling alpaca postcard please! Tours start at 10am and 3pm and meet next to the IPeru office (official tourist board) at Plaza de Armas. Tour guides are mostly students who live in the city and are keen to share what life is like in Arequipa with visitors. The 2.5 hours tour ends at a rooftop bar and of course, the national drink, Pisco!
Where: Plaza de Armas
When: 10am and 3pm (the afternoon tour ends at sunset which is recommended)
Price: Free, pay for via tips
2. Plaza de Armas
Like most South American cities, the best place to people watch is the main square and in Arequipa that is Plaza de Armas. Street performers, workers on their lunch, protesters (now banned), tour guides, backpackers, families – if it's happening in Arequipa it's going on here. The Plaza is surrounded by colonial buildings making it part of UNESCO's World Cultural Heritage List. Cafes and restaurants are tucked away amongst the arches, perfect for an afternoon coffee/Pisco.
3. Visit Mundo Alpaca
There's two reasons to visit Mundo Alpaca. Firstly to see the local weavers threading the vibrant Andean textiles and to visit the museum and exhibitions.
4. Llamas and alpacas!
The second reason is to snap a picture of a startled llama or alpaca. They're not really startled, they tend to work this reaction often!
Where: San Lázaro, Arequipa
Price: Free of charge, tip for weavers
Tip: one of the best free things to do in Arequipa
5. Mercado San Camilo (market)
San Camilo Market, the so-called Witches Market is the place to go to pick up some Andean souvenirs (new bag 25 soles/£5) and a fresh fruit juice (8 soles/£2, not cheap). Legend has it that shoppers can purchase all sorts of portions at Arequipa market, the Diagon Ally of Peru. Watch out for the cattle.
Opening times: 6am – 6pm, 7 days a week
6. Museo Santuarios Andinos
What would you sacrifice for your god? Every Sunday morning? A quarter of your monthly wage? What about a pre-teenage local kid? That was the fate of Juanita, the Ice Maiden of Peru. Juanita (relatively new name) was the chosen one, selected by the Incas as an offering to the gods, never to be seen again after her death until her discovery at Ampato volcano's summit, and the remains of this mummy, packed with ice, were found and can now be viewed at the museum as one of the top Arequipa attractions.
Address: Calle la Merced 110, Arequipa, Peru
7. Santa Catalina Monastery
Take a guided or a self-guided tour of Arequipa's monastery made up of cloisters, a plaza and gallery, once home to nuns in the 16th-18th century (and now a small religious group).

Address: Santa Catalina 301, Arequipa, Peru
8. Get high
Always one of my favourite things to do in any city is to find a view point or rooftop bar for sunset and there's plenty of choice in Arequipa. The free afternoon walking tour (tip 1) ends at around sun down and conveniently concludes at a rooftop bar with a Pisco to warm up with (it gets chilly, remember a sweater). Rooftop bars in Arequipa that come recommended by visitors include Katari Hotel at Plaza de Armas and Mirador Misti.

9. Party
Many visitors to Arequipa might not make it out of the hostel to see any of the above advice because Arequipa is quite the hub for the party hostel. Like La Paz, Wild Rover is the merry magnet, especially when the sun is out – the main attraction? Its pool.
10. Hike
What to do in Arequipa? Leave! The final tip is to get out of the city. Take group hiking trip to the glorious Colca Canyon which was my favourite hike in Peru (sorry Machu Picchu). Colca Canyon treks can be completed in two or three days depending on time constraints.
Arequipa accommodation
Hotels in Arequipa
There are over 150 hotels in Arequipa ranging from £20-£160. The elegant La Hosteria is located in a renovated Colonial house 5 mins from the historic centre. Continental breakfast is offered daily and rooms have TVs. See here to check availability.
Katari Hotel boasts of panoramic views from its rooftop. This hotel is situated Plaza de Armas. Rooms are elegant and breakfast is included in the price. Prices start at £77. See here to check availability.
Arequipa hostels
The Flying Dog was out hostel of choice. It's quiet, breakfast is included. You can also book your Colca Canyon tour guide there. It is on the quiet side so if you are looking for a party hostel I'd veer towards Wild Rover which has a bar and outdoor pool. Breakfast is also included. Arequipa is a big city, there are over 50 hostels so do check out which suits your needs and budget in this guide.
Getting to Arequipa
We arrived at 05:30 on the overnight Peru Hop bus from the magical Huacachina (this is where revellers go sandboarding, we went skiing! Highly recommend) Public bus is also an option from Lima (17 hours) or if not on budget or on a tight timescale, a short flight arriving at Rodríguez Ballón International Airport.
How many days in Arequipa?
You could comfortably visit the main attractions in one or two days but the real star of the show, the Colca Canyon, requires a further two-three. You may find after a few days in Lima, two in Paracas, and two-three in Huacachina that you are ready to pause by the swimming pool by the time you get to Arequipa. Avoid travel burnout where possible.
Altitude in Arequipa
Although not the highest or lowest city altitude wise, some visitors may feel the impact of altitude sickness. Personally, we did not. This was our second week in Peru.
Going to Peru? Why not pin for later.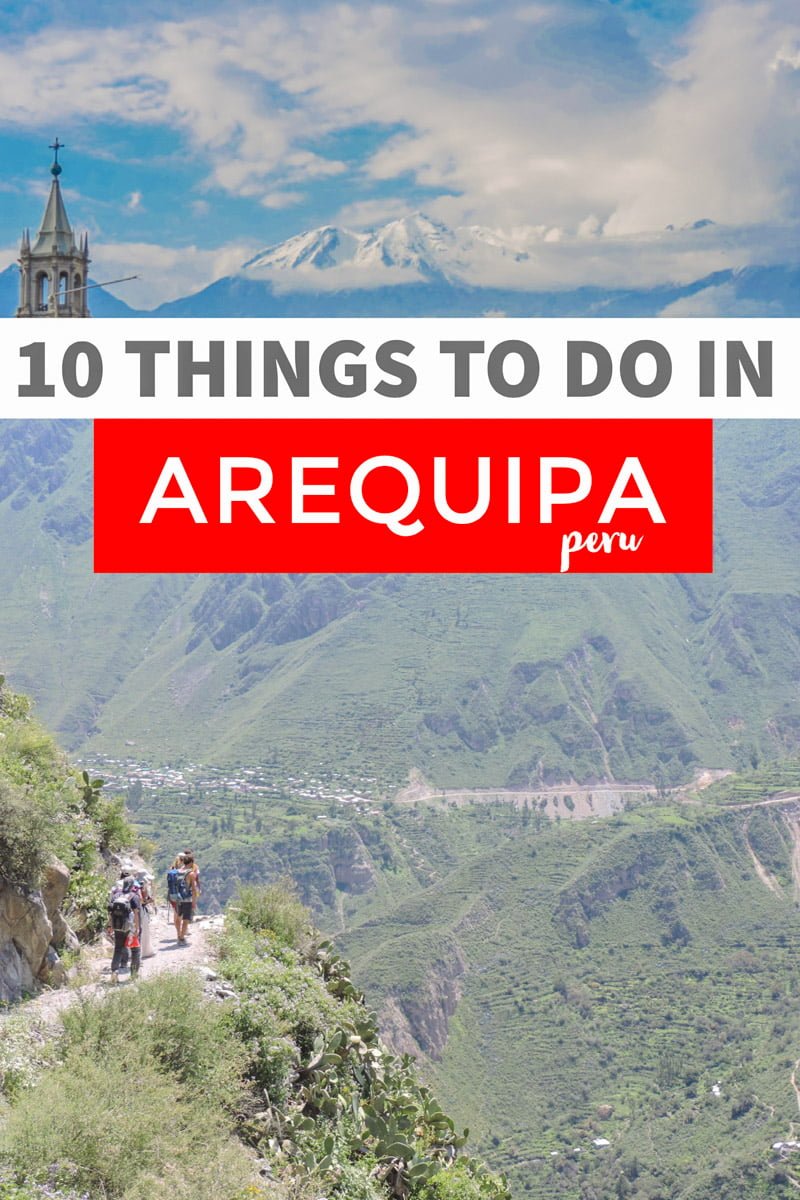 Any questions? Ask in the comments below.