This article has links to products and services we love, which we may make commission from.
Cusco, the gateway to Machu Picchu hikes in Peru but also home to Spanish schools, a market, the planetarium, chilled out cafes, nice eateries but with over 100 hostels in Cusco how do you choose? Here are our best Cusco hostels guide from the party magnet to shut-eye central, dorms to private rooms. Why trust us? We stayed in Peru's small city feel, Cusco for a month; hopping about hostels in between hikes and homestays.
Cusco Hostels
Kokopelli
I love Cusco's Kokopelli hostel. If you are looking for an electric vibe in the touristy area then this is The One. Kokopelli is a chain of hostels, they also offer accommodation in Lima, Paracas and Mancora (both Paracas and Mancora have swimming pools) so we were keen to try one out.
The hostel offers 10, 8, 6, 4 and 3 bunk dorms; private rooms and uniquely an 8-bed 'pod' room (room 105).
It really caters for all budgets and dorms can be found for under £10.
For our first night, we stayed in the 10-bed dorm with a private bathroom and a door which directly opens on to the garden. Cute.
Each bed has a wooden box 'locker' big enough to store your backpack for safety.
The usual issues come with a large dorm, there is always someone sleeping but that's the price you pay for not going private.
Nights two and three were spent in the unusual 'pod' rooms.
The beds in the room each have a curtain to shut out the world. It felt very private.
Each bed has a cupboard and storage space with plugs. It also had a private bathroom AND WiFi for occupants of that room only.
There are a variety of casual social areas with bean bags as well as a TV room and a bar which serves food.
Typical Peruvian breakfast (pan and marmelada) is included and is served at the bar. The WiFi was at its best at the bar during the morning hours.
The clientele are cool, met some very sound travellers here.
Pros: Aesthetically pleasing; bar with decent food; the pods
Cons: We were really craving a bit of fruit for breakfast by this point but the bread/jam combo is pretty standard. No kitchen for those hoping to cook
Wild Rover Cusco
The notorious party hostel, Wild Rover, has had a facelift and is now proudly located in a multi-million dollar purpose-built premises with dorms, privates, games rooms, and most importantly – that view, that balcony.
Believe me, getting high in Cusco is worth it for the Andean landscape views.
We have a secret though, Wild Rover is not the only hostel to have these sights, keep reading to find a quiet alternative with great views of the city.
Prices include free linen (not a given), locker and access to WiFi.
Food is available, Irish bar now with soundproofing.
Pros: new built, linen, social, views
Cons: it is a party hostel so…
Loki Hostel
Another chain party hostel (you will stay in one at least once during your time in South America!) Loki Hostel has an extensive happy hour and even happier customers.
Honestly, this hostel in Cusco sells out fast.
The bar allows for a tab which is either genius or dangerous depending on your spending habits. Rooms away from the bar are quiet.
Beds are comfy and some have a personal outlet for phone charging. Lucky dwellers get rooms with views of Plaza de Armas.
Food is less than to be desired but very close to the San Blas area which has lots of choices.
Pros: Location, party hostel
Cons: Food, can be loud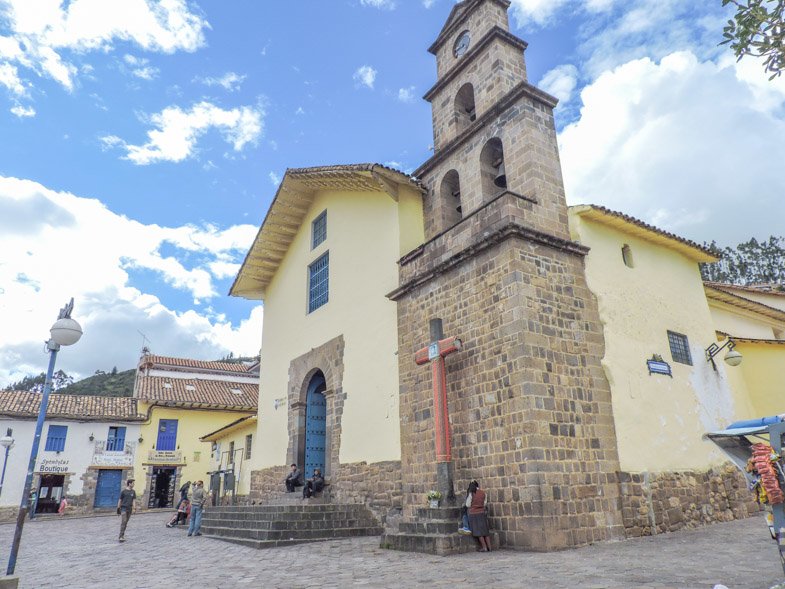 Casa de la Gringa
If you are in Cusco for more than one night we highly recommend skipping over to the bohemian San Blas area which has cute shops, eateries and is less commercial (food in the markets is cheaper) than the other side of Plaza de Armas.
Casa de la Gringa fits in with this laid back and loving vibe.
The hostel is beautifully decorated and we were thankful for our 'matrimonial' verde (green) bedroom after hiking the Lares Trek to Machu Picchu.
The owners Mark and Simon, South Africans with Scottish ancestry, (we didn't get the chance to meet their Mum) are very cool and offer sound advice and service to anyone looking to experience the San Pedro plant.
Breakfast is refreshing. The staff offer you a fruit salad with yoghurt or scrambled egg with the usual bread. There is a kitchen for those on a budget.
Like Kokopelli, tea and coffee are free all day. The shower is always hot and the company eclectic.
Pros: Looks cool breakfast, the area, area wise – this is where to stay in Cusco for a less touristy scene
Cons: Not a party hostel if that is what you are after, we met lots of couples there
Thomas Grill and Garden
Thomas Grill and Garden is in the sweet spot of San Blas, right next to my favourite street, Calle Carmen Alto. It's clean, has the hottest shower so far but the real gem is the receptionist/chef/ gardener/all-rounder, Jenny!
The hostel has two social areas and a nice garden with tables and chairs.
This was ideal for airing out my smoky clothes after a night of debauchery at the Mythology club! No such thing as the smoking ban in Cusco.
There are a variety of rooms, some with shared and others with private bathrooms.
Initially, we were housed in a matrimonial room with a private bathroom and TV but decided to stay longer as we were enjoying the peace. Jenny put us in the 'double mountain view' room and a view it sure had.
You get a key for the front door so feels more like an apartment with breakfast than a hostel.
This is one of the best hostels in Cusco for WiFi in my experience; a blogger's dream.
This room is really cute, it has a campervan feeling and you can't beat waking up to the best views of Cusco. The room is cold at night (Cusco is frío in the evenings) but we were given a heater to take the edge off.
Breakfast is varied. Some days we had bread with butter/jam and fruit, others we had (bread and) cereal and yoghurt.
There is a decent-sized kitchen for those wishing to cook.
Pros: The staff; hot water; superfast WiFi; the view from our room
Cons: Again, not a party hostel if that is your bag, we met even more couples but there was one solo guest kicking about
Final Words
Cusco really is a cool city to spend a few days or couple of weeks in hence why we went bed-hopping, Goldilocks style in the city!
Whether you are looking for a party or some much-needed downtime there is a bed (or pod!) for everyone in Cusco.
Things to do in Cusco
Hover over and pin to your Peru board

There are hundreds of hostels, hotels and apartments in pequño (small) Cusco.
Leave any questions in the comments below.