This article has links to products and services we love, which we may make commission from.
Cusco, Peru's scenic city, is a hub for travellers and holiday-makers alike. Many spend at least two days in Cusco, acclimatising for trips and treks to to Machu Picchu. We (Gemma and Craig) actually lived in Cusco for two weeks; bouncing between accommodation, improving on our survival Spanish at San Blas Spanish school and hiking in the Sacred Valley. It rained every day during that fortnight which forced us indoors, experiencing the best restaurants in Cusco. So here's where and what to eat in the city surrounded by the Andes Mountain Range.
Best restaurants in Cusco
Pachapapa Cusco
Pachapapa is part of the Cusco Restaurants chain (which also include Greens Organic) but don't let that put you off. The traditional menu includes soups (Peru does really great soups, I particularly love the use of quinoa), mains featuring Peruvian alpaca, ceviche (raw fish cooked by lemon acids, yum) and more familiar dishes such as calzones. The chef often cooks by the BBQ and guess what you can see sizzling, guinea pig! Yes, Pachapapa has cuy on the menu. It is far pricey than other places to eat in Cusco so reserve for a special occasion. The atmosphere is pleasant, there's a wood burning fire for the pizzas and a courtyard for nice days.
Address: Plazoleta San Blas 120
Reserve online: website
Jack's Cafe, Cusco
Jack's Cafe is a popular hangout for travellers. Expect to see queues at the door of this San Blas restaurant. However, waiting staff deal with this popularity effectively, taking orders from the queue to ensure a quick turnaround. The food is decent and the menu offers lots of home comforts and all-day breakfasts. Our travelling friend, Simon, had the French toast four times in one week (I don't even think I'm exaggerating here!) We went twice; I had a chorizo and salad sandwich and Craig had a cheeseburger. The second time I went for the French toast and Craig had… a cheeseburger again (and a milkshake). All plates come in at s/ 10 – 26. They have a shelf stacked with British/American magazines too, nice touch. If wondering where to eat in Cusco after a few too many piscos the night before, this is our top restaurant recommendation.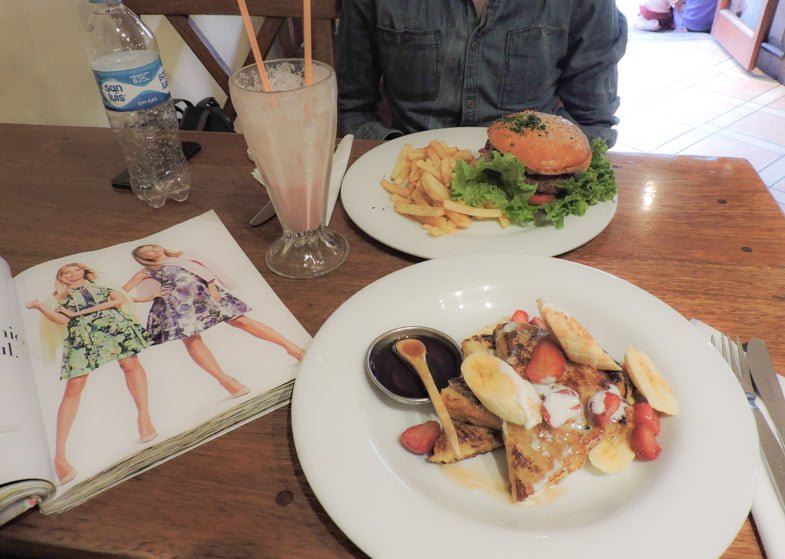 Address: Choquechaka 509, Cusco, Peru
Contact: +51 84 254606

La Bo'M
I love this crêperie. Sara, the French owner, was travelling around Peru and fell in love with Cusco. She wanted to bring some of France to the small city in the form of delicious sweet and savoury crepes. My weapon of choice is the Nutella with mango (sweet tooth, 18 soles!) The La Boheme tea is also very tasty. The cafe is kitted out with very cool decor, which compliments the San Blas area where it's situated. We managed to download two episodes of Game of Thrones from Dropbox (our kind friend hooked us up) via their WiFi. Happy campers!
Address: Carmen Alto, Cusco, Peru

Pantastico
Cusco's bakery cafe come bed and breakfast is renowned for its pan (bread) across its three locations. I had heard the WiFi was magic here but I was disappointed. However, the banana bread did not let me down. It had chunks of chocolate throughout which was a nice touch to an often dry snack. You'll find this Pantastico tucked away behind the Plaza de San Blas. Can you see a theme here? We love this area.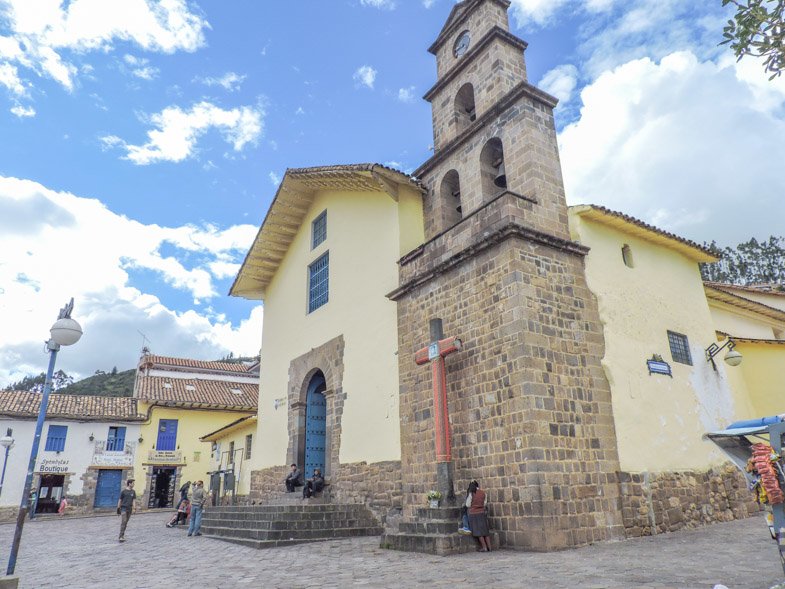 Address: Calle Tandapata 1024, Cusco, Peru
Contact: wesbite
Cusco restaurants: Vegan options at Green Organic
Vegan restaurants in Cusco are not as hard to find as they used to be. Greens Organic is a bright and airy cafe/restaurant surrounded by the wood decor. Keeping with the natural vibes, all sourced food is naturally grown where possible. The menu consists of salads, soups, smoothies (s/12) and main courses of curries, gnocchi (s/36) and meat dishes such as the tradition alpaca (s/36). Glutton free options are available too. Note: wine is offered by the bottle but organically grown grapes are used. Cocktails are also available. One of the recommended restaurants in Cusco's square (or close enough for it not to be too much of a tourist trap!)
Address: Santa Catalina Angosta, 135 at Plaza de Armas – good for people watching!
Reserve: website
Calle del Medio
If you are seeking a great people watching spot, look no further than Calle del Medio which overlooks Plaza de Armas. Grab a bite to eat or a coffee and check out locals going about their daily business and tour guides assembly for daily walks.

Address: Calle del Medio 113, Plaza de Armas.
[amazon_link asins='1612382053,1786575558,3980313026′ template='ProductGrid' store='twoscotsusa-20′ marketplace='US' link_id='fe02da0e-2214-11e8-823e-537762c4cd07′]
Kokopelli
Sticking with the 'home comforts' theme, the hostel Kokopelli has a variety of food on offer. One hungover afternoon, I went for the chicken soup which is advertised as a lifesaver, and that it was. They also have happy hour, like most bars in Cusco. And the nice company, not like every bar in Cusco.
Address: San Andrés 260, Cusco, Peru

Korma Sutra
This Indian restaurant has high ratings on Tripadvisor and rightfully so. To Craig's disbelief, Peruvian food is not that spicy and he needed to scratch that chilli itch. For 111 soles / £23.50 we dined on taco style crisps, the restaurant's equivalent to poppadoms, a chicken tikka masala, jalfrezi, boiled rice and two naan bread. We both washed the curry down with a bottle of Cusquena and I couldn't resist the Cuba Libre (fuerte, phew!)


Address: Tandapata 909, San Blas
Set soles 'turístico' menus
Many restaurants around the streets of Cusco advertise a set menu. They usually come in at 10 to 20 soles. Our Spanish tutor proclaimed that this was caro (expensive) and said he would only dine for 4 soles. We never saw any menus that cheap, even in the cheaper area of Cusco during our homestay while learning Spanish! These set menus usually begin with a type of soup and a main. We often went for grilled chicken and vegetables for the main. The restaurant next to Jack's was simple, decent and clean – the vegetable soup was good for the soul. The more expensive menus include alpaca in the mains if you are looking for a more authentic experience. However, don't expect cuy (guinea pig) in the package; it's actually pretty expensive for so little meat.


Address: All over Cusco (recommend the restaurant next to Jack's on Choquechaka, Cusco, Peru)
[amazon_link asins='1101878010,1743215576,1545174199′ template='ProductGrid' store='twoscotsusa-20′ marketplace='US' link_id='29e1edb5-2215-11e8-9a54-5bf5e8c2ae4e']
And the best coffee goes to…. a cafe we don't know the name of! You'll find it on Recoleta Street next door to Let's Go Bananas. Blink and you will miss it! However, Craig, the coffee drinker, makes the decision with haste as it may be because he hasn't had a decent cup of coffee since Austin, Texas. I hope you enjoy the food in Cusco as much as we did and do let us know in the comments below if we've missed anywhere.
Pin to your Pinterest board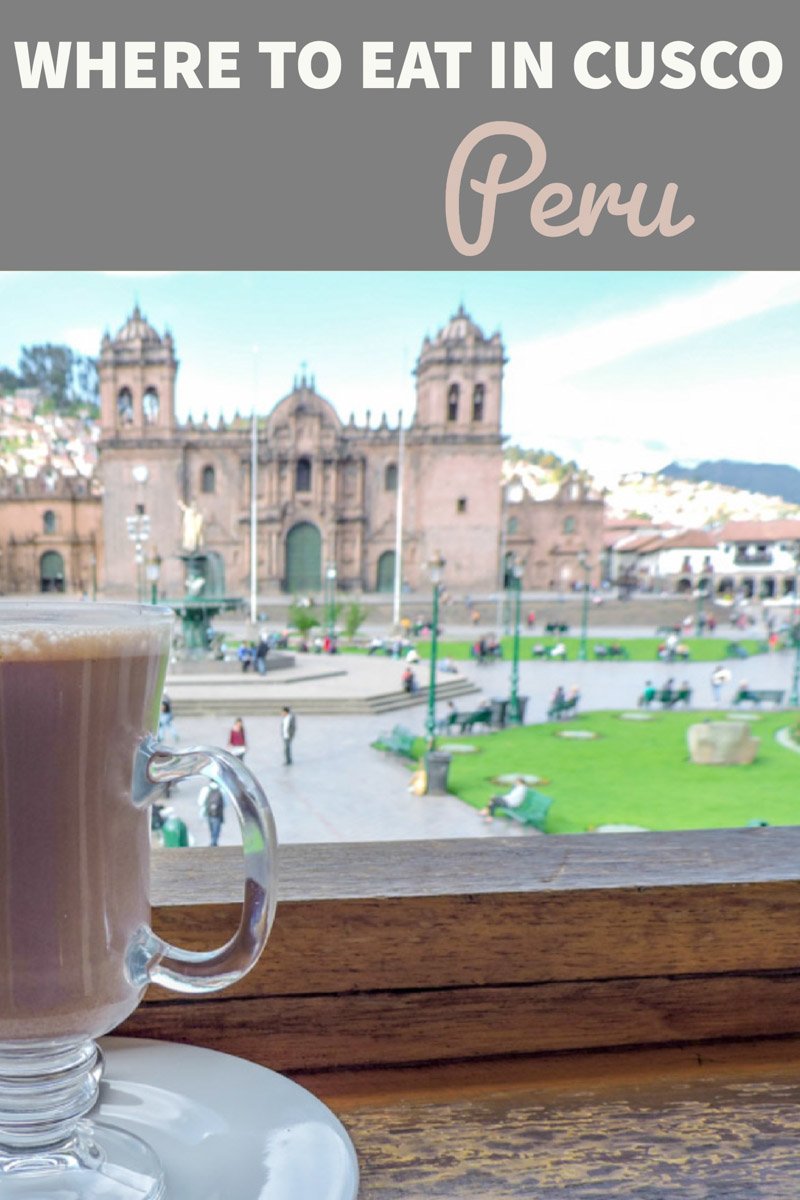 Where did you dine in Cusco? Ask any questions in the comments below.