This article has links to products and services we love, which we may make commission from.
Paracas, Peru is a small town on the coast. It lies in the Ica region, 152 miles from Lima. Some miss out this coastal location, heading straight to the sandy dunes of Huacachina instead. However, there are so many things to do in Paracas and attractions close by, especially if you like marine life which can be spotted from a short boat trip to Islas Ballestas.
You may also like our guide how to plan two weeks in Peru.
Is Paracas, Peru Pointless?
Peru's Paracas itself is small.
The streets of El Chaco (the main village) are lined with hotels and hostels and the shorefront has lots of restaurants.
There's a beach called Playa de Paracas where you can relax or watch the fishermen and ridiculously large and noisy pelicans while waiting to take your trip to Islas Ballestas.
Warning – the Pisco Sours in Paracas are strong!
Things to do in Paracas
1. Islas Ballestas, Peru's Gallapogas Island
The main reason that tourists flock to Paracas is to take the short boat ride out to Islas Ballestas to spot the sea life and it really is worth it.
Coined the poor man's Gallapogas Island, visitors should get the chance to see (really noisy) sea lions, baby penguins and a variety of birds.
However, unlike the true Gallapogas Island, you cannot walk around on the island, the tour takes place from the speedboat and life jackets are provided.
Naturally, a visit to Islas Ballestas is cheaper than a trip to the Gallapogas.
Bonus points to us for seeing dolphins diving about the water too!
2. Take a Paracas Boat Tour to See Peru's Sea Lions
It is advised to book your Islas Ballestas tour before you arrive in the town to avoid missing it.
It is the most popular thing to do in Paracas.
You can pre-book and gain fast past entry with just a flash on your mobile ticket.
The Paracas island tour is honestly worth every penny.
It lasts for two hours and covers three islands.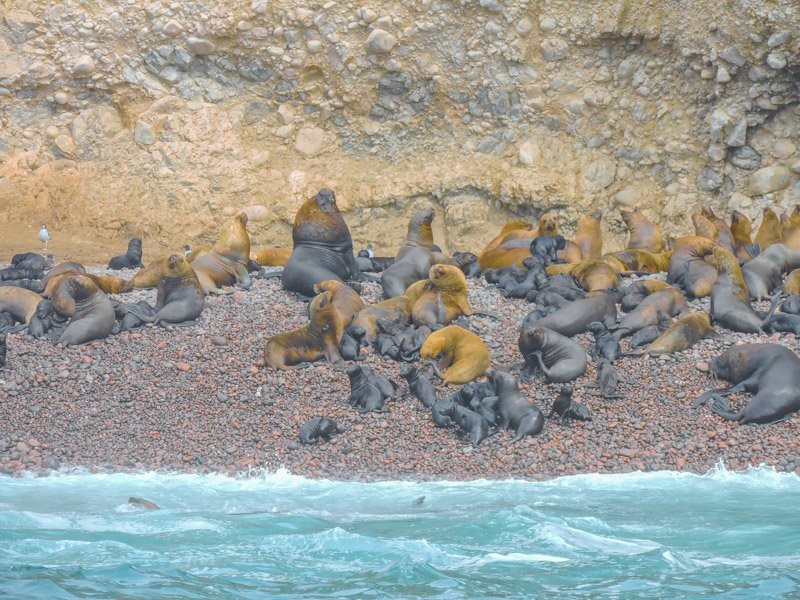 You share a boat ride with other visitors while listening to the bilingual guide who points out the sea life.
During your Paracas sea tour, you will also get the chance to see one of Peru's Nazca-like Lines called the Candelabra.
This geoglyphs are similar to those at Nazca but shaped like a cool cactus.
Just try not to fall asleep like I did which blame the motion for!
Things to do Around Paracas
3. Paracas National Reserve
This place is striking! Peru's Red Beach/Playa Roja boasts of blue waters and contrasting red beaches but Paracas National Reserve is spread over 827,450 acres so it's best to book a tour.
Always on the hunt for something unusual?
Check out this ATV buggy self-drive tour of the National Reserve.
To pick up an ATV from the office in Paracas you must be over 18 and have personal travel insurance.
We use True Traveller insurance because they insure at high altitude for Peru hikes.
I had to claim in Canada, you can read about my positive experience here.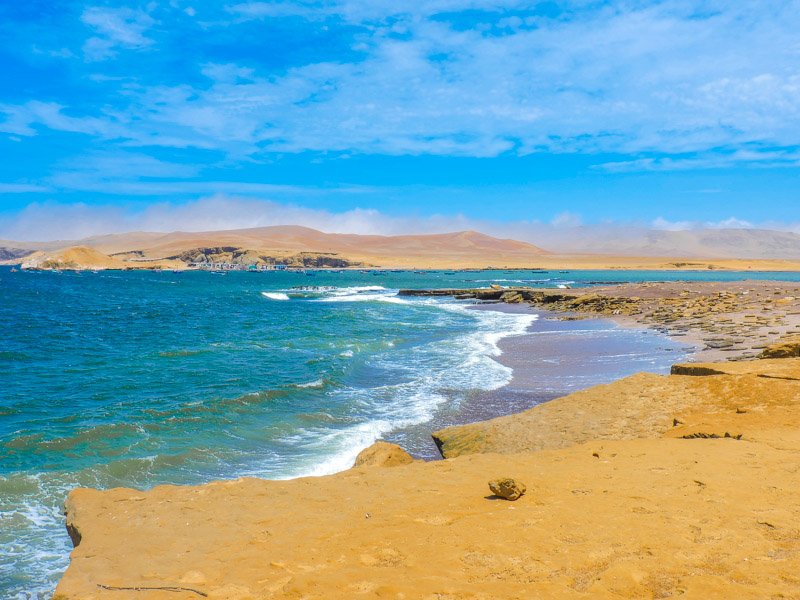 4. Visit the Nazca Lines From a Platform or Helicopter Tour
Peru's Nazca Lines is one of the most talked about mysteries in the world. How did these geoglyphs come to be?
You can see and learn for yourself from a bird's eye view during the 30-minute flight tour with English speaking guide.
Participants get the chance to see the monkey, spider and hummingbird from the sky.
Paracas to Nazca takes just over 3 hours.
If you are short on time but want to experience the Nazca Lines you can with this full-day all-inclusive tour to Nazca from Peru's capital, Lima.
5. Ica Wine Tours
The Ica region is popular for two reasons – firstly, the vineyards for Peruvian red wine and the national brandy, Pisco.
Secondly for the epic sand dunes at Huacachina.
Vineyard tours start at Ica or Lima.
The journey from Paracas to Ica takes just over one hour.
If you just want to do a day trip from Lima to the vineyards, consider this tour which also includes a Huacachina, the oasis!
6. Dune Buggy Rides and Boarding in Huacachina
Hike and or ride the buggies on the sandy dunes of Peru and then board down it!
This is an unforgettable experience for adventure lovers in Peru.
If you really love winter sports, why not try sand-skiing too?
The day starts with a pick up at Ica or Huacachina before you jump in a 4×4 and ride the bumpy sand dunes surrounded the village and lake.
Then you board down the dunes but don't worry, its suitable for all level.
It's much more controlled that skiing or boarding on snow and is not as fast.
Don't forget to apply suntan lotion and pack lots of water.
Getting Around Paracas
Paracas is a really small town which makes it easy to get around by foot.
There are taxis in the town for those who require extra assistance.
Getting to Paracas
Paracas from Lima can be reached by public transport (bus) using Cruz del Sur.
The journey takes just over three hours and costs around 39 Peruvian Soles.
Hiring a car is relatively easy in Peru and gives you the flexibility to choose your own itinerary not restricted by public transport.
Alternatively, use the safe hop on/off backpacker's bus Peru Hop as we did.
This company helps create your itinerary, offers comfortable reclining seats and is a great way to meet friends while backpacking around Peru!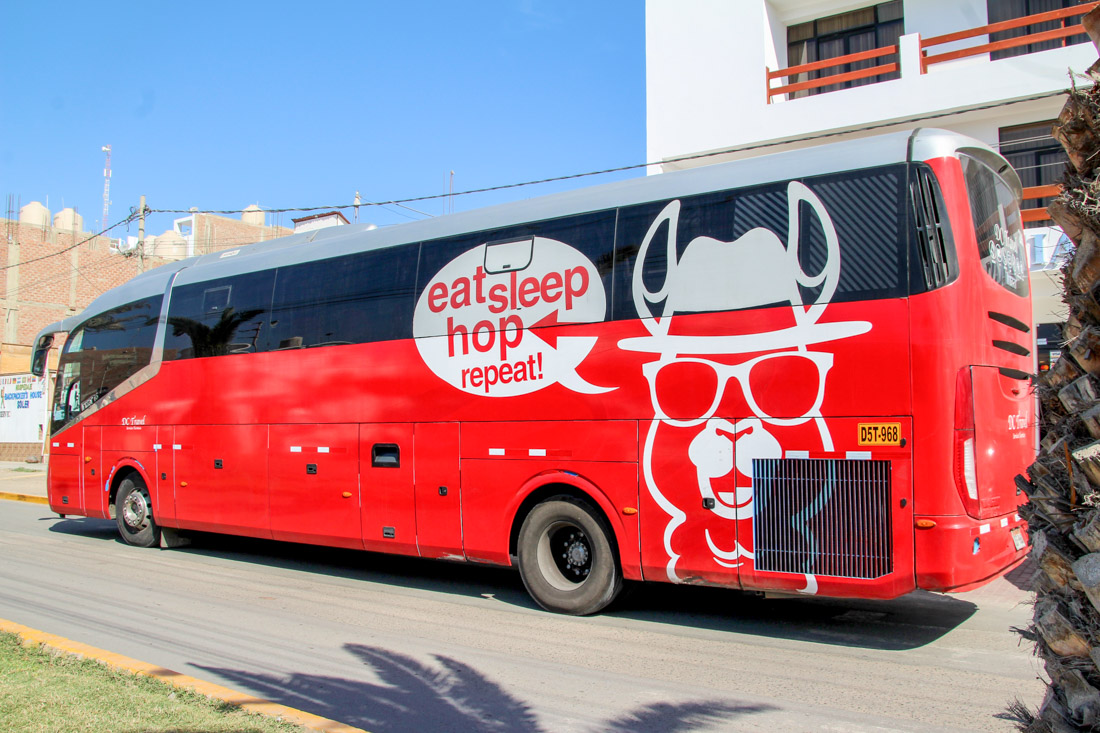 Paracas Hotels
One of the most popular hotels in Paracas is the Hotel Hilton Paracas.
This modern and tastefully decorated hotel is located next to Paracas National Park and some rooms have balconies with swimming pool or sea views.
There's an onsite restaurant and buffet breakfast for an extra fee.
The Inca Spa offers massages and body wraps so there's really no reason to leave the DoubleTree by Hilton Resort if you are looking for a relaxing break after all of the sea life spotting! Room prices start at £127-280. This is luxury in Paracas.
A more economical hotel in Paracas is the new Hotel Riviera Inka Paracas.
One of the nicest features is the balcony and proximity to the beach and El Chaco Boardwalk.
Breakfast on the terrace is included and rooms start at £40.
Paracas Hostels
There's a variety of hostels in Paracas that don't hurt the purse strings and the good news is there are options with swimming pools!
The cool kid Kokopelli Hostel Paracas is popular for its laidback vibes and proximity to the beach. I
t's literally on it.
As always, never skimp on safety – watch your belongings.
We travelled around the Americas and Europe for 18-months without any issues and recommend investing in a PacSafe net US/UK for your passport and electronics.
You place your belongings in a day bag, then the net around the bag which is then secured to a bed or non-moveable item and close with a padlock like a TSA approved one.
Final Words
A highly recommended travel tip, always be flexible.
If we had stuck to our guns and not taken the advice to make the stop to Paracas we would have missed this wee gem of a find, Islas Ballestas, the poor man's Galapagos.
Read next: Things to do in Arequipa