This article has links to products and services we love, which we may make commission from.
Peru is one of the easiest South American countries to travel around. Whether you are flying solo, hitting the road with your partner or travelling with friends, this country is accommodating of every type of traveller and budget.
Backpacking Peru could not be easier now because of its seamless transport links, the variety of cheap hostels and comfortably pricier hotels, the ridiculous amount of Peru attractions and the hikes, we can't forget trekking opportunities in Peru!
This Peru travel guide details where and when to go, what to do at each location and details sleeping, eating and socialising options too.
Backpacking Peru – More Than Just Machu Picchu!

Where do you Want To Go?
Lima
Peru's capital, Lima, is a busy city with incredible sunsets. One of my favourite things to do in Peru is to take the coastal road from Miraflores to the bohemian Barranco.
We did this by bike which was not without its drama! History buffs will like Lima's catacombs and the party-goers should check out the craft beer scene in Barranco and the swimming pool parties in Miraflores.
Paracas
Have you heard about the Galapagos Islands? Well, Peru has its own 'poor man's' version, Islas Ballestas. This seaside town is the port for boat tours to see the baby penguins and sea lions of Islas Ballestas.
Keep your eyes peeled for a premature sighting of one of Peru's famous Nazca Lines in one of the sand dunes (before you even get to Nazca). Close to Paracas is Playa Roja, one of the most drastically looking beaches I've ever witnessed.
Like a thrill? Check out quad biking from Paracas to the National Park.
Huacachina and Ica
Huacachina is where the party is at! It's also home to one of the most popular Peru tourist attractions – sandboarding.
But why stop at sandboarding down a dune when you can sand-ski? Interested…
Arequipa
You are never alone in the White City, Arequipa.
There are three volcanoes that fill the backdrop and overlook the city. Definitely, check out one of the free walking tours and the Witches Market to see some weird things.
One of the places in Peru that is overlooked by revellers keen to get to Machu Picchu is the Colca Canyon. This trek or tour leaves from Arequipa.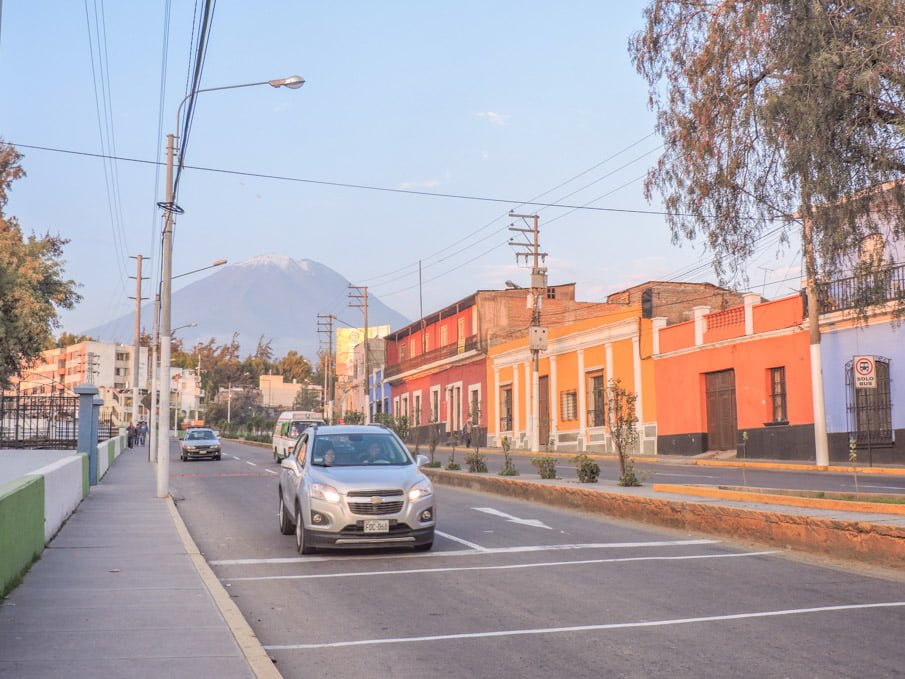 Colca Canyon
The Colca Canyon is a canyon 3287m above sea level and close to the city of Arequipa. Visitors can take a bus trip to the canyon to see the popular Cruz del Condor or complete the two or three-day hike around the canyon.
This was my favourite hike in Peru and I highly recommend it. The scenery is stunning and homestay hosts were very hospitable. You can either trek alone or with a tour group. More details can be found in our trekking guide.
Cusco
Cusco is an easy city to spend a few days in. Not only is it the gateway to the famous Machu Picchu hikes but also a city where you can stop, breathe, relax and maybe go back to school to learn Spanish!
Peru's tradition is very evident in Cusco and you can learn more about how the Inca civilisation used the sky above to help them survive at Cusco's planetarium, an unusual thing to do in Cusco!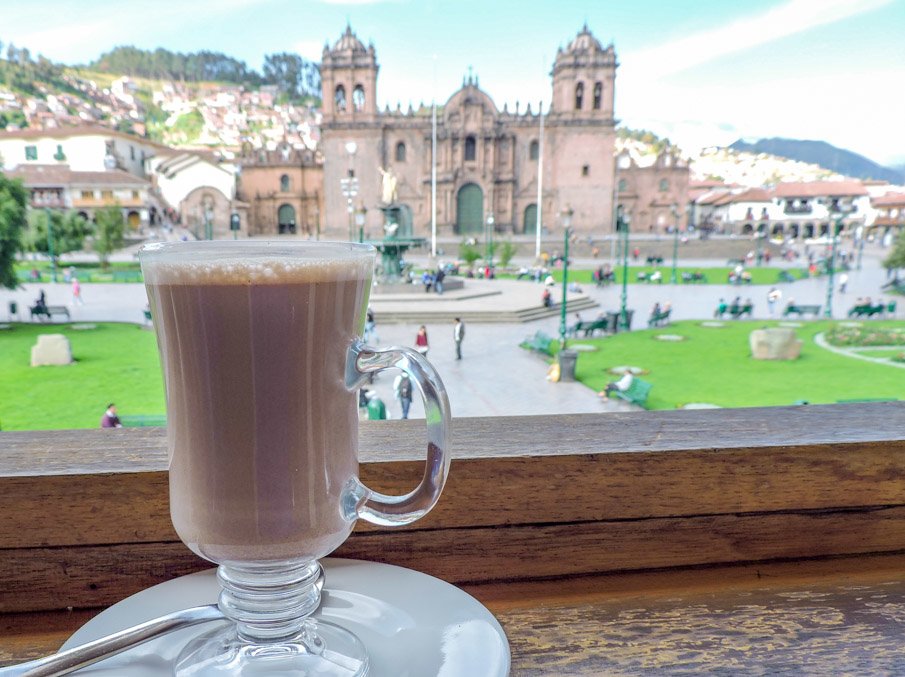 Machu Picchu
Peru is home to the seventh modern wonder of the world, Machu Picchu. Every day 5000 people visit this Peru hotspot to see the work of the Inca people who created this town by hand in around 1450.
Come see what the fuss is all about, and no the Inca Trail is not the way to get there!

Puno
The small town of Puno is one of the two access points to Uros Floating Islands. The second is from the neighbouring country, Bolivia.
The town itself does not have much to offer bar a few restaurants.
Uros Floating Islands and Taquile Island
A trip to the islands made of reed which float on Peru's Lake Titicaca is an interesting one.
The boat trip stops off an island, locals do a presentation about their lives and visitors are encouraged to buy some (mass-produced) trinkets to help support the community.
A more authentic experience of Quechuan life can be found on Taquile Island where are no cars or Wi-Fi.
You can either visit as part of an organised tour (combined with Uros) or stay the night with a local family (which we did).
A tour of Amantani Island is also an option although more touristy.
Extensive Peru Travel Itinerary
We have created an extensive 2-week itinerary that includes Peru's best travel spots, how long to stay, what the food is like and what must-do activities await.
Peru Treks
The most famous hike in Peru is the Inca Trail to Machu Pichhu. This 3-day camping hike sets off from Cusco and has to be booked in advance, It does not take place in February.
There are many alternative hikes (and other ways to get to Machu Picchu) such as the Lares Trek, the Inca Jungle Trail and the Salkantay Trek. If you don't want to hike you can take a day trip to one of the new 7 Wonders of the World!
Trekking Peru is now just about Machu Picchu! It has more hikes to offer from Cusco too, such as Rainbow Mountain and Humantay Lake. If you have more time in Peru and love trekking head to Huaraz.
This small town sits at 3000m absl so be sure to acclimatise before arriving to hike Peru's Andes Mountains Range.  The month of June sees less rainfall or snow so an optimum month to trek.
Popular one-day hikes such as the trek to Laguna 69/ Lake 69 and Paron Lake leave from Huaraz as well as multi-day treks like the 3-4 day Santa Cruz hike and the 12 day Cordillera Huayhuash circuit.
*If Huaraz is on your Peru itinerary, visit after Lima as it is north of the capital.
I absolutely loved the Colca Canyon hike. You can do this in 2 or 3 days, with or without a guide. Our guide, Juanito, is one of the funniest people we met during our trip and made the hike a Peruvian highlight.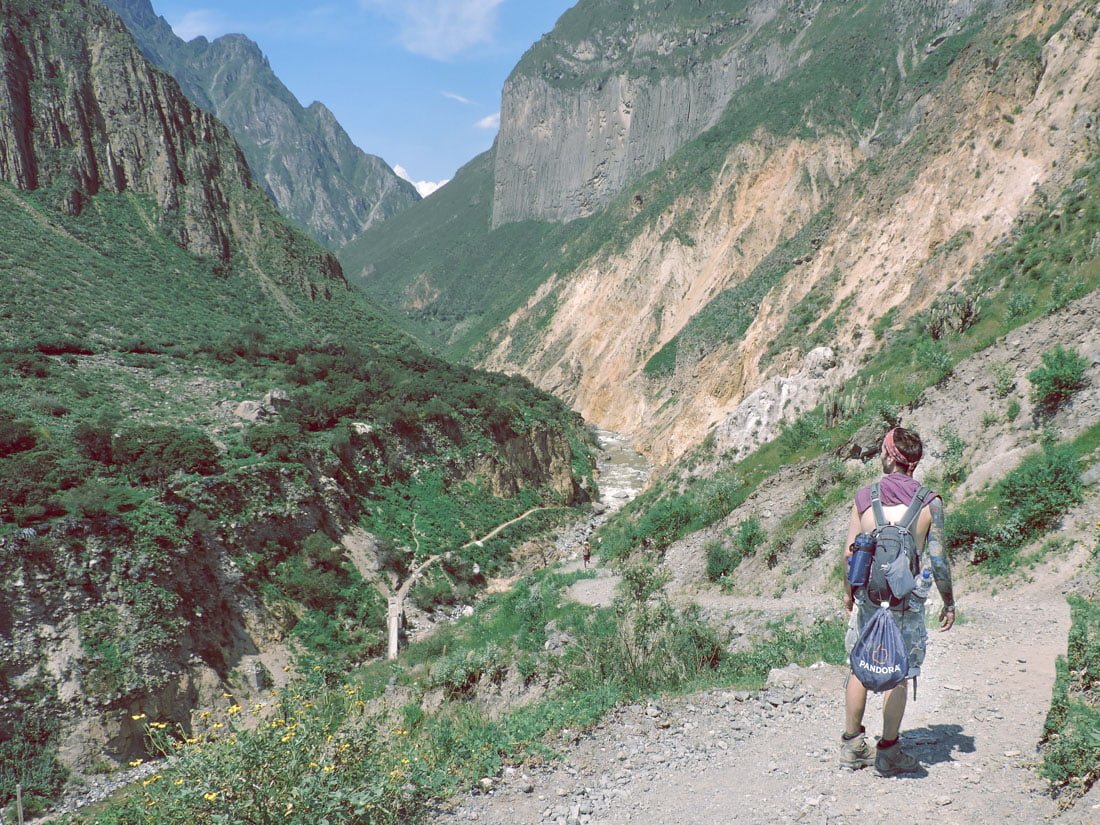 Peru Festivals
There is a festival a month around the country and warning, Peru's pisco is lethal! At the start of the year in January, Peruvians celebrate Trujillo Marinera Festival – an energic competition celebrating the marinera dance.
This festival takes place in Trujillo, north of Lima. During the first two weeks in February, Fiesta de la Candelaria takes over Puno (the gateway to Uros Floating Islands).
Thousands of dancers in costumes and musicians coordinate routines and fill the streets to celebrate The Feast in honour of Virgin of Candelaria.
Drink lovers should head to Ica for the Festival Internacional de la Vendimia/International Harvest Festival. Foodies should set their sites on Mistura Culinary Festival in September.
To finish off the year, head to Cusco for the Santuranticuy markets to buy local artisans, sculptors and religious images.

Peru Travel Advice
How much does Peru cost?
The most researched period of time for visiting Peru is a fortnight.
We actually spent a month there as we went to Spanish school in Cusco to spruce up on our survival language skills.
We worked out on average that we spent around $38 USD per person per day.
When working out how much money to take to Peru for 2 weeks I would recommend a minimum of $532 USD.
This includes two treks, mainly hostel dorm accommodation and the Full South ($199) Peru Hop bus from Lima to Cusco (you spend two nights sleeping on the bus during longer trips which save on hostel spending for that night) and eating cheap, local food for the best part of the 2 weeks.
We didn't actually drink that much in Peru so add a whack on it you like to party in the popular hostels.
Peruvian Sol is used in Peru (PEN – S/)  – click here for the best rates.
There are ATMs in most cities (but not in Huacachina), credit cards are mostly accepted (but limited to how much you can take out in Cusco).
Peruvians are not big tippers but it is appreciated if you add 10-15% for good service.
Tipping is said to be voluntary for treks to Machu Picchu but they really are not.
Please read this post to avoid the awkward situation we found ourselves in.
Accommodation in Peru
Accommodation in Peru can be relatively inexpensive. For example, hotels in Lima start at £15 / $19 whereas a dorm bed starts at £6.50 / $8.
There are over 300+ Airbnb properties in Lima which average at £69 / $87 (entire home) but are available for as low as £20 / $25.
Geography
Peru is a country of land, desert, beaches, lakes and mountains which makes it an intriguing place to visit for nature lovers and a thrilling bucket list of adventure travellers!
Less than 1% of Peru is made up of water but there is an extensive South Pacific Ocean coastline.
Peru borders Bolivia, Brazil, Chile, Colombia, and Ecuador making it a very accessible country by land and air.
You need time to acclimatise to Peru, especially if hiking or visiting Machu Picchu.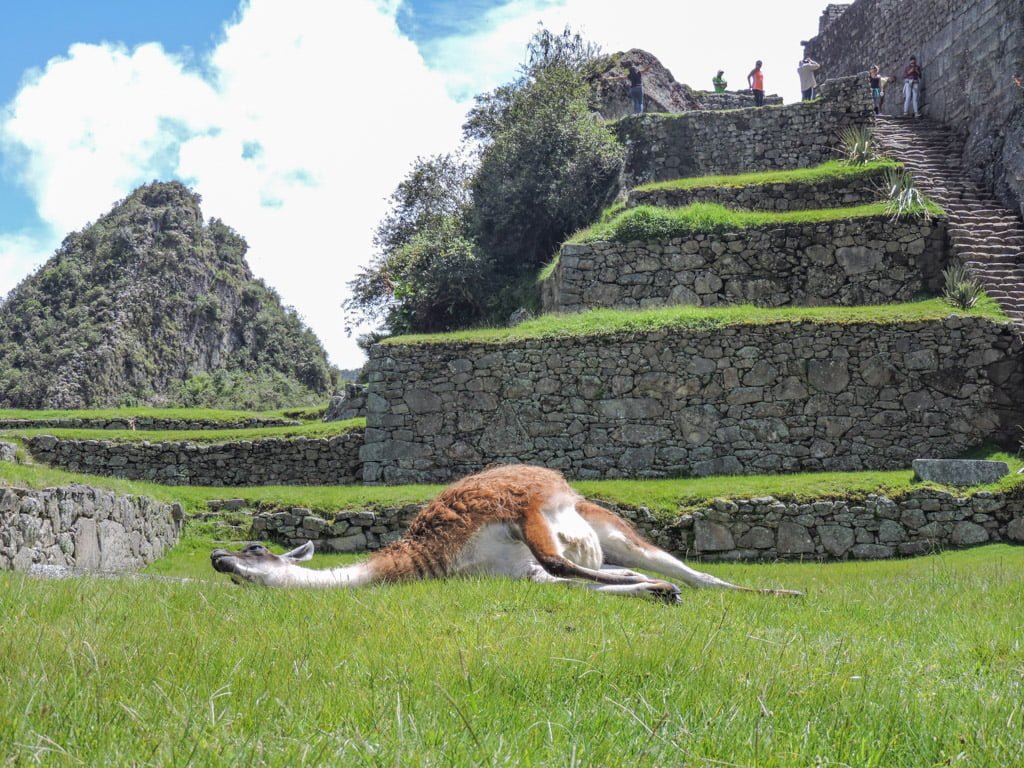 Best Time to Visit Peru
Since Peru has such a varied landscape the best time to visit differs depending on where you go. The desert is hottest from December to March and cooler from April to November.
The Andes areas should be drier and warmer June to September with rain likely December to March.
We visited in April and saw the sun from Lima all the way to Cusco where it rained every single day for two weeks so because of this it is not that easy to recommend when to visit Peru.
Transport
Peru's transport system includes buses, taxis, planes, boats, and a couple of tuk-tuks in Huacachina! We recommend the safe + fun hop-on / hop-off bus, Peru Hop and you can read our honest review here.
If you are heading to Bolivia then check out the sister company, Bolivia Hop.
Food and Drink in Peru
Peruvian food consists of meat (alpaca, llama, chicken, steak) and grains.
Peruvians eat lots of soups which include quinoa. Guinea pig and ceviche (fish cooked in lemon juice) are both popular.
Locals drink a homemade beer called Chicha and the local tipple is pisco.
For more on Peruvian food and snacks scroll to the bottom of this post.
It is not advisable to drink tap water in Peru.
We travelled with a purifying and filtering bottle. You can read our full review here.
Languages in Peru
The majority of Peruvians speak South American Spanish yet a minority speak Peruvian Quechua, the language of the Incas.
You will see locals in traditional Quecha dress in Cusco and during your trek to Machu Picchu.
Most guides speak Spanish and English and you will find lots of English-speaking ex-pats who now own hostels and businesses around the country.
You can get by without Spanish but it is rude not to try! Check out our tips on learning Spanish (from home).
FAQs
Here are the most common questions we get asked about planning a trip to Peru.
1. Do I need to book in advance?
There is a vast amount of variety when it comes to accommodation at each stop of the Peru itinerary, therefore, unless you are dead set on a place, you don't have to book months/weeks in advance but we always recommend having something booked on arrival.
If you want to hike the Inca Trail you do need to book this at least six months in advance and be cautious that tours don't hike in February.
2. Is Peru safe?
I never felt unsafe walking around Peru during the day or at night. Peru's backpacking community is popular so you are rarely without company if you want it. We met heaps of solo travellers in Peru too.
Our friends did have their laptop stolen from a Cruz del Sur local bus, we were luckier.
3. What are the Peru highlights?
Some readers get frustrated at their lack of time in Peru but honestly, don't fret.
The best places to see in Peru can be reached in a week, you may need to cut down some of the treks, surfing at the beaches and a jungle trip but that's always a reason to go back at a later date.
Peru's highlights include (from Lima) – an Islas Ballestas boat trip from Paracas (and a tour of the red beach), sandboarding/dune buggy rides at Huacachina and visiting Machu Picchu (obviously).
I was not that phased by the Uros Floating Islands (and if you read TripAdvisor reviews, you'll see many people agree). I would leave out time in Lima and prioritise a hike at the Colca Canyon instead. If you don't want to trek you can do a day tour from Arequipa.
As you can see, Peru really is an extensive country to travel around. The backpacker route is easy to navigate, the locals are accustomed to tourism and the highlights are spectacular!