This article has links to products and services we love, which we may make commission from.
The Lares Trek to Machu Picchu is one of the alternative hiking routes to the famous Inca Trail to Machu Picchu. The Inca Trail actually books up at least six months in advance and only a certain amount of passes are available each day, therefore, the Lares is a great alternative for those who are less committed to a trek date (like ourselves, Gemma and Craig). Hikers still experience hiking through Peruvian rural villages, camping at high altitude and a day at Machu Picchu with the Lares trail. The Lares and the Inca are just two ways to get to this modern wonder, in fact, there are at least 14 ways which you can read about in this extensive guide (trains, treks and tours).
Lares Trek, Peru
The Lares Trek is appealing because it is a short multi-day hike (4 days/3 nights) with only two nights camping and the third night in an Aguas Calientes/Machu Picchu Pueblo hotel. Guys, it gets really cold camping in rural Peru!
The route consists of trekking through valleys, mountains, tropical forests, up and down hills, past lakes, waterfalls and towns. Day two is the hardest, although this is not unique to the Lares trail, day two is tough on all Machu Picchu treks.
Initially, we planned to sign up for the Salkantay Trek but decided to do the Lares Trek instead because we would have been the only two people on the trip and I feared that we would throw each other off the Andes if that were the case. We were not disappointed with our change of plan.
Before You Trek to Machu Picchu – Altitude
Arrive in Cusco (there are flights from Lima and buses from other destinations such as Arequipa) at least two days before your trek to acclimatise. Do not take this warning lightly.
One member of our team was very sick with altitude sickness; she ended up with two days of flu/hangover-like symptoms and trekking via donkey taxi on day two. Her friend was fine so it impacts everyone differently.
With the Lares Trek, the highest point is 4650m (15255ft) ABOVE SEA LEVEL and it is horrendous! (Craig enjoyed it, weirdo). But then you see a 'bonito' (beautiful) lake so, like childbirth, I assume, you swiftly forget the pain. Question your fitness. You will be in a group of mixed abilities and the trek is tough.
Machu Picchu Trek Travel Insurance
Research this question: does your travel insurance company cover you at this altitude? Many others did not insure above 3000m and the treks to Machu Picchu will hit above this.
We chose True Traveller because they did insure hiking at this altitude. I actually had to claim in Vancouver (not related to high altitude or hiking!)
I had ear crystals which were making me dizzy every time I stood up. True Traveller paid out, fast. Their communication is also very efficient. Check out the best rates for your trip here.
Many people buy coca leaves to chew. Not only is it legal, but it's also recommended to help oxygen hit the blood and prevent altitude sickness.
Just remember the activator ash to go with it. We didn't chew any but drank a lot of coca tea (best served with a spoonful of 'azucarar' sugar) and opted for coca sweets bought from the supermarket for a boost while at the high heights.
Choosing a Company to Trek Machu Picchu
Two different travellers recommended Alpaca Expeditions to us. They both agreed with their ethical stance on paying porters a good wage, cheaper companies pay very poorly.
We had five glamorous assistants – a cowboy for the horses, two porters, a waiter (with a dicky bow tie outfit!), and a commis chef, plus the head chef. We were advised that the team were very professional and the food was outstanding.
I used the 'chat' function on the website and discussed our options with Bonnie, I got good vibes. However, regardless of paying a fair wage, we were still hit by a really awkward tipping situation at the end of the trek, read below to find out more.
How Much Do Machu Picchu Treks Cost?
Your trek to Machu Picchu will most likely be your biggest outlay during your Peru trip. Regardless of the advertised price (around $575/£412-$906/£650), there are other things to consider.
Firstly, to hold your place on the trek you must pay a deposit through PayPal and annoyingly there was a 5.5% charge on top of this, each! Secondly, although the remaining balance can be paid in full on arrival, in Cusco (where hikes leave) the ATMs only let you take out $200 per day.
We arrived in Cusco two days before we trekked so we had to split payment via cash and Visa card. A third hit is yet another 5.5% charge for using Visa. Infuriating for those on long-term travel trips like us.
Additional Optional Costs
Companies recognise that your trek is not the sole purpose of travelling to Peru so offer additional gear to make your hike more comfortable. You can hire walking sticks for around $15/£10, a sleeping bag for $20/£14 and an air mattress $15 (a camping mat is usually supplied). Thanks to Alpaca Expeditions for throwing these in free to cover this honest review.
Our sleeping bag was by North Face and creates a cosy cocoon! Along with the hot water bottle (this was a nice surprise for some of the team) and the llama wool blanket, I was snug as a bug. I would recommend the airbed but I never camp without one, I'm such a sleep snob.
The Hidden Cost of Machu Picchu Treks
The Alpaca Expeditions website and information sheet state that tipping your team is '100% voluntary.'
However, this is not true. We had a very awkward exchange after our last lunch with our (otherwise excellent) guide as we attempted to hand over our collective tip, he stated that this was only the 'minimum recommendation' and we could pay more. Alpaca recommend 60 soles per porter (£13), we assumed the commis chef was in this category and 150 soles (£33) for the chef (the food is immense).
This worked out at 65 soles (£14) per person. This put one couple over budget so they put in 30 soles less. The guide's dissatisfaction put a bit of a downer on the lunch for a while.
Another member of the group later added more money to the pot. I think it needs to be made much clearer to travellers on a tight budget that the tip is expected so they can factor in this cost. If the suggested amount isn't enough, a higher amount must be made clear.
I also feel the suggested collective tip isn't a good idea because all travellers have a different budget and affordability varies. It was unfair on the nominated member of our group who had to take the flak whilst handing over our "voluntary" gratuity.
Craig believes there is a misconception that travellers are all very wealthy when in reality we all work hard (two years in our case) to pay for the trip. He thinks this stereotype needs to be tackled.
I've heard from friends who did the Inca Trail with another company that they suffered the same tipping situation.
We took part in the three days/two night Colca Canyon trek and there was no discussion on tipping (in writing or verbally) so the same can't be said for all Peru treks just the Machu Picchu hiking tours.
The briefing: Lares Trek to Machu Picchu
6pm, the night before our trek, at Alpaca Expeditions headquarters we met with our guide, Sibi (Savy) and our companions for the next four days.
Sibi mapped out the plan and gave us advice on what to bring (pack your swimwear in your day bag for the baths!) Unpleasantly, he mentioned the 'tipping' recommendations that we had read about on the information sheet so already the expectation was becoming clear.
We were given a duffel bag and plastic bags to pack our clothes in along with a day bag cover and poncho, both of which became essentials.
I highly recommend taking a good quality foldaway coat like my Marmot Precip US / UK as it rains, a lot.
A down, puffy coat like my Rab Alpine USA / UK is also a good idea for the colder nights.
You can pick up a hat at the market in Cusco before you hike.
Day 1: Cusco – Lares Hot Springs – Cuncani
Bleary-eyed, Sibi and the Alpaca crew picked us up from Kokopelli at 04:45. He gave us a llama wool blanket and told us to sleep. With one market stop (where you can buy snacks and toys to give to the local children at your campsite on day one) we arrived at Lares Hot Springs.
The Alpaca staff, all dressed in impressive 'green machine' uniforms set up a breakfast fit for a king, served in a tent. We ate bread with jam and butter as well as eggs and drank hot drinks.
We were also given snacks (a chocolate bar and banana) for the morning trek. Some of us went for a post-breakfast dip, the water was gorgeous (and not the hottest of the many pools), and then set off for our day one of trekking at 10am at 3100m above sea level.
Personally, Craig and I found the day one trail a doddle. The weather was dreary, the ponchos were useful but, for us, the waiting in the rain for some of the group to catch up was a challenge. The only other issue you may encounter at this stage is down to poorly worn-in walking boots.
For any hike abroad, don't let poor footwear choice let you down or forget to get the shoes moulded to your feet before you go!
I actually hike in Salomon trek shoes US / UK which are great for packing as they are lighter than boots.
after a previous hiking trip killing my Achilles heels.
I always pack Leukotape US / UK for my ankles too – cheap and stops blisters happening. Read more on our trek footwear choices.
The day picked up when we arrived for lunch. The Green Machine clapped on our arrival and we couldn't believe the setup.
A toilet (yes!) tent, our dining room tent, a plastic mat for our bags and soap with water bowls for us to wash our hands. Lunch always consisted of soups, bread, meats and veg.
At every meal, we were spoiled by content and presentation. Although the porter boil the water for consumption during meals, it's wise to carry a filter bottle like this Water To Go [quote TSA15 at checkout for 15% off] one.
The afternoon trek concluded with meeting some of the local children. Sibi was like the 'pan' (bread) man; kids came running in their colourful dresses and ponchos to see what was on offer. Some of the group brought them gifts too.
Our arrival at camp was even more impressive than lunch, in addition to the toilet and dining room tent, our night tents were all set up with the mats, sleeping bags and blankets.
Our duffel bags were all laid out for collection too. We snacked on popcorn, empanada (llama cheese ones, delicioso!) and hot drinks then we were called outside.
You might want to consider packing some flipflops like Havainas to rest your feet at the camp.
About thirty of the local kids were sitting in the field (the land actually belongs to one of the porters) being served hot chocolate and bread.
Some snatched, some showed gratitude, usual kid behaviour. One of the little characters saw that a traveller was handing out presents. She conversed with Sibi who gave her another piece of bread but she was not happy with that. She wanted toys!
Then they all skipped off home to share the excess hot chocolate with their siblings and parents. It was refreshing to hear that they all go to school here. At night we dined on a platter of everything.
Sibi told us the plan for day two and we were in bed by 9pm (with a hot water bottle – The Green Machine treated us embarrassingly well).
Day 2: Huacawasi – Condor Pass – Quenayoc
The ascent! We trekked from 7am (wake up call with coca tea 5am then breakfast fit for kings again, PANCAKES) until 11am with ease. The ponchos were on and off then on again.
The horse collected one of the team members who was suffering horrific altitude sickness (she felt like she was being forced to walk with the worst hangover or flu), none of Sibi's magic potions or lotions could lift the pain.
The horse was in demand! It also collected a second member to help her along the way. The remaining five were feeling smug – we'd made it to the top.
We found a rucksack with an Alpaca cover on it, must be a signal that we had made it? How wrong we were!
The next 35 minutes were horrible. We began the true ascent. Craig ran up (as usual), I felt like I was walking in space. I couldn't take more than two steps without the feeling that my breath was being stolen from me. It didn't help that it was so misty, another teammate, Steph, said she thought she was going to meet her maker! Sibi encouraged us all the way.
Then it began to snow. Luckily we had made it to the top where we were unexpectedly greeted with coca tea and a cheese sandwich by one of the porters.
Hero!
Do you like a challenge? Check out this guide to the Inca Jungle trek to Machu Picchu.
Once we'd regrouped we began the descent, all the hard work was worth it because our next lunch stop looked like this…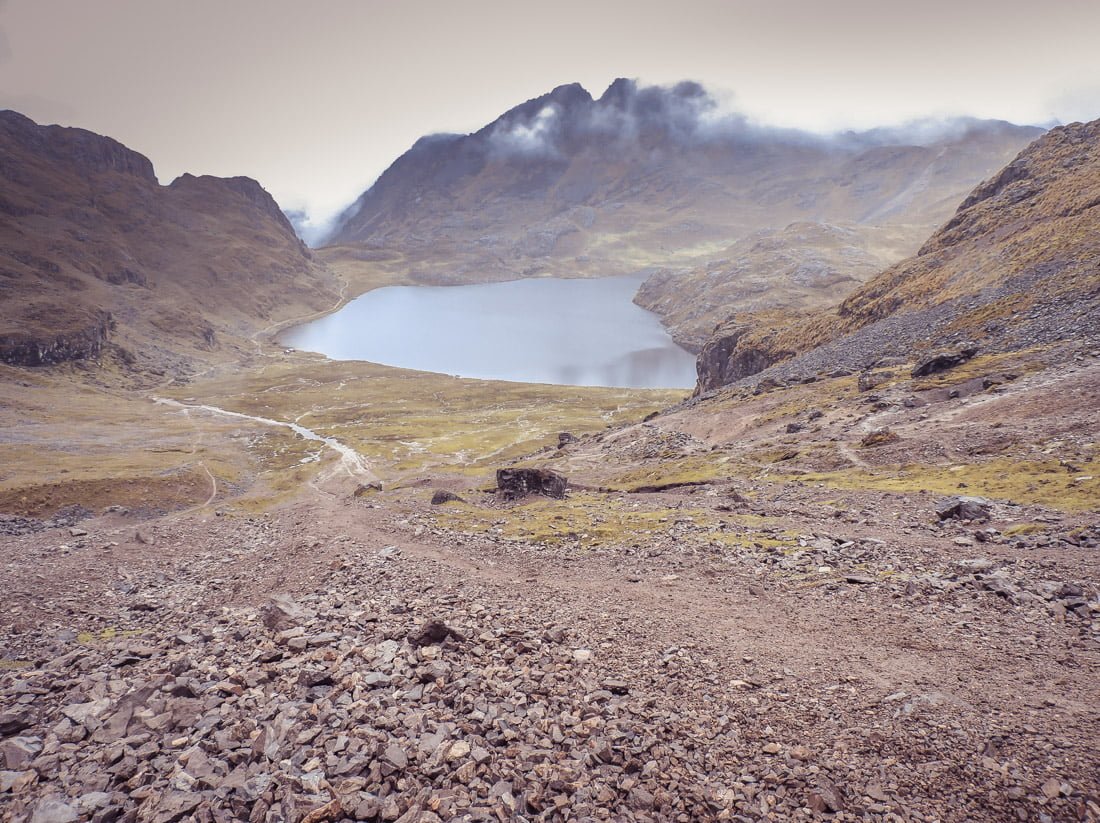 One of the group lost colour and looked faint. Sibi ran to base for the oxygen but she pulled through. Day two must be a challenge frequently as The Green Machine had set up a 'sleeping tent'.
As per usual we overate (just couldn't say no to the chicken, pasta, bread or veg!) then waddled off into what could only be described as… Scotland!
After we arrived at camp, everyone took a siesta. A few of us made it up at 17:30 for snacks and chats with Sibi. I liked how passionate he was about his country and the positivity he showed for the company and the treatment of its employees.
Cena (dinner) arrived and the last supper did not disappoint.
The chef baked us a cake! Seriously, I can't bake a cake in a kitchen with gas and electricity at sea level never mind on a mountain with a stove. Absolute genius.
Day 3: Quenayoc – Pumahuacuanca – Ollantaytambo – Aguas Calientes
Day three is a breeze. We were allowed a long lie (6am coca call), ate an omelette and the best apple pie I've ever tasted for breakfast. We then trekked with a short ascent then an easy descent down to 2800m.
The walk only took 3.5 hours before we were lunching again. Once 'tipgate' was resolved we said goodbye to the immense Green Machine who rewarded us with an Alpaca Expeditions t-shirt.
Next, we bussed to Ollantaytambo.
The cute cobbled town is shadowed by many Inca terraces, some of which are still used for crops today. Sibi gave us a tour of the town and showed us how chicha (an alcoholic beverage) is downed (not suitable for gringos?) If you see a house with a red flag outside it, this indicates chicha (a kind of beer) is being served.
I've tasted the non-alcoholic version, chica morada, (ok to drink in cities), which was lush – this one didn't look that inviting. The next stage of our tour to Machu Picchu is the train to Aguas Calientes.
The train to Machu Picchu Pueblo (also called Aguas Calientes) from Ollantaytambo takes 1.5 hours and Inca Rail serves a free beverage and snack which is a nice touch.
The journey follows the tropical forest and the Amazon River to the destination. On arrival at the hotel, we took a much needed hot shower and then dined together (all of this was included in the price of the trek).
Day 4: Machu Picchu
Machu Picchu day! Ready to see the 7th modern wonder of the world?
The 5am wake up was draining but worth it. We were up and out for 06:45 but back at the hostel by 7am as Craig forgot our passports. No passports, no entry to Machu Picchu! After the blip, we met the rest of the group and Sibi took us to the perfect photo opportunity spot.
It is difficult to comprehend that people made this city with their hands in the 15th century. The architecture and craftsmanship of the houses, terraces and temples are neat yet striking.
The Inca peoples ingenuity and relationship with nature served them well.
It's sad to see that conflict (invading conquistadors) drove them out and disease killed the skill off and it's easy to understand why the Incas are proud of their heritage.
Sibi's three-hour tour of the city was extensive (the trip to Cusco's Planetarium had given us a sound base knowledge of the Inca culture, recommended), afterwards we had free time to explore and then make our own way back to Machu Picchu Pueblo for 2pm.
It really wasn't our day, the llama wouldn't get a selfie with us (Steph's picture was a banger), Craig smashed his iPhone screen, I lost my ticket (the nice office employees printed me another) and the bus back to town was going to cost us 80 soles / £17 each.
So we decided to take advantage of our misfortune and the one hour of sunshine to trek the path back to Machu Picchu Pueblo. The stairs took 35 mins then the ascent (seriously, another hill?!) 25 mins.
After a pizza (20 soles / £4 each) and a glance at the market, it was time for the train back to Ollantaytambo where Sibi and the Alpaca van collected us and dropped us back off where it all began in Cusco (near but not at our hostel).
It's always really sad to break up the 'family' at the end of trips. You get comfortable with your team and it's refreshing to speak to other people (no offence Craig)!
The four-day trek was exceptional and the weather did not drown our spirits. We had some of the best food that we have tasted in Peru, hats off to The Green Machine. Read this alternative viewpoint – why I hate Machu Picchu.
Alpaca Expeditions Review
Alpaca Expeditions were recommended by two other travellers because of their fair wages and treatment of locals. They are not the cheapest or the most expensive but they do cater for their mostly Western guests well and make the two nights of camping as comfortable as they can be.
The only dampener is the whole tip situation because it doesn't quite add up with the perception that they treat their workers well. If they do, why is on the travellers who are spending a large part of their budget on the trek to Machu Picchu to bump it up?
The additional charges through PayPal and Visa are also a sting since our daily budget for this trip was £45 per day (for two).
Was the Lares Trek to Machu Picchu hard? Not really. Was it worth it? Yes! Was it my favourite Peruvian hike? No! The Colca Canyon was! Be safe fellow travel lovers, remember to acclimatise before you arrive in Cusco and be armed with quality coverage travel insurance (check quotes here).

Are you going? Questions? Fire away…
Have you been? What was your experience like?