You've picked the right country! Peru is safe, developed, and boasts every type of terrain possible. Three weeks in this South American country is ample time to soak up the Peruvian culture without feeling rushed. Here is an extensive three weeks in Peru itinerary (which can be reduced or extended).
Three Weeks in Peru Itinerary – The Route
Lima
Most travellers fly into the capital, Lima. If you have one night, stay in Miraflores, it's very touristy but has everything on your doorstep – food markets (America's embassies – McDonalds etc), clothes shops, bars (Tenerife strip style), and an amazing view of the beach. The Larcomar has a complex of more upmarket shops and restaurants as well as a cinema and bowling alley. The sunset is not to be missed from this spot.
If you have more than one night in Lima, stay in the trendy area of Barranco. Cute coloured buildings, art, and microbreweries!
Recommended nights: 3 nights maximum in Lima is required. Taxi Green from the airport to Miraflores will cost around S/.50 (£11 / US$17)
Lima to Paracas: Approximately 3 – 4 hours
Lima to Màncora (see below): 17 – 19 hours (1 hour 45 minute flight approximately £225.00 / $339)
Read about our 3 nights in Lima: Lima and Lima on Bikes
Miraflores, Lima
Paracas (and Isla Ballestas)
Paracas is a small beach town approximately four hours from Lima. It is the gateway to Isla Ballestas,  'the poor man's Galapagos Island.' By speedboat (not fancy cabin boats, take layers to wrap up), you can see Humboldt penguins, seals, sea lions, and birds. Isla Ballestas has its very own Nazca Lines called Candelabra Geoglyph, 150m high and 50m wide. A must see addition to your Peru Itinerary.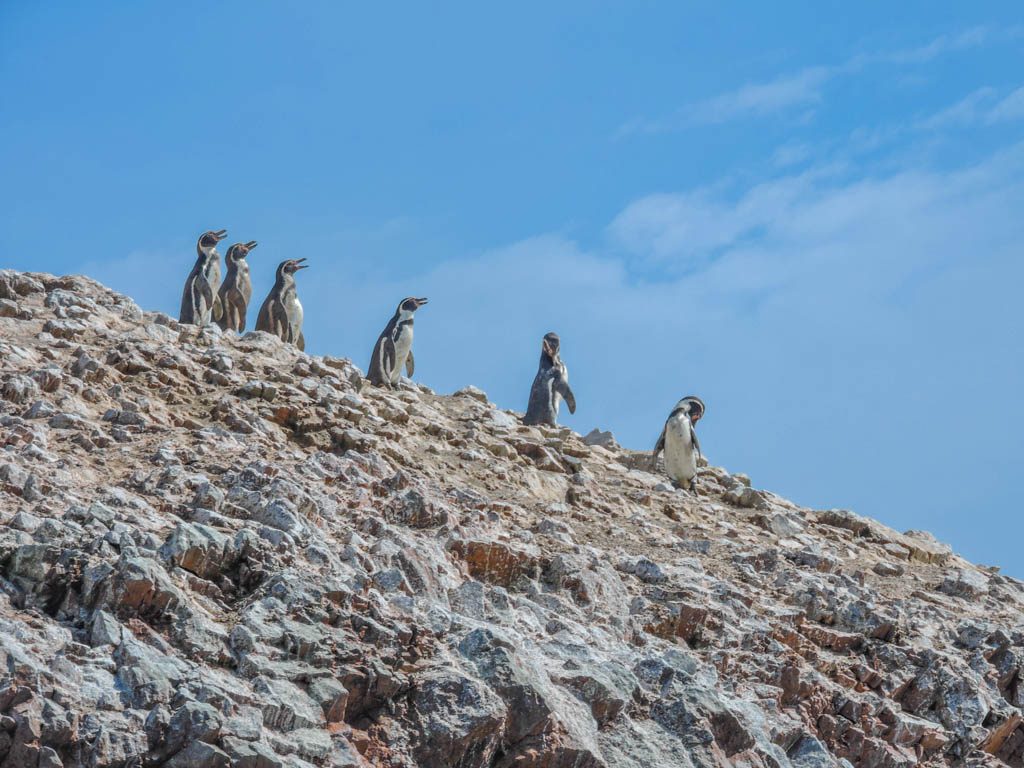 Isla Ballestas – Cute Penguins 

Nazca Lines
Man made or aliens?! The burning question that lies with Peru's Nazca Lines. Budget travellers can see the Lines from the viewing platform for a couple of soles. For those who truly believe, there are numerous companies which offer helicopter rides over the twelve Nazca Lines (prices from £66 / $100 for a 30 minute ride).
Recommended nights: In & out unless taking a 'copter ride, you'll need to stay overnight
Nazca Lines to Ica (Huacachina): 2 – 3 hours
Huacachina
Ever partied in a lagoon? Huacachina is where it is at. A small (party?) town surrounded by large sand dunes, itching for you to board (or ski!) down. There is a plethora of companies looking to take you to the dunes but for the authentic experience choose one which offers appropriate gear (authentic boards and boots) and the opportunity to ski. Mode of transport? Buggies! Huacachina is a fun place to spend a weekend if you want to relax by the pool (Bananas Hostel) or have some drinks.
The next town is Ica, there you will find banks, supermarkets, restaurants, and shops. It's a short tuk tuk ride away (approximately 15 minutes, 4-5 soles / 80p).
Recommended nights: Max. 3 nights. 1 or 2 nights if only interested in sandboarding
Huacachina (Ica) – Arequipa: approximately 12 hours (overnight available)
Why we didn't sandboard in Huacachina…
Huacachina and Sandboarding and Sand-Skiing in Peru
Huacachina, not a mirage – get your skies ready 
Arequipa
Arequipa (Are-eh-keepah), The White City and gateway to the Colca Canyon is a city like no other. Peru's second most populated city is surrounded by three dormant volcanoes, El Misti, Chachani, and Pichu Pichu. The 'free' walking tour, run by students (pay by tip, which is typical in South American cities) is extensive and recommended. Grab a jugo (juice) from San Camilo Market (The Witches Market) then get a good night's sleep for your early rise to the Colca Canyon.
Recommended nights: 4 nights if hiking the Colca Canyon (1 night before and 1 after). 2 nights if not
Arequipa – Colca Canyon: Approximately 3 hours
Can you believe we saw this in the Witches Market? Things to do in Aerquipa
 Arequipa – The White City
Colca Canyon
You are researching a trip to Peru so it is highly likely that you have either secured your place on the Inca Trail to Machu Picchu or you are deciding between one of the alternative treks to the seventh modern wonder of the world. Stop right there! Consider this – two or three day hike down into the world's second deepest canyon (3,400m), a sound sleep in the canyon, and then a steep climb out! Colca Canyon trek is often overlooked and shouldn't be. Watch condors swoop overheard, sip soup in a local's home, and feel self satisfaction as you make it to the top! Hiking is a great for keeping fit while travelling, add to your Peru trip itinerary to combat the backpacker's belly!
Colca Canyon Hike
Cusco
Another overnighter to the cobbled streets of Cusco. Many travellers get sucked in by Cusco's beauty and the simplicity of the city.
This is where you will begin the trek to Machu Picchu (Inca, Salkatanky, Lares or Jungle Trek – anywhere from £199 – £332 + /$300 – $500 +). It is vital that you spend some time acclimatising before you begin your trek or you run the risk of suffering from altitude sickness. It is also advised that you select a travel insurer which allows you to climb to the heights stipulated in your trek guidelines (for example, the Lares Trek reaches highs of 4650m /15255ft above sea level). We shopped with True Traveller because of their coverage. Don't miss this post on 14 ways to get to Machu Picchu.
Hiking not your thing? The train to Machu Picchu leaves and returns to Cusco (£33 / £78 – $50 / 120 one way). Do stop in the archaeological site town of Ollantaytambo, if you have time! Machu Picchu is not the only day trip.
It is easy to spend a fortnight in Cusco if you are looking to attend Spanish school (and a homestay to practice what you are taught). For space geeks, Cusco has its own family run planetarium!
Puno
A small town which is very much a 'normal town' in Peru but has a port where boats take travellers to The Floating Islands of Uros. These are reef (also know ask totora) island inhibited by The Uros people on Lake Titicaca. The half day trip from Puno is a wonder to behold but may be looked upon as 'touristy'. If you are looking for a more authentic experience to add to your Peru travel itineray, why not stay on Taquile Island with a local Peruvian family? Many of the women on the island only speak Quecha but some of the men and children can converse in Spanish (even if yours is broken Spanish!) There are no cars on on Taquile Island, life is simple and traditional. Ask about the environmentally friendly, Chukjo! For a less authentic but still different experience try a homestay on Amantaní Island. Both islands can be reached by boat, however this must be booked through an organised tour (approximately 85 soles / £ 17.72 / $26.68 each).
Recommended nights: With homestay: 3 nights (1 night on the island) / without homestay: 1 night.
Cusco to Puno: Approximately 8 hours.
Read about our night without WiFi! Puno and Taquile Island
Uros Floating Islands 
Taquile Island
The Jungle in Peru
Over half of Peru is jungle! This country really has it all. Peru shares The Amazon with Colombia, Ecuador, and Brazil, there are many indigenous tribes still living in the Peruvian rainforest and a variety of animals call this region home too. The city of Cusco is the best entry point for travellers looking to spend time in the jungle and there are many companies who sell trips. Please do some research on the ethics of companies, there are stories of mistreatment of animals by some companies. If there is a guide holding a snake in an advertisement photo, give that trip a wide berth! There are lots of options depending on budget and wants.
Puerto Maldonado is accessed by air and road which is the base for Madre de Dios (Reserva Nacional Tambopata and the Parque Nacional Bahuaja-Sonene) and deemed the best place to go to visit wild life by Rough Guide.
Cheaper options may include taking a bus from Cusco via Ollantaytambo to Quillabamba where lots of travellers go to do white water rafting on the Río Urubamba.
There are options from Lima too. According to Go2Peru, Iquitos is the world's largest city that cannot be reached by road! Iquitos can be reached by plane, LAN, Peruvian Airlines, and Star Peru fly daily. There are day or multi – day trips to the Amazon to suit every budget and can be booked before your reach Iquitos for whilst you are there. Naturally, there are lots of scams so choose your company wisely. It is cheaper to go to the rainforest via Bolivia, this is what we intended to do so skipped it in Peru.
Recommended nights stay: Depends on excursions
Cusco to Puerto Maldonado: Approximately 1 hour flight
Cusco to Quillabamba: Approximately 3.5 hour bus ride
Lima to Iquitos: Approximately 2 hour flight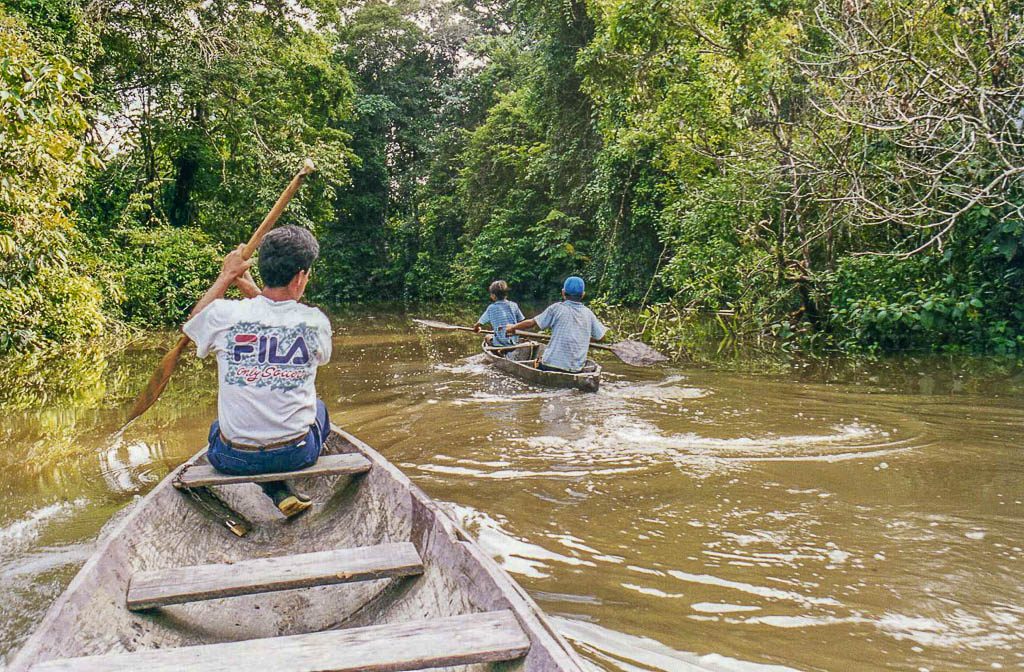 Iquitos Leonora (Ellie) Enking I Flickr CC BY 2.0
Huaraz Hikes
Huaraz is small town known as the hotbed for Peruvian hikes. This high altitude town (3000m absl) is a base for many backpackers who are planning 1 day and multi-day treks around Peru's Andes Mountain Range. The best time to visit is typically June when there is little rainfall or snow. Popular hikes include the 1 day trek to Laguna 69 / Lake 69 (that Canadian blue!), 1 day Paron Lake, 3-4 day Santa Cruz hike (best views of the peaks of the Cordillera Blanca) or the 12 day Cordillera Huayhuash circuit. It is advised that you do two 1 day hikes (or more) to help acclimatise before attempting the multi-day Peru treks. Highs can reach 5000m absl.
Recommended nights stay: this really depends on what treks your are doing
Lima to Huaraz – 8 hours by bus (Cruz del Sur, Movil Tours and Oltursa) or 50 min flight with LC Peru (max 15kg in hold / 5 kg cabin)
*If Huaraz is on your Peru itinerary, I would suggest to visit after Lima as it is north of the capital. I am very disappointed that we missed this out. But do check out Jon is Traveling's experience of his trek to Laguna 60.
Laguna 69 I Jon Is Travelling
Màncora
North of Lima you'll find the Piura Region and a coast of beaches where travellers go to party. Not a bucket list option for many travellers who have previously spent a month on the Colombian coast but an option for those looking to chill out (in what some critics say, not the cleanest of beaches), surf (South Beach), or dive (Vichayito Beach).
*If Màncora is on your itinerary, I would suggest you visit there before moving further south. I'm not disappointed we missed this, we never actually met anyone who had Màncora on their Peruvian itinerary.
Recommended nights stay: Depends on how much partying / beach time you'd like
Lima to Màncora: 17 – 19 hours (1 hour 45 minute flight / approximately £225.00 / $339)
Mancora Surfers – Sofia Mulanovich I Flickr CC BY 2.0
Our Three Week Peru Itinerary
Craig and I spent one month in Peru in March / April, taking one week out to attend Spanish school in Cusco. We flew in to Lima from Austin (we are from Scotland but started our long term travel itinerary from New Orleans then Austin for the music festival South by Southwest). After three nights in Lima we took the Peru Hop bus to
Paracas / Isla Bellestas (nature / one night)
Huacachina (sandboarding / three nights) with a trip to the bank in Ica
Arequipa and Colca Canyon (stunning hike / 5 nights)
Cusco (Machu Picchu / two weeks including one week at school)
Puno and Taquile Island (this island is silent / three nights) then Bolivia (two and a half weeks)
Playa Roja near Ica
The Best Time to Go to Peru
Peru's weather is best measured by the 'dry' and 'wet' season as opposed to summer and winter. May – October is essentially the dry season which results in more tourists. However, nights can still be cold, especially for those who are in Peru to trek. November through to April fall into the 'wet' season. This is subject to change as Peru is seeing the effects of the weather phenomenon, El Niño. Inca Trail is not available in February of each year for annual clean up.
Currency in Peru
Peruvians use the Peruvian Nuevo Sol or soles. The exchange rate for UK citizens is 20p to 1 sole (at time of writing). ATMs in Cusco have a maximum withdrawal which can be problematic when settling bills for treks to Machu Piccu. Expect a 5.5% charge when using Visa. Bargaining in markets is acceptable but not always successful!
Getting to Peru
Most of the larger city airports have flights to Lima.
UK citizens do not require a visa to enter Peru and should be granted six months on their 'little white sheet' at immigration. This is not always the case when you arrive at immigration. Keep the immigration information ('little white sheet') with your passport as you need it to leave the country.
Pin to your Peru inspiration Pinterest board (hovering over photo)
Getting Around Peru
Cruz de Sur is popular but is simply a bus company, no tours or information offered. Internal flights will connect Lima with Arequipa and Cusco but again, remember to give yourself time to acclimatise when arriving in Cusco. There is an efficient and safe hop on / off bus service called Peru Hop. It is aimed at travellers (although we did meet people of all ages on the bus, including a 9 month old baby!)
Hop on / off bus – Peru Hop
Accommodation In Peru
Hostels are your main sleeping option. Prices vary depending on where you are. For examples in Lima, a dorm bed may cost £5.50 to £12 where as in Huacachina you will find one for £5/6. Homestays are popular in Cusco for those looking to work on their Spanish (although cheaper in Sucre, Bolivia if heading that way).
Food and Restaurants in Peru
Desayuno (or breakfast to us), typically consists of pan (white bread roll), butter and jam, with hot drinks. If you are lucky you may get huevos (eggs) and / fruit salad. You will be bored of pan by the end of your trip.
Peru's famous cuisine is ceviche – raw white fish, cooked in strong lemon juice served with cold sweet potato, corn, and cilantro (coriander). Locals tend to eat this late morning. I tried it twice, once in Lima and then Paracas (a beach town).
You'll find lots of different types of every day meats and the addition of alpaca (heavy like lamb), llama (lighter), and cuy – guinea pig! Fish, especially trout, is popular around Uros, The Floating Islands region.
Chifa is Chinese food with a Peruvian fusion, or just Chinese food really!
Western food can be found in most towns and cities (including the 'American embassies' in the big cities).
Set menus are a good way to get your fill cheaply. In Cusco, you can eat a two course meal for 10-20 soles. The soups are the best in Peru. They make great use of quino, my favourite sopa!
Dulce de leche, the Peruvian Nutella! It's toffee not chocolate, rico (tasty)!
Restaurant article – from cheap to a bit less cheap: Food in Cusco
Ceviche – fish, sweet potato, sweetcorn, onion, corriander 
Peruvian Snacks
You'll get all your normal fruits in Peru, they are just bigger and tastier! New editions include Granadilla which gives you the sensation you are sucking frog spawn but it is delicious and refreshing. Corn is very popular, you'll find lots of vendors selling popcorn.
Tasty Granadilla
Peruvian Drink
Pisco Sour! The Peruvian sweetheart! Pisco is the national drink, add lemon juice, raw egg, and sugar to it then tadah – a Pisco Sour. Fuerty (strong).
Each region has local beers for cheap. Cerveza (beer) is very popular and cheap. Pilsen, Cristal, and Arequipeña are a few labels to look out for.
Chicha! The locally brewed corn drink, not for gringo consumption our tour guide warned us. Still up for it? Look out for the red flag outside people's houses or shops, this indicates it is on sale.
Coca tea. Helps with altitude. You'll drink heaps of this in either leave form (add sugar) or teabag. Locals chew on it for energy.
Muna is delicious. Drink with hot water, like a tea, to help with digestion.
Coca Leaves – Altitude Relief?
It's easy to see how three weeks in Peru can be extended or merged into a quick trip by picking what you feel would be the highlights from above. I hope that you find this Peru three week itinerary useful, let me know in the comments below!
Over to you – any other suggestions / questions?
What do you think of our other posts on Peru?
Like that? Check these -->