After the ease of travelling through Peru with Peru Hop, it made sense to utilise its younger sister company, Bolivia Hop, for the next leg of our 18 month career break to travel the Americas. We'd heard horror stories about getting between the two countries but crossing the border with Bolivia Hop was a breeze.
Is Crossing the Border With Bolivia Hop For You?
Bolivia Hop does what it says on the tin. You hop on in Cusco, Peru (at 21:30, office is on 172 Meson La Estrella) and hop off in Bolivia. You have a choice of two stops on the way to La Paz. The first stop is Puno (6am), the gateway to The Uros Floating Islands; Amantani Island and the less touristy, Taquile Island. The price of Bolivia Hop varies…
Uros Floating Islands
…but the most popular option includes a tour to one of Peru's floating islands (you'll be in your Puno hostel by 9am!) Like Peru Hop, they can help you out with booking a hostel and ordering food on the long distance journeys. If you want to head straight to Bolivia, no probs, just hop back on after the island tour.
The second stop is at Copacabana. Craig and I never stayed over night here and slightly regretted it as the sun was out and the small town has lots of rooftop bars and Isla de Sol is only a one hour boat journey. Luckily for us Bolivia Hop had factored in a trip to the beautiful island in its itinerary, which meant we did not miss out on the easy one hour trek around the island. And you get a free beer on the boat!
Peru / Bolivia Immigration
Before you reach Copacabana you have to cross the border between Peru and Bolivia. Will and Connor (owners of The Hop) will sort you out with a white sheet from border control before you get on the bus in Cusco. If like me, you lose it, your guide can hook you up with another. At the border you get off one bus; have the opportunity to change currency (we changed 40 soles for 80 bs, ripped off by 5 soles) then toddle up to the first immigration office where Peru officials remove your white immigration sheet which you received when you entered Peru from you passport (if you have lost this, you must pay a fine at the border).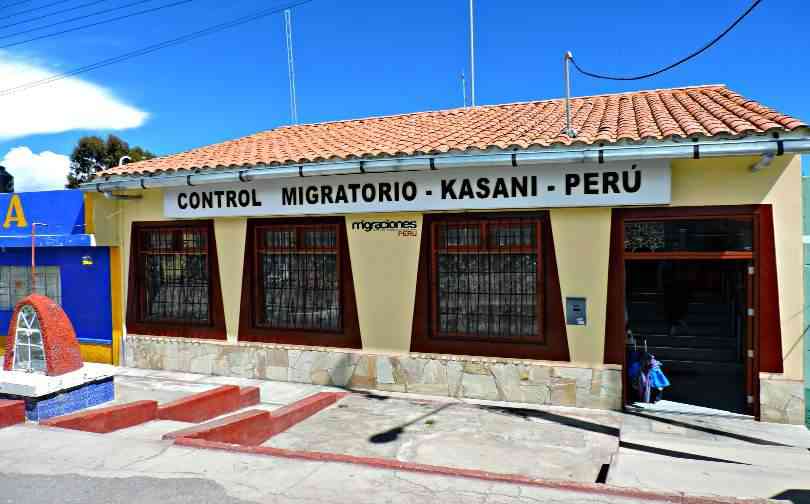 Next up, say goodbye to Peru (or Bolivia depending on which way you are going) and cross the border by foot. You'll find Bolivia's immigration office to your left (Peru's on your right). Will, Connor or your guide will be there telling you the same thing over and over because no one listens (I couldn't do their job!) Show your passport to the immigration officials and return the white sheet you filled out in Cusco, collect a green sheet and fill it in.
Return the green sheet and you'll get another piece of paper with a stamp for 30 days (regardless of being allowed in the country for 90 days, if staying longer, you'll need to do a border run). Keep this immigration paper with your passport like the one you received when you entered Peru. If you are coming from Bolivia just reverse this information. Americans have it tighter. You guys need to pay $135, have your yellow fever card and all relevant forms filled out. An Israeli in our group did not have a bank statement and had to go to another town to sort that out so make sure you read up on your country's rules with Bolivia / Peru.
You are now 15 minutes from lunch in Copacabana and the boat ride to Isla de Sol!
Cccc.. Copacabana
Everyone must get the 16:30 boat back to land; the bus picks you up and drives you to another port about twenty minutes down the road. Now this is interesting. Grab a duvet from the bus, hop on the small motorboat and watch in disbelief as the bus drives on to a float and is pulled (we assume!) over Lake Titicaca.
Bolivia Hop in La Paz
The bus then drives for another four hours (film included, we watched Selma, thought-provoking) whilst you chat with new Hop pals or snooze in prep for the party at The Wild Rover in La Paz. Hanging around in La Paz like we did? Check out our guide on where to stay, where to eat, and what to do! Heading straight to the Salt Flats? We've got you covered.
Are you a Hopster? Tell us your stories
Thanks to Connor and Will for working with us (again). Can you set up Colombia Hop by May 15th? Many thanks…