This article has links to products and services we love, which we may make commission from.
Looking for a safe way to cross the border between Peru and Bolivia? Bolivia Hop is a hop on/off bus service aimed at travellers looking to travel between Puno and La Paz without missing the highlights. Visit Puno, Lake Titicaca, Uros Floating Islands and Copacabana's Isla del Sol before arriving at one of the highest cities in the world, La Paz, Bolivia's capital! Short on time? Choose the direct route. This is an honest Bolivia Hop review, sharing our experience using this popular Puno to La Paz bus.
---
» Travelling around Peru too? Read our Peru Hop guide too
---
What is Bolivia Hop?
Similar to the wildly notorious backpacker buses in Australia and New Zealand, Bolivia Hop collects visitors in Peru and Bolivia at specified locations in each country and drops them off at an end destination.
Unlike the Australian and Kiwi hop on/off buses, Bolivia Hop is not a party bus.
Customers can choose between a direct route bus pass between the neighbouring countries or a pass which gives them the freedom to hop off at destinations which interest them.
It's not just a mode of transport though.
Bolivia Hop buses have a local guide on board to help make your adventure run as smoothly as possible.
They take the hassle out of immigration at the border, give you local tips and discount on associated accommodation if you want it.
Prefer to do things independently? No pressure!
Another aspect we enjoyed about the experience is the people you meet on the bus.
The Bolivia bus also acts as a bed. There will be time spent overnight sleeping on the semi-reclining seats.
You'll get used to this if you are spending time in South America on a budget!
Bolivia Hop also saves on taxis fares with its drop off service at its recommended accommodation.
Who is Bolivia Hop For?
While the majority of customers booking Bolivia Hop are backpackers aged 25-35 years old, the ride is not solely aimed at them.
It's perfect for solo travellers looking to meet some company leaving Peru and moving onto Bolivia or vice versa.
We used the service as a couple and did not feel awkward at all. We booked a private room instead of a dorm in Puno and La Paz.
Can children use Bolivia Hop? Families are welcome to book a ticket with Bolivia.
We did an overnight leg with a couple and a six-month-old baby. Not a peep from baby Hendrix thankfully!
What about mature visitors. If you enjoy group travel then yes, Bolivia Hop is for you too.
Bolivia Hop Tickets and Passes
There are a variety of options when it comes to the Bolivia hop tickets which are great for working arount your itinerary and budget.
The cheapest options are the most direct route from Cusco to La Paz or La Paz to Cusco.
This journey includes:
Cusco to La Paz
Evening pickup at Peru Hop office in Cusco, Peru
Puno and boat across Lake Titicaca/Uros Floating Islands in Peru
Puno to Copacabana on the border
Copacabana and beautiful Isla del Sol
Copacabana to La Paz in Bolivia
---
» You may also like | 21 unmissable things to do in Cusco
---

La Paz to Cusco
Early morning pickup at a central point in La Paz in Bolivia
La Paz to Copacabana on the border
Copacabana and beautiful Isla del Sol in Bolivia
Copacabana to Cusco in Peru
The passes then increase in price as the number of days increases so if you want to spend the night in Puno or Copacabana you can.
Very flexible yet still offers support and safety.
For example, we hopped on at Cusco, drove through the night arriving at Puno very early in the morning.
We did the boat tour on Lake Titicaca and visited Uros Floating Islands with the group and then checked into our hostel around 9am in the morning.
We stayed in Puno for a night then did an independently booked homestay on Taquile Island which you can read about here.
After the homestay, we spent a final night in Puno before hopping back on the Bolivia Hop bus to Copacabana with the bonus boat ride to Isla del Sol.
Some Hopsters spent the night in Copacabana or even on Isla del Sol but we had already planned to kick off our Bolivia travel in La Paz, saving time for other activities such as cycling Death Road and visiting the magical Salt Flats.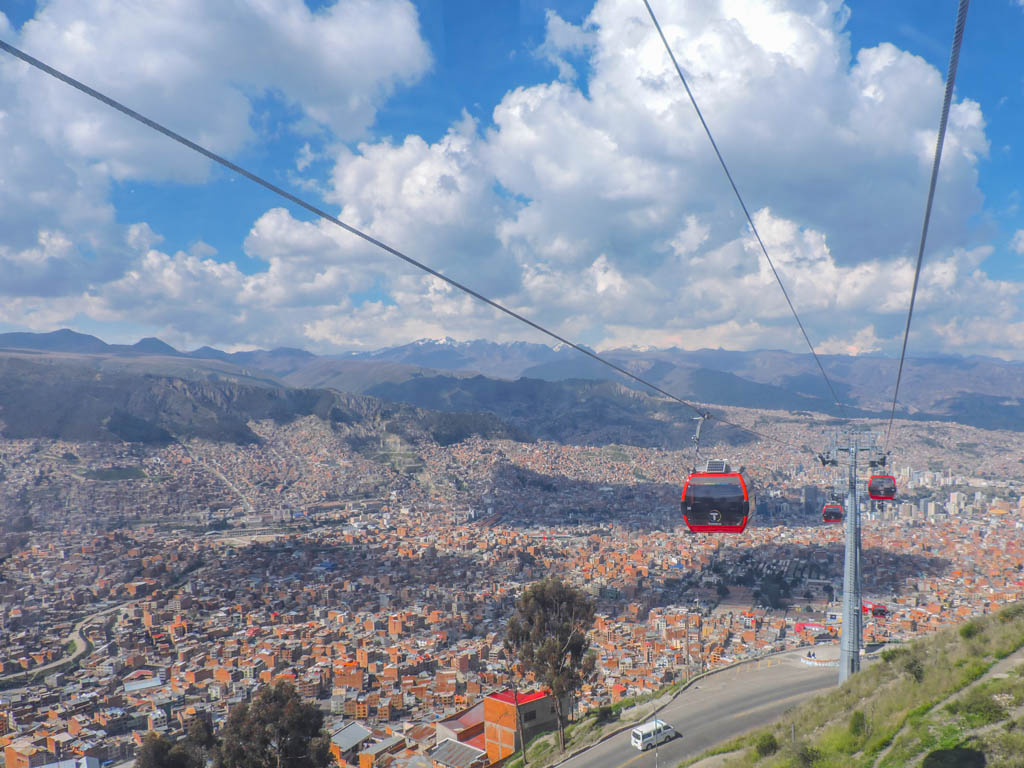 Bolivia Hop Highlights
Uros Floating Islands
A popular thing to do in Peru is to visit Uros Floating Islands which are made from totora reeds.
Here, families have built their own communities on the islands and make money from group visits.
The head of the community welcomes you to their community and talks you through how and why they use the reed.
You then have the opportunity to look into a home, which is actually a little uncomfortable but offered on all tours to the floating islands (we did it twice, with the bus tour and as part of the homestay).

Peru/Bolivia Immigration
Before you reach Copacabana you have to cross the border between Peru and Bolivia.
The Bolivia Hop staff will provide the documents you require for border control before you get on the bus in Cusco or La Paz.
If like me, you lose it, your guide can hook you up with another.
At the border, you get off the bus and here there is an opportunity to change currency if required but expect to get a lesser rate than elsewhere.
Next, head to the immigration office ahead where Peru officials will remove your immigration sheet from your passport to say you are exiting.
No immigration document? Expect to pay a fine.
Once that transaction is complete you say goodbye to Peru or Bolivia and cross the border by foot.
The Bolivia immigration office is close by, show your passport to officials and hand over the sheet you filled out in Cusco.
Take a new form from the Bolivian side and fill it in.
Return the Bolivian immigration form and you'll get another piece of paper with a stamp for 30 days.
30 days is the maximum amount of time you can spend in Bolivia without an extension.
Extensions are at the discretion of immigration officials.
USA citizens no longer need to pay additional money to enter Bolivia.
You are normally granted anything between 30 (USA) and 90 days (UK) without a visa in Peru.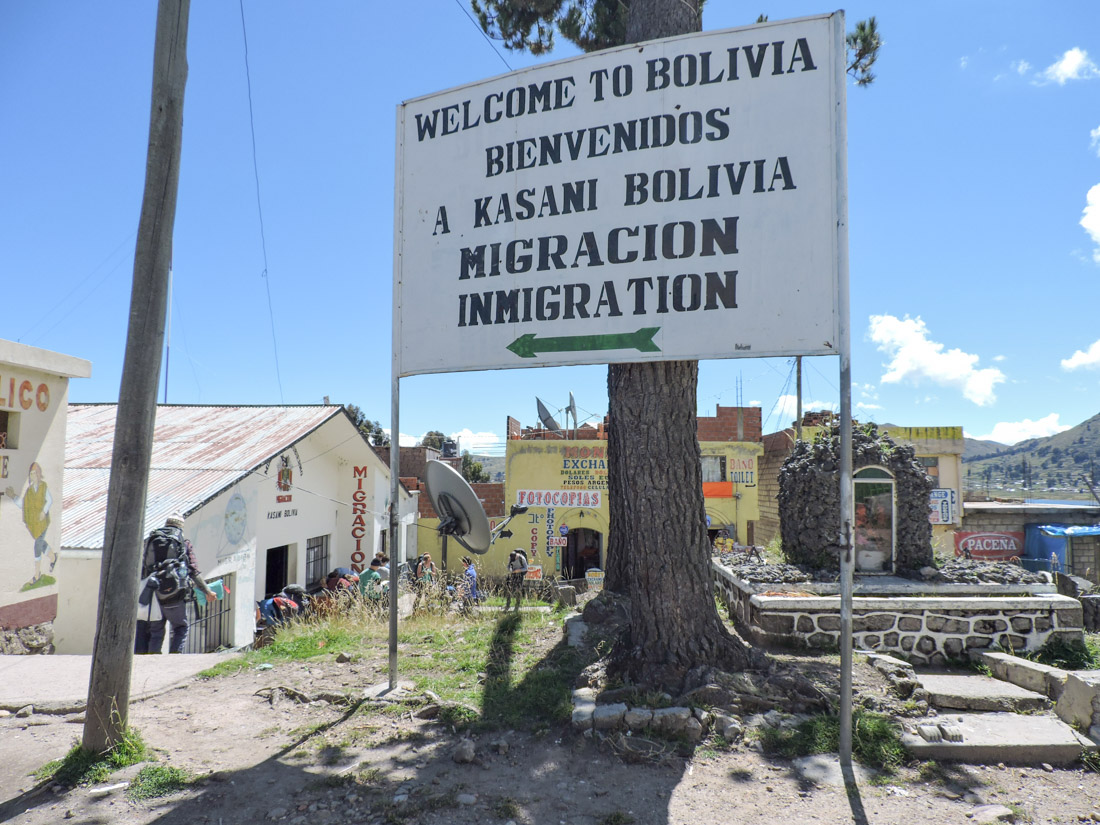 You must have your yellow fever card handy for checks too.
Check travel advice from your own country.
An Israeli in our group did not have a bank statement and had to go to another town to sort that out so make sure you read up on your country's rules with Bolivia/Peru.
You don't need to know the process off by heart as the Bolivia Hop staff will be there repeating instructions over and over.
You are now 15 minutes drive away from lunch in Copacabana and the boat ride to Isla del Sol!
Copacabana and Isla del Sol
Copacabana is a small town with of rooftop bars and the gateway to the chill Isla del Sol, which is only an hour boat ride away.
With Bolivia Hop, you have the option to do a light hike around the island after a free beer on the boat to get you in the mood.
Copacabana to La Paz
The day in Copacabana ends late afternoon when the group meets back at the bus which then drives a short journey to a port.
Now things get interesting…
Grab a duvet from the bus, hop on the small motorboat and watch in disbelief as the bus drives onto a float and is pulled over Lake Titicaca.
Hop back on the bus, vote for a movie and enjoy the four-hour ride to La Paz.
Obviously, if you are doing the reverse, the bus from La Paz to Copacabana is just the same information with different timings.
The Downside to Bolivia Hop
The only gripe some may say is that there is no bus from La Paz to Uyuni where the incredible Salt Flats are located in Bolivia.
Once you've done the bus ride you will understand why the company don't offer it as part of the classic route, it's a very bumpy ride done well by local companies which can read more about here.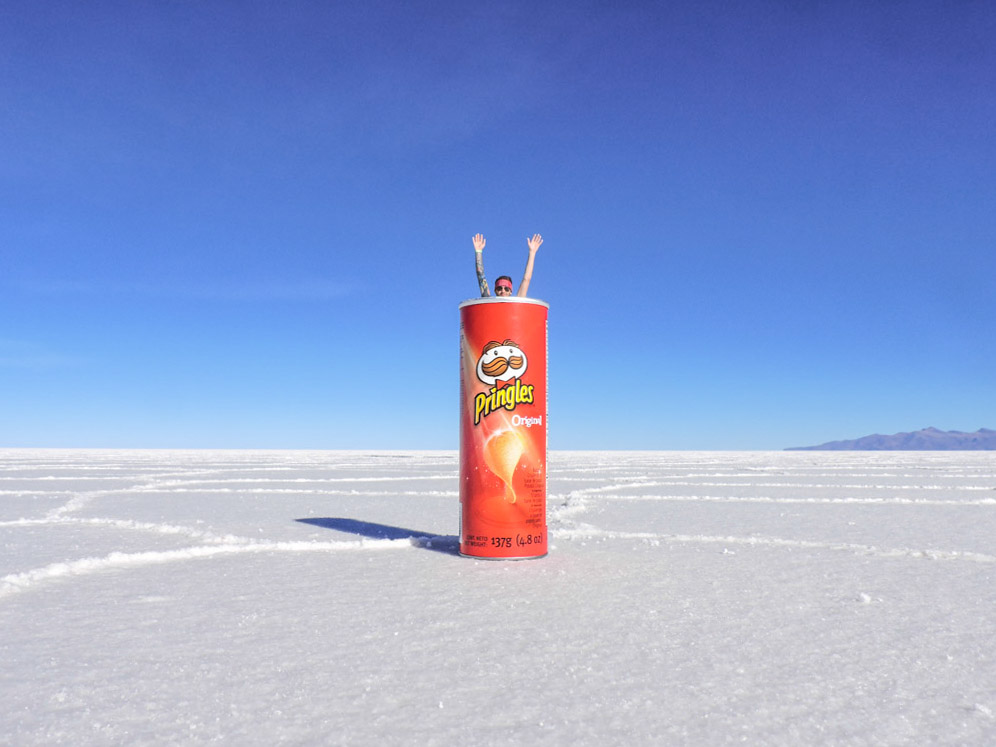 ---
Pin to your Bolivia planning board
Any question? Pop them below and I'll get back to you
---
---
Thanks to Connor and Will from Peru Hop for working with us. Can you set up Colombia Hop by May 15th? Many thanks…