This article has links to products and services we love, which we may make commission from.
After all the hype, the hit Netflix film Outlaw King finally hit the screens in the UK and the response was epic. The two-hour film starring Chris Pine as King Robert the Bruce and BAFTA nominee Florence Pugh as his new wife Elizabeth shares the 'untold true story' of the Outlaw King of Scotland. After the first screening, the Scottish born director, David Mackenzie, wasn't happy with it (he cut it by twenty minutes). Let's see what fans have to say about the final cut and play 'guess the Outlaw filming locations' game!
What Scots Are Saying
It's no surprise that the hashtag #OutlawKing is trending. Here's what the Twitterati has to say about the show.
Kudos on not butchering the accent!
Just watched Outlaw King and thought it was absolutely brilliant. And @ChrisPine, your accent was first class!

— Cameron McNeish (@CameronMcNeish) November 9, 2018
Totes emosh
Just watched #OutlawKing, so much love for Scottish people, who welcomed me to their country all those years ago. Alba Gu Bràth ❤️ 🏴󠁧󠁢󠁳󠁣󠁴󠁿

— AlinaD (@alinadoodnath) November 9, 2018
Therapy required
Dear @OutlawKing & @NetflixUK

Where do I send my therapy bill?! I've laughed, cried, got angry, been surprised, now I'm battle-weary & emotionally wrung out!
Stunning film, amazing historical story, full of action & badassery! #NowWeFightLikeWolves #OutlawKing @TonyCurran69 pic.twitter.com/B6aAa4xhV1

— It's… Kezzlebob's account (@kezzlebob) November 9, 2018
Did you see…
Something for @HistEnvScot colleagues who haven't watched #Outlawking yet! pic.twitter.com/LqMoPEOKP6

— Annie-Leigh Campbell (@Itisannnniiiee) November 9, 2018
A film made in Scotland, about Scotland
(a reply to)
Watched it tonight. Fantastic !! Wonderful casting.
A film made in Scotland about Scotland.
Well done everyone.

I now want to watch it again.

Lovely to hear the beautiful Kathryn Joseph at the end too. Nice touch. Good to see her getting exposure.

— Dazed & Confused 💚🤍💜 🏴󠁧󠁢󠁳󠁣󠁴󠁿 (@Lindy4Indy2) November 10, 2018
One slip up in the above tweet by the Outlaw King team – 'honor' is the American English spelling, honour is the UK English. This week a couple of bloggers said they would click off an article that was written in UK English because they would assume that the spelling was wrong. As you can imagine, I tore them a new…
Even celebs are tweeting, cheers Gezza!
Check out my boy @TonyCurran69 in The #OutlawKing. We've been friends since we were two lanky 15 year olds at The Scottish Youth Theater. Proud that he got to kick English arse in the story of one of Scotland's most epic heroes Robert the Bruce. Can't wait to see it. @Netflix pic.twitter.com/ppEw9Urmhv

— Gerard Butler (@GerardButler) November 9, 2018
And the costume designers
A year ago today I was making costumes for #OutlawKing and tonight I'm watching it on Netflix! ⚔️🕷 pic.twitter.com/pTL05pJdgw

— ♡ Tay 🦋 (@tayloure_) November 9, 2018
And the politicians
Tonight's the night for @OutlawKing ⚔️ 🏴󠁧󠁢󠁳󠁣󠁴󠁿 @NetflixUK https://t.co/7LogzsZgS9

— Fiona Hyslop (@FionaHyslop) November 9, 2018
Then 'hings got really strange. Was Netflix UK & Ireland hacked?
since we changed our name this morning we've had some 🔥 suggestions for some new shows… pic.twitter.com/yWUrmOUiZI

— Netflix UK & Ireland (@NetflixUK) November 9, 2018
Then there was plenty of chat about Pine's fuzzy Pen15 during his loony dook.
Outlaw King Filming Locations
Although you won't spot Chris Pine (from previous Wonder Woman and Star Trek fame), you will visit epic Scottish landmarks during your Outlaw King filming locations tour! Some locations were actually filmed in present day Northumbria, our Northern English neighbours.
Linlithgow Palace
Linlithgow Palace, home to the monarchs of the 15th and 16th century, stars as Bruce's castle and chapel. Bruce is crowned the King of Scots in front of Linlithgow Palace (38 minutes), surrounded by supporters and small fires which light up the palace walls beautifully.
Scone Palace is actually where Bruce was crowned, a palace open to visitors today.
What else is Linlithgow Palace known for?
Linlithgow Palace, although now a ruin, was the birthplace of Mary Queen of Scots. During the summer months, the fountain flows for visitors to see. There is a nice walk around Linlithgow Loch and a couple of cafes in the town centre so you can grab a sandwich or ice cream for the stroll.
Address: Kirkgate, Linlithgow EH49 7AL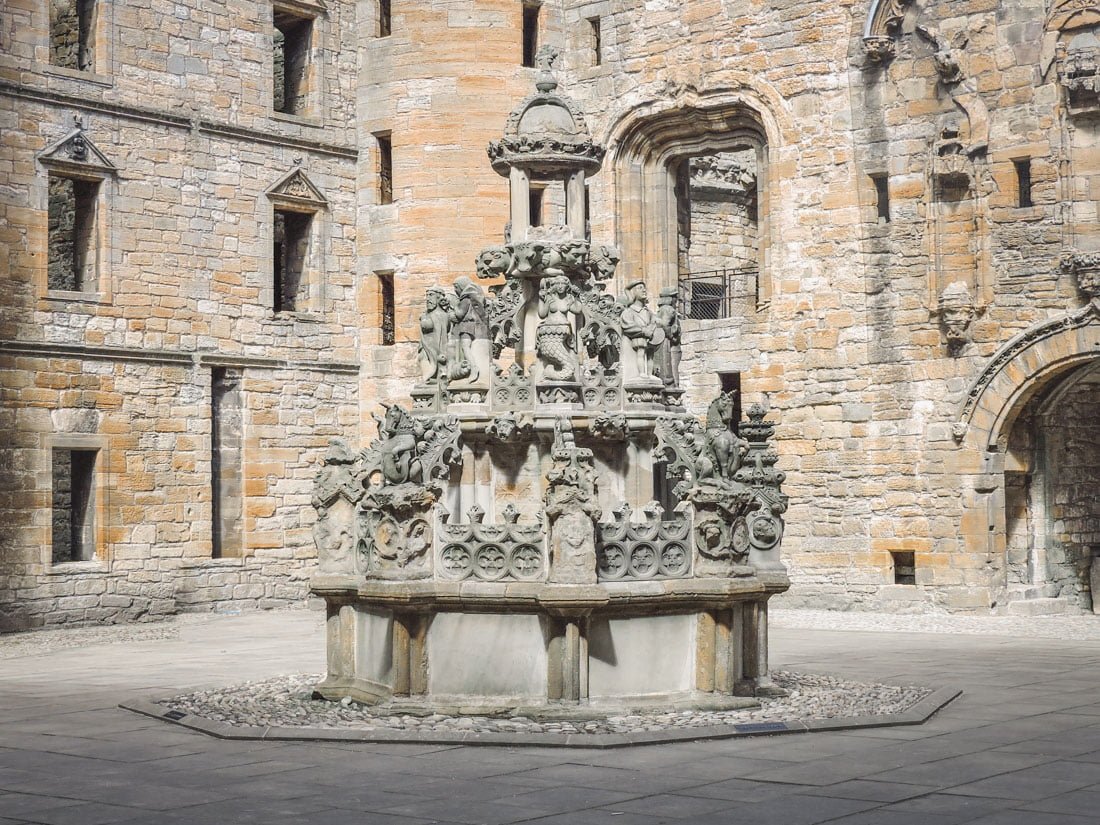 Blackness Castle
Blackness Castle appears as Yorkshire Castle where Elizabeth (Pugh) is imprisoned. You'll see her dangling in a birdcage-like cell over the Firth of Forth waters (1 hour 27 minutes). This 15th-century fortress resembles a boat hence the nickname 'the ship that never sailed'. Apt considering its location.
What else is it known for?
Blackness Castle was built by the powerful Crichton family. Visitors can test their knowledge with the fact-finding quiz and also climb the towers and curtain wall. Great views of the Forth Bridges await!
Address: Blackness, Linlithgow, EH49 7NH
Craigmillar Castle
Craigmillar Castle becomes Bruce's home and village. You'll spot the archway during the scene where Elizabeth meets Bruce, Marjory and Jessie the dog for the first time (12 minutes). Many of the castles and palaces used were transformed in some way for effect. For example, a gate was added to the outer courtyard at Craigmillar Castle.
What else is it known for?
This medieval castle is where Mary Queen of Scots hid in 1566. There you will find the remains of an unusual fishpond which is shaped in the form of P for Preston, the owner, Sir Simon Preston. Check out the views of Edinburgh from the tower.
Address: Craigmillar Castle Rd, Edinburgh EH16 4SY
Glasgow Cathedral
The active medieval cathedral was used as Greyfriars Cathedral and the Lord's Hall. You can see the Cathedral with its instantly recognisable green roof at 30 minutes.
What else is it known for?
Glasgow Cathedral was dedicated to the patron saint of the city, St Mungo. Although built in the 1100s it is still visited by tourists every day.
Behind the Cathedral is the Necropolis which offers great views of the city and across the road from Glasgow Cathedral is Provand's Lordship, the oldest house in Glasgow.
Address: Castle St, Glasgow G4 0QZ
Glasgow University
According to a Chris Pine fan Instagram account, Outlaw King uses the University's Harry Potter-esque cloisters for a banquet feast. It certainly looks like it during the 'let's 'ave 'em' celebration (39 minutes).
Confirmed by Tony Pollard, Professor at the University of Glasgow and historical advisors to the film (thanks Tony), the cloisters are the filming location where Bruce 'discusses' a rebellion with John Comyn (27 minutes) and Edward I is advised that another castle has been recaptured (Doune Castle this time) at 1 hour 20 minutes.
What else is it known for?
Glasgow University is the fourth oldest university in the English speaking world. It is situated in the West End of the city close to Byres Road, Ashton Lane and Kelvingrove Park/Museum. Outlander also filmed at the university. I studied Social Policy there many moons ago!
Address: University Avenue, Glasgow
Mugdock Castle, near Glasgow
Mugdock Castle was transformed into a medieval village with six huts and lots of hay. Something you'll just have to close your eyes to imagine if visiting. It was also the bloody scene of the final battle.
Address: Milngavie, Mugdock, Glasgow G62 8EL
Doune Castle
Doune Castle is not shy when it comes to being on screen and this time it is transformed into Outlaw King's Douglas Castle. Black Douglas (Aaron Taylor-Johnson) convinces Bruce to let him take it back which he does successfully. The scene where James Douglas and soldiers walk with Doune Castle ablaze in the background is striking.
What else is there to see?
Doune Castle is a popular choice for filmmakers (Monty Python and the Holy Grail and Outlander were both filmed here) and the Doune Castle team have really embraced this. Visitors can take a one-hour audio tour narrated by Monty Python actor Terry Jones.
Address: Castle Hill, Doune FK16 6EA
Dunfermline Abbey
Situated five minutes from where we live, 'The Abbey' is close to our hearts. Dunfermline was the obvious choice for the filming of Outlaw King as the tomb of Robert the Bruce lies in Dunfermline Abbey Church. Like the monarchs of his time, his organs were buried separately from his body with his heart buried in Melrose Abbey, Roxburghshire. In the show, Dunfermline Abbey plays Westminster. You can see King Edward I slapping his son over the face here before he sends him out to battle (37 mins).
What else is it known for?
You can't miss Dunfermline Abbey when visiting the old historic capital of Scotland. The words King Bruce are emblazoned in stone and sit proudly above the Abbey grounds. Excellent views of the Abbey can be seen from Dunfermline Library.
Address: Dunfermline KY12 7PE
Old Bridge, Berwick
Forty minutes into Outlaw King, the English ride by horseback over Berwick's Old Bridge/Outlaw King's London Bridge with the red dragon flags waving.
Final Words
Outlaw King is a great addition to the ever-growing list of filming locations in Scotland. Naturally one of the main reasons to visit Scotland is to walk where kings have walked before and now with our guide to Outlaw King filming locations you can walk where the celebrities playing the kings have walked too. Not to forget a mention to the beautiful countryside, isles, songs, and cracking haircuts that also feature throughout the film.
Have you visited any locations?
Tell us in the comments below.