This article has links to products and services we love, which we may make commission from.
Paris. A city which epitomises love and romance. A tick wanted on many a bucket list. The name itself evokes the thoughts of sipping champagne on the Champs-Elysées and watching the sunset from the Eiffel Tower. Bringing a little bit of France to you, this Paris gift guide will sort out your French souvenir quandaries. Heading to Paris? Here's how to spend 24 hours or 48 hours there.
---
Can't travel just now? What about a group tour of Paris with a Parisian guide? This hilarious virtual tour game is a fun team builder and intro into Parisian life. I did it with my friends and it was a hoot.
---
» Read too | How to spend Paris in December
---
Best Gifts from Paris
Paris Gifts for Her
1. The French Beret
For that perfect Paris themed gift for her, why not opt for this French Beret US / UK.
A walking cliché but everyone associates this woollen hat with a souvenir from Paris You will find these in various Paris stores and online.
Go the whole hog and team it with the long-sleeved, blue and white striped mariniére made famous by Jean Paul Gaultier and all you will need is a glass of wine to take you right back to your vacation memories.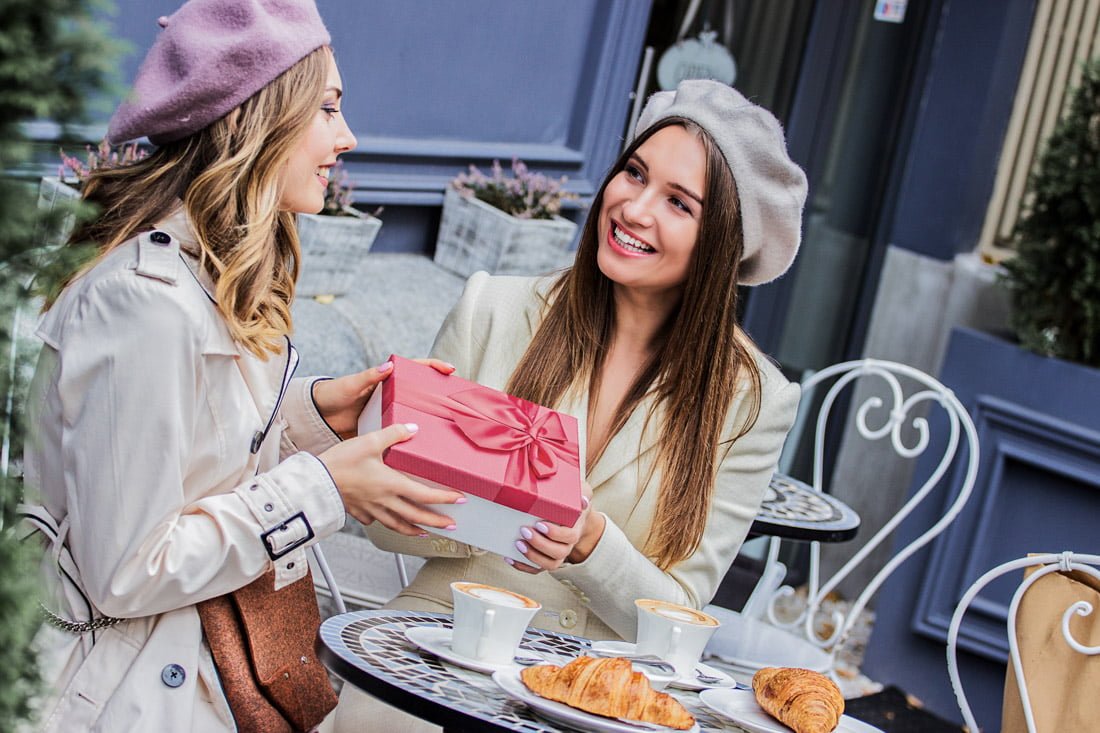 2. Macarons
For those with a sweet tooth, there is nothing better than the perfect pastel macarons from Laduree.
French gifts don't come any sweeter than these. Small and yummy, they might not make it all the way back to the intended recipient, thankfully we've got this covered in the links below.
---
» You may also like our London inspired gifts
---
3. Bonjour Mug
For a Paris gift online, check out the cheeky Bonjour B*tches mug US / UK.
4. Soap Dish
Keep it clean and plastic-free with a cute bar of soap and stylish French soap dish US / UK.
A Paris gift that is a sure winner for someone who loves a little bit of sophistication in their powder room.
5. Baguette, anyone?
The smell of a freshly baked loaf wafting its way through the home gets everyone to the kitchen quickly.
But how to cut it properly?
A handy board US / UK which secures the baguette in places like a guillotine.  This makes sure there's no wasting that crispy loaf of deliciousness.
One of a few truly inspired French gift ideas.
Unique Gifts From Paris
6. Paris Clock
Quiet ticking, good-looking wall mounted Paris clock US / UK
7. Glass Wear
Yes, they drink wine in Paris, but they also drink whisky. This is glass wear with a difference.
Pouring some of the amber nectar into one of these will catch everyone's eyes.
Shop glasses here for whisky glasses with Paris maps here (US only). Shop for Paris skyline etched glasses here (UK only).
8. An Unusual Paris Map!
Let's go old school and put that phone away, a crumpled map US / UK is a fantastically different Paris gift idea. A map which is unique and a traveler's best friend.
Sitting with your coffee, planning your next adventure, you don't have to worry about folding it back into position or keeping it dry.
---
» You may also like: our Scotland gift guide
---
9. Wine
Everyone loves a cheeky red or a sophisticated white. What better way to educate your taste buds than this book. Something to read while you're sipping a glass. Check out the Wine Folly's Guide to Wine.
This paperback teaches you what to look for when tasting and is classified as the best introductory book by The Washington Post.
10. City Notebook
Why leave the men out from looking chic; with a gorgeous little notebook, all about Paris, the man in your life will certainly make a statement.
The notebook includes a detailed map of the city, lined and blank paper and customizable tabs.
---
» Love to travel? Here's our essential items we can't travel without
---
Eiffel Tower Gifts
11. Eiffel Tower Earrings
Every girl loves a bit of glitter and sparkle in their life. These Eiffel Tower earnings are the perfect Paris themed gift for her.
12. Paris Key Chain
Eiffel tower key chain US / UK are popular souvenirs.
13. Model of the Eiffel Tower
Another perfect Eiffel Tower gift, budding engineers can get their hands on Eiffel Tower kit US / UK and happily build away, dreaming of the time they visited or whilst planning their visit.
Paris Inspired Gifts for any Paris Lover
14. Phone Case
It's our most used piece of equipment, never out of our hands. So why not style your phone up with this piece of art? A wooden phone case, with a UV filter to ensure it does not fade.
This Paris themed souvenir ships from the US to the UK for free so everyone can enjoy it!
15. Drink Coasters
Be a 'Monica' and insist all drinks are put on fabulous French coasters.
16. French Phrases Calendar
Why not become a linguist and learn a French phrase every day US / UK of the year with a handy phrase a day calendar.
17. Paris Monopoly
Who doesn't love a board game?
The French edition of the most famous of all high rolling games, you'll buy and sell your way around France with this ideal French-themed gift.
18. Towel
Brighten up your bathroom with a statement piece of towel linen. The black and white colours will complement everyone's colour scheme.
19. Tote Bag
Going plastic-free has never been more stylish with a canvas tote bag. Great for shopping along the Champs-Élysées.
---
» Fighting the plastic tide? Read our beginner's guide to zero waste
---
20. Refrigerator Magnets
Make your notes stand out on your refrigerator with these colorful additions to the kitchen.
21. Coloring Book
Treat your inner child!
This Paris themed coloring book US / UK will calm and soothe whilst you create a masterpiece to frame.
The book includes multiple pages which you can shade and send to friends. It's the new personalised postcard.
22. Pocket Guide to the Louvre
An art lover's paradise, Le Louvre is a must on any traveler's list. Yet a handy pocket guide will ensure you don't miss a thing on your Paris trip.
Making up Paris Gift Basket? These next few ideas are just perfect to pop in and make your special loved one's day.
23. Paris: 1-Hour Illuminations River Cruise
Now let's talk romance! You, your partner, a boat and the city all lit up as you sail along the Seine. How does that sound?
This one hour boat tour takes you past famous Parisian landmarks such as the Eiffel Tower and the Louvre. Tours leave from 10am to 10pm so you can choose a day trip, dusk sail or a night time ride.
An audio guide is available in 14 different languages and seating is available onboard. However, with panoramic views, you might not be able to keep off your feet!
Don't let the rain stop you from booking, the inside seating area has floor to roof windows for your viewing pleasure. Book your Illuminations River Cruise before you go here.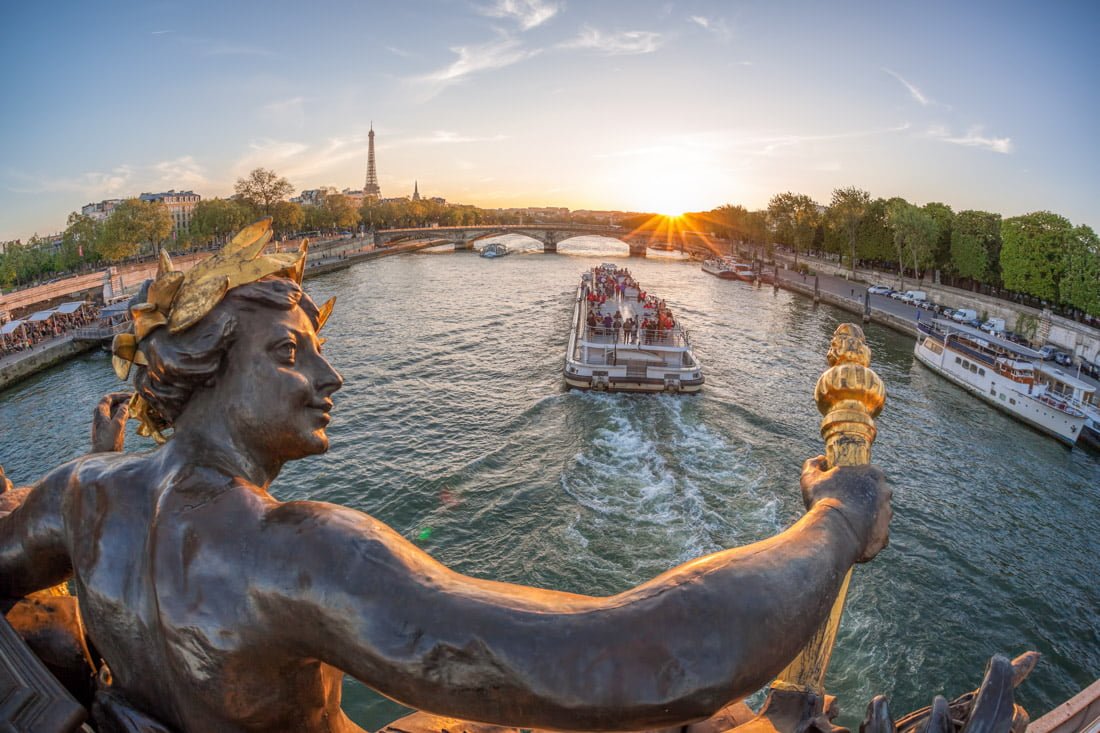 24. Paris 1, 2, or 3-Day Hop-on Hop-off Ticket
Walking is all well and good, but those feet soon get tired. This Paris related gift is a practical one. From £30/$39, you will make your Francophile friend's day with this ticket. With over 40 stops at top landmarks and attractions, this gift card for Paris will have them saying 'Je t'aime'.
25. Disneyland Paris
It's not all about ticking off the historical sights, sometimes it's about letting the big kid at heart out. A day off the tours and having fun is something Paris can provide.
This day ticket to Disney will let your traveler enjoy a day meeting their favourite characters and enjoy a well earned day of fun.
26. Eiffel Tower
No visit to Paris would be complete without a photo from the top of the Eiffel Tower. A selfie must for all Paris souvenir hunters.
With this priority second-floor access pass, the recipient will be able to skip the line, hear about the history and enjoy unlimited time inside the tower.
Hey lovers! You may also like our guide to Europe's most romantic cities.
Final Words
Whether your buying Paris gift bags, looking for a piece of Paris memorabilia, or simply wanting to have a little piece of France in your home, this Paris themed gifts guide has surely given you all the present ideas you could want.
Like it? Pin it to your Paris board
---
» Read next: the best places to spend Christmas in Europe
---
Author – Ruth is a school teacher and a travel fanatic with a bucket list that's getting smaller.
A passion for shopping and deals. Bringing you gifts and trips to make your life easier.