This article has links to products and services we love, which we may make commission from.
Love Christmas? You'll adore Vienna in winter! Although quite the romantic city all year round there's an extra sparkle about Austria's capital as the days get shorter and night becomes the playground. Expect Christmas lights around the deliciously consuming architecture that makes you feel inferior, inner-city outdoor ice skating, and twenty, yes twenty Christmas markets pumping the smell of chestnuts and punch into the air.
So, whether you are a tourist or a local looking for tips, let's add a splash of Glühwein alongside your schnitzel and discuss the best things to do in Vienna in December.
Vienna in Winter
Getting Your Bearings
The city is split into districts, for example, the Innere Stadt (First District) where you will see lots of historic buildings like the State Opera House and Hofburg Palace.
It's a good idea to note that the street you'll come across most often in Vienna is the Ringstraße (Ring Road).
Don't miss our 3-day jam-packed Vienna itinerary too.
Vienna Christmas Markets
The old market tradition in Vienna is modernising without losing its cosy touch. Christmas markets are open from mid-November to Christmas with some staying open until New Year's Eve.
The main draw of the markets is the traditional handicrafts, modern souvenirs, local delicious foods, colourful lights, Christmas music, sparkling decorations, and of course the multiple types of glühwein.
For the best experience, visit various markets because each is unique.
Note: not all of the markets are open after December 25th, if you want to see the festivities in full swing book before Christmas.
We visited on Boxing Day and managed to experience four of the more touristy markets, still an excellent trip but locals would tell you that their local market is the best one!
Top tip – tourists overwhelm the big markets in the city centre while locals love the smaller markets. By visiting different markets, you will be able to compare prices and products before doing your Christmas and souvenir shopping.
Remember, there are over 20 markets to choose from! When purchasing glühwein you pay a deposit with the first mug and then return once you are finished or keep the mug and lose the deposit.
Without further ado let's meet some of the Vienna Xmas markets.
1. Vienna Christmas World on Rathausplatz
Every first timer's visit to Vienna will pass through the city Rathaus because this is the city hall.
In front of the Neo-Gothic building is the platz or square and here you will find 150 stands selling handicrafts, Christmas gifts, culinary treats, warm drinks, and desserts.
This is where you will also find one of the city ice rinks. It is very central, see the map below.
10 November – 26 December

Address: Rathausplatz 1010 Wien

Although touristy, I really liked the buzz of Rathausplatz's market
2. Christmas Village on Maria Theresa Square
The market has more than 70 booths selling food, drink and traditional handicrafts. Music groups and gospel choirs encourage that festive feeling.
The market opens from November 21st to December 26th then it will change into a New Year market to ring in 2019.
Looking for other things to do around Maria Theresa Square?
The market keeps good company next to Hofburg Palace and the MuseumsQuartier.
15 November – 26 December
Address: Maria-Theresien-Platz 1010 Vienna

This was my least favourite market, there wasn't much of a buzz and the cups were horrible pink pigs!
3. The Old Viennese Christmas Market on Freyung
1772 is when the first Altwiener Christkindlmarkt or Old Viennese Christmas Market took place, you can see it is pretty established! Like the others, it sells potential gifts but Altwiener also puts on craft sessions and has live music starting at 4 pm. Altwiener Christkindlmarkt is very central.
17th November – 23rd December
4. Schonbrunn Palace Christmas Market
A little smaller than Rathausplatz at 80 stalls but still worth a visit because of its location in front of Schönbrunn Palace.
Expect smells of freshly baked pretzels and hot punch while musicians and dancers perform on stage in front of the big Christmas tree gifted by Austrian Federal Forests AG.
The majority of the items on sale are handcrafted so you are supporting local by purchasing from the huts, I watched a man try to heckle and the shop owner explained that her mother made the decorations so she could not sell for less.
We stayed for the sunset which was lovely dusky pink and then on to nightfall to see the lights sparkle.
Post-December 25th, the market becomes a New Year celebration with daily jazz and other music shows. Note: no dogs or bikes allowed.
18 November – 26 January
Address: Parade Court, Schönbrunn Palace
5. Christmas Market at Spittelberg
Less central, more local, Spittelberg Christmas market consists of 100 stalls spread over three streets. When busy, it can look overcrowded, others would say it is intimate.
Spittelberg itself is an interesting area, a favourite with photographers who want to snap the architecture. Food and drink options are available here if looking for somewhere the locals hang.
16 November – 23 December
Address: Spittelberggasse, 1070
6. Christmas Market Am Hof
Am Hof is one of the oldest areas of Vienna.
The Christmas market is smaller than others on this square but the "Radio Wien" Punch Stand comes recommended.
The mug changes annually so you'll need to go back each year to collect!
10 November to 23 December
Address: Am Hof, 1010
7. Christmas Market at Karlsplatz
Organic food, craft demonstrations, storytelling – there's something unique about the market at Karlsplatz.
All of the makers have passed an application process in order to sell their crafts to visitors so you are guaranteed high-quality goods.
24 November to 23 December
Address: Karlsplatz 13, 1040
This is my friend from Vienna's favourite Christmas market
Christmas Market Tour in Vienna
Overwhelmed like I am? There's a solution! Check out the Christmas market tour.
Two hours, four markets, and punch with rum! The local guide also shares stories about the markets and what they mean to not only Vienna but also to them personally.
The markets really are a big part of Viennese culture making this tour a great one for those who want to dig a bit deeper into Wiener life.
If you have more time in Austria and would like to explore more of the country's festivities, read this guide to the trail of Silent Night, the popular Christmas song created in Austria!
What To Eat At Vienna's Winter Markets
Unlike other markets in Europe which mainly serve traditional Christmas market food.
Vienna has heaps of artisan and healthy options.
However, we're not in Vienna to watch the diet, we want the homegrown, locally known Viennese favourites which include:
Maroni – roasted chestnuts make great hand warmers too.

Soup or goulash in bread bowls (pumpkin soup is delicious!)
Nuss Nudeln – gnocchi style with sweet applesauce and cinnamon.
Thinly sliced potatoes on a stick.

Krapfen – Vienna's doughnut.

Käsekrainer – sausage solo or sausage with cheese inside. You can pick up these hot dog snacks at stalls around the city too.
Wash it all down with a variety of types of Glühwein (hot wine) or Punsch (hot rum).
Just remember you leave a deposit for the Christmas mugs which you can claim back when you return or you can take the mug with you.
So, which of the Vienna winter markets do you think is the best? Tell us in the comments.
Vienna Christmas Market Map
Here's a map of the Christmas markets we've discussed in this guide to Vienna in Winter.
You will find the map here.
Things to do in Vienna in December
Ice Skating in Vienna
Whether you can do the loop, the axel or just keep steady on your feet there is an ice skating opportunity for everyone in Vienna.
Ice World/Wiener Eistraum (Rathausplatz. 1, 1010) is a more aesthetically appealing option for those who like to take pictures of their friends falling over.
For 8 euro adults gain entry to the rink and man this is worth it. 8,000 metres. of ice trails winding through the city. Forget the small patches of ice rink you are accustomed to in other European cities, this rink resembles a river.
Tickets are open for the full day and there are lockers on site. Ice World looks its best at night when it is all lit up but you can make a full day of it dining at the many food vendors around the rink.
Speaking of rivers, when the Danube freezes over, locals skate there too! That's not all if its frozen the Alte Donau and Neue Donau are stomping skating grounds for Wiener (people from Vienna) too.
Eislaufverein (Lothringerstraße 22, 1030) is another option, not as romantic but definitely bigger at 107,000 square foot. Open October to March.
Ice skating is one of the family-friendly things to do in Vienna in winter.
Accidents happen.
Don't travel without insurance.
We use True Traveller, I claimed when I was sick in Vancouver and they paid out fast.
See if they are right for you here.
Curling at Rathausplatz
It's not just about the skates and spins on the rink, curling is a popular sport in Vienna too.
Many of the ice rinks mentioned above create sections of the rink for players to participate in the game.
Every night from 5 pm at Ice World/Wiener Eistraum teams can play a heated match by booking out 30-minute blocks.
Ball Dancing
450 balls take place in Vienna from November through to the end of March with January and February enjoying the highest amount.
On New Year's Eve, you can learn to dance at Graben or join the New Year's Eve Ball at the Hofburg Vienna (Imperial Palace).
Christmas Ribbon
If you've seen Vienna at Christmas through the eyes of Instagram then you have definitely seen Vienna's Christmas ribbon bow!
When this beauty is constructed on the department store, Popp and Kretschmer (Kärntner Str. 51), you know that winter has arrived in the city! As the shop is at a crossing it is difficult to get the perfect photo, so go with the flow and be safe while shooting!
Personally, I think this is one of the prettiest spots in Vienna at Christmas and well worth a visit during the day and at night.
Christmas in Vienna Concert
One of the big attractions of Vienna is, of course, the music (more specifically, the opera).
During the festive period for one day, only the Viennese Konzerthaus (Lothringerstraße 20) puts on an energetic show called Christmas in Vienna.
Previous acts to grace the Great Hall include Elîna Garanča, Juan Diego Flórez and Thomas Hampson.
This is a cool area to stay in. Learn about Vienna's districts and best hotels in our guide
MuseumsQuartier (MQ) Christmas
MQ is where all the cool kids hang.
You've guessed it by the name, MuseumsQuartier that this is where you'll find some of Vienna's museums like the MOMA.
During summer at MQ, friends soak up the sun and where most locals in cities hide indoors come winter, the MQ hardcore take to the square!
In November and December, there is live rock, rap, electronic music and light projections at MQ.
Not your typical things to do in Vienna at Christmas.
Bowling/curling fusion takes place at ME Eisstockbahn – pretty much two lanes that look like they are for pins but it's all about the curling action in Vienna during winter.
Vienna Skiing
Ski Resorts Near Vienna
Hohe Wand-Wiese
Vienna is among the few places in the world which have ski slopes in the city.
Meet Hohe Wand-Wiese (114 Vienna, Mauerbachstraße), located towards the north of the city.
This city's ski slope is also known as 'High Hills', you can guess why.
This is not quite Mayrhofen but still offers piste of 400 m long.
The resort has floodlights for night skiing and snowmaking capabilities.
Another bonus is that it can be reached by public transport.
Semmering
Semmering offers more of a challenge for avid skiers.
The Magic Mountain has red, blue and black runs.
There is a family slope, FIS World Cup Panorama and Freeride Area.
It's not just about day skiing and boarding at Semmering, lights allow for night time runs on six slopes too.
Fuel at the onsite Lichtensteinhaus restaurant. Ski/board equipment can be rented at Semmering and lessons are available too.
Get there: Vienna to Semmering train (1.5 hours approx.)
Hochkar Ski Resort
The snow is more reliable at Hochkar Ski Resort but that does mean it is a bit further away from Vienna and harder to get to.
It is a 2.5-hour drive from the city to Goestling where the resort it. Hochkar has 19 kilometres of ski slope, eight modern lifts and panoramic views of the Lower Austria.
There are lots of dining opportunities in Hochkar too.
Get there: Vienna to Hochkar 2.5 hour drive
You may also like our ski packing list with printable checklist.
Christmas Day in Vienna
Just like Sundays are sleepy in Vienna, the week between Christmas Day and New Year's Eve can be a little tamer too.
You can expect the majority of shops, restaurants and tourist attractions to be closed on Christmas Day.
There are a couple of Christmas Markets open, check out the Rathausplatz/City Hall and market at Maria Theresien-Platz.
Schonbrunn Palace is open on Christmas Day and serves up lunch and dinner. You can also visit the Imperial Carriage Museum which is part of the Vienna Card.
New Year's Eve in Vienna
Vienna doesn't just have a New Year's Eve party, it puts on a New Year's Eve Trail!
From 2 pm to 2 am on December 31st each year party-goers looking to ring in the new year can dance their way through the old historic centre at City Hall Square and in the Prater fairground.
There are lots of opportunities for food and punch of course!
A variety of shows from opera to rock take place throughout the night with it all coming to an end with fireworks over City Hall Square and in the Prater fairground at midnight.
Another popular cultural event besides opera is ballroom dancing. During the day of the 31st, Graben in Vienna's first district becomes an open-air ballroom.
Visitors can learn from some of Vienna's dance schools that offer lessons!
It is tradition to exchange a lucky charm at New Year in Vienna and some feature pigs!
'Schwein gehabt' means 'have had pig' which translates to 'have had luck'.
This Is Us TV fans will be familiar with this Austrian pig reference from season five when Toby discusses the pig figurines in a stranger's car.
New Year's Eve Boat Galas
Alternatively, you can ring in the new year on the water!
There are many boat trips along the Danube which celebrate New Year's Eve in Vienna too.
The New Year's Eve Gala sees either MS Dürnstein or MS Admiral Tegetthoff get all dressed up on the Danube.
It offers guests a night of live music and access to its open-air deck to watch the fireworks at midnight. This NYE party is a little pricey at just under 200 euro per guest.
Kursalon Party
The Kursalon (Johannesgasse 33, 1010) music hall also puts on a New Year party with live classical music performed by the Salon Orchestra Old Vienna and waltzing dancing performed by you!
Watch the fireworks from the terrace overviewing the Stadtpark too.
St Peter's Church Concert
If you really love classical music you should check out the St Peter's Church celebration (Peterspl. 6, 1010).
Previous lineups have included renditions of Mozart, Bach and Schubert one of the most striking city's Baroque churches.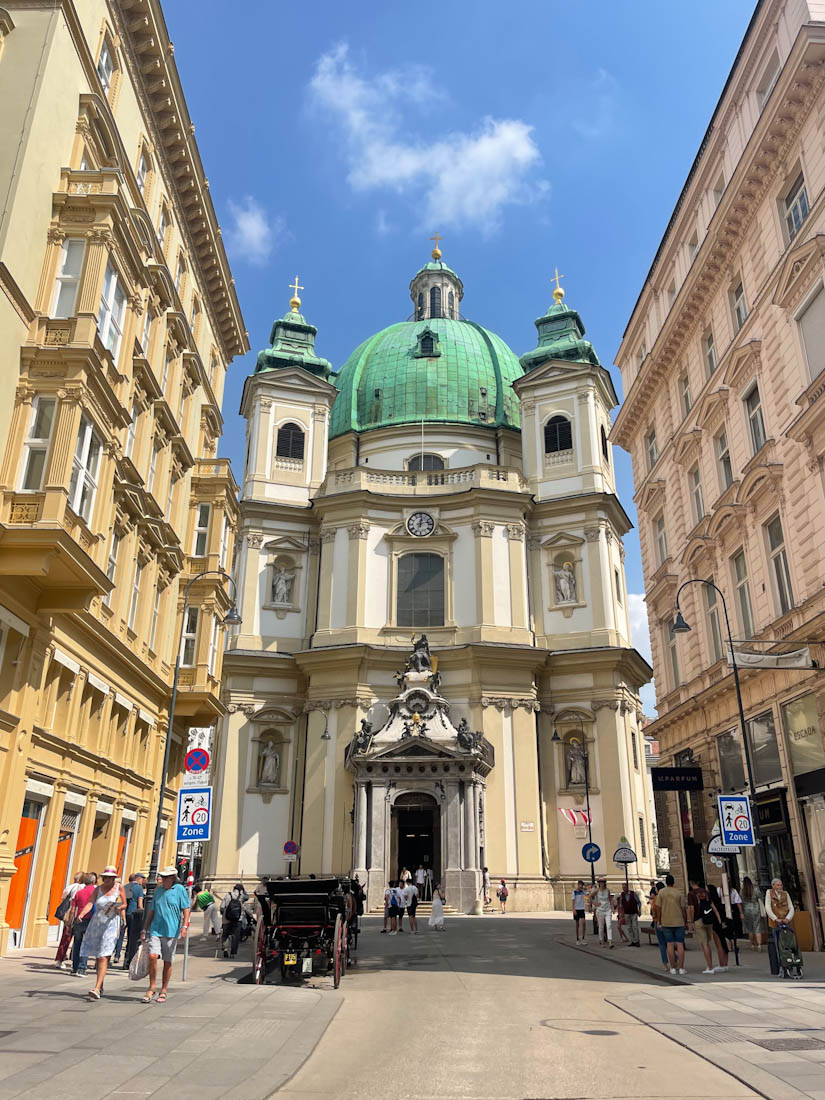 New Year's Day in Vienna
Shake off the hangover and get back in the game for The Vienna Philharmonic performance at the New Year Concert.
There are two ways to watch the show, at the Golden Hall of the Musikverein or for free at the open-air broadcasts (City Hall or in front of the Vienna State Opera).
Still thinking about where to go for NYE? We've rounded up the best international parties around the world.
You'll find the guide here.
Essential Vienna Winter Travel Information
Vienna Weather (December – February)
You can expect lows of – 2 degrees/- 35 Fahrenheit and highs of 7/44 during your trip to Vienna.
Weather can range from sunny with clouds to rain, wind and ice but less frequently snows.
Pack a decent raincoat and a pair of waterproof boots for comfort. Remember your hat, scarf and gloves too.
If you are attending the New Year's Eve party you might want to consider thermals or other types of layers as well as hand warmers (or just buy mulled wine!)
Similar weather patterns for January and February with lows of – 3 degrees/- 37 Fahrenheit.
Snow is not guaranteed but has occurred with the last heavy snowfall taking place in 2023.
What to Wear in Vienna in Winter
Forget the umbrella

Europe gets cold, layers are essential!

Cute hat, gloves and scarf

Camera and battery

Tote bags for Christmas shopping

Travel Insurance
Don't forget your travel insurance – See True Traveller or World Nomads
Things to Do In November
November is the pre-Christmas season.
There are hardly any crowds at the start of the month but you do miss the markets.
However, fewer tourists mean less queuing, museums to yourself and you still get the lovely winter sunsets over the city.
Mid-November the markets start opening up and the tourists flock.
Vienna in January
There are visibly fewer tourists visit at the start of the year but still lots of things to do in Vienna in January.
Many of the Christmas markets transform into New Year ones and like the majority of European countries, the city puts on a great New Year's Eve party.
Where We Stayed
I've been to Vienna twice now and lucked out the first time with our location at the 4-star Am Konzerthaus Vienna MGallery by Sofitel.
Within walking distance to Vienna's Ringstrasse, the State Opera House and the Belvedere, this modern hotel is quiet and offers a kick-ass breakfast.
Check out the rates for your trip at Booking or TripAdvisor.
During our second visit, we stayed at the 25hours Hotel enticed after an evening drink at the rooftop bar during our first visit. It's a cool boutique hotel with funky decor and lots to look at.
The location is the hip MuseumsQuartier/7th District which is walking distance to the main attractions as well as cool bars.
Annoyingly, the spa wasn't open during the morning and in comparison to the Sofitel above, the staff were not as friendly. The breakfast is pricey at 20 odd Euros.
Check TripAdvisor for other reviews too.
Alternatively, check out our affordable hostels guide.
Airbnb in Vienna
Airbnb is available in Vienna for those on a budget. The average price for an apartment is 300 euros.
Private rooms are cheaper averaging at 55 euros.
Read out guide to the nicest Airbnbs in Vienna.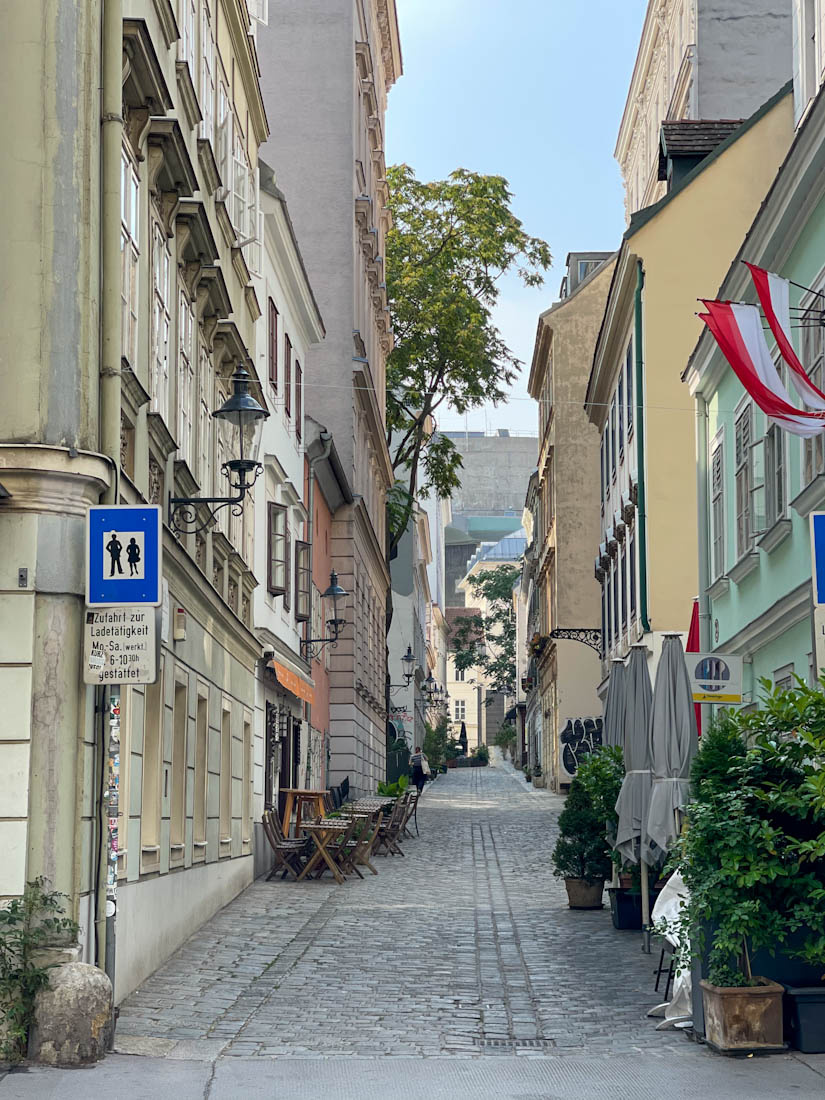 Airport to Vienna
The most popular way to get to Vienna from the airport is by the CAT train.
It costs €15 one way and takes a mere 20 minutes.
Book here before you go.
Check out our Hungary guide.
Getting Around Vienna
If like us, you prefer to discover a city on foot you'll be happy to hear that you are never more than 40 minutes away from the next Vienna bucket list.
Alternatively, you can use Vienna trams (time stamp your card), buses, underground, taxis or Über.
You might also be interested in our Europe budget guide – it explains how much it costs to travel around multiple countries in Europe.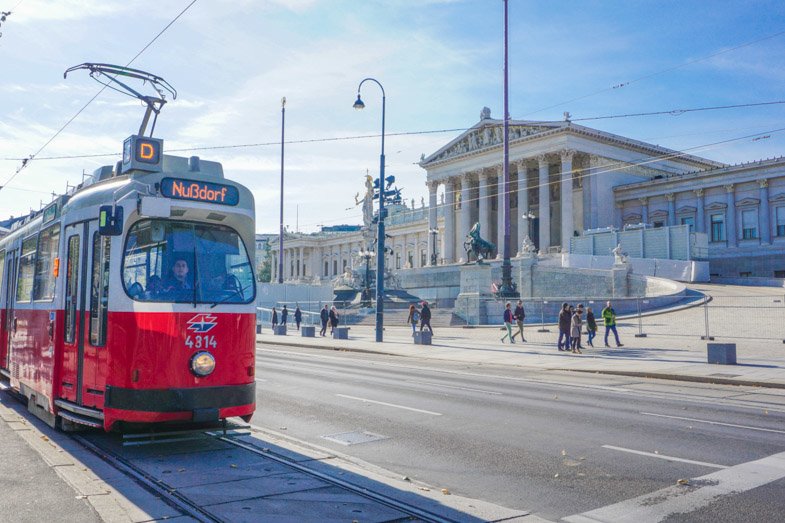 Affordable Travel Tips
You can explore Vienna on foot but it is not a small city.
Wiener Linien transport pass is available for 24, 48 and 72 hours.

Käsekrainer is a cheap but tasty hot dog available at huts all around the city.

You can drink on the streets in Vienna, grab a beer with your

Käsekrainer.

The Vienna City Pass offers discounts on top tourist attractions.
MUSA art gallery is free Tuesday-Sunday (not open Monday/Tuesday).
Opera tickets are expensive but you can buy standing only one hour before some performances.
Watch the concerts on New Year's Day for free on the big screens.
Frequently Asked Questions
What are the Vienna Christmas market dates?
There are twenty Christmas markets at each have their own opening/closing dates usually around mid-November to Christmas day. You can read the exact dates above in the markets section.
A handful of the popular markets turn into New Year markets so if you are visiting after Boxing Day you can still enjoy the festivities.
When is the best time to visit Vienna?
This really depends on what you want out of your trip to Vienna.
Christmas markets? December.
Ball Dancing? February.
Low season? November.
Warmer weather? June, July and August.
When does it snow in Vienna?
2023! Snow is not a permanent feature in the Viennese advent calendar, in fact, it last snowed before then in 2016 (a little slush in 2018).
However, like with most European countries at present surprise showers do happen so watch the forecasts and pack appropriately.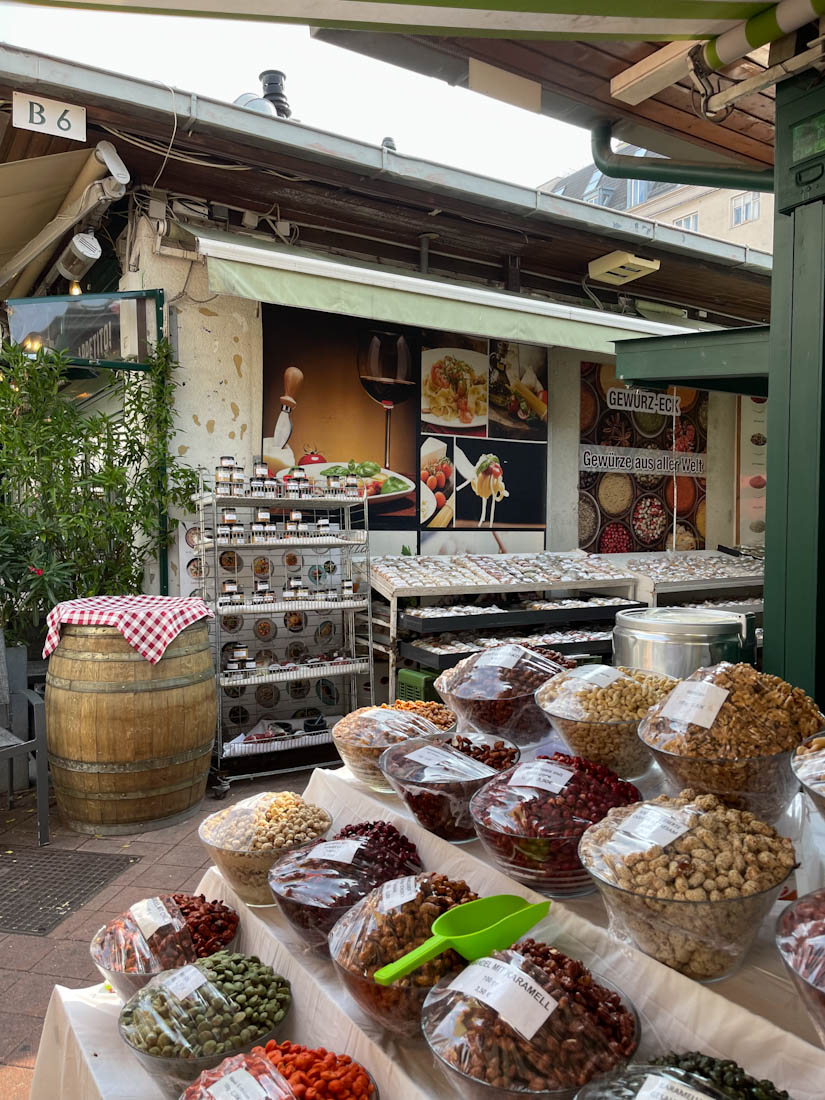 Final Words
From skating to skiing, concerts to curling there are heaps of Christmas things to do in Vienna in December and other festive months.
Remember to wrap up and get your skates on because you've got a jam-packed Vienna bucket list to tick off.
I hope you've enjoyed our Vienna in winter photography too, do tell us in the comments below if so.
Heading to Budapest next? Here's our festive itinerary.
Going to Vienna? Pin to your Austria planning board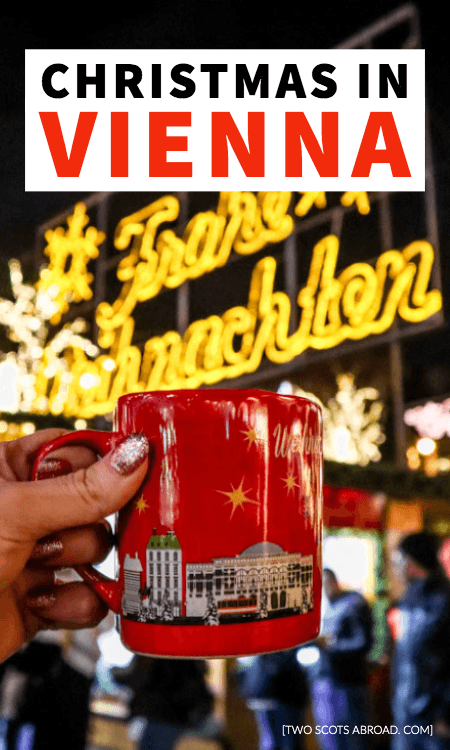 Vienna Destination Guides
Any questions/comments? Leave below and we'll get back to you.