This article has links to products and services we love, which we may make commission from.
Planning a trip and looking for the perfect 2 days in Paris itinerary? From museums to Montmartre, cafes to Champs-Élysées, this jam-packed itinerary details things to do from morning to night. I've (Gemma) also included tips on how to get around, where to stay and eat as well as budget and time-saving tips. So let's dive into the City of Lights, Love and the Louvre. 
---
Can't travel just now? What about a group tour of Paris with a Parisian guide? This hilarious virtual tour game is a fun team builder and intro into Parisian life. I did it with my friends and it was a hoot.
---
Get your bearings! Paris is divided up into areas called arrondissements. The 1st arrondissement is where you will find the popular points of interest such as the Louvre, Palais Royal, Tuileries Gardin. Then the areas wind around the 1st like the country's culinary decisive meal, snails.
How to Spend 2 Days in Paris 
Day 1: Eiffel Tower, Arc de Triomphe and Champs-Élysées

If your accommodation provides breakfast, gorge on all the pastries and bread to set you up for the busy morning in Paris.
If your accommodation doesn't include breakfast, this is actually a blessing because there are boulangerie (bakers) all around the city selling rolls/buns, croissants and pastries.
If you prefer a name, Angelina Paris is a chain of traditional cafes in Paris, famous for its long lines and hot chocolate. It is quite the tourist tradition to dine here.
Personally, I didn't want to wait (you can book ahead) so I had a cake to take away. Nice but not the best cake I had in Paris. Keep reading to find out which was…
Holybelly 5 and Holybelly 19 are breakfast joints which come highly recommended for aesthetically pleasing breakfast and brunch so if you are close to 10th arrondissement and you love quality sourced food for breakfast, it might be worth taking an hour out to enjoy a meal here. 
Regardless, you definitely want to spend some time in cafe, enjoying a coffee and people watching because that is a must-do in Paris.
Trocadéro and the Eiffel Tower
Now that breakfast is sorted, let's move on with our first stop of the day, Trocadéro.
Trocadéro is an area in the 16th arrondissement. There is a metro stop with the same name.
As you approach you will wonder why I've sent you to your death to dodge the cars using an incredibly busy roundabout.
I've not. The star of the show is yet to be seen!
The Eiffel Tower is the landmark lattice-shaped tower that many people think of first when they think of Paris and even France.
Created by the engineer Gustave Eiffel for the 1889 World Fair, this 'temporary' tower has withstood the elements since then.
While it is not the tallest tower in the world, it is the tallest structure in Paris at 324 metres (1,063 ft) and can be seen all around the city. This is especially true at night when its famous illuminations start, on the hour.
Trocadéro's free viewing area is where couples get their engagement photos and tourists take their Instagram shots.
Can you spot the carousel which features in everyone's Instagram grid?
If you want crowd-free shots, come for sunrise and eat breakfast afterwards.
If you plan to go up the Eiffel Tower, the Trocadéro area is where you collect your voucher if you have reserved a skip the line ticket with GetYourGuide. 
With this ticket, you have the option to view the city from the second floor of the tower or go all the way to the summit!
Set aside 1.5 – 2 hours for an Eiffel Tower visit. Once you are finished walk ten minutes to Bir-Hakeim Metro to Estació de Charles de Gaulle – Étoile for the Arc de Triomphe.
Alternatively, enjoy the 30-minute walk between the Eiffel Tower and the Arc de Triomphe.
Or use the Paris hop-on/off sightseeing bus which also includes an audio guide and stops all around the city from morning to evening.
If you decided not to climb the tower, walk to the Arc de Triomphe from Trocadéro (25 minutes), ride the metro or use the hop-on/off bus.
Arc de Triomphe
When you arrive at the Arc de Triomphe you will most likely notice two things.
Firstly, traffic. Holy smokes, Parisian drivers are crazy and the Arc de Triomphe is in the middle of a mental roundabout.
Do not try to cross the road, use the underground tunnel to the right of the Arc with the  Champs-Élysées behind you.
Secondly, you'll see tourists flirting with the road to get their photo taken just in front of the Arc with the Champs-Élysées behind again. Be careful here.
OK so now the logistics are sorted, it's time to go underground, walk passed the long lines waiting to buy tickets and join the direct access line.
Next, flash your skip the line ticket on your phone to the staff then head through security.
You have to put your bag through airport-style security at every Paris attraction for obvious reasons. Factor this time into your itinerary if visiting in high season. 
Once cleared, hike up the challenging snail-like staircase to the museum floor. Here you will find free toilets.
The next set of stairs to the rooftop is less of a breath-stealer.
Enjoy the 360 views from the top of the Arc, take some photos, point to where you've just mean and then head back downstairs, swinging by the Eternal Flame which burns at the foot of the Arc before heading underground to the Champs-Élysées.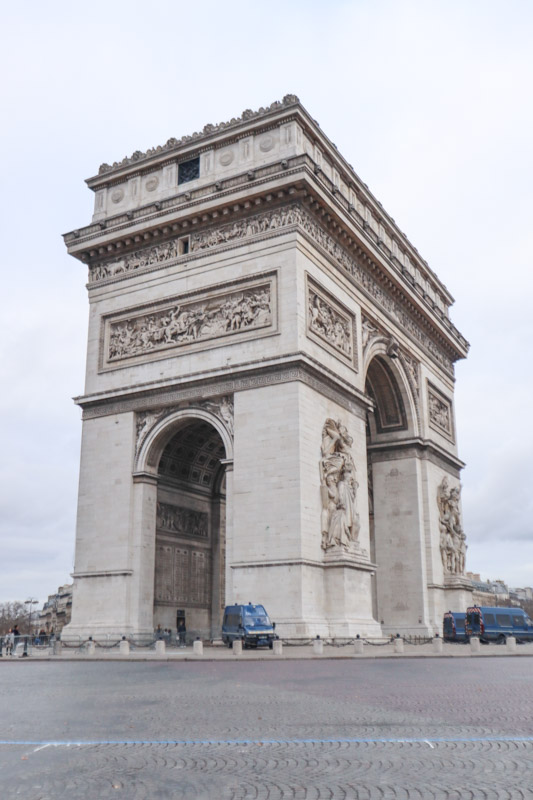 Avenue des Champs-Élysées
If you need a snack, hit up with crepe stalls at the foot of the Champs-Élysées. They are reasonably priced for a tourist spot.
Champs-Élysées is Paris's most famous shopping street. It starts at Place de la Concorde and ends at the Place Charles de Gaulle, where you've just visited the Arc de Triomphe.
To walk the full length would take around 30 minutes without stops for shopping and there are many to pop in to.
The first time I ever came across Sephora aka makeup mecca was on this street. My credit card was hit hard during that trip.
Champs-Élysées isn't just about flexing your money muscles though, many events are based around this stretch including the Tour de France cycling competition, Christmas lights and the New Year's Eve celebrations which are projected on the Arc de Triomphe.

---
» You may also like | The best New Year's Eve parties around the world
---

Afternoon Montmartre and Sacré-Cœur Basilica
Using your metro pass or the hop-on/off bus, make your way to Montmartre.
Spend your first afternoon in Paris strolling around the Montmartre neighbourhood looking out for the landmark pink cafe, Vignes du Clos Montmartre vineyard and the restaurant with the 17th-century windmill (Le Moulin de la Galette). 
Expect to see plants crawl up the facades of houses but be surprised by the splashes of modern and political street art as you climb (yes, it's hilly) towards the Sacré-Cœur. 
On your way, pass the portrait artists at Place du Tertre. Sit for a picture if that's your thing. 
Now, it's your chance to try snails at the historic Le Consulat Restaurant.
Sacré-Cœur
Visiting the Basilica of the Sacred Heart of Paris is free with donations welcome. 
Underneath the Basilica is a crypt which is free to enter. You can pay a fee to see the city from the top or enjoy the views from just outside the Basilica. 
Head down the stairs, face the Sacré-Cœur and look to your right. Tilt your head, lining the grass horizontally and now you have one drunk house in Paris!
Continue your wandering through Montmartre by walking towards the Sacré-Cœur and walking past it on its left. 
I recommend the crepe shop here too. Yeah, I love crepes!
On your way down, be sure to find Place Dalida, from the bottom this is where the street swooshes up and the Sacré-Cœur can be seen, just, at the top.
Definitely one of the prettiest streets in Paris.
From the bottom, make your way to Le Refuge for that red and white photo stop with the metro sign. 
Dine at Moulin de la Galette (windmill) for French cuisine, the photogenic Le Refuge or lesser-known Le Pain Quotidien where the onion soup is filling.
Note: some of the business owners aren't too impressed with girls twirling in front of their premises for 'the gram. 
Be courteous, buy their products and ask if you can take a photo. Or catch it when it's closed like I did (below).
This is not a new thing! 
Back when I first visited Paris in 2003, all customers had to buy something from the menu at the movie Amelie cafe, Café des Deux Moulins. 
I was cheap and didn't want to pay for an overpriced coffee so let my friend, at the time, down and she was a big movie fan. 
Don't be that d*ck or you'll regret it as I do! 
Evening Moulin Rouge or Bar Crawl
If this is a big trip that you've budgeted well for, one of the most popular things to do in Paris is to visit the Moulin Rouge to see a show. Dining is optional. You can reserve tickets here.
Alternatively, enjoy a Montmartre bar crawl. 
Get to bed at a reasonable time as you're only one day into your 48 hours in Paris itinerary. 
Two Days in Paris
Morning Jardin Des Tuileries, Louvre,  Les Deux Plateaux 
Pop into Pierre Herme Cambon bakery (4 Rue Cambon) for croissants, macaroons or tarts, whatever takes your fancy and enjoy in Jardin Des Tuileries, the city's popular gardens. 
In winter, this is where the biggest Christmas market takes place.
Visiting Paris in winter? Here's our guide on what to do and practical tips
Next, make your way through the park to the Louvre Museum, skip the lines with this early timed entry ticket.
The Louvre is one of the most iconic attractions in Paris and recognised by its pyramid glass structure and long lines.
So what's the fuss? 
Visitors are keen to see Leonardo da Vinci's, Mona Lisa which, you may be surprised to hear, is one of the smaller works of art in size at the Louvre. 
You will have to wait in line to take a photo of the work like Beyonce and Jay Z, security controls this. 
Other notable areas include the bright glass-roofed patios which have a garden feel in the Richelieu wing and Napoleon III Apartments which is dripping in gold and chandelier.
Gaudy by today's standards but a striking contrast to the patios.
Before leaving, check out the inverted glass pyramid which feels space-like.
The Louvre is not a peaceful museum so expect crowds and noise. At a minimum you need forty minutes, using a line skip ticket.
Les Deux Plateaux
End the morning with a bit of controversial art at Palais Royal – Les Deux Plateaux (Colonnes de Buren). 
Feeling like something French for lunch?
I recommend the quiche at Le Nemours cafe next to the palace and the jewelled Palais Royal Metro Station.
Need to pick up some souvenirs? Rue de Rivoli closeby is a cheaper option to the Champs-Élysées shops.
---
» You may also like | Gift guide for Paris lover
---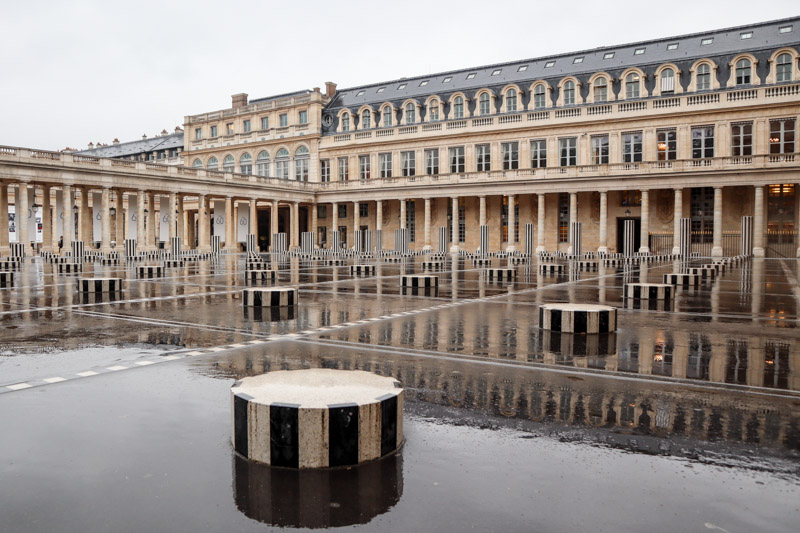 Afternoon: Musée d'Orsay, River Seine or Sainte-Chapelle, Saint Germain
Option 1:

Musée d'Orsay and River Seine Tour

There are two options for your second afternoon in Paris and both involve activities on the Left Bank of the river. Well, one is in the river.

The first option involves an afternoon at the Musée d'Orsay, the popular museum (a must-see in Paris according to lots of our audience) and a River Seine ride (one hour). 

If you time it right you might just make the panoramic boat ride at sunset. 

As with all attractions in Paris, it is advised to purchase a timed entry for the Musée d'Orsay, which was once a railway station. Popular work includes Van Gogh's Starry Night over the Rhone and Bal du moulin de la Galette by Pierre-Auguste Renoir.

I've not been, yet thanks to the Paris strike, but I do know that the famous Musée d'Orsay clock is a popular photo spot with secret city views. Pretty unique.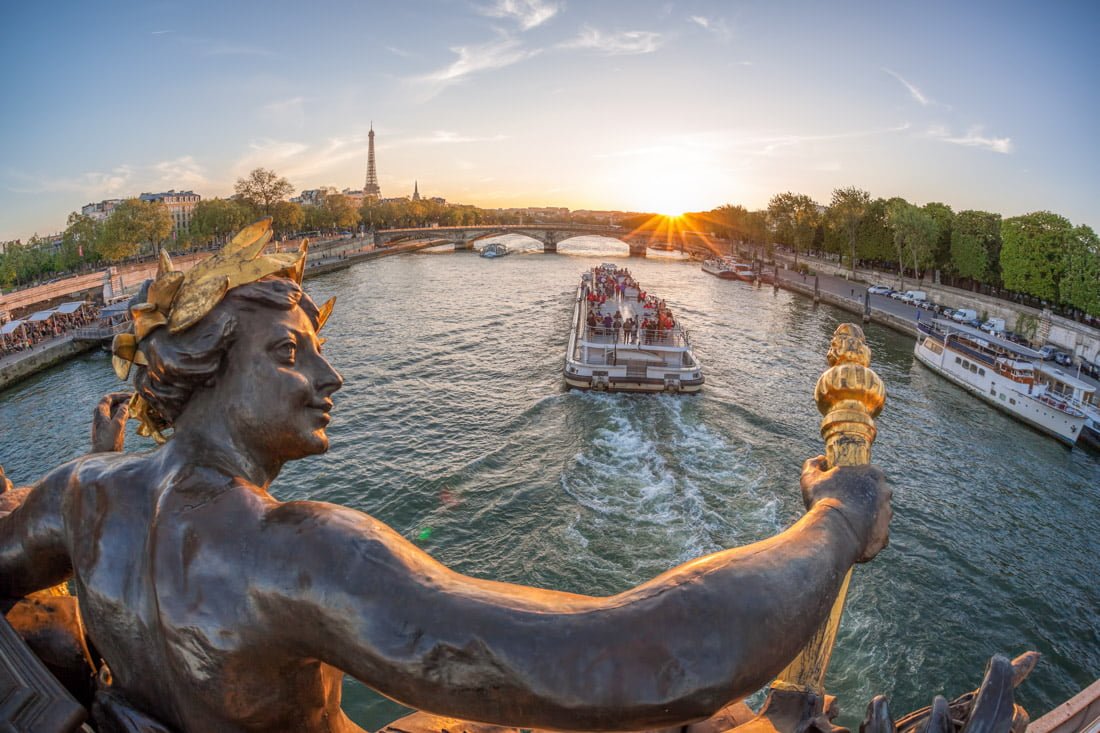 Option 2:

Notre Dame, Shakespeare & Co,

Sainte-Chapelle

The second option is to visit Ile de la Cité, which is a little island in the middle of the Seine, to see a special building, Sainte-Chapelle.

Walk over the oldest standing bridge, Pont Neuf, past the Notre-Dame and over the road to the bi-level bookshop, Shakespeare & Co. 

It's not just a bookshop, there are cartoon plaques upstairs detailing stories about the famous characters and loyal customers who used to visit including Hemingway who, like many authors and artists, lived on the Left Bank

There's also a coffee shop attached to the store.
Sainte-Chapelle
Not an attraction that appears in the generic top things to do in Paris guides but one that came highly recommended by our Facebook followers and since I was in the area, and it was raining, I thought, why not.
If you like architecture, photography, light, heck even decor goals, then a quick trip to Sainte-Chapelle should be considered for your Paris two day itinerary. 
The self-guided visit takes a maximum of 30 minutes unless you want to purchase the audio guide. If you don't buy the skip the line ticket it will take longer. 
There was a line outside of the chapel in December to give you a comparison for other months.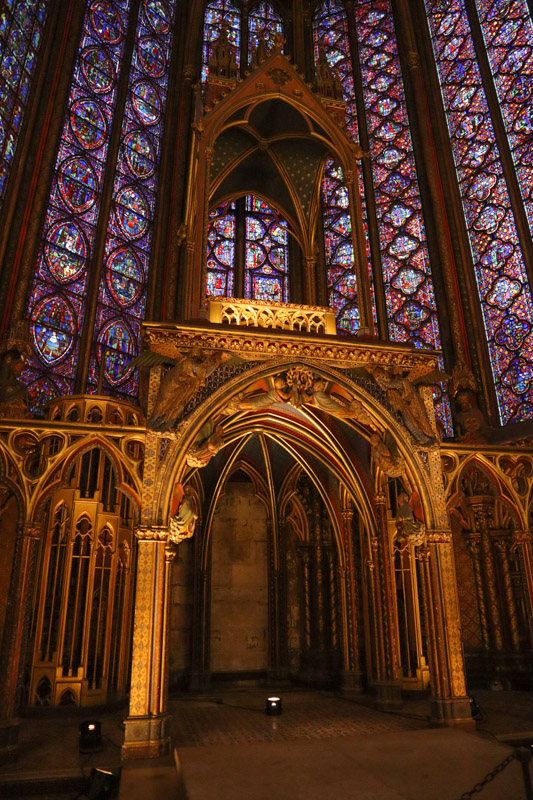 Commissioned by King Louis IX, this isn't just a holy chapel it's a royal holy chapel. Its location is historically important as Ile de la Cité is where the royal family lived.
King Louis IX wanted to show that he was not just a king but also the leader of the Christian world.
He died during the conflict and his funeral took place over the road at Notre Dame Cathedral. He was later made a saint. 
Sainte-Chapelle has two floors, the top is grander with its arches and statues. When you climb the tight staircase and reach the top, get ready for a wow sighting. Hard to describe, just go! 
Note: I struggled to find the entrance of Sainte-Chapelle. Walk past the Ordre des Avocats à la Cour de Paris gates to the long line of tourists
Île de la Cité Tour By Foot
If you'd prefer to walk with a guided tour, this 4.5-hour tour focuses on Île de la Cité Paris highlights – Notre Dame, Sainte-Chapelle, Louvre and a Seine cruise.
Saint-Germain-des-Prés
Literature and art fans will know Boulevard Saint-Germain as the street with the historic haunts of many great and Bourgeois artists and writers.  
Popular cafes include the art deco, Café de Flore. 
If you do make it to this area, head to Aux Merveilleux (meringue) for the best cake I tasted in Paris.
There is a Christmas market on Boulevard Saint-Germain too.
Evening: Drinks or Alternative Options
Since you have two nights in Paris, you can, if you like, use one to do as the locals do – drink wine, beer and people watch while sitting on the streets just outside of bars. 
Don't worry if it's cold, many of the bars provide heaters and wine helps! 
One of my favourite streets to do this on is Rue Montorgueil where you can also dine and buy Stohrer pastries to takeout. 
Since 2 nights in Paris is not enough, here are other things to do depending on your travel style: 
Dinner in Marais District 

The Centre Pompidou for modern art 

 Le CENTQUATRE-PARIS events or food

 Shopping at Galeries Lafayette Haussmann or Printemps

Canal de l'Ourcq – different side of Paris, cafes, art and green space

Trocadéro – Back where it all started to watch the Eiffel Tower illuminations on the hour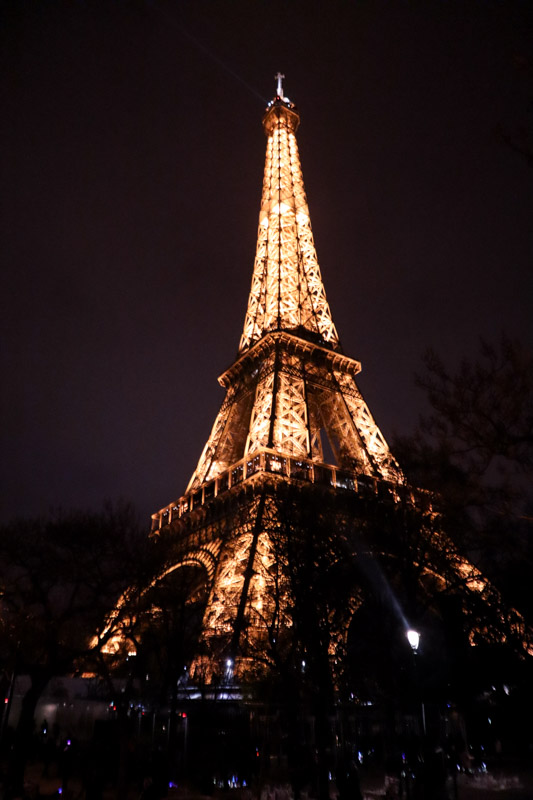 Planning
Paris In 2 Days
Paris Accommodation 
Paris Hotels
Le 123 Sébastopol

: Personal choice. Excellent location close to Rue Montorgueil and Les Halles. Fast WiFi, free movies, outstanding hot and cold buffet breakfast. Highly recommend. Pictured below.


Hôtel Emile

: Fun Marais district, this is an affordable option.


Pratic Hotel

: Affordable option in an ideal location, clean rooms, happy customers.

Hostels in Paris
What to Wear in Paris 
Layers for the shade and evenings in summer and warmth in winter

Don't pack denim if you can as it's not pleasant when wet

Waterproof coat/jacket and a padded warm coat if visiting in winter

Waterproof shoes or boots and trainers without air holes (wet weather)

Umbrellas are just a pain/it gets windy

Refillable water bottle – water is safe to drink in Paris

Tote bags for shopping – save the environment

Camera

Hats, gloves and scarf for winter

Tights with skirts/dresses and under trousers/pants if out all day and temperatures are low

I also wore socks over tights for toasty toes


Paris Weather 
Summer in Paris is the warmest time to visit with July and August enjoying 20°C  (68 °F) however, September sees the least rainfall. 
During winter, prepare for a mix of rainy and dry days with lows of 3°C (37.4°F) and highs of 8°C (46.4°F) in December. It can hit minus temperatures. 
In winter, sunset is around 17:00-17:30 making the day shorter than summer which is actually a benefit if you plan to see Paris for its lights!

Currency
France uses the Euro. Check up-to-date rates here. 
The majority of hotels, restaurants and shops accept major debit and credit cards.
You can tap the card machine or use chip and pin. 
Some shops have unusual cash tills which return out coins like a vending machine.
It means the server doesn't have to touch dirty money! Genius. 
Tourist Information
There are a variety of tourism offices in Paris. The main one is at 29, rue de Rivoli Paris 4e. For the full list, see here.
Top Tours + Line Skips For Paris
Get the most out of Paris in two days by investing in these tours and link skips:
Expect to go through security at every location. To save time, have your bag ready.
You can take water bottles through so pack one to reduce waste.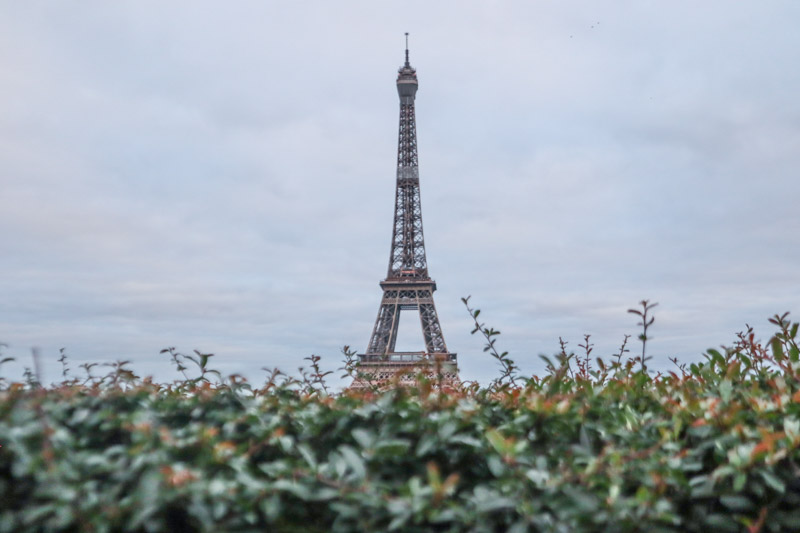 Getting to Paris
There are two airports in the city, Charles-de-Gaulle (CDG) and Orly (ORY).
You can use public transport from both airports to get to Paris. 
The RER B train goes from CDG to central city stations in 30-40 minutes – under 11 euro.
Orly does not have a direct train to Paris.
Visitors use the OrlyVal train to the RER station at Antony. This journey takes around 40 minutes.
It is likely you will then use the Metro to get to your accommodation. 
Getting Around
Paris's neighbourhoods/areas are called arrondissements.
Here are the highlights in the most popular arrondissements.
1st arrondissement is in the middle then the next arrondissements wind round forming the shape of a snail! How apt for France since it is a culinary option. 
1st arrondissement for the Louvre, Palais Royal, Tuileries Gardin.

2nd arrondissement is where you will find Rue Montorgueil for bars.

4th arrondissement is home to the lovely Marais and LBGT+ scene. 

5th arrondissement aka the Latin Quarter is where you will find Shakespeare & Company.

6th arrondissement for Hemingway and Boulevard Saint-Germain. 

7th arrondissement for the Eiffel Tower and Rue Cler (foodie street, on my list for next time)

8th arrondissement for Arc de Triomphe. 

9th arrondissement for Galeries Lafayette and Printemps department stores.

14th arrondissement for Montparnasse and Paris Catacombs.

18th arrondissement for the gorgeous Montmartre and Sacré-Cœur. 
Paris has a well-connected public transport system which includes the metro, RER trains, trams, buses, taxis, Uber (more expensive), e-scooter and boat tour rides on the Seine! 
Passlib is the official tourism pass that lets you access public transport, a Seine cruise and Paris museums. You can choose your preferred number of days here.
Metro tickets can be bought in packs of ten (un carnet).
Paris Attractions Map
Here's an ever-growing map of Paris which has pins to the activities and locations discussed in this guide.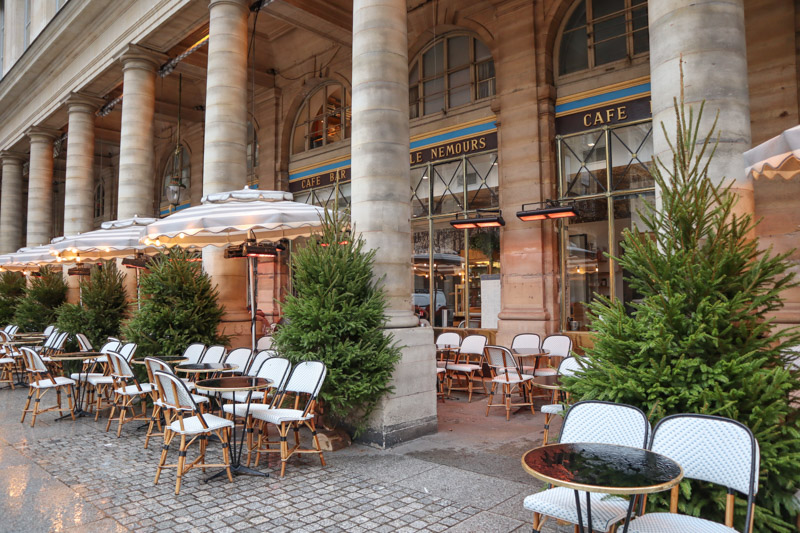 ---
Final Words 
Paris is a city that people return to time and time again because regardless of how many days you have, you will still feel like there's a neighbourhood unturned, an attraction you've not yet seen or a cafe you've not lost an hour to and the latter will be one of your trip highlights.
However, now you are more equipped to plan your Paris in two days itinerary, tell us in the comments below what you decide for your trip to the City of Lights. 
---
Save for later by pinning to your Paris planning board