This article has links to products and services we love, which we may make commission from.
Celebrated architecture, popular museums, cafe culture and of course, the twinkling Eiffel tower, one day in Paris is just about enough to enjoy a taster of what the French capital has to offer. This 24-hour guide will detail exactly what you should do to get the best out of your Paris itinerary, provide advice on how to save time and as always, offer choice!
Whether you are visiting Paris as part of a layover, a day trip during a Euro train tour, as part of a multi-destination vacation, or only have an hour to steal like Ethan Hawke in Before Sunset, let's take a look at the best things to in Paris, all year round. 
---
Can't travel just now? What about a group tour of Paris with a Parisian guide? This hilarious virtual tour game is a fun team builder and intro into Parisian life. I did it with my friends and it was a hoot.
---
» You may also like | How to spend 48 hours in Paris
---
One Day in Paris Itinerary 
To make the most of the following Paris in a day recommendations I suggest you consider the hop-on / off open-top bus for three reasons.
Firstly, it's a mode of transport that covers all of the most popular Paris attractions such as the Louvre Museum and Montmartre which take just over one hour to walk between and since you only have one day you want to curb time-wasting. Your feet will thank you for it too.
The second reason is height. From the top deck, you get to see the Paris points of interest from approximately 13 feet in the air. During one stop, you are pretty much underneath the Eiffel Tower. The top deck also has 360 panoramic views.
Finally, the open-top tour has a multi-language audio guide. Personal earphones can be used or fresh ones are provided by the driver.
You can hop on all around the city and tours run from morning until early evening.
I used this tour during a strike when the Paris Metro was closed in protest. I started the tour across the road from the Louvre next to the Arc de Triomphe du Carrousel.
The tour then passed the Musée d-Orsay and Concorde, along Champs-Élysées to the Arc de Triomphe.
I rejoined the tour for the Eiffel Tower light show and took the bus back to the central point, Madeleine.
You just purchase your ticket here and show the representative/bus driver on the bus. They give you a voucher which you show at other stops. Simple. 
Morning – Louvre Museum, Les Deux Plateaux, Rue de Rivoli
Hopefully, your hotel will provide a banquet of bread and French pastries but if not don't stress, there are plenty of boulangerie bakery shops around the city which you can pop into.
Alternatively, delightful Angelina cafes are dotted all around Paris but are busy so if want to dine here, arrive for the cafe opening. Fitting for the next stop, there is one close to the Louvre (Angelina Musée du Louvre Aile Richelieu).
At some point during the day, you definitely want to take time out to sit in a cafe and order a coffee or hot chocolate. If it's possible, drink it outside so you can people watch too.
If you need a coffee to kick start your day, do this now. It's part of the Parisian culture to do so.
The first Paris stop on our itinerary is the Louvre Museum.

Louvre Museum

The Louvre is the pyramid-like glass structure you will be familiar with from postcards, movies such as The Da Vinci Code or even maybe the Beyonce/Jay Z video for Apesh*t. 
Regardless of it being featured in a variety of literature, there is one main reason for the outside (avoidable, see below for tips) and inside long lines and that is to see Leonardo da Vinci's, Mona Lisa.

The Louvre is one of the most popular things to do in Paris so my advice is, invest in a timed entry ticket as you don't have time to waste standing in line. 
You could easily spend a day in the Louvre if you are interested.
If not, set aside an hour for your visit, pick up a map on entry and head to the lines for the Mona Lisa, which is tiny and has security surrounding it.
Photographers might want to swing back to get a shot of the Louvre at night with its lovely warm glow. There is a cool frame to the right of it close to Les Deux Plateaux.

Les Deux Plateaux
If you've seen anything related to Paris on Instagram you will be familiar with Les Deux Plateaux (Colonnes de Buren). 
This black and white art installation looks like it belongs to the Pompidou not the Palais Royal in Paris!
It is common to see tourists climb up on the tube-like stone structures for photographs.
Another cool photo spot just outside of the courtyard is Palais Royal Metro Station with its oversized crown jewels.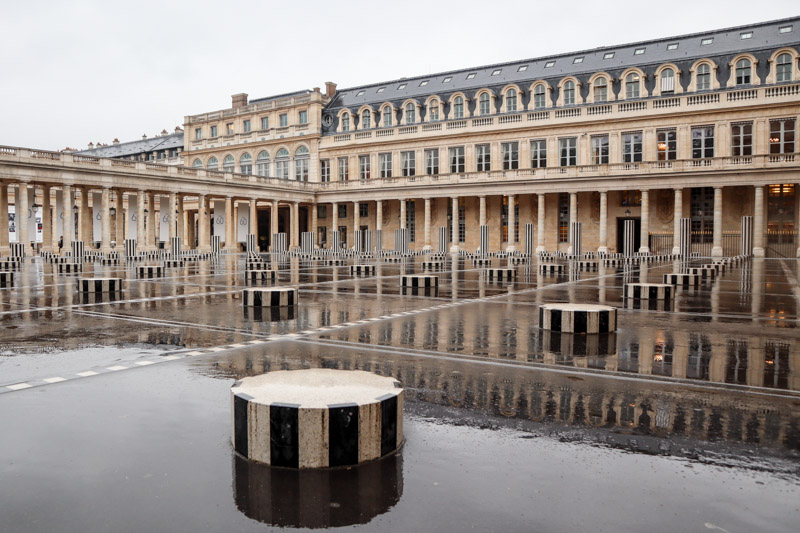 Hungry? Dine at the Le Nemours cafe next to the palace. Try the quiche as you sit close to other customers in this tight, Parisian cafe. Locals dine here too.
Rue de Rivoli
Since you only have the day, don't go out of your way shopping for souvenirs. You can pick up some at Rue de Rivoli which are cheaper than those on the Champs-Élysées. 
Jardin Des Tuileries
Jardin Des Tuileries is a popular garden between the Louvre and Place de la Concorde, where the likes of Marie Antoinette were executed. 
During winter, this is where the biggest Christmas market takes place.
---
» Visiting in Winter? Here's our Paris at Christmas guide
---
Just here to shop? 
Shopping in Paris

From the gardens head to Galeries Lafayette Haussmann for floors of shopping. 
During Christmas, this is where a huge decorated Christmas tree is located.
All-year-round there is a free rooftop with city views if the skies are clear.
Other popular shopping locations include Champs-Élysées (street), Printemps (store), Westfield Forum des Halles (mall), BHV Marais (store), Marasi independent shops and high-end designers can be found at the Golden Triangle – Avenue des Champs-Élysées, Avenue Montaigne and Avenue George V.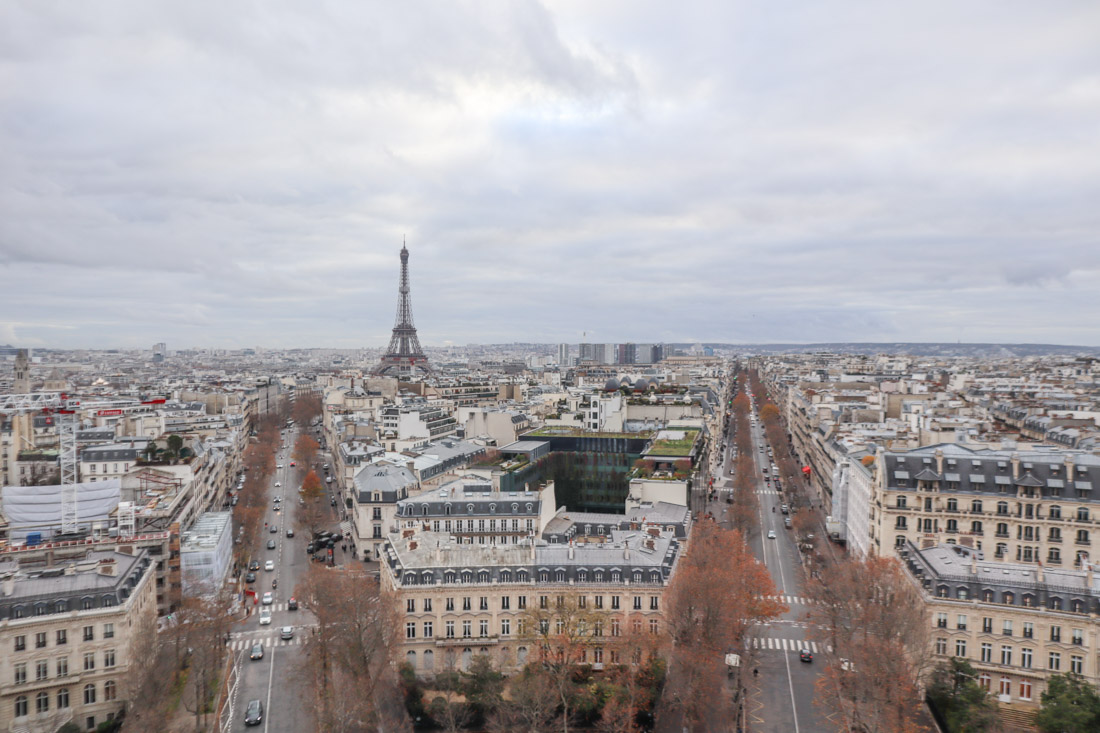 Alterative Museum – Musee d'Orsay

Already decided the Louvre isn't for you?
Musee d'Orsay is an ex-train station on the left bank of the River Seine.
It is frequently cited as a favourite museum by visitors, including many of our social media followers.
Here you can see popular paintings such as Van Gogh's Starry Night over the Rhone.
Don't try to visit without a timed entry or again, you will waste your day. 
Afternoon
Option 1: Notre-Dame, Sainte-Chapelle and River Seinne Tour

On your way to the majestic Sainte-Chapelle, you can walk past the Cathédrale Notre-Dame de Paris and pop into the famous Shakespeare & Co bookshop if you are into literature.
This is where the likes of Hemingway and Fitzgerald's work was nurtured by the owner, Sylvia Beach.

Sainte-Chapelle 
This royal chapel is a grand as you'd expect with its dreamy blue stained-glassed windows and gothic architecture. 
Set aside around 40 minutes and skip the line with this pass.
This is the only Paris GetYourGuide pass I managed to get on the day, all the other vouchers had to be pre-booked at least one day before and that was during winter.

I struggled to find the entrance of the Sainte-Chapelle. Just walk past the Ordre des Avocats à la Cour de Paris gates to the long line of tourists. 
River Seine Cruise
It's not just the buses that have open decks, the boats do too!
This one-hour Seine cruise glides you along the river passing some of the best Paris sights to see.
If it's raining you can view the tour from the floor to ceiling glass windows without getting wet. 
Depending on what time of year you visit, it might just be getting dark enough to the City of Lights in action from the boat.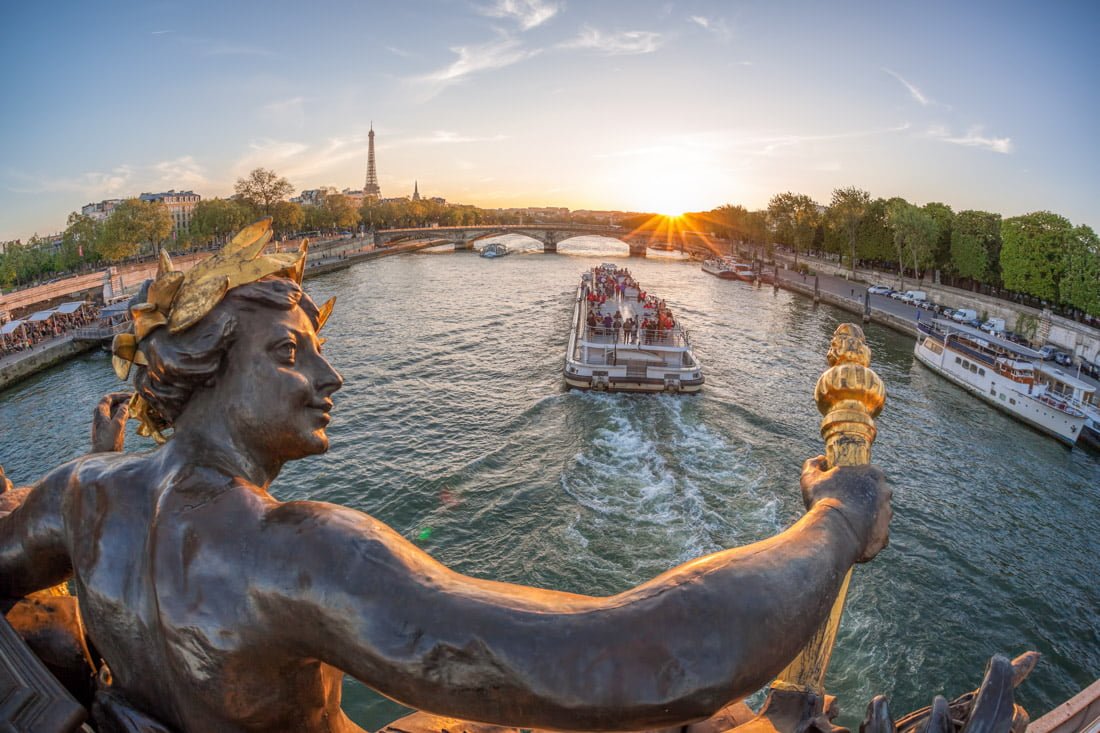 Option 2: Champs-Élysées, Arc de Triomphe and the Eiffel Tower
Walk along the Avenue des Champs-Élysées to Charles de Gaulle, where the Arc de Triomphe is.
Head underground to the Arc de Triomphe ticket office, walk passed the lines and flash your skip the line ticket on your phone then brace yourself for the winding stairs to the museum then the next set to the rooftop.
From the rooftop, you can see your next stop – the Eiffel Tower. The image above taken from the rooftop. 
At the foot of the Arc is the eternal flame monument. Lots of tourists pile up across the road for a photograph.
The traffic around the Arc is crazy, be careful and use the underground path.
Eiffel Tower

Ready for dinner? Grab some pizza and wine under the heaters at Mokus l'Écureuil while you wait for the illuminations at Trocadéro, the best place to view the Eiffel Tower in Paris.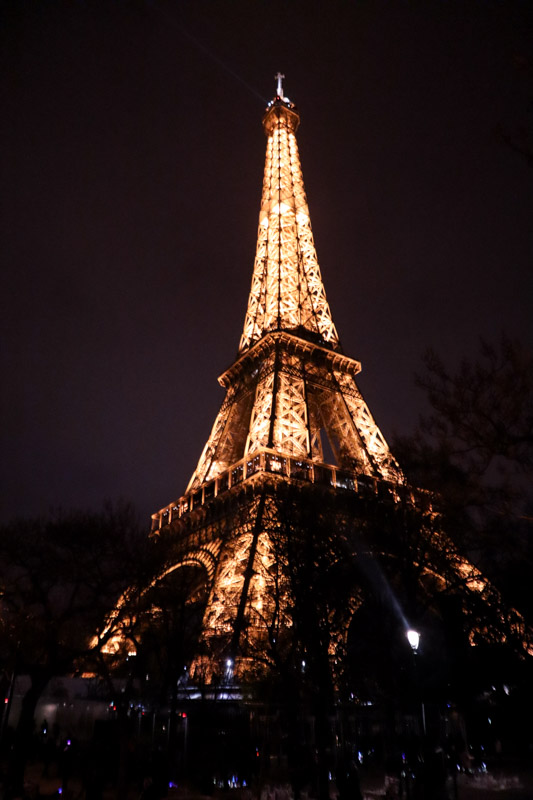 Trocadéro and Eiffel Tower 
On the hour, every hour of the evening, the Eiffel Tower illuminations spark up and twinkle in the dark. 
This area is very busy with tourists so be careful of your belongings. 
---
» You may also like | Gift guide for Paris lovers
---
Option 3: Montmartre, Sacré-Cœur and Moulin Rouge
For some, visiting Montrmarte's cute houses and historic streets will be a must during their 24 hours in Paris itinerary.
Montmartre
Montmartre is one of my favourite places in Paris. Grey-stone buildings with pastel-coloured shop fronts, a city vineyard, steep yet winding streets with hidden nooks and crannies and out of place street art. What's not to love? 
Find the Buste de Dalida monument and look up to the Sacré-Cœur for one of the best views of the Basilica lined with Parisian houses.
Look out for one of two remaining windmills at the restaurant, Moulin de la Galette.
Grab a phot0 at the Le Refuge, if you can beat the Instagram crew. 

Sacré-Cœur Basilica
The hike to the Sacré-Cœur Basilica is not for the faint-hearted visitors which makes the view so good.
Unsteady on your feet or unwilling to sweat? A cable car (train) connects Montmartre with the Sacre-Coeur.
The Sacré-Cœur is free to enter and there is a crypt below which is also free. To see city views from the dome there is an additional charge. 
Close to the Sacré-Cœur, there is a great crepe shop which you can order from a window. 
Watch out for the drunk house of Paris.
Walk to the bottom of the Sacré-Cœur stairs, look back at the basilica and move your head to your right. 
Adjust your camera so the grass is in a horizontal line and then you have a sunken building to fool your friends with.
Moulin Rouge
Not the cheapest thing to do in Paris but still a popular option, see a show and/or dine at the Moulin Rouge to end your day in Paris.
Option 4: Le Marais, Pompidou and Rue Montorgueil 
If you only have 1 day in Paris, Marais, on the Right Bank, is a perfect location for accommodation as there is a bustling neighbourhood for food (try falafel), traditional and hip cafes and independent shops around.
Plus, you can walk to the Louvre and its surrounding attractions in under 25 minutes. Ideal for squeezing as much as possible into your day.
People watch a Place des Vosges then head to the Pompidou. If you are a fan, the Musée National Picasso-Paris is in Marais. 
Pick up an unusual souvenir Legay Choc bakery. 
Centre Pompidou 
The modern art museum, Centre Pompidou, is my personal favourite museum in Paris. 
You can't miss it with its industrial facade and toy-like tubes.
There is also a city viewpoint and rooftop bar/restaurant.
Polish off the evening on the jumping street of Rue Montorgueil where you can dine, hide under the heaters drinking wine and buy all the pastries at the oldest patisserie in Paris, Stohrer. Perfection.

---
Paris Day Tours
If you prefer to let someone else take the direction of your day, consider a day tour of Paris. 
Île de la Cité Tour By Foot
This 4.5-hour tour focuses on Île de la Cité taking in the Paris highlights Notre Dame, Sainte-Chapelle, Louvre and a Seine cruise.
Full-Day Versailles & Paris Sightseeing Tour with Lunch
If you want to cram two days into one, this 10-hour multi-attraction tour is for you.
Visit Versailles outside of the city, take a boat ride on the Seine, see the city from the Eiffel Tower plus more from the bus tour. Lunch is included.
---
Paris Travel Planning Advice
Where to Stay in Paris
Paris Hotels
Paris Hostels
What to Wear in Paris 
Paris Weather 
July and August are Paris's warmest months at 20°C  (68 °F) however, September sees the least rainfall. 
During winter, prepare for a mix of rainy and dry days with lows of 3°C (37.4°F) and highs of 8°C (46.4°F) in December. It can hit minus temperatures. 
In winter, sunset is around 17:00-17:30 making day shorter than summer which is actually a benefit if you plan to see Paris for its lights!

Currency
France uses the Euro. Check up to date rates here. 
The majority of hotels, restaurants and shops accept major debit and credit cards.
You can tap the card machine or use chip and pin. 
Some shops have unusual cash tills which return out coins like a vending machine.
It means the server doesn't have to touch dirty money! Genius. 
Tourist Information
There are a variety of tourism offices in Paris. The main one is at 29, rue de Rivoli Paris 4e. For the full list, see here.
Top Tours + Line Skips For Paris
Enjoy online electronic bookings and 24-hour cancellation options with GetYourGuide as well as peace of mind that you have your tours and link skips booked so you can cram in this jam-packed 24 hours in Paris itinerary. 
Expect to go through security at every location. To save time, since you only have one day, have your bag ready.
You can take water bottles through so pack one to reduce waste.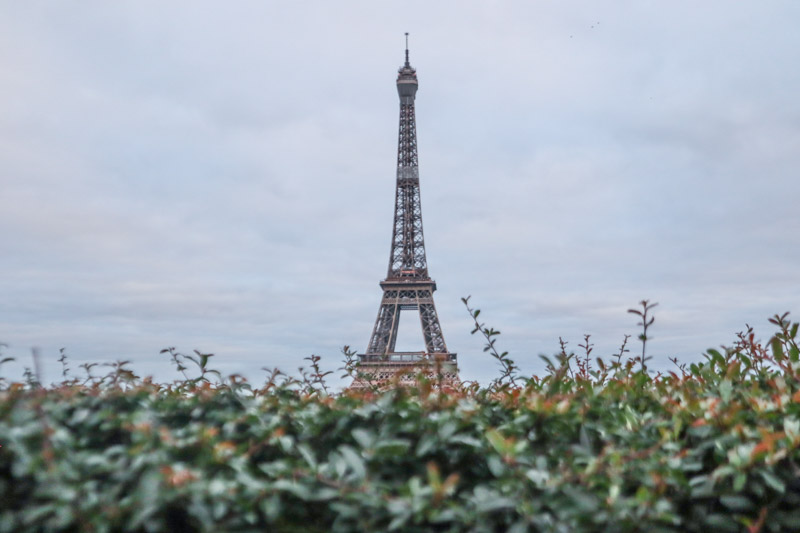 Getting to Paris
There are two airports in Paris, Charles-de-Gaulle (CDG) and Orly (ORY).
You can travel by public transport from both to the city. 
Use the frequent RER B train goes from CDG to central city stations in 30-40 minutes for under 11 euro.
Orly does not have a direct train to Paris.
Visitors use the OrlyVal train to the RER station at Antony. This journey takes around 40 minutes.
It is likely you will then use the Metro to get to your accommodation. 
Getting Around
Paris's neighbourhoods/areas are called arrondissements.
Here are the highlights in the most popular arrondissements.
1st arrondissement is in the middle then the next arrondissements wind round forming the shape of a snail! How apt for France since it is a culinary option. 
1st arrondissement for the Louvre, Palais Royal, Tuileries Gardin.
2nd arrondissement is where you will find Rue Montorgueil for bars.
4th arrondissement is home to the lovely Marais and LBGT+ scene. 
5th arrondissement aka the Latin Quarter is where you will find Shakespeare & Company.
6th arrondissement for Hemingway and Boulevard Saint-Germain. 
7th arrondissement for the Eiffel Tower and Rue Cler (foodie street, on my list for next time)
8th arrondissement for Arc de Triomphe. 
9th arrondissement for Galeries Lafayette and Printemps department stores.
14th arrondissement for Montparnasse and Paris Catacombs.
18th arrondissement for the gorgeous Montmartre and Sacré-Cœur. 
Paris has a well connected public transport system which includes the metro, RER trains, trams, buses, taxis, Uber (more expensive), e-scooter and boat tour rides on the Seine! 
Passlib is the official tourism pass which lets you access public transport, a Seine cruise and Paris museums. You can choose your preferred number of days here.
Metro tickets can be bought in packs of ten (un carnet).
Paris Attractions Map
Here's a map of Paris which has pins to the activities and locations discussed in this guide.
---
Save for later by pinning to your Paris planning board
---
Final Words 
Paris in a day is doable and will leave you with a desire to return! So if you are swinging by before Disneyland, hopping off the train on a Euro inter-railing trip or just enjoying a quick stopover, enjoy the City of Love and share your experiences with us in the comments below.