This article has links to products and services we love, which we may make commission from.
Looking for tips on the best day trips from Lisbon? Look no further! While the city of Lisbon, with its tiles, tantalising tarts, and trams, is so lovely there is a good excuse to leave. Not far from the Portuguese capital you will find vineyards, beaches, castles and palaces. So let's take a look at these recommended (by us, Gemma and Craig) Lisbon day trips so you can start planning your itinerary. Don't miss our guide on things to do in the city and where and what to eat too.
If you are doing an independent day trip, do check out our road trip packing guide before you hit the road.
Best Day Trips From Lisbon
1. The Beauty of Belém
Although often referred to as a popular day trip, Belém is technically in Lisbon and visitors should not bypass this bustling section west of town.
This area of the city is only 3.7 miles from the centre and 2 miles from the Ponte 25 de Abril/25th of April Bridge. That's the one that looks like San Francisco's little sister.
Our trip to Belém was one of the best day trips in Lisbon we did and also a highlight of the 10 days for me!
There are several ways to get to Belém.
Firstly, take the number 15E tram or 729 bus from downtown and leave the tram at Jeronimos Monastery. This journey takes a maximum of 30 minutes.
The second option is to visit as part of the Lisbon hop-on hop-off double-decker bus experience.
Alternatively, hire a bike in the city and bike to Belém (40 mins) as we did.
The easy trail is scenic and shadows the River Tejo, takes you under the 25th of April Bridge, and arrives smack bang in front of Belém Tower, and the crowds that come with it!
Tip: Enjoy a pit stop under the bridge at DOCAS, Santo Amaro Docks.
If you prefer a guided bike tour, this four-hour option makes two stops for a local snacks and drink and is hosted by a knowledgeable tour guide.
Things to Do in Belém
Tower of Belém
One of the most iconic images of Portugal, after those glorious coasts. is the tower of Belém which sits at the River Tejo and acts as a signpost for Lisbon's harbour.
Belém Tower was constructed in 1514/15 by Francisco de Arruda as a fortress to stop unwanted arrivals by sea.
Today Belém Tower is a magnet for tourists, especially in the hot summer months of June – September.
It is reassuring to see that UNESCO has listed the bewitching building as a World Heritage monument.
If you plan to visit the tower and the monastery (below) you may want to consider the Lisbon City Card which covers skip-the-line to both attractions. It also covers your transport costs.
Padrão dos Descobrimentos
Padrão dos Descobrimentos/Monument to the Discoveries is the cemenet and rose-tinted stone monument pokes out over the Tagus River.
Its rectangular block pierces the sky while the limestone sculptures face out to sea.
Padrão dos Descobrimentos was under construction when we visited but hey, that's the reality of travel.
Hot for Tarts?
…then taste the treats from Pastéis de Belém.
Portugal is famous for its custard tarts and the most favoured of them all are created at this eatery.
The actual surroundings are pretty noisy, the building itself has a haunting echo of people chatting but there are two solutions to improve the experience.
Firstly, ask for a seat outside.
We were seated in the garden café area and it was just darling to eat a cake amongst the flowers!
Alternatively, you can take away these sugary delights (although they are delicious warm).
Or do both.
If you cycled to Belém you can afford the calories.
Tarts: €1.05
Address: R. Belém, 1300-085 Lisboa, Portugal
Mosteiro dos Jeronimos
When you witness how extravagant Jeronimos Monastery is, you'll think it is no surprise that the affluent and elite used to hang out in Belém to escape city life.
After the monastery was dissolved, this ridiculously large building became home to an orphanage and is now a walk-through museum.
Purchase your skip-the-line ticket here.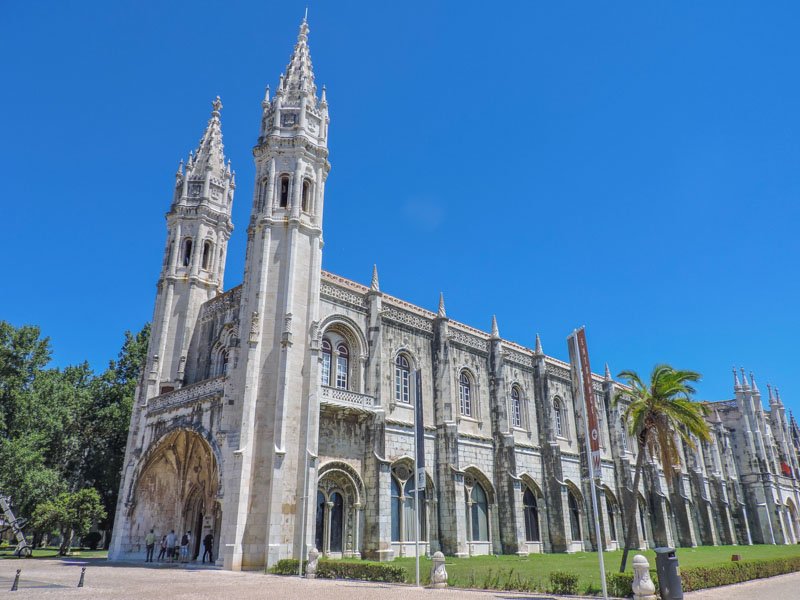 Berardo Collection Museum
An overlooked Lisbon activity is a visit to the modern and contemporary art haven, the Berardo Collection Museum.
The museum has a variety of temporary and permanent exhibitions from a mix of decades.
Artwork includes print, photo, structures, film, and my favourite – lights!
Address: Praça do Império 1449-003 Lisboa, Portugal
Price: Free
2. Sintra Day Trip
Sintra is a town at the bottom of the Sintra Mountains, a perfect spot for a royal hideout or two.
I've honestly never been to a location that has such a high concentration of palaces, castles and important houses.
With that appeal, Sintra draws in many visitors all year round.
During summer, Sintra feels like Disney, without the sophisticated ticketing system and single rider options.
If you plan to make the Lisbon to Sintra trip independently, which is easy to do, leave early and be prepared to wait in long lines or invest in line skips or it will be a long day trip.
Wear comfortable shoes and make use of public transport around the town to save time.
Alternatively, hire a scooter, as we did, and zip around the park with palaces.
Sintra boasts of ten national monuments for tourists to visit.
These include the National Palace, Moorish Castle, and Pena Palace.
National Palace
Pena Palace
Price: €12 – Reserve your skip-the-line ticket here
Moorish Castle
Lisbon to Sintra
Lisbon is very well connected by trams, buses, trains, and taxis (including Über).
One of the most popular Lisbon day trips by train is to Sintra, which is an easy journey taking the 434 train from Rossio Station.
The journey is approximately 40 minutes and costs around €4.30.
Alternatively, hire a scooter for under €50.
Prefer to let someone else do the driving?
This Sintra day tour leaves Lisbon and takes small groups to Sintra for lunch and to visit Pena Palance.
Other stops include Cape Roca and Cascais so if you are searching for a day trip from Lisbon to Sintra and Cascais, that could be your tour.
Quinta da Regaleira Well, Sintra
Getting Around Sintra
It should not be underestimated how hilly Sintra is.
The national monuments are spread out over the town which makes navigation quite difficult.
There are Sintra-centric buses which run in a loop from the train station, through the town and up the hill for €5 (bus 434 information).
We arrived by scooter which was hired in Lisbon and used the parking close to each monument.
Unfortunately, Sintra was not somewhere this Rapunzel could let her hair down.
Unlike Granada (Spain), where you can stroll through the gardens of the Alhambra without going into the palace, there is no option to explore the city without digging pocket deep.
The national monuments are pretty pricey for travellers on a backpacking budget and we definitely felt excluded.
Don't just listen to us though, the Lisbon day trip to Sintra is adored by many.
If you like castles, check out this guide to more of Lisbon's day trips including Óbidos which has a medieval wall.
3. Cast Your Eyes On Cascais
Blue, yellow, blue – that's how I like my summers and Cascais certainly knows how to do beaches and blue skies.
This area of Portugal is incredible.
Cascais includes Carcavelos beach to the Guincho Beach making it the perfect spot of topping up your tan close to Lisbon.
In addition to nice beaches, Cascais itself has lots of culinary delights which would make a perfect city/beach combo holiday.
We actually took a scooter ride from Lisbon to Sintra, through to Cascais, returning back to Lisbon, and although slightly hot, would recommend this route.
Grab an ice cream at the beach of course!

4. Wine Tasting Near Lisbon
Yes, the northern part of Portugal is renowned for its wine and port but did you know that you can whet your palette close to Lisbon too?
We ventured on this day tour of the enchanting Arrábida region of Portugal with Filipa and André aka Portuguese for a Day.
The cheese-eating, wine tasting Lisbon day tour kicks off with some Portuguese coffee and a trip to José Maria da Fonseca vineyard.
José Maria da Fonseca is a family-run business who have been producing wine for over 100 years and is now being run by the sixth and seventh generation!
If you are a wine lover and are heading north, do check out our foodie friends over at Savored Journey's review of Porto port houses.
After a few (three) glasses of Portugal's finest liquid, your chauffeurs will drive your along the coast to Setubal to watch the fishermen, then on to Arrábida to the beach which a popular Lisbon day trip for locals.
The northern shore of the Sado River is rarely ventured to by Lisbon tourists and it is absolutely breathtaking so you can feel smug about being one of the first.
However, as the saying goes 'it's not about the destination, it's about the journey' and we certainly felt that way about our new friends, Filipa and André.
During the tour, this adorable couple discussed everything with us from life in Portugal, snails (they love them!), and why the police carry scary guns in Lisbon, while we took in the scenery from their trusty van.
For you:
10% off any tour, quote Portugueseforaday_TwoScots at checkout.
See the tours here
.
We've recently heard from Filipa and André, they got in contact to let us know that they've had bookings off the back of this article.
This makes us very happy!
Do come back and let us know how you got on in Lisboa and beyond.
Meeting point: pick up at accommodation or arranged point
Price: €70 for the full-day tour including vineyard
Website: Portuguese for a Day
Contact: [email protected] / +351 913 958 803
Thanks to Filipa & André for spending the day with us, an honest review as always
Quote Portugueseforaday_TwoScots at checkout for 10% off!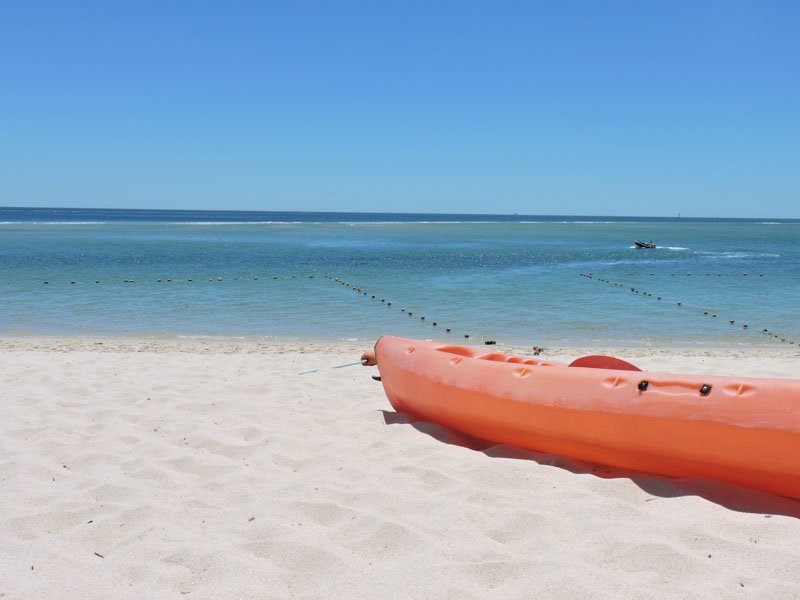 5. Porto
Porto is a colourful and photogenic town located in the northwest of Portugal.
It is famous for being on the coast with a medieval riverside district, cobbled streets, food and port naturally!
There is also a library that has been taken over by Instagram fans which you can read more about in my good friend, Allison's 2-day guide to Porto. I will be visiting this October! You?
While a Lisbon to Porto day trip is possible it is around three hours drive from the city so we would recommend that you give at least a night to the city.
Final Words
From beaches to buildings, wine to water – there is an eclectic mix of Lisbon excursions to meet every budget!
I honestly fell hard for this city and its surrounding areas and would love to head back to explore more of what the country has to offer (more wine? Ok then!)
Heading to Lisbon? Don't miss our post on 15 things to do in Lisbon for under €15 for advice on where to stay in Lisbon, things to do in Lisbon, and how to avoid getting ripped off!
Did you find this useful?
Why not save to your Portugal planning board?

Have you been to Portugal? Are you going?
Don't be afraid to leave comments or ask questions below!