This article has links to products and services we love, which we may make commission from.
Big attractions, Royal palaces, flagship stores, luxury shopping, you'd be forgiven for thinking that the streets are paved with gold. Everyone wants a piece of this big city whether it be London souvenirs, a quintessentially British gift or an experience in London that you simply can't get anywhere else in the world.
This British gifts guide will help you make sense of the unique from the twee, ensuring you don't go 'Pete Tong' (wrong!) Unless stated otherwise, all identified London gifts online ship internationally so everyone can enjoy them!
Going to London? You'll love our budget London hacks guide.
London Themed Gifts For All
London Gifts for Her
1. London Necklace
A sure hit with her, this delicate London skyline necklace is a simple piece.
The iconic backdrop of all the famous spots in London will pop against bright tops.
See here for the UK item // here for USA item.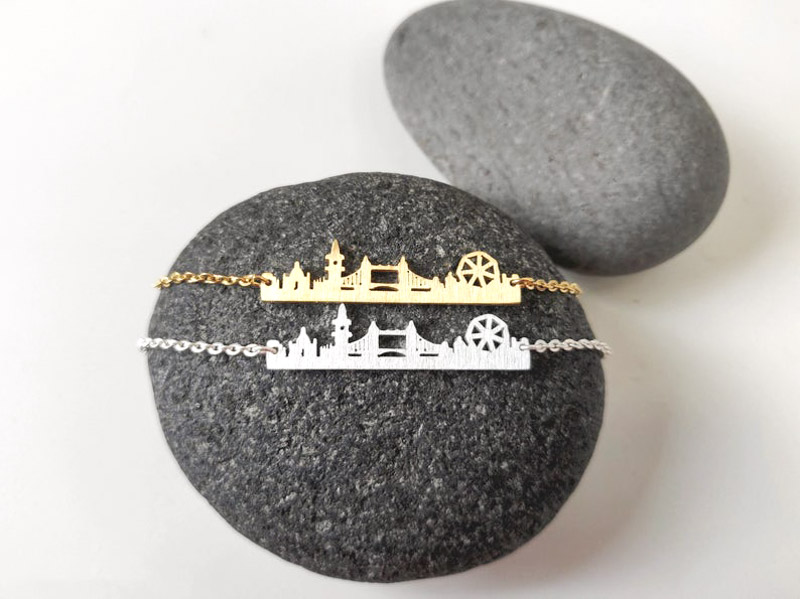 ---
2. Super-Cute London Print Apron
Something a little more on the 'twee side' is this cute London themed apron. A throwback to the 1950s, this apron has a halterneck top and tie for the waist. It fits sizes 4-14, waist 30″, and is 26″ in length, top to bottom.
The attention to detail is impeccable with red phone boxes, double-decker buses, Big Ben, cute city girls, the Tube logo, and bows. Bravo, Brendables.
The top of the apron is red with white polka dots. See here for US item.
Sorry Brits, the above apron only ships to the US but there is a UK equivalent which you can view here.
Does anyone else think these aprons could be worn as dresses?!
Don't miss our most romantic places in Europe roundup!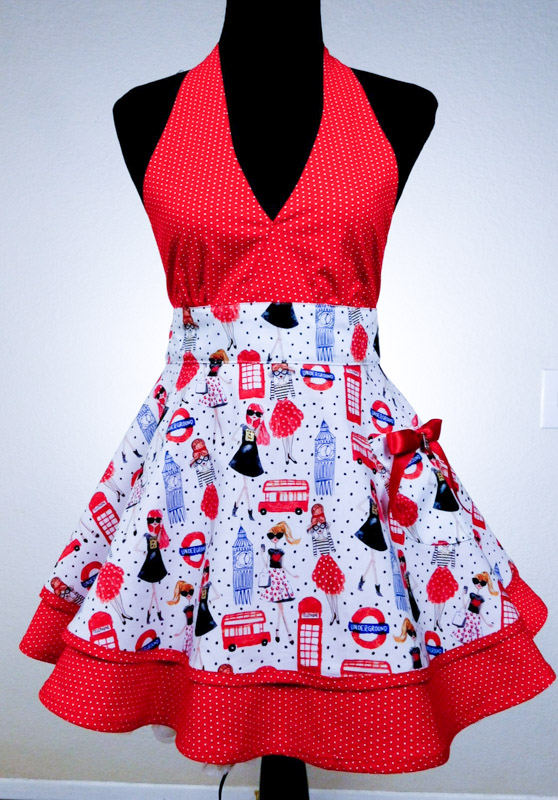 For Him
3. London Glasses
For statement pieces of glass, you need these. Create a set of conversation pieces with this glassware. Practical and stylish, your drinks table will look London chic with these.
For US readers, these London Marathon Map Rocks etched glasses are super popular for those who like a little something on the rocks.
For the British equivalent, you can have the exact area of London etched, with these personalized pieces (92mm x 78mm). See here to view.
4. For Difficult to Buy For Guys
If you really can't decide on an experience gift, give them a hand with accommodation.
Hotels are not cheap in the Big Smoke! Tinngly offer this '3-night stay in cities' hotel package.
How does it work?
You order the gift
The certificate is instantly emailed
They choose the location, hotel and dates (doesn't have to be London)
It is valid for five years so there is no rush
Gemma and Craig (Two Scots Abroad) have done Tinngly experiences all over the world including volcano boarding in Nicaragua.
For the Home
5. Tea-rific in a Cute Red Bus Tin
Let's start you on the right track and 'whet your whistle with a cup of Rosey Lee'.
Quintessentially British, this gift will soothe your weary bones and delight your friends.
Serve in china with a scone for an authentic London afternoon tea experience.
The question, cream or jam first on the scone?
Tell us in the comments below.
6. Sweet Tea Set
You've picked the tea, you've got the box now you just need a tea set.
Sitting with your scones, jelly/jam, and butter this traditional British gift will wow all your afternoon tea guests.
Read next, our Paris lovers gift guide.
7. London Clock
Abbey Road, where music is made and dreams can soar
. Vinyl clocks are just the ticket if your gift recipient is into their vintage looks and the London Skyline. Check them out at Etsy.
You may also like our Scotland gift guide.
London Underground Gifts
Did you know that the famous 'mind the gap' announcement is over 40 years old?
The announcement was reintroduced to the original voice as his widow missed hearing her late husband's words.
She used to visit a station just to hear this, after his death.
Now, London Transport has given her a recording of this iconic announcement.
With these London themed gifts, you're sure to make everyone happy.
8. Mind the Gap Print
An iconic 'Mind the Gap' picture, makes a perfect London Underground gift.
Order from Jack on Etsy (check out his branding, super cool).
9. London Tube Bag
Everyone needs a bag to pop their tablet in, maps or just to keep everything safe.
Let's make it the London look with this London underground map print bag by Hobby Girl Crafts!
This quality black Kona Cotton crossbody bag is perfect for just that at 8 x 10.5 inches.
Inside there are two compartments and the fully adjustable strap extends to 2.5 feet so you can retract it in to make it a shoulder bag, or pull it out for an over-the-body bag.
Great for security while moving through any city.
Best Souvenirs from London
Here are a few of the best England souvenirs.
10. London Crumpled Map
We all know that scene from Friends when Joey has to get in the map?
Well, we now have a solution. See the Crumpled London Map US / UK.
You can squish it up, get it wet, drop it and get in it because it's already well worn in!
11. Personalized Umbrella
Nothing is more British than talking about the weather.
To be honest, you can't get much more British themed gifts than umbrellas.
This great product even lets you pop on your own photo, so you can personalize it with a perfect London scene of your own choosing. Ships internally and offers free delivery to the UK!
Most Popular London Experience Gifts
12. Coca-Cola London Eye
One of the most prominent features in the London skyline is the London Eye.
Also, one of the tallest observation wheels in the world, the forty-minute ride with bird's eye view, is one of the most popular things to do in London.
This London eye ticket lets you fast track and 'skip the line' so visitors can save time and get on with their busy London itinerary.
Plus, from high heights, visitors can capture pictures to take home for their own unique London souvenir.
London gift ideas don't get more practical than this.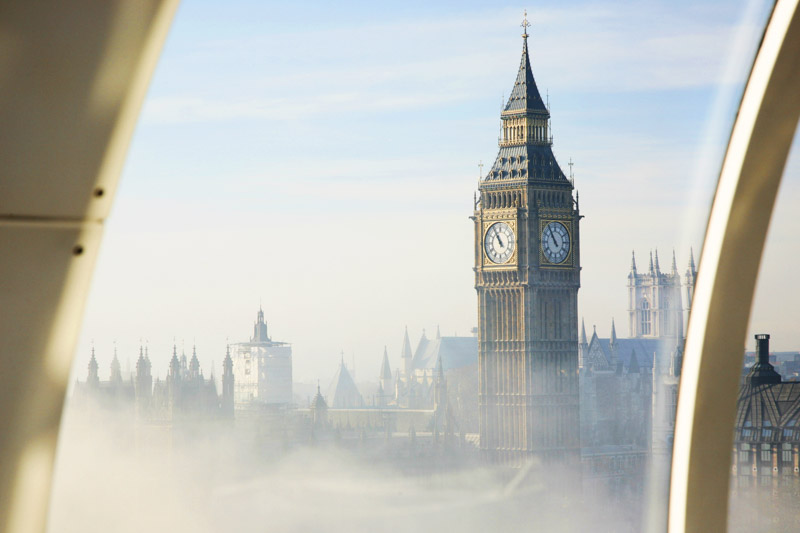 13. Harry Potter Warner Bros Studio Tour and Transfers
Did some say, Harry Potter? In a quandary as to what to get from London for the Potterheads in your life?
The obvious answer is to head straight to Diagon Alley.
It's actually quite difficult to get the Harry Potter Studios in England so this tour with transfer from London to Watford via the Knight Bus will be appreciated.
Read our guide on how to get to Harry Potter Studios for more options.
14. → Tight itinerary? Check out the Harry Potter Guided Walking Tour (2.5 hours, meeting place Palace Theatre, Shaftesbury Avenue).
15. Tower of London Ticket with Crown Jewels Exhibition
One of the London bucket lists tasks is to catch the Ravens at the 11th century Tower of London.
Why not get your friends and family on the right foot with this ticket to the Crown Jewels and Tower of London?
The ticket also includes:
Access to the Tower grounds
Viewing of the Imperial State Crown laced with diamonds, pearls, sapphires, emeralds and gems
A tour by a Yeoman Warders (starts every 30 mins)
Never mind the best gifts from London, when you can give even better ones for London.
Read next, everything you need to know about Tower of London.
16.

Black History Walks

Guided walking tours in London focusing on African history in England's capital.

Tours last around 2-3 hours and cover 2000 years of London's Black history.

Some are tours can be done by foot, others are on the river!

Reserve your spot here.

Private tours available on request.
17. Uncomfortable Art Tours
'Display it like you stole it' – Alice Procter takes visitors around London's popular museums and shares the story they don't want you to hear.
Many of the UK museums display items looted by Brits which were never returned.
This tour aims to take a look at ownership and identity of these items which Britain has 'inherited'.
Uncomfortable Art Tours take place at the National Gallery, National Portrait Gallery, British Museum, Victoria and Albert Museum, Tate Britain and the Queen's House (National Maritime Museum).
18. London Theatre Gift
No trip to London is complete without a theatre experience.
Whether it's a London experience for 2 or that special ticket that your loved one has been dropping massive hints for, you'll find these next links something to make a song and a dance about.
What will they see?
Foodie Gifts London
19. Cadbury's Gift Packs
From one shop in England to an international empire, Cadbury's chocolate is not only a household British name but an instantly recognizable brand around the world.
Pick up this pack of Cadbury's goodies US / UK including Flake, Crunchy and Caramel.
Mmm.
Alternatively, a throwback to their trip with M&S Percy Pigs – suitable for vegetarians.
20. Harrods Mug
Every shopper's London itinerary includes a trip to the lux store, Harrods.
Buy your London fanatic the iconic mug in dark green with gold branding is a classic.
21. Eat London
Will your loved one by sniffing out the culinary options from Michelin-starred restaurants and street food in London?
This Eat London food guide US / UK highlight the best food spots over 14 chapters.
It delves into the chefs, makers and the international food community in the city.
Bonus feature: recipes from the likes of A. Wong, Balthazar, Morito and The Palomar.
22. Thames Lunch Cruise
Walking and sightseeing work up an appetite.
Reward yourself with an afternoon tea aboard a Thames cruise nonetheless.
A boat ride over the Thames is one of the top-rated experiences in London, according to GetYourGuide customers.
It might not be with the Queen, but it's sure to give them a rest from all that walking and see London from the Thames.
London Baby Gifts
Thinking about getting a unique baby shower gift?
Then this next section will give you some awesome ideas.
23. Comfy Baby Blanket
This darling mink or cotton baby blanket/toddler security blanket is super London with its Big Ben, double-decker, Guards of London and brolly icons.
Customers can choose between three sizes and four backing colors.
The print uses eco-friendly, water-based inks on natural and synthetic fiber textiles.
No additional chemicals used.
Suitable for snuggly security blankets, tummy time, nursing, cribs, cots and car seats.
It is also popular with wheelchair users.
24. London, Baby
Wow, another Joey from Friends reference!
You can't go wrong with a London baby vest for photos and vomit. Variety of sizes available.
Pregnant and looking to make 'thee announcement'?
Moxie and King do these sweet 'world traveler' baby vests for you to snap at the perfect location.
London?
25. Liberty of London Dresses
For the little Princess in your life, baby gifts from London don't come more special than a London Liberty dress.
Well known for their fabrics, this will ensure the child wearing it, stands out from the crowd.
See the USA version here // UK version here.
Final Words
So, whether it's English gifts, British souvenirs, gifts for him, her or the home, this guide has covered a wide range of ideas for all of your London-loving friends and family.
Save for later!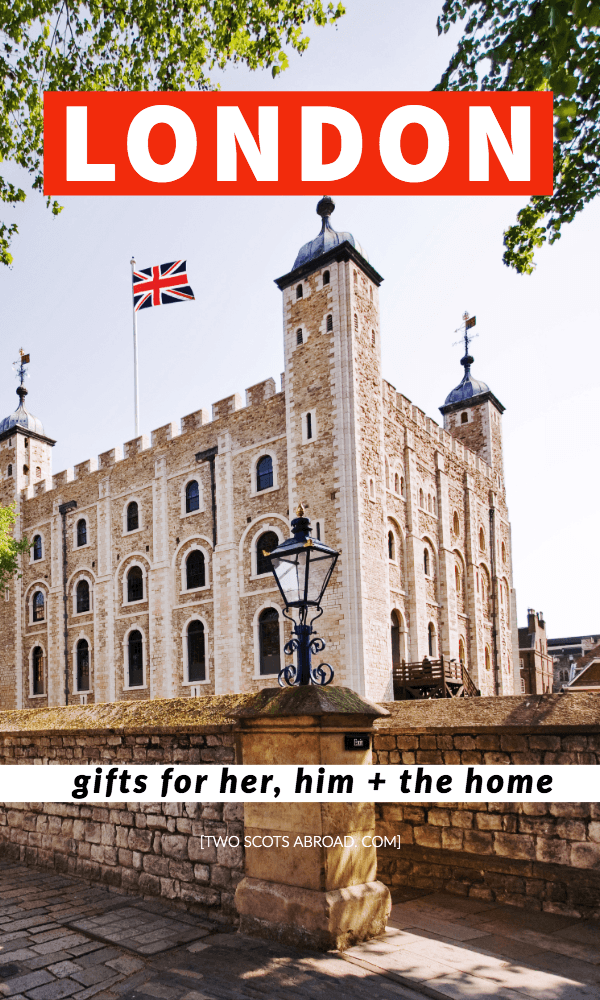 What cool gifts from London did you purchase? Tell us below.
Author – Ruth is a school teacher and a travel fanatic with a bucket list that's getting smaller. A passion for shopping and deals. Bringing you gifts and trips to make your life easier.
Our England Travel Guides