This article has links to products and services we love, which we may make commission from.
Looking for a fun one day in Milan itinerary? This jam-packed guide takes you through the best things to do in Milan from morning until night! It includes what to see, where to eat and drink and what you should skip.
Since you only have 24 hours you don't want to waste time. Find out what is worth visiting and also the lesser known spots that the locals love.
Note: since you only have a day in Milan, you can save time by using the hop on and off bus tour, which covers popular attractions such as the Duomo, Castello, and the Navigli canals.
Milan is a huge city located in northern Italy's Lombardy region, which is where you will also find the stunning Lake Como and its cute towns.
Milan is known for its architecture, sport, fashion, finance sector, and art, like The Last Supper by Leonard DaVinci, which is located in the Santa Maria delle Grazie convent.
While there are many ancient, intriguing structures, and new shiny skyscrapers in Milan, the city is also blessed with lush urban parks and canals.
Fun One Day Milan Itinerary
Morning Milan Itinerary: Espresso, Duomo & Galleria Vittorio Emanuele
Breakfast in Milan
Do as the locals do and order an espresso coffee and drink it standing up at the bar.
This is the most efficient and economical way to enjoy a morning coffee in Milan!
Most 'bars', which are actually small cafes, ask you to pay at the till then hand over the receipt to the server who fills a tiny espresso mug up with coffee and places a dark chocolate square on the saucer.
If you can wait until mid-morning for food, I have a very tasty recommendation for breakfast below at 10am.
However, if you need to line your stomach, opt for a table and choose between a plain, chocolate, cream, or pistachio croissant to go with your espresso.
They are all gustoso, you really can't go wrong!
For a coffee bar/cafe close to Duomo, consider Voce (Piazza della Scala, 6), which is across from the gorgeous Teatro alla Scala and Leonardo Statue in bustling Piazza della Scala.
Although a chain, Lavazza's flagship store is always busy with locals too.
If you are staying close to the Quadrilatero della moda district, Cova Montenapoleone is iconic, and one of Italy's oldest pasticceria, serving the area since 1817.
Honestly, any bar will do – just shot and go to save time if you can.
Duomo di Milano Cathedral
The first stop on our 24 hours in Milan bucket list is the striking Duomo di Milano, Duomo means cathedral in Italian.
Located at Plaza del Duomo, you can't miss the gothic cathedral standing proud over the square at 108 m (354 ft).
Visitors can take photos outside of the Gothic building, which started being constructed in 1386.
Some people like to buy bird food from the street photographers and feed the pesky pigeons for the famous Milan Duomo shot.
Look out for the gold statue of the Madonnina, Virgin Mary, that was added in 1774.
Duomo is one of the most popular places in Milan to visit, so the area gets crowded.
Be cautious of your belongings when walking through the plaza.
Alternatively, you can purchase this ticket to enter the cathedral to admire the interior glass windows, sculptures, and alter.
If you can set aside 30 minutes, a cool thing to do in Milan is the Duomo rooftop where you walk among the spires and see the city from up high.
There are two ways to get to the Duomo rooftop.
Firstly, the stairs.
There are 256 steps to climb to reach the top but they are not as tight as the St. Peter's Basilica stairs in Rome.
The second option is the elevator.
Both options can be selected via GetYourGuide Duomo tickets, or Viator if you prefer that booking agent.
To the right of the rooftop you see views over the newer buildings at Porta Garibaldi.
Money saving tip: if you are not too bothered about seeing the entire cathedral's interior, just go for the rooftop ticket as you walk through the cathedral to exit.
Tickets do sell out so you need to book in advance.
If you need a comfort stop, there are restrooms to the right of the Duomo, which you can pay for by card.
Alternatively, for free toilets, head to the top floor of the store, Rinascente Milano Piazza Duomo.
How strict is Milan Duomo dress code?
The dress code for Duomo is very strict.
Your arms need to be covered and you can't show your legs.
I've read advice online that you can wear shorts but I know from personal experience you can't, and since you only have time to see Milan in one day, don't make the same mistake as I did – wear a long dress, capri pants, or trousers.
Panzerotti Luini For Turnovers
If you've timed it right, it should be around 10am – the opening time for the ridiculously delicious Panzerotti Luini (Via Santa Radegonda, 16).
The lines get long for this decades old bakery counter, so you want to get there close to 10 am.
Choose from fried or baked pastries filled with cheese, meats, and vegetables; the cheese is super stringy!
Galleria Vittorio Emanuele II Attractions
Galleria Vittorio Emanuele II is a stunning arcade, and famous for being Italy's oldest active shopping gallery.
There are many Milan must see attractions in this historic covered shopping mall.
At one end of the gallery is Leonardo's statue and Teatro alla Scala, and at the other is the Duomo – Galleria Vittorio Emanuele II connects the two.
Inside the gallery you'll find a mosaic floor, look out for the bull as it is customary to spin on your heel three times on top of it for luck!
Look up at the ceiling for the glass dome, and artwork.
If you plan to shop, you'll find designer brands such as Prada in this shopping mall.
Cocktails at Camparino in Galleria
Other things to do at Galleria Vittorio Emanuele II include buying a drink at Camparino, the specialist Campari bar since 1915.
This bar serves fresh aperitivo so you can snack on breaded items while you sip your negroni or Campari shaken, the latter cocktail is a little sweeter.
Aperitivo is small plates with snack food like olives, bread, meat, cheese, and crisps (chips).
The quality varies between bars.
They are a great addition to your Milan in one day itinerary as they save time having to sit down for big meals!
Cappuccino and Cakes at Marchesi 1824
Pasticceria Marchesi is a dreamy cafe, located on the second floor of Galleria Vittorio Emanuele II, above the Prada store.
This stylish pastry shop feels like you're sipping a coffee back in time!
It has green velvet seats, marble tops, and cherry wood counters; a luxurious thing to add to your Milan itinerary.
Famous Italian cakes to try are baba rum pastry and tiramisu; if you prefer to just order a drink go for a Cappuccino since it is now nearly the afternoon, and it is presented with a cute flower design.
Italians are quite particular about what coffee is drunk during the day!
Cappuccinos come with a small plate of cookies.
Marchesi 1824 has windows that look down onto the gallery, giving you a front seat view to the crowds taking photos.
As with most coffee bars, you can choose to sit, or stand.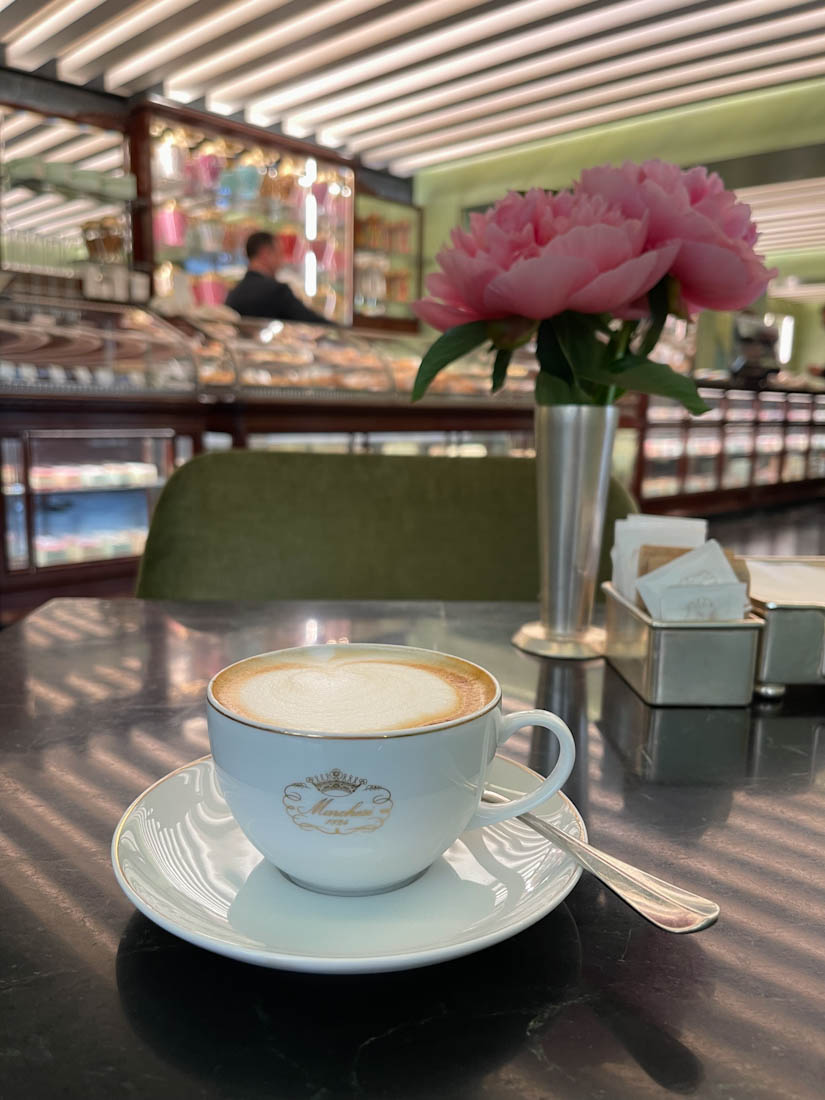 Duomo Restaurants For Lunch
There are lots of options for lunch dotted around Plaza del Duomo.
For views over the Duomo, go for Maio Restaurant, which is reached by the escalators in the Rinascente store.
Here, you can dine on Italian oysters, steak, or risotto alla Milanese, a dish the city is known for.
If you're on a budget, or still full from the pastries, just order a drink and take advantage of the aperitivo.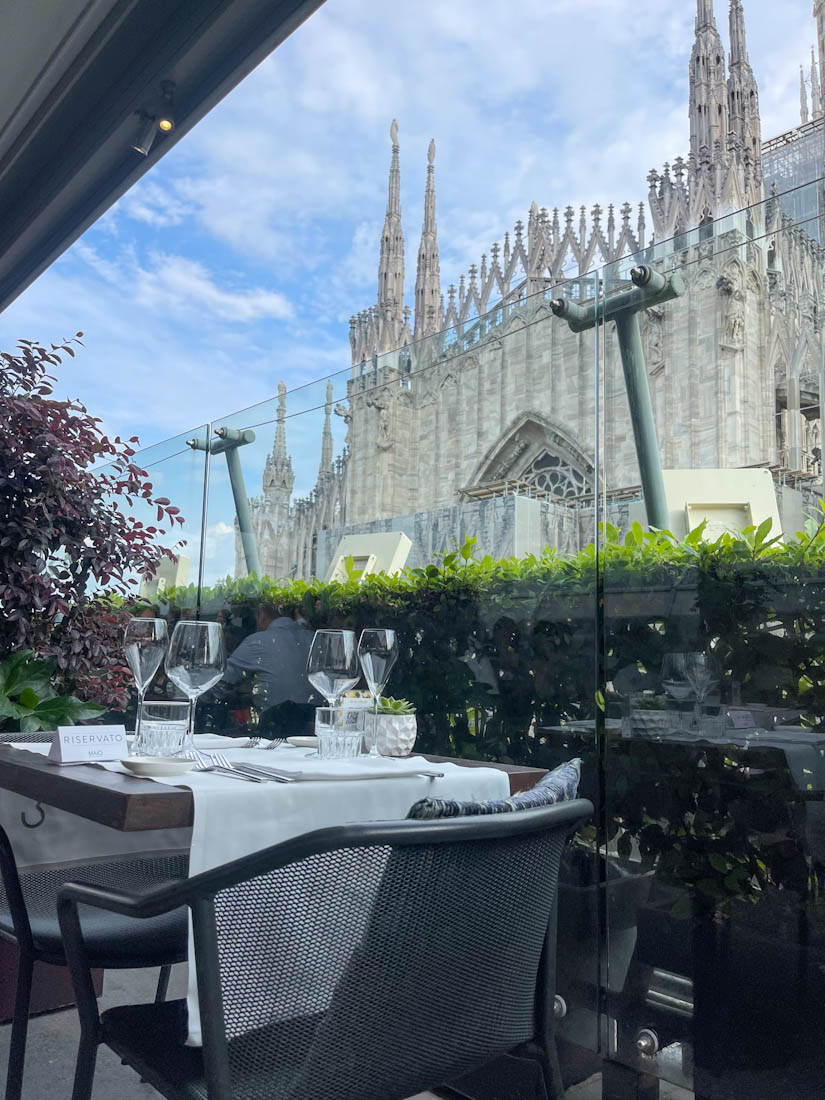 Alternatively, Signorvino Duomo has al fresco dining round the back of the Duomo.
The staff are very accommodating and the menu consists of pasta and wine.
There are umbrellas for shade or you can sit indoors if you prefer, although the perk of dining here is being up close to the Duomo.
Amorino For Flower Gelato
If you've got room and the lines aren't too crazy, indulge in something sweet at Amorino in Galleria Vittorio Emanuele II.
This gelato shop is located all over Milan and serves up its signature flower ice cream cones where the gelato looks like petals.
Other Things to do Near Duomo
That's the main attractions of the Duomo area covered but depending on how you are doing for time, there are many other options in streets just off it.
Shopping at Via Torino
Via Torino is a busy shopping street with brand names such as Zara, Sephora, and Primark.
You'll also find a souvenir shop close to the Duomo.
Starbucks Reserve® Roastery Milano
While I don't normally make a habit of recommending chains in our Italy travel guides, this Starbucks in Milan (Piazza Cordusio, 3) is something else.
Located in a former post office, the coffee shop displays working appliances as features and an upstairs bar serving espresso martinis with views over the cafe.
Expect lines that go down quickly.
L.O.V.E Statue
Another hidden gem in Milan is the middle finger statue, known as Il Dito, by Maurizio Cattelan.
The 2010 marble sculpture is around four metres high and is located at Piazza degli Affari, at the Italian stock exchange.
San Bernardino alle Ossa Ossuary and Basilica di Santo Stefano Maggiore Interior
San Bernardino alle Ossa (Piazza Santo Stefano) is a church located next door to Basilica di Santo Stefano Maggiore, so you can see two very different Milan attractions during the same visit.
San Bernardino alle Ossa has a unique side church where you will find the ossuary.
The ossuary is filled with bones and skulls, stored in the walls and around the altar, it came into existence in 1210 because the cemetery could not cope with the volume of bodies.
The church was later attached.
To get to San Bernardino alle Ossa's ossuary, enter the church, turn to the right, pay an offering, and go through the corridor.
Be sure to look up the ceiling for artwork.
At the back of San Bernardino alle Ossa is a statue of Poet Carlo Porta al Verzee.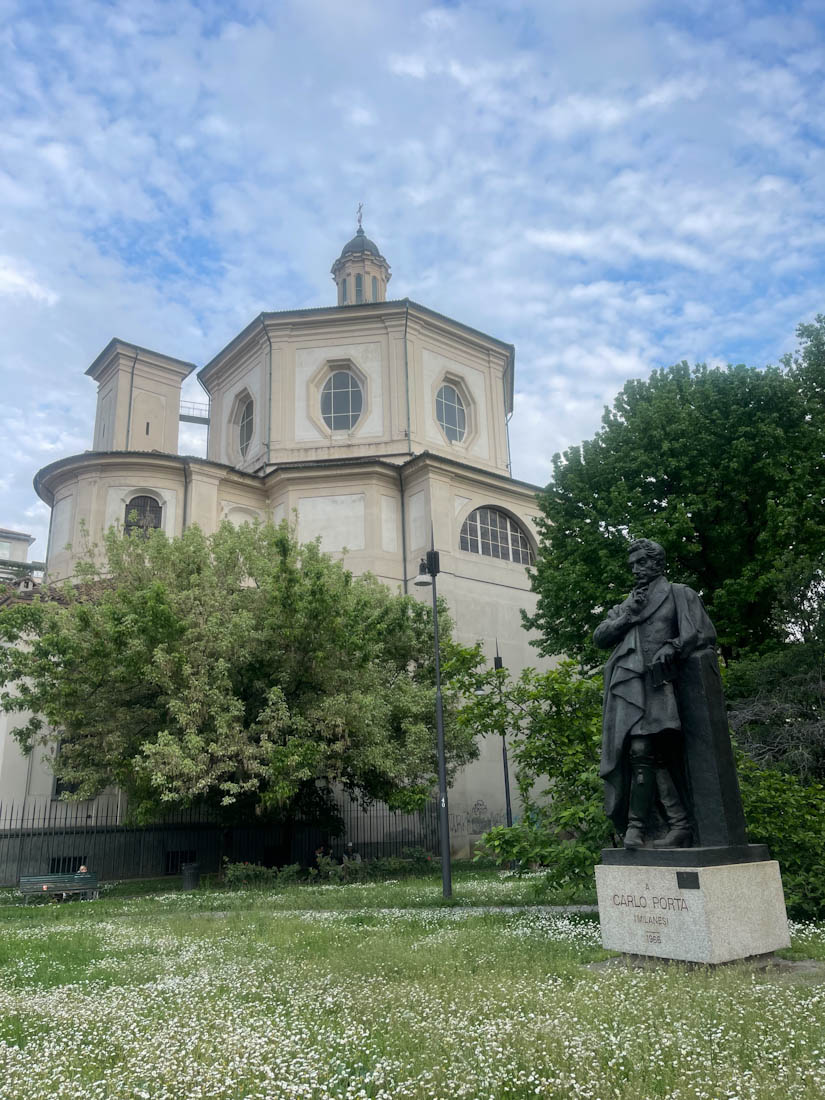 Basilica di Santo Stefano Maggiore is huge, and its interior features an organ, stained glass windows, sculptures, and art akin to a museum.
Milan One Day Itinerary: 5 Afternoon Options
If you'd like to explore another district in the afternoon, consider Brera, Quadrilatero della Moda, Sempione, Chinatown, or Navigli where you'll find the canals.
Each of these districts have metro stops close by.
The metro in Milan is very easy to use as metro routes are suggested by Google and Apple maps.
Check routes posted at the top of the stairs at each platform, I always count how many stops until the one I want to get off at.
You can also ask staff for help, they sit in the boxes located next to the gates.
You don't need a ticket for the metro, as you can tap your bank card on some of the gates.
Just remember to tap out with the same card when you get to the exit gates at your destination.
For the remainder of our article on what to do in Milan for a day, I'm going to suggest the best things to do in each district then you can decide which attractions suit your style of travel best.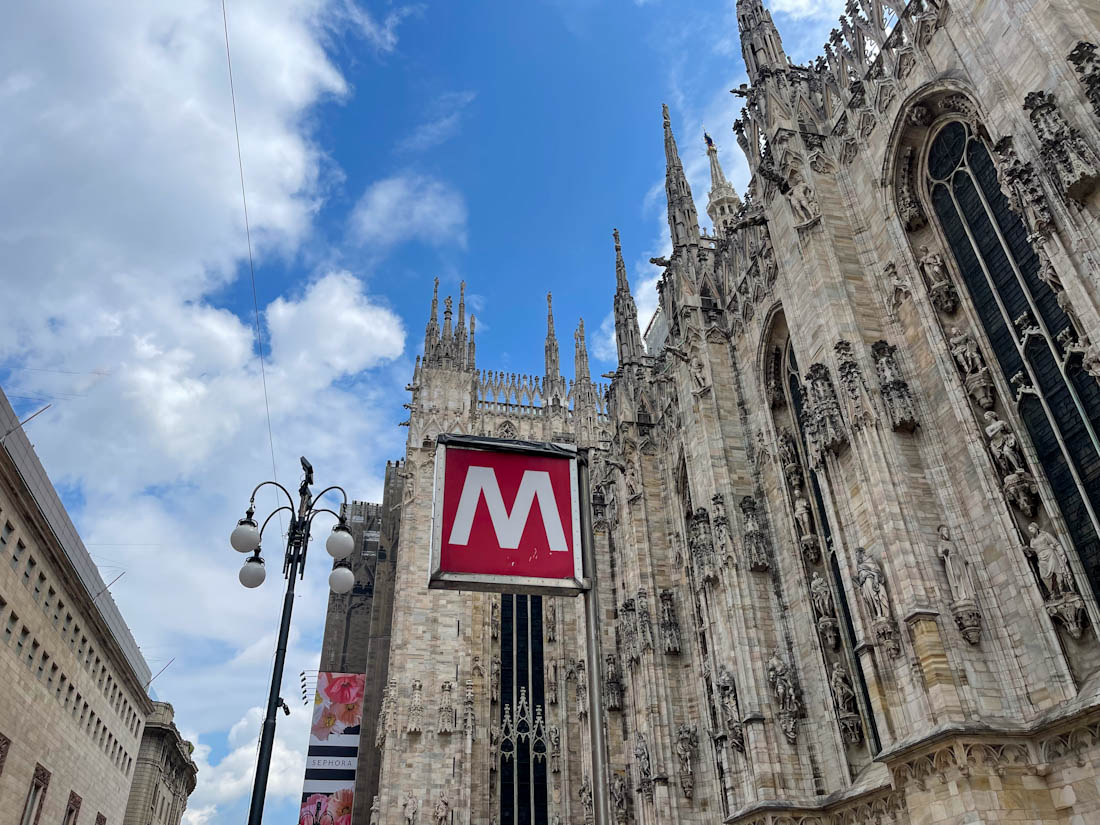 Districts in Milan Itineraries
Let's start with Brera, an area close to Duomo, making it an easy district to explore alongside a morning at the cathedral area.
Things to do in Brera
Brera is a leafy district with cobblestones, only 10 minutes walk from the Duomo area.
Here, you'll see local businessmen cycling bikes, parents pushing prams, young folk hanging out, and people dining al fresco.
Via Brera
Via Brera is the main street in Brera, and where you'll find boutique stores and perfume shops.
Walk along it to get to the next suggestions.
Palazzo Brera
Palazzo Brera (Via Brera, 26) has played many roles, beginning as a Jesuit College in the 1600s, which it did for over 200 years.
Today, visitors can walk through the courtyard where young people relax, and through to the free Brera Botanical Garden.
It is also where art fans will find Pinacoteca di Brera, which displays 13th to 20th century paintings.
Brera Botanical Garden
Enjoy a minute hiding from the sun at Brera Botanical Garden, which is free to enter.
As you wander around the plants and trees you'll see locals eating their packed lunches during their lunch break.
Bar Jamaica
Quench your thirst at one of the Brera bars with outdoor dining along Via Brera.
Bar Jamaica (Via Brera, 32) has been serving locals since 1911 and offers indoor and outside dining.
Things to do in Quadrilatero della Moda
Quadrilatero della Moda is the fashion district in Milan.
Expect well dressed locals, fancy cars, and luxury brands around the 'Golden Quad' – Via Montenapoleone, Via Manzoni, Corso Venezia, and Via della Spiga.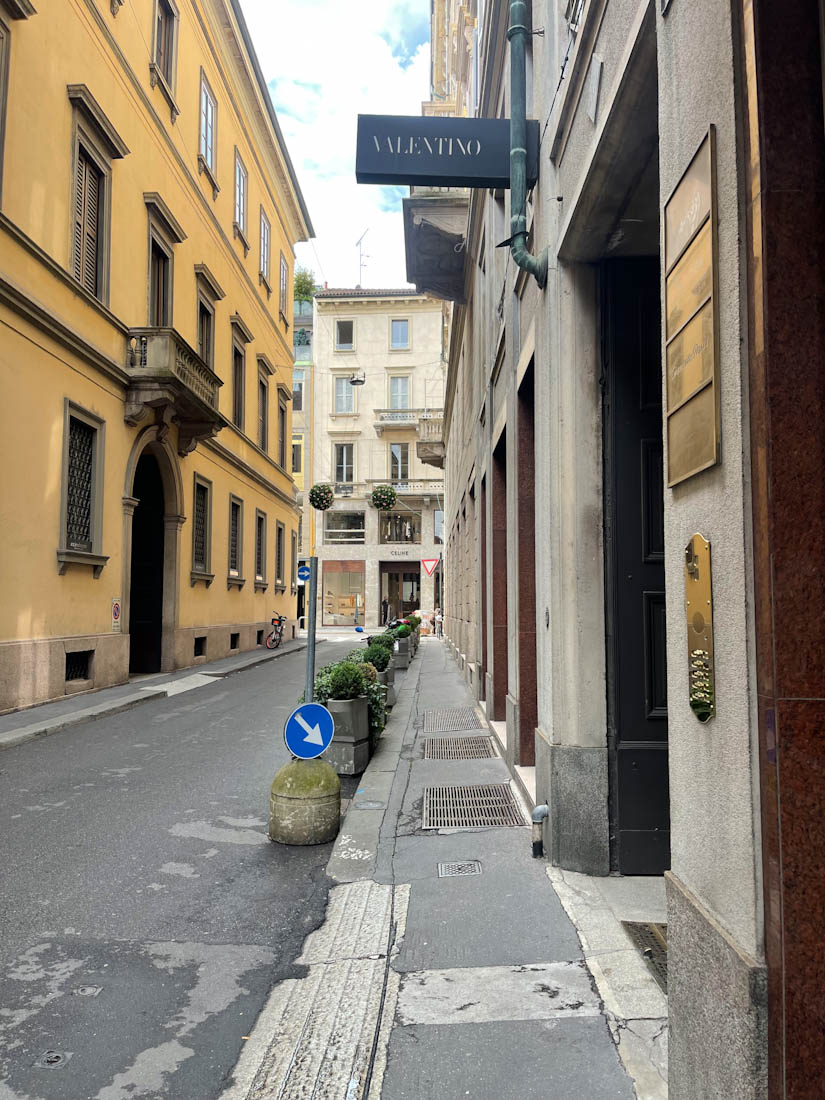 Go Shopping
The most obvious thing to do in Milan's fashion district is to hit the shops.
Give your credit card a workout at Louis Vuitton, Gucci, Ralph Lauren, Alexander McQueen, CHANEL.
Some stores will have a line to enter.
Dine at Il Salumaio di Montenapoleone
Tucked away down an alleyway of Bagatti Valsecchi palace is the Renaissance courtyard and restaurant of Il Salumaio di Montenapoleone (Via Santo Spirito, 10).
This Milan establishment has been serving customers since 1957.
Grab a Coffee at Cova Montenapoleone
Slam an espresso, sip a cappuccino, fill up on a pastry, or order take away cakes at Cova Montenapoleone (Via Monte Napoleone, 8).
One of Italy's oldest pasticceria, Cova has been in operation since 1817.
Things to do Sempione
If you're craving some greenery, consider Sempione Park which is home to Sforzesco Castle.
It is also close to Piazza Santa Maria delle Grazie, where Leonardo DaVinci's The Last Supper is located.
The Last Supper
A special Milan activity you can only do in the city is see Leonardo DaVinci's The Last Supper up close with your own eyes.
The piece depicts Jesus declaring that one of his twelve Apostles will betray him, from Matthew 26:21–28, and it was commissioned by Francesco Sforza, the Duke of Milan.
The Renaissance artwork was created around 1495–1498, and is unique as it provides an illusion of depth on a flat surface. Something you have to see for yourself.
The Last Supper is located in the Dominican monastery Santa Maria delle Grazie and you must have pre-booked tickets to see it.
Visitors with tickets are granted 15 minutes to look at the painting along with another called The Crucifix by Donato Montorfano.
During the visit, guests also have access to images of the monastery over time, including the damage caused by WWII.
No food or drink is allowed but there are small lockers where snacks and bottles can be stored and collected.
You must bring an ID with your name on it to show staff when collecting tickets.
Santa Maria delle Grazie
Next door to The Last Supper museum is Santa Maria delle Grazie (Holy Mary of Grace), a church that is free to enter.
Inside the church you can see naves, which you can pay to light up, a large dome, black marble, art, and a private baroque-style praying room for locals.
Note: it is respectful to provide an offering of money in Milan's churches, especially if you plan to light a candle.
Cafe Le Grazie
For a coffee break, refuel, or comfort stop, consider Cafe Le Grazie across from Santa Maria delle Grazie.
L'Alter Bar
Alternatively, if it's time for a Hugo spritz and aperitivo, head to L'Alter Bar (Via Vincenzo Monti).
This friendly, local bar is narrow with a handful of tables inside and an outdoor drinking area.
The decor features mugs from around the world.
Sempione Park
Sempione Park (Parco Sempione) is a large green space in Milan and home to two historically important monuments; the Arch of Peace, and Sforzesco Castle.
The 38.6 hectares was designed by Emilio Alemagna in 1888, and offers benches, a pond, art installations, the Bridge of Mermaids, and Branco Tower.
During the summer, it is open late making it one of the free things to do in Milan at night.
Sforzesco Castle
It is free to walk around the grounds of 15th century Sforzesco Castle where you can see the courtyard.
However, if you'd like to learn more about the castle, built by the Duke of Milan, Francesco Sforza, and see the exhibitions, you require an entry ticket.
There are free restrooms by the courtyard as well as a water fountain.
Arch of Peace
Look down from the castle and you will see the Arch of Peace at the other side of the park, located at Sempione Avenue.
Initially built in 1806, and designed by Marquis Cagnola, this version was constructed in 1807.
Next to the monument is DAZI, an upmarket restaurant.
Alternatively, less than a 15 minute walk away is Paolo Sarpi, the main street in Chinatown with Asian restaurants.
Things to do in Chinatown
If dumplings are calling, head to Milan's Chinatown.
Also home to Monumental Cemetery, a burial ground of epic proportions.
Paolo Sarpi Restaurants
If you've had enough pasta or pizza, and are craving dumplings or ramen, head to Paolo Sarpi.
Here you'll find Chinese dumplings (meat and vegetarian) at Ravioleria Sarpi or hot ramen soup bowls at Mr Maio.
You can also pick up Asian snacks at many of the small supermarkets.
Cantine Isola For Wine
You'll still find a good glass of vino in Chinatown, at a wine cave called Cantine Isola (Via Paolo Sarpi, 30).
This interesting bar is looked after by wine specialists, so feel free to say what kind of wine you feel like and they'll do the rest.
There's outdoor seating with cute furniture and drinks come with a good looking plate of aperitivo.
Nelson Mandela Mural
On your way to Monumental Cemetery you can stop by the 20 Years of Freedom and Democracy Mural on the side of Fabbrica del Vapore.
Fabbrica del Vapore is a steam factory, turned creative hub.
Monumental Cemetery
Throughout all of my travels, I can honestly say I have never seen anything like the Monumental Cemetery (Piazzale Cimitero Monumentale) in Milan.
On entry, you'll be impressed by the scale of the building until you see the size of the burial area.
Tombs with glass, mosaics, gold, stone, marble, and every other material imaginable line the gardens, some bigger than the apartment I was staying at.
The most famous has to be the Campari family's tomb which is the scene from The Last Supper.
There are maps dotted around the area but they are quite hard to follow.
Once you've walked around the grounds, take a look at the interior for a stunning blue ceiling.
Things to do in Navigli
The Navigli district differs from the others discussed in our Milan in a day guide as it is an area built around the canals, Naviglio Grande and Naviglio Pavese.
This district is the furthest away from Duomo so it is worth taking the metro to save time.
Naviglio Grande Bars
The most popular thing to do in Navigli is let the afternoon slip into night with drinks at one of the many Naviglio Grande bars.
Restaurants and bars with outside dining line both sides of the canal, which is connected by bridges.
You'll find traditional restaurants serving risotto and tiramisu such as L'Altro Luca & Andrea, as well as lively bars like Mag Cafe.
At the weekend, creatives set up stalls with art for visitors to buy.
While, for me, Navigli was one of the places to see in Milan, it might be better reserved for a longer trip.
What do you think? Tell me in the comments below.
Navigli Cruise
Why not experience the canals from the water during this 1-hour boat ride?
The cruise includes a glass of wine or Aperol spritz, and some aperitivo snacks.
Milan Observations
Nice mix of old and new – home comforts like food delivery, app taxis, e-scooters and bikes
Pavements uneven and tall, so it is best to watch when stepping on and off them
Cyclists use the pavement
Some bars have tables very close together
Food sittings and drink only tables are sometimes separate
Service can be slow, embrace it
Most public toilets have a foot pump flush
Where to Stay in Milan
To fit in all of the best places to visit in Milan in 1 day, it would be wise to stay around the Duomo or Brera area.
The Galleria Vik Milano is a highly rated hotel located in the Galleria Vittorio Emanuele II or check out this smart hotel near Duomo.
However, as to be expected, this will be more expensive but it will save you time for getting around the best things to see in Milan for first timers.
Getting To and Around Milan
Milan has three airports, Malpensa, Linate and Bergamo, the latter is just over an hour away by bus but easy to get to and from.
Trains operate from Milano Centrale Railway Station, Europe's largest railway station by volume.
The station has lots of shops and a hip food court called Mercato Centrale.
Districts are connected by tram, bus, and metro train.
Final Words
This Milan 1 day itinerary aims to introduce you to the highlights while providing lots of choice so you can build the perfect 24 hours in the city.
So whether you are planning day trips to Milan, or a quick stopover in the city, there's plenty of suggestions to choose from.
Did we miss anything out? Please let us know in the comments.
Our Italy Guides