This article has links to products and services we love, which we may make commission from.
I love London but my bank balance definitely does not. Always creating inspiration with affordable travel on the mind, I've pulled in London expats, Charlie and Kristina from MapTrotting, to share their London on a budget track hacks with us so you can enjoy the Big Smoke without a big bank statement.
Two Scots Abroad saved £20K to travel – click to find out how.
London On a Budget Tips
1. Visit London Attractions That Are Close Together
This might sound like an obvious one, but planning your time in London will really help to take the stress out your trip. There are loads of things to see and do, with attractions spread far and wide across this sprawling metropolis.
It's easy to fall into the old trap of trying to see everything in a short time and burning out. Plan to visit two or three attractions per day which are close to each other to minimise your travel time.
There's no point in zigzagging across London via transport when many sights are within an easy walk of each other.
Just focus on one area each day and you'll have a much more relaxed London experience. Attractions can usually be 'bunched' together into areas to make things simple.
Here are a few of the main ones:
Kensington – 3 amazing free museums (Victoria and Albert V&A, Science Museum, and National History Museum – 7 days a week), Royal Albert Hall and Hyde Park.
Westminster – Big Ben, Westminster Abbey, London Eye and Buckingham Palace. You can take a free tour of the Houses of Commons (Gemma actually did work experience, read about it here).
London Bridge – Tower Bridge, Tower of London and St Paul's.
South Bank – Tate Modern, Globe Theatre and Borough Market.
2. Use an 'Oyster Card' Instead of Cash
The London Underground (metro) system is a great way to get around the city and travel between attractions. It's one of the biggest mass transit systems in the world, not to mention the oldest, with the first trains running in 1863.
An average of 1.37 billion journeys are made per year via the Underground, affectionately known by locals as 'the tube', so it's good to gen-up on this before visiting.
Another one of our suggested London travel hacks is to obtain an 'Oyster Card' to use on the Underground, buses, and trains.
It's basically a plastic card which you pre-load with credit and then tap on the readers at stations to pay your journey fare.
Getting an Oyster Card means you don't need to stand in line at ticket machines, plus you'll pay much less per journey than using cash.
For example, just one adult journey in Zone 1 & 2 where all the main attractions are found would cost you £4.90 in cash. Ouch.
The same journey with an Oyster Card is £2.40 (£2.90 4-7pm) and your charges will be 'capped' off at a maximum daily rate.
Double win!
You can grab an Oyster Card at any Underground Station or in advance with the London Pass, more on that later…
3. Pedal Your Way Through London
Why not stretch your legs and get around cheaply with London's hire bike scheme.
Visitors can collect a bike from any of the docking stations and hire for as little as £2!
There are over 750 docking stations with over 1000 bikes.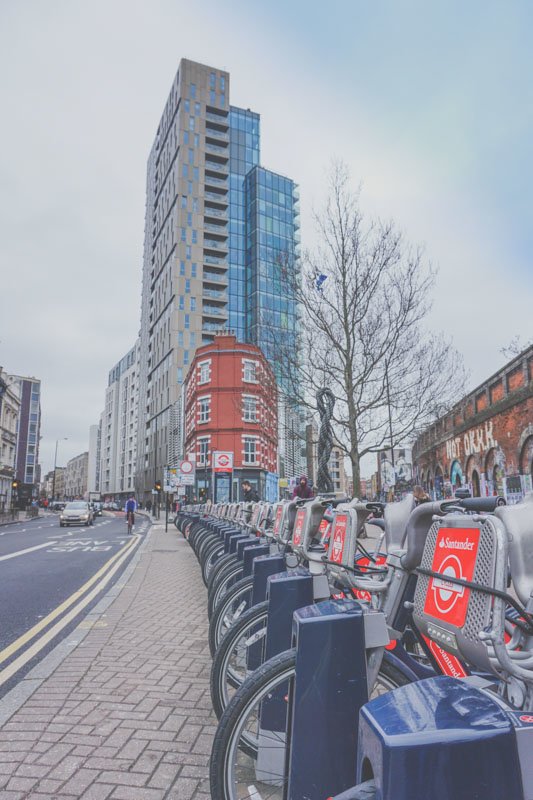 4. Seek Out the Free Stuff!
London is notoriously expensive to visit.
If you're not savvy then the costs can soon mount up, with some of the big attractions costing £20+ per adult to visit.
Thankfully there are loads of free places in London to visit at no cost to you.
So, you can save your pennies for that tacky Beefeater hat you've always wanted.
Here's a quick list of a few free, or donation only, places to seek out. Some might have private exhibitions to visit but the main collections should be free to visit.
Tate Modern – massive modern art gallery on the South Bank of the River Thames.
Science Museum – discover something amazing in their interactive exhibitions, great for kids.
V&A – large museum of fashion, architecture, and design.
Natural History Museum – explore the world's natural wonder, also great for kids.
City of London Churches – whilst St Paul's costs to enter the nearby churches are free and contain some true London hidden gems.
Royal Parks – amazing green spaces to chill out in and create a picnic.
South Bank Stroll – a great walk from the London Eye to Tower Bridge alongside the river.
Festivals and Events – loads of exciting free events all year round, check ahead.
While some tours are not free they are worth the investment to learning about culture in London.
Check out Black History Walking Tours and Uncomfortable Art Tours (National Gallery, National Portrait Gallery, British Museum, Victoria and Albert Museum, Tate Britain and the Queen's House).
5. Explore Beyond the Centre
Most visitors only wander around close to the attractions of Central London but there is time to be saved if you head to London's other neighbourhoods.
Another bonus is that you can escape the crowds and see a different side of the city past the tourist hotspots.
Sidenote – Do expect to see an explosion of cultures and a mix of locals and ex-pats, London is a melting pot.
Richmond – (Zone 4) is a charming royal borough of London with a massive park and lots of riverside pubs to eat and drink in.
Greenwich – (Zone 2) is just a 30-minute boat ride east from Tower Bridge. Here you can enjoy the large royal park with a stunning view across London from the top. Also, don't miss the daily market and handy visitors centre close to the Pier.
Shoreditch – (Zone 2) is one of London's hipster central and tech startup hub. As you'd expect there are lots of funky bars, restaurants, and entertainment to match plus the classic Brick Lane packed with delicious curry houses.
Stratford – (Zone 2+3) is the home of London's 2012 Olympic park and the massive Westfield shopping mall. The London Aquatics Centre is now a public swimming pool if you fancy a dip.
Hampstead – (Zone 2+3) stroll on the epic Hampstead Heath and pretend to be in an English costume drama.
6. Secure Discounts in Advance
If you're going to visit a few of the famous London attractions during your stay, things can quickly become expensive. Many of the most popular sights will cost between £20 and £30 per adult to enter.
Thankfully there is a simple way to save some time and money whilst you explore the sights, get yourself a discount visitor card.
A good example would be the London Pass card.
Put simply, you pay a set price for the card (or now smartphone app) and can then use it to enter as many places as you like.
Doing some quick math, if you were to buy tickets for a Hop-On-Hop-Off Bus Tour, the Tower of London, Windsor Castle and the View From The Shard it would cost £181 total.
You could buy a 1 day London Pass for £84, saving you £97. If you buy a Pass for 3 or even 6 days the saving could really add up. Nice.
For more info on the discount card, costs, savings and suggested itineraries check out this full London Pass review.
---
» Harry Potter fans: here's how to get to the Warner Bros Studios
---
Cheap London Tours and Attractions
Since you don't want to miss out on the top London things to do here is a list of attractions under £30 worth considering.
7. London Budget Cheap Eats
It is safe to drink the tap water in the UK so buy yourself a sustainable water bottle (great for the environment too) and download the free Refill app to see which establishments let you fill up for free.
A great way to keep food costs down is to visit one of the many markets that run throughout London.
You can try cuisines from all around the world every Sunday at Brick Lane – poutine (Canada), arepa (Peru) and curries (from varies countries). Filling your belly without lightening your budget! London's largest market, Camden Market, is also popular with locals and visitors.
It's open every day from 10am and has over 1000 stalls filled with food, art, crafts, clothes and records. Buskers keep the vibe alive too.
Frank's Cafe can be found nestled behind the Tate Modern and sells 'lethal fry-ups, an excellent hangover cure.
A secret ex-pat tip is to follow the workers in suits at lunchtime to find the economic sandwich shops before heading to one of London's many parks for a picnic.
Download the Too Good To Go app for food collection at the end of the day.
Cheap Accommodation In London
I know it sounds like the UK's city that doesn't sleep but you will need to rest your feet and lay down your head to re-energise for the next day of sightseeing but at first glance, you may be thinking, damn accommodation is expensive.
Here are a few hacks to help you out:
Consider a cheap hostel in London with the Youth Hostelling Association's (YHA) six hostels. They are in central areas such as Oxford Street and St Pancras.
Not a fan of dorm beds? St Christopher's At The Village has cool capsule beds so you can sleep in private in a multi-bed dorm. Private rooms also available but more expensive. Click to see.
Airbnb in Zones 2 and 3 are your most economical option. Be cautious of noise though (Gemma stayed near Brick Lane and doesn't recommend it!)
London Packing List
Camera and battery
Eco water bottle as there are heaps of places to fill up for free – the practical Tree Tribe US / UK
Or Water to Go Water To Go [quote TSA15 at checkout for 15% off]
---
Final Thoughts
Getting to London doesn't have to be expensive either, check out the overnight buses leaving from all over England and even Scotland – sleep while you save!
Megatrain can also provide some steals for day trippin' in and out of London. Visitors to Europe shouldn't be put off by London's expensive reputation. It is possible to visit the city on a budget with these seven travel hacks.
By Charlie and Kristina from MapTrotting.
Any questions? Ask below.