This article has links to products and services we love, which we may make commission from.
Center Parcs Whinfell Forest is a family-friendly retreat in the magical Lake District near Penrith. During a trip to Whinfell, you can soar to the heights of the tree-top adventure park and make a splash at the kid-ready swimming pool. Adults can take a minute at the Aqua Sana spa, while tweens and teens spend a penny in the arcade game room.

This guide shares an honest Whinfell Center Parcs review, helpful tips for making the most of your holiday, and some budget advice for this pricey England getaway.
Center Parcs Whinfell Forest Review
The Location and Getting Around
Center Parcs is ideal for families who want to wander among nature via foot, bike, or scooter while red squirrels bounce around your feet and trees sway above.
Since cars are not allowed on the main roads, the area is safe for children; bikes are the most popular mode of transport.
Don't worry if you don't have a bike; you can hire wheels for all ages at the bike centre.
You can buy anything on-site at Center Parcs, but holidaying this way will get expensive; pack food and essentials to avoid paying over the odds.
There are maps dotted around the area, so if you need help finding the Sports Cafe or a kids' park, you can look at them for guidance.
Since there is no light pollution, it gets dark at night – it's best to get your bearings before wandering back from dinner or visiting friends at other lodges.
Center Parcs Whinfell Map
You'll receive a map when you first enter Center Parcs.
Then, each area is grouped and colour coded.
There is a key at the bottom for all of the essential locations in Whinfell Forest.
Center Parcs Whinfell Activities
When you book your stay at Center Parcs, you will be prompted to sign into the website where you can reserve spots on the many activities offered at Whinfell.
From balance bikes for toddlers to pedalo rides on Lake Beck, ten-pin bowling for all the family, to relaxing at the adult-only spa – there are various things to do at Center Parcs for all ages.
We did the following activities.
We hired a pedalo and life jackets for four plus a 16-month-old and pedalled around Lake Beck.
The older kids (25+, haha!) took on the daring Aerial Adventure, clipped in, and we climbed through nets and zip-lined between the trees and over the lake!
We bowled with a few beers from the bar next door as a family.
The baby in the group had a balance bike and sensory.
He was a little young for the balance bike, but the staff was excellent.
The girls had an afternoon at the spa.
Is Center Parcs Whinfell Spa Worth it?
If, like us, you wonder if the Aqua Sana spa is worth it even without treatment, the answer is yes!
You can quickly fill the three-hour slot by working through the different rooms, which get hotter as you go along.
There's also an outdoor swimming pool which is a sun trap.
Waterbeds and sun loungers are dotted around the spa so that you can relax with a book.
The spa puts on daily classes, such as a sleep class, which introduces you to products without a hard sales push.
The cafe also serves salads, sandwiches, mains, and alcoholic drinks, including cocktails.
Note: the dressing gown and towels have tags – remember to return them.
Center Parcs Pool
The Subtropical Swimming Paradise pool is free; you don't need to book a session.
There's a pram room located just before the changing rooms and a considerable showering area before entering the pool.
Your waterproof door key bracelet acts as a locker key.
The pool water temperatures weren't consistent during our stay; some areas were warmer than others, then the next day, another area was warm – or it could just be pee regulating the temps, ha!
The facility offers different pool areas, including an outdoor pool, water rapids, flumes, and time-allocated wave machine action.
Chairs line the dry areas for snack time.
Babies can use the free life jackets.
There's no denying that the Center Parcs pool is one of the main attractions, and it does get busy.
The best time to try the flumes is around dinner time, staff members advised us.
Free Things to do at Center Parcs
If you fill your days with official activities, you will pay a lot, but the good news is that there are plenty of free things to do during your stay.
Walk, scoot, or pedal the car-free paths and 400 acres of forest, which connect the different areas in the complex.
Play at the many parks, including the enormous children's play area with nets and chutes.
Take a bucket and spade to the small beach at the Boathouse.
Babies and toddlers can enjoy soft play; the biggest area is located at the Lakeside Inn.
There's also the free baby disco every evening and a bar for big kids!
Center Parcs Lodges
There are different styles of accommodation at Center Parcs to meet varying group sizes and budgets.
We stayed in a four-bed lodge in Fell View, close to the sports complex.
Another group of family members stayed in the treehouse (image), which has a games room and a hot tub.
Lodges are accessed and locked by digital key bracelets, which are distributed when you register at Center Parcs.
Each room gets one key, so if there are four rooms, you'll get four keys.
The Fell View Lodge features an open dining room, kitchen, and living space.
As you enter the front door, there is also a room with coat hooks and a few cupboards for cleaning items.
The kitchen includes a cooker, oven, microwave, fridges with freezers, a wine fridge, dishwasher, and cupboards full of utensils you'll need for cooking.
The living space has sofas, a table (which we moved so the baby could run around), a TV (bring your smart TV boxes), a fire (pack instant fire-logs or buy at the ParcMarket), and doors that open out to the balcony which leads down to the BBQ area.
There is a baby gate on the stairs.
Bedrooms have en-suites, with some featuring a spa bath.
Towels are provided for the lodge but not the swimming pool; you need to bring them from home.
There is also a sauna on the second floor, which we use for drying clothes.
One thing to note is that Center Parcs has no washing machine and no laundry facilities, so pack enough clothes to cover every day and evening for your trip.
Recycling points are located in hubs near the lodges.
Dogs are permitted at Center Parcs, so you don't need to leave your furry friend at home.
However, the dog-friendly lodges do sell out quickly.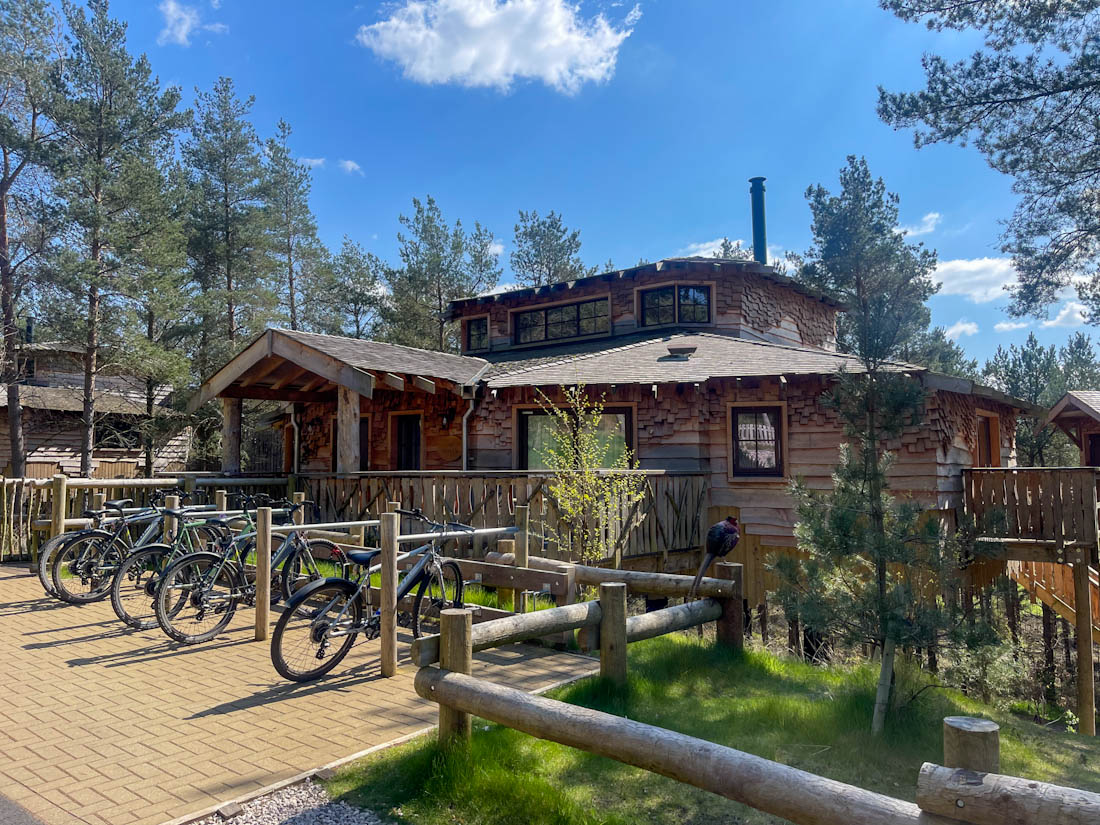 What Do You Wear At Center Parcs?
One of the best things about a holiday to Center Parcs is that everyone is very casual.
Most families wear jogging bottoms, tracksuit bottoms, yoga pants, shorts (if you're lucky with the weather), down jackets, raincoats, trainers, and Crocs.
Comfort is the theme!
You'll see some adults in jeans at night but still with a relaxed look.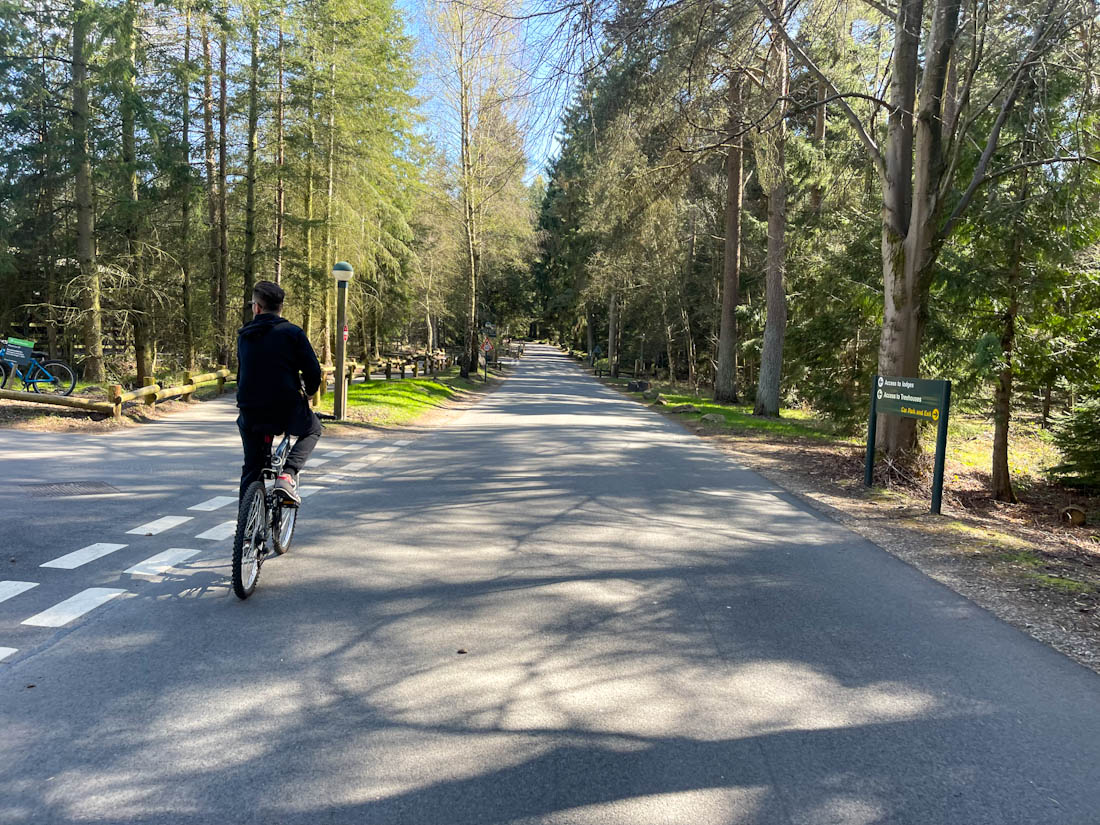 Center Parcs Restaurants
If you're feeling flush or really don't fancy loading the dishwasher, you can dine out every night during your stay.
There's an American grill, Italian, French, Indian, Mexican, pub grub, pancakes, and Starbucks.
You need to book in advance.
An alternative option is to have the restaurants deliver food to your accommodation.
We only dined out once, opting for Indian food where the portions were huge, and the staff was friendly.
It's worth pointing out that restaurants are child-friendly, so don't expect a romantic meal without some iPad noise or gurning in the background.
Shopping at Center Parcs
Save money by doing a big shop at the Penrith supermarkets before checking in at Center Parcs.
We created a spreadsheet for food items, and one group member did the shop.
My parents brought homemade stovies for the first night, and we did a BBQ the second, then lasagne for the final dining in night.
There is a supermarket called ParcMarket on-site.
It is a little pricier than shopping back home but not too wild if you need to pick up a few things.
It sells a lot of Co-op food, and there is a handy pastry area with fresh sausage rolls.
You can also buy alcohol at ParcMarket, a 12-pack of 300ml Peroni was £21, compared to £17 on the Tesco website.
Center Parcs Bars
While Center Parcs is family-orientated, they know what they are doing regarding their pubs, especially at the Sports Cafe.
The sports complex has games on the lower floor and access to the restaurant part of the Sports Cafe and beer garden.
TVs are featured throughout the restaurant, and a cinema-sized screen on the upper floor plays big football games.
The bowling alley and baby disco building also has a bar area with tables and chairs.
The Lakeside Inn is an upmarket bar with indoor and outdoor seating overlooking the lake and boats.
Center Parcs Tips
Pack Well For The Week
To keep costs down, list everything your family eats during the week and mark how much you'll need to buy during the big shop.
Pack dishwasher tablets, wash-up liquid, spray, bin bags, and additional toilet rolls.
Consider Tupperware freezer bags, clingfilm, and tinfoil too.
Opt for shopping at Penrith to keep fridge goods fresh or use a cooler for meats and dairy.
Items You Wouldn't Think to Pack
We packed a cooler as we'd read online that there was little fridge space; it turns out there are two fridges with small freezers and a wine fridge, so we didn't need the cooler for food storage.
Buy instant fire logs at Aldi or B&M before arriving if you plan to use the log fire in the living room.
Remember a lighter for the fire and BBQ.
We'd also read online that you only get one towel for the week, so we packed an extra.
However, we didn't need it as fresh towels were delivered during the week.
We did bring our own pool towels.
Is Center Parcs Really Carless?
On the whole, yes, Center Parcs is a car-free holiday.
On day one, guests can drive their car to their lodge to unload; they need to take their vehicle to the car pack before evening, walking or cycling back to the lodge.
On check-out day, guests do the reverse – walk or cycle to pick up the car, drive to their accommodation, and pack.
Be careful when driving out of Center Parcs; look out for kids and dogs wandering onto the road.
Arrive Before Check In
If you want to make a full day out of arrival day, you can use the facilities, like the swimming pool, from 10 am.
It just means you need to pack lunch or dine at one of the restaurants in the village until you check in at 4 pm.
Book Activities and Restaurants in Advance
The early bird catches the worm, as the saying goes!
If you plan to fill your itinerary with activities, book them in advance to bag times that suit you.
Remember to leave time for swimming and the spa; you deserve it!
You might need to settle for food delivery if you leave restaurant bookings until the last minute.
Have we missed out on any tips for Center Parcs? Please leave them in the comments below.
Final Words
As a 'child-free by choice' couple, we really had no expectations about our trip to Center Parcs.
We left content, having spent five solid days with family – creating new memories, and feeling relaxed after a work-free week!
If you're considering booking a holiday to Center Parcs with your family and have the means to do so, we recommend it.
The only downside is that we both ended up sick after returning; our immune systems just aren't built for being around so many wee ones!