This article has links to products and services we love, which we may make commission from.
Have you exhausted the city and looking for an easy weekend getaway from Toronto? This guide to the best Toronto day trips details not only where to go but also things to do and how to get there. Let's showcase the best Ontario and beyond has to offer including Niagara Falls, Hamilton and Blue Mountain. An exciting mix of nature, culture and of course, wine!
---
» Don't miss our Toronto itinerary – top attractions, food and tips
---
Day Trips from Toronto
1. Toronto Island
If you've not taken the easy day tour to Toronto Island do it now!
Things to do on Toronto Island
Local, and my friend, Maddie, recommended a visit to this unique community during my visit to the city and the trip did not disappoint for three reasons.
Firstly, the scenery. You take a quick boat ride over Lake Ontario to Toronto Island, with the skyline disappearing as the boat sails to one of the three stops on the island (Ward's Island, Centre Island and Hanlan's Point).
The second reason is nature. Toronto Island is just like a big park with beaches and attractions! You can walk at your own pace or hire a bike in Downtown and pedal around (I cycled, really lovely thing to do).
The third reason is curiosity. Ward Island is home to a special community of 100 beautiful old houses. The islanders claimed their house by adding their name to a list. There was no bidding for properties like we are normally accustomed to!
Grab a bite to eat at family-owned Island Cafe and admire the pier, lighthouse and fairground on Centre Island.
How to Get to Toronto Island from Toronto
Boats leave frequently from Jack Layton Ferry Terminal in Toronto and the journey lasts around 20 minutes. You can buy online or at the ferry terminal.
---
» You may also like: Toronto's unique things to do – discover the less touristy spots!
---

2. Niagara Falls
Hands down the most popular day trip from Toronto has to be Niagara Falls.
During your trip to Niagara Falls you are actually getting three Falls for the price of one! From the Canada side you can get up close to the Horseshoe Falls and admire the American Falls and Bridal Veil Falls over the other side in the USA. Neat, eh?
Viewing Niagara Falls from the Canada side is free and there is a viewing platform at Table Rock Welcome Centre.
Naturally, many Niagara Falls visitors want to get as close to the Falls as possible and the best way to do that is to take a boat ride. Prepare to get wet!
Frequent boats sail close to the Falls which results in messy hair, lots of noise and free botox. Tours provide free ponchos but I would recommend wearing a waterproof jacket too.
You can still get great views but stay dry at the Skylon Tower which is 233 meters (775′) high.
Stick around at night to see the Falls illuminated. A popular night activity is a helicopter ride over the lit up waterfalls.
If you plan to enter Niagara Falls via the American side you will need your passport and visa waiver.
Other Things to do at Niagara Falls
Although predominantly about the Falls you can also dine and drink at Niagara Falls, play games at The Great Canadian Midway, visit Niagara Falls History Museum and make a splash at The Fallsview Indoor Waterpark.
Toronto to Niagara Falls: Bus, Train and Tours
There are many ways to get to Niagara Falls.
Both Megabus and Greyhound Toronto to Niagara Falls have bus routes. The journey takes under two hours. Tickets can be bought online for under $20 CAD.
VIA Rail Canada operates from Toronto Union Station to Niagara Falls Station. It takes just under three hours and tickets can be bought online for under $25 CAD.
One of the fun ways to get there is to book one of the Niagara Falls tours from Toronto. This was my prefered option.
Why Book a Niagara Falls Tour?
Central pickup location.
A comfortable bus ride from Toronto.
Knowledgeable and funny tour guide (ours was anyway).
Snack/scenery stop at the cute Niagara-on-the-Lake (get ice cream!)
Ice wine tasting at one of the popular Niagara Falls wineries (so delicious).
Ample time at Niagara Falls to take a boat trip and even a helicopter ride.
→ Check the best prices here.
---
3. Niagara-On-The-Lake
Niagara-On-The-Lake is often called the 'loveliest town in Ontario' and rightfully so. This cute town has had a long past, playing home to military bases, shipbuilding industry, and now a gem of a tourist spot.
Niagara-On-The-Lake
We bought cakes and ice cream and mooched about the shops nestled amongst the flowers. Niagara-On-The-Lake is a well-loved town and it shows.
Visitors can also enjoy Fort George and the Historical Society Museum, the Shaw Festival and is three theatres, the marina and golf course.
The town puts on many events during summer such as quizzes, ghost walks and BBQs with wine, of course.
If driving, head along the Niagara Parkway to Niagara Falls coined "the prettiest Sunday afternoon drive in the world" by Winston Churchill. Not driving? Consider a Niagara Falls tour to avoid missing this scenic road.
Niagara-On-The-Lake Wineries
There are over twenty wineries in Niagara-On-The-Lake, Canada's number one attraction for food and drink.
Wineries differ in size from large estates to small boutiques which adds a bit of flavour to your day trip!
Top of the list of things to try is ice wine. This delicious sweet wine is a dessert wine produced from frozen grapes.
---
4. Hamilton
There may be an unlimited amount of things to do in Toronto but the greatest thing about Toronto arguably has to be the number of great day trips you can take from it and none is better than Hamilton.
One Day in Hamilton
Hamilton is an up and coming city that provides a great combination of things to do. It's known as the city of waterfalls and with over 100 waterfalls to choose from it definitely lives up to its name.
It's also a university town, an up and coming foodie city and one with many options for exploring the history of the place.
If you've only got a day in Hamilton you do have to dedicate part of it to nature.
One of the most popular hikes in the area is Dundas Peak. It's a 20-minute hike (each way) up to a cliff that gives you a great view of the area.
As it is extremely popular so you have to pay for a shuttle there now which will cost you $10/car and $5/person.
Right by Dundas Peak, you'll also find Webster Fall (within walking distance of each other) so make sure to check that out as well!
Another quick hike worth checking out is Tiffany Falls. It's a short 10-minute walk each way from the parking lot but it's one of the waterfalls you can walk right up to which makes it a great place to take some pictures.
Once you've had your fill of nature there's plenty of other things to do in town. The HMCS Haida National Historic Site* is a must do. It's a giant ship that participated in World War II and the Korean War for the Canadian Navy.
You can enter the ship and walk through the different floors to see the inner workings of the ship and to see how those who were stationed on the ship lived. Admission to the ship is $3.90/person.
Another must-do in Hamilton is Dundurn Castle*. It's a giant 40-room villa that's incredibly well maintained and shows a great perspective of what living in the mid-1800s was like. Admission to the castle will cost you $12.
Once you've had your fill of history and culture you should spend the remainder of the day detouring down into the side streets for some great street art and popping into some of the super unique stores the downtown core has to offer.
If you've got some extra time, a walk around the McMaster campus is also a great activity to check out in Hamilton!
Hamilton has seriously become a foodie destination for those day tripping there.
There are dozens of options to choose from and you really can't go wrong. If you're visiting for the day I suggest waiting until you get into town to have breakfast and once you get in make sure to head to the Jet Cafe.
It isn't much to look at but the portions are giant and the prices are super fair. You may have to wait for a table but it's totally worth it!
For lunch and dinner, you've got a ton of options but I highly recommend Mahal Indian for some great Indian food or The Mule for some absolutely great tacos.
You, of course, have to make sure to leave some space in your stomach for the absolutely fantastic donuts at Donut Monster.
Make sure to bring your camera because you'll want plenty of pictures and comfortable shoes for walking around all day. If you're planning on hiking any of the waterfalls I'd recommend bringing a water bottle as well.
How to Get to Hamilton from Toronto
Hamilton is located about 70km west of Toronto which will take about one hour to drive.
Since some of the best things to do are located on the periphery of the town, having a car will give you the freedom to explore as you wish and to take your time doing so.
There is plenty of street parking in Hamilton and most of the well-known waterfalls/sights will have lots of space to park in, so that isn't the main concern when bringing your car!
If your preference is to take public transit you can either take the bus or the train from Toronto to Hamilton. GO bus* is the easiest option. The return trip will cost $27.20 (taxes included) and it runs every 30 minutes so you'll have no issues getting there.
You can also take the GO Train for a similar price which runs about every hour. The train with Via Rail costs about $30 (taxes included) for the round trip but runs much less frequently.
All of the public transit options will take roughly one hour and 15 minutes from Toronto to Hamilton.
---
5. Buffalo
Like a phoenix rising from the ashes, Buffalo is growing into something beautiful, and you won't want to miss it.
One Day in Buffalo
Although a day trip is barely enough time to get a feel for Buffalo, it's just enough to take in the two things that set Buffalo apart from many other cities: an industrial waterfront turned playground and incredible century-old architecture.
Start your day by exploring Buffalo's history. A hundred years ago, Buffalo was one of the wealthiest cities in America (and it shows!). Art deco architecture is easy to find downtown, and visitors can take free tours inside City Hall or hit the streets with Explore Buffalo on an affordable walking tour to learn more. The Frank Lloyd Wright Martin House is another prime example of life in Buffalo during its heyday.
Afterwards, head along the river to check out a great example of Buffalo's physical transformation. Riverworks is an old industrial site that's now a great afternoon out. You'll find an indoor ropes course, roller rink, curling/ice rink (in season), and brewery.
On a nice day, head outside to zipline between abandoned grain elevators or rock climb the silos. Nearby there are also boat and paddleboard rentals to hit the water.
While you're in town, make sure you taste some iconic Buffalo foods.
The chicken wing is most famous and can be found at practically every bar and restaurant in the city.
A local favorite is Gabriel's Gate, in the Allentown nightlife district (they've also got a great beef on weck sandwich you won't want to miss).
Other good options are Roost's monthly rotating menu or the locals-only crowd at Smoke on the Water, which although outside of town is practically on your drive back to Toronto. Wash everything down with a cold drink; you'll find craft brewers and distillers in the Larkin District, another historical spot turned modern.
Buffalo's a friendly, laidback city; just don't forget your passport!
How to Get to Buffalo from Toronto
By far, the fastest way to get from Toronto to Buffalo is by car. The 100-mile (160 kilometer) journey can be covered as fast as 90 minutes at the right time of day. To cross the border, make sure your auto insurance is valid in both Canada and the USA.
Megabus is your next fastest option, at a little over two hours and $15 each way, though schedules are infrequent and not conducive to a day trip.
Greyhound and Amtrak are also public transport options, though they take twice as long as driving due to stops and lengthy border delays as they process everyone onboard.
---
6. Blue Mountain, Ontario
The year-round resort region of Blue Mountain in Southern Georgian Bay is one of the best day trips from Toronto when it comes to scenery and outdoor activities.
One Day at Blue Mountain
Blue Mountain is Ontario's most popular ski area, but spring, summer and fall are ideal for adventures off the slopes, and it's a growing destination for mountain biking. Whatever the season, picturesque Blue Mountain Village is your go-to point for day trips to the area, and it's where visitors should start their day.
This alpine-style resort village has plenty of restaurants, shops, hotels and cafes, and there are always events going on.
To sign up for outdoor activities such as electric bike tours or zip-lining, head to Activity Central at the foot of the ski slope in the village.
If you're looking for adrenaline-pumping things to do in Blue Mountain you'll be spoiled for choice with family-friendly options such as the Ridge Runner Mountain Coaster, the Wind Rider Triple Zips or Timber Challenge Ropes.
Once you've exhausted your energy, you can wander through the village and choose from the many restaurants there. Kaytoo has a patio overlooking the scenic Mill Pond, while the Copper Blues generally has a good crowd. For a drink try the Northwinds Brew Pub.
There should still be time in the day to venture beyond the village, and with all this gorgeous nature around, it would be a shame not to.
For adults, a tranquil way to experience the richness of the surrounding forest is at Scandinave Spa Blue Mountain, a soothing circuit of outdoor pools, saunas, and restful lounges. ($65 pp.)
How to Get to Blue Mountain from Toronto
The nearby Scenic Caves at 260 Scenic Caves Rd is another unique way to connect with the environment. You'll want to budget a couple of hours to explore the ancient caves, lookout spots and 420-foot-long suspension bridge. Don't miss Ekarenniondi, a standing limestone rock that was sacred to the First Nations people who made southern Georgian Bay their home. (Entrance from $17.50.)
Driving is the best option to get to Blue Mountain. It's about 2.5 hours north of Toronto, though the roads get crowded on weekends and can slow you down. In the winter there is a daily shuttle for the ski crowds.
---
7. Wasaga Beach to Toronto
Wasaga Beach is a place where most locals in the Greater Toronto Area go for a weekend getaway. It is definitely worth the drive from Toronto and is the perfect place to spend a Sunday afternoon with friends.
One Day at Wasaga Beach
During the summer, there are lots of people that go for a quick dip in the waters or a tanning session by the shoreline.
Other than the parking fee and some gas cost, Wasaga Beach is practically free.
Bring a beach towel, some sunscreen and a cooler full of drinks and snacks if you intend on staying the day.
Otherwise, you can head to Catch 22 for some seafood at $20/person or Maple Diner and Smokehouse for a quick brunch at $10/person.
How to Get to Wasaga Beach
Public transportation isn't the best choice when trying to get to Wasaga.
You can grab a greyhound to Wasaga Beach East and take a taxi to the main beaches.
The entire trip will take 3 hours and cost around $30.
The best option is to drive up as this will only take an hour and a half.
---
8. Prince Edward County
If you want to experience a region known for sandy beaches, pristine nature, and local wineries, then Prince Edward County is for you!
One Day in Prince Edward County
This expanse of green agricultural land right on the shores of Lake Ontario is a great spot for campers, bikers, wine-tasters, and day-trippers alike.
There are plenty of things to check out in Prince Edward County. The main draw to the area is the local PEC wineries and breweries.
The area is known as the "up and coming" wine region in Ontario. Many operations are family-run, meaning the wine is typically done in smaller batches. This makes for a unique taste from season to season.
Check out Sandbanks Estate Winery for their famous Baco Noir!
There are a few smaller towns – Picton and Wellington – which you can also check out.
Each one has a number of shops for Canadian-made goods and restaurants that specialize in serving local ingredients.
Check out Parson's Brewing Company in Picton for a great taste of local craft beer.
Costs in Prince Edward County are generally lower than in the big city and wine lovers can do a few wine tastings for much less then you would in the Niagara wine region.
It's always a good idea to layer and bring a wind/rain coat because even in the summer the cool wind off the lake can make for cooler temperatures. Be sure to wear comfortable shoes, sunscreen, and/or a hat since many establishments let you taste outdoors!
How to Get to Prince Edward County from Toronto
The easiest and most convenient way to get to the County is by driving.
You leave Toronto heading east on Highway 401 and then just get off around Belleville, following county roads into the County. It'll cost you a tank of gas, but this drive only takes about two hours one way (more with bad Toronto traffic!).
Just be sure to plan ahead with a designated driver if you plan on consuming a few beverages!
---
9. Grand Bend
In under three hours you can drive from Toronto to Grand Bend to enjoy a day at one of the best beaches in Southwest Ontario.
This beach town is located in Southwest Ontario and is a super busy spot during the summer months.
The beaches in Grand Bend have crystal clear blue waters that you will almost think you are in the Caribbean, minus the palm trees. Grand Bend is one of 26 beaches in Canada to have earned an official Blue Flag status for its strict water quality and safety criteria.
One Day in Grand Bend
With only one day in Grand Bend you can choose to lounge by the beach all day or take part in some water activities with Xtreme Watersports such as:
Jet ski and Seadoo rentals starting from 1/2 Hour – $65.00 per single driver.
Jet Boat charters starting from 1 hour – $240.00.
Flyboarding starting from 1 hour – $150.00 ~ 1/2 Hour – $80.00.
Water trampoline starting from one person on a trampoline – $20 each per 1/2 hour.
The main beach area is equipped with a splash pad, a playground and easily accessible to the many shops and restaurants on the main strip.
Where to Eat in Grand Bend
Smackwater Jack's Taphouse 71 River Rd, Grand Bend
This is a great option to dine and located right off the strip. They have indoor seating and a covered patio with water views. They have a diverse menu with locally grown menu items. Try the perch tacos as it is the local fish and their french fries are addictive.
Midori Sushi 29 Main St W, Grand Bend
If you are craving sushi then you must stop at this newly renovated sushi restaurant located on the main strip in Grand Bend. They have a large outdoor patio area with bar swings. Try the Mango salad, Tuna Poke Bowl and the Green Dragon Roll.
Dark Horse Winery 70665 B Line, Grand Bend
If you love visiting wineries then you must head to Dark Horse Estate Winery. It is about a 10-minute drive from the main strip of Grand Bend. Join them on the patio for pizza and wine tasting.
Things to Pack
Beach chairs, beach towels, sunblock, swimsuits, change of clothes, cooler with snacks and drinks.
---
» Don't miss our essential road trip packing list!
---
How to Get to Grand Bend From Toronto
The best way to get to Grand Bend from Toronto is by car on King's Highway 401. It is approximately 220km or 136 miles. There is no regular, direct public transportation to Grand Bend.
There are five paid parking lots in Grand Bend.
Parking tickets can be purchased for $3-$4 per hour or a full day from $15-$20 depending on the lot. The closer to the beach, the more the parking is.
Get there early as parking tends to fill up quickly in the summer months.
By Diana Becevello | Diana's Healthy Living
---
10. One Day in Bobcaygeon
As the lyrics of Canadian band Tragically Hip's haunting ballad illustrate, Bobcaygeon, a clear starry-skied town in cottage country, a short jaunt from Toronto, has Ontarians flocking by the camper and canoe to experience its serenity, relaxation, local flavours, and ultimate beachy ambience every summer.
A 90-minute to two-hour drive East on Highway 401 from Toronto, located within the beautiful Kawartha Lakes region, Bobcaygeon brings travellers steps away from some of Ontario's most crystal lakes, shops, local eats, secret fishing spots, and iconic National Historic Sites.
Enjoy some of the best fish and chips and peanut butter pie you'll ever eat at Just for the Halibut, rent a boat or take a day cruise through the historic Trent Severn locks, or pick up a locally-designed tee at Douglas + Son before inflating your unicorn floaty for a relaxing afternoon on Sturgeon Lake.
Have a sweet tooth?
You cannot miss the opportunity to devour a Kawartha Dairy mega ice cream cone. Churned right here in the Kawartha Lakes region, Kawartha Dairy brings Ontario's favourite ice cream treats to visitors in a variety of flavours.
One or two scoops will have you going for a while, but for the ultimate challenge, try a triple scoop in a waffle cone.
Bobcaygeon has everything for the perfect day trip from Toronto, a relaxing weekend getaway, or even a week's staycation away from the city bustle.
So pack your bathers, camera, fishing rod, and appetite, for a memorable and exciting road trip. It truly is an incredible summer escape.
How to get to Bobcaygeon from Toronto
The best way to get to Bobcaygeon is by car.
The journey takes up to two hours to drive via Highway 401 from Toronto.
By Janine Good | Fill My Passport
---
11. Bruce Peninsula
The Bruce Peninsula stretches between Georgian Bay and Lake Huron and is home to a wealth of outdoor activities. One Day on the Bruce Peninsula could go in a multitude of ways. There are dozens of hiking trails along the Peninsula, including Ontario's famous Bruce Trail. And one of the best places to hike is in the Bruce Peninsula National Park.
Bruce Peninsula National Park is part of a UNESCO World Biosphere Reserve. The Park is home to some of the best hiking trails on the Bruce Peninsula. Trails lead to epic cliff-top views of incredible crystal blue waters and the Park's famous Grotto. A day parking pass to the park is $11.70.
If hiking isn't your jam explore the charming small town on the Bruce Peninsula's tip – Tobermory. Here you can browse local shops, enjoy the harbor and grab something to eat and drink at the Crowsnest Pub – which has great food, a rooftop patio, and live music. You can also enjoy a cruise from one of the handfuls of cruise companies. Enjoy a cruise through Fathom Five National Marine Park, take in shipwrecks, or check out Flowerpot Island. Cruises range from $40 – 55.
How to Get to the Bruce Peninsula from Toronto
The Bruce Peninsula is approximately 300 kilometres north-west of Toronto. The best way to visit is by car. And the drive takes anywhere from 3.5 to 4 hours.
Stephanie Mayo | The World As I See It
---
12. Toronto to Rochester, New York
Crossing the border on a day trip? It's easier than you think!
One Day in Rochester
Roughly 3 hours from Toronto lies Rochester, New York, also known as the "Flower City." I recommend visiting in the summertime when everything is in full bloom.
Those who go in May will find the largest lilac festival in North America. Other year-round attractions include the George Eastman House, a tribute to the late founder of Kodak, and the Memorial Art Gallery, hosting $5 Fridays that are jam-packed with events.
This is a great base if you want to explore the nearby wine and cheese trails of the Finger Lakes. Don't leave without sampling a Garbage Plate — a mix of traditional barbecue foods piled high on your platter, from beef to macaroni salad.
How to get to Rochester from Toronto
Canada shares a border with 11 U.S. states, including New York, allowing you to check off two countries for the price of one. If you already have a visa waiver for Canada and are driving to New York you do not need to apply for a separate waiver online, you just need to fill out the correct form at the border. Note that non-Visa Waiver Program countries will have different requirements, as will anyone traveling by air or cruise ship. The drive itself is quick and easy, mostly on highways.
By Jen, Jen on a Jetplane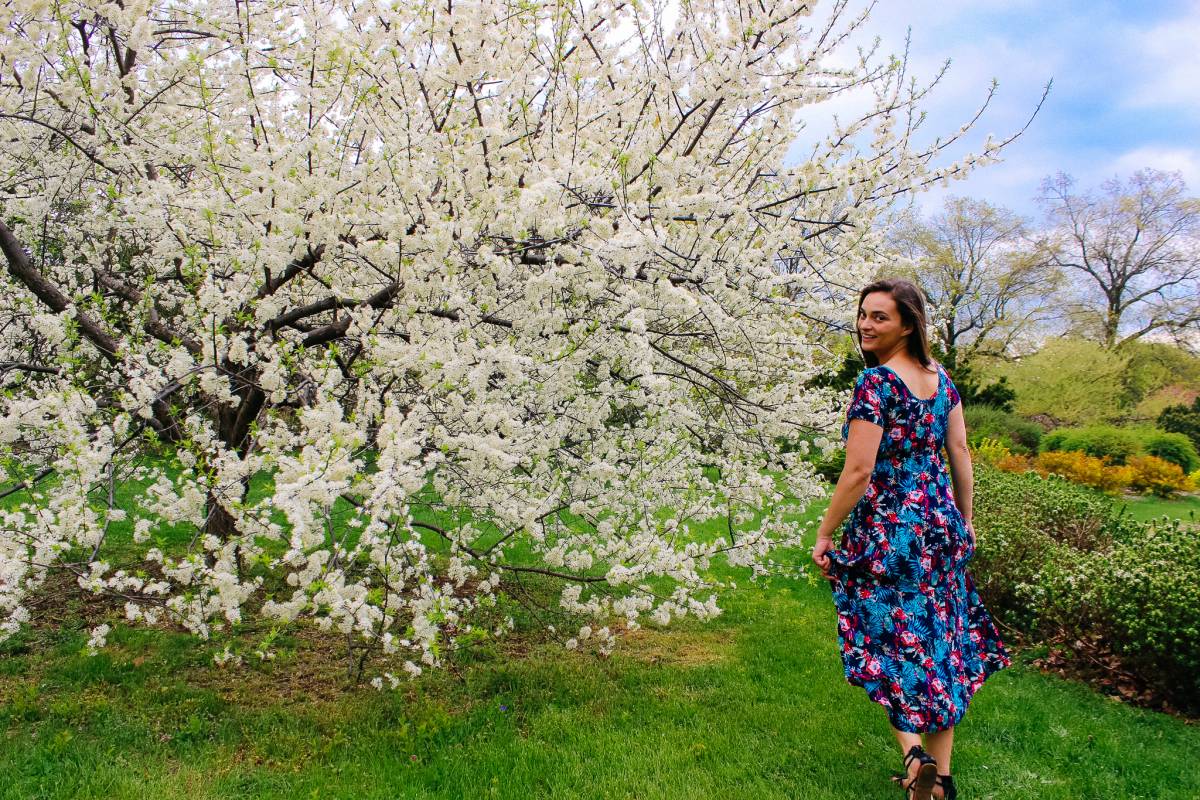 ---
Final Words
Whether you are looking for an idea for weekend trips from Toronto or to book a tour to extend your city experience, do tell us which day trip you take in the comments below.
Planning a trip?
Save for later.