This article has links to products and services we love, which we may make commission from.
Vast landscapes, clean air and of course fire and ice, hiking in Iceland is one of the top activities to do when visiting this European country. Considering that Iceland is one of the most expensive countries in the continent, independent treks help keep attraction costs down! Naturally, some of the Iceland hikes require guidance from experts, especially during the Winter months. However, never ones to let a bit of glacier ice to get in the way of a great trip, here's our (Gemma and Craig) guide to hiking Iceland. This guide includes 'proper hikes' from 45 mins to 4 days with rewarding scenery along the way.
» Warning: Iceland's weather changes many times during the day, please be mindful of the forecast before hiking. Iceland's road system works in a Ring Road. All of these hikes can be found located off it.
---
» Don't miss our Iceland itinerary and planning tips
---
The Best Iceland Hikes For All Abilities
Hikes Near Reykjavik
Located 10 km outside of Iceland's capital, Reykjavik, the Mount Esja hike is popular with visitors (and locals) who are short on time but still want to stretch the legs. Mount Esja is actually the mountain can see from the city and once you are on the 914 metres peak (it is mostly a flat mountain though), you get great views of Reykjavik.
One of the things I love about Iceland is its inclusiveness and that can be seen even in hiking. There are three possible routes up the mountain and each is marked by difficulty. Close to the top, there is a stopping point for less experienced hikers, those looking for a challenge can continue to the peak via the mountain face or path. The higher you go, the more chance there is of snow so be careful, snow starts to lie from September although is likely to melt. According to the Iceland Review, Esja mountain has seen more deaths than any other mountain in Iceland over the past decades. Mount Esja is one of the best day hikes in Iceland.
How long to hike Mount Esja? 2-4 hours depending on the path chosen
Seasons:  Can be walked all seasons, crampons and poles required in Winter
Type of hike: Self-guided

Distance:

914 metres

Starting point: 50-minute drive from Reykjavik –

Hiking Centre Esjustofa parking

, buses 15 then 57

Difficulty rating: Routes for all levels
Highlights: Views
Warning/Gear? No water issues for a camera unless raining, in Winter, need appropriate gear

---
Glymur Hike (Waterfall Trail)
Glymur Waterfall is popular with tourists and rightfully so because it is Iceland's second highest however you can beat the crowds if you start early (before midday). It is relatively close to Reykjavik (an hour drive) at Hvalfjordur fjord in the West of the country. 
The hike can take 2-3 hours depending on how many photos stops you take.
Duration: 2-3 hours 
Seasons: Can be walked all seasons
Distance: 5 km
Type of hike: Self-guided or group tour (check availability here)

Starting point:

Parking at side of the road

Difficulty rating: Easy
Highlights: Waterfall
Warning/Gear? A camera is OK to bring, be careful in the rain. Waterproof boots as you walk through a river
---
Reykjadalur Valley (Hot Spring Hike) 
Reykjadalur Valley is a beautiful area to explore in the vicinity of Hveragerði town, in Southwest Iceland, especially if you like wild nature. This is a highly active geothermal area not far from the famous Geyser, filled with hot springs, mud pools, and there is even a hot river in which one can bathe!
To reach the Hot River there is a beautiful 3 km hike (one way) which is relatively easy and can be done without any guide. The hike starts at the parking lot just in front of a restaurant called Dalakaffi. During the hike, you will find bubbling mud holes, hot springs and there is even a small canyon on your left-hand side with a beautiful waterfall cascading down into the valley. The terrain is ok as long as you stick to the marked paths and the walk is quite entertaining, with many photo opportunities. The Hot River hike ends with (you guessed well) the Hot River and despite it is a long river, we recommend to arrive early in the morning to enjoy a relaxing bath without the crowds.
To walk the Hot River hike there is no special gear required, but sturdy hiking shoes are always a good idea in Iceland. Apart from this, don't forget your swimsuit and your travel towel, you definitely don't want to miss this bath.

How long to hike to

Hot River

? 45-60 mins (same back)
Seasons: Can be walked all seasons, crampons and poles recommended in Winter
Type of hike: Self-guided or group tour (check availability here)
Distance:

3 km

Starting point: Parking at

Reykjadalur

Difficulty rating: Easy-moderate (the first stage is uphill)
Highlights: Hot River bathing
Warning/Gear? No water issues for a camera unless raining, in Winter, need appropriate gear, no changing rooms, locals may be naked in the river 🙂 
» by Elisa |  World in Paris
---
South Iceland Hikes
Iceland day hikes don't have to evolve around Reykjavik, in fact, you will find fewer tourists and wilder landscape as you head to the South of the island. Expect the views to become lusher and the sand, darker! 
Seljavallalaug Geothermal Pool Hike
[This is NOT a hidden gem] 

 Not far from the village of Vik and the two waterfalls Skogafoss and Seljalandsfoss there is a lukewarm geothermal pool nestled amongst the mountains. The hike to the Seljavallalaug is relatively short at 10-15 minutes and easy in difficulty ratings. You do have to cross to areas of water so it is recommended to wear waterproof hiking boots. 
Seljavallalaug geothermal pool itself is pretty disappointing. According to online chatter, the pool is cleaned once per year which makes sense because the water was very slimy. In addition, tourists have left the changing rooms a mess. Visitors opt to change around the back of the changing rooms instead.
It is a unique experience to bathe in the wilderness but the clientele (smoking in the pool is not cool) and the state of the pool kills the kudos. Unfortunately, this is the only the hot spring/geothermal in the area.  I'm actually a bit annoyed at the description of  Seljavallalaug pool, bloggers and travel sites should be ashamed of themselves for not accurately portraying the area. Tourists should be disgusted with themselves. 

How long to hike to

Seljavallalaug

? 10-15 minutes
Seasons: Can be walked all seasons
Type of hike: Self-guided
Distance:

2-3 k

Starting point: Turn off the Ring Road at

Raufarfell, park at Seljavellir then walk ahead for the hills! You'll meet lots of other tourists there too

Difficulty rating: Easy
Highlights: Scenery
Warning/Gear? No water issues for a camera unless raining, ruined by tourists. Bring your swimsuit and a towel.

Volcano Hike: 

Eyjafjallajökull and Sólheimajökull
Did you get an extended holiday in April 2010? Was the reason for said extension an ash cloud by any chance? Well, you have Eyjafjallajökull volcano to thank for that.
Hikers can actually walk underneath Eyjafjallajökull and then trek over Sólheimajökull Glacier in the South of Iceland with this guided walking tour. The hike itself takes 3.5 hours and promises ice sculptures, ridges, and deep crevasses.
How long to hike to

Sólheimajökull

? 3.5 hours (10-hour tour from Reykjavik)
Seasons: Can be hiked all seasons
Type of hike: Group tour (check availability)
Starting point: Reykjavik accommodation (hotel pickup)
Difficulty rating: Easy-moderate
Highlights: Glacier and knowledgeable guides
Warning/Gear? No water issues for a camera unless raining, waterproof boots and clothes,

crampons and ice pick

s provided by guides, no bathrooms at the glacier




DC Plane Wreck | Sólheimasandur
In 1973 a U.S Navy DC plane crashed on Sólheimasandur black beach and now it is one of the hottest photography spots in Iceland. Luckily no one was injured when the plane ran out of fuel (or was it a mistake at the hands of the pilot? Or the tank freezing? Sources differ!)
For some reason, blogs online make out as if it is really tricky to get to the DC plane wreck at Sólheimasandur. In the past, you used to be able to drive close to the plane but now there is an easy 45 minute, yet pretty dull, flat walk to the location. Getting to the hike itself is straightforward.
Here is how to get to DC Plane Wreck at Sólheimasandur
Drive past

Skogafoss waterfall on your left (going East on Route 1)

Drive for just under 10 km/10 minutes

Look for the

Sólheimajökull Glacier sign on your left

2 km later, take the right

You will see lots of cars/campervans parked here

Walk straight ahead then veer to the left

Alternatively, stick these coordinates in maps and walk towards it

63 27.546-19 21.887
We went at sunset and it really was pretty damn cool. There were lots of photographers there so you can forget doing Insta poses unless they can use you to (like they did with me).
Climbing up the plane is tricky, there is lots of holes and metal sticking out so be careful. One tourist was flaking out trying to get down. If you are climbing up, be respectful of others who want to take photos too. When we arrived there was a group of guys who had been posing for 30 minutes and no one had the balls to ask them to get down and let others have a go. As soon as the sun starting setting the time-lapsers squashed any Insta attempts. This is one of the closest hikes to Vik. 

How long to hike to

DC plane wreck

? 45 mins there, 45 mins back
Seasons: According to locals, not possible to walk in Winter. It is an open plain so there is nowhere to hide from the wind or rain (plane on a plain!)
Type of hike: Self-guided or tours – you will have to walk with the tour (check out this combo tour of the plane and Diamond Beach)

Distance:

4 km

Starting point: Car park, see instructions above
Difficulty rating: Easy
Highlights: DC Plane Wreck  
Warning/Gear? No water issues for a camera unless raining, popular, horrendous if raining sideways, no bathrooms
Landmannalaugar 4-hour Hike or 4-day Trek
Landmannalaugar. Wow. Hiking in the Southern Highlands of Fjallabak on a relatively clear day will result in stunning photographs picking up the reds, beiges and greens of Landmannalaugar, the rainbow hills. Depending on your time restrictions and hiking abilities you can either hike Landmannalaugar on a day hike or as part of a multi-day trek. This is said to be one of the most striking Iceland hiking trails.

The day hike takes you on a 4-hour hike walking on Landmannalaugar and the active volcano, Hekla, then through Vondugil Canyon and up Brennisteinsalda mountain. A celebratory natural hot pool soak is also possible (pack your swimming gear).
The multi-day trek Laugavegur trail is well sign-posted and accommodation comes in the form of pre-booked huts or camping (no need to book a spot but weather can be horrendous). The trail goes from Landmannalaugar to Thorsmork underneath Eyjafjallajokull (Landmannalaugar to Þórsmörk). The Laugavegur Trek passes through Hrafntinnusker (12 km), Álftavatn (12 km), Emstrur (15 km) and finishing Thorsmork (15 km). Between Álftavatn and Thorsmork there are river crossing which requires you to get wet. Pack water shoes like Crocs (heavy eye roll, I know) to avoid slipping. If hiking in September there is even the chance that you may see the Northern Lights.
Avid hikers can make this 3-day Iceland hike into 4 days by carrying on from Fimmvörðuháls to Skogar which passes many waterfalls (adds 24-26 km to the trail).
How long to hike

Landmannalauga:

4 hour or 3-4 days

Seasons: Not suitable for Winter
Type of hike: Self-guided or tours. Click here to see the 4-hour tour 
Distance:

Depends on the type of trek (4-day 54 km)

Starting point: L

augardalur campsite (bus drop off)

Difficulty rating: Moderate (4-hour) – difficult (4-day)
Highlights: Views and natural pools
Warning/Gear? No water issues for a camera unless raining (careful at the river crossing on the 4-day hike – pack water shoes and towel), poles recommended, camping
---
Svartifoss Waterfall Hike (
Black Falls)
Svartifoss is one of the most spectacular waterfalls of Iceland, and one of the most rewarding ones. While several Icelandic waterfalls are just next to the Ring Road, Svartifoss requires a short hike of 30-60 minutes depending on how fast you're walking. At times, it's tiresome to walk uphills, but there's a dirt road almost all the way to the waterfall, so the terrain is very easy to walk. However, if you're more experienced and want a challenge, there are additional paths you can walk to the waterfall.

Make sure to bring a mug unless you're a Viking and can drink the water with your bare hands. The water is clean and delicious to drink, so that's definitely one of the highlights when you arrive at Svartifoss. Along the hike, you can also enjoy some scenic views over the landscape. If you're travelling here during summer, it's also possible to have a barbeque and camp overnight near the starting point of the trail.
No matter the time of year you go here, Svartifoss is incredible. However, during the winter months, the trail might be inaccessible, especially the tougher walks. The most common trail is open year round. You can do this walk easily on your own. Please bring good shoes for your own sake as it's not nice to walk uphills in shoes that don't fit.

Duration: 1-2 hours
Season:

Might not be accessible during the harshest winter months

Type of hike: self-guided hike or tour
Starting point: Skaftafell Visitor Center
Difficulty rating: Easy-moderate (some steep uphills walking)
Terrain: Dirt road
Highlights: The view of Svartifoss and drinking ice cold clean water
Warnings/Gear? Hiking boots will be nice to have but are not necessary
» Alex Waltner | Swedish Nomad 

Glacier Hike, Iceland
Svinafellsjökull Glacier Hike (Skaftafell)
Svinafellsjökull is one of the most popular places for glacier walking in Iceland. It's located about two hours driving from Vik and about 50 minutes from Jokulsarlon at the Southern coast of central Iceland. Most tours start at Skaftafell Visitor Center where the tour companies have their gear and small offices. It is recommended to go with a group tour since many parts of the glacier can be dangerous to walk alone.
Of course, experienced glacier walkers could probably do this on their own, but beginners should always be accompanied by a professional guide. The group tours are not expensive and they provide all the gear you need, including crampons. Hiking boots can be rented if you give them notice beforehand. The tours are available year round but are probably best during Summer or Spring before the ice melts. Spring is ideal because you can venture down into ice crevasses and canyons.
Svinafellsjökull is also quite famous from movies and TV series such as Game of Thrones and Interstellar.
Duration: 1-2 days
Seasons:  Can be walked all seasons
Type of hike: Group tour with a guide for safety reasons (click here to check them out)

Starting point:

Skaftafell Visitor Center

Difficulty rating: Easy
Highlights: Mountainous glacier, ice crevasses
Warning/Gear? A camera is OK to bring. Crampons and other gear are provided by the tour companies at Skaftafell visitor centre.
» Christine | Christine Abroad
Iceland Hikes Packing List

As you can see from the above everyone in our Iceland hiking guide recommends is investing in the right gear. For starters you really want to pack the top six essentials:

Waterproof coat/jacket


Down jacket for warmth

Waterproof trousers

Layers – Merino wool is best for thermals


Waterproof hiking boots

Waterproof bags for electronics like mobile phones and cameras
Waterproof Coat/Jacket

I can't recommend the Mountain Equipment Rupal US / UK enough.
It is not only rainproof, but it also appears splashproof (I jest). I honestly feel like I wearing armour in it. There are large front pockets for maps, phones and snacks. The hood works ergonomically and there are pulls at the front and one at the back so you can see when the hood is up.

Down Jacket
Rab Alpine down jacket USA / UK in extra long to cover your bottom! It offers excellent insulation, I am a very cold person and I really dislike being cold too.

Waterproof Trousers

Iceland is wet. Whether it is the rain, wading through rivers or the spray from the waterfalls, you will get wet. I carry a cheap pair of over trousers USA / UK in my day bag to pull on top of leggings when out hiking. I did the same in Iceland and it worked a treat.
If you are hiking in Iceland in Winter I would suggest insulated leggings or waterproof hiking pants.
Merino Wool Tops

Merino wool keeps you cool in warm climates and hot in cold weather. They are expensive investments but worth every penny because of the dual-action. They wick away moisture from your body so it does not dry cold on your skin. It also stops your sweat from soaking into the material and smelling bad.
This is especially great for Iceland because you will be limited if looking to wash and dry clothes. Accommodation tends to only offer oil heaters which are toasty but you can't dry items on them.
Check the range of Icebreaker Merino wool base layer tops USA / UK.

Waterproof Hiking Boots

I normally hike in Salomon trail shoes which are ankle height but splurged on a new pair of Salomon boots US / UK for the trip to Iceland because I knew we would be wading through water and I was right.
Like the Mountain Equipment jacket, I'm very happy with the quality of the boots. Not a drop of water entered the boots. The only thing I would say be careful with is the laces. There are hooks to wrap the laces around on both boots and the lace loops can get caught on them if you don't tie the loops small enough.

Waterproof Bags

We opted to leave our Canons in the car when walking behind the waterfalls because we didn't have the appropriate waterproof cover gear for the cameras. Luckily the GoPro Hero is waterproof and looks freaking awesome in wide mode…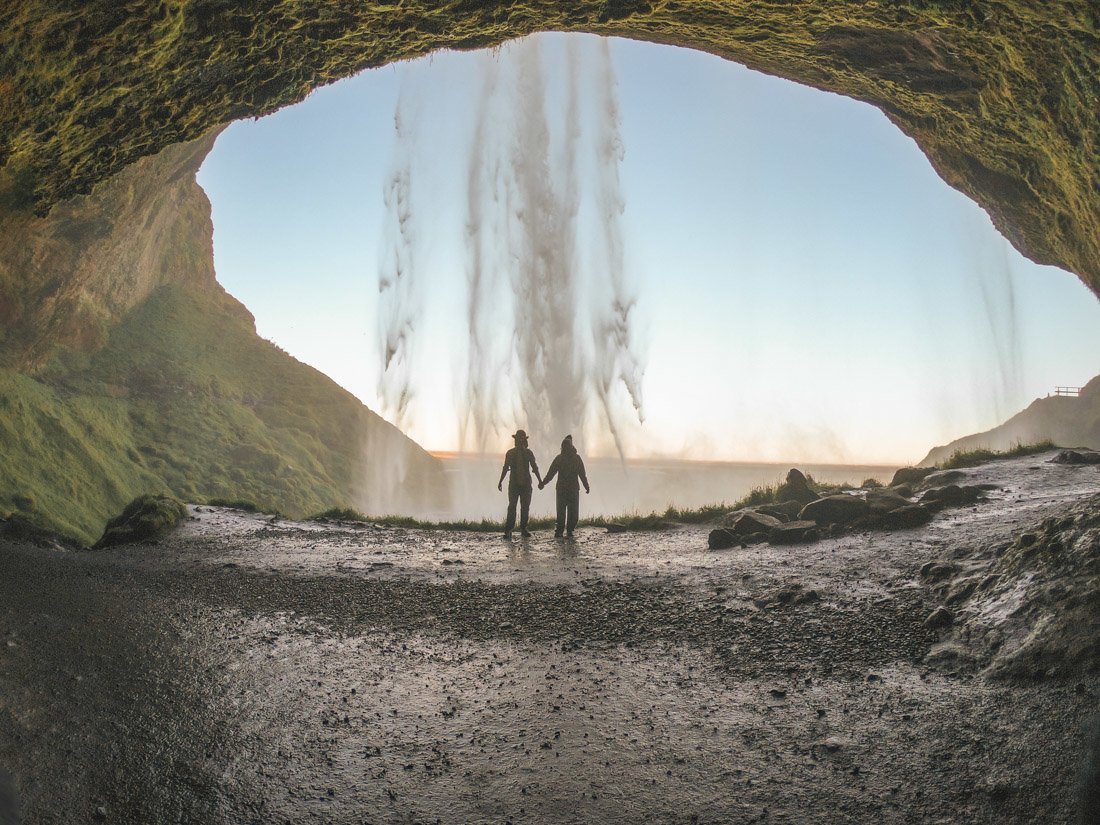 Craig's iPhone 6 took a shot of the Gljúfrabúi waterfall from inside a cheap waterproof bag case.
This is honestly the first trip where I've had to really think about the electrics and rain/water spray. We always carry a waterproof day bag cover like this one by Osprey US / UK but in Iceland, you need to go a step further to protect your electronics if they are valuable to you. We witness photographers with plastic food bags taped around the camera which is something you could consider doing.
Also, add a few camera moisture absorbers to your bags to soak up the rain.
A
dditional Iceland Gear

Hats

Gloves

ScarfsLeggings (insulated?)


Trousers

Heaps of layers

Yellow Instagram coat

Sunglasses

Snacks from home (food is expensive)

Eco water bottle


Tote bags for shopping – save the plastic tide

Bumbag/fanny pack (yup, I hike with one – easy phone access)  

Battery packs/span>

Universal plug

Swimming gear
Don't travel without insurance. Healthcare, logistically, is few and far between in Iceland. Make sure you are covered for hikes and other adventure activities you plan to take part in.
Why Hike in Iceland?
There is a lot of driving in Iceland. Whether you are taking an independent Iceland road trip or letting someone else do the driving though group tours, there are periods of time where you are sitting idle but enjoying the view from the window.
Hiking in Iceland gives you the chance to get out and amongst the beauty of Iceland whilst working the muscles.
Iceland is also very expensive. It cost us £19 for a burger in Reykjavik but the costly food, accommodation and fuel are balanced out by the variety of free things that you can do in Iceland and hiking is one of them!

Iceland Hiking Map
Click the map to enter Google maps version.
Is Hiking in Iceland Safe?
During the Summer months of June, July and August, hiking can be done independently on many trails. However, the glacier hikes should be done with a respectable company who can provide the correct equipment.
During Winter (November to March are the darkest months, the weather is temperamental from late September), some hikes are off the list and there is an increased need for support from experts. Luckily for visitors, Iceland is prepared for Winter hikes with many companies offering guidance.
Do I Have To Hike?
No! Many of Iceland's best sightseeing stops are dotted around the South of the island (such as Skógafoss) and can be reached by driving there/taking a tour and then a short walk.
For example, Reynisfjara Black Beach is only a three-minute walk from the car park. Fjaðrárgljúfur Canyon is a little longer at a 15-minute walk up the hill (well-established path).  Öxarárfoss hike is also a very short hike.

Öxarárfoss Hike

The hike to Öxarárfoss in Þingvellir National Park is a short ten-minute hike from the parking lot. The drive itself is about 40 minutes from Reykjavik.
The trail begins past a metal gate, which can be easily opened. After, it's a hike down a steep, rocky trail. It is recommended to wear a  good pair of hiking boots no matter what the weather as it can be unpredictable.
At times, rocks can be slippery and both hands need to be free to help stabilise during the hike. The rocky trail does not last long, as a boardwalk shortly begins. From there it's a few minutes to Öxarárfoss, a large, breathtaking waterfall cascading down black rocks of Almannagjá gorge.
Duration: 10 minutes there, 10 minutes back
Seasons: Can be walked all seasons
Type of hike: Self-guided
Distance: 1.6 km
Starting point:

Þingvallavegur Nr. 36,

Öxarárfoss car park

Difficulty rating: Easy
Highlights: Waterfall (ices over during Winter)
Warning/Gear? No water issues for a camera unless raining, hiking boots to avoid slipping 

» By Samah Khan | God & Wanderlust
You can also opt for 4X4 driving experiences on a volcano or even a snowmobile ride on a glacier which means you can still see what others do on the hike without having to trek!
---
You may also like:
---
Final Thoughts
Iceland is a playground for hikers. Whether you are casually waterfall hunting or committing to a multi-day hike, ice picking your way across a glacier or trekking to find the best timelapse spots, there is a hike for every ability and often the treat of a hot spring at the end!
Bookmark this post | Pin to your Iceland board