This article has links to products and services we love, which we may make commission from.
Iceland sparkles for me. The reason? I can't quite put my mitten on it. Maybe it's this small north Atlantic island's vast landscapes, canyons, and geysers. I do love to be near water (having grown up in a coastal town in Fife, Scotland) so is it the thundering waterfalls, lagoons, and beaches? Or the beautiful Reykjavik city folks with their cool exterior? I know for Craig Iceland means the solar spectacular, Northern Lights and glaciers. Whatever the reason, it's easy to see the appeal of an Iceland honeymoon.
Now I know what you are thinking – didn't you pair marry last March in Austin, Texas and then travel around the Americas and Europe? Correct, but hey, you only get married once (we hope!) We deserve a backpack/budget free honeymoon! Imagine not being confined to $45 a day… We did it! Here's our perfect honeymoon itinerary for Iceland.
---
» Don't miss our guide to four days in Iceland
---
Driving the Ring Road
Driving in Iceland is kind of like taking the Subway in Glasgow; there are two routes – you can go around it, then come back around the other way, with a few reindeer, twigs, and floods thrown in.
Many visitors to Iceland opt to see Iceland's 800 miles of Route 1 with a group tour; others take the 4×4 by the wheel and attempt a self – guided tour of Iceland.
Driving around Iceland's Ring Road takes a good seven days (perfect for those using Iceland as a stopover destination as you are awarded one week free of charge).
Don't be deceived by Google Maps, some of the journeys can take a long time, especially if it is raining. Our ride from Reykjavik to
What to See in Iceland?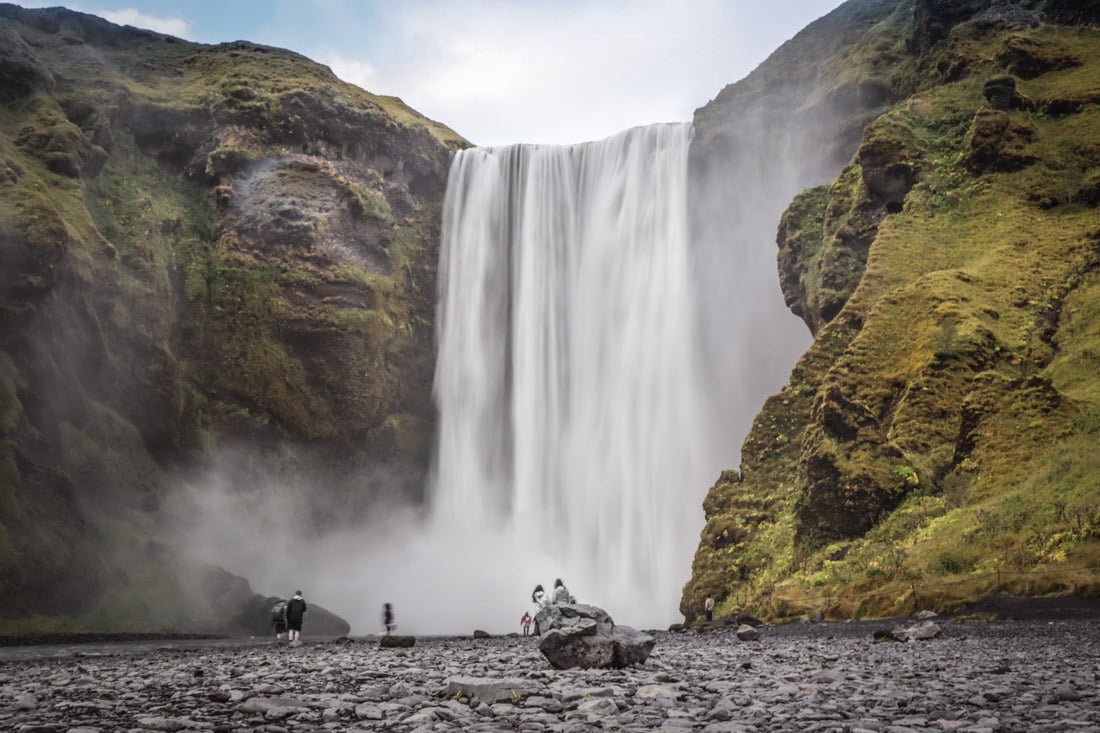 Our Ring Road itinerary includes:
South Iceland
The Golden Circle Tour of the south (see below)
American wreck DC-3 plane on

Sólheimasandur Beach (4km trek)

Sunrise at Seljalandsfoss waterfall
Get drenched at Skogafoss
Reynisfjara, Iceland's Black Beach (striking but busy)
Rafting in the Hvítá River (missed out this time)
Top tip: if you stay in the area you can fight the weather! We were rained off at Seljalandsfoss so decided to set our alarms for sunrise and had the waterfall to ourselves!
East Iceland
Fjaðrárgljúfur canyon (a short stretch of the legs) – potentially closed to the public
A Jökulsárlón tour to see the ice melt (OMG, incredible at sunset)

Vatnajökull Glacier's crystal ice caves <— seasonal unfortunately 

A visit to the crafty and mountainous Seyðisfjörður (missed)
North Iceland
Iceland's second city, Akureyri – whale watching in Iceland!
Dettifoss – the most powerful waterfall in Europe, apparently
The gateway to Hell – Dimmuborgir
The north's equivalent to the Blue Lagoon,

Mývatn Nature Baths
West Iceland
Research indicates that the west side of the Ring Road is more drive than stop but it is worth taking a detour to….
Westfjords
Snæfellsnes aka "Little Iceland"
… and then on to
Hike Mount 

Esjan

Then a celebratory end of tour drink at Blur's Damon Albarn's bar in

Reykjavik (turns out this is a great marketing ploy, he own a tiny a share of it!), HI bar is better for views



Iceland's Golden Circle Tour
If your chauffeur decides that being the designated driver for the entirety of your honeymoon is no fun, then the alternative reduced Iceland itinerary would be the Golden Circle Tour which takes a mere 3.5 hours to tackle by car (6 – 10 hours with stops).
I don't want to put you off here but the Golden Circle is very touristy. Think Disney World or the Eifle Tower in July! We visited in September and there were a lot of crowds.
I would aim to reach the likes of Geysir and Gullfoss very early before the bus tours if you plan to road trip yourself.
Highlights of the Golden Circle include
Geysir hot springs – The Great Geysir

Gullfoss

aka the Golden Waterfall
Iceland's second biggest glacier, Langjokull
(similar to Columbia Icefields in Canada which we visited last year)
All of the above can be seen as an Iceland day tour from Reykjavik. What do you prefer – self-drive, private taxi tour or guided bus tour?
Gullfoss
---
» You may also like: our guide to Iceland prices
---
Northern Lights
Now, this is a sad one as our timings were out. September just flirts with the official window (October to March) of seeing the light show also known as the Aurora Borealis.
Iceland is not always dark, and although lots of factors come into play when chasing the Northern Lights in Iceland, the darkest months of November to February are your best bet. Northern Lights tours can last up to 5 hours and run from September until May.
We did toy with other months.
One of the downsides of visiting Iceland in April (when our wedding party was) is that you are kind of in a limbo period where the weather dictates Iceland's tourist attractions.
If you visit Iceland in summer (July), you can hike, whale watch, and avoid freezing your asses off, however, this means giving up the chance to witness the dancing light show.
Sólheimasandur Beach
Lagoons in Iceland
Now that I am over not seeing the lights (I don't like being cold anyway) let's dive deep into something I do love – geothermal activity.
Oh hello, hot water! I'm a 40 degrees at the Hungarian baths type of chick, Craig not so much! Iceland's most famous hot spring is the Blue Lagoon. Close to the country's capital, a trip to this lagoon is an easy day trip from Reykjavik (40 mins by car, you will be inundated by adverts for Reykjavik tours to the Blue Lagoon).
Basic entry cost is €40 / £33. 95 / $42.37 (top tier luxury price €195) however, I am told repeatedly by bloggers and tourists alike that regardless of fee and popularity, the Blue Lagoon is worth every penny. Do not wear your contact lenses like my good friend Helen!
We opted for the Secret Lagoon (£19/€22) as it was on our route back to the capital. I love that you can buy a glass of wine or a beer and soak your troubles away! Be warned, you are expected to shower naked before you enter.
Budget lovers, there are free hot springs in Iceland (my favourite phrase) making it one of the hottest free things to do in Iceland (get it?)
Check out Hveragerdi which is only 30 mins from Reykjavik and also has free hiking trails; a stride and a soak seems like a winning combo to me!
There are a variety of geothermal pools of all sizes in Iceland so this is only the tip of the iceberg. Which do you prefer and why?
Hiking in Iceland
Hiking might not be everyone's ideal honeymoon activity but we are a big fan of the outdoors and Iceland certainly is a hotbed for nature.
The most popular trek in Iceland is the 3-4day south-west Laugavegur trek. If that's not enough, you can continue on with the Fimmvörðuháls hiking trail (or attempt as a stand-alone one day hike) which takes you between the two volcanoes, Eyjafjallajökull and Katla.
Part of Fimmvörðuháls has literally risen from the ashes after the 2010 eruption of Eyjafjallajökull. There are easier Iceland hikes such as Mount Esjan which is close to Reykjavik.
Iceland Weather – the best time to go to Iceland
October to April is low season. Winter activities such as the ice caves are open (what about snorkelling at Silfra?) and the Northern Lights are at their optimum. It is not advised to drive in Iceland during the low season unless you are used to Canadian winter conditions (and I don't mean B.C), although it is never as cold as Alberta.
Daylight is very limited to six hours so take that into consideration if driving. October to February sees the most rainfall. Time to get cosy on that Iceland honeymoon! Winter does not put visitors off! Here's my friend Janet's experience of things to do in winter.
Spring starts in April and ends in May, although the first day of summer is April 18th… Summer means a lot of daylight, the longest day is June 21st where the sun sets around midnight in Reykjavik and rises before 3am! This may take a bit of getting used to but obviously offers a good chance to enjoy the midnight sun (while partying?!)
Skiing is out and unfortunately, mass tourism, pre-booking, and selfie sticks are in.
In summer, budding photographers can capture the crazy lights of the golden hours (without the pressure of time), driving is safe, and hiking doesn't involve an axe. There are so many photographers in Iceland, they really don't like you 'ruining their shots'.
Getting to Iceland
Cheap flights to Iceland (Keflavík International Airport) from the UK can be found for under £200/$300 via Icelandair and Easyjet.
The taxi from Keflavík International Airport is $120 at the time of writing, yes you can get a one-way flight for this price.
Car rental companies charge a supplementary fee for airport collection and drop off. Save an hour for the check-in/transfer process.
Don't panic, there is are direct bus transfers to Reykjavik for under $30. Iceland is known for being expensive but cheap hotels in Reykjavik do exist, check out Follow Me Away's guide.

You may also like:
Iceland honeymoon
Well, folks, that's it from me and my dream Iceland honeymoon. Our honeymoon trip to the land of fire and ice did not disappoint. My initial thoughts were, I could explode with excitement just like Katla volcano, which has actually set off its biggest tremors since the '70s, and I hope you feel the same way too.
Going to Iceland?
Why not pin to your Iceland board?

 Have you been, are you going?
Give us tips in the comments below!