This article has links to products and services we love, which we may make commission from.
You've smashed the standard Toronto itinerary. You've climbed the CN Tower for the views, shopped 'til you drop at the Eaton Centre and snapped a selfie with the 3D Toronto sign at Nathan Phillips Square. So what next? This guide will share the best unique things to in Toronto including food, places to see and tours to take.
Never one to settle for the TripAdvisor top ten, we've sourced tips on the cool places in Toronto using our good Canadian friend, Maddie, for local tips. So let's get started. Expedia asked me to create a guide on Toronto, all opinions are my own as usual.
18 Unusual but Cool Things to do in Toronto
1. Kensington Market For International Food & Cool Photos

Kensington Market is where the interesting kids (and their dogs) hang out. The area is awash with quaint print shops, vintage stores, art, tattooists and every type of world cuisine you could imagine.
Want burritos and churros from Mexico – no hay problema! Arepas from Colombia – chevre! Frites from Belgium – Oui! Patties from Jamaica – Irie!
You'll need some organic beer or hot cider to wash that down.
Join an organised wander with a snack via this 2-hour Kensington Market tour.
A couple of streets over from Kensington Market you'll find Chinatown. Naturally, you can get cheap dim sum but we actually had the nicest pizza slice (C'mon it's North America) on Spadina and College (Europeans – this means the crossroads where the two streets meet!)
We made Kensington Market our base and didn't regret it. You can check out accommodation options for Kensington Market and other areas in the city at Expedia who offer great hotel options in Toronto for everyone.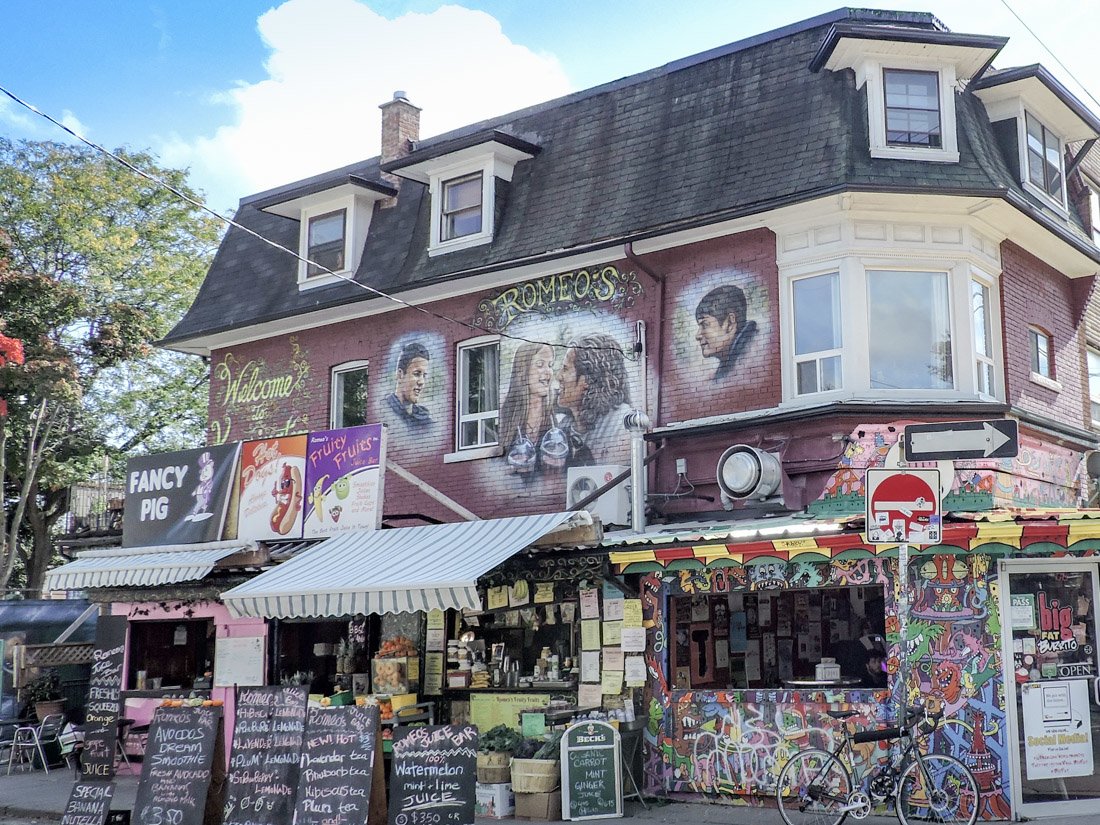 2. Bata Shoe Museum For Shoegazing
These boots were made for walking so get them stomping down to the pretty extraordinary Bata Shoe Museum (BSM) in Toronto where over 4,500 years of history is told through feet!
That's a lot of souls shared through soles under the roof of this award-winning building. If you are looking at what to do in Toronto on a rainy day, the BSM is worth a stroll.
Expect to see everything from Chinese bound-foot shoes to celebrity shoes.
There are often special exhibitions at the BSM such as Manolo Blahnik's The Art Of Shoes (made famous by those Sex And The City chicks).
3. Annex For Chats Over Coffee & People Watching
The Annex area of Toronto (Bloor and Bathurst) is home for many of the University of Toronto students so you can expect coffee shops, discount stores, bars and cafes.
Annex is also where you can rock out at Lee's Palace, visit Canada's largest museum, Royal Ontario Museum (ROM) and catch a film at Hot Doc's Cinema.
4. Philosopher's Walk For a Nice Stroll

South from Bloor (Annex) you'll find Philosopher's Walk which is a lovely green space in the city if you want to walk off a coffee high, poutine or a hangover!
Located n the St George campus of the University of Toronto, the scenic footpath is open to all so you don't need a degree to enjoy the space.
5. Madison Avenue Pub

What does one do with three Victorian mansions? You open a number of bars and connect them all of course! The Maddy has booths, games, outdoor seating and serves food.
6. Organic Grocery Store Shopping
Looking for quality produce that you can identify its origins?
Toronto has a number of organic grocery stores with zero waste shopping opportunities for conscious consumers.
This style of grocery shopping is perfect for those booking an apartment during their stay in Toronto or visitors making it a more permanent base.
Shout out to Live Organic Food Bar who hosted us during our stay. We're sad to hear they have now closed down.
7. Toronto's Half House

Rarely do you hear of a city v resident demolishment story fall on the side of the homeowner but in this case, we have a winner!
The Valkos family of 54 ½ St. Patrick Street. won the battle to remain in the 1970s so the developers sliced it in half like a birthday cake.

Toronto's famous Cube House looks to have lost its plot to a scrapyard so check out the Half House before the other half disappears too.
Address: 54 ½ St. Patrick St (thanks for the picture Andrew Stapley!)
8. Graffiti Alley
Obviously cool equates to graffiti in any city! Toronto's Queen Street West has its own colorful corridor of street art.
Unfortunately, the word is out at the two blocks of graffiti get rammed with visitors so go early for those Instagram worthy shots!
9. Trinity Bellwoods Park
Grab a few beers from Bellwoods Brewery and head to Trinity Bellwoods Park for a serious people-watching sesh!
10. Hipster Queen + King
Move over Kensington, there's a hipper kid in town.
Queen West was crowned one of the world's hippest neighborhoods by Vogue but with notoriety comes price increase.
From Bathurst and Gladstone, over a hundred stores are occupied by studios, shops, galleries and bars. It's a great place for brunching too.
11. CN Tower Edgewalk
Sure, everyone that visits Toronto heads to the Entertainment District and takes the elevator to the viewing floor of the CN Tower but how many tourists walk the walk?
Leave the comfort of the secured windows and hang handsfree from the circumference of the roof with The Edge urban adventure experience (356m/1,168ft above the ground).
This is probably the most expensive activity going in Toronto but if you are a thrill seeker you might just want to take the plunge, well, hang not plunge.
12. Toronto Island
Unlike Vancouver Island's proximity to Vancouver, Toronto Island is actually close to Toronto!
The island can be reached by boat and takes about 15 minutes to cross Lake Ontario.
There are three stops – Ward's Island, Centre Island and Hanlan's Point. We exited at Ward Island and slowly made our way to Centre Island; I biked, and Helen strolled.
So what's on offer?
Toronto Island is like a beautiful big park. Ward Island is unique because it's a small town with a small number of beautiful houses.
These are very sought after.
Rather than paying top dollar to secure a property, hopeful buyers instead have to add their name to a capped list of 500 in the hope of moving their way up to the 100 mark.
When a property is available the top 100 will be offered it at a fixed price.
The ethos is 'keep it simple.' With these views of Toronto's skyline (below), you can see the attraction.
The Island Cafe is a popular family-owned lunch spot. The resident and cafe owners aim to use fresh produce from local farmers and also sell home baking.
Centre Island has a pier, small farm, lighthouse, fairground, maze and a clothing-optional beach.
No one needs to see these fading white bits so I left the towel back on the mainland!
If you prefer for a tour to provide bikes and take you around the island, check this 3.5 hour cycle tour.
---
» You may also like: the best Toronto getaways
---
13. St Lawrence Market Events/Tours
With over 200 years of action, I know what you are thinking – how is St Lawrence Market a unique thing to do in Toronto?
Although one of the popular Toronto attractions, this food and antiques market is special and it is the merchants that make it that way.
With over 120 stores selling everything from shrimp to shortbread, you can easily swallow up an hour or two at the market.
Craig would be happy to see 'proper bacon' rolls being served too.
If you are in town for a few days, check out the special events, talks and maybe even a food tour in Toronto, check out this 3 hour tour.
Just four minutes from St Lawrence Market you will find the stunning and extremely photogenic French Gothic, Gooderham (Flatiron) Building.
Well worth a snap if you are a keen photographer.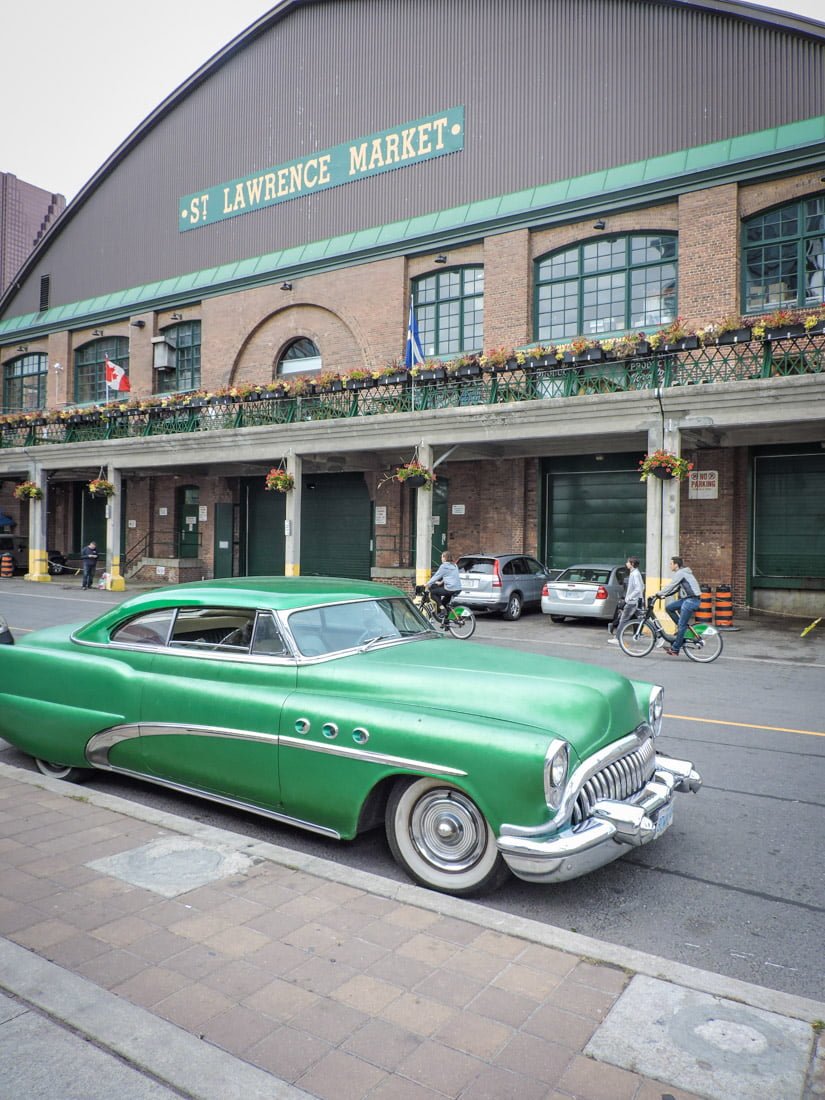 14. The Distillery District
The red-bricked Victorian-era buildings of the Distillery District now play home to 40 boutique shops including clothes, craft beer and candles.
There is also a variety of restaurants and cafes from ice cream shops to oyster bars. A food market runs every Sunday during summer too.
During winter, the Christmas Market sets up here.
15. Red Heart / Parliament and Gristmill Lane
This red sculpture was created for the Toronto Christmas Market mistletoe to hang come December but stands all year round for lovers to walk through and have a smooch underneath!
16. Love Lock Sign
Forget Paris, Toronto has a designated sign which spells out 'love' for its locks and it makes a great picture for Instagram! We saw two engagement shoots in the area.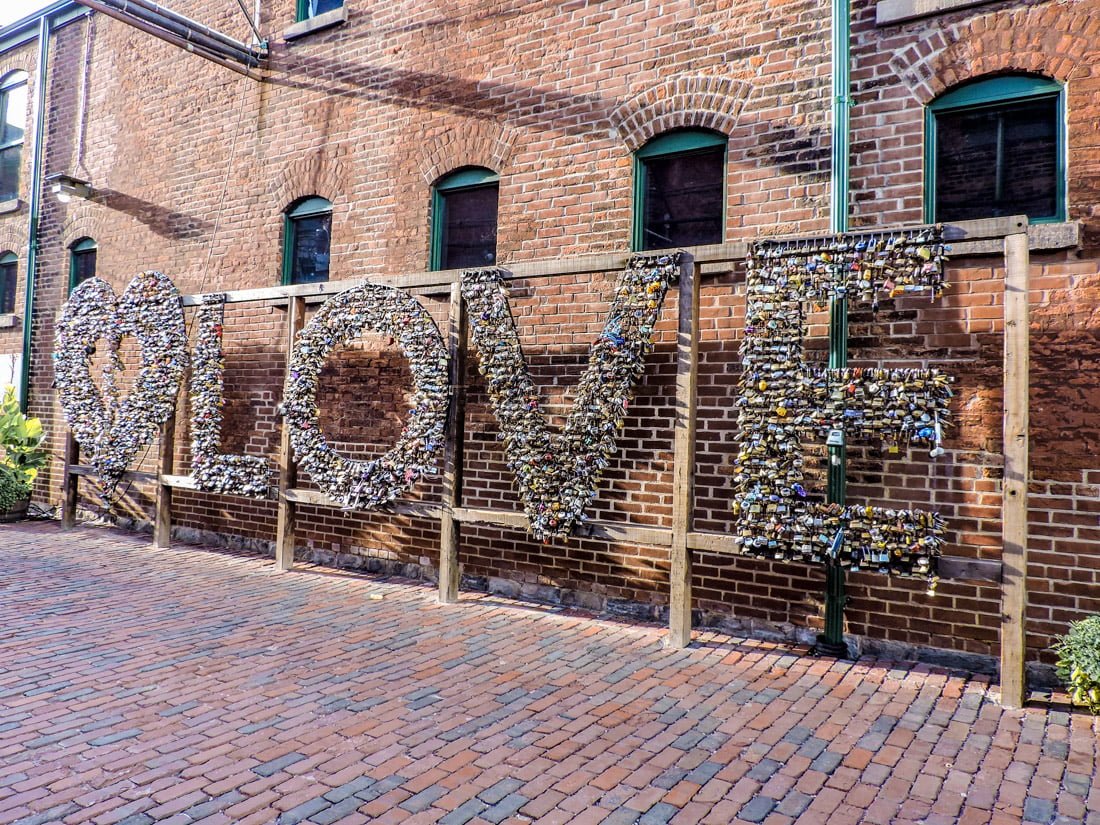 Toronto Light Festival
If you happen to visit Toronto in January through to March, don't miss the annual Light Festival which takes place to force residents outside during the -20 harsh winters. Expect installations, lights and even fire.
Address: Distillery District.
17. Ghost Walks in Toronto
90 minutes of gore, graveyards and ghosts sound appealing?
You can take a Toronto haunted walk tour and stroll through the Financial District to the Old Town hearing stories of scary tales.
18. Nuit Blanche
During the first Saturday night in October, art opens up normally sleepy spots around the city to encourage locals and visitors to go outside and engage with the exhibitions.
Museums stay open late and public art runs throughout the whole night. Expect lots of crowds, I was really impressed with how many citizens were taking advantage of the well prepared annual event.
Nuit Blanche exhibitions include print, projections, light, film, DJs, political and social justice commentary. Some take place outside, others inside. I really liked the large elephants which came in lots of shades!
Toronto Essential Information
Shopping in Toronto
For brand names, the Eaton Centre is not to be missed but remember Toronto whacks a 13% HST (harmonised sales tax) on top of prices so shop with caution!
If vintage is your bag (like me), check out the shops in Kensington Market as well as those scattered along Queens Street and in Annex neighborhood.
You might want to check out our cheap accommodation guide cheap accommodation guide to Toronto too.
History
Toronto has lots of history, look out for the blue plaques on the side of buildings to find out what they used to be.
We spotted the jail, the old post house and Gooderham Building (that thin one from Pinterest!)
Niagara Falls
No trip to Ontario would be complete without the ninety-minute journey to Niagara.
We hopped aboard a group tour which stopped off at one of Niagara's vineyards so we could taste the delicious ice wine from the Niagara region before getting wet at Niagara Falls.
Transport in Toronto
Toronto is a grid system and is really easy to navigate.
Full of beans, we pounded the streets for the first few days (walking from Kensington Market to the Old Town will take about an hour) but by midweek our feet were pleading with us so we used the streetcar and subway system.
You can purchase day tickets, which let you use any mode of transport to get around the city.
How to Get to Toronto From Pearson Airport
From Pearson Airport, the quickest but more expensive way to travel is by the Union Pearson Express (UPE). This train takes 25 minutes.
The more economical option takes longer, naturally. A 75-minute journey using the public transport system will get you to and from the airport. Take the Airport Rocket (bus 192) to Kipling (approx. 45 minutes) then the green line subway into the city, your stop will depend on where your accommodation is.

You may then need a streetcar or the yellow subway line.

A taxi will cost approximately $70.
A private transfer is also an option.
We did option two and I was a little hurried at the airport so leave ample time.
Toronto Packing List (Spring/Summer/Fall)
Nice dresses that can be layered with tops
1 x jeans
Sunglasses
Camera and battery
Or Water to Go Water To Go [quote TSA15 at checkout for 15% off]
Toronto Packing List (Winter)
Trousers
Hats, gloves, scarf
Sunglasses
Hand warmers if waiting around.
My Final Tip for Toronto
The only thing you need a map for is to look lost.
As soon as you take it out, a local will approach you to ask if you need help! It's a help magnet.
And don't believe what other Canadians say about Canadian city folk not being friendly, if someone in Edinburgh (Scotland) saw you with a map, they'd cross over the street!

Please do ask any questions or leave comments below.