This article has links to products and services we love, which we may make commission from.
History, landscape, and the glorious fall season, there are so many things to do in New England. So much more than just Boston, our friend the adorable Amy from Two Drifters shares her knowledge on the pretty region, creating the best New England road trip itinerary or New England vacation trip ideas.
So if you are as obsessed with Gilmour Girls as I (Gemma) am or are simply looking for weekend trip ideas all year round, keep reading. 
You may also like our guide, how to plan a trip to the USA
Things to Do in New England
Tucked away in the far northeastern corner of the big ol' USA is a very special region known as New England.
One of the oldest parts of the country, New England is home to bountiful history, especially from the American Revolutionary period.
But it's not just for history buffs. New England has grown into a top destination for Americans and international guests alike.
It's beautiful all year round, though perhaps extra enticing in the fall, and it's a lovely spot for travels of all kind.
For couples, we especially recommend escaping on one of New England's Romantic getaways.
Curious about this charming area of the country?
This list of things to do in New England will help you decide what to plan for in each state.
Whether you're in Vermont, New Hampshire, Rhode Island, Connecticut, Maine, or Massachusetts, we've got you covered with our New England travel guide.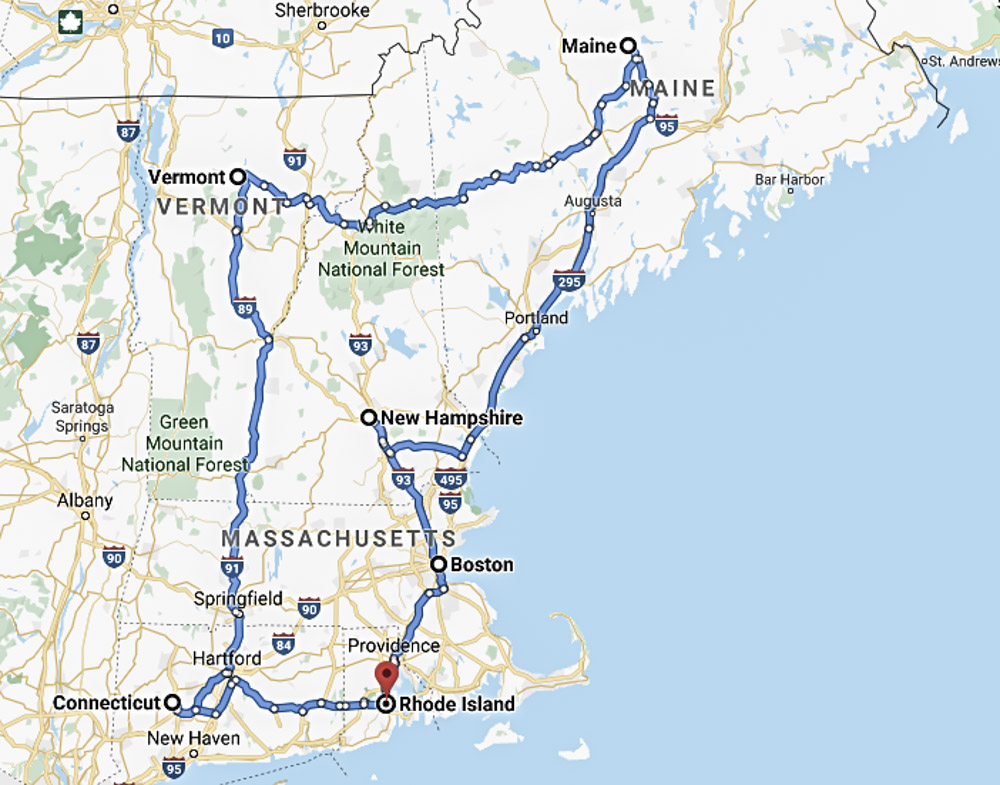 The Basics: New England, USA
New England is a relatively small region of the USA, which makes seeing a lot of it very doable.
You could potentially drive from Rhode Island all the way north through Vermont and into Canada, in just around 6 hours.
There's plenty to keep you busy in every state, so a New England road trip is a fantastic option, especially in the lush of summer or when the leaves are changing in the fall.
Alternately, you could base yourself in one of the New England's fabulous cities (such as Burlington, Providence, Portland, or Boston) and head out on numerous day trips from each.
However you choose to see the area, you'll find it's easy to get around.
We definitely suggest hiring/renting a car for vacations in New England.
Though there is availability of buses and some trains, direct routes are a challenge and a car will make your journey far easier.
Car hire can often end up in arguments though so check out this funny guide on how to not kill each other.
Boston is the region's biggest flight hub, but you could also arrive via Hartford, Connecticut or Manchester, New Hampshire among other options.
Accommodation ranges greatly in New England, with variety to suit your budget including hotels, inns, and campgrounds.
Airbnb is popular here, too, especially within the bigger cities.
By and large, you'll find New England is inundated with quaint bed and breakfasts and enchanting small inns.
These B&Bs are an integral part of the New England experience, and we recommend staying in one at least once.
Hotel prices do rise in New England in the peak seasons of summer and fall, and you may wish to plan accordingly.
New England states are regularly ranked as some of the best in the nation, making it a great place to live and work, not just to visit.
A fan of fall? Here are the best places to visit in the USA in October.
The Best Places to Visit in New England
If you only have a short time to visit—perhaps you're only staying the weekend in New England—you may want to cut to the chase.
In other words, you may opt to focus on those essential New England experiences you've likely heard so much about.
Here's a brief list of the major attractions in New England states. Aim for these if you're looking to check off your bucket list!
Marvel over the autumn leaves in Vermont
Around early to mid-October every year, you'll find New England's autumn foliage is at its peak: its brightest and most colorful.
Nowhere boasts more impressive fall colours than enchanting Vermont, where covered bridges are brushed by yellows and golds and open farmland is vibrantly fringed with oranges and reds.
The capital of Vermont, Montpelier, features on this list of romantic places to visit in the States.
Enjoy the craft beer in Stowe
Stowe is known for its winter sport scene but visiting all year round is still recommended because it has stunning foliage in fall and craft beer for all seasons.
Check out this half day brewery tour for more.
Stowe states it is home of the best ski on the East Coast and the season starts around mid-November.
Go hiking on New Hampshire's mighty peaks
New Hampshire is home to Mount Washington, the highest peak in the northeastern USA.
This majestic spot is part of the White Mountains range. Across NH, you can trek some 4,000+ miles of trails so strap on your hiking boots and get going.
Here's our guide to backpacking national parks in the US.
Discover history in Boston
History is an undeniable part of New England tourism, and nowhere may it be richer than in the city of Boston itself.
See where some of the earliest events of the Revolution began and follow the Freedom Trail to see Boston's major historic sites.
Stick around for night and check out these attractions.
Read Two Scots Abroad's Boston itinerary here
Explore lighthouses on the coast of Maine
Lighthouses are a New England icon.
Along the coastline, you'll find many of these beacons lighting the way.
There's a true abundance of them in Maine, where the coastal and seaport towns delight and impress.
You can read more about small-town East Coast beach towns here, perfect all year round but especially in summer.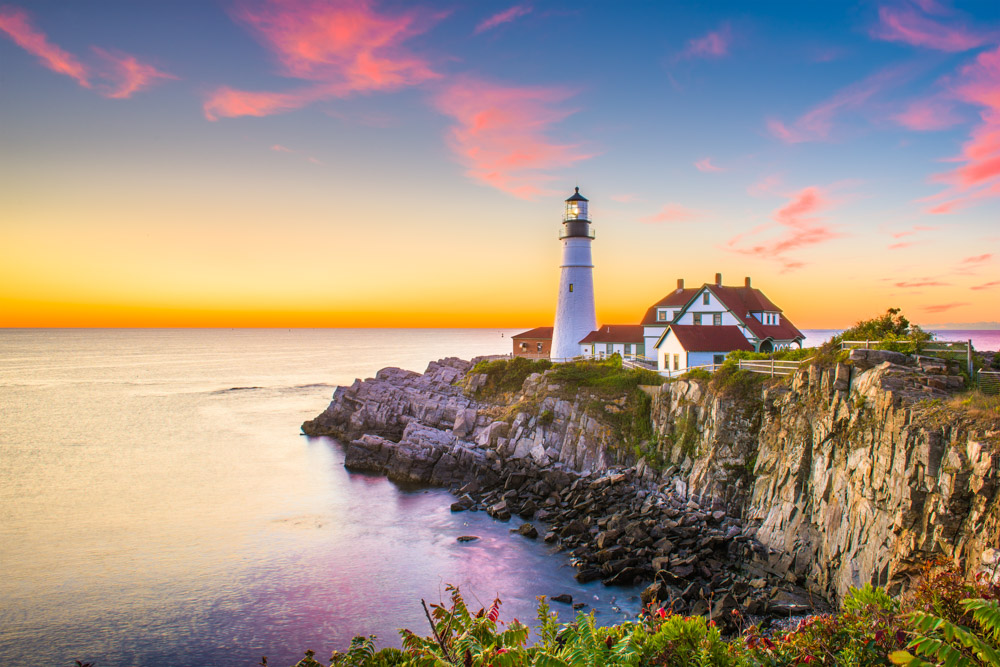 Tour fancy mansions in Rhode Island
Another coastal gem is Rhode Island. In this tiny state, you'll want to stop by the city of Newport, home of several distinctive mansions.
You can tour these intriguing homes and admire the elegant scenery surrounding them.
Rhode Island is also celebrated for its food scene, especially its clams. 
Celebrate the sea in Mystic, Connecticut
So much of New England's history and livelihood was borne of the sea.
In Mystic, CT, you can learn more about this natural wonder and its impact on the region.
If you like watersports, there are lots of places to kayak in CT.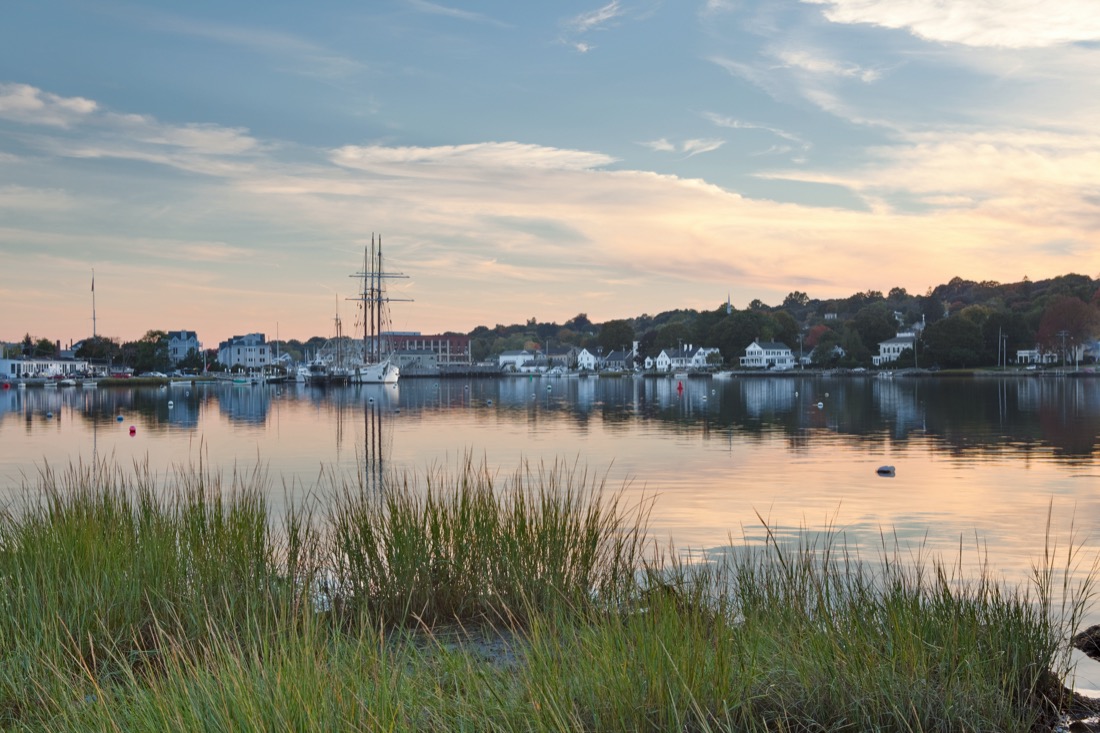 Dine on lobster, clam chowder, and autumn's apple harvest
Whichever state you may find yourself in, take time to sample and indulge in all the local delicacies.
New England is famous for its seafood: its creamy clam chowder soup, its flavourful oysters, and its tempting lobster.
But you'll also discover other culinary delights, including cheese, apples, and of course, maple syrup.
If you're looking for things to do in New England in the fall, picking your own apples simply must be on your list.
Looking for tasty libations?
Beer aficionados will be thrilled over the thriving craft brewery scene here.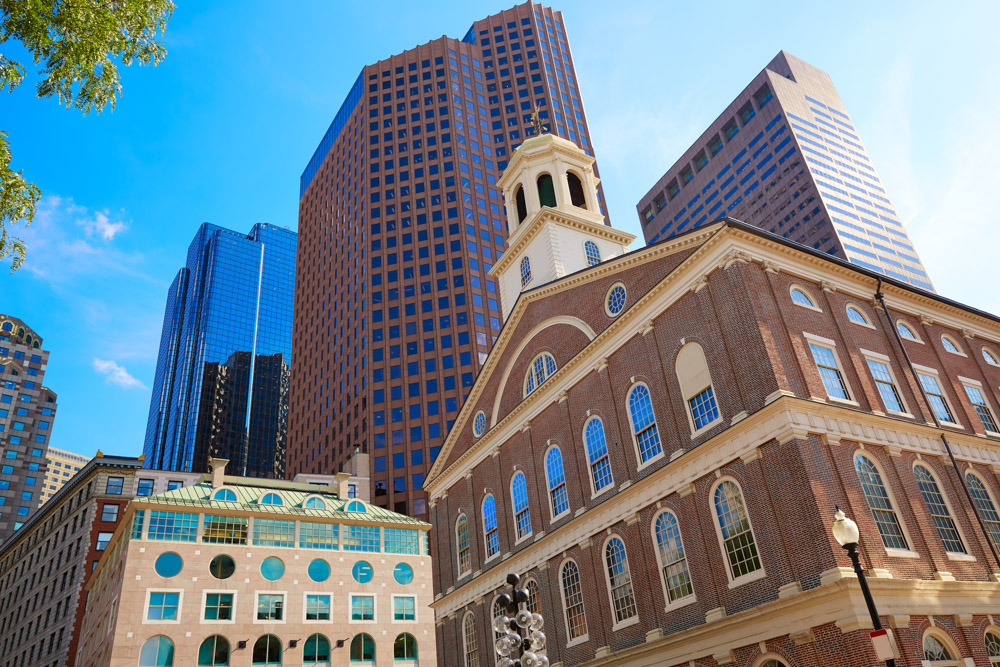 New England Vacation Spots
Have you got more time to spend exploring New England? Hooray! You can delve deeper into each of our six awesome states.
Things to Do in Vermont
Vermont is tops for "leaf-peeping" in the fall, but there's a whole lot more to do as well.
The biggest city, Burlington, is a fabulous, bohemian small city set on the shores of Lake Champlain.
You can participate in sailing and other water activities, cycle along the miles' long lakeside bike paths, and stroll downtown on the adorable Church Street, with its cafes and shops spilling out onto the sidewalk.
You can even visit the Lake Champlain Islands.
For more on lake life, see our guide to the best East Coast lakes.
In the more rural parts of Vermont, there are countless charming villages.
These are perfect for honeymoons or romantic trips, and you can pass the time cozied up in your inn or outside exploring.
The usual summer delights await, such as kayaking and hiking, and in winter, Vermont is great for skiing and snow sports.
Ever gone for an authentic horse-drawn sleigh ride? In Vermont, you can.
Don't forget to visit: Ben & Jerry's ice cream factory
Places to See in New Hampshire
New Hampshire is an outdoor lover's paradise. Most of the attractions for visitors are found within the north-central part of the state, in the White Mountains and the Lakes Region.
The concentration of natural beauty is evident here, and you can ski, camp, and boat to your heart's content.
If we were choosing where to go in New England in the summertime, New Hampshire just might be our top pick.
And much like Vermont, NH swiftly turns into a snowy paradise in winter.
Great skiing is to be had at resorts like Attitash and Waterville Valley.
If nature is not your thing, you may be more intrigued by the New Hampshire Seacoast.
The NH shoreline is short but boasts Hampton Beach, a traditional spot for sun and sand, and the historic city of Portsmouth.
Just around an hour from Boston, Portsmouth is easy to get to for a weekend or even day trip.
In this smaller city, you can explore museums, enjoy golf and shopping, or head onto the water for a harbour cruise. Portsmouth is also increasingly gaining recognition for its great restaurants.
Don't forget to visit The Flume Gorge in Franconia Notch State Park.
Things to Do in Maine
When it comes to what to see in the New England states, Maine has a ton you'll want to put on the list.
Portland is an exciting city with art, culture, shopping, and activities.
It's a great gateway to reaching other parts of Maine, but is a wonderful destination in its own right, boasting delicious dining and a distinct amount of charm, especially in the Old Port section.
Should you choose to stay in Portland, you can easily drive to see several nearby lighthouses and rocky shorelines, those icons of the New England coast.
Portland is also just a couple hours' drive from Boston, so you can add it to your list of New England day trip ideas.
Another top thing to do in Maine is to visit Acadia National Park, near Bar Harbour.
This natural area bursts with breathtaking scenery and endless opportunities for hiking, camping, boating, and exploring.
After your time in the wilderness, retreat to quaint Bar Harbour, one of Maine's top destinations.
Don't forget to visit: Thunder Hole, a natural spot near Bar Harbour where the waves crash against the shore and create sky-high foam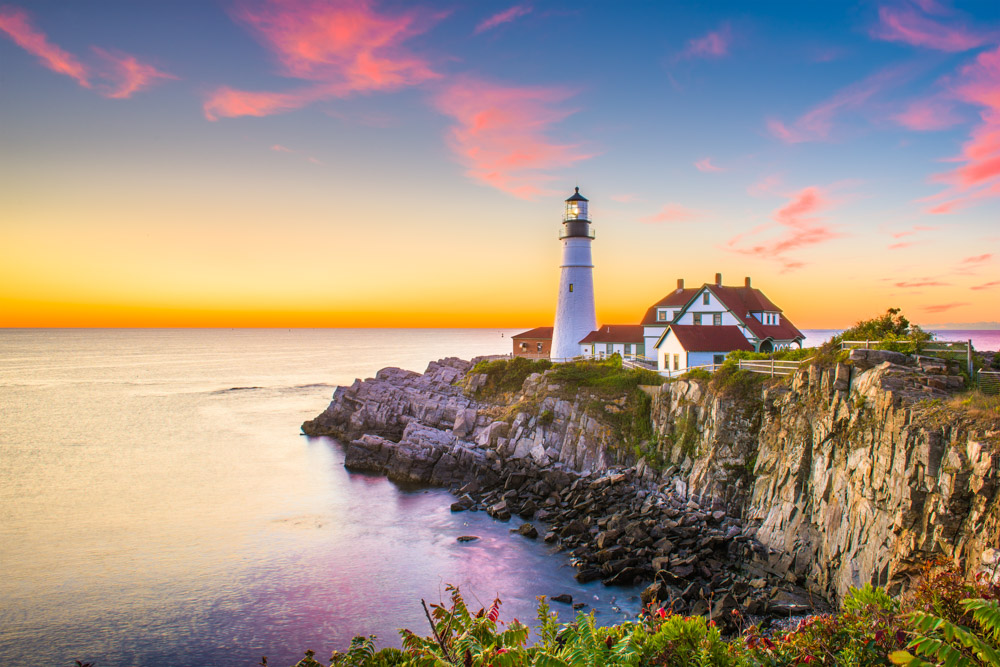 Things to Do in Massachusetts
Boston is, of course, at the top of the list for a visit to Massachusetts, and with good reason.
This laid back city could keep you busy for years.
Historical tours or sites are a must in Boston, but you'll also want to make time for the museums, parks, dining, Harvard University, and a visit to Fenway Park, home of the Red Sox.
Boston is a smart place to base yourself for day trips. With a car, you can easily access points north and south of the city.
If you're looking for a stylish beach getaway where you can escape from the busy city, Cape Cod, and its nearby islands Martha's Vineyard and Nantucket are classic New England destinations.
Sailing, whale watching, and picnicking are just a few of the delights you might choose.
On the other side of the state, you'll find the Berkshires, a beloved summer retreat.
The Berkshires offer lots to do year-round, but really come alive in the summer, with loads of music, theatre, and arts offerings.
This is also a terrific region for antique shopping and discovering small, locally-owned shops and markets.
Don't forget to make time to visit Salem.
Salem is infamous for its 1600s witch hunts, but the city is a charmer with must-see history and shopping.
In many spots, you definitely feel like you've stepped back in time.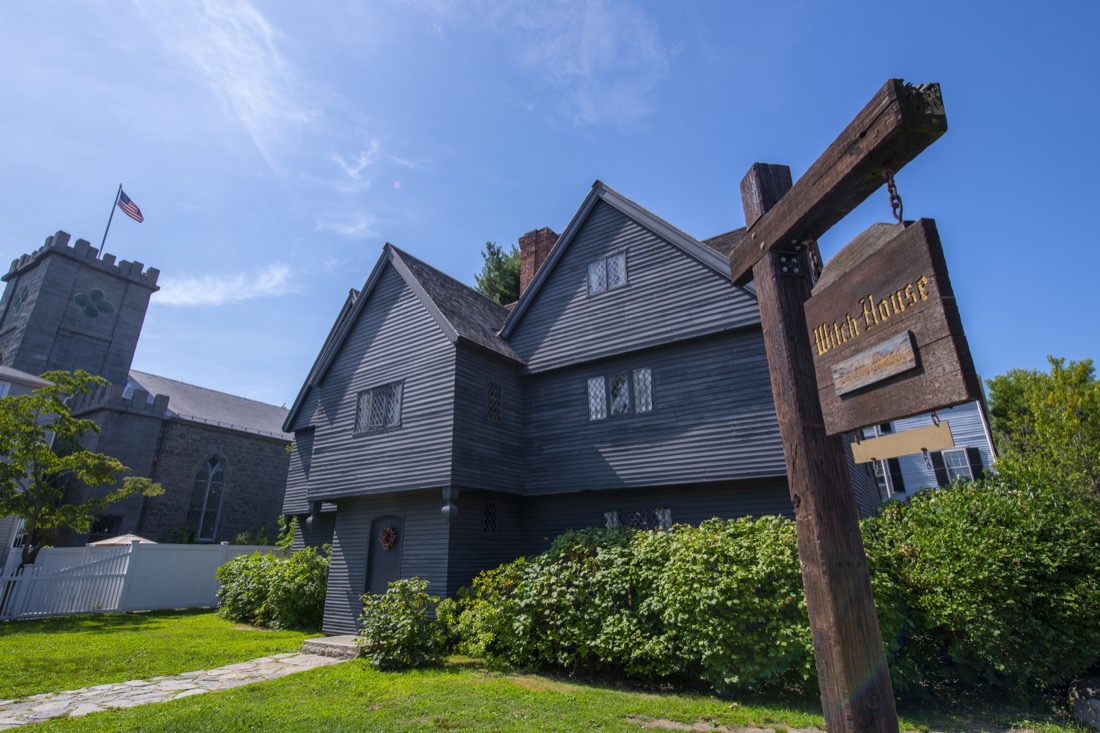 Join this introductory tour to learn about the horrendous witch hunts, seaports history and local culture.
The tour covers Ropes Mansion, Witch House, and Bowditch House.
Things to do in Rhode Island
The mansions of Newport are a sophisticated choice when it comes to vacationing in Rhode Island.
Even the accommodations in the area are luxe!
But Rhode Island is more than elegant mansion homes. Head to Providence for a lively New England city.
Interested in arts and culture, good food, and a fun nightlife?
Providence will deliver. And like the rest of New England, it doesn't skimp on the history.
RI is also a state which offers a lot of beachside fun.
The sandy beaches of Narragansett fill with tourists each summer, and those who aren't sunning themselves on the shore can get active with kayaking, sailing, deep-sea fishing, or wildlife tours.
If this part of Rhode Island isn't secluded enough, you could head out on the ferry to Block Island.
Like the islands off of Massachusetts, Block Island is a coastal resort spot that is much beloved.
Don't forget to visit: The Beavertail Lighthouse, the 3rd oldest lighthouse in North America
Things to Do in Connecticut
Mystic and the Mystic Seaport are definitely a favorite in Connecticut.
This open-air museum introduces you to the ship-focused lives of the past, with tours, exhibits, and even impressive sailing ships to climb on board and explore.
Museum-lovers will enjoy CT.
Wherever your journey within the state, many museums and historic homes await. In bigger cities such as Hartford and New Haven (home of Yale University), you'll also be presented with a choice of art galleries and other educational sites.
Further to the north and west, there are beautiful natural areas of Connecticut.
The state parks and country towns are a welcome respite from the hustle and bustle of the bigger cities, and many visitors find peace and quiet there every year.
The Litchfield Hills is one such area of CT which can meet those requirements, with opportunities for cycling, fishing, and laid back scenic drives.
Don't forget to visit the casinos.
Some of the most exciting casinos east of Vegas are found here, and it's worth a quick stop into Foxwoods or Mohegan Sun to try your luck.
Love fall? Here's our guide to things to do in the USA in October.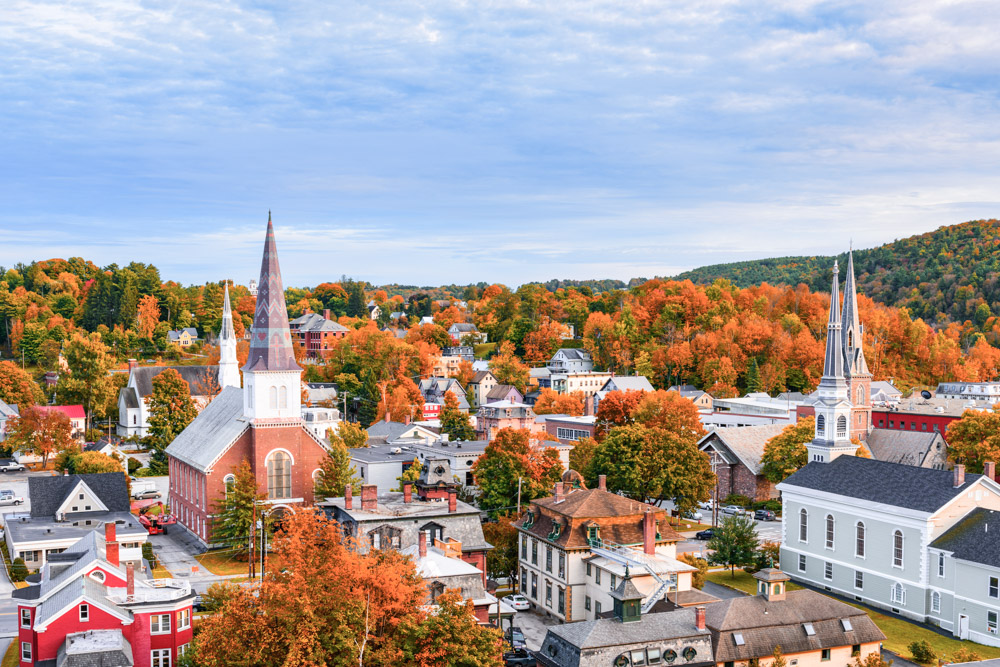 New England Road Trip Packing List
This trusty list of road trip equipment can be adapted for any adventure but don't forget to pack the essentials
Camera and battery
Filter and purifying water bottle like Water To Go [quote TSA15 at checkout for 15% off]
Has New England piqued your interest? In every season, this is a region of pure delight.
---
Planning a New England vacation? Pin to your board
---
Amy Hartle is a writer and photographer at Two Drifters, a couples lifestyle & travel blog. Together with her husband, she aims to share her adventures around the world, as well as travel and lifestyle tips for couples. The ultimate goal is to inspire others to "journey farther, together." She currently lives in New Hampshire (but with her adventurous spirit, it's always subject to change). Follow Amy + Nathan's travels over at Facebook | Twitter | Instagram.
What have we missed from the essential guide to New England?