Too many guides on things to do in Vancouver at night fob you off with a list of restaurants to dine at, and while Vancouver does have a vibrant cuisine scene we think that's lame advice when there are so many things going on after sundown.
Here's our guide to Vancouver at night, for all seasons. Did we leave anything out? Tell us in the comments below. 
Don't miss our one day in Vancouver itinerary – with lots of options 
What to do in Vancouver at Night
All Year Round
1. Vintage Movie House
Fancy a movie? Although the Rio Theatre was initially built in the 1930s, it has all the mod cons of a 21st-century movie house.
If you drink, you can purchase alcohol at the Rio and enjoy your movie with a beer, wine, cider or cocktail. "An experience you can't download" – say it all!
2. Vancouver Nightlife
Love it or hate it, Granville Street is the main drag for bars and clubs in Vancouver's city centre.
You can find anything from craft beers to cocktails, Irish bars to games on TV. There are even a few music venues jammed amongst the mayhem.
Expect busy bars and late-night food shops, great for people watching.
We were sitting outside having a pub meal one night and across the road from us someone used bear spray on another guy. Not something you forget! I wouldn't advise staying on Granville Street. Here's our guide to the best places to stay.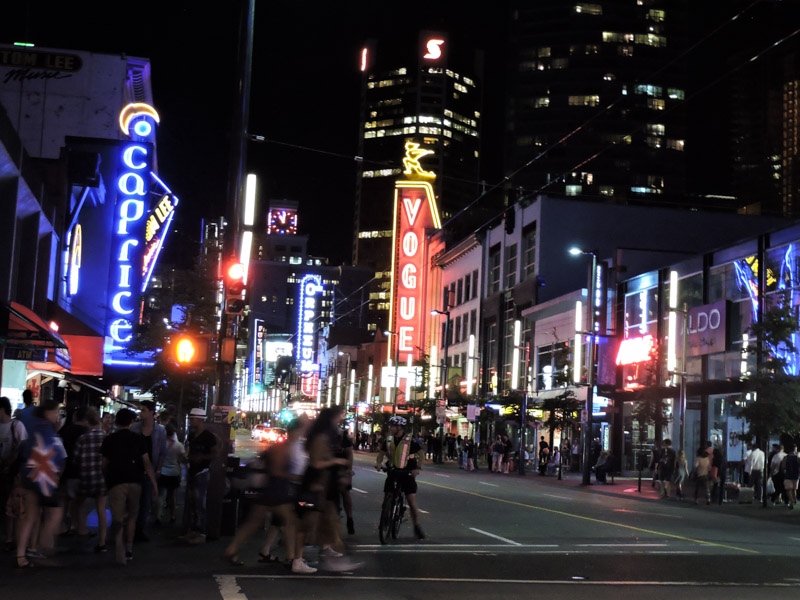 3. Live Music in Van
Looking for live music? Check out the lineup at the Commodore Ballroom, Queen Elizabeth Theatre and the Imperial. 
Be careful at night, Vancouver is super friendly but it is a city. Craig was mugged after leaving the Imperial.
He returned home covered in blood which is not a pleasant experience to wake up to. Check the above event spaces for updates. I've linked to their Facebook pages above.
4. Go Ice Skating
There are eight ice rinks in Vancouver and some of these are not seasonal.
Head to Britannia Rink on Napier for all year round skating. You can hire skates there, just remember to wear something warmish.
5. Watch Football
Catch or watch a Canadian Football team, BC Lions the BC Place Stadium.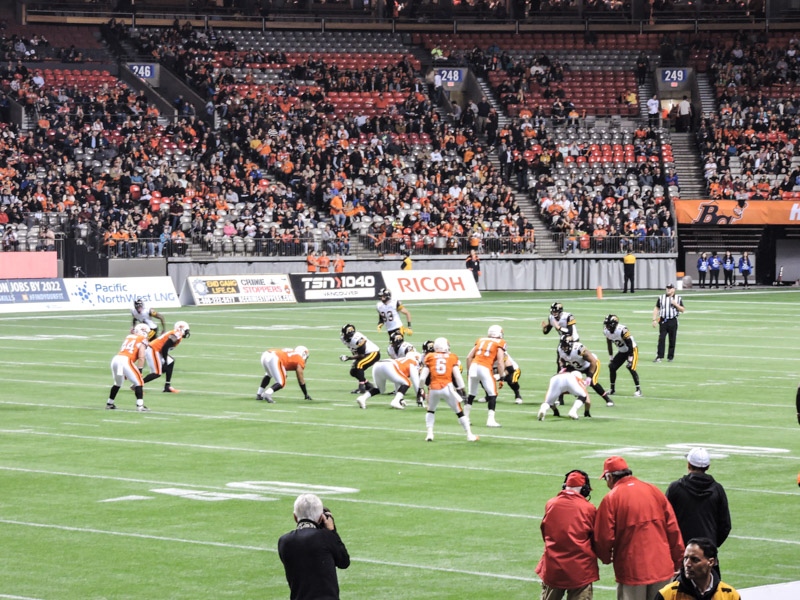 6. Vancouver Canucks
Come on, it is Canada!
Support the National Hockey League (NHL), Vancouver Canucks at Rogers Arena.
7. Freak Me, Shake Me
What do unicorns, Scottish shortbread and hashtags all have in common?
They've been used in an Off The Grid Waffle freakshake. Open late and looking great.
8. Vancouver Brewery Tour
Craig fully immersed himself in the craft beer scene in Vancouver.
I'd go as far as to say his six months of drinking Ruby Tears (Parallel 49) ruined drinking for him back in Scotland, as although the scene is improving, it certainly hasn't hit every pub, yet.
Do an independent tour of the craft beer bars up Main Street or take a brewery tour and learn from the experts.  
9. Sunset Sea Activities
Hire a kayak or paddleboard and drift with the sun going down. Therapeutic! One of the many outdoor activities in Vancouver that are a great de-stresser.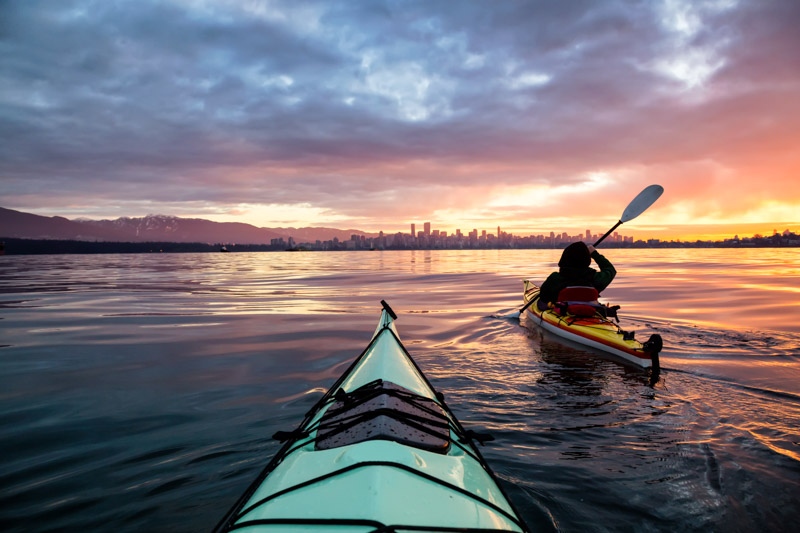 10. Space Shows at Macmillan Space Centre
See the stars and learn about Mars at the evening events hosted by the H.R Macmillan Space Centre. 
This is actually where Craig proposed to me!
11. Yoga, For Cheap
Yoga is a massive part of Vancouver life. At Karma Teachers yoga classes you pay donations as the teachers are in training. One of the cheaper indoor activities in Vancouver.
I did a morning class in the very light and welcoming studio but there are evening classes if you need to unwind and stretch after a full day.
12. Vancouver Lookout
See the city lit up at night from a great height. 553.16ft (168.80m) to be exact.  
On Canada Day (July 1st), you can view the fireworks at night from up there too.
13. Lost Souls Gastown Tour
Take a walking tour through the Victorian buildings of Gastown and learn some dark stories about intriguing Vancouverites.
14. Pub 340 Pinball Arcade
Play games and drink beer (or not) at Pub 340 Pinball Arcade on Cambie Street.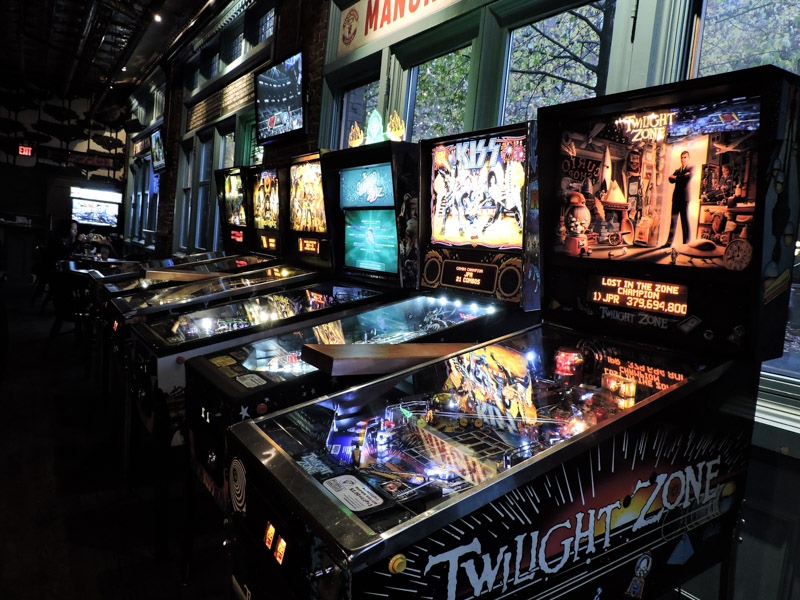 15. Do a Team Quiz 
It doesn't matter what night of the week it is, there is a trivia quiz going down somewhere in Van! Check out this extensive list for more details.
16. See a Show
Watch out of the lineup at the Vogue Theatre, Pacific Theatre and Queen Elizabeth Theatre for festive shows including the Nutcracker ballet.
17. Have a Laugh
Check out the comedy and improv scene at Yuk Yuks, The Improv Centre, Queen Elizabeth Theatre, Orpheum Theatre, Massey Theatre and Granville Island.
18. Waffles and Ice cream at Nero Waffles.
Mini waffles sprinkled with sugar, cooked with falvour or piled with fruit and cream.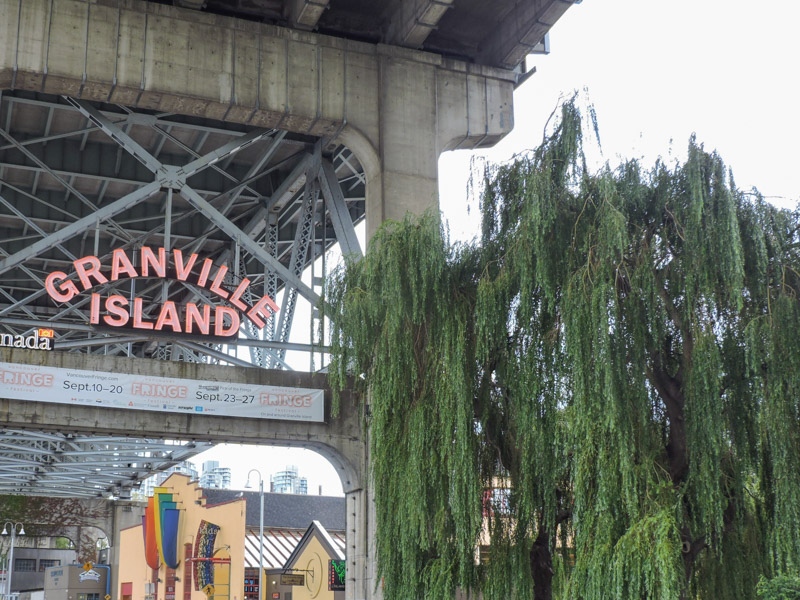 Things to do in Vancouver at Night in Summer
19. Outdoor Movies at Stanley Park
If you visit during summer, be sure to check out the Stanley Park outdoor cinema. Pack some chairs, snacks and a top for later.
Note: it is not advised to go to Stanley Park alone in the dark.
20. Richmond Night Market
This is the largest night market in North America and may also be the busiest!
On weekends during the summer months, Richmonds Night Market is packed with stalls with food from all over the world. There is also entertainment on the stage and games to be played.
21. Sunset Swims
Second Beach Swimming Pool in Stanley Park is open until 8:30 pm during the spring and summer months. There's even heating!
22. Swim in Saltwater Pool
Kitsilano swimming pool, North American's longest saltwater pool, has just been renovated and is open late during the spring and summer months.
23. Street Art at Main Street
One of the free things to do in Vancouver involves taking a stroll along Main Street to check out the street art murals.
Thanks to Vancouver Mural Festival and local artists there is lots of work to look at. Here's the map.
24. Festival of Lights
For a full week in July, fireworks take over the skies in Vancouver at the Honda Celebration of Light.
It is the longest offshore fireworks competition which promises a bang.
For nearly three decades, countries have been competing for the best light show over English Bay.
We joined the masses at the bottom of Davie Street as English Bay was too busy. Arrive early to avoid disappointment.
25. Grouse Mountain
Grouse Mountain is open until 10 pm so you can enjoy nature with fewer crowds.
Will you do the Grouse Grind or take the Grouse Mountain Skyride?
During summer there is the Rusty Nail BBQ for dining, as well as other all-season options.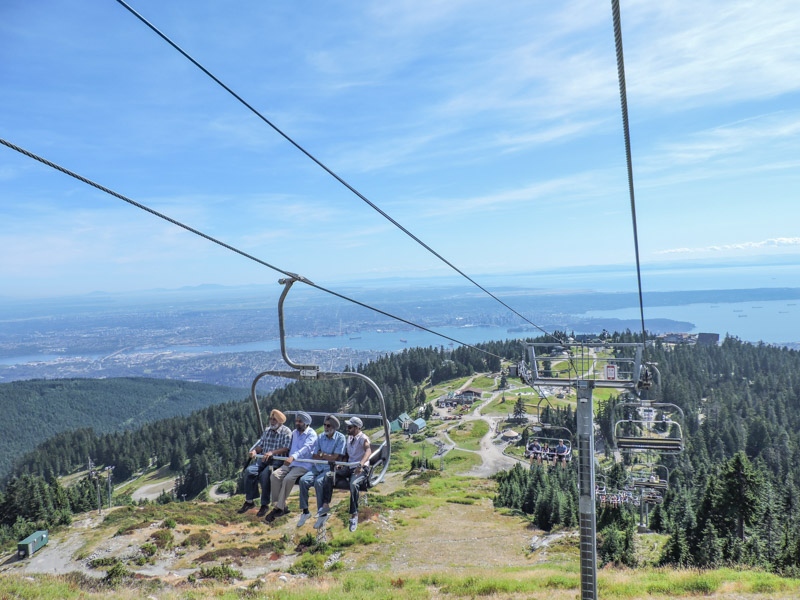 26. Sunset Cruise
Quite a romantic way to spend an evening in Vancouver!
Enjoy live music and a Pacific Coast cuisine buffet while you sail by Canada Place, the North Shore Mountains and the West Vancouver skyline after dusk. Check out the 5* reviews here.
27. Enjoy Jazz
One of the biggest summer events in Vancouver is the Vancouver International Jazz Festival. 
For 12 days, 500,000 jazz fans listen to nearly 2,000 artists over 300 concerts in the city. Headliners have included Tony Bennett and Lady Gaga, Erykah Badu, and Buddy Guy.
28. Follow the Vancouver Biennale Trail
Hands up! This is not a summer-specific activity to do in Vancouver but lighter nights give you more freedom to see this public art exhibition.
The bi-annual Biennale introduces sculptures, new media and performance work to Vancouver's public parks, beaches and urban plazas.
Most notably, Giants by OSGEMEOS (Brazil) and A-maze-ing Laughter, Yue Minjun (China). Get amongst the art, take photos and tag @van_biennale. Here's the map.
As mentioned previously, there have been police warnings not to enter Stanley Park alone at night.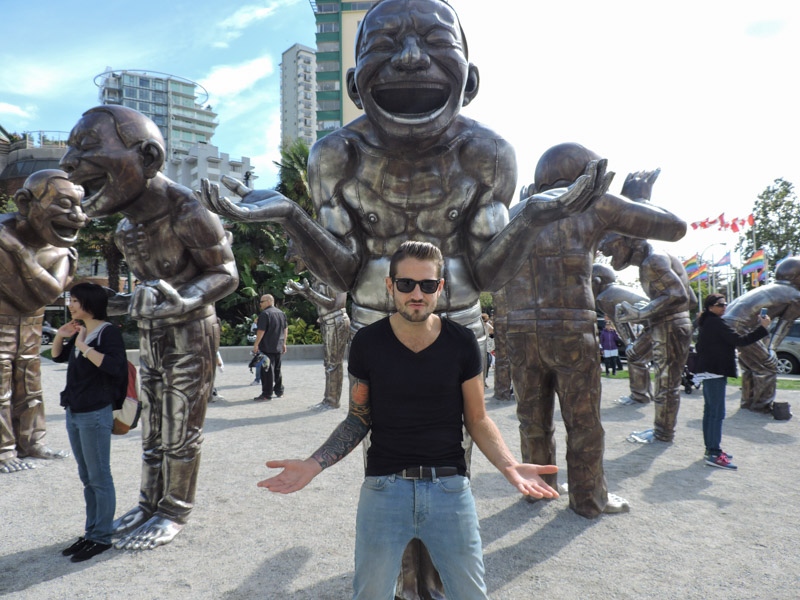 29. Listen to Folk Music
Head to Jericho Beach for the Vancouver Folk Musical Festival in July to hear local talent and international big names.
Looking to learn? There are workshops as well as concerts.
Vancouver at Night Activities in Winter 
30. Canyon Lights at Capilano Suspension Bridge
From November to January, Capilano Suspension Bridge Park becomes illuminated with hundreds of thousands of lights.
I do have to warn you that this festive event is really busy and can be unpleasant if you don't like crowds.
There are free shuttle buses from Downtown Vancouver.
31. Go Night Skiing
It's not Whistler, but Vancouver does have its mountain called Cypress.
During winter, the trails are lit up for night skiing.
32. Snowshoeing at Cypress
Don't fancy skiing or boarding? Snowshoeing is an easy sport where cramps are attached to your shoes (make sure they are waterproof).
The last tickets are sold two hours before sunset.
33. Snow Tubing
Cypress has all the fun activities in winter! Kids and big kids who love a thrill can fly down Gnarly's tube park.
34. Stanley Park Bright Nights Christmas Train
Three million lights are used to bring the Bright Nights Christmas Train and Park Train Plaza to light!
35. JFL NorthWest Comedy Festival
Enjoy 10 days of comedy at Vancouver's Just For Laughs Festival including stand-up, podcast, improv and sketch performances.
There's also a JFL Movies segment for those who want a night in with popular Hollywood comedians.
36. Light Walk at Grouse Mountain
Capilano is not the only light show in Vancouver!
Grouse Mountains gets you to whack on your snowshoes and cleats to discover its enchanting lit up snow alleys and pathways around Blue Grouse Lake.
37. Festival of Lights at the VanDusen Botanical Garden
Choir songs fill the air and the warm glow from the installations light up kids rosy faces, what else says Christmas than the Festival of Lights at the Botanics in December?
Note: this winter event gets extremely busy. It is advised to use public transport and be prepared to wait in line. 
Here's our full guide to Vancouver's best Christmas activities and events.
38.
Vancouver Christmas Market
Gluhwein, goulash and good times are best served at night at Vancouver's Christmas Market.
The market is packed with 80 Christmas huts resembling a German Christmas market. Local choirs entertain visitors while they sip on hot drinks in festive mugs.
The market at Jack Poole Plaza, Canada Place, isn't too busy as Christmas events go in Vancouver.

39. Burnaby Village Museum
Christmas trees, lights trails and of course, the big man himself, Father Christmas!
The Burnaby Village Museum cranks Christmas up to another level during the festive period. Visitors can bake in the Farmhouse, listen to live music and ride the indoor carousel.
One of the most popular festive things to do with kids at night during winter in Vancouver.
40.
Christmas at Hycroft
I have never seen anything like the Christmas experience at Hycroft Manor.
This Edwardian mansion is dipped in Christmas sparkle like a kid's artwork is dipped in glitter.
Looking to do some Christmas shopping? Hycroft has the longest-running fair selling craft from local makers and artisans.

41.
Coquitlam's Lights at Lafarge
Walk under the 1.2km light loop around the lake and explore the themed zones with friends and family.
The Lights at Lafarge is free and easily accessed using public transport!
Pin to your Vancouver board for future planning
Final Words
There are many fun things to do in Vancouver at night which don't stop when the sun drops.
From indoor activities to free attractions, food good enough to eat as well as take photos of, and sporting activities in the city.
Tell me in the comments below, what did you do in Vancouver at night?