This article has links to products and services we love, which we may make commission from.
California is one of the coolest and liveliest states in the US. From unspoiled beaches to diverse cultures and beautiful towns to hip cities, the Golden State has something for everyone.
California's fun activities, adventures, mouthwatering foods, vineyards, and nightlife await you. This bucket list contains the best things you must experience in the West Coast state before you die.
Some of the attractions included in our guide to free things to do in Lake Tahoe are also located in California.
You may also like our guide to California in fall.
California Bucket List By Area
Sausalito
1. The Sausalito Ferry
A visit to Sausalito is not complete without a ferryboat ride. It is one of the most famous and exciting ferryboat rides in the world. The ride is always fun, thrilling, and memorable. The good news is that the ride is less expensive than tour boat rides.
2. Caledonia Street
A great place to shop in Sausalito, Caledonia Street has a calm atmosphere. It is not so crowded, which means you can shop here at your own pace. If you get hungry at any point during your shopping spree, the low-key local eateries are sure to satisfy your taste buds.
3. Sausalito Art & Music Festival
Have fun at the Sausalito Art & Music Festival, the largest outdoor festival in Sausalito. It is held every year during Labor Day weekend. The festival attracts more than 50,000 people and features art, artists, live performances, live music, and food.
San Francisco
4. Golden Gate Bridge
A walk across the Golden Gate Bridge is awe-inspiring. It is the most photographed bridge in the world. The iconic tall orange towers are wonders in themselves. The stunning views of the cityscapes and landscapes from the bridge will never disappoint you.
5. Alcatraz Island
If you have an interest in history, head over to Alcatraz Island, a historic full-security prison in the middle of San Francisco Bay. It was a lighthouse station before it was transformed into a military prison in the 1870s. Once home to notorious criminals, it is now a famous tourist landmark.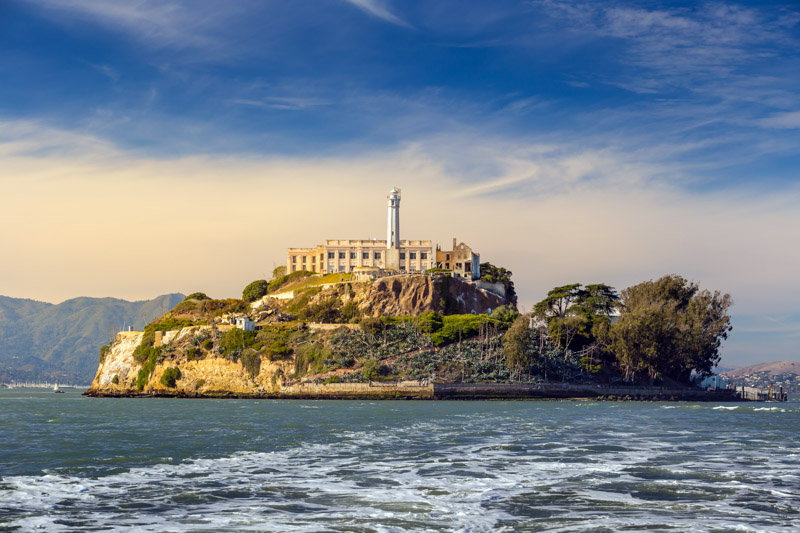 6. Chinatown
Historic buildings, unique shops, and pocket parks…Welcome to China Town. This town is home to the largest Chinese community outside Asia. If you are here, don't forget to feast on the famous Chinese foods like chop suey and fortune cookies. Foodies can get the best of Chinese foods at Hunan Home's Restaurant and Good Mong Kok Bakery.
7. TreasureFest
If you are looking for a dog-friendly outdoor festival in San Francisco, go to TreasureFest. It is held on the last weekend of each month. Packed with more than 400 vendors and dozens of food trucks and bars, besides live music jamming, this is a fun festival to attend. San Francisco is the starting point for the Pacific Coast Highway road trip.
You May Also Like Our San Francisco Guides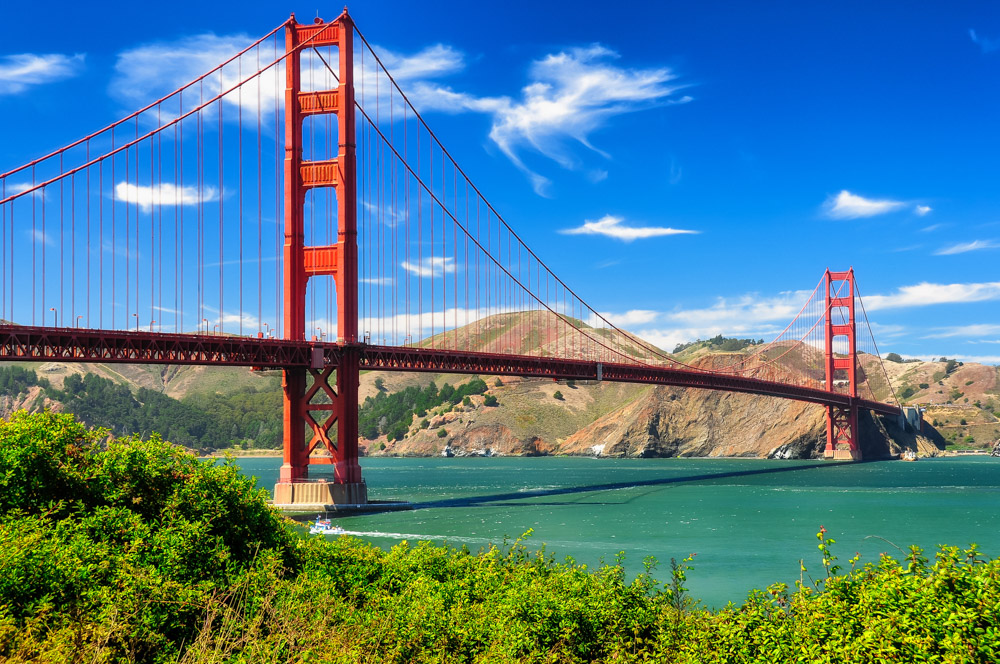 San Jose
8. Birthplaces of Apple and HP
Visit the small suburban garages in Silicon Valley, where huge tech companies like Apple and HP were founded. These garages are where Apple and HP computers were first developed. While these companies saw unprecedented growth and moved to larger office spaces, their birthplaces are a significant part of the history of San Jose. These places are now registered as National Historic Landmarks.
9. Tech Museums
Since San Jose has made our lives easier with an array of amazing technological developments, a visit to the tech museums in the city is a must for those who are interested in the history of computers, hardware, and software. Visit the Computer History Museum to acquaint yourself with the innovations and developments that changed the world over time. Or go to the Intel Museum and Headquarters and Apple Park Visitor Center to get detailed insights into the history of technology.
10. Almaden Quicksilver County Park
If you are an outdoor person and nature lover, the Almaden Quicksilver County Park is an excellent place for you. Go hiking among the tunnels and tracks or engage in other outdoor activities. Once a mercury mine, this park is now a famous tourist landmark.
Yosemite National Park
11. Yosemite
One of the most popular national parks in the USA, Yosemite is scenic, has a waterfall and a variety of hikes for all levels. Bridalveil Fall and the granite cliffs of El Capitan and Half Dome make this one of the most visited spots in California.
You can find tips for backpacking Yosemite here or how to plan a romantic national park trip to this lush destination.
San Jacinto Mountains
12. Idyllwild
Explore The Mount San Jacinto State Park which has 14,000 acres and is home to over 50 miles of hiking trails or the 202 miles of Idyllwild Regional Park.
Taste award-winning wines at Middle Ridge Winery or see a show at Rustic Theater!
Check out our things to do in Idllywild guide for more.
13. Palm Springs
Palm Springs was the destination to holiday at in years gone by.
This arid location is home golf courses and natural palm fans at Indian Canyons, once home to the Agua Caliente Band of Cahuilla Indians.
From Palm Springs you can do a day trip to Pioneertown, created in the 1940s as a "Living Breathing Movie Set", or this day tour to Joshua Tree National Park.
Palm Springs also makes a warm destination in California in December.
Monterey Peninsula
14. Carmel-by-the-Sea
Carmel-by-the-Sea or Carmel as the locals call it, is a city in the Monterey Peninsula. Once known as an artist haven, visitors enjoy Carmel Beach, dining out and shopping on Ocean Ave. Look out for the crooked storybook style houses created by Hugh Comstock dotted around. Do the popular drive to Pebble Beach to see The Lone Cypress tree on the cliff (image).
15. Bixby Creek Bridge and Big Sur
Drive over the 'Big Little Lies' bridge also known as Bixby Creek Bridge. Play the theme song, Cold Little Heart by Michael Kiwanuka for Kidman and Kravitz vibes. Admire the rustic coast, McWay Falls and take a tour of Point Sur Light Station.
Solvang
16. Solvang
Solvang is a beautiful Danish farm-style village in Santa Ynez Valley. The windmills and unique architecture of the builds give this village a mesmerizing vibe. Don't forget to try the authentic Danish pastries here. It's a great spot to visit in summer for this lavender farm estate.
17. Santa Ynez Valley Wineries
Santa Ynez Valley is home to some of the best wineries in the USA. It is one of the most recommended places for wine tours. There are more than 120 wineries in this valley that produce popular varieties like Viognier, Chardonnay, and Pinot Grigio.
18. Nojoqui Falls Park
Located just off Highway 101, Nojoqui Falls Parks is an excellent place for picnics and outdoor activities. The park has many picnic tables, BBQ grills, hiking trails, restrooms, and playing fields. A short hike will take you to the beautiful California waterfall where you can take Instagram pictures and enjoy the serene atmosphere.
19. Feast on Local Foods
Santa Ynez Valley is known for its diversity, with people from different backgrounds living here. This has led to diversity in food as well. The restaurants here serve different varieties of foods, such as authentic Danish, Chinese, and American cuisines, and everything in between. If you are a foodie, I recommend you to try this place.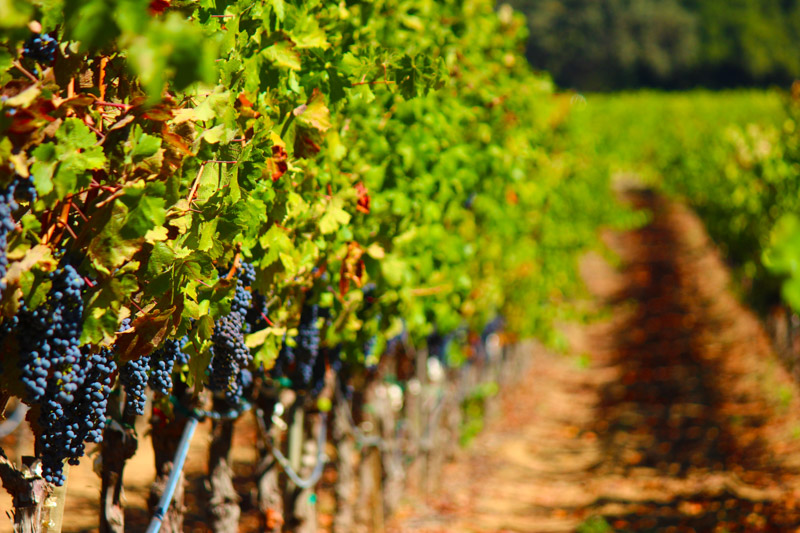 Los Angeles
20. Griffith Observatory
One of the most lovely and unique things to do in California is to visit the Griffith Observatory.
This place offers the best views of Los Angeles and the Hollywood Hills.
To get picturesque views, visit the observatory during the night. Also, visit the interesting exhibits to see how the solar system works and explore the different telescopes and other scientific equipment.
La La Land fans will recognize the Observatory. Dreamy.
21. Hollywood
From a visit to the walk of fame to watching a movie in a renowned theater, you have a lot of fun activities to enjoy in Hollywood.
Visit the famous movie studios like Warner Bros, Sony Pictures, and Universal Studios to see what happens behind the scenes.
22. Walk of Fame
Do you know whose star is the only star located on a wall?
Muhammed Ali!
23. The Original Farmers Market
Located at 3rd and Fairfax, the historic Original Farmers Market is a great place to dine for breakfast, lunch, and dinner. It is a hot spot for the locals as well as visitors.
24. Santa Monica Pier
Strolling along Santa Monica's signature pier at sunset is a surreal experience. I highly recommend a visit to the amusement park here. The roller coasters and carnie rides are sure to amuse you and your family.
Santa Monica also features in our guide to spring break in California.
San Diego
25. Belmont Park
If you are looking for a thrilling experience in San Diego, head over to Belmont Park.
The famous and historic Giant Dipper in the old amusement park is sure to fulfill your thirst for a thrill. It has a maximum speed of 48 mph. You will also get beautiful views of the nearby Mission Bay and the Pacific Ocean from the Giant Dipper.
26. Oscars
Looking for the finest fish taco in San Diego?
I highly recommend Oscars.
It is a traditional Mexican seafood chain in San Diego that serves the best fish taco. It has five outlets around the city. The long queue at each location signifies the popularity of Oscars.
Don't forget to try Oscars' famous 'taco especial.' Mouthwatering.
27. Swami's Reef
Swami's Reef is surfing heaven. The most famous surfing spot here is in Encinitas. This place became famous after the Beach Boys' classic 1963 hit "Surfin' USA."
However, do not try surfing by yourself unless you are an experienced surfer.
Encinitas also features in our guide to San Diego in December.
28. Mission Bay
Marvel at 4,600 acres of water and shore along this man-made bay in the Pacific Beach community of San Diego.
Try your hand at kayaking or paddleboarding at Mission Bay Aquatic Park, play volleyball at Crown Point, or go scuba diving at Quivera Basin.
29. Little Italy Mercato Farmers' Market
Explore the Little Mercato Farmers' Market to sample a range of local produce and seafood. This market takes place seven days a week.
Little Italy is also a great destination for those looking for free things to do in San Diego.
30. Wine Tasting
Wineries in San Diego are everywhere; up in the mountains, along the seashore, in the farmlands…you name it.
The good news is that these wineries produce the finest craft wines. Have fun tasting wine at the different small, family-owned wineries while watching how the proprieties produce fantastic wine.
San Diego made it on to our cheapest cities you'll want to visit list. Read the guide here.
---
Pin to your California planning board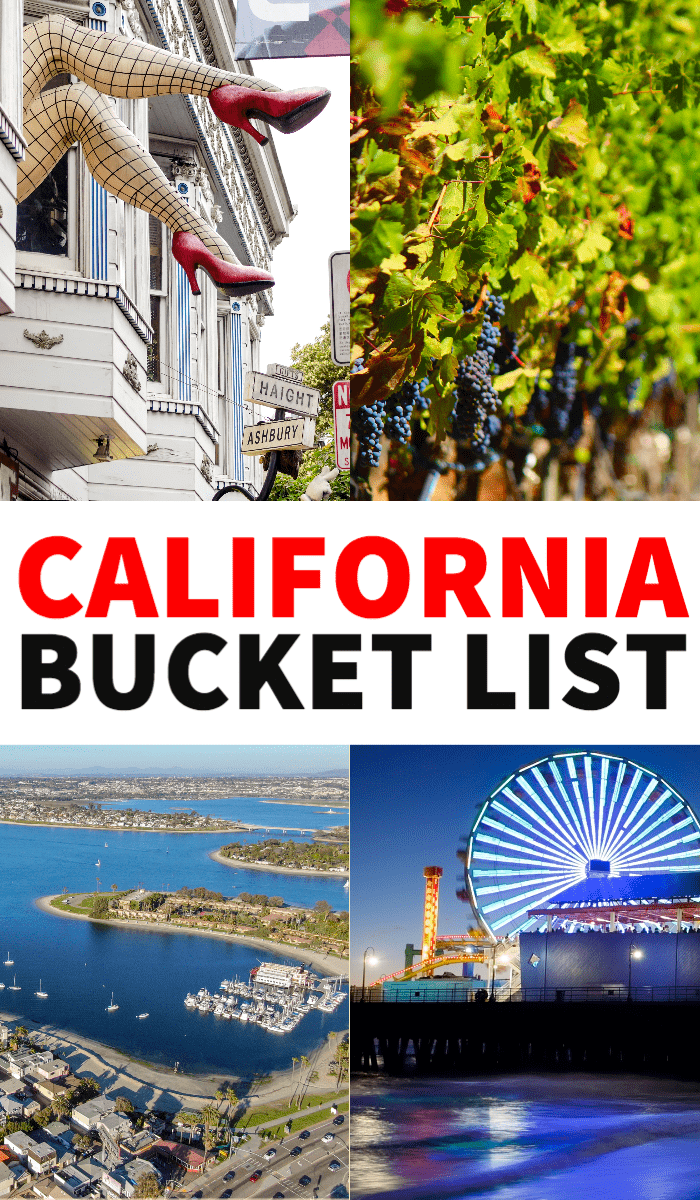 Pin to your San Francisco planning board
---
Final Words
If these items aren't already on your California to-do list, it's time to add them now. These best things to do in California are sure to enrich your travel experience. How many of these places to visit in California have you done so far? Tell us in the comments below.
---
About the author Anne is a big fan of the USA with its vast landscapes, captivating culture, diverse culinary and thousands of activities.
---