This article has links to products and services we love, which we may make commission from.
Bangkok, Thailand is the hub of this Southeast Asian city. Whether you are heading south the Thai islands to catch some rays or north to the jungle it is very likely that you will spend time in Bangkok in transit. We (Craig and Gemma) had just one day in Bangkok, we had heard that it was mental, and it definitely lived up to its reputation. We had two aims for the last stop of our five-week travel trip, to party on the infamous Khao San Road and eat some bugs. Were we successful? Read on to find out as well as other things to do in Bangkok in under 24 hours.
Bangkok One Day Itinerary
Khao San Road – Did That Just Happen?
Khao San Road is a road, funnily enough, littered with restaurants, bars, market shops, men trying to sell you tailored suits, and backpackers all looking for a good time.
Hell to some, hilarity to others.
The bars are packed with blaring music, wasted travellers, and PRs trying to sell you scorpions on a stick.
Always in search of the more local options, we veered away from Bangkok's popular street to find a vendor selling a selection of bugs, who knew there was such variety?
Eating Bugs in Bangkok
I squealed as the vendor scooped up some dead flies into a bag like it was popcorn at the cinema.
A local girl, who was also purchasing some winged snacks, stared at me, bugged out at my reaction.
Myself, accompanied by Craig, the bag of bugs, and two bottles of Chang beers, settled down on a bench on the outskirts of Khao San Road to chow down on the local delicacy.
In the video below of the ordeal, you can spot me saying – they have eyes!
They did, and they tasted salty. A local man stopped to watch and laugh, we offered him the rest of the bag, which he downed like a packet of crisps.
Not quite satisfied with the insects for dinner, I chose Pad Thai for my main, super cheap and made by a vendor in front of my eyes.
Fast food at its best. The food in Thailand really has been one of the main highlights for me. Are you a foodie?
Check out my review of this cooking class in Chiang Mai. We made seven courses!
Things to do in Bangkok
Bangkok is more than just Khao San Road (thankfully).
Unfortunately, some of the more popular things to do in Bangkok are just as seedy such as the must-see ping pong shows.
We decided not to participate in this voyeuristic show but for those who may be interested, be wary that many visitors to Bangkok are ripped off here. We heard tales where travellers agreed on an entrance fee but were then charged a table fee, drinks surcharges, and even a price on each ejaculated ping pong!
No judgement if you do want to see this, just choose a show on the recommendation. I hate to see people ripped off. It's also possible to get the spiritual bamboo Sak Yant tattoos in Bangkok!
Temples in Bangkok
A far less stressful Bangkok attraction is to visit one of the cities many temples. We took a boat to Wat Arun (Wat Chaeng) which is located on in the west of the city on the river, a calming escape from the madness of the city. For 50 Baht, visitors can climb the stairs which are steep and slightly nerve-wracking.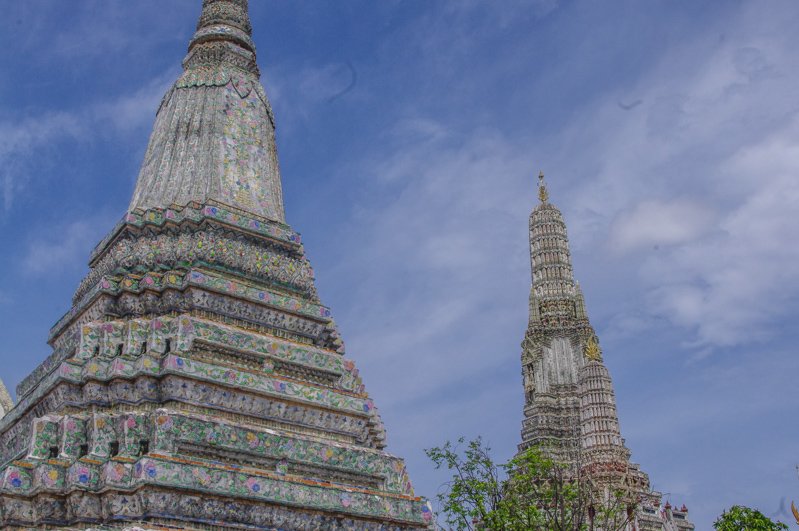 The most popular of all temples is the Temple of the Reclining Buddha, home to a gold relaxing Buddha, all 150 metres of it! This temple is located at the Wat Po temple area. Tip – remember to cover up, wear trousers and bring a shall to ensure that no skin is on show.

For even more things to do including market visits and boat tours, check out Cory's article on Bangkok's wheelchair access.
Where We Stayed in Bangkok
We booked last minute into D&Ds hostel which is on Khao San Road, after a recommendation from fellow backpackers. I can't say I would recommend this windowless private room, however, the hostel does have a nice rooftop pool and bar to aid that Khao San Road horrendous hangover.
In hindsight, I wish I'd researched further (I was planned out by this point of the trip) as there are heaps options for accommodation in Bangkok, and some of the hotels are really plush! Hostel dorms start from $5 / £4 and hotels in Bangkok range from £10 / $13 – £516 / $646 (what were we thinking about staying in a windowless hole?!)
Bangkok Top Tip
We paid an additional 50 baht to avoid the traffic from the airport to the city centre, the standard price was 400 baht – worth it if you are short on time. You can research and book internal transport as well as transport between neighbouring countries here.
For more tips on Bangkok and Thailand in general, check out this neat Thailand travel guide.
After five weeks in Southeast Asia backpacking through pricey Singapore, the beautiful north of Vietnam, the historically important Phnom Penh, Cambodia and the north and south of Thailand, Bangkok is not somewhere that rests high on my list of places travellers must-see.
However, I have concluded that all roads pass through Bangkok so it is inevitable that I will be seeing this beast of a city again. So it's kampookaahhh Thailand and goodbye South East Asia.
Have you been to Bangkok?