This article has links to products and services we love, which we may make commission from.
With its dancing girls and fast food joints of Chaweng, it easy to call Koh Samui in Thailand slightly tacky. However, in comparison, the sunsets and less crowded beaches of Lamai lets the island regain that paradise Thai title again! Here are the best things to do in Koh Samui, with the aid of a scooter hire.
Bailing on Bangkok for Koh Samui
After much deliberation (train, boat or plane?) we decided to fly to Koh Samui with Air Asia, the cheapest of Koh Samui flights. It was like flying into a Disney version of Thailand with Big Buddha and Guan Yin taking over the skyline (we met a Hell's Angel's Thai girlfriend who told us that these statues don't mean much to the locals, they are just for the tourists).
If you are keeping costs down, do consider the bus and ferry option. You can check out times and prices here.
What to do in Koh Samui
1. Big Buddha and Guan Yin
These massive and colourful statues are located at Koh Samui's Wat Plai Laem in the Northeast of the island. Guan Yin, the Goddess of Mercy and Compassion and the Buddha highlight the influence of China on Koh Samui and make for some pretty cool shots.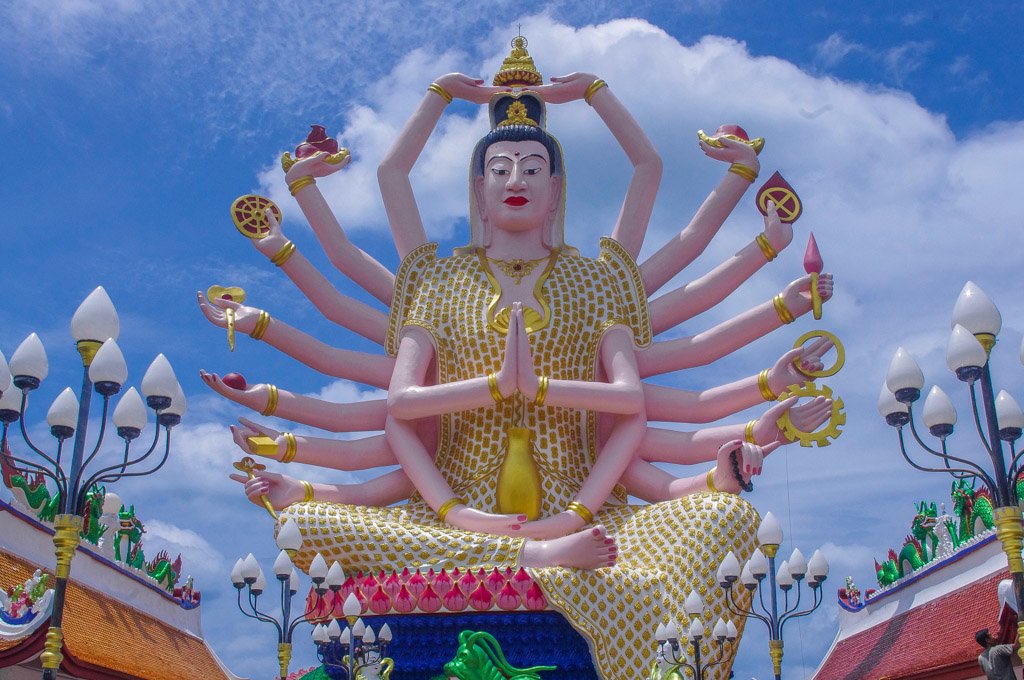 18 armed Guan Yin
2. Beach Party, Koh Samui
Chaweng is the Koh Samui nightlife! We, however, opted for the quieter side of the island, Lamai, choosing to taxi to Chaweng.
This gave us the chance to drink ourselves silly with our Irish friends who were staying at Arc, an impressive Ibiza style hostel for the party backpacker with a bit of cash, but return home to nurse our hangovers in peace.
Amazing fact – we saw a rainbow around the moon in Chaweng! Now I know what you thinking re packing – surely we just take our bikinis and shorts, yes?
Not quite, the north is cooler (do not miss Pai in the mountains!) but fear not, here's a Thailand packing list by our fellow British pal, Tom, at Adventure in You.
3. Lamai Lazing
We spent the next few days sunbathing by the pool, buzzing about on the moped, eating (expensive) French breakfasts and drinking at Dave the Rave's Cocktail Caravan which is actually called Samui I am. This van sells stupidly cheap cocktails (65 baht) and has a light show Chemical Brothers would be jealous of.
It's about a five -minute walk from Samui Beach Resort (turn left) just before Rocky's Hotel. I'd love to know if it is still there! We also met a Hell's Angel on the run with his Thai girlfriend who served us lunch. Just a typical day in Thailand!
There is a variety of Koh Samui hotels, we chose Samui Beach Resort as it was cheap and had a swimming pool. We enjoyed our stay but had friends he tried before us and check our early. Snorkelling in the Gulf of Thailand is also recommended.
I recommend making the effort to get up at 5am a visit the beach for the sunrise…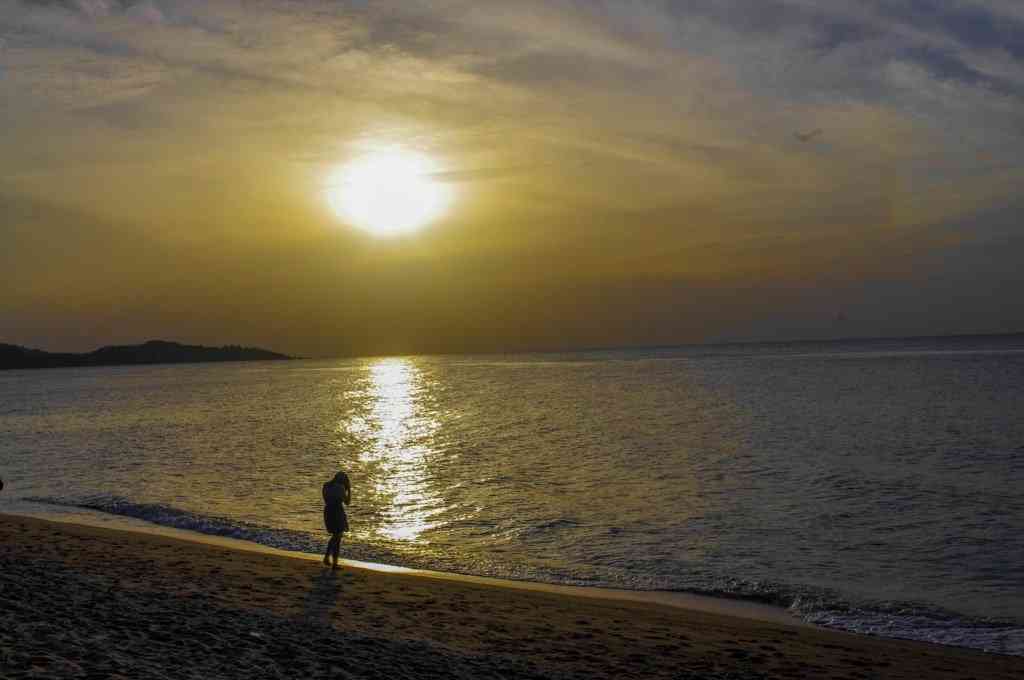 4. Phallic Rock in Koh Samui
One of Koh Samui's popular tourist spots is the Grandmother and Grandfather rock (Hin Ta and Hin Yai), mainly down to their phallic aesthetics!
5. Na Muang Waterfalls
Na Muang Waterfalls, two waterfalls located in the south of the island are popular Koh Samui attractions. We hired a scooter to get around Koh Samui, which is recommended.
Na Muang Waterfall 1 (18 metres high) is the closest to the entrance, the second (80 metres high) is a 20 – 30 min walk or alternatively, you can pay to arrive by 4×4 (safety not included). Warning – these do not compare to the waterfall we experienced in the north of the country on the way to northern Pai!
Please, please, please do not ride the elephants here (or anywhere in Thailand). Visit the Elephant Nature Park to see elephants humanely, you can even wash and feed them there!
Koh Samui is definitely more of beach bum type of holiday, which isn't massively up our street but was appreciated after four and half weeks of intense backpacking around South East Asia.
I wouldn't rush back to Thailand's second-biggest island, Koh Samui, or Thailand for that matter. It's just a tad too touristy!
How great is Pinterest?!
Why not pin to your Thailand board…
What do you think of Thailand?