This article has links to products and services we love, which we may make commission from.
Taking a trip with a stopover and only have one day in Singapore? This itinerary packs in the top attractions for your whirlwind 24 hours in Singers. From dusk 'til dawn, sea to sky, Chinatown to Sentosa Island, Crazy Rich Asians to everyday normality and a few budget tips thrown in. Let's dive into what this impressive Asian city has to offer.
We (Gemma and Craig) are very privileged to have family members who stay in Singapore! Craig's uncle and aunty live and work in Singapore so we've experienced the tourist hotspots and expat way of living.
24 Hours in Singapore
Morning – Chinatown, Raffles
Your ambition morning Singapore itinerary starts with some traditional culture.
Start at the Thian Hock Keng Temple. This is one of the oldest Buddhist-Taoist temples in Singapore. Check out the detail in the architecture and observe the Singaporean Chinese customs during a self-guided tour. The temple area is small, it does not take much time to explore but is a very peaceful experience.
Address: Telok Ayer St, 158, Singapore.
Next, in this country of contrasts, head to the manic streets of Chinatown which is less than ten minutes walk away.
If you missed breakfast, this is the place to grab some affordable food. Delve into dim sum at one of the food trucks.
There are many things to see in Singapore's bustling Chinatown such as Buddha Tooth Relic Temple, the bright and eye-catching Sri Mariamman Temple, and of course the street market for souvenirs!
Raffles Hotel (Re-opening August 2019)
Raffles is one of the few remaining 19th-century buildings in Singapore. It is cliché but every visitor should try a Singapore Sling at Raffles bar, the historic Long Bar. I don't want to spoil the experience for you but don't be alarmed when you see the floor!
Expect to wait in line, pay a premium price but bag that Singapore bucket list item.
Address: 1 Beach Rd, Singapore 189673
Merlion Park
Swing by the mythical landmark half fish-half lion at Marina Bay Sands. Alternatively, skip this and save the views for the boat ride later.
Gardens By The Bay
This is the Insta-famous waterfront garden with the cool light Supertrees installations.
Although famous for its alien-like light up flowers, the Gardens have a few other endearing features such as the Flower Dome, Cloud Forrest and many large sculptures.
Address: 18 Marina Gardens Dr, Singapore 018953
---
» You may also like: how to spend 1-3 days in Dubai
---
Chijmes
Chijmes is the elegant 19-century building used as the set of the best friend's wedding in Crazy Rich Asians. This gothic style building is actually a collection of restaurants and bars so an upmarket lunch option if feeling hungry by this point.
Address: 30 Victoria St, Singapore 187996.
Other Areas of Interest
This is a lot to pack in for your first morning in Singapore but these attractions give you a nice taster of Singapore old and new.
There are a few other Singapore attractions you might not want to miss such a boat ride which starts at Clarke Quay (another area with bars and restaurants), Little India (pretty Sri Veeramakaliamman Temple, bright House of Tan Teng Nia, Temple of 1,000 Lights, cheap lunch/dinner options) and Newton Food Centre (touristy hawker market which locals dine at too).
Afternoon – Sentosa Island and Sunset Spots
Again, another itinerary jam-packed with things to see in Singapore. Feel free to pick and choose to suit your needs.
Mount Faber Cable Car
Ride the popular Singapore Cable Cars from Mount Faber to Sentosa Island. See the city over Keppel Harbor from a unique bird's eye view.
Sentosa Island
Sentosa Island is fun for little ones and big kids too. This is home to Asia's Universal Studio which boats for 24 rides, shows and attractions. Naturally, the theme park gets very busy during the weekend and holidays. We visited on a weekday which was a great crowd-free experience.
Other things to do on Sentosa include bungy jumping for the extreme adventure lovers, Fort Siloso Skywalk (free) and the 8 pm Crane Dance electronic light show.
Dinner at a Hawkers Centre
Hawkers Centres are down to earth restaurant areas which serve tasty yet affordable meals in Singapore. They differ from food courts like we are accustomed to the in West. Food courts tend to be found in shopping malls whereas hawker centres have their own premises, a collection of stalls under one roof.
For an authentic Singapore dining experience, you should eat at one of the many hawkers around the city for at least one meal!
Each offer their own unique experience and there are at least two on the way to your next destination, Marina Bay Sands area.
Tiong Bahru Market Hawker Centre is known for its chwee kueh (steamed rice cakes). At Lau Pa Sat (with outdoor seating) you can get set meals for as low as SGD 6.
At hawkers, you can buy from a variety of vendors and take them to your seat. Just join a line and order. A fun foodie experience which doesn't break the bank.
There are vegetarian options at hawkers centres but if you want to plan ahead check out this vegetarian restaurants in Singapore guide.
---
Love food? Check out, Chiang Mai!
---
Evening Sunset and Singapore Lightshow
Your day in Singapore ends with a sunset, hopefully, and a dramatic light show, definitely.
There are many rooftop bars in Singapore for you to enjoy watching dusk turn into darkness. Next, watch the Marina Bay light show, Spectra.
Starting from 8 pm, the 15-minute water and light show takes over the skyline in Singapore. It lights up the focal point, the striking Marina Bay Sands Hotel, the hotel that looks like a boat.
One of the Singapore highlights for me was watching the sun go down and dusk settle in from 1 Altitude, which is a relaxed rooftop bar with live music.
Singapore can be expensive but sunset drinks at 1 Altitude are genuinely reasonably priced! Singapore actually has over twenty rooftop bars (they know their audience) so there is plenty to choose from if you are visiting are for more than one night. There's even a microbrewery rooftop bar, find out more here.
https://www.instagram.com/p/BmQHsPHD0VD/
The Appeal of Singapore
Singapore is clean. Craig nearly vomited on the underground after taking a malaria tablet, luckily he managed to make it to a toilet, just. We'd heard horrible rumours that if you are sick in public you are fined and have to clean it up yourself! Singapore is not cheap so wasting money is not an option.
On the plus side, Singapore's strictness makes you feel safe. While we were there, a man was sentenced to 30 lashings for writing anti-Semitic graffiti, you have to accept that this safety stems from a very harsh penal system. However, some graffiti is celebrated (although can be removed easily)…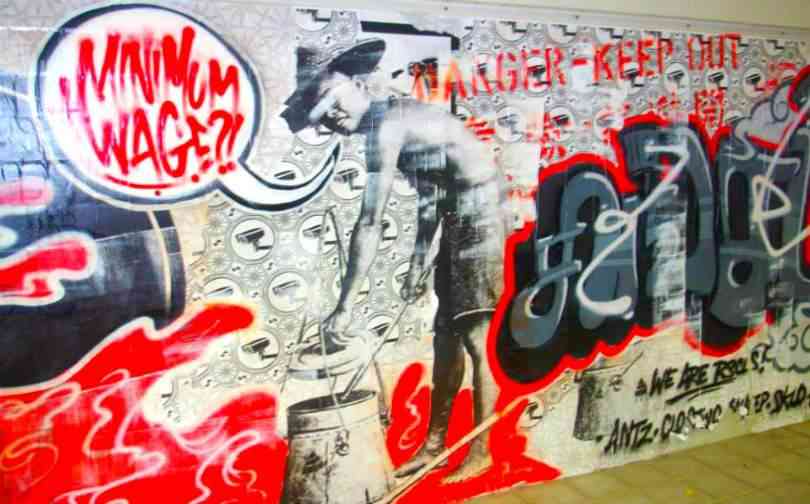 Essential Information
Best Time to Visit Singapore
Singapore is an island and with island life, you have to prepare for extreme weather conditions.
December and January are the rainiest months. November through to January has the least amount of daylight. Temperatures are around 80 Farenheight all year round.
Singapore Currency
Singapore uses the Singapore Dollar (SGD). Today's rates can be found here.
Getting to Singapore
Changi Airport is the main Singapore airport. There are public buses and MRT trains which run all day connecting you to the city.
Getting Around Singapore
The transport system is great, you can buy a Singapore Tourist EZ Link card which is unlimited travel for S$10 (one day) or S$25 (three days).
Where to Stay in Singapore
Budget accommodation in Singapore is also a challenge, many of the hostels and hotels that are lower in cost are not in a great location for those on vacation without a car.
Aim to book your Singapore hotel or hostel close to a Mass Rapid Transit (MRT) and Light Rail Transit (LRT) station to stay connected in the city. There are some options for you to consider.
Hotel Clover 5 HongKong Street $$
Hotel Clover 5 HongKong Street gets a great review from guests for its downtown location, price and compact but clean rooms.
This affordable Singapore hotel has air-conditioned rooms and WiFi. The hotel has a lovely outdoor swimming pool too.
Check out the best rates at TripAdvisor and Booking.
Capsule Pod Boutique Hostel $
I particularly like the idea of the capsule hostels in Singapore, this boutique capsule is reasonable at around $20.
Capsules are great because they are super private (a curtain pulls over your bed) so although you are in a hostel you don't have to mingle if you'd prefer privacy.
You can read more reviews and/or book here at TripAdvisor.
Accommodation price points very much depend on the area, here's a guide to Singapore's neighbourhoods!
Affordable Travel Tips for Singapore
Singapore is rated the world's most expensive city so finding where to stay, eat and what to do on a budget may be a challenge but not one that can't be met.
Enjoy the many free attractions such as Gardens By The Bay, Botanics Gardens, Sentosa Beach.
Avoid night time drinking – watch the three light shows instead (Gardens By The Bay, Sentosa or Marina Bay).
Check out the Clarke Quay drinks promotions later afternoon.
Eat at the hawker centres for meals under $10.
Use the EZ-Link contactless card for unlimited transport system use.
Singapore Packing List
Layers, it can get cold in the evening.
Shades.
Suntan lotion.
Waterproof but breathable jacket – there are downpours but it still feels hot.
Refillable water bottle – you can drink the tap water in Singapore.
Wondering what to pack for your Southeast Asia trip? Check out this packing guide.
Final Words
Singapore is an expensive city so a 24-hour visit will give you a great taste of this melting pot without breaking the bank! There are many free things you can do in Singapore that don't skimp on the fun so you can keep your trip affordable yet enjoyable. This island really is a majestic blend of old and new, a perfect stopover or extended trip.
Any questions?
Just ask in the comments below.
---
» Read next: ultimate Thailand itinerary – routes, attractions and tips
---