This article has links to products and services we love, which we may make commission from.
Looking for a jam-packed 3 days in Dubai itinerary? Dubai (United Arab Emirates) is a destination with a melting pot of cultures that attracts millions of visitors each year.
The jewel in the Arab world boasts of beaches, rooftop views and of course, an extravagant man-made island. Dubai isn't just a vacation spot, it is an ultra-modern destination where you can dine, party and shop 'til you drop.
This Dubai itinerary will detail everything that you can do with one, two or three days in this cosmopolitan city.
More than two days in Dubai? Check out our guide to the best day trips.
---
How to Spend 3 Days in Dubai Itinerary
1 Day in Dubai: Burj Khalifa, The Dubai Mall Dubai and Fountain Show.
If you are visiting during a Dubai stopover, follow the day one itinerary to pack in the city's highlights. For those who are enjoying a Dubai vacation, dive into day two and three activities too.
Morning
For breakfast, fill up at your hotel. Many offer a lavish international breakfast buffet but if this is not the case, you have two options, budget depending.
For an affordable breakfast, dine at The Dubai Mall and check out the likes of Aubaine the French bakery at the food court. For an experiential breakfast at a premium cost, you can dine at the Burj Khalifa with the Dubai skyline as your backdrop. This is actually the first stop on your Dubai itinerary for day one.
Burj Khalifa
A vacation to Dubai is not complete without a trip to Burj Khalifa.
It is a must-see place in Dubai and should be a top priority. It was ours for sure!
Burj Khalifa is the world's tallest building at a staggering 160 floors.
At 828 meters/ 2,723 ft high, it is literally visible from everywhere in the city. A great landmark to use while out sightseeing.
At Burj Khalifa, you can go up to the 125th floor and absorb the beautiful panoramic landscape of Dubai from the observation deck. They say it isn't just about the destination, it's also about the journey and that is true at Burj Khalifa.
To get to the observation deck you have to take the world's fastest elevator!
I recommend that you buy tickets online at GetYourGuide for the best deals and to save time. This is the most popular Dubai attraction for a reason!
This ticket will let you pre-book a selected time that is convenient for your day, gives you 10% discount at the souvenir shop and at THE CAFE on the ground floor. Remember to pack your passport for ID.
It is also by far one of the best places to have a high tea, literally! At.Mosphere on the 124th floor is the world's largest restaurant.
A high tea with a window seat costs around $400 and Gemma's sister-in-law, who went to Dubai on her honeymoon, says it is worth every penny.
There is also an option to eat at the Armani Restaurant if you wish to spoil yourself a little.
Address:

1 Sheikh Mohammed bin Rashid Blvd – Dubai – United Arab Emirates.
Afternoon
Next, head to The Dubai Mall which is within walking distance from Burj Khalifa. If you don't feel like walking, you can easily grab a taxi. For the best ways to get around Dubai, see the Essential Information section below.
The Dubai Mall
The Dubai Mall is the second-largest mall in the world, the sheer size is quite impressive in itself. Each portion of the mall has a different style to it. You just can't get bored here.
You will need a map to navigate around the shops and attractions and a meeting point in case someone gets lost.
Shoppers like it because it has almost every brand from all over the world like regular brands such as Levis and Reebok to luxury brands like Versace and Armani. Hungry?
The Dubai Mall has over 200 food outlets at its food court. A relatively affordable lunch option in Dubai.
→ Remember to dress sensibly.
Unsure of what to wear? Here's our Dubai packing list.
Local's Tip The best time to shop in Dubai is during the Dubai Shopping Festival (DSF) which starts at the end of December until May.
You can even check deals online before you go. Bored with shopping?
The Dubai Mall is also home to an ice rink, cinema, haunted house, and amusement park.
Address: The Dubai Mall, Financial Center Road
---
» Bookmark this | Things not to miss in Dubai in winter
---
Evening Itinerary
The Dubai Fountain Show
After shopping, it is time to step outside of the Mall to see the famous Dubai Fountain show.
The Dubai Fountain show is the world's largest choreographed water show. It starts around 6 pm until 11 pm, going off every 30 minutes at Burj Khalifa Lake.
It is one show you can't miss! The best views aren't actually from directly outside of The Dubai Mall. Head to Souq Al Bahr or to the bottom of Burj Khalifa for the best 'seats' (it is standing).
Although the show is free to all, there is an optional observation platform at an additional cost.
Alternatively, you can view the light and sound show from the Burj Khalifa or from a boat on the water.
Address: Burj Khalifa Lake
For dinner, stick around Downtown and head to Souk Al Bahr where you can choose from alfresco dining (Serafina), Middle Eastern (Abd El Wahab) and international menus (The Lounge).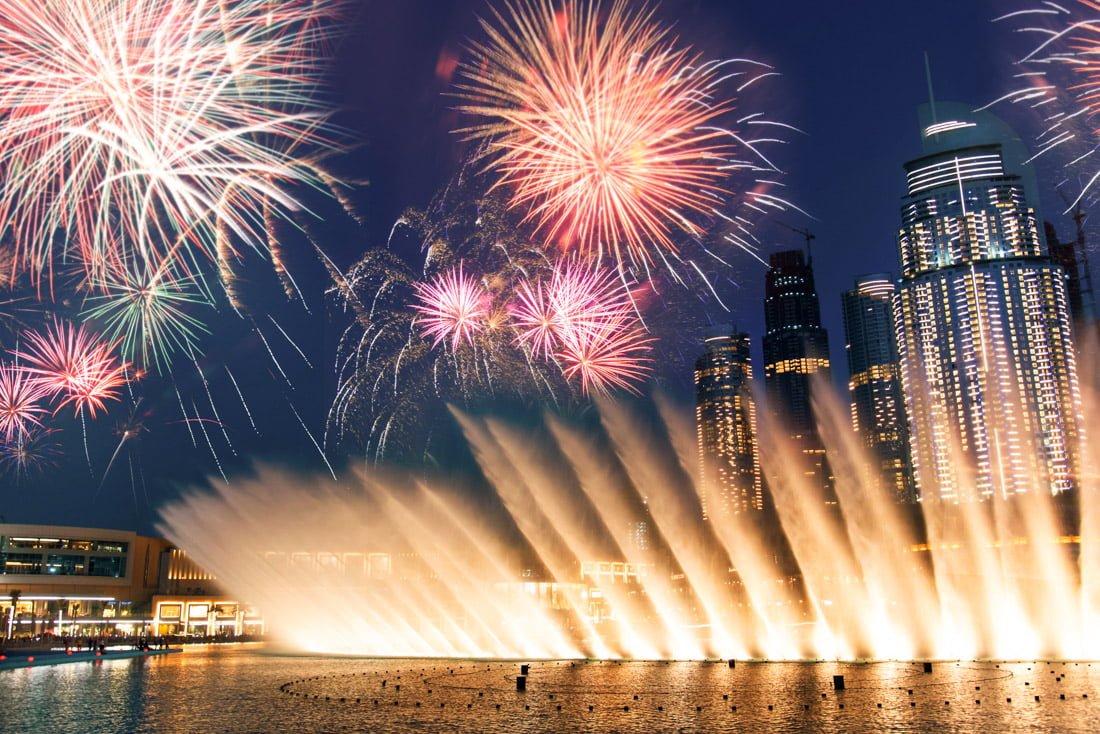 2 Days in Dubai: Desert Safari Day Tour
If you have time to explore Dubai in 2 days, your second day is jam-packed with adventure with your desert safari kicking off late afternoon (3 pm) through to sunset.
Morning
There are four options for the morning of your second day in Dubai.
Palm Jumeirah Boardwalk
Grab a quick and light snack or skip breakfast altogether to save yourself for the food trucks at Palm Jumeirah Boardwalk.
Take a walk along the eleven kilometers stretch of The Boardwalk, a popular selfie spot. Spot the Insta-famous resort, Atlantis The Palm (yes, the one with the underwater suites and restaurant) on Palm Jumeirah Island.
There are three artificial Palms on the world's largest man-made island which house local residents, a number of hotels and dining experiences.
Many joggers and runners use The Boardwalk route as it is away from the city noise pollution.
Alternatively, head to Bluewaters to ride the world's largest observation wheel, Ain Dubai.
Big Bus Dubai
Hitch a ride on the top open double-decker, Big Bus Dubai.
Hop on and off at the stops that interest you and choose between three different routes (city, marina or beach). Listen to Dubai's story via the bus audio guide which is available in 13 languages or enjoy the live English commentary.
Tickets include free entry into top museums and free desert sunset adventure with the Deluxe 5-day ticket.
Just reserve your ticket here and show your mobile ticket. Easy!
Karama Market
Alternatively, if you are not all shopped out from The Dubai Mall, make your way to Karama Market in the search of some genuine fakes. Be prepared to haggle.
Ski Dubai
If you really want to pack in the adventure book a two-hour session at Ski Dubai.
Don't worry if you've not packed your ski clothing, everything is provided with this pass.
Since time is not on your side, enjoy the skip the line and instant ticket confirmation too. Check out the best rates here.
Afternoon
This is when your real Dubai adventure starts, it's time to hit the sand safari! Make your way to your agreed pickup location, 45 minutes before your booked tour time.
From here, your Safari Captain will take you on a whirlwind of multiple activities lasting six to seven hours.
Escape the city for a roller coaster 4WD ride over red sand dunes then watch the sunset over the Lahbab Desert.
Take part in the optional quad biking tour and enjoy the Tanoura dance show after sunset.
A BBQ buffet dinner is provided at Al Khayma Camp suitable for both meat-eaters and vegetarians.
Alternatively, choose the premium tour for a table service dinner.
Remember to pack suntan lotion, shades, hat, comfortable shoes and a layer for the evening.
I recommend taking this dune-bashing tour if you have more than one day in Dubai.
---
» Don't miss our guide to all of Dubai's top-rated safari tours: morning, evening and overnight
---
3 Days in Dubai: Hit the Beach, Old Dubai or Miracle Garden
There are heaps of options for day three in Dubai.
Today could be about relaxing, and what better way to do this than to go to the beach or taking a boat ride?
Save breakfast for a stop during your walk along Dubai Marina or The Walk which leads you down to Jumeirah Beach.
Look out for impressive cars on The Walk too.
If you want to avoid walking, hire a taxi or use the Dubai tram down to Jumeirah Beach Residence (JBR).
Many hotels are located in this area so there is a chance that you will be within walking distance of the beach.
Jumeirah Beach Activities
There are several fun things to do at Jumeirah Beach.
Catch a ride on The Dubai Cup – lovely views of the city.

Enjoy the 210-meter high Ferris wheel – The Dubai Eye.

AquaFun – 74 games on an inflatable park in the sea.

Rent a four-poster sun lounge bed – excellent with a breeze.

Budget tip – there are basic sun loungers with shade too/just use your own towel.
Top tip – Avoid the beach during summer. The wind is hot, the sea is hot, everything it hot!
Jumeirah Beach Cruises
Get the best views of the JBR from this one-hour private boat cruise.
Cruise through the canals of Dubai Marina and see some of Dubai's award-winning developments such as Ain Dubai and Cayan Tower from the water.
For lunch, choose from the big line of restaurants facing the ocean. Why not try some hookah?
Bored with the sun? Start the day on the Dubai hop on/off the bus or hit the slopes at the Ski Dubai.
If you prefer an Insta-worthy cafe, don't miss the 2D spectacular, Forever Rose.
Afternoon
Dubai Creek is the historical heart of the city. A great attraction for those who want to feel the old Dubai and less 'jazzy' modern city vibes.
Take a water taxi to see the sights and enjoy the sunset while dining on a traditional Arabian dhow boat. See the tour here.
Alternatively, if you are visiting between mid-November to mid-May, visit the prettiest park in Dubai, Miracle Garden.
This is where you can see topiary castles, cats and heart-shaped tunnels that even Edward Scissor Hands would be impressed by.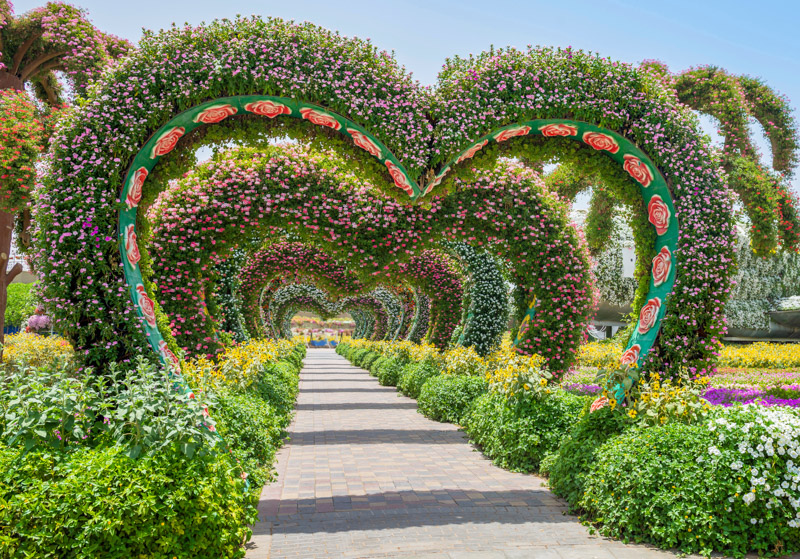 Best Tours in Dubai
Desert Safari: dune bashing on a 4WD, sunset and BBQ dinner. Book here.
Abu Dhabi Day Trip From Dubai: see all the Abu Dhabi highlights in one day! Reserve here.
Dubai Helicopter Flight (The Palm to Burj Khalifa): incredible 25 min ride. Inquire here.
Hop-On Hop-Off Bus: See Dubai in a day in comfort. Reserve a ticket.
Dubai Events
Dubai Shopping Festival (DSF)
Dubai is a shopper's paradise. The best time to shop in Dubai is in the month of January, as this is when the Dubai Shopping Festival (DSF) takes place. Every shop in Dubai offers massive discounts.
Dubai Summer Festival (DSS)
If you are a shopaholic and don't mind visiting Dubai in the summer, this is the best opportunity for you. It is similar to DSF but longer and happens in months from June to August.
Global Village
The Global Village is an amazing shopping and cultural event held in Dubai.
It takes place during winter and you can find stalls serving food from various countries around the world. There is also a fun carnival.
Festival of Taste
If you are a foodie, this is a go-to event in Dubai. For three days, the Festival of Taste showcases meals from the city's top chefs. Live music also plays throughout the city.
Dubai International Jazz Festival
Like music? Dubai International Jazz Festival is an annual music festival which is held in February.
Art Dubai
In March, over forty countries head to Dubai to celebrate the world of art.

Essential Information
How to Get to Dubai
Dubai is easy to reach from anywhere in the world.
The primary airport is Dubai International Airport which is not only a destination airport but often a stopover one too.
Many visitors are actually Emirates stopover customers checking out the city on their way to their next destination.
You can also fly into Abu Dhabi and take a bus to Dubai.
There are several ways to get from Dubai International Airport to Downtown. You can take the metro which takes around 30 minutes to the Burj Khalifa stop.
If you have lots of luggage you can hire a local taxi, Careem or Uber.
A taxi from the airport to Atlantis the Palm costs around $30 USD. It is not advised to take a taxi during rush hour.
How to Get Around Dubai
Dubai has its own taxi service, which is easily available from everywhere around the city.
There are taxi stands at various spots, or you can just hail a taxi by sticking your hands out.
The red light implies the taxi is occupied, a yellow light indicates it is available.
Or If you prefer to schedule a ride, you can call for a Dubai taxi pick-up at +971 4 208 0808. Uber operates in Dubai which is often an attractive option for visitors who are accustomed to using the service.
Dubai has its own Uber service called Careem. It also works from an app, just like Uber.
If you have an international driving license, you can rent a car in Dubai. For cheaper options, there is a regular air-conditioned bus service in Dubai.
Dubai also has a metro. You can use the journey planner app, Wojhati, to make the most of your Dubai itinerary.
I recommend that you consider the Nol smart card. This allows you to pay for bus, metro and tram.
Dubai's tram stops at top attractions like Palm Jumeirah, Dubai Marina, Jumeirah Lakes Towers and more.
It runs from Al Sufouh to Jumeirah Beach Residences in 42 minutes.
Finally, there is also a monorail in Dubai which runs from the trunk of the Palm to the iconic Atlantis The Palm.
The Dubai tram is connected to The Palm monorail station.
Where to Stay in Dubai
Hotels in Dubai
Dubai has many hotels ranging from budget hotels in the historic Bur Dubai to luxury accommodations like Atlantis The Palm.
One&Only Royal Mirage Resort Dubai at Jumeirah $$
Gemma's sister-in-law stayed at the One&Only Royal Mirage Resort Dubai at Jumeirah during her honeymoon to Dubai. The One&Only Royal Mirage is located on Jumeirah Beach, which is one of the best locations to stay in Dubai.
It faces the bay of Palm Island and overlooks the Arabian Gulf with one kilometer of beach in front of it. All 'super clean' large rooms have air conditioning, balconies, and WiFi.
One&Only has three swimming pools with temperature control. Its eight restaurants serve gourmet dishes from all over the world, including the Mediterranean, Moroccan and Indo-European cuisine.
It also has an airport shuttle service.
Check for the best rates at TripAdvisor and Booking.
Atlantis The Palm, Dubai $$$
Atlantis The Palm, Dubai is one of the most instantly recognizable landmarks in Dubai.
There is no denying that this is a premium-priced hotel but I recommend you try to stay here for at least one night. It is an experience in itself.
Atlantis The Palm is located on Dubai's Palm Jumeirah Island and has its own private beach.
Even though Insta-famous for its underwater suite, there are affordable rooms at the five star Atlantis.
It has a variety of amazing restaurants but do try Ossiano which is an underwater seafood restaurant.
Check for the best rates at TripAdvisor and Booking.
Please do not purchase a dolphin experience ticket. The treatment of dolphins at Atlantis is questionable.
---
» Read our extensive guide on the best Dubai districts to stay in.
---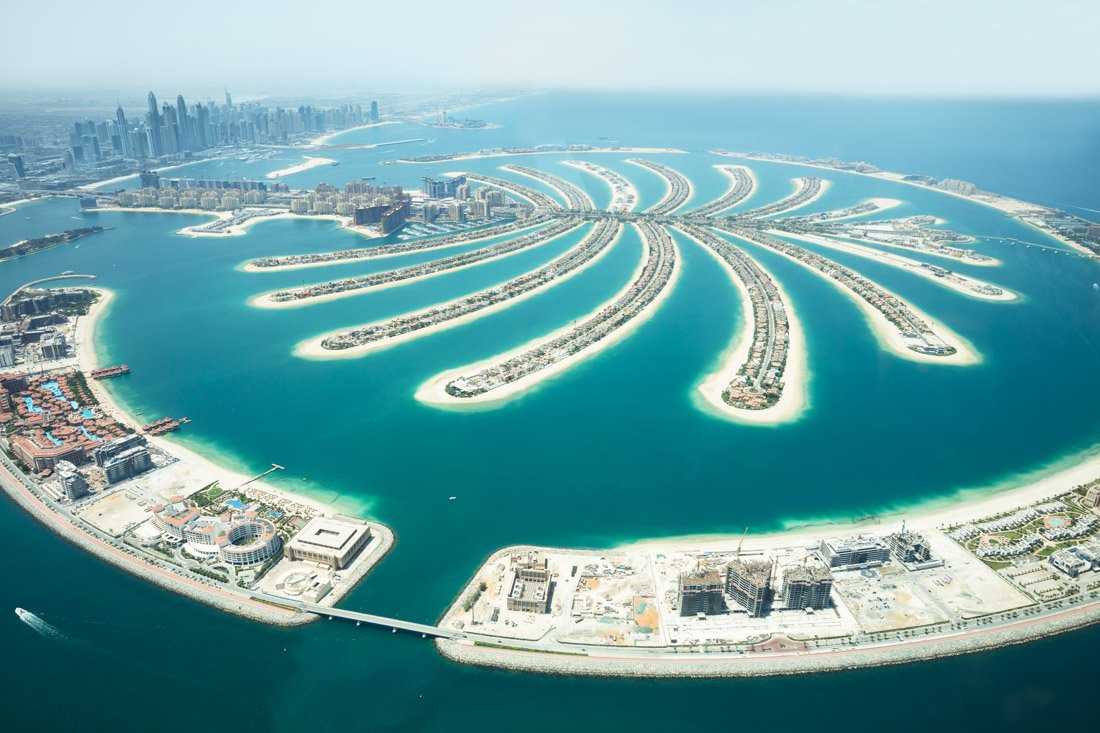 Hostels in Dubai
If you wish to travel on a budget, Dubai has plenty of hostels you can choose from, which are affordable and in a great location.
Destination $
Destination (formerly The Solo Traveler) is located in Downtown Dubai, at Burj Al Nujoom which is near The Burj Khalifa. An ideal location for those with only 24 hours in Dubai.
This downtown hostel has mixed dorm rooms with ten beds, swimming pool access, a gym and a jacuzzi. It is not the most social hostel, however.
Check the best rates at Hostelworld.
At The Top Hostel $
At The Top Hostel is located in the Marina, which is hands down one of the best budget places to stay in Dubai. It is on the 66th floor with breathtaking views of The Palms.
Metro and tram stations are within walking distance of this hostel, which will help you save a lot of money if you are on a budget trip. There is also a supermarket close by and a communal kitchen. It has an option for both private rooms and shared dorms.
Check the best rates at Hostelworld and TripAdvisor.
Dubai Beach Host $
Dubai Beach Host is located at Jumeirah Beach Residence (JBR), which is one of the nicest areas to stay in Dubai.
It has a full sea view over to the Arabian Ocean and Palm Jumeirah Island.
Public transport stops, supermarkets and bars are just a few minutes away.
It has both mixed and female dormitories with air conditioning.
Check the best rates at Hostelworld.
What to Eat in Dubai
Dubai has a plethora of restaurants, serving cuisines from all around the world to satisfy its international guests and ex-pats. But since you are in Dubai, I would recommend you to try Arabian delicacies like:
Ghuzi.

Falafel.

Al Harees.

Houmous.

Stuffed camel!

Baba ganoush.

Shawarma.

Dolma.

Kabab.

Al Machboos.

Baklava.

Knafeh.
To name a few!
If you get tired of Arabian food, there are plenty of other options.
Restaurants in Dubai
Kitchen 6: a

popular restaurant which serves local food (buffet). Iftar food is a must-try if you are dining during Ramadan.

Mint leaf of London: Indian food served in a glorious lounge.

Ossiano: Seafood restaurant in Atlantis Dubai. The best part about this restaurant is its epic view of underwater animals. Platters coast around $260.

At.mosphere: On the 122nd floor of Burj Khalifa, dine here for the most breathtaking views of the city.
Brunch in Dubai
Expats in Dubai like to take advantage of the Friday brunch experience!
If you like socialize during your vacation you should too.
Many hotel bars/restaurants like Bubbalicious at the Westin and Saffron at Atlantis put on 'party brunches' which offer all-you-can-eat and drink packages from 12 pm until 4 pm.
Atlantis then grants free access to its nightclub, Ndulge.
The package costs around $150 per person, so go with an empty belly and stomach for a party.
Expect conga lines and dancing on tables. Gemma's friend, Gemma recommends Dubai's party brunches.
Don't forget to pack your hydration tablets US / UK for the next day!
Weather in Dubai
Dubai has two distinct seasons:
Summer is from around the last week of April to the first week in October (80 to 90s Fahrenheit).
Winter starts around October until mid-April (60s to 70s Fahrenheit).
Best Time to Visit Dubai
When planning a trip to Dubai, I would like to recommend you to visit during winter.
This means you can enjoy all of the outdoor activities at a comfortable temperature.
Please do remember that you are in the desert, the summer months are excruciating hot at 80-90 Fahrenheit!
Plus in winter, you can also catch the Global Village, which is usually from the last week of October to the first week of April and Dubai Shopping Festival (DSF), which is during the month of January.
Dubai Currency
The currency in Dubai is the dirham (AED or Arab Emirate Dirham). You can see today's rates here.
Dubai Visas
Citizens from the United States do not need a visa for Dubai as long as they have at least six months on their passport and you are staying for less than one month.
UK citizens can obtain a visa on arrival in the UAE. This allows 30 days of travel in the UAE.
How Much is a Trip in Dubai?
The cost of a trip to Dubai varies on what kind of experience you wish to have in Dubai.
The city has a variety of things you can do which can be either affordable or extravagantly expensive.
Overall, Dubai is an expensive country to vacation in. For example, Gemma's sister-in-law paid $60 for a club sandwich and two soft drinks at her hotel.
Dubai Affordable Travel Tips
If you are on a budget, I recommend:
Booking a hostel in Dubai ($22 per bed) – see above for details.
Considering an Airbnb if you prefer more privacy.
Walk, use the metro or the bus instead of taxis.
Dine on street food and at Dubai Mall's food courts (meals under $10).
Taxis are affordable. Deira to Downtown Dubai (20 mins) is around $16 one-way.
If you don't have any budget constraints there is a world of experience in Dubai for you!
For example, hotels in the top 10 'best in the world' lists, over the top restaurants and luxurious attractions.
Your end of the trip bill could be as high as the Burj Khalifa if you so wish.
During your Dubai vacation, you can live like a king or sheikh.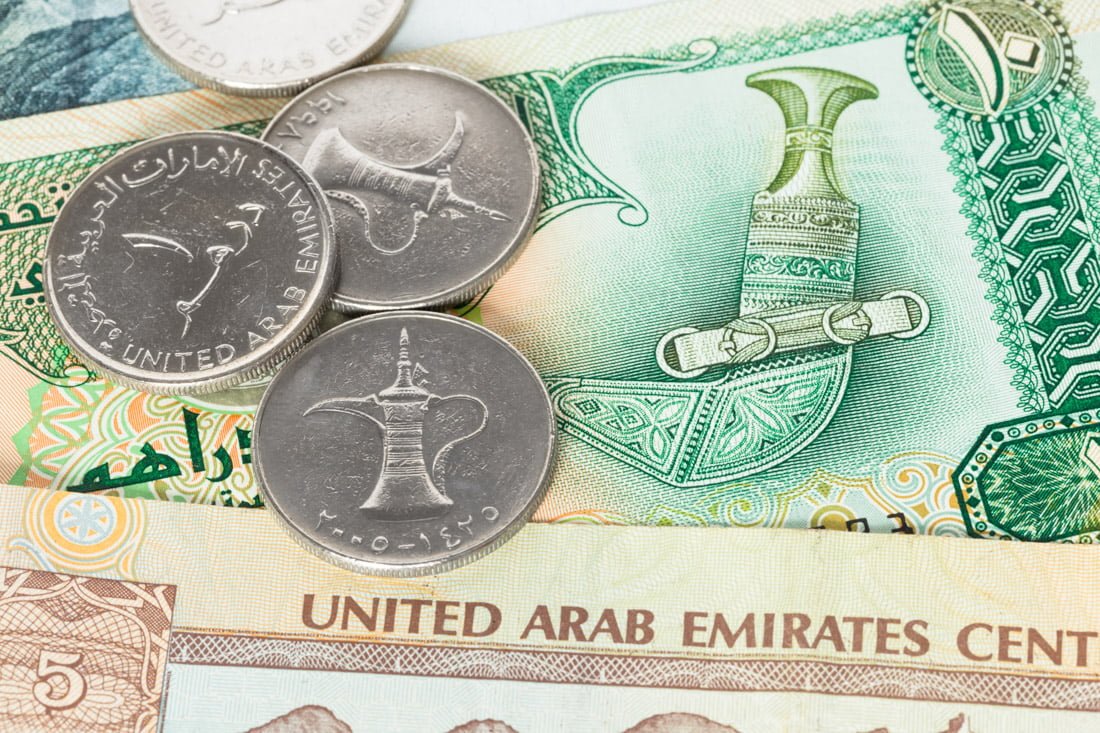 Ramadan in Dubai
Ramadan is a holy month for Muslims all around the world.
During this month Muslims are required to fast from dawn to dusk.
If you are in Dubai during Ramadan and you are not a Muslim, you are not expected to fast but it is respectful to observe the following tips.
Ramadan in Dubai Tips for Tourists
Refrain from drinking or eating in public during the day to show respect.

Eat at your accommodation.

Some restaurants will serve you behind a screen.
Ramadan month is a great month if you are looking for amazing deals, and don't mind following these rules or hot weather of Dubai.
Dubai Packing List
Appropriate length shorts, skirts, dresses (leave the Daisy Dukes and tube tops at home).

Swimsuit (respectable) for beach.

Sunscreen.

Shades.

Layers for desert at night.

Closed shoes like trainers.

Camera.

Extra bag for all the shopping.
Read our full packing list here.
Frequently Asked Questions
Where is Dubai?
Dubai is part of the United Arab Emirates (UAE), which is in Asia.
How Many Days in Dubai is Recommended?
At least two, but you can push it to a week as there are endless things to do in Dubai.
How Expensive is Dubai?
It is pretty expensive, but there are more affordable areas such as Bur Dubai.
A coke in a hotel bar can cost around $10.
Can You Drink The Water?
Yes, Dubai water is safe to drink. Remember your refillable water bottle to help with the environment.
Will My Phone Work in Dubai?
If you have international roaming and your service provider is available there.
A few websites and apps do not work in Dubai, like Skype, Facetime or Whatsapp call.
Can I Hold my Partner's Hand?
Yes if married, but kissing or hugging in public are not considered appropriate.
Sexual contact can result in fines and prison.
I'm Not Married, Can I Share a Room With my Partner?
Although it is illegal in Dubai for an unmarried couple to share a room, not all hotels enforce it.
Can You Drink Alcohol in Dubai?
Yes, just not publically but in bars and homes, you can.
Final Thoughts
Dubai is the jewel of the Arab world and proudly mixes the old with the ultra-new. If you are looking for a whirlwind stopover or things to do in Dubai in 3 days and beyond, there is plenty of fun, food, and incredible architecture to enjoy.
Pin to your Dubai planning board. Any questions? Just ask below
---
About the author: Rajbir is a student from India who adores Dubai. He loves how it has everything – beaches, malls but most importantly the friendly international ex-pats who have moved there to start a new life. In the future, Rajbir would like to open a cafe and share travel stories with customers.
---