This article has links to products and services we love, which we may make commission from.
Aberdeen is fast becoming Scotland's biggest city for street art. Each year, during the Nuart Aberdeen festival, national and international artists are invited to this northeastern city to brighten up the grey granite streets that the city is known for.
Big names such as Vhils and Smug have claimed walls in the Silver City, leaving their message for locals and visitors to absorb, reflect and even argue over all year round.
Expect to see a unicorn made out of junk, seagulls stuffed into boxes and delicately drawn portrait murals on site-specific gable ends.
However, it is not just the walls that are used during this public art festival in Scotland! Look up for miniature people, look out for lego, and look down for mosaics.
Nuart 2021
Nuart Aberdeen are delighted to announce that the festival will be returning in June and July with the theme 'Memory and the City'.

Artist, Helen Bur, will return to work on a prominent city centre wall. Some of her previous work disappeared after Greyfriars House was demolished.
Where to Find Street Art in Aberdeen
There are two ways to see Aberdeen's street art.
Firstly, you can join one of the free Nuart street art tours hosted by an active member of the Aberdeen public art community such as Jon from Kekun Studio.
The 90-minute tours start at 1pm and 6pm on Thursdays, Saturdays and selected Sundays from April through to September.
Wear comfortable shoes and bring a decent raincoat. The tour guides are dedicated and won't cancel even when it is raining! Sign up here for free.
We joined hundreds of street art fans during the first walking tour of the season. The crowds didn't actually have any negative impact on the experience.
It was a privilege to listen in on other people's deconstructions and opinions. Our tour guide, Jon, used a megaphone to tell his stories about the street art murals on the walls.
I highly recommend taking a tour because you won't get the insider knowledge doing it solo. Over the years, Jon has met the majority of the artists and isn't afraid to tell you some home truths!
He's a natural performer with an evident love for the industry but most importantly, a love for Aberdeen. He even has Marischal College tattooed on his arm.
The second way to discover Aberdeen's street art is to use our extensive guide and the Aberdeen mural trail map to do a self-guided art trail.
As Aberdeen is a compact city, all of the sites can be reached by foot and you will probably see other art fans on the trail too!
The 2018 and 2017 maps are also useful because they have location pins which show you an image of the site as well as the artist name.
Instagram is a great source for digging deeper into locations. Locals are also a wealth of knowledge and super keen to help you out. Visitors; you may have to tune into the accent!
I am now going to highlight some of the best street art murals with an attempt to group them together geographically, not by year.
I am not an Aberdonian (team Fife!) so please do let me know in the comments below if I've misplaced a masterpiece!
I'm also not a street artist myself (just a Scot who appreciates the art), so please forgive me if I'm not down with the lingo or use terminology incorrectly. Please do tell me via the contact form or using the comments field below. OK, apologies over, let's dive in.
Aberdeen Street Art Murals Locations
The advice follows this pattern:
Artists, artist country (date in Aberdeen), detail and image if available.
The Green
The Green is a paved community space surrounded by shops and cafes. It is used for many of Aberdeen's events such as the Aberdeen Inspired Nights (Nuart) and the Jazz Festival (March).
Herakut, Germany (2017 – now demolished)
You can't miss Herakut's girl, literally, she follows you around the city.
This beautifully haunting piece depicts a young girl with big eyes and unicorn for hair. Aberdeen lighthouse grows from her hand. Hairs on the back of the neck kind of stuff.
The girl has now been demolished and it no longer part of the Nuart trail.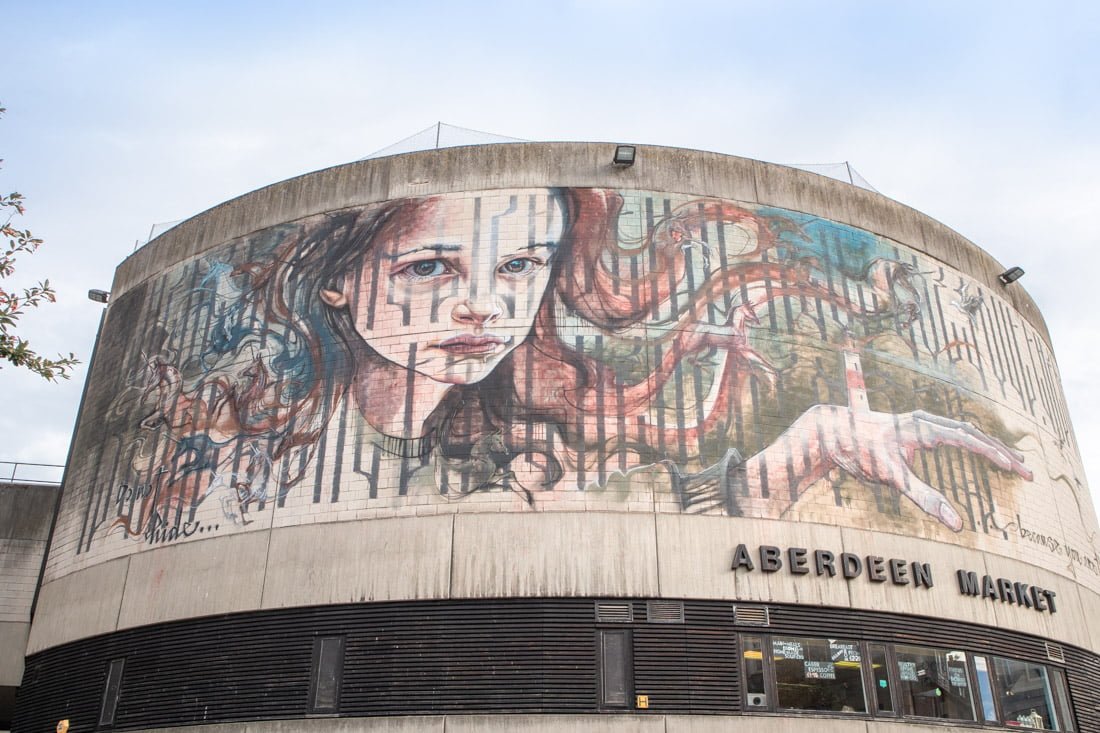 Jan Vormann (2019)
Street art is known for covering up ugly public spaces to make them accessible to the community again. Vormann takes this one step further and instead of hiding the flaws in the walls, he fixes them with… Lego.
Plugged in holes can be spotted by the stairs in The Green and around the city.
Smug, Australia (2019)
Sam Bates.
I could just leave it there. Australian, Smug, is the one artists that followers excitedly advised me was attending Nuart in Aberdeen in 2019. This is Smug's first piece in the city and true to Smug's form he has freehand (no projection, no grids) sprayed a real person holding a dog.
Smug is renowned for using people that he knows as his muse and this time the model in question is a tattooed barber based in Scotland.
Smug's work is instantly recognisable. You may be familiar with the man and the robin or mother with baby in Glasgow.
I was in Smug's company twice and didn't want to fangirl, but others say he is a genuinely sound guy in a beanie hat.
That's one of the biggest appeals of attending Nuart during the opening weekend. You get to see the street artists in action, many of them nip down for breaks and chats and also wonder about the Nuart Plus events too.
Down The Green, you will also see some of Aberdeen's Painted Doors which does what it says on the tin! Creative work on Aberdeen's city doors.
Keep this to yourself but… here's some street art intel.
One of Dotmaster's Rude Kids escaped the outside walls and appeared inside Café 52. Café 52 has its own eccentric artwork; the space baby is renowned in Aberdeen.
Next: Walk to the left of the Aberdeen Market, towards the tunnel.
The Tunnels/East Green
The Tunnels is home to two Aberdeen clubs, The Tunnels and Unit 51. It is also a safe space for new artists to work on their own designs.
Ben Eine, UK (2019)
London born Eine works with letterform and has left (with the help of his assistant, Andy) a message that describes Aberdonians. Locals find the choice of words pretty funny.
I love the colours and 80s vibe which is change from Eine's previous typography. Eine uses stencil, spray and paint for this piece.
Julio Anaya Cabanding (2019)
Anaya's Inspired Space can be found just under Eine's work.
Admittedly, we never found any of Anaya's framed landscape or portrait images during our time at Nuart Aberdeen. It gives us a reason to go back!
Hyuro, Argentina (2018)
Hyuro is known as one of the most influential female artists in public art. This mural shows two figures holding each other's faces with their shirt buttoned up together. A question of conflict or union?
Look behind after you have passed Eine's work to catch it.
Next: Walk straight past Marks and Spencer, look left.
Julien de Casabianca, France (2017 – no longer there )
As part of his Outings Project, Casabianca pastes portraits of people on to abandoned spaces.
For Aberdeen, he pasted two young children onto overhead space at East Green.
Evol, Denmark (2019)
It's time to go house hunting Aberdeen! Evol has transformed many of the city's grey electronic boxes into high rise flats with coloured balconies. He uses a stencil and spray to do this.
One sits across from The Tunnels, another in the shadows of Marischal College and a third by a bus stop at Queens Street.
We've asked how many houses are around Aberdeen but Evol went rogue and the headcount is unknown! There's definitely more than three though, tag us @twoscotsabroad when you find the others.
Carrie Reichterd, UK (2018)
Reichterd has frequently been involved in activism art and her commitment to making change puts our lives to shame.
During her career, Reichterd has worked with Romanian orphans, political prisoners on death row in the States and more recently, the Aberdeen community.
The 'craftivist' has created a mosaic paid for by Amnesty International Scotland called Suffragette Spirit.
This mural celebrates a variety of women such as one of the Glasgow Girls who fought to change the dawn raid laws in Scotland, Amal Azzudin.
I remember learning about the Glasgow Girls when I was a Social Policy student at the University of Glasgow.
Their input into the democratic process has featured consistently in my teaching as a politics and current affairs teacher so this mural really hit me.
That's the beauty of street art. You can never assume what you are going to engage with.
We had the pleasure of hearing Reichterd talk about her journey as an artist during the Nuart Plus 2019 talks at the Belmont Filmhouse.
Deeds Not Words and Gallus Quines mural windows can also be found at St Nicholas Lane which is to the left of Aberdeen Market on The Green.
Reichterd's Everyday Heroes community project's new home is just after The Tunnels. Here locals chose their Aberdeen heroes, from singers to teachers, to display in mosaic.
Next: Keep walking straight with Reichterd to left, veer to the right.
Netherkirkgate
Dotmasters, UK (2019)
Next on the Aberdeen art trail is the much loved Esslemont and Macintosh building. Look at to the windows to see the Rude Kids getting up to no good with a colour pop being provided by 'wallpaper'. I love the chick flipping the bird against the yellow wallpaper. Cool AF.
Larger than life in reality and in the public space, Dotmaster has taken over quite a few spaces in Aberdeen for his beautiful yet cheeky Rude Kids.
Dotmaster also appears in Café 52 on The Green and Jopps Lane.
Next: Walk straight ahead with Dotmaster to the right of you, turn left. Walk towards Marischal College until you reach Queen Street.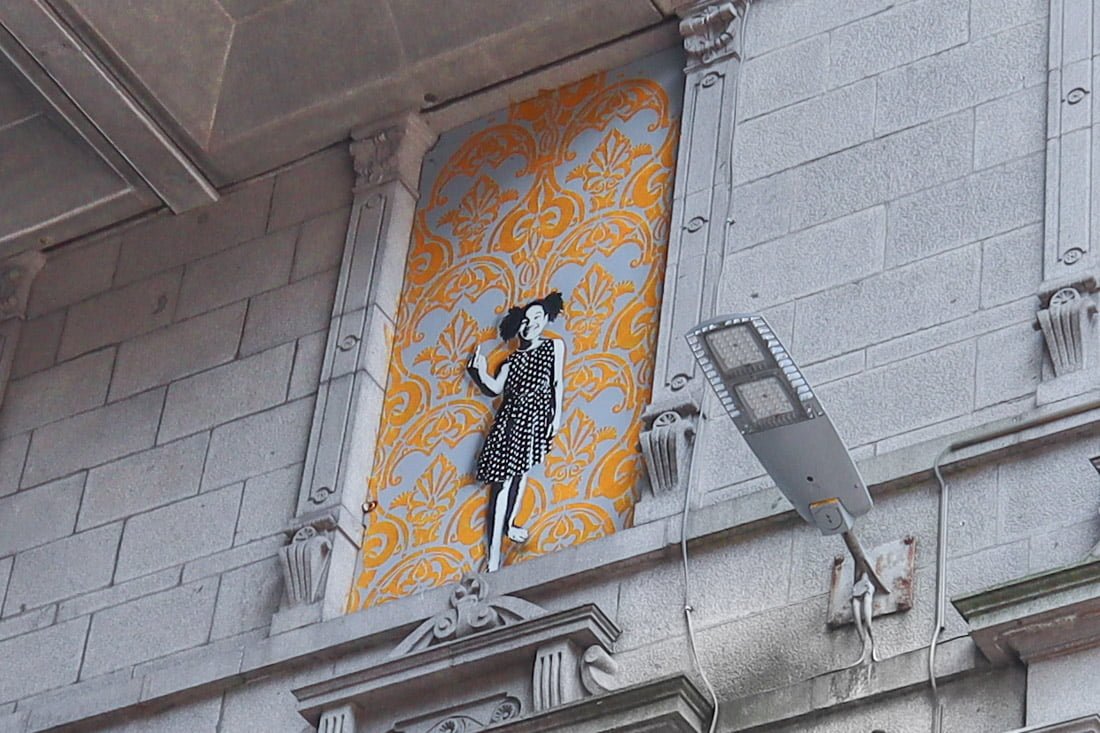 31 Queen Street
Martin Whatson, Norway (2017)
Whatson has mixed the image of a traditional golfer with tagging. The Golfer is seen taking a swing at the tags which include the bubble writing 'love' and 'peace'.
One of Evol's house boxes sits beside the bus stop too.
Next: Head back towards Marischal College.
Marischal College
Not part of Nuart but still worthy of mention, Poised by Andy Scott (Scotland's Kelpies designer) is the first of the Aberdeen leopards that you will see on this art trail. Pop into Marischal Square to see it and grab an ice-cream at Mackies 19.2.
I also love the Russell Head which is a hangover from Ragg's Lane that was demolished in 1955.
One of Evol's houses is tucked into the right-hand corner of Marischal College. Blink and you will miss it.
Next: With Marischal College to your right, veer left across the roundabout, keep looking right.
Gallowgate, Greyfriars House
Helen Bur, UK (2019)
Another artist that uses people they know as muses, Bur's painted murals sit balanced on either side of a block of accommodation.
Bur's murals look as if the paint has jumped off the canvas and onto the wall. They are simple yet pretty.
We came across Bur as she was close to completing her final mural, tuned into the headphones and head in the game.
Next: With Bur on your right, turn left and walk down the hill.
Nipper, Norway (2017)
Nipper's paste-up from year one is located at the Gallowgate. We missed this. Tell us if you see it.
Nipper's wish is to evoke conversation about power in public spaces through his Mission Directives project.
St. Andrew Street, John Lewis
Hush, UK (2019)
Exquisite and delicate yet modern, Newcastle born street artist, Hush, has two females built into a blue arch and draped in different designs which includes tagging.
Next: Stare at Hush then do a 180 turn.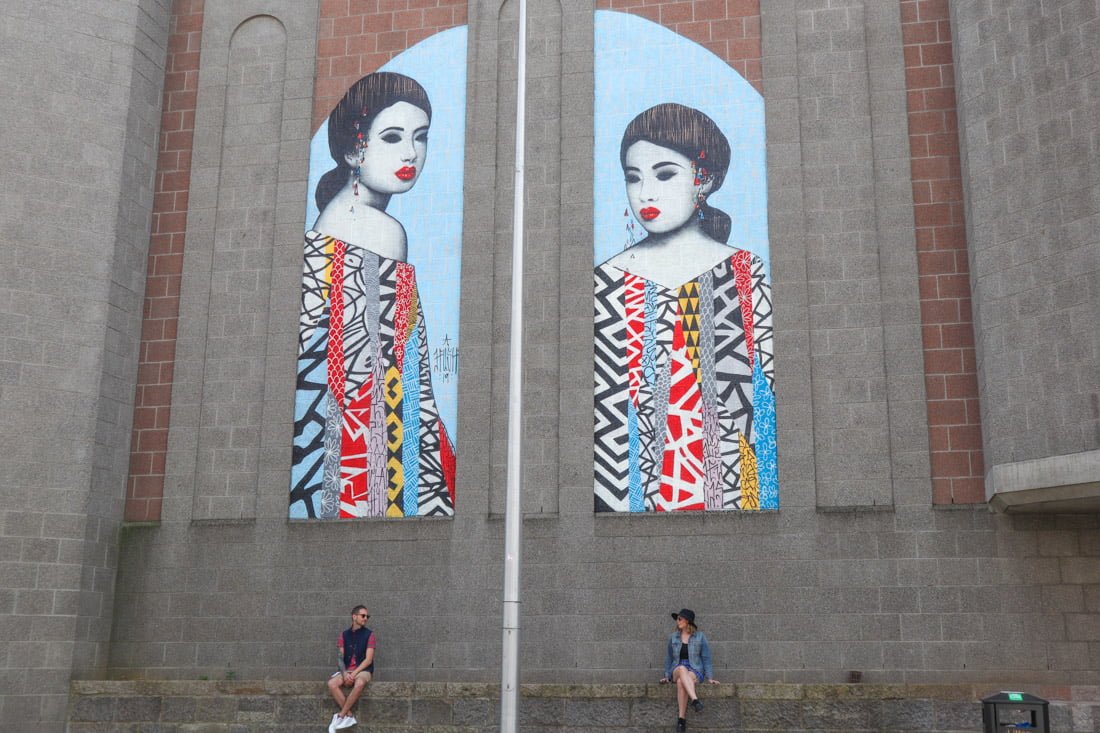 Jopps Lane
Robert Montgomery, UK (2017)
Stark black wall with bright white text highlights Montgomery's poem. The mural really contrasts with the different coloured doors built into the apartments.
Next: Turn your head to look across from Montgomery.
Fintan Magee, Australia (2017)
Bodiless legs stand over broken walls. A comment on the current political climate?
The legs belong to people connected to Nuart!
Next: Keep walking along Jopps Lane.
Jaune (2017)
Juan shares humorous stories of his previous profession as a sanitation worker. These stencils are small but pack a big laugh.
Find the piper then look down.
Elki, UK (2018)
Jaune keeps good company next to Elki's mural of DJ equipment and an earlier piece, the bagpiper.
Elki's bagpiper is one of the longest standing stencils in Aberdeen, an illegal piece of work from the 2000s.
Isaac Cordal, Spain (2017)
Get off your phone and look up. Cordal's miniature people are watching you!
Some dressed for work, some undressed for the nudist beach, these hidden figures are worth looking out for and a reminder that street art does not have to appear on the end of a building. It can be built into it!
It is a challenge to spot these sculptures around Aberdeen!
Discovery brings on a mix of emotions including joy that you spotted one and confusion because they often look quite sad.
Next: Keep walking straight.
Dotmaster, UK (2019)
The Rude Kids have been defacing the Mona Lisa and painting the town red in this back to back mural!
This is one of the murals which has seen the most physical interaction from the public with fans doing headstands next to the rude kid and balancing on the fireplace for social media photos.
Next: Head back to Hush's mural, turn right and then take the second left. Look for the car park on your left.
Crooked Lane
Hama Woods, Oslo (2019)
The second leopard on your Aberdeen street art tour is the stencil and spray work of Woods. Don't just be stunned by the bright shapes and prancing leopard, look out for the wee mice in jumpers too.
The mice also appear above the Science Centre on George Street.
Look out for Jaune's sanitation men around Crooked Lane too.
Next: Head out of the car park to the left.
Harriet Street
M-City, Poland (2017)
M-City's nautical themed mural is apt for Aberdeen's relationship with the sea. Although purely painting walls in Scotland, M-City has sprayed an offshore vessel before too!
This black, white and blue mural takes over two walls on Harriet Street.
Next: Turn right onto Schoolhill. Look for St Nicholas Kirk.
St Nicholas Kirk (Graveyard)
Ememem, France (2019)
Ememem encourages us to do a bit of shoegazing as his work is mostly placed on the ground as he patches up holes with pretty ceramics.
An unusual mosaic can be found a tree trump in St Nicholas's graveyard.
Ememem's mosaics can also be found in Union Terrace Gardens.
Not related to Nuart but a hit with art and Instagram fans, check out the Bon Accord rainbow stairs (there are two sets at different points in the city).
Next: Walk up the Bon Accord steps, veer to the right of the cafe and into the park. Look for a covered wall to the left.
Rooftop Garden, St Nicholas Centre
Bortusk Leer, UK (2018)
These wee monsters plastered on vintage newspaper are supposed to make us smile and that they do!
You can't miss the primary coloured and neon cartoon characters who live on the back wall of the park.
Next: Head back out of the rooftop, down the stairs and head towards Rosemount Viaduct and down onto Union Terrace Gardens
Union Terrace Gardens
Anders Gjennerstad, Norway (2019)
Anders Gjennerstad (Strøk) has stencilled and sprayed figures on walls with dark shadows, not quite the way we would expect to see them fall.
There is a smaller mural by Gjennerstad tucked up a grassy hill by the steps. His larger mural is on Gordon Bell's piano shop gable end on the Rosemount Viaduct.
Ememem's work is also on the path of Union Terrace Gardens. Look for the blue and white tiles where the puddles should be.
If you head to the arches in the Gardens, you can take a look at some of the local work too.
Next: Walk up the stairs at the far end of the park heading towards Rosemount Viaduct.
Rosemount Viaduct
Anders Gjennerstad, Norway (2019)
Stop when you walk past Gordon Bell's piano shop and look up.
We've just noticed via Instagram that the craft brewery bar, 6 Degrees North on Little John Street has some of Gjennerstad's breakdancers on its outside walls too.
Next: Turn left onto Skene Street as it turns into Woolmanhill.
RGU Woolmanhill Halls
Axel Void, US (2019)
Void has two painted murals at the end of the student halls buildings and they both conjure up a sense of nostalgia.
The first to the left is an image of a woman hula hooping and to the right, a crowd mixed with local police for the visit of the Queen in Aberdeen I'm told.
The hula hoop mural is a personal favourite of mine.
Next: Walk back along Skene Street, take a left on Rosemount Viaduct, past or through the Gardens to Union Street. Turn right on to Union Bridge.
Union Bridge
Add Fuel, Portugal (2017)
Add Fuel is inspired by one of the things that his home country is famous for, tiles! Unlike Ememem who actually works with ceramics, Add Fuel only uses their designs.
For his Aberdeen mural, next to the bar, Siberia, Add Fuel uses to layers of paint and stencil to give that 'ripped and unveil' effect.
Next: Turn left onto Union Row
Union Row
Bordalo II, Portugal (2018)
The unicorn, which is part of Bordalo's Big Trash Animals project, is a popular mural in Aberdeen from 2018.
Look closely to identify the discarded and recycled materials hidden behind the bright colours.
Ernest Zacharevic, Lithuania (2018)
The boy climbing the building is the first thing you see when you get to the collection of murals on Union Row.
It is evident that Zacharevic is "a fine artist who prefers to work on the street." The clean colours are in keeping with its surroundings. Subtle but beautiful.
We like this mural so much we put it on a t-shirt which you can buy here
Milu Correch, Argentina (2018)
One of South America's leading figurative street artists, Correch's masked women is dark and leaves you wondering what happened that night…
Correch also has a second wall at Langstane Place.
Nimi and RH74, Norway (2018)
The girl with the castle is my 2018 favourite.
I love the contrast of colours, red and green for her dress and yellow for her hair with a splattering of shades for her flower bed.
She looks really sad, clutching on to her castle. The castle in question is actually Crathes Castle on the Royal Deeside and the woman in question is the Green Lady who haunts it.
Hungry? Pop into FoodStory on Thistle Street for vegan pasta, salads, stews and sandwiches. There is also a zero waste shop upstairs. Bordalo II would approve!
Next: Walk back along Union Street towards the Gardens and turn left onto Belmont Street.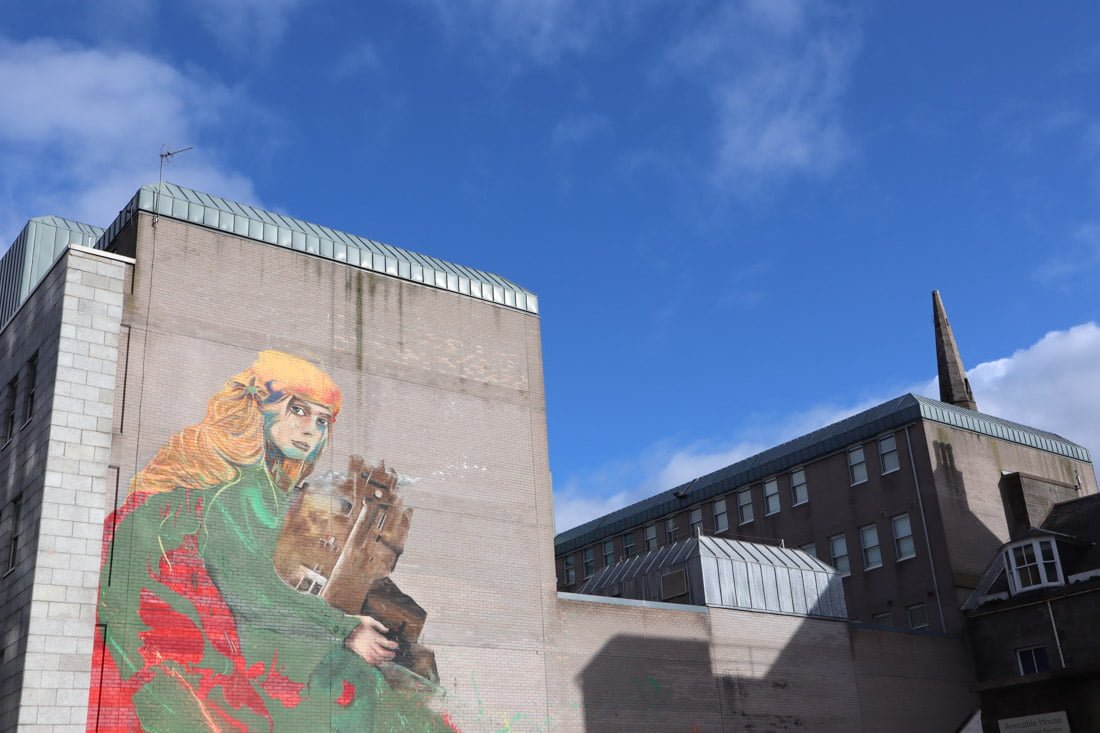 Belmont Street
Belmont Street feels like that one street in a new city you always find yourself on.
Here you will find Belmont Filmhouse which is the hub for the Nuart Plus talks, films and panels.
Alice Pasquini, Italy (2017)
As you walk from the Belmont Filmhouse and head towards Union Street look out for Pasquini's side profile with bright colours.
Pasquini can be found on Shiprow too.
Didn't fancy vegan? Check out Latinway for food.
Next: Walk along Union Street towards Brewdog, keep your eyes peeled for an opening or your left-hand side.
Adelphi Lane, Scotland (2019)
A new addition to the Nuart community is the LATA 65 crew made up for Aberdeen's more mature citizens!
This international project opens educates members of society less likely to engage with public art and skills them in the use of stencils and spray paint.
You can see the work of the 2019 LATA 65 aka Graffiti Grandmas at Adelphi Lane just off Union Street.
Next: Back onto Union St and head off towards Brewdog again until you see another opening.
Shiprow
Alice Pasquini, Italy (2017)
Pasquini's young couple look lovingly into each other's eyes as sparks fly. The sea and a ship blend into the background. There's something space-like about this mural on two doors.
Aberdeen's Maritime Museum is also on Shiprow. Here you can find a lovely viewing deck.
Next: Walk down Ship Row, turn left onto Virginia Street.
SNIK, UK (2018)
The UK duo say they don't intend to paint out a full story in their murals, preferring to leave a touch of mystery for the viewer.
They definitely have succeeded with this in Aberdeen!
Their mural shows a girl being pulled up by a bird via a rope as a series of birds look on. The blues of the bird and the girl's top match but contrast against the white of the wall.
Next: Walk back down Virginia St and turn left past the harbour towards the rear of Union Shopping Centre.
Palmerston Road
Vhils, Portugal (2019)
Vhils is one of the world's biggest street artists and frequently appears in the top 10 lists. He 'destroys to create' using pyrotechnic explosions and carving as well as stencil work.
This mural behind Union Square, close to the River Dee, is an image of Aberdonian John Londragan (left). Londragon and other dockworkers supported Spanish seamen during their strike for better pay and for workers' rights. Vhils wanted to share a local heroes story as his contribution to the 2019 Nuart theme 'storytelling'.
Vhils uses carving, drilling and spray to depict the image.
Next:Go through the shopping centre towards Guild St, once there turn left then turn left down South College Street until you reach the turn for Willowbank Road, continue walking up this street until
Willowbank Road, Scotland (2018)
The Glöbel Brothers
One of the most celebrated Nuart Aberdeen murals is Super Scury, the local seagull! It is so popular, Nuart even put it on a t-shirt for 2019.
Aberdeen is famous for its pesky winged friends are always after yir chips so Ciaran Glöbel and Conzo Throb thought they'd box the wee beggar and put it up for sale.
Next: Continue walking up Willowbank Road until you intersect with Holborn Street, head right towards Union Street.
Phlegm, UK (2018)
Phlegm's surreal black and white illustration is located at the intersection of Holburn and Union Street.
Now you're at "the other end" of Union St, you're probably in need of some refreshments after all the walking!
Hungry? Check out Melt, Scotland's first toastie cafe.
Thirsty? Grab a drink and watch a game at McGinty's Meal n' Ale.
What is Nuart Aberdeen?
Nuart Aberdeen is an annual festival which takes place around Easter in the city of Aberdeen in Scotland.
Each year, street artists are invited from around the globe to help open up Aberdeen's abandoned spaces, to add a splash of colour to the city and to spark conversation.
Although the more visual aspect of Nuart Aberdeen is obviously the artists at work on the days running up to the public opening, the festival is actually more than just murals.
During the festival, Nuart Plus invites you to attend Q&As with the likes of the legendary John Byrne, panels, films and late night events such as debates (aka Fight Club) and Slam Poetry.
All of the above are open to the public, some events require pre-booking and sell out fast.
One of the highlights of Nuart Aberdeen are the walking tours which last from April until September.
Nuart is organised by Aberdeen Inspired and Aberdeen City Council. It is funded through council funding and support from partners.
A clan of volunteers make Nuart possible, many of whom return to develop their skills further the following year.
Nuart is not a new idea. It actually started in Stavanger, Norway in 2001.
What does the city of Aberdeen in Scotland and the city of Stavanger in Norway have in common? The two are twinned towns and when they were looking for ways to consolidate their twinning the story of street art came up.
Nuart Founder and Director, Martyn Reed, describes Nuart as 'Nuart is a not for profit organisation run by a small group of idealistic volunteers, vandals and bored arts professionals'. How could Aberdeen resist?
John Byrne the 'Godfather of street art' and Fiona Stalker, BBC
How to Get to Aberdeen
Aberdeen is in the north east of Scotland, 127 miles from the capital, Edinburgh, 149 miles from Glasgow and 66 miles from Dundee.
Frequent trains connect Aberdeen with the bigger Scottish cities like Edinburgh and Glasgow.
The Edinburgh to Aberdeen train takes just over two and a half hours whereas the Glasgow to Aberdeen train takes three hours.
The Aberdeen to Inverness takes just over two hours.
Aberdeen Railway Station is the only train station in Aberdeen (Guild St, Aberdeen AB11 6FD). On-site, there is a cafe, bar and shop at the station as well as toilet facilities and public WiFi.
There are also bus routes to Aberdeen served by Megabus.
The Glasgow to Aberdeen bus is around three hours and the Edinburgh to Glasgow, three to four hours. The Aberdeen to Inverness bus takes five to six hours.
Where to Stay in Aberdeen
The Park Inn by Radisson is a centrally located hotel with big rooms and hot water.
The Park Inn serves a mean breakfast, continental and cooked.
The hotel also has left luggage facilities.
While there is no parking on site, there is a privately owned car park next to the hotel.
As you walk out of the hotel, look out for a sanitation man by Jaune pulling at an Add Fuel tiled pattern on one of the street windows.
Aberdeen's Restaurants
Madame Mews Unit 11, Aberdeen Market, Market St.
Foodstory 13-15 Thistle St. – Popular vegan cafe.
Cafe Harmony 21 Bon-Accord Terrace – Italian.
Mackies 9.12 Ice cream 7, Marischal Square.
6 Degrees North 6 Littlejohn St. – Beer soup in roll bowl.
Cafe 52 at The Green – Eclectic decor, alfresco with heaters.
Everest Union Street – Indian food, excellent customer service.
Nargile Restaurant – Turkish.
Melt Union Street – Scotland's first toastie cafe.
McGinty's Meal an' Ale 504 Union Street.
Everest – Indian and Nepalese, very friendly staff.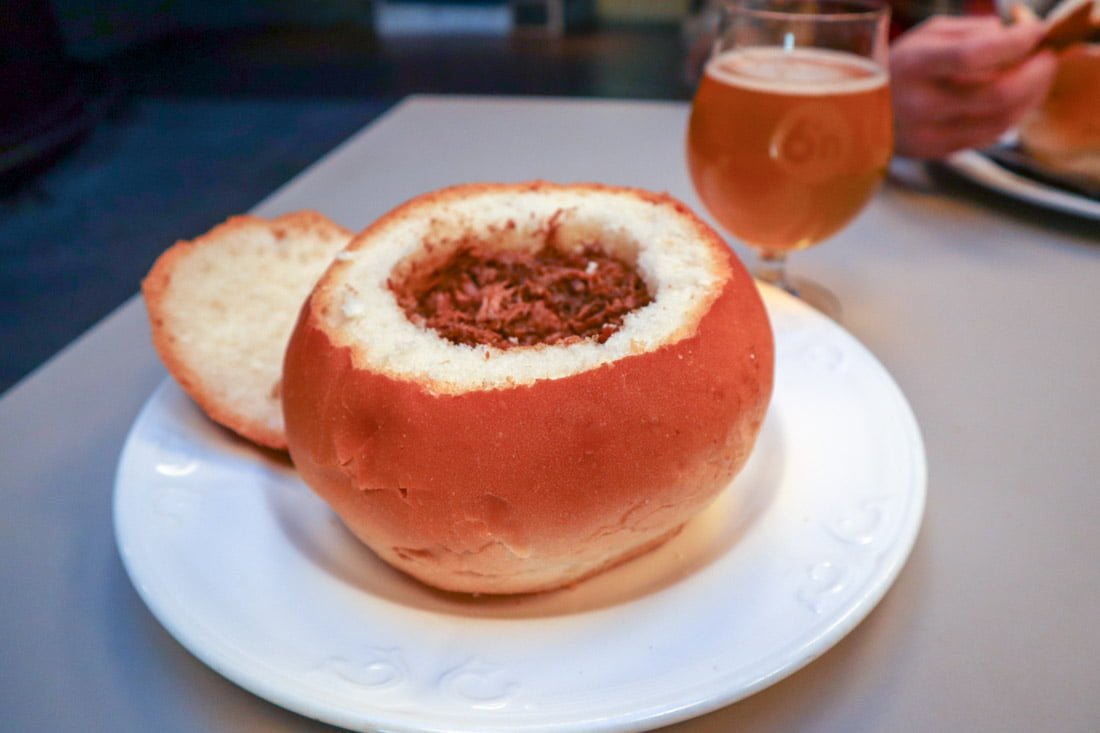 Other Art-Related Things to do in Aberdeen
Piper Alpha Memorial Garden, Hazlehead Park
His Majesty's Theatre
The Tivoli TheatreAberdeen Music Hall
Cowdray Hall
Other Things to do in Aberdeen
The Tolbooth Museum
Walking Tours
Provost Skene's House
Maritime MuseumBelmont Filmhouse
Old Aberdeen
Aberdeen Beach
Footdee
You may also like: our extensive Aberdeen city guide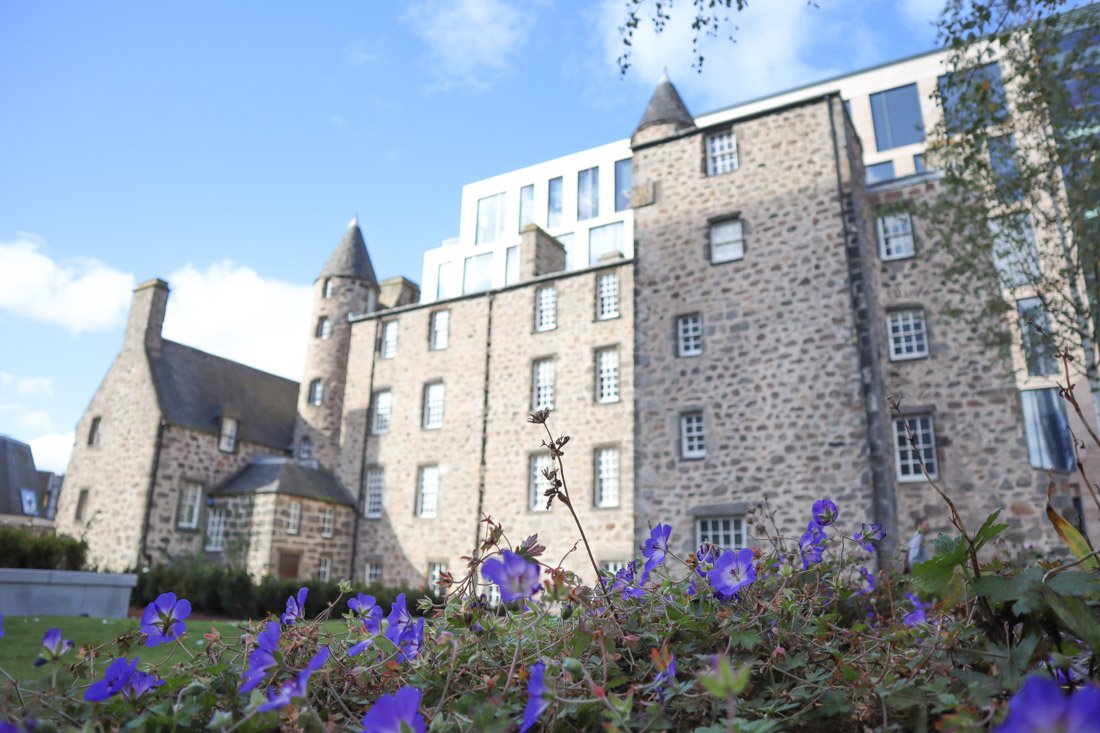 Aberdeen Packing List
Layers, it is Scotland after all.
Quality raincoat.
Comfortable walking shoes.
Sunglasses.
Eco water bottle, stay hydrated and save the planet.
Hydration tablets if partaking in a dram or two.
Planning a trip to Aberdeen?
Pin to your Scotland board
Final Words
Although the Nuart festival kicks off with a weekend of parties and tours, the beauty of the street art in Aberdeen really lies with its longevity.
There are no plans to buff the work from the previous years. This makes it accessible for locals to enjoy every day and for visitors popping to the granite city for events such as the Aberdeen International Comedy Festival or Christmas markets.
Did you find our art trail useful?
Leave us a comment below!
» » Thanks to Aberdeen Inspired for working with us.
Congratulations to the team for painting Aberdeen on both Scotland and international street art map!