This article has links to products and services we love, which we may make commission from.
Hitting the hills and unsure what to pack? This hiking packing list will discuss what to pack for one-day hikes or long-distance treks. This guide has been created with years of experience of hiking at home and abroad. I've hiked up hills/mountains, trekked to the summits of volcanoes, walked along lakes/lochs and completed expeditions to epic landmarks. I've experienced sun, rain, wind, hail and even snow! Learn from my (many) mistakes during these treks by using this free hiking gear list which has clickable links to products I recommend.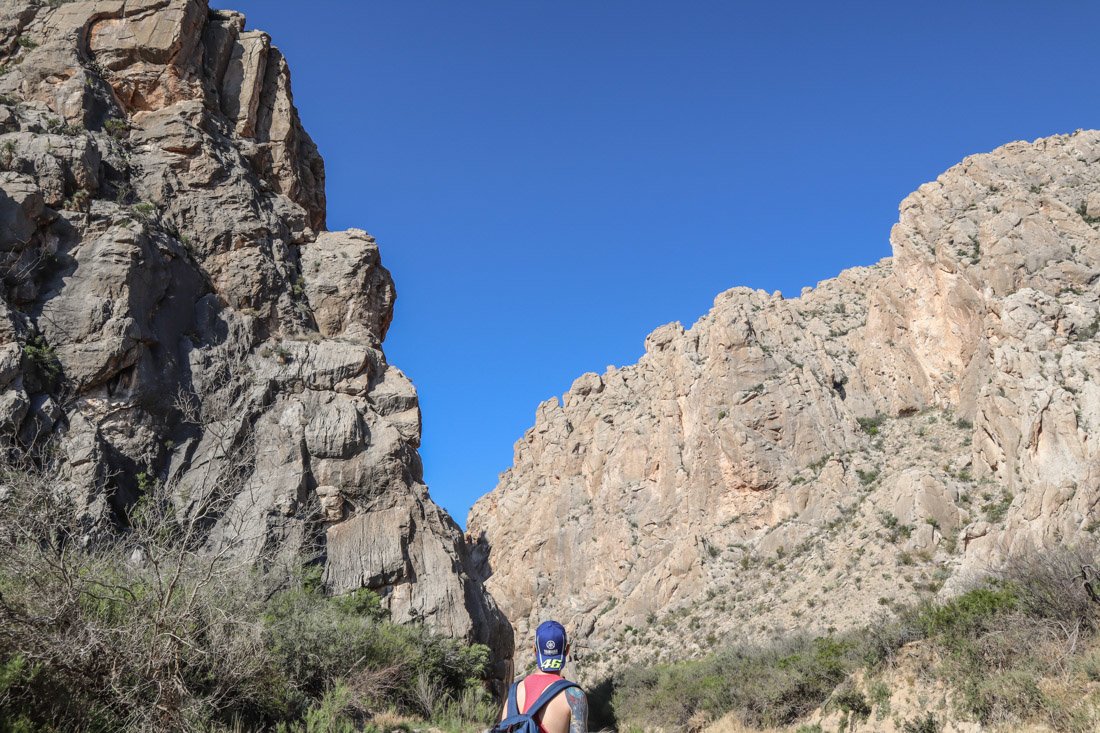 Dog Canyon, Big Bend National Park
Day Hike Packing List
The key to being comfortable when hiking is layers. They say there is no such things as bad weather, only bad clothes. Hiking equipment and gear is something I recommend that you invest in. I am a walking example of 'buy cheap, buy twice'. I've now learned and accept that some items of outdoor gear need money spent on them or they won't withstand the elements.
Day Hike Checklist
Hiking Outerwear
---
Top Tips
Rain should sit on top of your rain jacket, it should not be absorbed. I've had too many to count, rain jackets which cost less than my monthly phone bill and they are point-blank not waterproof. Water-resistant, maybe, but not waterproof like the jackets above. I was so uncomfortable during the
West Highland Way
multi-day hike when it rained. My clothes were soggy, don't be me. Invest!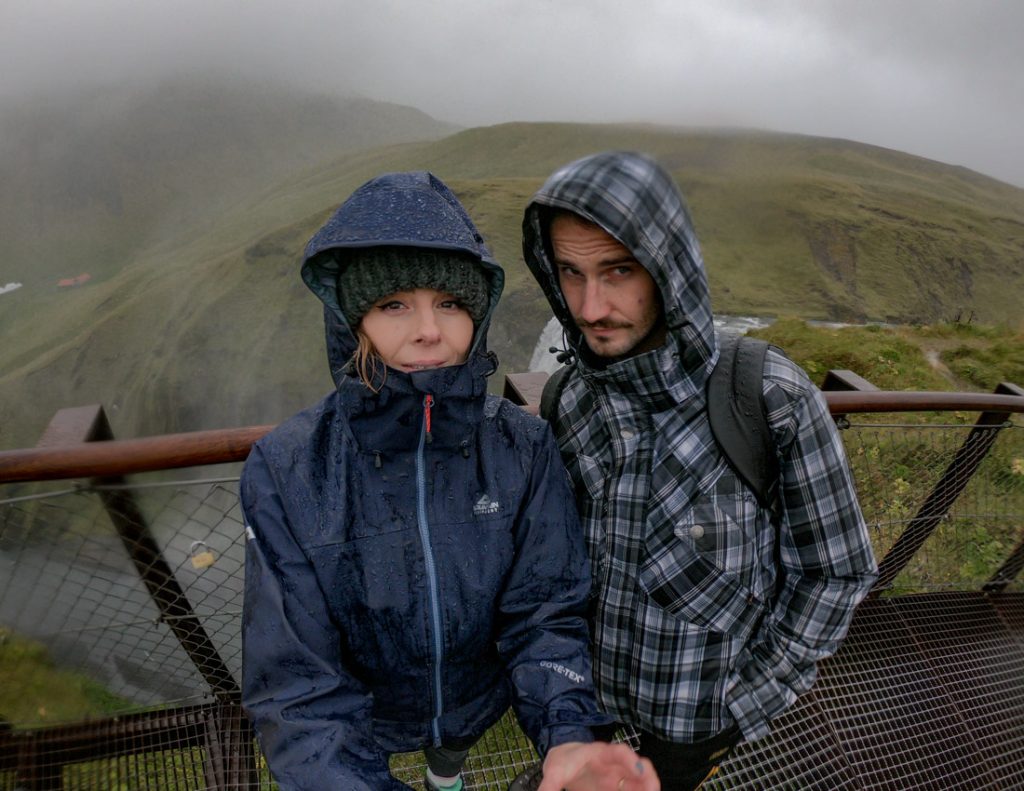 Just another rainy day in Iceland
---
Hiking Shoes/Boots (Broken In)
Craig now wears Scarpa which are like slippers but heavier than my boots.
He has worn Salomon in the past but prefers his Scarpa leather boots now.
---
Top Tips
Go up at least one size when choosing hiking boots and shoes. Previously I've gone for style over functionality but now feel I've got the perfect balance with the Salomon Quest. A well worn-in pair of hiking boots or shoes is a must-have hiking gear item. Don't buy new boots and then attempt a hard hike. Gross one but cut your toenails! You'll thank me later.
---
» You may also like our lightweight hiking footwear review
---
Gibsons in British Colombia, Canada – lightweight Salomon shoes, great for travel
Hiking Clothes, Equipment and Accessories
Vest top or quick-dry t-shirt.
An Icebreaker Merino wool base layer USA / UK – 100% wool. Not cheap but top quality. I have two, they really neat too.
Fleece – make sure this in easy reach in your bag if you remove it.
Leggings/gym pants and/or…
Quick-dry walking pants.
Pull-over waterproof trousers USA / UK – love these, don't have to change gym pants after a downpour as these take all the mud stains.
Sports bra.
Gators which go over your ankle (optional).
Walking poles (optional).
Watch.
Swimming gear if you are taking a dip.
Bug net if visiting during high season. For example in Scotland the midges are crazy mid-May to late September on the West Coast so you need to cover your face!
---
Top Tips
Don't wrap your fleece around your waist. If it rains it will get wet. I stupidly once kept my fleece wrapped around my waist but put my rain jacket on. Needless to say, the fleece was useless that evening.
---
Related Posts to Read
---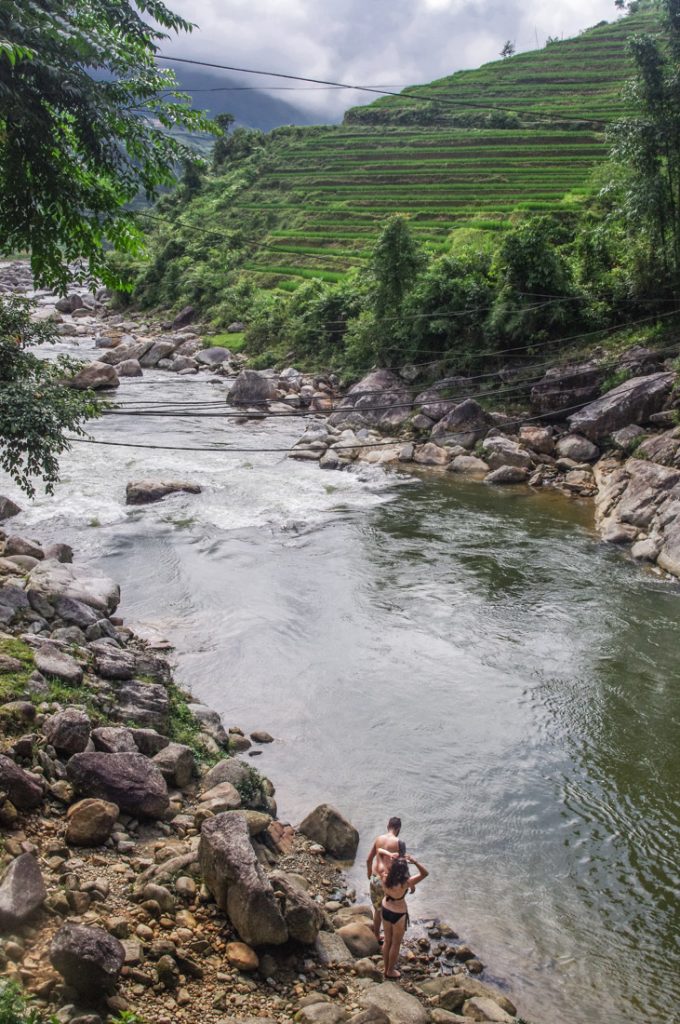 Taking a morning shower at Sapa Valley in Vietnam
---
Day Bag Items
In this section, we will assume that your day bag is going on a one-day hike with you to carry all of your hiking essentials. You will use the majority of the items during the hike, with a few reserved for emergencies. I also like a bag around my waist or a hip bag for easy access to my phone and tissues.
Buff/scarf.
Gloves.
Hat.
Sunglasses.
Clean socks.
Phone – screenshot route, download map route, download music and podcasts.
Waterproof cover.
Phone cable.
A camera if taking photos.
Lunch.
Earphones (if you want to zone out).
Purifying bottle if applicable – Claim 15% off Water To Go bottles (quote TSA15 at checkout).
Thermos for coffee/tea.
Snacks.
Money.
Credit Card.
ID.
Map in a waterproof case.
Compass.
Notepad.
Pen.
Bag for rubbish.
Instagram dress? Sometimes I do day hikes in summer dresses (optional).
---
» Read next: first timer's guide to going plastic free
---

Purifying and filtering water bottle in Peru
---
Comfort Items
Hair tie/headscarf.
Suntan lotion.
Chapstick/lip salve.
Hand sanitizer.
Tissues.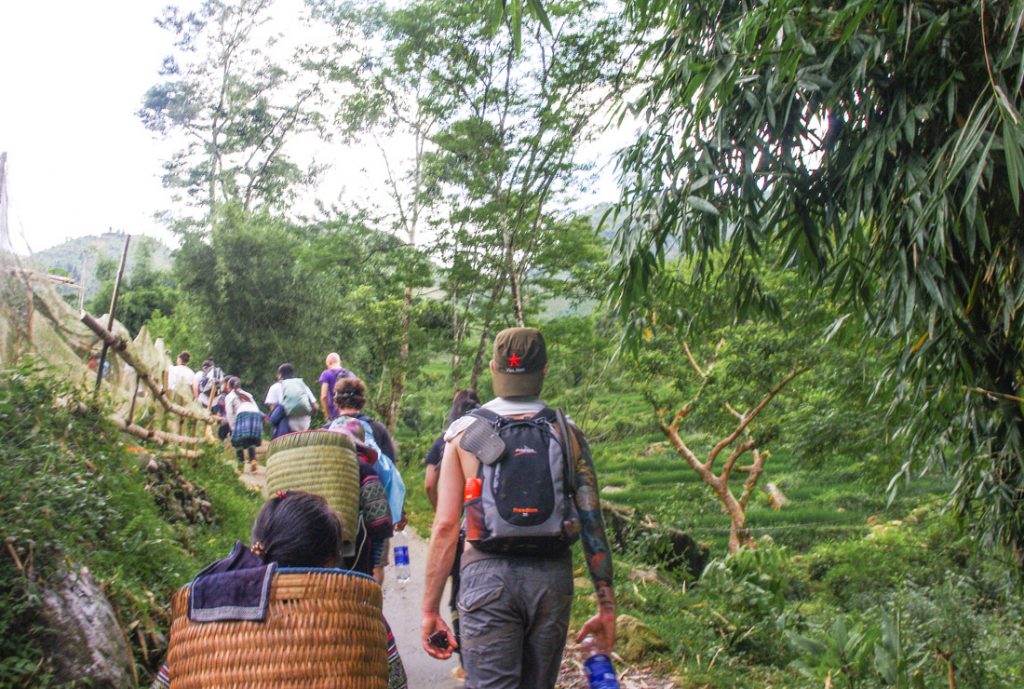 Hiking with the locals in Vietnam
---
Emergency/Functional Hiking Items
Carabiner clips – clip water bottles, keys, hats on to your bag.
Spare laces – don't get caught out!
Swiss army knife.
Whistle.
Torch.
Blister pads (you won't need them if you use Leukotape).
Plasters.
See the Lifesystems personal First Aid pack.
Baby wipes.
Hydrocortisone
Tube grip bandage.
Instant cold pack.
Tweezers
Pain killers.
Prescribed medicines.
Malaria tablets if applicable.
Leave in the Car
Vaseline/Petroleum – put on your feet before you put your socks on to hike.
Change of shoes – flip flops if warm, give feet a breather.
Change of clothes.
Water.
Snacks.
Soames Hill, Gibsons in Canada
---
Choosing a Day Hike Bag
When deciding on the perfect day hiking bag consider its weight without items packed. It doesn't have to be waterproof if you carry a waterproof cover with it. I had the unfortunate experience of a Vietnamese downpour killing my camera during the
Sapa Valley hike
. I've never hiked without a waterproof bag cover since then (2013). The bag needs to be comfortable on your shoulders, straps that tighten and loosen are important. Ideally, the bag should have some kind of breathable material on the back. Side pockets are great for storing water bottles, rubbish or maps in.
---
Multi-Day Hike Packing
The following section assumes that you are hiking with all of your contents, thus you are packing all of your trekking items in this bag.
Long-Distance Hiking Checklist
Similar to the day hiking checklist but more extensive. To avoid repetition, I will point to the above when the items are the same.
Hiking Outerwear
Footwear
Same as above with the addition of:
Flip-flops – give your feet a rest, overnight hiking essential in my books.
Casual shoes – like trainers. I actually ended up hiking in trainers one day when my Achilles went during a long-distance hike. Poles were my heroes too.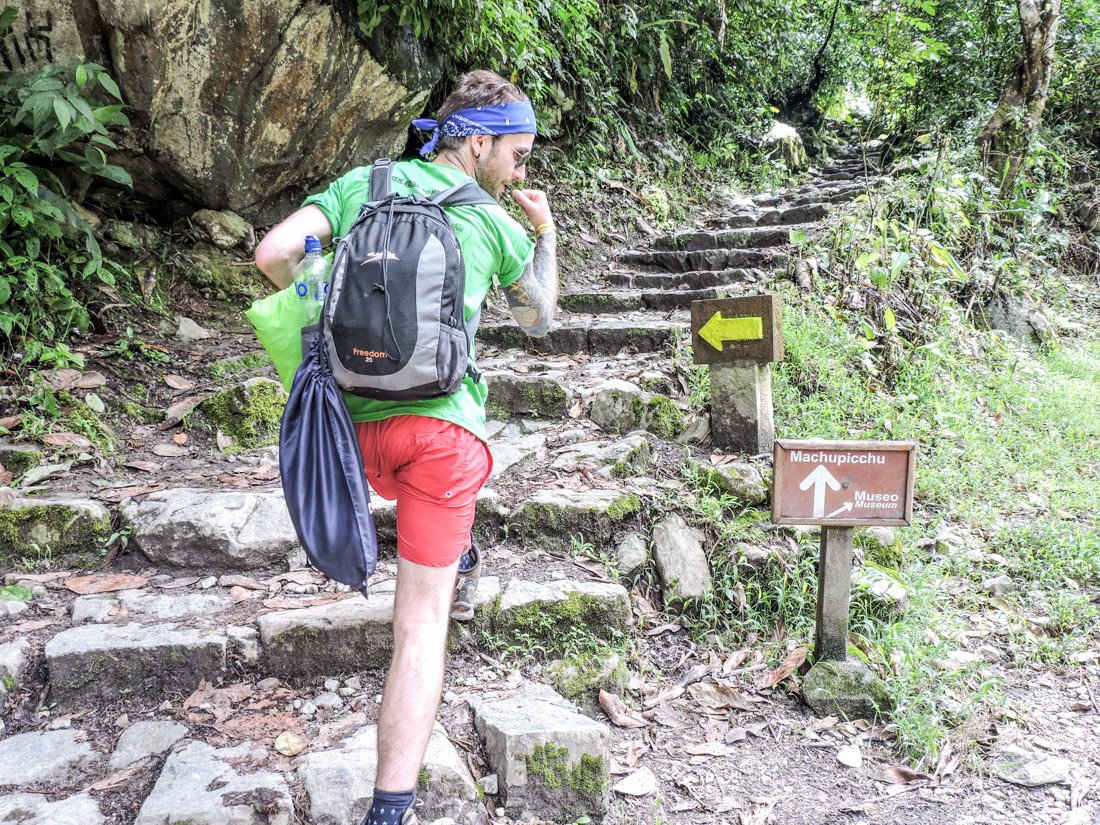 The final steps to the incredible Machu Picchu in Peru
---
Long Distance Trekking Clothes
Consider how you pack your bag allowing easy access to next wear items. Pack a dry bag which can double up as a dirty washing bag and a washing machine! Just pop in warm water and travel detergent, give it a good swirl about and scrub holding on to the outside of the bag.
Vest top or quick dry t-shirt x 2-3.
Icebreaker top – 100% merino wool x2.
Fleece – make sure this in easy reach in your bag if you remove it x2.
Leggings/gym pants x 1 or 2. (and/or)
Quick-dry walking pants x 1 or 2.
Over trouser waterproof pants/trousers.
Shorts x 1 (optional).
Sports bra.
Underwear – number of days + one (unless washing).
Hiking socks like Bridgedale x number of days hiking minus one or two.
Sock liners – Bridgedale x2 (optional).
Cotton socks for the night – x2.
Nightwear – consider temperature drop in evenings.
Gators which go over your ankle (optional).
Walking poles (optional).
Watch.
Swimming gear if you are taking a dip.
Craig rocking a headband
---
Comfort Items/Toiletries
See above plus:
Toilet paper.
Baby wipes – not very eco-friendly though.
Aftersun.
Toothbrush.
Tooth tabs – like paste but don't spill.
Soap in a tin/wrapped in beeswax.
Face wash.
Moisturiser.
Hairbrush – I just stick mine up and add more clips as the days go on.
Clips/bobby pins.
Travel detergent – shampoo stinks after a while.
Towel.
Tick remover if applicable.
---
Emergency/Functional Hiking Items
See above plus:
Mosquito net if applicable.
---
First Aid Pack for Hiking
See above plus:
Stac Pollaidh on Scotland's North Coast 500 road trip
---
Camping Equipment
Tent/poles
Sleeping bag
Liner (optional)
Padded or yoga matt (optional)
Cutlery
Plate
Bowl
Mug (attached to thermos?)
Stove
Fuel
Matches (in a waterproof bag)/lighter
Pan
Scourer
Bio washing up
Towel
→ Don't forget the food!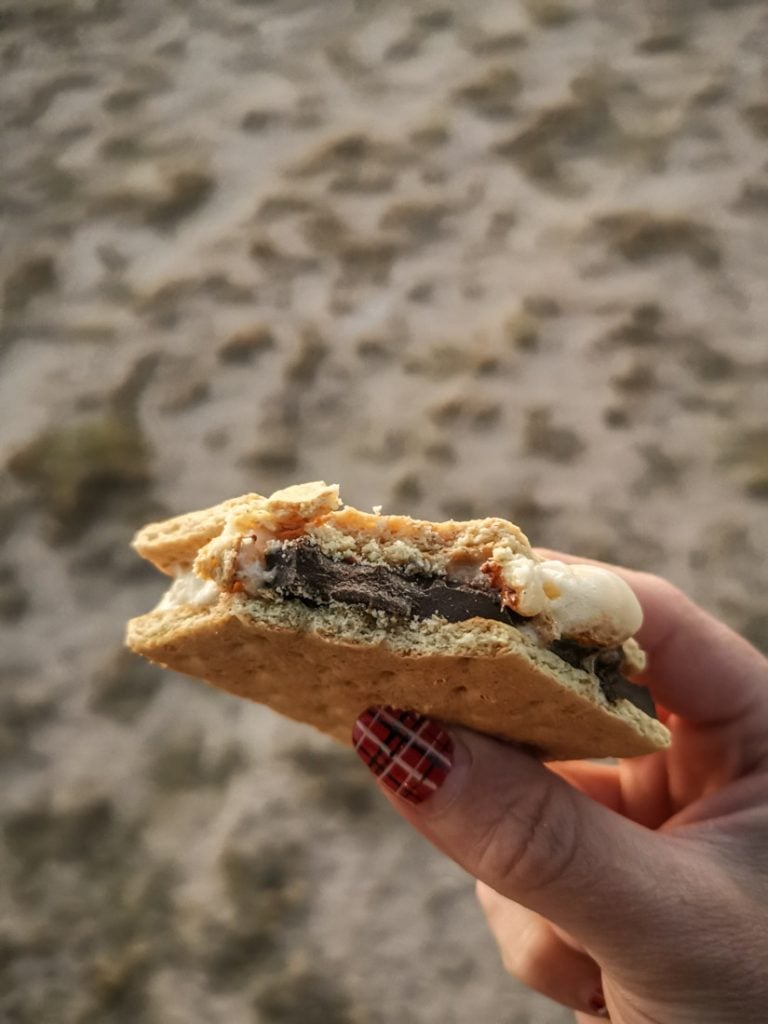 S'mores! Sweet crackers, chocolate and marshmallows from the campfire
---
Hiking With Your Dog
I love to hike with our dog, Bowie. She likes the attention of other hikers too! There are a few hiking items I recommend packing if you plan to hike with your dog.
Towels (x two, I tend to leave these in the car)
Food and treats
Biodegradable poop bags
Don't forget the lead!
Harness/collar
Name tag with telephone number and chip engraved
Do remember that your dog will do twice even three times the amount of steps you do. I met a very poorly dog who had hurt its paws on a multi-day hike. The dog dad was going back to the starting point to hire a car and meet the dog mom at the next stage. It is recommended to keep your dog on the lead at times to reduce its steps and protect its paws.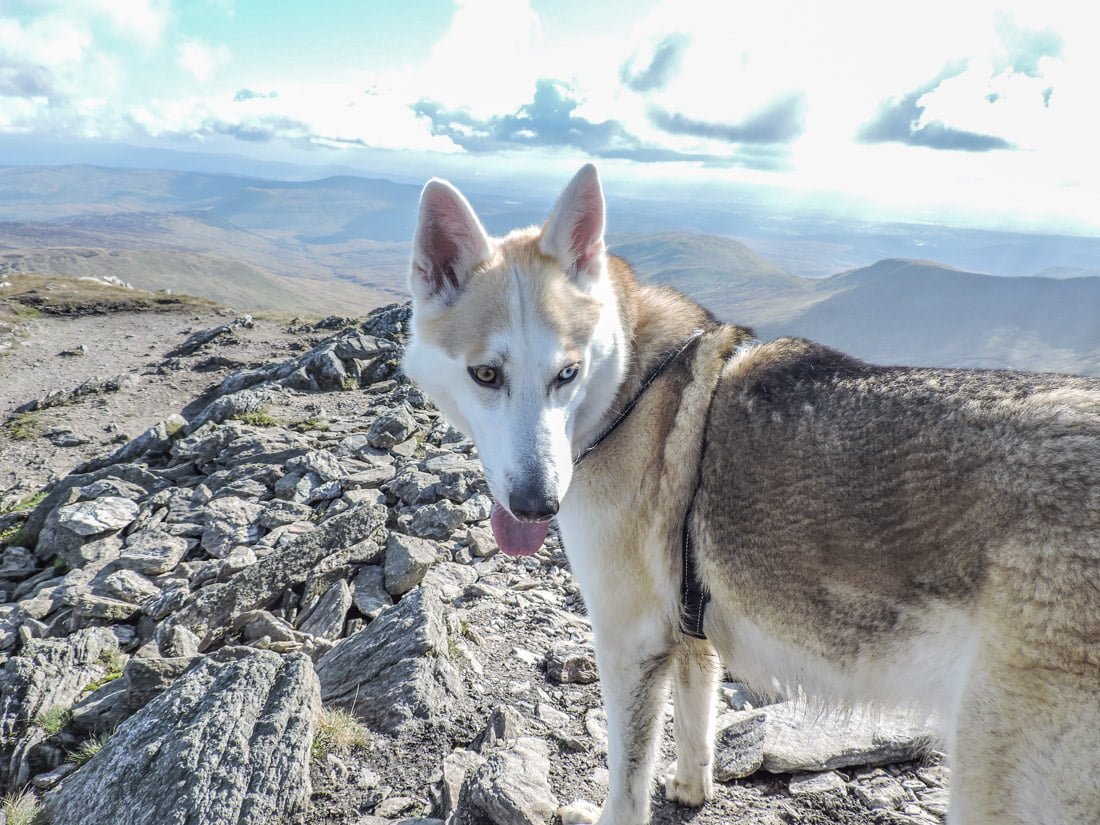 Our dog, Bowie, up Ben Vorlich in Scotland
---
Games to Play While Hiking
Some stretches of the trek are laborious! Here are some fun games to play to get out of the woods (sometimes literally!)
A-Z of… Pop bands, movies, world leaders
Name a celeb, next person names a celeb with a name which starts with your celeb's second name first letter (Lady Gaga, Gillian Anderson, etc)
I'm going on a hiking trip and I have packed, repeat item and add a new one
Lyric Challenge. Singer one starts, singer two takes the last word and starts a new line of the song (stolen from Pitch Perfect)
Would you rather… Snog, marry avoid
21 questions – yes or no answers
Save to your hiking board for future planning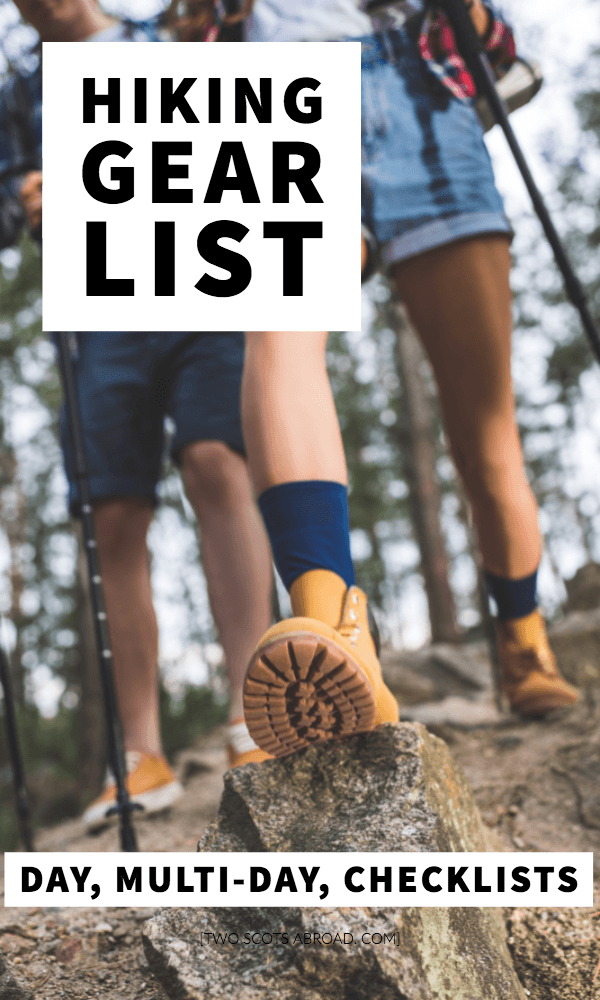 Final Thoughts
Whether you are a first-timer aiming to get outdoors more or an avid hiker, this guide to things needed for hiking covers you for one-day treks to long-distance hikes during spring and summer. I hope you found my hiking equipment list useful, please do tell me in the comments below if I've missed anything essential out.
Our Hiking Guides